If you're looking for the best zoom lens for iPhone, you've come to the right place. We've compiled a list of the ten best zoom lenses available on the market today. But before we get to that, let's take a look at what makes a great zoom lens and what to consider when choosing one.
[ExpertPhotography is supported by readers. Product links on ExpertPhotography are referral links. If you use one of these and buy something, we make a little bit of money. Need more info? See how it all works here.]
What Is a Telephoto Lens For iPhone?
An iPhone telephoto lens is a tiny lens that you attach to your phone's camera. It magnifies what the phone sees, thus functions as a standard telephoto lens. These lenses contain extra glass elements that allow you to utilize optical zoom.
They have a much better performance than the smartphone's built-in digital zoom, but do not work as well as built-in telephoto lenses. Even so, they are worth buying if you are looking for higher-quality pictures.
Best Telephoto Lenses for iPhone and Smartphones
Let's take a look at the best smartphone telephoto lenses in the market!
The main difference between this Moment lens and your phone's camera is the wide aperture (f/1.8), allowing you to have a blurred background.
The manufacturers also paid attention to maximizing sharpness. The lens produces images that are sharp even on the edges without creating an unwanted vignette.
There is an improved optical design, including six glass elements and four lens groups. There is also an extra multi-layer lens coating, which reduces flare and reflections. The chromatic aberration is also minimized, giving you the best quality images possible.
One downside of this lens is the price. But if you're serious about your smartphone photography, it's an excellent investment.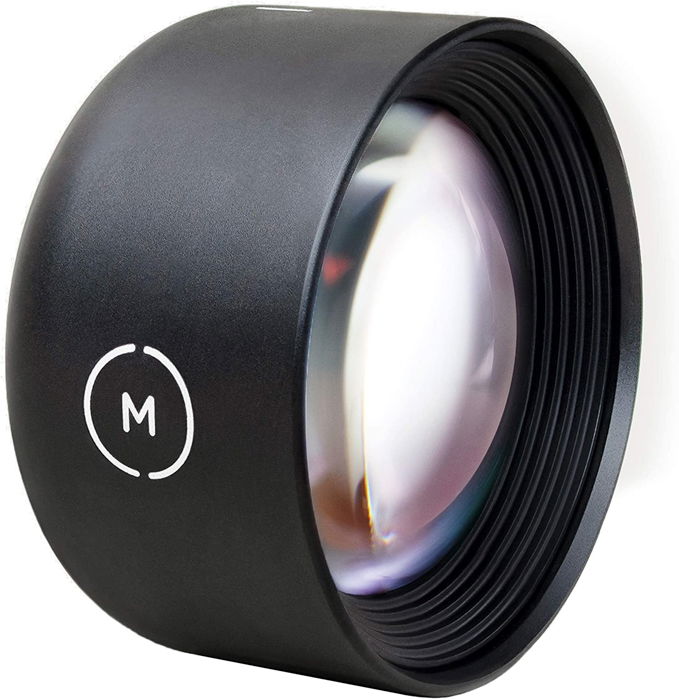 This lens kit consists of wide-angle and macro lenses, a clamp, a clip-on light, and other necessary accessories.
A wide-angle lens is an excellent tool for landscape and street photography, with minimal distortion. But, the macro lens provides a 15x magnification, making your phone perfect for close-up photos.
The optical performance of these lenses is impressive, as they provide sharp details and accurate colors. The clip-on light is a useful accessory that delivers soft and even lighting with three different modes.
Considering everything that this kit contains, it is a good value for money.
This lens allows you to zoom into your frame up to 40x magnification. Due to the extended zoom range, the lens is pretty huge compared to other smartphone lenses. It comes with a tripod for support.
The manual focus ring comes in handy when focusing on subjects at the longer end of the lens. The lens is perfect for sport, wildlife, and travel photography with the amount of magnification it offers.
Even though the lens is big, it is still portable in the lens bag that comes with it.
Furthermore, the lens is compatible with almost every smartphone, making it simple to attach to your device.
The QX10 features 10X optical zoom, equal to 25-250mm. This makes the lens suitable for various photography niches.
The lens features a CMOS sensor, making it an actual camera to attach to your phone. Its abilities are outstanding, as it shoots in 18 MP and recognizes and deals with low-light situations.
There is a built-in stabilization in the camera, allowing you to take sharp photos even at the most extended zoom range.
It also allows you to shoot Full HD 30p videos, which surpasses many smartphones native capabilities. These features make the lens perfect for videography as well as professional photography.
The Wi-Fi capabilities allow a simple connection to any smartphone.
The Ztylus Revolver has one of the most innovative designs when it comes to smartphone lens kits. The entire package is contained in a small size puck that you attach to your phone. Apart from the 2x telephoto, it also comes with wide-angle and super macro options.
What makes it one of the best telephoto lenses for iPhone or smartphone is how compact it is. Inside the puck, you'll find all three lenses (telephoto, wide-angle, and super macro). Each one has dual-lenses that align perfectly with your phone's built-in lenses.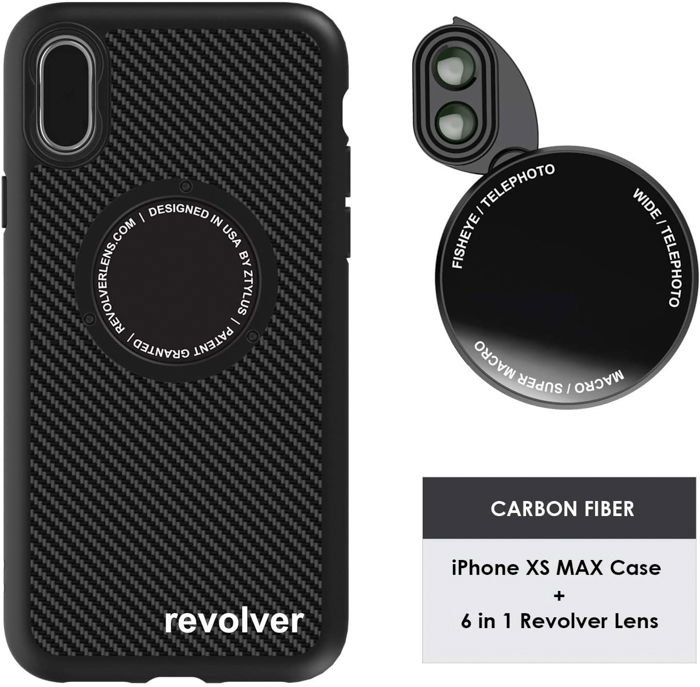 The 2x optical zoom of this lens lets you get closer to the subject while maintaining HD image quality. This results in the lens being suitable for portraits, street photos, or events.
You can also buy this lens in a kit that contains a 2x telephoto, a macro, a fisheye, and a wide-angle lens.
The grip of this lens is attachable to your phone. It is also adjustable so that you can use it with any screen protection or phone case. The glass optics are designed to offer the greatest image quality.
It includes a wireless Bluetooth remote, which lets you take photos up to 30 ft (9.1m) away, and a lens cover to protect your lens from getting damaged.
This kit includes three lenses that are attachable to your smartphone camera.
The 0.65x wide-angle lens is a perfect opportunity for capturing groups of people, street photos, or landscapes. Meanwhile, the 230-degree lens provides you with a dramatic optical distortion.
But the most outstanding element of this kit is the macro lens with 15x magnification. It lets you capture subjects that are only a few centimetres away from your camera.
The lenses offer excellent quality, giving you images that are sharp and wonderful for universal use. Since the kit covers various focal lengths, it fits whatever situation you are aiming to photograph.
If you are looking for a designed product for both enthusiasts and professionals, definitely check out this one. This lens kit includes a 22x telephoto lens, a 205-degree fisheye lens, an ultra-wide-angle lens and a 25x macro lens.
This combination of focal lengths is a useful tool for aiming to get into several niches of photography.
The telephoto lens provides a fixed focal length, while the macro one allows you to focus at close distances. But the fisheye lens gives you the tunnel vision effect that is usual for professional fisheye lenses on digital cameras.
The optical performance of the lenses is excellent. The distortion of the wide-angle lens is minimal, and all the lenses include five dual-size glasses. There is also an extra coating on the lenses' surface, which makes the glass dust and scratch-resistant.
This lens kit includes macro and wide-angle lenses, a remote control, and a multifunctional phone tripod. There is also an Advance CPL Polarizer Filter in the kit, which prevents your images from becoming hazy.
The wide-angle lens provides 0.45x magnification, while the macro lens allows you to take photos with 15x magnification. The lenses are built to minimize distortion.
These products produce high-quality images. It doesn't matter whether you use them for photography or videography. Reviews describe the build of the lenses as light and comfortable, with the impressive build quality.
The lenses are compatible with most smartphone devices. It is also low cost, so it's a perfect option for those on a budget.
This lens from Apexel is a great tool for portrait photography. While the 2x magnification might not be much, it is just enough so that you can take close-up portrait photos and create a blurry background.
The product provides 4K resolution, which results in high-quality images. The lens is also manufactured in a way that prevents distortion, giving the greatest accuracy when taking photographs.
The lens has a minimalistic design that is attachable to any smartphone. The size of the clip is adjustable to the custom size of your phone.
It also includes multi-layer lens elements covered in a special coating to prevent flares and reflections. Furthermore, there is an opportunity to use filters, resulting in stronger clarity in your images.
Conclusion
Taking photos with smartphones is more popular than ever. If you are looking for an option to take quality photos without buying a camera, check out some of the telephoto lenses for iPhone or smartphones we listed above. It all comes down to your requirements. Read the product descriptions and look for specific features that you need for your photography.
Try out our Effortless Editing course to master all the secrets of professional editing in Lightroom.