The uniqueness of street photography is capturing moments everyone can see but only a few really notice.
This is what gives us goosebumps. Street photographers can freeze scenes that only happen in a split second at places we all know.
If you are looking for street photography inspiration, take a look at our non-exhaustive list. This is not necessarily a list of the most famous street photographers, but they are 30 of the most influential artists working today in the niche. Believe us, it's worth following them!
What Makes the Best Street Photography?
Street photography is a genre which aims to capture scenes in public places. It's often without people noticing that they are being photographed, this is why it's often called candid photography.
You don't necessarily have to include people in your images. Playing with colours, shadows, lights, buildings and different objects can also make great street photographs.
Street photographers are always aware of their surroundings. Their eyes are trained to see the unusual in the usual.
Sometimes street photography requires interaction with the subjects. For example, it can happen that they are going to communicate with someone they photographed. But also, the camera separates them from the everyday crowd and allows them to observe everything through a frame.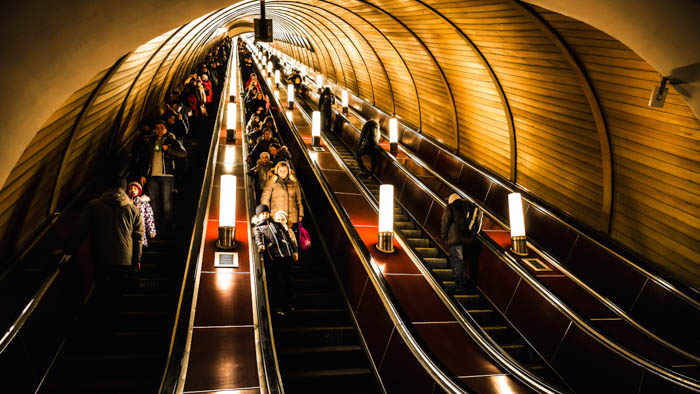 Who Are The Most Influential Street Photographers?
Let's take a look at the work of 30 of our favourite street photographers!
Joel Meyerowitz is a true legend. He is an American street photographer who has already published over 30 books, and he's planning more. His work has appeared in more than 350 exhibitions around the world and he won several awards.
He lives in the USA, and in Italy which brings great versatility to his photo series. His work is timeless, and it's surprising how he manages to capture casual scenes to appear unique.  He also manages to find a voice with the newer generations which is partly due to his amazing personality.
Brandon Staton became world-famous due to his project, called Humans Of New York. He was planning to make a catalogue of New York's inhabitants so they started taking portraits on the streets. The project took off and now millions are following it on social media.
He doesn't only take portraits of people on the streets, but he also writes their stories next to them after asking simple questions. His work is worth to follow. He can open people's mind in a beautiful way and he makes us more open to the people around us.
 

A bejegyzés megtekintése az Instagramon
Phil Penman was born in the UK and he was raised in New York. He's been documenting the ever-changing life of the city for more than 25 years. Besides being a street photographer, he photographed celebrities. Also, he followed historical events like 9/11.
He has won several awards and he had several exhibitions and he is named among the 52 Most Influential Street Photographers. If it weren't enough, he is also a published author at MOMA.
Zun Lee is a self-taught German photographer (and physician) who currently lives in Canada. He started Father Figure, his first famous project in 2011. His work is not strictly street photography, more like documentary photography, and he is a master of visual storytelling.
He observes and introduces the everyday life of Black communities. His images show intimacy, struggles and joy and other fundamental feelings and aspects of life.
 

A bejegyzés megtekintése az Instagramon
Xyza Cruz Bacani is a Filipina street and documentary photographer. She is based in Hong Kong and her mission is to raise awareness of under-reported issues. She won numerous awards and her work has been exhibited worldwide.
She is one of the Magnum Foundation's Human Rights Fellows. Besides this, she won several titles and awards. She's a true visual storyteller and she's found perfectly how she can use her voice to stand for human rights.
 

A bejegyzés megtekintése az Instagramon
The London-based Joshua K. Jackson is a street photographer, whose work focuses on the connection people have with their surroundings. He can perfectly capture small interactions between people as well.
He uses colour and lights to enhance the atmosphere an everyday scene can have. A lot of his images are shot at night when people are going home, sitting in bars or talking with each other. His perfectly composed images express love, loneliness and intimacy.
 

A bejegyzés megtekintése az Instagramon
Dina Alfasi is a photographer, mother and practical architecture engineer from Israel. Her work is unique because she almost solely photographs people travelling on public transport.
She takes stunning portraits, usually from really close as she sits next to someone on a train or a bus. She says that she is inspired by the little moments that happen every day. Well, we still need her to show these moments and feel inspired by her photos.
 

A bejegyzés megtekintése az Instagramon
Girma Berta is based in Addis Ababa, Ethiopia. He is a self-taught street photographer who composes his images in a really unique way, creating contrast using strong and harsh colours.
His work guides the viewer through the everyday life of African people not in a documentary, but more like in a fine art style. His work has been featured in different publications, and exhibitions internationally and received several awards.
 

A bejegyzés megtekintése az Instagramon
Michael McIlvaney, a UK-based photographer, shows harmony and also contrasts between different subjects of the streets. He is a street photographer, who adores taking images where people are interacting with the structure of their surroundings.
He aims for candid shots. He waits, then captures the decisive moment professionally. His work consists of both digital and analog shots, and he received the LensCulture Street Photography Awards 2020.
The Turkish street photographer, Haluk Safi's motto is "Looking for improvisation music on the streets." and his work reflects this.
He captures unlikely scenes, in an almost surreal way. He notices the appulse of different people and subjects, and he composes his images in a way where everything seems to be connected to everything.
 

A bejegyzés megtekintése az Instagramon
Paola Franqui, who is also known as Monaris, was born in Puerto Rico and now is living in the USA. Being a curious soul, she loves capturing people while thinking about what might they go through and what their lives can be like.
Her images show people doing their usual routine, going to work or using public transport or even document protests. Her subjects seem lonely and silent, although they are usually at really crowded and noisy places.
 

A bejegyzés megtekintése az Instagramon
Josef is a Hungarian street photographer, living in Sweden. He likes to travel and discover hidden gems in every city, capturing candid moments with his camera. He has an excellent eye for details, skillfully catching his models' authentic facial expressions.
Josef's photos are mostly black and white, combining street and architecture photography in a creative way. The people in his picture often appear as silhouettes.
 

Sieh dir diesen Beitrag auf Instagram an
Anton Kawasaki is a writer with a career in the comic-book industry, editor and web designer. But he is probably best known for his mobile street photography.
His favourite subjects are people living their everyday life and routines. He notices the unrealistic momentums happening in the most usual venues, like a metro station or a laundry. And yes, he takes his fantastic images with his smartphone!
 

A bejegyzés megtekintése az Instagramon
Michelle Rick is a native New Yorker. Her images have been exhibited and featured in renowned places and magazines. Also, she is a member of the NYC Street Photography Collective.
Her work carries a documentary character, and she is a master of catching moments where the subjects in her frame interact in exciting ways. This is what makes her a great visual storyteller.
 

A bejegyzés megtekintése az Instagramon
Dimpy Bhalotia is a fine art street photographer, who completed her studies in Bombay and now is based in London. She won a lot of different awards globally and different magazines and exhibitions have featured her work.
She was even named as the Best Street Photographer of 2019. She plays professionally with shadows, silhouettes and shapes in her black and white images. She also seems to never miss the decisive moment.
 

A bejegyzés megtekintése az Instagramon
Marcin Ryczek is a Polish photographer, who is most known for his minimalist and symbolic style. He uses geometry to create contrast and patterns in his images. His work has been presented in several countries, and he received numerous awards internationally.
Huffington Post has named his photo, "A man feeding swans in the snow" one of the best 5 in the world in 2013. That same image is on the cover of the "100 Great Street Photographs" book by David Gibson.
Navin Vatsa is a photographer from India, with a breathtaking style. Photography is more than a hobby or profession for him, "Photography is my meditation, my stress buster.".
This is visible in his images, and we can feel it too by looking at them. His images are street, travel and documentary photos, all connected by an incredible atmosphere. No wonder he has been awarded and recognised internationally.
Efi Longinou is a Berlin-based actress from Greece, who started photographing in her home country. It started as an artistic expression but soon became her passion.
Her work has been featured several times in the media, and she participated in group exhibitions. She is a member of Burn My Eye and interCollective. She considers the streets as a stage, and she always seems to be prepared to perfectly capture what she observes.
 

View this post on Instagram
Allan Schaller is a master of black and white photography. He lives in London and his images are characterised by geometry, contrast, shadows, lights, a bit of surrealism, and humans.
His work has been featured in a lot of famous magazines, and he co-founded the Street Photography International Collective (SPi), the largest dedicated street photography resource. Besides being a photographer, he is a musician and he also wrote articles on humanitarian issues.
 

A bejegyzés megtekintése az Instagramon
Peter Turnley is an award-winning and internationally exhibited American photojournalist and street photographer who is well known for documenting historical events.
He has beautiful street photographs and photo essays, my favourite is "French Kiss – A Love Letter to Paris". All his images reflect how openly he observes the world. He is not only documenting huge events, but he pays attention to the small momentums as well.
 

A bejegyzés megtekintése az Instagramon
The names are not a coincidence, David Turnley and Peter are twins. David is a photojournalist and street photographer too.
He won the Pulitzer Prize, two World Press Photos of the Year and the Robert Capa Award for Courage. He is shooting almost solely in black and white. He is sensitive to his surroundings, and always spots the small gestures as well as the dramatic ones.
 

A bejegyzés megtekintése az Instagramon
Charalampos Kydonakis or Dirty Harrry is a Greek photographer and architect, living in Crete. He has a unique, sometimes shocking style and he shows the world in a way what makes you question what is real.
He is a member of iN-PUBLiC, a street photography collective and his work has been featured in several books and publications.
Angelo Ferrilo is a photographer from Italy. He joined AFIP International (Associazione Internazionale Fotografi Professionisti / International Association of Professional Photographers) in 2014.
He is not only a great photographer who has amazing street photos, but he also teaches photography. His images are mainly everyday scenes, captured in different public places in a way he shows connections between his subjects in his frame.
 

A bejegyzés megtekintése az Instagramon
Melissa O'Shaughnessy is an American photographer with a degree in journalism. She is based in New York, and her work has been featured in various publications and exhibitions.
She is a member of UP Photographers, and she got her book, Perfect Strangers: New York City Street Photographs published in 2020. Her images show the everyday life of New Yorkers, and she definitely has the eye for finding uniqueness in the most usual scenes.
Zack Arias is a widely featured photographer based in Atlanta, who has been photographing for more than twenty years. He likes directing his subject, and he enjoys working with people who are not immediately comfortable with his camera.
He has travelled across every state of America (except North Dacota) and almost all continents. His work is versatile, you are going to find everything from staged portraits to candid street photos. Good news: if you are interested in learning from him, he has workshops!
 

A bejegyzés megtekintése az Instagramon
Steven John Irby (or Steve Sweatpants) is a New York-based self-taught street photographer. He is a co-founder and director of Street Dreams Magazine which features upcoming photographers.
Most of his work shows the streets of New York, and he also takes documentary images. One of his latest works, in which he documented the BLM movement was even featured places like the New Yorker.
Jasper Tejano started with trying out different genres of photography. He needed time to find himself in street photography and how fortunate he did. His work has been recognised internationally and his images appeared both in print and online, several places around the world.
He started approaching this genre from the documentary side, but now his images are more subjective, they sometimes seem almost surreal. He plays with shadow and reflections, and he always manages to capture something interesting, even in the most casual venues.
 

A bejegyzés megtekintése az Instagramon
Donato Di Camillo
Donato Di Camillo is a self-taught photographer, who was born in New York, from Italian parents. Photography started to interest him while he was in prison in Virginia, and he eventually started photographing while he was on home confinement.
He started with capturing everything he had access to at home. Now his work consists mostly of portraits of different characters. He has a great eye for spotting the interesting moments and people around him.
Clarissa Bonet is a Chicago-based artist, who aims to explore urban spaces. Her work has been published in several famous magazines such as The Guardian or The Wall Street Journal. Also, her work is in the collections, for example, the Museum of Contemporary Photography.
Her work is diverse. She has street and urban photographs and also amazing editorial images. Geometry and colours dominate her street photographs and she visualises the connection between people and their surroundings, by placing them in frames, made by buildings.
 

A bejegyzés megtekintése az Instagramon
Rui Palha is a street and humanist photographer from Portugal. He is based in Lisbon and he has devoted a lot of time to street photography for the last 20 years. He has had more than 20 individual exhibitions and his work was exhibited in several collectives.
His almost dream-like street photographs, mostly shot in black and white, got him several well-deserved awards and publications. 

 

A bejegyzés megtekintése az Instagramon
Conclusion
It's always a good idea to seek some inspiration from other artists work. Writing this article made me want to go out and capture everything around me, and hopefully, you'll feel the same.
Do you agree with our list? Drop us a comment with your favourite street photographers under this post!
We are always on the lookout for exciting new street photographers. If you are a street photographer, and you feel like you should be considered for this list, make sure to drop us an email at emma@expertphotography.com with your bio, website, and Instagram link!