DxO PhotoLab 4 is the newest version of DxO's multiple award-winning photo editing software.
The biggest innovation it offers, compared to the previous versions, is the DxO DeepPRIME technology. This is a revolutionary denoising technology based on artificial intelligence and deep learning.
The program also offers several updates concerning workflow, customization, and file handling. Read our DxO PhotoLab 4 review to learn more about why this software is a must-have for every professional photographer!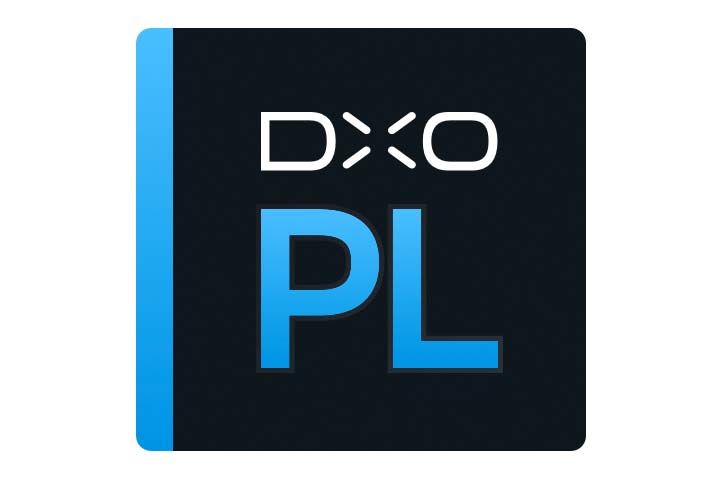 Looking for the best photo editing software for 2023? Look no further than the innovative denoising technology of DxO PhotoLab 4. This software offers a customizable workspace, improved workflow, and advanced organization of adjustments.
What is DxO PhotoLab 4?
PhotoLab is an advanced image processing software developed by the French DxO company. It offers everything that its competitors do. The software has a high-quality RAW processing technique and an easy-to-navigate platform. It also includes all the essential photo editing adjustments that you could wish for.
You will find its interface similar to Lightroom's. The difference is that Lightroom comes with a monthly subscription. Meanwhile, PhotoLab needs to be purchased only once, although for a higher price.
You can choose from two editions, Essential and Elite. The Essential package does not include the biggest key feature of PhotoLab 4, which is the Prime denoising. It also lacks various advanced workflows and customisation techniques. Examples for this are instant watermarking and batch renaming.
You can install a plugin as well, called Nik Collection, which is also made by the DxO company. It includes a package of various innovative photo editing tools, such as color correction or sharpening. These help you enhance and stylise your images. Nik Collection is also compatible with Lightroom and Photoshop. It is one of the most popular photography post-processing plugins out there.
Who Should Buy DXO PhotoLab 4?
Generally said, this software is recommended to everyone who is aiming to bring the most out of their pictures. You should also be willing to pay for a quality software.
DXO PhotoLab has the best denoising technology in the market. This is why it is especially useful for photographers who are often working with older images or cameras. It is also great for those people who don't own an ISO invariant camera body.
Before buying the product, you have an opportunity to try the Elite edition's free trial for 30 days. This way you can make sure that you only buy the product if it's worth it for your editing goals. You can download the free trial from DxO's website.
Key Features
Basics
When taking a first look at DXO PhotoLab's interface, you will see exactly what you would expect from a professional photo editing programme. The design is slightly harsher than Adobe Lightroom's standard, which most photographers are used to. However, there are many advantages of the software which make up for what it lacks in the design area.
Importing photos works with an easy drag and drop technique. You can also import whole folders and select the images that you specifically would like to edit.
From advanced digital corrections, such as removing chromatic aberration and fixing lens distortion, to easy to use local adjustments, PhotoLab fulfils every expectation.
The DxO Colorwheel allows you to select specific color ranges when fine-tuning colors. This, combined with Smart Lighting technology, helps you reach an amazing color accuracy and dynamic range in your images.
Customizable Workspace
DXO PhotoLab 4 allows you to use a new dynamic interface system, called DxO Smart Workspace. The programme offers extensive customisation functions.
These involve such features, that the user can display by categories, and a palette system. The default workspace displays the Essential tools palette that you need for basic corrections. You can match the workspace to your needs by reorganizing the tools and elements with several filters.
DXO PhotoLab gives you the opportunity to adapt the palettes to your own needs. This way, it is possible to organize your workspace the same way you had it in your previous photo editing software. This results in a faster workflow, and a smoother transition to the new programme.
Easier Workflow
You can also search for and filter adjustments in the new DXO Photo Lab version. The creators updated and rearranged the previous workspace to get rid of unnecessary palettes. These changes allow the user to have a faster workflow while working on their images.
The nearly 40 built-in presets help you channel your creativity and bring the most out of your images. With the Elite version, you can also adjust these presets to your own needs.
This optimised workflow also includes the ability to select multiple images, thus batch processes your photos. They offer selective copy and paste of adjustments that you might already be familiar with from Lightroom. These adjustments help you synchronise your settings across multiple images.
It is also possible to work alongside Lightroom while editing a photo. You can transfer your RAW files from Lightroom to DxO PhotoLab, edit them, and then simply send the file (JPEG, TIFF or DNG) back to Lightroom.
Improved Photo Organization and Batch Editing
The newest update puts a big emphasis on making photo management easier.
You also get direct access through PhotoLab to your files stored on your computer or external drive. The advanced keywords management tool quickly finds the photographs you are looking for. You can easily batch edit keywords for even more straightforward library management.
Other updates on batch editing include renaming and watermarking your photos. You can apply a text and/or a photo as your watermark.
It is also possible to edit the placement, orientation, scale and margins of the watermark directly in the preview. You can even utilise different blending modes. DxO PhotoLab offers seven blending modes, which helps you make your watermarks visible but subtle at the same time.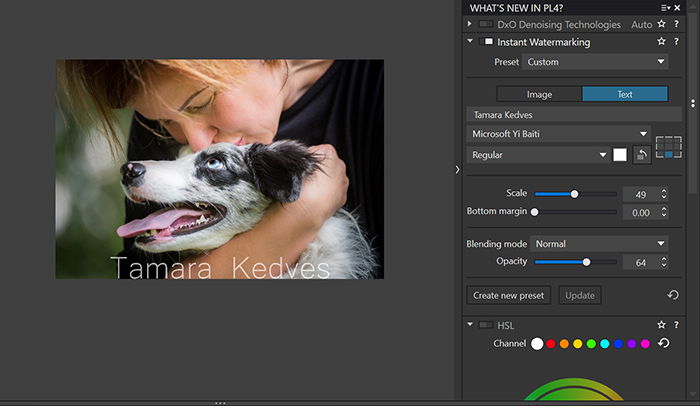 DxO continues to add the latest cameras to the list of supported equipment. With the latest update, it added the newest mirrorless models, for example, Canon EOS R6 and Nikon Z5. This results in more than 60 000 camera-lens combinations being available.
Advanced Organization of Adjustments
You can take advantage of the new advanced history option to navigate through different editing steps, adjustment by adjustment. The previously used tools are grouped into different categories, and you can hide each of the corrections at any time. This makes going through them more efficient, especially during complex edits.
The basic tools panel is cleaned up into a basic and advanced workspace. The adjustments are organised by categories of light, color, detail, geometry, and local adjustments. This will help you make sure that you always go for the tool that you need at the moment, without having to look for it through the whole panel.
I personally found Photo Lab's workspace easy to navigate. Due to the categorized adjustments, the programme is intuitive and user friendly. Even if you cannot find and adjustment at first, you can always use the search bar at the top of the right panel.
New Denoising Technology – DXO DeepPRIME
Without a doubt, the most defining feature of the new version is the introduction of DeepPRIME anti-noise technology. It offers revolutionary noise removal and RAW conversion. This makes it the first software that uses artificial intelligence for reducing grain. DXO DeepPRIME renders the image's information without reducing color accuracy.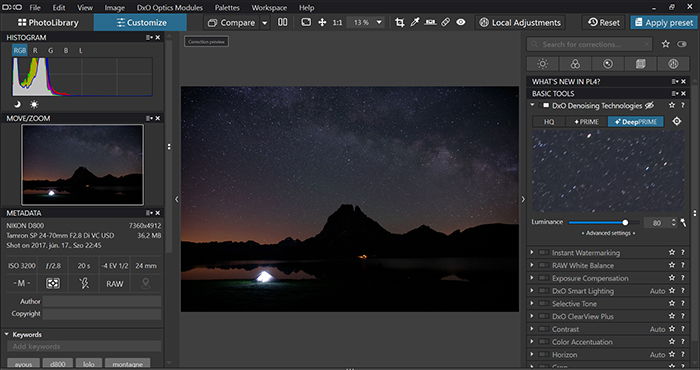 This results in a naturally smooth and noiseless photo while keeping the original photo quality and detail. It allows photographers to photograph at higher sensitivity with the same outcome. It also collaborates with the camera sensor, compensating for the grain produced by smaller sensor cameras or older models.
The systematic features of this programme mimic the human brain and nervous system. This so-called "deep learning" process allows the AI to teach itself and develop its own accuracy.
The millions of input and output sample pictures made it possible for the AI to learn denoising and demosaicing. There is a database of calibration images that the AI uses to assess the photos during denoising.
Real-life preview of the denoising is only visible in the small window. You can see the DeepPrime results after export. These results are natural colors, with improved smoothness but perfectly preserved details.
DxO PhotoLab 4 vs Adobe Lightroom
Lightroom, alongside Photoshop, is the most used photo editing software out there. The question is: is it worth paying for Lightroom every month when you can buy DxO PhotoLab as a one-time purchase?
DxO PhotoLab 4 indeed offers some features that are one of a kind. DXO DeepPRIME technology is the first example of building artificial intelligence into a post-processing software for denoising purposes. When it comes to noise reduction, PhotoLab definitely beats Lightroom in every aspect. It preserves more detail while maintaining color accuracy like no other software can.
It is also unique when it comes to a personalised workspace. Lightroom, while having a fairly well-structured workspace and toolbar, does not allow you to reorganize and hide adjustment tools according to your needs.
PhotoLab originally has a pretty different approach when it comes to organizing the adjustment tools. However, due to the option of customized workspace, it does not take long to get used to this new editing software.
Lightroom, on the other hand, has a great advantage when it comes to compatibility with other programmes that are part of the Adobe Suite. While PhotoLab is compatible with Lightroom, it is fairly limited in connection to other programmes.
Lightroom also provides more accurate color rendering since they introduced Adobe Color. This offers more color profiles within the programme. The auto color adjustments recognise the needs of each picture, transforming the photo's color somewhat dramatically.
In contrast to this, PhotoLab's colors often look a bit flat. But it is important to remember, that with the use of Smart Lighting, it is always possible to adjust contrast and brightness later on in the software.
Conclusion
DxO has been working really hard in the past years to introduce an improved version of PhotoLab. This version offers not only advanced organization and workflow tools. It also includes a revolutionary denoising technique called DeepPRIME.
The customizable workspace and batch editing options allow you to adjust the programme according to your needs. At the same time, they help you make your workflow more efficient.
I believe that PhotoLab 4 is an excellent photo editing programme for both amateurs and professionals. Lightroom still has some advantages over this programme. But my overall conclusion would be that PhotoLab does not fall behind the most popular Adobe post-processing software.
We hope that this review has helped you learn more about the new version of PhotoLab!
Measurement

Measurement

Score

Main Features

Main Features

Ease of Use

Ease of Use

Design

Design

Compatibility

Compatibility

Annoying Little Things

Annoying Little Things

Personal Verdict

Personal Verdict

Value for Money

Value for Money

Total Score

Total Score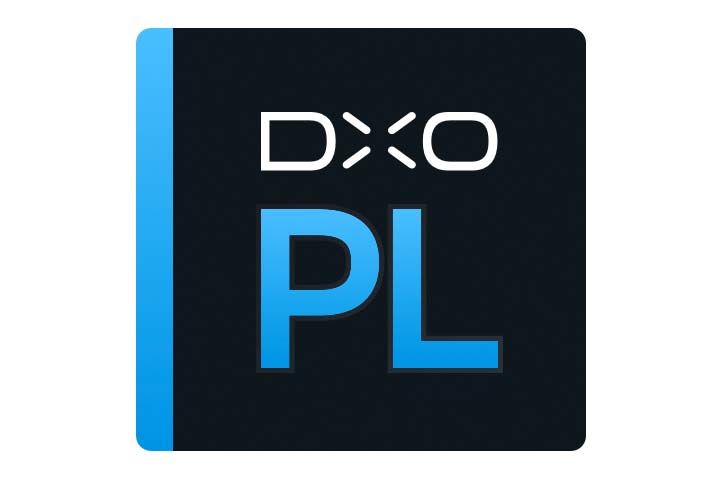 Looking for the best photo editing software for 2023? Look no further than the innovative denoising technology of DxO PhotoLab 4. This software offers a customizable workspace, improved workflow, and advanced organization of adjustments.