A year ago, Skylum's Luminar teased us with an update, bringing the image editing software into version 3. At last, the free upgrade is here.
But is Luminar 3 everything we hoped and dreamed it would be?
Luminar 3 could be a great program to use in editing your images. Or, it could sit behind Lightroom Classic CC as the go-to software.
Let's find out.

Skylum's Luminar 2018
A few months ago, I wrote a review of Luminar 2018. I knew this Luminar update was coming, but we weren't sure when it would arrive. Now that Luminar 3.02 is here, we need to look at what this update means for us image editors.
Essentially, the original edition was a great little software package. We found that all adjustments within Luminar are made by using filters. Each one of these is specific, tweakable and completely new compared to other image editors.
The AI Accent filter, AI Sky Enhancer, and the Sun Rays filter are ones that stand out. These offer editing help to photographers who really focus on landscape and nature photography, rather than street photography or portraiture.
Another area that was different from other image editors was their use of preset previews. When you use a preset, the image splits into before and after halves. This gives you an immediate look at the different adjustments applied.
Adjustment layers are yet another aspect that make Luminar different. They combined areas of Photoshop, such as adjustment layers, with the ease of Lightroom. Here, you create an adjustment mask, which can be turned on or off. You can even reorder the adjustments to refine the edit.
In terms of user experience, I found Luminar 2018 a little confusing. This is down to being very used to my Lightroom classic CC image editor. It quickly became apparent that the filters are where all the editing is laid out. It is minimal and looks great because of it.
The biggest thing with Skylum's Luminar is that it isn't really an alternative to Lightroom. It is in the way that it is an image editor, but because Luminar has taken areas from both Lightroom and Photoshop, it feels like a stand-alone program.
This program is fast because there is no uploading or importing. Instead, you locate the folder you wish to pull images from, and edit from there. This means you can start right away.
Now, Skylum is taking their Luminar 2018 and rebranding it as Luminar 3. A sleeker, faster version with a library and catalog system, amongst other things.

Likes and Dislikes
Likes
Smart use of Layers
Trying something different with Sun Rays
One-time payment gives you a perpetual license
Preview slider
Over 60 presets
Dislikes
When it comes to likes and dislikes, we are split. There will always be things that we will like and loathe, and there is no difference with any other program.
Saying that, it would be nice to see if anything changes in this Luminar update.

Luminar 3
New Library
The biggest reason many people have been waiting for this Luminar update is Skylum's inclusion of photo libraries. This is where the majority of the improvements are. The library feature adds a database and a catalogue of your images.
This stops Luminar 3 from being a single image editor with something akin to a photo workflow solution. This can't have been easy, and they should be applauded.
The biggest problems I faced with the Luminar 2018 version were the lack of library and that all edits were on a single image approach.
Before this Luminar update, you had to open an image, edit and add adjustments, then save. It's a lot cleaner now. Click on an image, and it loads instantly and automatically. It also saves any edits, so you don't have to worry.
Of course, you still need to get them out of the software, but this new setup makes it easier to work with multiple images, especially for batch processing.
This implementation is a mixture of a file browser and image database. You can add folders to it, which are scanned, adding thumbnail images. This makes it perfect for browsing. The folders are available in the side panel.
Pre-built searches pop-up, based on the dates you added or editing images. For images within folders, they are synced to your hard drive.
This means, any moving or copying you do within Luminar 3 will also change on your computer, and vice versa.
Problems
The gallery looks nice and works fast. However, there are a few issues. The thumbnails are only available at a few different sizes. This might not be a problem for you, just know that you can't set a size you would really like.
These thumbnails come from the jpg images, not the Raw files, so be aware of this. It might be annoying to see black and white thumbnails when the actual raw images are in color. This is something that is handled a little better in Lightroom.
The other thing that I found annoying was the lack of text in the library grid view. Moving the mouse over it, or selecting an image should bring up a file name at least.
This will also give you an indication when jpgs and raw images are placed next to each other.
Also, if no one remembers, Luminar promised that you would be able to import your Lightroom catalog into Luminar 3. Sadly, this isn't the case but we have been assured it is coming.

Luminar 3 Editing Interface
What I really like is the speed of Luminar 3. There is no unnecessarily importing images into the program as Luminar 3 works from a file browser window. Raw images can be a little slower, and often feels like it happens in stages.
As you load the raw file, you get an embedded preview to work on. The time it takes will depend on the size of the raw file size.
To put things into perspective, raw files from the Canon R Mirrorless are twice the size of files from the Canon 5D Mark III. They come in at around 50 mb.
Expect around 30 seconds, and more in some cases for the image to load fully. Editing can start from just a few seconds, but you might have to wait for applied corrections to kick-in.
The previews will change color and the contrast will slightly change.
This isn't a deal breaker, it is just a little annoying. I do get the same problems in Lightroom, but I generally know I need to leave the program for a little while it imports everything I need.
I love that they use layers. This makes it easier to see where your adjustments lie and can be deleted or modified as you wish.
You can stack as many layer adjustments as you wish. It's easier to use than Photoshop as it is really dedicated to photography.
Problems
What I found from using Luminar 3 is that it isn't amazing when using migrated images. If you have used Lightroom to rate and flag images, those won't show in Luminar. I believe they are looking at this for their next update.
On top of this, you can't add or view keywords. The entire metadata information for each image isn't visible, making images difficult,m if not impossible to search for.
Thankfully, you can look for captured dates, or any flags you add inside Luminar 3.
By the way, the flag is a heart, which is a little too close to Instagram for me. This is a small personal problem, and not one other might agree with.
If you do flag your images here, they won't show up in any other image editing software.

Comparing Luminar 3 to Lightroom
So, good and bad points throughout the Library and editing interfaces, but how does it compare to alternatives?
Lightroom has some great features. One of these, which I like is that you can assign presets on import.
This saves valuable time when going through 400+ images. You can add watermarks on export too. Luminar 3 doesn't have these features, and it doesn't look like they are coming anytime soon.
On top of this, the Chromatic Aberration correction tool is only automatic, and can't be tweaked. Lightroom allows you to change this manually, depending on the intensity found in the scene.
Lightroom exports fast and can do multiple tasks at the same time. Luminar 3 is painfully slow. In comparison with Lightroom, it is slow to import and generate previews, and Luminar 3 is slow to export. You might have your images at the same time.
However, slowly uploading images is a bigger problem, as you might only need one. Luminar can find it and export that one image fast.
If you were importing and exporting hundreds of images at a time, then Lightroom is faster overall.
The benefit of being part of the Adobe family is that you can move images across platforms. For example, an image in Lightroom can be moved to Photoshop for more intensive edits, and then back again without removing precious metadata or ratings.
It would make sense that Luminar sits behind Lightroom. After all, Lightroom has been through many versions and updates to get to where they are now.
It's only normal for Luminar 3 to play the second fiddle. What they do next will be very important.

Likes and Dislikes
Likes
Specific filters you can't find anywhere else
Viewing images is speedy. Sometimes you don't need to edit the raw files, just see what they are
Extra LUTs available (at a price)
Batch processing now available
Minimal layout
Dislikes
No text on the library grid view
Can't add or view keywords – makes images virtually unsearchable
No mouse-over information for the top menu bar
It doesn't migrate images to Skylum's Aurora HDR software
Automatic lens distortion added to images
Has crashed multiple times for me while writing the article
Will not process raw images from older camera versions
Can't expand the filmstrip on the side in edit mode
Preview caches are stored 15-20% bigger than the original file
Benefits of Luminar 3
Hybrid image editor that uses layers and masks (Photoshop and Lightroom)
Customizable workflow
Adjustments can apply to small areas of each image
Fast editing controls
Added library and database
AI tools are specific to Luminar 3
Affordable – and no subscription fee
Fast learning curve
10. Cross-Platform
When you purchase and download Skylum Luminar 3, you get to use the same license on five machines at any one time.
You'll find that Luminar 3 works well across Mac and Windows operating systems.
Luminar 3 never expires and will remain subscription-free. This makes it a competitor, and a great one at that, for Adobe products.
9. Unique Adjustments
There are reasons we like to use one image editing software over others. One of the reasons might be the very specific adjustment, only found in one program.
Luminar 3 has these unique adjustments, designed to get the most from your images.
You can browse through and use the Matte Look filter, which flattens colors and creates a high contrast image. Or try the Orton Effect, which allows glow and focus enhancements to be part of your image.
8. Team Player
If this version of Luminar is anything to go by, it's working around the areas you have already established. This means the existing storage and library you already created and organized.
It will also let you use jpgs, TIFFs and even Photoshop files.
If you have any Photoshop plugins, feel free to use them here too.
7. Precise Adjustments without Selections
Luminar 3 allows precise adjustments without the need for masks and selections. They understand this can become tedious fast, especially if you have many different edits to an image.
With the filters and separate layers used in Luminar, it is easy to track your adjustments.
Many Image Aware filters, such as the AI Sky, Details and Foliage Enhancers make it easier to ascertain a great looking image in seconds.
6. 100% Non-destructive
Unlike Photoshop, all the edits created within Luminar 3 are non-destructive. What this means, is it is very easy to revert back to the original image.
All edits are live and can be tweaked any number of ways.
As you'll remember, all adjustments are created on separate layers, which can be reordered, turned off or simply deleted.
The history button is your friend, allowing you to jump between any editing point.
5. Library Panel
The library panel is one area that we were so eagerly waiting for. This new feature puts Luminar 3 up there with Lightroom and other image editors. The minimalist Library panel places images front and center.
Here, you can add images to existing folders, all from multiple locations. You can import straight into the software itself if you so wish.
It is now easy to sort your images into groups, based on any set of data, such as the captured date.
This area also allows you to now batch edit by copying the adjustments over many images at once.
4. Raw Format Editing
We are not strangers to using Raw image formats and a processor to turn them into jpgs. Luminar's raw editing engine is fast and powerful.
There are a broad range of formats available form all the main players, such as Sony, Fuji, and Olympus.
Luminar is said to be one of the best on the market, allowing you to pull more detail from your images.
3. Adaptive Looks and Creative LUTs
LUTs (Look Up Tables) and looks give you very specific solutions to your images. They work like presets, and within Luminar there are many you can choose from.
They not only save time but look great. Very easy to use, and if you create any you like, you can save them.
They are all tweakable, and if you get tired of using the same ones, more can be downloaded and applied from Luminar's marketplace.
2. Accent AI Filter
The Accent AI filter is classed as the world's smartest slider. Here, you can improve the tone, color, detail and depth of an image in seconds.
It can be used alongside the AI Sky Enhancer for excellent and intelligent corrections in just a click or two.
1. Adaptive Interface
Every photographer is different. Luminar understands this, so has created adaptive layout and workflow solutions.
Workspaces show recommended tools for specific areas, such as black and white and street photography.
On top of this, the photo gallery can be resized for those moments when you need to see things a little bigger or smaller. Shortcuts help find your images fast and efficiently.
On top of this, there are 51 image adjustment filters to solve any problem.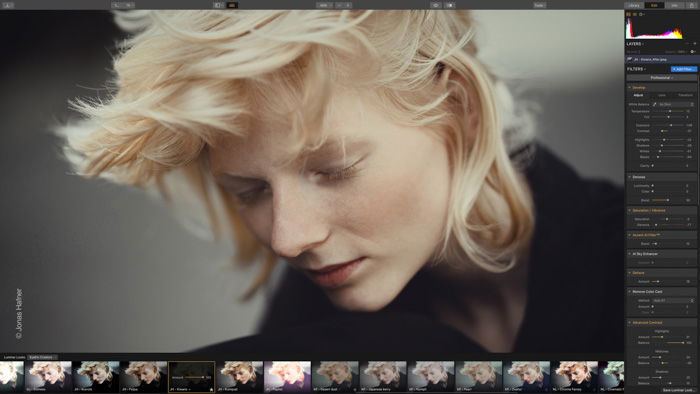 What Can We Expect in the Future
In this edition, they have improved raw support covering cameras such as the Fujifilm X-T3 and Nikon D3500. On top of this, it has become faster across the board.
Luminar makes backups each time you open it. Now you even have the option to locate a missing folder.
Expected March 2019, you'll have a feature that will allow you to work with Raw + jpg versions of the same image. This is for those photographers who capture both, such as wedding or event photographers.
For all you photographers out there who use Photo Mechanic, Luminar 3 is going to allow you to edit the core IPTC information. This includes custom presets that connect to IPTC information, syncing them across multiple images.
Coming a little later on in the year are a few more additions. If you liked the virtual copies that Lightroom gave you, Luminar is on the way to creating them.
This will allow you to create versions of the same image, just in case, you can't decide on what is best.
While we are on the topic of Lightroom, you'll soon be able to migrate images to Luminar 3 from Lightroom itself.
On top of this, you'll have the ability to quickly search for images using keywords, EXIF data, and their file names.

Conclusion
The problem from the start is that this update was supposed to be groundbreaking. Many of us were waiting so eagerly for it, tension ran high. The update brings some pretty big features, but some feel like not enough.
As photographers, we see that Adobe runs the game and can, therefore, set its own price. There are competitors, but they are hardly on the same scale. Many who edit their images choose, on purpose, to stay away from Adobe, even without trying the program.
Every software company wants to create the David in this story. Across many cheaper alternative image editors, they are getting closer.
They are just not close enough. And Lightroom has the features and tools many of us need, so why change.
Luminar 3 has come a long way with this update. They listened to their customers and added features that most of us will use.
Lightroom doesn't need to listen to its customers as much. Hopefully, image editors will force them to.
Skylum's software package will turn many heads as they get closer and closer to being a big competitor to Lightroom. They have the price and mentality, which is affordable and lacks a subscription fee. If you have Luminar 3, there are no further costs.
Luminar 3 is getting closer to where they need to be. However, they aren't quite there yet. If you are new to image editing software packages, give this image editor a spin.
If you, like me, find everything you need from within Lightroom, you won't want to change just yet.