Astrophotography entails late-night camps, clear open skies, and unexpected frames.
Shooting (for) the stars may not be the easiest thing to do. But with the right astrophotography camera, you'll find it infinitely more rewarding.
Here's our list of the 10 best cameras for astrophotography. Let's pick a winner!
How to Choose the Best Astrophotography Camera
When it comes to astrophotography, you will be surprised at the wide range of options you can choose from. There are DSLRs, mirrorless cameras, and even compact cameras. Apart from the usual choices, there are cameras dedicated to astrophotography.
The most important thing is the low-light performance. ISO invariance and a high ISO option are useful features to have. A wide dynamic range is also beneficial since you don't have much light to work with.
Also, you must be able to shoot in RAW. You will need to post-process your images, and nothing beats the RAW format in this aspect.
It helps to be comfortable using a remote shutter release as well. This minimises camera shake as much as possible.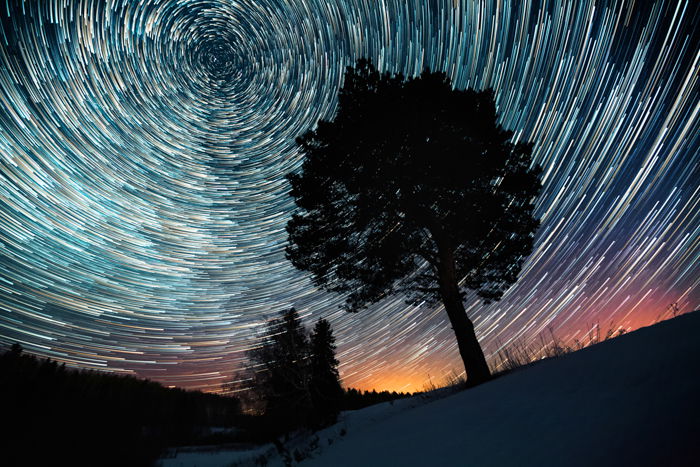 Long exposure noise reduction is also crucial. Your camera sensor can heat up and produce hot pixels if you leave your shutter open for a long time.
You should pay attention to battery life as well. Long exposures and cold weather can drain them at lightning speed. If your battery is not durable enough, take more with you. Don't forget to charge your battery right before your trip.
Astro filters are both sensor and lens-based. It's practical to do some research on which system you prefer. It will influence your choice of camera.
[ExpertPhotography is supported by readers. Product links on ExpertPhotography are referral links. If you use one of these and buy something, we make a little bit of money. Need more info? See how it all works here.]
DSLR and Mirrorless Cameras for Astrophotography
Why Choose a DSLR
A huge benefit of a DSLR is that you can modify it to suit your needs. For example, it's possible to put internal filters in it. Clip-in filters and lens mounted ones are mostly used on DSLRs.
Usually, DSLR systems have better adaptability for astro lenses. This means that you can add more variety to a DSLR body by varying more telescopes. And you can more easily find the perfect fit for your style.
Why Choose a Mirrorless Camera
There are mirrorless systems that come with a full-frame sensor, amazing resolution, and a wide ISO-range. What can make them better than some DSLRs is that they are designed to produce less noise in low-light conditions. This is especially true for the Canon EOS Ra, a dedicated astrophotography mirrorless.
ISO invariance is also something you will find in mirrorless cameras more frequently.
Dedicated Astrophotography Cameras
There are two more systems for astrophotography. First, let's look at the limitations.
Astro cameras are meant specifically for astrophotography. You cannot use them for any other purpose.
They also need dedicated computer software to operate.
They usually need multiple filters, which significantly raise the costs.
If you already know that astrophotography is your passion and can afford one for this niche, read on.
Why Choose CMOS Sensor Cameras
There are CMOS (complementary metal-oxide-semiconductor) astrophotography cameras with a mono sensor. They record images in greyscale. This means that if you want to shoot in colour, a minimum of 3 filters (R, G, B) are necessary.
These sensors, being more sensitive than the others, are better suited for astrophotography.
Why Choose CCD Sensor Cameras
Cameras with a CCD (charge-coupled device) sensor are more expensive than the CMOS options.
They usually need an accompanying telescopes for cameras. These cameras offer long exposure photography and have a cooler to prevent them from overheating. Their sensor also reduces the noise which often ruins beautiful astro images.
The Best DSRL and Mirrorless Options
The Canon EOS Ra is a mirrorless camera with some special features to make it perfect for astrophotography. It is dedicated to the night sky and deep-sky astrophotography. It falls on the spectrum between a regular camera and a dedicated astro camera.
This gadget also has a 30.3MP full frame CMOS sensor and Dual Pixel CMOS autofocus. It has an impressive 5,655 manually selectable AF positions so that you can auto-focus at any point you can think of!
For more accurate focus, it offers 30x magnification in both the viewfinder and Live View.
It has a modified filter for enhanced night sky recording. It's in front of the sensor, allowing a higher transmission of deep red infrared rays. It implies that you don't need additional optics or filters to use it for astrophotography.
Due to its specifications, this camera is not recommended for other genres of photography. It can be the best camera for capturing stars. But if you are looking for a more versatile gadget, this might not be the one.
The Sony A7 III has a 24.2MP back-illuminated full frame CMOS sensor. It's a mirrorless system and perfect for almost any kind of photography.
It has an amazing low-light performance. Its ISO sensitivity ranges up to ISO 51200 and it's expandable up to 204,800.
We also have to mention the wide 15-stops dynamic range it's capable of providing.
The settings of this camera can be customised thanks to the many buttons. You can shape it for your own style and workflow, which makes shooting in dark easier.
It has a unique feature called Bright Monitoring, which allows you to adjust the composition when shooting in the dark. You can check the composition through the viewfinder, even in the darkest night.
The Canon EOS 90D is a DSLR camera with a 32.5MP crop (APS-C) CMOS sensor.
It provides a wide ISO-range (ISO 100-25000, expandable to 51200).
With the powerful DIGIC 8 image processor, you can expect detailed and sharp images in low-light conditions.
It is capable of multi-exposure shooting from 2 to 9 exposures. It saves just the merged images and not the original ones, but it's perfect for astrophotography.
You can stabilise your camera and adjust the exposures to make more stars visible in your sky shots.
It also has 29 custom functions that let you control your settings easily and fine-tune them to your needs.
The battery life is also impressive; it can take up to 1860 shots with one charge.
The Nikon D500 is a DSLR camera with a 20.9MP crop (DX-format) CMOS sensor.
It has amazing low-light performance with an ISO range of 100-51,200, which is expandable to 1,640,000.
Being compatible with a lot of high-quality lenses, this gadget is perfect for different niches of photography.
Its battery life allows it to take about1,240 shots with a single charge- so that's one less thing to worry about!
Another exciting feature is the in-camera time-lapse. It can take up to a mind-blowing 9999 frames! Time-lapses are popular among landscape and night photographers. If you haven't yet dipped your toes in it, now's probably the best time!
This entry-level Canon DSLR camera has an 18MP APS-C CMOS sensor.
This gadget can be perfect for starting in any field of photography. If you are interested in photographing the milky way but don't want to empty your bank on an expensive camera, this might be the best choice.
It's compatible with a wide range of lenses and filters, making it a flexible option.
The ISO range is not so wide (ISO 100-6400, and it can be expanded to 12800). But with a fast lens, you can take stunning images with it.
Also, it has a shutter speed of 30-1/4000 sec. It even has Bulb Mode that allows you to expose an image as long as you wish (as you press the shutter).
The Best Dedicated Cameras
The ZWO Optical ASI183MC is a colour camera dedicated to photographing deep-sky objects.
You can take stunning images of different subjects such as nebulae, galaxies, the moon, or the sun. For photographing the Sun, you'll need a solar filter which is not included.
It works through a telescope on a motorized equatorial mount.
It has an advanced 20.1MP CMOS sensor with 2.4-micron pixel size. It's ideal for capturing fine detail in astronomical objects.
Integrated TEC cooling reduces sensor temperature to eliminate noise from the images. Rest assured, the only visible dots on your images are the stars!
The Celestron Neximage is a 10MP CMOS colour camera for the telescope.
It's compatible with three operating systems: Windows 7, Windows 8, and Windows 10. Also, compatible with the iCap, IC Capture, DirectShow, oaCapture software.
It can also be used with Mac OS X. You'll just need to download the software for it.
With the minuscule 1.67 micron pixels, your image won't miss a single planetary detail!
If you point the telescope at a subject, you can make a quick video. Then a software analyses each frame of the recording. It only keeps the sharp and great-quality images and gets rid of the blurred ones. Smart, right?
The ZWO ASI2600 MC Pro uses Sony's latest back-illuminated CMOS sensor for improving image quality. It's a 26MP APS-C format sensor.
It offers an incredible 14 stops dynamic range. It contrasts the bright elements in the sky with the dark.
Due to its two-stage TEC cooling system, your images stay noise-free. It lowers the CMOS sensor temperature to 35°C lower than the ambient temperature. This further enhances image quality.
It also has a DDR3 memory buffer to ensure stable data transmission. It operates perfectly during long exposures and it doesn't cause any unwanted changes in the images.
We strongly endorse this kit as one of the best astrophotography gadgets. It's perfect for beginners because it is easy to use.
It includes a Starlight Xpress' Trius 694 monochrome imaging camera, a Lodestar X2 monochrome guide camera, and a seven-position filter wheel equipped with a built-in off-axis guider (OAG).
The Trius has a 6MP Sony monochrome sensor. Its cooling system works with dry argon gas. An integrated fan takes care of the ventilation and it can lower the temperature to 40°C below the ambient temperature.
The Loadstar Autoguider monitors the position of the stars during long-exposures. It ensures the mount accurately tracks the subject, so images remain sharp.
The filter wheel allows you to change filters without having to touch the gear.
The QHY 163 is a high-end colour telescope camera with a 16.4 MP CMOS sensor.
The built-in high power dual stage TEC cooling system takes care of noise reduction. It lowers the temperature of the camera to 40°C lower than the surroundings.
Your astro images will have a powerful contrast and low noise level. This is partly due to the 10 stops dynamic range it can produce.
The small pixels of 3.8 microns contribute to high-resolution images.
This camera is great for astrophotography beginners as it's easy to use. But the image quality and the technical details make it a perfect fit for professional photographers as well.
Conclusion
The sky really is the limit when it comes to astrophotography cameras.
To know which astrophotography camera shines brightest in your hands, decide what kind of photos you want to shoot. With a plethora of specialised equipment available, dig deep into the basics of astrophotography.
It all comes down to what astrophotography means to you.
Not sure if astrophotography is your calling? If you often picture yourself shooting the nebula, it might be. In which case, you'll love our Milky Way Mastery course. You don't need to drive into the wilderness or invest in expensive gear. All you need is the open sky and starry-eyed wonder. Check the link now!