Is this thing on? Bad sound quality can completely ruin your video. And DSLR camera microphones are notoriously bad. The answer to this problem is an external microphone. External mics enable you to move your microphone near the sound source for high-quality audio.
This review will help you find the best DSLR microphone for your camera bag. We'll cover three broad types of microphones for your DSLR camera. These include handheld microphones, camera-mounted shotgun microphones, and wireless lavalier microphones.
[Note: ExpertPhotography is supported by readers. Product links on ExpertPhotography are referral links. If you use one of these and buy something, we make a little bit of money. Need more info? See how it all works here.]
Key Features to Look For in DSLR Microphones
Microphones have a polar pattern that determines whether they collect sound from everywhere or from one direction. Cardioid, supercardioid, and hypercardioid mics mainly capture sound from in front of them. Shotgun mics also have this pattern. Lavalier mics are omnidirectional, but this doesn't matter because they are close to the sound source.
Most microphones in this review will have some kind of gain control. This affects the strength of the signal passed to the camera preamp. Look for ones that can "boost" or "cut" (or "pad") the signal. In loud venues like rock concerts, the pad is a useful feature.
Confusingly, a "high-pass filter" reduces low frequencies. This helps eliminate traffic rumble, some wind noise, air conditioning units, etc. Human speech has a high frequency, so a treble boost will help to accentuate that.
Both a lavalier microphone and a "reporter" style handheld mic will bring you clear sound that cuts out much of the background noise.
The Best Handheld Wireless Microphones for DSLRs
There are only two microphones in this section of the review. The first up is from one of the most respected audio manufacturers, Sennheiser.
The Sennheiser EW 135P is a dynamic microphone, and the capsule has a cardioid polar pattern.
A dynamic mic needs to be within 6" (15 cm) of the person speaking.
The EW 135P uses an analog radio signal. There are 20 channels to choose from to avoid interference from other devices.
The receiver mounts on the hotshoe and connects to a standard 3.5 mm TRS socket, which is what you'll find on your DSLR. You can connect it to an audio recorder via the supplied XLR cable for even better audio quality.
The Saramonic UwMic9 HU9 is a cardioid polar pattern microphone. Combined with the RX9 receiver, it offers performance and specifications that are similar to the Sennheiser. And there is a considerable cost saving for the Saramonic.
There are 16 channels to help avoid interference. Both transmitter and receiver have backlit LCD screens. Connect via TRS to your DSLR camera or XLR for high-quality audio devices. The system allows you to connect lav mics to an XLR transmitter.
The Best Shotgun Microphones for DSLRs
A shotgun microphone is probably the most versatile external mic. Shotgun mics don't have to be held or sit neatly on top of your camera. And with a supercardioid or hypercardioid polar pattern, they help eliminate extraneous sound.
Finally, with a long cable, you can position them closer to the sound source on a stand or boom pole.
The Movo VXR10 Pro is a simple, compact shotgun mic. The Movo comes with foam, deadcat windshields, and a Rycote Lyre Shockmount. You also get cables to connect to your DSLR or smartphone.
There are headphone and mic out sockets on the back of the mic. This is especially useful if your camera doesn't have a headphone monitoring socket.
Power comes from the camera, so no batteries or phantom power are needed. This is as simple as it gets. Mount the mic on the camera, plug it in, and hit record.
Sound quality at this price point is impressive. Used on top of the camera, it lacks a little in the lower end. Held at 8-12" (20-30 cm) away, the sound is rich and balanced. But the Movo VXR10 Pro is not ideal if you record in windy conditions.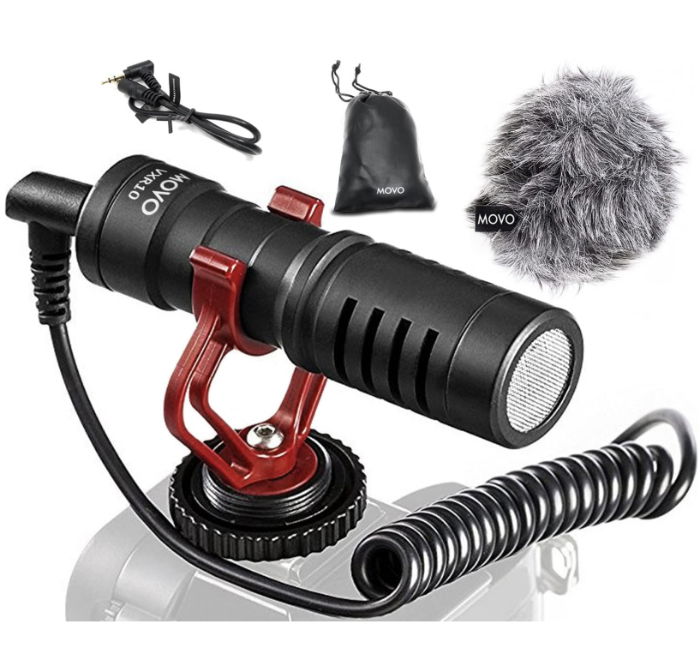 Rode is pretty much the microphone of choice in the vlogger sphere. Some people think they have a particular, compressed sound that has become synonymous with YouTube and other social media.
The VideoMicro has a frequency response that pretty much eliminates sub-100 Hz sound. Traffic noise, airplane hum, and similar background noise are reduced significantly.
The deadcat is also very effective, even in very windy conditions. This means it's a good choice if you film outdoors a lot.
There's a lot to like about the Deity D3 Pro. The feature that has attracted the most attention is the stepless gain control. Adjustable gain is perfect for counteracting poor camera preamps, low signal source, and getting the sound level right.
The rechargeable battery offers about 50 hours of use. Instead of needing different cables for phones, computers, and cameras, the Deity adjusts the output depending on what it's connected to.
The sound is just as good as the build quality. One reviewer called it the best on-camera shotgun microphone available. In a side-by-side test with the Sennheiser MKE600, I could not tell the difference. And this costs about half the price of the Sennheiser.
Another heavy hitter from Rode, the VideoMic Pro+, has an impressive list of features. In an emergency, you can use AA batteries instead of its rechargeable battery. You can also use it as a USB microphone. When you do this, the "mic out" port on the Pro+ becomes a headphone socket. This allows zero-latency monitoring of the microphone and computer audio.
A gain switch allows +20 or -10 dB, and there is a switchable high-pass filter for 75 and 150 Hz. A nifty "safety mode" records separately to the L & R channels, with one at -10 dB. If you discover that the audio has clipped during the recording, you have a -10 track to replace the bad sections.
The Rode VideoMic Pro+ includes a foam windshield, but not a deadcat. With an optional deadcat, the performance in windy conditions is excellent.
The sound quality is clean and clear, with decent low-end and good clarity in the higher frequencies needed for speech. With its flexibility for use as a computer mic, mounts for boom poles, and XLR capability, this is a great all-rounder.
The Sennheiser MKE 600 is a long shotgun microphone. Its hallmarks are an excellent build quality and a lot of versatility. Powered by a single AA battery when connected to a camera or phone, it can also draw phantom power via XLR.
The MKE 600 has a hypercardioid polar pattern. It has a high-pass filter that reduces noise below about 175 Hz.
The sound is clear, especially for speech. It comes with all the connections you will need and a foam windshield, but no deadcat.
The Shure VP83F is not just a microphone but also a standalone audio recorder. Camera preamps are often poor quality, typically being quite noisy and liable to clipping. An external recorder overcomes this problem.
The Shure VP83F puts the mic and audio recorder in one package, providing you with direct recording to a flash drive. The audio is sent to the camera as well.
Indoors, the VP83F produces clear sound and has up to 60 dB adjustable gain, with a high-pass filter that rolls off frequencies below 170 Hz.
There's nothing wrong with the sound you'll capture from the Shure VP83F. Some people think it's currently the best DSLR microphone. To my ears, it sounds a little unexciting. But the onboard audio recorder makes it an interesting microphone to consider.
Used with the foam windshield, the Saramonic Vmic is another pretty sizeable microphone. It has a solid metal body with an integral, non-detachable shock mount.
The rear panel contains buttons for selecting gain of -10, 0, or +20 dB, the expected high-pass filter, and a +6 dB high-frequency boost. This is useful for boosting speech against background noise.
A headphone jack allows for audio monitoring—useful if your camera doesn't have a headphone socket.
Listening to side-by-side samples from the Vmic, a Rode Videomic Pro+, and a Rode Video Micro, to my ears, the Rode mics are too trebly. But, by comparison, the Saramonic sounds muddy. It's much better than a DSLR internal microphone but lacks the clarity others have.
This is another very popular microphone with vloggers. This one is similar to the Deity D3 Pro in size, design, and features. It is more expensive, though.
The VideoMic NTG shotgun microphone has a stepless gain control and a -20 dB button. Additionally, the "safety mode" we saw on the Rode VideoMic Pro+ is here, recording a parallel track with -20 dB.
There's a switchable high-pass filter for 75 and 150 Hz and a high-frequency boost for accentuating speech. The sound indoors is comparable to the Deity V Mic D3 Pro—perhaps a little richer. In some outdoor settings, the Rode high-pass filter does a better job, reducing traffic noise, but making speech a little thin. With audio recording, everything is a compromise!
The Rode VideoMic NTG also works as a USB microphone. It also switches the output from its TRS to match the recording device—TRS or TRRS. This is an impressive addition to a well-equipped shotgun microphone.
This is very similar in looks and specs to the Rode VideoMicro, but the Boya BY-MM1 is cheaper.
The Boya shotgun mic takes its power from the camera and comes with both cables you need for connecting to a phone or camera. It also has a deadcat windshield and a handy standard tripod thread on the bottom of the hot shoe Rycote Lyre shock mount.
In sound comparisons, there is little to choose between the Boya BY-MM1 and the Rode VideoMic. The spec sheet says the Rode has a better frequency response range. This is true in tests, but it is almost undetectable in real-life situations.
Given that the Boya is about half the price of the Rode, you can see why it is a popular choice for vloggers on a budget.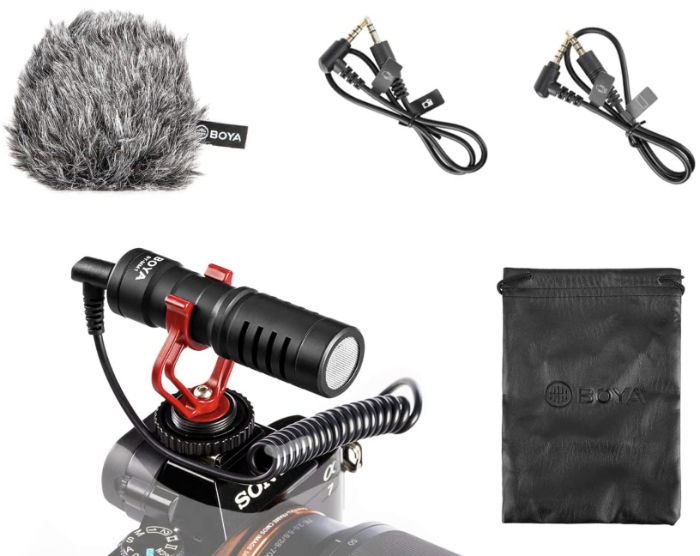 The Best Lavalier Microphones for DSLRs
Shotgun mics will lift your sound above anything your onboard microphone can do. You will get clear, rich sound at a distance of up to roughly 18" (50 cm). They also offer you various options in terms of off-camera placement.
Much further than that 18" distance, you'll struggle with many of the problems associated with the camera's own microphone. The sound will be thinner, and there will be more background noise.
This is where the wireless lavalier microphone comes to your rescue. It offers excellent proximity and a discreet presence, which are both beneficial. A microphone clipped to the speaker's clothing transmits the audio signal to a receiver connected to the camera.
So, which is the best lavalier microphone for your DSLR?
The first thing you might notice about the Rode Wireless GO II is that it doesn't look like a microphone. It's a glossy square about half the size of a deck of cards.
This is true of both receiver and transmitter. But, these two squares contain an awful lot of clever tech wizardry that could transform your recordings.
With a stated range of 200 m, you can really be confident of more than 330' (100 m) transmission. Secondly, even if your transmission drops out for some reason, the mic/transmitter has onboard recording. It even notes when your transmission failed and puts a flag in the recording when you import it. You can activate safety mode and set one channel to record at -20 dB to cope with unexpected clipping.
The GO II receiver can cope with two transmitters, making interviewing a breeze. The receiver's very clear and informative LCD screen lets you monitor various aspects of the performance. Padding, in steps of 10 dB, can be changed via the Rode app to increments of your choice.
The mic comes with a deadcat to cope with windy conditions, which locks securely in place. It also has a mic input, so you can connect an external microphone and use the transmitter as, well, a transmitter.
This is a good solution to wireless lav microphones.
The Sennheiser Pro Audio EW 112P is sometimes called the "industry standard." The G4 wireless lavalier microphone is the latest generation. It's expensive, so we would expect top quality.
The Sennheiser is a traditional-looking setup. Both transmitter and receiver are black boxes with protruding aerials and belt clips. The all-metal construction is a giveaway to the target market.
As you'd expect, the audio quality is excellent. The range is often better than the specified 330' (100 m), and the kit comes with cables to connect to your camera and handheld recorders.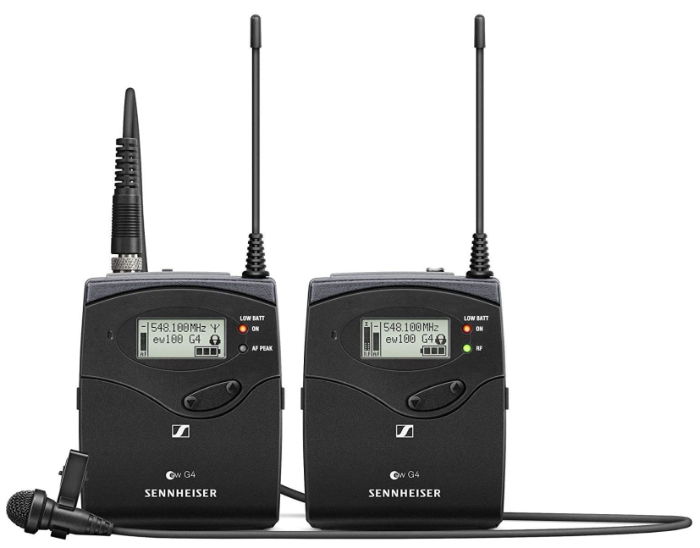 You may have not even heard of the t.bone brand from German online retail giant Thomann. But their equipment often surprises with plenty of bang for its buck.
This UHF wireless mic set delivers the same form factor as the Sennheiser Pro Audio. It has all-metal construction, TRS and XLR cables, and a sturdy travel case. And for much less than the cost of the Sennheiser.
The sound is consistently good. You get locking TRS plugs, but no deadcat. They also offer an option with two transmitters. Thomann offers a 30-day money-back guarantee and a three-year warranty.
Another lav mic that comes in one or two-person editions is the Saramonic UwMic9S. It sits somewhere between the Sennheiser and t.bone in terms of price.
The Saramonic impresses with the quality of its sound. The kit is comprehensive and packed in a sturdy case. You get all the cables you need for connecting to cameras or XLR sockets, as well as foam windshields and a deadcat.
It's good to see locking TRS connectors on the belt packs and rechargeable batteries rather than normal AA cells.
Conclusion
To improve the sound of your video recordings, you have to move away from the native DSLR microphone. For a budget shotgun microphone, the Boya BY-MM1 will cost you less than a family meal out.
Just slightly pricier, then the Deity D3 Pro is an excellent choice for your shotgun needs. Of the more expensive mics we've discussed, the Sennheiser MKE 600 would be my choice.
If you want a budget lav mic, the t.bone Sync 1 offers tons of value. For more money, the Saramonic UwMic9S is chock full of features. On the other hand, the Rode Wireless Go II is so compact and has that onboard recording and safety channel.