Social media is a powerful tool to build your business and gain more attention. Being present on social media allows you to gain visibility and succeed as a photographer.
But there are so many social media platforms out there. Which social media is the best for photographers? And how do you run a successful social media account?
Don't worry, we've got you covered! Read our complete guide to social media photography and take your social media presence to the next level!
Versatile Smartphone Support
UBeesize Tripod with Smartphone Stand
Improve your social media photography with a versatile tripod and smartphone stand. Capture stable, high-quality photos and videos with ease and take your content to the next level.
Get Started with Social Media Photography
Start from choosing a photography device and have a detailed strategy in mind. Then you can proceed to take amazing photos and learn about captions and hashtags.
Your social media presence won't bring you success if you don't have a clear goal and a detailed strategy to achieve it.
When entering social media platforms, you have a lot of things to decide about. Is your target audience present on the platform you chose? How are you going to engage them?
You also have to decide about the content you are sharing. Niche or mass appeal? Either way, you have to ensure you are sharing high-quality content. You should also think about scheduling your posts and be relatable to your followers.
Not to mention the platforms you choose. Are you going to be present on Instagram, Facebook, Pinterest or Twitter? Or many of them? You have to tailor your content to fit each platform.
There are many more strategies which you can read in this post. The most important advice is to stay true to yourself and be authentic.
Starting on Instagram is not always easy. Taking great photos is one thing. Having an Instagram feed that attracts followers is a different level.
You have to find your style and be consistent with your content. You also need to learn to interact with your followers. Not to mention using hashtags and captions. We have 12 tips for you here.
Hashtags can make or break your Instagram success. There are many photographers who have amazing Instagram photos. But they fail to use the correct hashtags. So nobody discovers their talent.
Hashtags are great because they help to categorize the millions of Instagram posts. The right hashtag leads people to the content they want to see.
Use too many hashtags, and your photos disappear in seconds. Use too few hashtags, and nobody finds your photos. But if you choose the most appropriate hashtags, they will attract followers and potential clients.
Learn more about hashtags in this post.
Many photographers struggle with choosing the right Instagram profile picture. The reason is simple: Instagram crops down your profile photo into a tiny circle. If you choose a high-resolution image, it might look horrible after uploading it.
Instagram also changes the resolution of the photos your upload in your feed. We have a detailed article about Instagram size guide to help you choose the correct measurements.
Professional photographers know that captions add extra value to the photos. Captions create stories, explain a photo or provide background information.
A good caption can turn an average image into an excellent photograph. For social media platforms, you can even use a quote or lyrics if they fit your photo.
We collected 8 important steps for you to help you write photo captions.
A good name is essential for your Instagram account. You can use your own name or the name of your photography business.
But you might want to be present with a different name on social media. It can drain your creative energy to find a catchy yet meaningful name for your Instagram page.
Here you can find a bunch of inspiration for Instagram name ideas.
Social Media Photography
This is the first question photographers ask when they plan their social media accounts. A professional photographer uses a DSLR camera for any kind of job, right?
Well, not anymore. Some smartphones are able to provide you with incredible photo quality. And they are easy to carry around.
But there is no easy answers to this question. You have to consider many factors before you make a decision. Are you shooting for yourself or for a client? What is the client expecting from you?
What resolution do you need for the final photos? And are you getting different angles with your smartphone? Where are you going to share your photos?
They say that the best camera to use is the one you have access to. But you need to consider the questions above. Read more about deciding between a DSLR and a smartphone for social media photography here.
You might decide to take most of your photos with a DSLR camera. But there will be times when you opt for your smartphone instead. Or you want to capture your entire social media photography with a smartphone.
Often, the next question is about the smartphone brand you choose to use. Even as a professional photographer, you cannot avoid the great question: iPhone or Android?
There are several aspects to consider. Android offers many features. But the iPhone provides incredible user experience. To help you with this important decision, we wrote you an article comparing the two brands.

If you decide to use your iPhone for your social media photos, you won't regret downloading Camera+App. This application allows you to take DSLR-like, high-quality photos with your iPhone camera.
You get full control with this app. You can adjust exposure, shutter speed, ISO and white balance. You can also edit your photos with the app.
To learn more about using this Camera+ App, click here.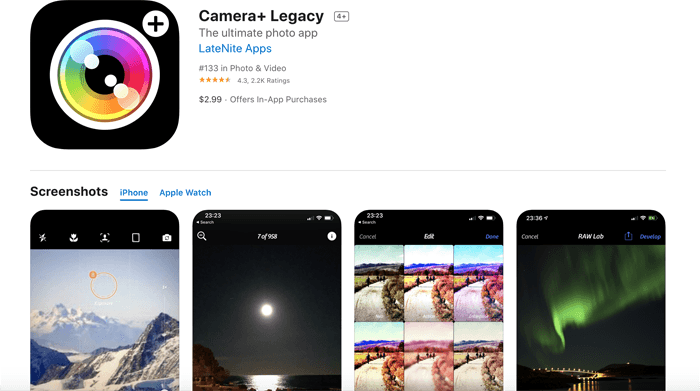 When it comes to taking photos with an iPhone, there are many excellent camera apps for photographers. In this article, we picked the best apps you can choose currently.
You can find camera apps that turn your iPhone into a professional camera. There are several photo editing apps that help you enhance your images. And there are camera apps that can turn your photos into art.
Instagram is the number one choice of photographers when it comes to social media platforms. It's no surprise as Instagram focuses on visual content.
It might seem easy to snap a photo and upload it to your feed. But you have to keep in mind a few features. Instagram uses a square format, so you have to keep this in mind when composing your photos.
It took me a while to see the world with 'Instagram eyes.' You have to adjust the composition and sometimes even the exposure.
The resolution also changes as you upload your images. Then there are the filters and the editing tools you can use. Read more about taking great Instagram photos.

Your social media account starts with choosing a username and a profile picture. Your profile photo says everyhting about your or about your brand.
People will know they found the right person when they see your profile photo. If you don't have any or you have a low-quality profile picture, your clients will think you are unprofessional.
The good news is that there is an easy way to take your own professional self-portrait. You only need a tripod, a camera, a remote, an editing program and this article.
Selfies are all over social media platforms. Often, professional photographers have negative associations about selfies. This is because there are so many amateur and bad selfies out there.
But taking self-portraits has lots of advantages for a photographer. You can practice posing, lighting and don't need to find a model for your photos. Self-portraits are excellent opportunities for experimenting with your work.
You can become a different person by using props. Or sharpen your candid photography skills. You can even try double exposures. For more selfie poses and ideas, click here.

Editing Images for Social Platforms
Before uploading your photos to any social media platform, you have the chance to edit them with several apps and programs.
VSCO is one of the best and most popular apps for editing social media photos. You can make adjustments and choose from many presets in the app.
It's a free app with an option to update to premium features. VSCO is easy to navigate and you can even share your final photos in the app. It is compatible with social media platforms such as Instagram.
Read more about the popular app, and learn to edit your images for social media platforms.
Talking about VSCO, there are other camera apps that offer wonderful filters. Instagram used to have quite basic presets. But now it offers higher quality filters.
Besides Instagram and VSCO, you can use Snapseed, Afterlight 2, Camera+2 and a few other great apps mentioned in this post.
There are plenty of apps offering photo editing tools for social media posts. But the good news is that you can edit your Instagram photos in Lightroom too.
You can do this in the desktop version or in the mobile app. You can also sync the edits between the two versions. Check out our detailed post about editing Instagram photos in Lightroom.
Inspiration
Need some inspiration for your social media content? We've got you covered! We have collected the best photographers to follow if you need extra creative ideas.
Children photography is a tricky yet rewarding photography genre. Even if you're a professional photographer with a lot of experience, you'll find it hard to capture kids who might not be in the mood for a photo shoot.
There are some great photographers out there who mastered taking pictures of kids. Check out our list featuring 9 amazing children photography artists.
If you're looking for inspiration from photographers of all different genres, you are at the right place. We collected 49 famous photographers you should follow online.
Some of them are focusing on landscape photography. Others have mastered photojournalism. But there is one thing in common in all of them. The content they share is of excellent quality and inspires thousands of other photographers.
Travel photography is a wide genre. It involves landscape, street and adventure photography. In fact, food photography can also be part of it.
If you need inspiration for your travel photography, read our list of the 30 most influential travel photographers.

Tumblr has been around for a while and kept its popularity despite the increasing number of social media platforms. You can still find fantastic photography content and inspiration on Tumblr.
We collected 25 photography blogs that you shouldn't miss on Tumblr.

You might want to print the photos you posted on Instagram. You can choose the DIY method with apps like Print Studio or Canvas Pop.
But you can also outsource the printing and use Instax Printer. Either way, we have the steps for you in this post.

Niches
There are lots of lucrative photography niches in social media. You can decide to dig deeper into one niche or master many of them.
Food photography is a popular and fun niche. Nowadays, you don't even need a DSLR camera. Shooting food photography with a smartphone is getting more and more common.
You can take your smartphone everywhere and capture delicious moments anytime. But you still need to pay attention to composition, angles and food styling. Check out our guide to smartphone food photography here.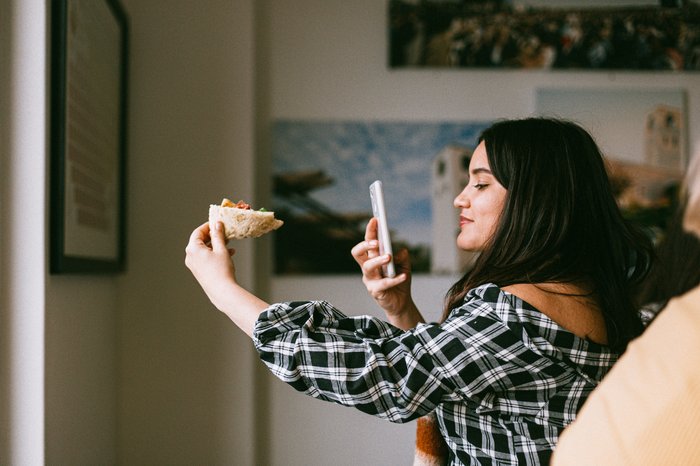 Everyone can take photos of food. But creating mouthwatering food photography is a whole other level. When you are capturing delicious food, you are not only a photographer. But you are also a food stylist.
And food styling is often about creating an illusion so that the final image looks stunning. We have 10 food styling tricks for you if you are serious about food photography.

When you mastered food styling, there still might be room for improvement. You need to find the best angle for specific food items.
And your food photography becomes 100% better if you tell a story that the audience can relate to. Or maybe they even feel nostalgic about a certain dish when they see your food images.
Read more delicious photography tips and capture yummy images.
Another popular niche on social media is fitness photography. There are thousands of fitness and bodybuilding accounts on Instagram. People have been wanting to get toned and look healthy since ancient times.
And of course, they need a photographer who freezes the moment when their body looks the best.
Fitness photography isn't only about the model's body. It is about their whole fitness journey. And about their athletic movements and shredded details.
Taking images of the gym or the location beforehand is always a good idea. And don't forget about suitable props. Need more advice? Read our post about fitness photography here.
Wedding photography is trending on every form of social media. Following wedding blogs is a great way to find inspiration.
The 7 blogs we collected feature everything from shooting wedding images to running a wedding photography business.
Social Media Marketing for Photographers
There are many social media sites for photographers and they all differ in features and services. You might find it hard, in the beginning, to navigate and choose between the sites. Which ones are the best for your photography?
We talk about Facebook, Behance, Vero and seven more social media sites here.

Image hosting is essential for every photographer. Even if you are a hobby photographer, you don't want to risk losing all your date from your computer.
Uploading your images to a hosting site frees up your computer and allows you to work faster.
We discuss the advantages, services and features of 12 free image hostings sites to help you choose the best one.
A Facebook page is a great way to create a community and get in touch with potential clients. You can share your past and current work, and even let people look behind the scenes.
Not sure how to set up a Facebook fan page and what to upload there? We are here to help you to make your photography business even more successful.
Pinterest lost a bit of attention ever since Instagram is around. But it is still one of the best social media sites for photographers to promote their businesses.
Setting up a Pinterest business account is free and takes only a few seconds. Then you can already start organizing your Pinterest boards. Make sure to do this with your audience in your mind.
You also need to use keywords and descriptions to get your pins out. We have many more tips about managing your Pinterest profile in this post.

Many photographers forget to involve Linkedin in their marketing mix. This is a mistake because it has lots of potential for getting you new clients.
Linkedin is a community for all different kinds of professionals. If you are serious about your photography business, you should set up and manage a Linkedin profile too.
Here is a step-by-step guide to help you in creating and running a Linkedin photography page.
If you have a website or are present on any social media site, you will need to write a photography bio. People only spend a few minutes checking out your introduction. You have to make sure it's catchy and convincing.
Your photography bio should be personal and showcase your talent. Its aim to help people get to know you and give them an idea about your art.
There are dos and don'ts of writing a photograph bio, and you can read them in this article.
Instagram is not only a place for showcasing your images. You can also make money by selling your photos on Instagram.
If you want to sell prints, make sure to include size and prices about the available prints. But you can also decide to sell digital prints or create digital products for other photographers.
Making money on Instagram was never so easy.
Once you have your Instagram name and the profile picture, you can start sharing. But how do you get attention and gain followers? How to you become Instagram famous?
There are a few great ways to get there. You need to think of your Instagram as a blog and not as your portfolio. Sure, you need to upload high-quality content. But share a few insider moments or photos that didn't turn out as you planned. This helps people relate to you and get to know you as a person.
It's also important to develop your style and be consistent. Your followers expect to see a certain type of photography when they see your content.
Read the rest of the tips for the Insta fame in our article.


Take your social media skill to the next level with our ebook – Social Success Strategies!