Are you looking for ways to take better Instagram pictures? If so, you're in luck! In this article, we will share some tips that will help you take great photos that will make your followers jealous. We have all the info you need to take good Instagram pictures.
eBooks and Courses for Everyone
4 Take Good Instagram Pictures: 4 Simple Smartphone Photography Tricks That Work
Phone cameras are impressive these days. Before all else, get familiar with tools at your disposal that will make a big difference in your photos.
Avoid Using HDR Mode
Using HDR mode can make photos look fake and over-processed. With Instagram, it's all about looking naturally gorgeous.
Underexpose Your Photos a Bit
Highlights get easily blown out on phone cameras. It becomes impossible to bring any detail to those highlights in your editing. To avoid this, underexpose the photo a bit. Brightening up shadows is much easier than trying to get detail in a blown out window. To underexpose, touch and hold a bright spot in your image for your camera to adjust its exposure setting.
Use the Grid
Turn on your phone's grid to help guide your compositions. You can find the grid in Settings > Camera.
Adjust the Exposure Manually
You can touch and hold to select a point of reference for exposure, but you can then select to raise or lower the exposure manually!
When you touch and hold, a yellow box appears in the reference area for exposure. Next to the box, you'll see a sun and a vertical line.
Touch and drag the sun up or down to manually adjust exposure.
Plan Your Posts Ahead of Time to Ensure Consistency
Each individual photo needs to be eye-catching. But you also need to consider the overall look and feel of your Instagram feed.
Are there certain colors, patterns, or themes that run throughout every photo? Keep your feed's branding in mind when you're taking a photo and editing it.
To avoid any bad decisions in the spur of the moment, it's a good idea to plan out your posts ahead of time.
Even planning out a general idea of what you'll post will help to create some consistency for your audience.
Use Natural Light to Stay Authentic
Instagram is not just about beautiful photos. It's also about authenticity. Photos that look natural will automatically feel more authentic to the viewer.
Whenever possible, avoid using flash or artificial light. Instead, take full advantage of natural sunlight.
Your photos will feel more natural. And sunlight can also create beautiful effects that can't be mimicked by flash (such as sun flares).
Even cloudy days can create beautiful images. Don't get discouraged by gloomy skies!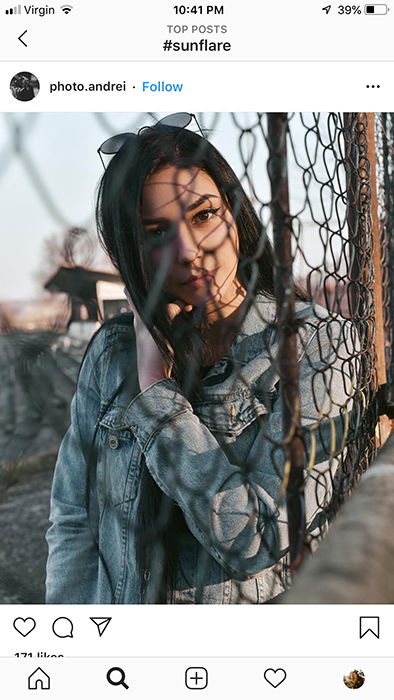 Photography During the Golden Hour for a Soft Look
Speaking of natural light, the time of day is going to be crucial. Early morning and late day light is golden, soft, and creates a magical feel.
Midday light is bright. It lends itself to more contrast and has cooler tones.
If you're looking to get a specific effect, you may need to visit the location where you want to shoot to make sure to be there at the perfect time.
Best Compositions for Instagram Photos
Do you want your subject in the dead center? Or is your subject peeking in at the edge of the frame?
Here are a few ideas for composing your photos for more impact.
Use Perspective to Add Depth to Your Images
Not everything interesting is right in front of you! Don't miss opportunities that are all around. Look up, look down, look behind you.
Changing perspective and finding unique angles to familiar things can spice up an otherwise boring photo.
Consider moving closer to your subject, too. Photography a subject up close will emphasize the distance between it and the background. This will add depth and interest.
Editing for Instagram
There are more Instagram filter apps than ever before for editing your photos on your phone! You can always edit within Instagram itself. But the editing tools are more limited.
Some other great photo editing app options are:
Snapseed has an impressive variety of tools to edit photos. The interface is also very user-friendly.
VSCO is a modern take on editing. It has clean and trendy filters you can apply and adjust. Known for a strong community, VSCO is a top option for serious Instagrammers.
A Color Story is all about bright whites and pops of color! If that fits with your feed's look, then this is the perfect app to try.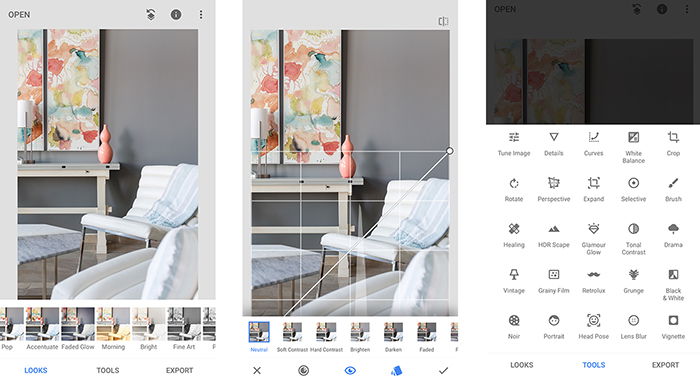 No matter what app you use for editing, be sure to check exposure, clarity, contrast, and color (saturation, light temperature, tint). Then move on to more creative adjustments.
When applying your edits, stay consistent with the look of your brand. That way your feed will have a coherent flow.
To save time, you can edit a batch of photos at a time. That will make planning ahead much easier, too!
Conclusion
Cell phone cameras these days can create beautiful Instagram-worthy photos, but only if you know how to use them.
Follow the steps above to step up your social media photography. You'll create the Instagram feed of your dreams!
Why not check out our posts on famous fashion photographers or dance photographers for some inspiration!


eBooks and Courses for Everyone