Fashion photography is the definition of vibrance. Thousands of famous fashion photographers influence all the glitz and glamour.
They capture the beauty of clothes, people, and the locations surrounding them. Here are 21 of the people who have taken the fashion photography world by storm.
eBooks and Courses for Everyone
21 Fashion Photographers You Should Know
Here are our top choices of famous fashion photographers to check out. We've included links to these photographers' websites and Instagram accounts (if they have one).
Julia Hetta's photos could be confused for Rembrandt paintings. Unlike many fashion photographers today, she mostly uses natural light. This gives her fashion portraits an unusual yet recognizable style.
Hetta calls herself a romantic person. This is evident in her portfolio. This often features textures, soft light, and models that look like they live in an alternative universe.
Hetta's unique style can be found in magazines like British Vogue and brands like Alexander McQueen.
Giampaolo Sgura is a force to be reckoned with in the fashion industry. He has almost 20 years of experience under his belt. And he's confident and innovative in an industry filled with clichés.
Sgura believes in authenticity. He never starts a shoot without getting to know his team and the clothes his models will be wearing. This familiarity helps him take visually appealing but honest photos.
He also prioritizes style over fashion. He believes this is timeless compared to fleeting trends. Sgura has photographed many celebrities, including Katy Perry and Irina Shayk.
Cass Bird embraces diversity through her elegant fashion photos. Her photos feature men, women, and children who all seem comfortable in their skin.
Bird has also produced videos for Vogue, Revlon, Dior—and more! Her storytelling technique lets her take sensitive, candid, and vulnerable photos of her models.
Her clients include American Eagle, Zara, and Calvin Klein. She often photographs famous actors and models in very refreshing ways.
David Roemer has an eclectic mix of interests. They include psychology, film, painting, and fashion photography. With a strong focus on color, he aims to create expressive portraits.
Roemer's portfolio is as eclectic as his interests. Some photos are creatively overexposed, while others are perfectly lit.
Roemer has photographed famous actors and models, including Barbara Palvin and Jessica Chastain.
Lina Tesch is one of the most popular fashion photographers, both online and offline. Her 200,000+ loyal followers on Instagram alone prove she cares about quality content.
Tesch's photos stand out because they're fearless, dramatic, and powerful. Her unique style has led to collaborations with Puma, Dior, Swarovski—and more!
Another factor that contributes to her appeal is her own love of fashion. Tesch often poses as a model for other fashion photographers, and successfully so.
Paul Bellaart captures humanity at its finest. His portfolio is filled with hundreds of monochrome and colored portraits. All of them are romantic and expressive.
Bellaart focuses on details and atmosphere at the same time. Some photos feature specific parts of the human body. Others zoom out and focus on intimate moments shared by friends and family.
He does all of this while emphasizing the beauty of fashion.
Bellaart finds inspiration in real people and their stories. His open-mindedness and romantic style has allowed him to work with Hermes, Levi's, Marie Claire, and more.
Olivia Malone is a familiar name in the fashion industry. Her photos often feature elegant women surrounded by inviting landscapes.
The softness and empowerment in Malone's work makes her an outstanding fashion photographer.
She's also a filmmaker who has shot a few famous music videos, including Miley Cyrus's "We Can't Stop" video. In addition to that, she directs videos for other artists.
Also known as an actor, Cole Sprouse is often featured on magazine covers and photographed by the people on this list. But he's also a rising star in the photography world.
His photos revolve around fashion, landscapes, and atmosphere. If you scroll through his Instagram, you'll notice that most of his posts are accompanied by in-depth stories written by him.
Sprouse often photographs his famous co-stars. He works with well-known brands like Adidas and takes photos for magazines.
Elizaveta Porodina discovered photography when she was studying to become a psychologist. Thanks to her self-awareness, she fell in love with her camera and quit psychology.
One of Porodina's main sources of inspiration is science fiction.
Porodina cares about empathy and emotions. Her photos are vibrant, sharp, and impossible not to analyze. Some of the colors in her photos are so vibrant that it's impossible to print them.
Bruce Weber is one of the most famous fashion photographers in the world. At 73 years old, he has a never-ending list of clients that includes Calvin Klein, Revlon, Rolling Stone, and more.
Weber stands out from other fashion photographers because of his style. Most of his portraits are in black-and-white.
Despite this, he has over half a million followers on Instagram. And he regularly inspires his fans with expressive photos of famous models.
Sarah Moon was formerly Marielle Warin. She is a 78-year-old photographer who has been an important part of the fashion industry for decades.
Moon became well-known in the 1970s. And she has worked for Vogue, Dior, Comme des Garçons, and more.
Her atmospheric and romantic photos were always reminiscent of dreams. They were so unique that she quickly became a respected figure in fashion photography.
Tim Walker's models have been gracing the covers of famous magazines for many years. His unusual and dreamy style makes him an icon in the world of fashion photography.
Walker's photos are a beautiful combination of fine art, fantasy, and fashion. Every photo looks like it was taken out of a fantasy film.
Walker regularly works for Vogue. He also makes short films.
Alexandra Nataf is a freelance photographer. She takes intimate and empowering photos of women.
She has photographed celebrities like Elizabeth Olsen. And she's worked with companies like Bobbi Brown, Matteau, and more.
She's also the founder of Unconditional Magazine. This community focuses on groundbreaking stories about women and their lives.
Daniel (Dan) Jackson graduated with a degree in sculpture. It's perhaps his knowledge of shapes that helped him light his models in the most flattering ways possible.
Jackson has worked with professional models like Gigi Hadid and Doutzen Kroes. His work has been featured in i-D, VMAN, and more.
Lara Jade discovered her interest in photography at the age of 14. She started posting self-portraits and photos of others.
These posts quickly caught people's attention. And they provided Jade with an abundance of popularity.
Jade's love for self-portraiture evolved into a love for fashion photography. And then it turned into a successful business.
She now photographs celebrities like Gemma Chan and Zara Larsson. She also works with companies like Avon, Monsoon, and more.
Jeff Bark can be described as a fashion photography painter. His photos resemble surreal paintings of unique people and locations.
Bark often builds his own sets. His love for the technical side of photography makes him an outstanding figure in the fashion industry.
His work has been featured in Dazed and Confused Magazine. And it is included in several museums, including the North Carolina Museum of Art.
Ellen von Unwerth first entered the fashion world as a model. After 10 years of modeling, she received a camera as a gift and fell in love with photography.
She has worked for Vanity Fair, Dior, Ralph Lauren, and more. In 1998, American Photo Magazine named her one of the most important people in photography.
Unwerth prioritizes atmosphere and confidence in her photos.
Mert Alaş and Marcus Piggott are also known as Mert and Marcus. They are a fashion photography duo who often collaborate during their photoshoots.
Their photos focus on beauty, fashion, and female power. They're a source of inspiration for both portrait photographers and fashion enthusiasts.
Mert and Marcus have worked with every famous brand imaginable, including Vogue, Dior, and Givenchy.
Zhang Jingna got into photography at the age of 18. Shortly after, she became a powerful influencer in the photography community. She's worked with renowned companies like Harper's BAZAAR.
Now, she's one of today's leading female fashion photographers. She has been featured in Vogue. And she was named on the Forbes 30 under 30 list in Asia.
Zhang's photos are emotional and feature magical elements. Her portfolio appeals to a wide variety of artists.
Mario Testino is one of the most influential fashion photographers in the world. He is known for photographing famous faces. But he is also the founder of a museum, a creative director, and more.
Testino's clients include Chanel, Burberry, and Versace. He has also photographed royal families worldwide, including Princess Diana.
His photos are candid and fearless. They're easy to recognize and impossible to ignore.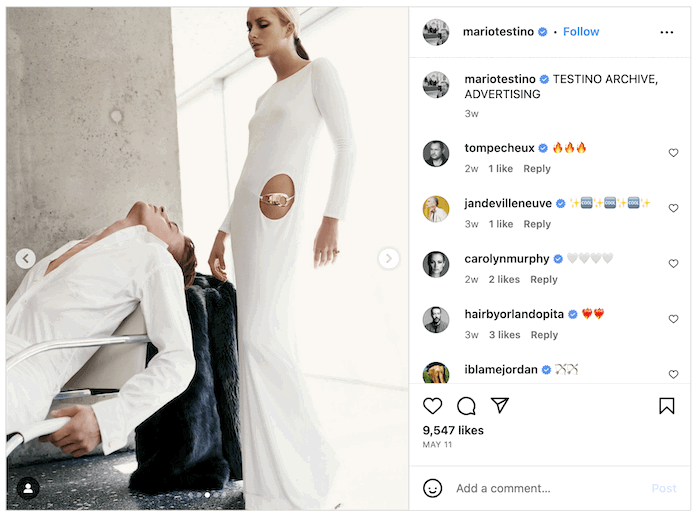 Pamela Hanson is one of the first women to succeed in fashion photography. She has over 20 years of experience. And she has become an irreplaceable part of the photography community.
Hanson has an impressive list of clients that includes Vogue, L'Oreal, and Victoria's Secret. Plus, she has published three books, all of which focus on human beauty.
Her photos are bright and emphasize her models' natural skin textures. They also have a beautiful, candid feel to them.
Conclusion: Famous Fashion Photographers You Should Know
Fashion photography has and seems like it always will shape the way we think and live. Through this genre, we can learn about photography, trends, and other people's stories.
To improve your fashion photography skills, look through these famous photographers' pictures. And let them teach you how to take outstanding fashion photos.
Are you looking for more inspiration? Check out our post about the best black-and-white photographers to follow next!
eBooks and Courses for Everyone