Not only can you photograph with your smartphone, but you can download countless excellent photo editing apps.
As sometimes it's hard to decide which one is best for you, we have collected 22 of the best photo editing apps to make your choice easier.
Best Photo Editing Apps for Android and iPhone in 2022
When it comes to the best editing app for your smartphone, there are no shortage of options. Whether you have Android or iOS, there is something available for all skill levels.
Let's dive into the list of our favourite photo editing apps now.
1. Adobe Lightroom Mobile
Adobe Photoshop Lightroom is one of the best photo editing apps. And it's free!
This app helps you capture and edit your photos. You can retouch light and colour. Also, crop and rotate your images as you wish. You can even adjust perspective.
Achieve professional photo editing faster by using Lightroom presets.
Lightroom Mobile offers a smart organisation for your photos, advanced photo sharing, and creative cloud storage.
2. Adobe Photoshop Express Photo Editor
Photoshop Express has all the editing tools you need and more. You can find the basic crop and rotation tools, as well as smart filters and a wide range of effects.
You can make stunning photo collages, add borders and texts to your images, apply blur, or remove noise. Perspective correction, advanced image healing, and quick fixes are also possible.
You can even save your images in PNG and share them directly on social media.
Photoshop Express is also free!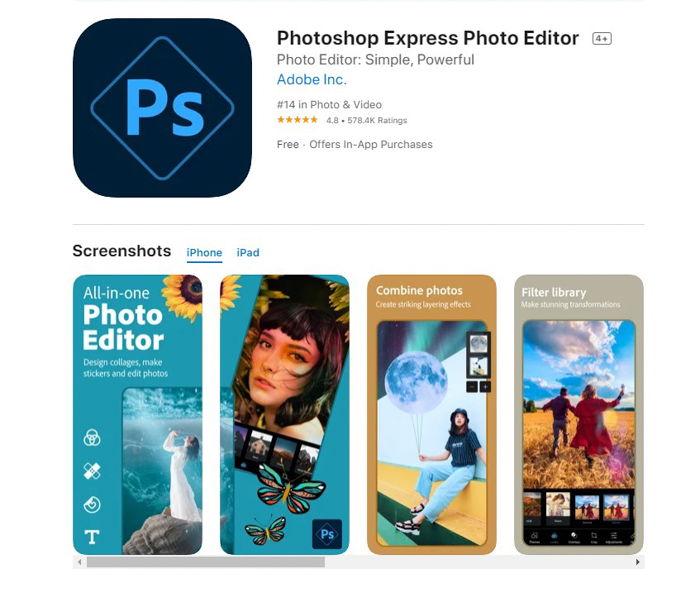 3. Snapseed
Snapseed is Google's professional photo editor app. It's free and it offers 29 tools and filters. You can find, for example, healing, brush, structure, HDR, and perspective correction options.
This app opens JPEG and RAW files, which allows non-destructive photo editing.
You can rotate and crop your images freely. It gives precise control over brightness levels. You can add drama and vintage looks with different filters and styles.
It also has an exciting tool called Expand. This feature increases the size of your canvas and fills the new space to match your image.
4. VSCO: Photo & Video Editor
VSCO is an easy-to-use app that offers a wide range of editing options.
Not only do you have plenty of possibilities, including exposure, contrast, and temperature correction. But you also have access to an alignment tool.
VSCO even works as a video editor.
The app is free. You can also join as members to get access to their advanced features, such as the preset library.
5. Prisma Photo Editor
Prisma is a photo editing app that turns your best photos into paintings. In the filter library, you are going to find more than 300 art styles to choose from.
Prisma even releases a new art filter every single day.
They have built a community to join, share your creations, and see other people's best photos. You can follow others and chat with them.
You do not only use fixed filters as you can fine-tune your images.
There are two premium subscriptions for 1 and 12 months.
6. Afterlight 2
Afterlight 2 offers more than 130 unique filters, over 20 advanced tools, and more than 60 textures and overlays. You can choose from different frames and borders too.
The app has regular, everyday options, such as crop, brightness, and exposure. It also has more in-depth tools like curves, selective hue/saturation, clarity, and tone.
Filters can be created, used, and further edited to help with batch processing.
7. Instagram
Instagram is outstanding as a free photo editing app.
Before you share your images, you can edit them with different photo editing tools. Filters are the easiest way to edit photos, but you can fine-tune them. You can edit your photos with the adjustment tools.
Instagram offers a quick and easy way of photo editing. Its user-friendly surface made it the most popular and one of the best photo editing apps.
However, one problem with it is that you cannot download your edited photos in high resolution.
8. TouchRetouch
TouchRetouch takes smartphone photo editing to a new level. It's an app that offers all the tools you need for removing unwanted elements from your photos. And you can do it just by marking them.
If you want to remove, for example, a line, you do not have to be precise. Mark only a section of it, and the app removes the rest.
You can even watch tutorials in the app to help you learn as you go.
9. Adobe Photoshop Fix
Adobe Photoshop Fix enables easy image retouching and restoration. You can make edits to facial features, including skin imperfections.
Lighten and darken your photos easily, even just by selecting a specific part.
Colour adjustments and blurring an area of the photo are also possible.
With this app, you can get connected to Creative Cloud too.
10. RNI Films
RNI Films is one of the best photo editing apps for those who appreciate the beauty of analogue photography.
The idea came from the need to transfer the true character of analogue film to digital photos.
This editing app offers film filters split into negative, slide, instant, black and white, or vintage.
You can choose from different adjustment tools. Crop, rotate, set the brightness or the contrast as you wish.
On top of this, the app supports RAW files.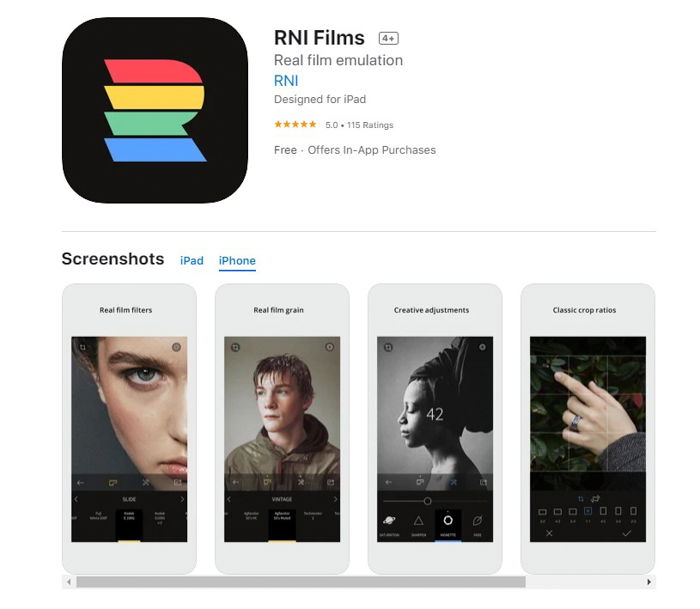 11. Pixelmator
Pixelmator is a photo editing app that offers layer-based editing.
You can get started with dozens of templates. Single-tap colour correction presets allow you to improve your photos quickly.
Setting the correct white balance and removing colour casts has never been easier.
You can even duplicate areas of your images. Or you can choose from several effects to completely change the atmosphere of your photos. You can even add texts to them.
Pixelmator lets you paint stunning images directly on your smart device. It's going to look like you were using watercolour or crayons or pencils.
12. Photofox – Photo Editor
Photofox by Lightricks works as a high-quality camera and editor app.
It allows you to create a double exposure. Choose a photo and an overlay, and the app does the rest.
You can add surreal effects and backgrounds to your photos. You can even create a 'tiny planet' effect by letting the app wrap your landscape images into small worlds.
You can blend images, add text, and many more things. They are all easy to use too.
13. Mextures Photo Editor
The non-destructive workflow and layer-based editing make Mextures an outstanding app. Mextures is also great for applying dust and film grain to your images.
You can choose from over 150 textures, and you can easily add light leaks.
Choose a photo, fine-tune your edits, save and share it. It's easy to use its editing tools.
14. Superimpose X
Superimpose X is a photo editing app that allows you to create surreal photos. It allows easy-to-use features, so even beginners can make images that look professional.
You can edit multiple layers at the same time.
Create double exposure, or make minor adjustments on clarity or shadows. Use masking or brushes.
Use opacity control and choose from 18 blending modes. Automatic masking out of people using AI and clone stamp are just two of your most unique options.
15. Foodie – Camera for life
Foodie is one of the best photo editing apps for those who like capturing their lunches every day. It allows you to capture the perfect atmosphere when taking food photos from above.
You can choose from over 30 filters with names like Yum, Picnic, Sweet or Chewy. Also, you can make vivid videos using this app.
Its timer allows for perfect selfies. It's also easy to share your best photo on social media through Foodie.
16. Hypocam
Hypocam is one of the best photo editing apps dedicated to black and white photography.
You can shoot with this app while controlling your shoot with its live view.
Edit your photos with Hypocam's creative tools developed exclusively for monochrome photography. You can even store your edits and post-process in the app. They are working on making presets more stable and easy to use.
There is even a built-in news feed, so you can always see other artists' black and white images.
17. Pixlr – Free Photo Editor
Pixlr is a free photo editing app where you can easily create collages with any background you like and customise the photo ratio.
Auto Fix allows you to adjust the colour of your photo effortlessly. Use Double Exposure to create a merged image with adjustable transparency.
With Stylise, you can create pencil, sketch, or watercolour effects.
Choose from several effects, and add texts to your photos. Or, if you only need that, crop and resize your images through this app.
18. Lens Distortions
Lens Distortions is a layer-based photo editor for creating cinematic images. The creators took iconic visual techniques from the advertising and film industries.
The app offers colour layers, an erase/mask tool, and an automatic Portrait mode layer.
You can choose from over 400 effects.
Subscribe to LD Unlimited to have access to all of their premium features.
19. SKRWT
SKRWT is a powerful perspective and lens correction tool. It's the perfect app for symmetry lovers and those who love architecture.
It also offers a mirroring tool for your smartphone. It helps to uncover the hidden symmetry of your photos. You can choose from four high-precision mirror effects.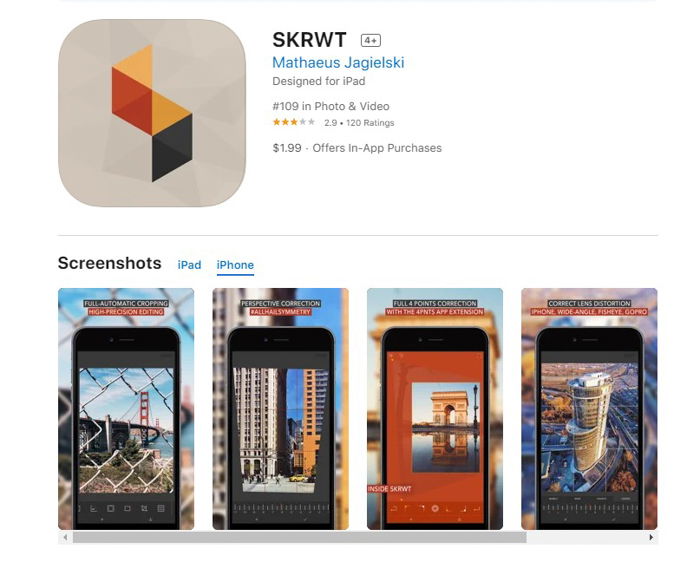 20. Instasize
With Instasize, you can easily edit your best photos and videos.
Choose from their premium photo filters, picture borders, and retouch tools. Adjust saturation, contrast, clarity, and brightness easily.
Resize your images to fit any social network.
Add borders, crop, and export your videos quickly.
You can even use this app for making collages.
The app is free, but you can subscribe for premium features.
21. Darkroom
This app offers a very similar experience as Lightroom.
It has a dedicated library, allows RAW, and allows batch editing. You can organise your library quickly and manage full albums at the same time.
You do not need to import your photos. Just start editing them as they are instantly available.
Its curves and selective colour tools make your work fast and easy. You can edit the foreground and background of your portraits separately with the portrait blur editing function.
You can edit the already-existing filters. But you can even create your own filters, adjusting everything to your taste.
Darkroom even allows you to edit your videos.
The app is free, but you need to subscribe to access all its features.
22. Carbon – B&W Filters & Effects
For all those photographers who are looking to create black and white content, look no further.
Carbon is the ultimate B&W tool. Choose from over 50 filters. You can decide to turn your image dramatic, elegant, dynamic, or pale.
You can add textures to your photos like grunge, grain, or dust.
Creative borders and blending modes are going to add to the effect you reach with your art.
Conclusion
You can be a photographer on the go, as editing has never been easier. If this is you, you should try some of these best photo editing apps and see which one you prefer. You can easily edit portraits or full body shots with these apps.
Most of the editing tools can be used across your portable devices.
Try out our Effortless Editing course to master all the secrets of professional editing in Lightroom.