Editing photos is a breeze nowadays. We are lucky to have applications that are specially tailored for our many imaging needs. These range from simple color adjustments apps to complete body editing apps.
Today, we will take a look at applications that specialise in body manipulations. Many of these great apps have auto functions. These functions allow you to make body transformations with the single click of a button. Some applications give you more control over body shape. By the end of this list, you will find at least one body shape editor to satisfy your needs.
eBooks and Courses for Everyone
RetouchMe is a well-known body shape editor. It has an excellent reputation compared to other body editing software for being accurate. It is also well known for having a load of different functions. RetouchMe has an auto body shape function. But you can do manual body retouches as well.
Its features include hip corrections, leg shape, biceps adjustments and more. You can change your whole body shape. You can add highlights or bronzer to your skin to alter your tan. Maybe you want to remove your tattoos and see how that looks? They advertise giving you a flat stomach, changing your legs width, and removing fat folds. And they have well over 100 retouch options.
RetouchMe claims they provide a fast, cheap, and easy service. They even offer a service where you can get your image retouched by an editor. A fun feature is that they let you lengthen any body part, even your hair!
It is free with in-app purchases.
Fotogenic is another top body shape editor. It is available on pretty much every app store you can find. Fotogenic give you a body modification tool that is quick to understand and easy to use. If you are struggling with the tools, they also provide great tutorials to guide you through that process.
They claim that everyone is photogenic, hence their name. Some of their features include making you taller and a separate component to lengthen your legs in one touch. Fotogenic is not just a body editor app. It is also a photo editor. This means you can play with frames, brushes, and different effects that make your image come to life.
It is free with in-app purchases.
3. Airbrush (Android, iOS)
Airbrush has a simple aim—to retouch images without anyone noticing. Its title, Airbrush, tells us of its primary feature. Airbrushing is when you smooth over surfaces, commonly skin, to achieve the desired effect. Apart from this, they boast more than 50 features, 105 filters, and 7 different tools in their body shape editor.
The software identifies faces in your images and then gives you a manual or auto adjustment. You can use different versions of the airbrush tool by simply swiping your finger over the image. There are also many body editor options. Airbrush allows you to pull selected body parts, expanding or slimming any feature you like.
It is free with in-app purchases.
Peachy claims they aim at perfection in everything. They specialise in selfies and body shape editing. Some of the features they include are removing wrinkles and acne, smoothing and brightening your skin, reducing dark circles around your eyes, whitening your teeth, and adding volume and darkening your eyebrows.
These features seem to be user friendly as they have great reviews for their product. It is a free product, but there are many more features that come with a yearly subscription. You also get the option to reshape specific aspects of your image. This includes arms, facial features, muscles, or body parts.
It is free with in-app purchases.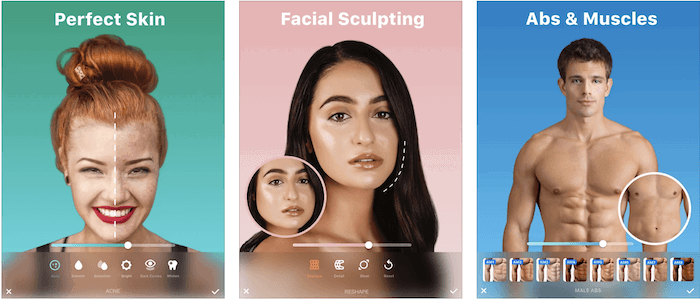 5. FixThePhoto Editor & Retouch (Android, iOS)
FixThePhoto Editor & Retouch app is a user-friendly tool for getting professional photo editing results. A highly-qualified team of retouchers is behind this application. They will do all the work for you and provide flawless pictures in the shortest possible time.
When placing the order, you should provide the pictures along with your requirements. The team can cope with even the most difficult tasks as image restoration. They will make the body attractive by removing cellulite, smoothing skin, reshaping and slimming, applying breast enlargement, and more. There is a wide range of services available: from face retouching to body editing.
The retouchers work quickly and provide their services at a reasonable price. You can check if the app suits your needs using its free trial. Since this FixThePhoto Face app isn't based on AI technologies, you get more accurate results. The photo retouchers do all the manipulations manually.

6. BodyTune (Android, iOS)
Body Tune advertises itself as the number one photo retouching app. As a body shape editing app, they may not be the number one for photo editing. But, for what they specialise in, they do it great. Bodytune has easy to use retouching tools based on image processing technology. You can increase or slim body parts in just a few swipes. The same process allows you to adjust your height and remove skin marks.
Body Tune makes the body editing process quick and simple. It even includes a feature that detects body parts, then allows you to change these specific parts. Its auto features cover editing your subject to be thinner, taller, and curvier.
It is free with in-app purchases.
BodyApp is a subscription service that gives you access to a selection of body shaping tools. They specialise in a photo editor that allows you to refine your waistline and accentuate your curves. This also includes making you taller or slimmer and gives you a tool to elongate your legs.
A fun feature is their extensive tattoo database. This feature allows you to place various tattoos around your body. It could be a helpful feature if you plan to get a tattoo in the future. Or you want to see what different body placements would look like on you. BodyApp also features a dedicated muscle editor. This claims to be able to give you realistic-looking chest muscles and biceps.
It is free with in-app purchases.
Perfect Me is another body editing app you will come across when searching through your app stores. You can almost get a plastic surgery effect from all the features that they provide. Especially in facial features. You can nudge your smile, plump your lips, grow a taller nose bridge, reshape your eyebrows, as well as animate your face. They are particularly keen on their nose editing feature.
It looks as if this interface is a bit more tricky to use than other apps. But, this can mean they pay more attention to the tools they provide. Perfect Me also provide great output settings for your images. This makes it easy to export your edits to various platforms. You are also able to apply filters and add stickers to fluff up any dull pictures.
It is free with in-app purchases.
9. Body Editor (Android)
The Body Editor app is a photo editor explicitly made for body transformations. So you won't find many beauty filters on this application. Body Editor says that their app can make you look healthier, give you the perfect body proportions, give you a thin waist, and give you stunning 'decoration'. The decoration feature gives you tattoos, abs and chest stickers.
Apart from these features, this body shape editor lets you change your hair or even your beard! This could be an excellent way to try out different hair colors before dying your hair. The app allows you to try different haircuts and even adjust your hair volume.
It is free with in-app purchases.
Everlook is a face and body editor ranked #172 out of all photo and video applications in the Apple store. It claims it is the only editor you will need for the perfect selfie. The all-in-one photo editor gives you countless ways to edit your body. Their options include body reshaping and adding height, abs, muscles, moustache, hairstyles and much more.
Their smart retouching features allow you to have immense control over particular features. They even include a real-time camera to let you see its effect live! You will also be able to accessorise yourself with fancy makeup and beard simulators, as well as add piercings or jewellery. If that's too much for you, try their lighting effects. These effects can be set on your muscles to add that extra bit of definition.
It is free with in-app purchases.
Spring is a stylish body editor. They claim to have 'the first slimming function that naturally slims your body'. The simplicity in their interface makes for a pleasant editing experience. Sometimes, other apps have such a busy editing platform that it makes the process seem hectic.
Their unique feature comes is a tool that allows you to resize your head. I could understand why this would seem strange, but many photographers will know this can be helpful. Sometimes an angle of a photo is unflattering, even if it is a great photo. Resizing your head could allow you to get an excellent image back that looks more like you.
It is free with in-app purchases.
Plastic Surgery Simulator does what it says. It allows you to simulate different manipulations to your body. From reading reviews, it doesn't seem like this body editor app is worth the money. But, it does provide a super simple way of editing your photos. You can do this through its tap and distort feature. You can click and drag the elements you want to edit.
It seems the photo editor is only effective when you have a completely neutral background behind the features you are editing. This could mean a lot of refinement work on standard images with a scenic backdrop. The fact that it has one simple tool allows for lots of experimentation. Maybe you don't want a realistic body editor but a way to distort body parts and goof around with your friends. Either way, I would not recommend this app as many people have made reviews on its unreliability.
You must pay for this app.
I couldn't leave this list without including the 'original' body shape editor, Photoshop. Everything you will do on any editing app can happen in Photoshop with the right skills and knowledge. You can have complete control over your photo editing. Adobe provides a whole load of tools that offer multiple approaches to the same solution.
The good thing about Adobe's Photoshop being around so long is that thousands of videos will show you how to do exactly what you want. This means that if you put the time and effort in, you would become an expert in body modification.
Photoshop Express is Adobe's mobile version of Photoshop. This app won't allow you the same control as the computer application. But, you will be able to smooth out skin and reduce blemishes with their spot healing tool.
It is free with in-app purchases.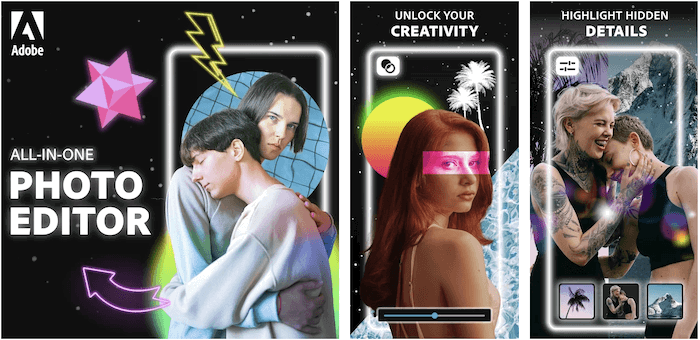 Conclusion: Benefits of Using a Body Editing App
After looking at this list, you can see many apps are working toward the same goal. This tells you there is a great demand for body editing apps. It may be hard to differentiate the apps but make sure you think about the tools you will specifically need. Except for the Plastic Surgery Simulator, all of these apps are free with in-app purchases. Try them out to identify any shortcomings see if the in-app purchases fill any gaps for you. For example, look at how realistic their editing functions are.
Most importantly, these apps can be good fun but try not to push it. Unrealistic body standards can be harmful to yourself or the subjects you are editing. The more you distort an image, the easier it will be to decipher the manipulations you have done. I would recommend using these apps for minor manipulations like skin editing or to correct lens distortions. Small edits like this can enhance your subjects and images without ruining otherwise good photographs.
eBooks and Courses for Everyone