Our Top 3 Picks
3. Pixlr X
2. Darktable
1. GIMP
Editing software is essential for getting the most out of your image. Capturing the scene is only one step towards a perfect image. You'll want to tweak the exposure, contrast and/or other areas.
Adobe products shine when it comes to editing photos. But, they are expensive and have a steep learning curve. Especially if you do not need all the bells-and-whistles they put forward.
Here is our concise list of the 12 best free photo editor software in 2021. Perfecting your photography shouldn't cost the earth.
12. Paint.NET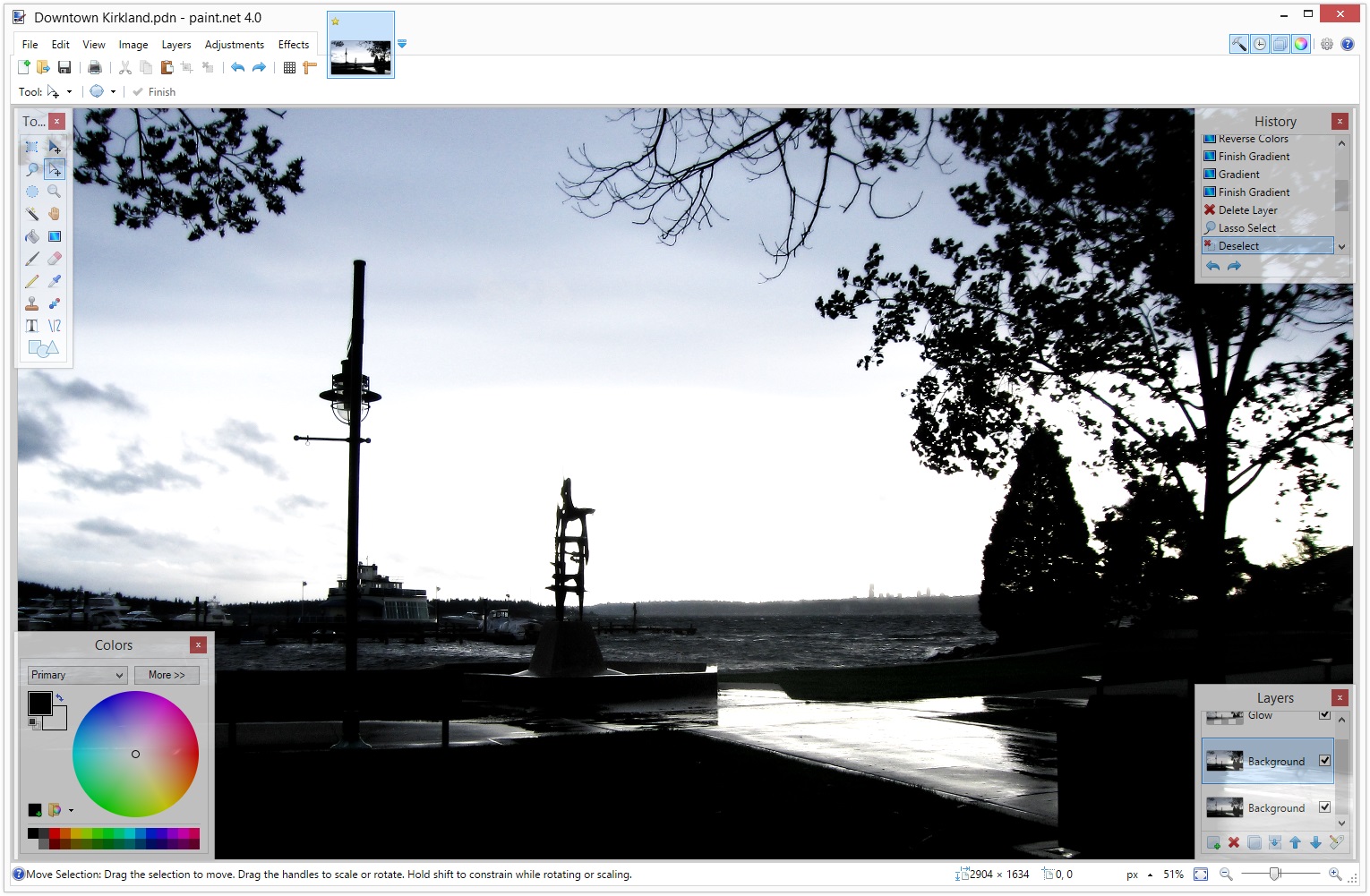 Plugin support
Layer and filter adjustments
3D rotate/zoom function
Not as powerful as other photo editing tools
The best free photo editor software is the simplest. With Paint.NET, simplicity is key. What it means is the photo editor isn't only free but quick and easy to operate.
It is a perfect photo editing tool to use for those minor changes you need. No point using the processing power behind GIMP, when all you need to do is crop an image.
The name doesn't sound all that fancy. Although it sounds like Microsoft Paint, it is a dedicated photo editor. Albeit a basic one.
What you'll find are photo editing tools such as layers, history, an array of filters and plugins from their enthusiastic community. You'll also notice a great 3D rotate/zoom function.
It won't have every feature you can dream of in a photo editor, but if you don't need more, this is perfect for your needs.
11. Ashampoo Photo Optimizer 2019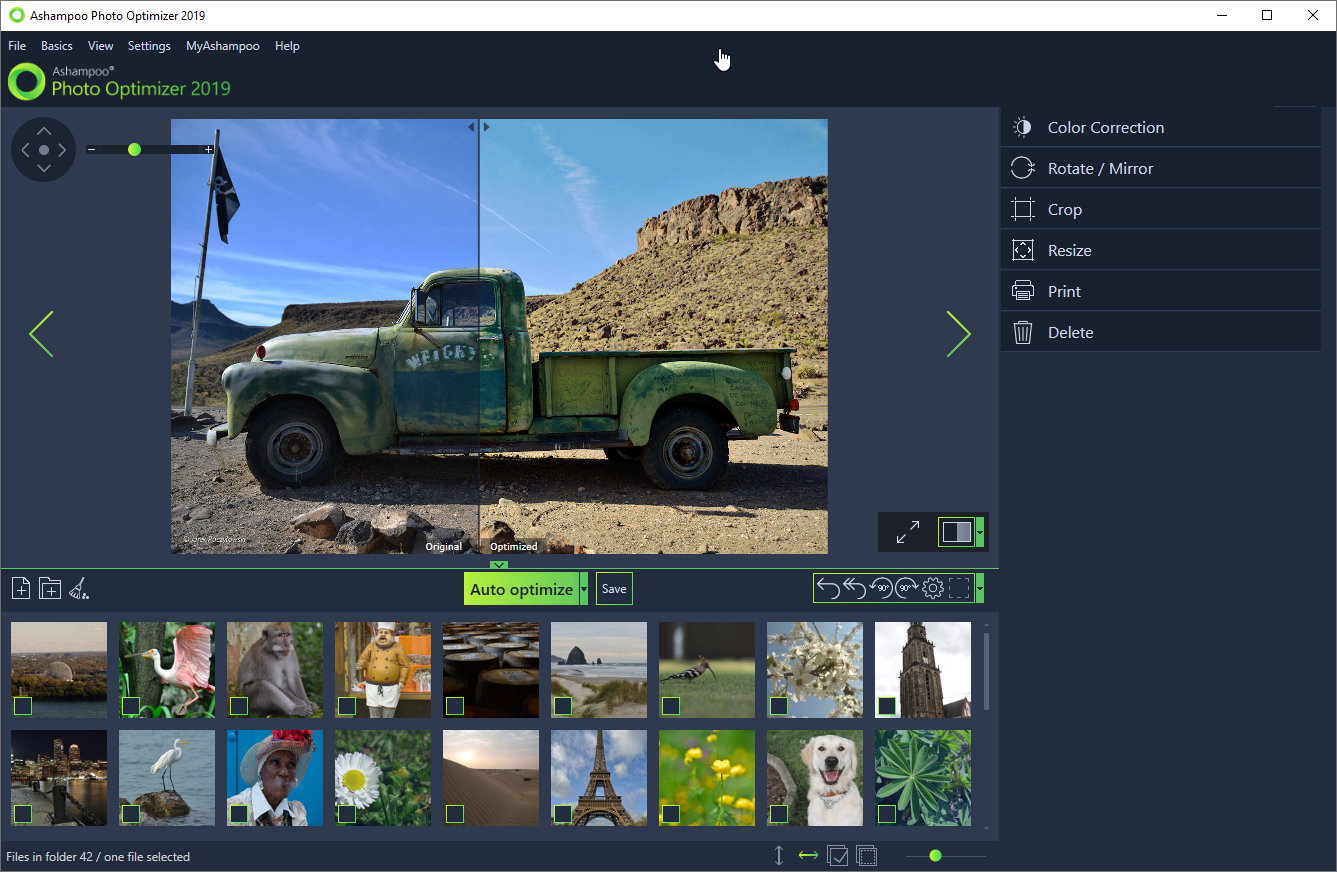 Clean and tidy Interface
Single-Click optimization
Manual controls
Batch processing for flip and rotate
If batch processing photos is your thing, then check out Ashampoo Photo Optimizer 2019. With a clean interface, you won't be hindered by ads or an untidy, overabundance of tools.
To begin, importing images is simple. Once added, you can select as many as you need to rotate or flip. This saves you valuable time when editing photos. You can also edit each image individually, as the software includes a single-click optimization tool.
This tool is something that works well for landscapes but falls short for topics such as portraits. Manual adjustments are made through a few sliders, which is more than enough for most of your photo editing.
The one thing you may notice when you edit a photo is that the changes can't be applied across a set of pictures in one go. For quick corrections, there is nothing better.
10. Digital Photo Professional for Canon
Canon Raw conversions
Lens corrections
No local adjustments
Canon only
Despite being a free photo editing software, this program is for serious photographers. Specifically for Canon photographers who shoot Raw images and wish to convert and work on them.
This is obviously a disadvantage too, to all those who work with other brands, such as Sony, Olympus and of course, Nikon.
You won't find all the bells-and-whistles from other photo editing software options. But, it does make excellent use of sharpness, which is essential for great photography.
The noise control aspect is also something you'll benefit from. In these two aspects, some users have noted they are better than the Lightroom/Adobe Camera Raw photo editor package.
If you are a Canon user, this software is fine-tuned for your cameras and lenses to bring you the best possible images. You can't get more Canon specific than this photo editor.
9. Nikon Capture NX-D for Nikon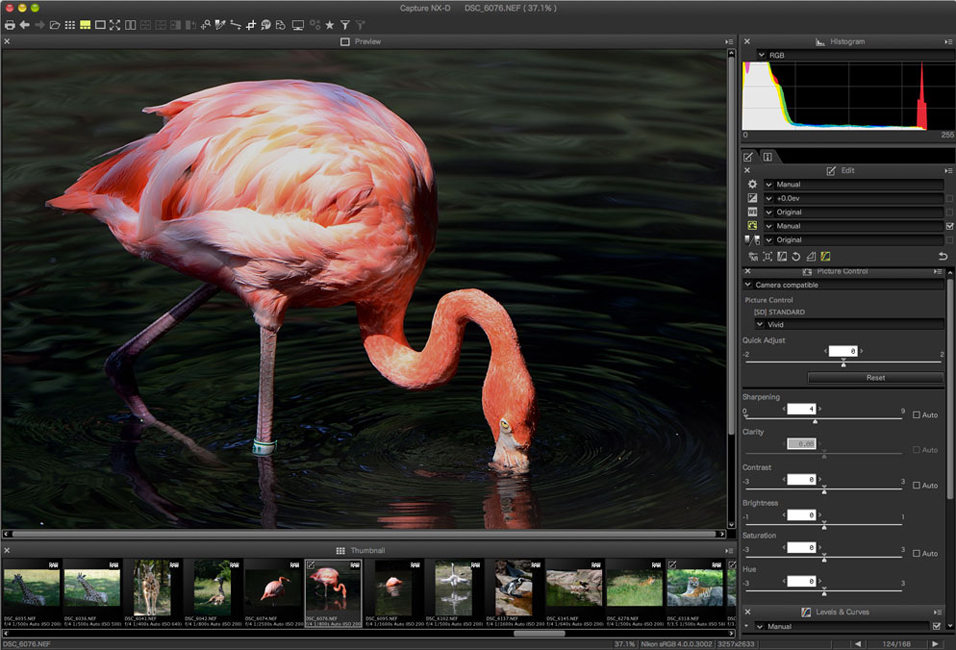 Matches Nikon Picture Controls
Comprehensive image adjustments
Local adjustment tools
Nikon only
Many photographers are turned off by specific photo editor software, such as Nikon Capture NX-D. I'm not sure why. If you shoot with the same brand of camera, your images will receive a lot more specific fine-tuning.
Ok, so this photo editing software is a little clunky, and perhaps a little dated. You won't find all the features of a 'heavy' photo editor. After all, it is free photo editing software.
But if you have a Nikon camera, then you will benefit from this free photo editor. It knows how to deal with your images in a true Nikon light through Raw conversion and enhancements.
One of the biggest benefits of this picture editor is that it matches the Nikon cameras' own Picture Controls. On top of that, you'll find the white balance settings also match exactly.
Some photo editor programs give you hassle when trying to convert NEF files (Nikon's own Raw file format). But, this comes as standard here and only offers local adjustments that you'll actually use.
8. Capture One Express for Sony and Fujifilm
Brilliant Raw conversions
Cataloging and included tools
Hefty adjustments
Only for Sony and Fujifilm
If you own either a Sony or Fujifilm camera, this free photo editing software is for you. As many of you know, Capture One is the flagship editing software from digital medium format company Phase One.
This professional picture editor company makes a 'free' express version, specifically for these two brands. You might ask, why use this rather than the software that comes bundled with the cameras?
For one, Capture One is known for their image software, whereas Sony and Fujifilm are not. The Raw conversions that come with Capture One Express are brilliant. On top of this, the wide range of necessary image enhancement tools is wide-ranging.
You also get organizing features through the use of the software's catalog system. This makes it easier to sort through and work on each image properly.
This might be all you need, but if you find you need more, you can purchase the Pro version for local adjustments.
7. Canva
Large selection of templates
Free cloud storage included
No editing tools for fine-tuned editing
No need to download
Canva is a free online photo editor, meaning you don't need to download anything to your desktop. But, as it saves you space, it might limit your access when away from your static hard drives. Luckily, there is free cloud storage, although limited.
This web browser free editor software is a perfect place for changing your images into gifts, either for yourself or family and friends. Cards, posters, and invitations are easily created if you don't opt for social media stylings.
You won't find advanced tools here. For clone brushes and smart selectors, you'll need to look elsewhere. But, you will find sliders covering an array of adjustments.
Applying tints, adding vignettes, sharpening and adjusting brightness are just a few things you can use.
There are upgradable options other than free software. Canva for work comes in $12.95 and gives you access to thousands of stock images and unlimited storage. All of which is handy for your business.
6. Microsoft Windows 10 Photos
Image organizer
Free for Windows 10 users
Video editor
Perfect for quick fixes
Apple has its own photo editing app, namely Apple Photos. Microsoft is no different from its free photo editing software. You'll find a fun-to-use platform that lets you use basic photographic fixes. Image effects are possible, and so is adding text to your pictures.
If you need a little organization or a simple tool for adding quick adjustments or enhancements – this is the program for you.
Cropping, rotating, adding brightness or contrast are all possible. But, if you are more serious about photo editing, you would benefit from a more powerful tool.
5. Fotor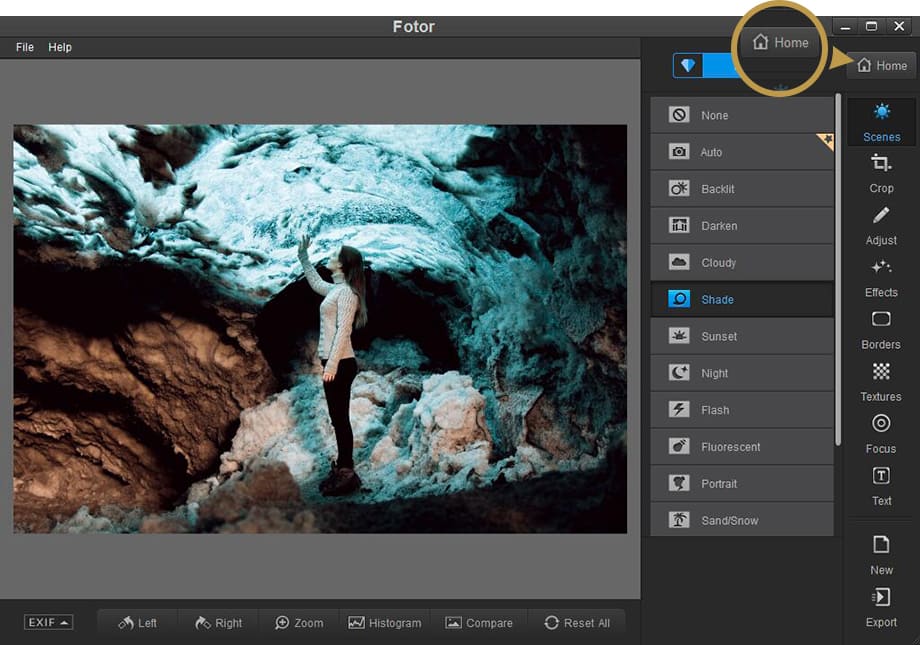 An array of effects to use
No downloads necessary
Watermarked effects
Limited resolution
Fotor is a free online photo editor and might be the only thing you'll need. The best thing is that you can run it through your browser instead of taking up precious space on your desktop.
Remember to use it on Google Chrome rather than Safari (who uses Safari?!) as some of the adjustments are limited.
There are plenty of effects to use, you'll find that some of them are watermarked. These are removed when you sign up and pay the subscription fee.
For the free photo editor, you are limited to working with 4000px images. This resolution is something most enthusiast or hobby photographers won't have a problem with but can become a hindrance to larger images.
This is a fun, free photo editor software but will not satisfy you if looking for professional photo editing or adjustments.
4. Adobe Photoshop Express Editor
Well designed
Needs flash player
Only supports jpg
Full-screen option
You'll know Adobe Photoshop as a professional, albeit, expensive editing software platform. But, they do have a free version, named the Express Editor, that works in a web browser of your choice.
It is a flash tool, so you'll need to have that installed. Not to worry, it will prompt you as soon as you get to the page. If you prefer to work from the road on your smartphone, there is a handy mobile app too.
This is the trimmed down version from the world-renowned editing software company. This means only jpgs will work, and they need to be under 16mb each. So you may need to convert yours before using this free photo editor online.
You'll get most of what you expect from Adobe, but you'll miss the essential tools that some of the rivals supply. Apart from a few tools, everything else is polished and works well.
What we find interesting is the Pop Color tool. It allows you to quickly change the hue of any particular image you have your heart set on. Fill Light is a tool we like to use, boosting the lighting conditions for any image that falls short.
3. Pixlr X
Runs from HTML 5
Well designed
Less powerful than other online editors
Huge improvement on Pixlr editor
Another great free photo editor is Pixlr X. This works with HTML 5 rather than flash, so no unnecessary downloads on your end. With this free photo editor, you can make finely detailed changes to colors, saturation, and vignette effects.
On top of these, sharpening and blurring your images is a breeze. There is also layer support, which many of these free software's miss.
You can paint and draw on top of your images, which is perfect if your business is about mixed media or more creative endeavors.
If you heard of Pixlr editor, this is the successor to that popular platform. The former ran off Flash, so already we see the improvements. This means you are not limited to any browser, leaving you to use Safari (who uses Safari?!) if you so wish.
It's nice to play with, helped partly by its sleek design. Those who like Photoshop Express will see similarities in its outline.  You can change the color scheme if you wish.
2. Darktable
Cataloging similar to Lightroom
Non-destructive editing
No push to 'upgrade'
Technical
Darktable is one of the best free image software around. You can use it for simple adjustments, but it also allows you to professionally edit through areas that you would typically find in Lightroom. The cataloging concept takes ideas from this paid-software tool.
Firstly, you can import your images into the program via a database. You are then free to use non-destructive tools to get the most from your images. You are not restricted to jpgs, as Raw files are easily and automatically converted.
There are some very powerful tools to be found. For example, lens and perspective corrections come as standard. It will come across as being technical and not as simple to use as others, but you do get a lot of features to play with.
You may forget you aren't using Lightroom, and although it isn't as powerful as the paid version, it does a good job. There are no adverts or annoying, locked premium features.
1. GIMP
A huge array of advanced options
Interface similar to Photoshop
No ads or limitations
The learning curve is steep
GIMP (the GNU Image Manipulation Program) is clearly the winner here. The name might get a few giggles, but no one is laughing when they use the program for powerful image editing.
This free photo editing software comes jam-packed with all the image enhancing features you'd expect from very expensive platforms. The best thing about this software is that it is an open source free photo editor.
Meaning anyone with a little programming knowledge can create features that can be added and used. And they are. Every day brings something new to the platform.
The interface is simple to access and understand, especially if you are used to premium photo editing software. The single-window mode lays out the toolbars and canvas in an Adobe-style layout.
If you can't do it with GIMP, the chances are that you can't do it anywhere. The toolkit is full of great features. Layers, masks, curves, and levels are all there.
For blemishes, there is the clone stamp, healing tools and you can even apply changes to isolated areas.
There is a huge array of plugins to get the best out of your image, whether portraits or landscapes. All are free to download, and if you miss Photoshop, you can even install them into your GIMP.