Do you want to get into portrait photography without all the expensive (and heavy) equipment? Get a photo retouch app! These days, you can take great portrait photos on your smartphone.
But, even with a powerful smartphone, you may still need some digital assistance. That is why today, we're looking at eight of the best photo retouching apps for smartphone portraits.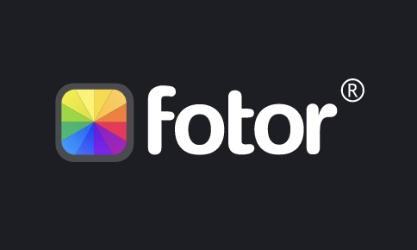 Fotor
Looking for a solution to enhance your portrait photos? Check out this software that offers a range of features for photo editing, graphic design, and more.
[ExpertPhotography is supported by readers. Product links on ExpertPhotography are referral links. If you use one of these and buy something, we make a little bit of money. Need more info? See how it all works here.]
Best Photo Retouch App for Smartphone Portraits (Top 7)
Many great photo retouching apps are available, but it's not easy to pick the right one. To help you out, here's a list of seven of the very best photo retouching apps for portrait photos.
Airbrush is the perfect photo retouching app if you want to remove imperfections. You can remove blemishes and acne or whiten teeth in a few seconds.
Besides that, AirBrush offers a whole range of retouching tools. From skin smoothing and sculpting to face stretching and reshaping.
Pros:
Edit pictures from the camera or gallery
Change the image quality easily
Cons:
Free but with in-app purchases
FaceTune 2 offers basic portrait retouching features like skin smoothening and teeth whitening, but there's a lot more to it. With FaceTune 2, you can reshape faces and even give your subject a smile if you want to.
It's a complete retouching app, but the best feature is Relight. This feature allows you to change the direction of the light in your photos.
Pros:
Complete retouching app
Unique features like Relight
Cons:
Only for iPhone. (The original FaceTune is also available for Android.)
Free but with a subscription if you want to use all functions
6. FixThePhoto Editor & Retouch(iOS or Android)
Fix The Photo Editor & Retouch is a handy app that will become your all-in-one app for editing photos in a few clicks. It doesn't rely on AI algorithms. Your photos will be enhanced manually by experienced retouchers, which allows you to get top-quality results.
png" alt="Screenshot from Fix The Photo Retouch app" width="700″ height="516″ />
Pros:
• Wide choice of photo editing services
• Edit photos in accordance with your instructions
Cons:
• Only 5 free credits after installation
This is an efficient flat stomach app, which enables you to look slim and fit in your photos. If you don't have enough time to go to the gym, entrust the task of editing your photos to experienced retouchers. The prices are quite affordable, which makes the app perfect for budget-conscious users.
To ensure that your order fully meets your requirements, make sure to send sample photos to the team. The retouchers have years of experience and can ensure the satisfaction of the most demanding clients. They know how to make your body look appealing, remove cellulite, and make the skin smoother to give you a seductive look.
Pixelmator is a great all-around editing app. It comes with editing tools like cropping, color adjustments, and filters. But there's also a great set of portrait photo retouching tools.
The Clone tool allows you to move or remove objects and the Soften tool allows you to smooth out the features on any face. You can also sharpen a person's eyes for better portrait results.
Pros:
Advanced photo retouching
Easy to use
Collages and panel edits
Cons:
Costs $4.99
Not available for Android
Photoshop Express Photo Editor is not the easiest app to use. But it gives you excellent creative control from your phone, so it's well worth learning. It includes a large range of photo retouching tools. The Lighten tool is great for teeth whitening, and you can use the Smooth tool to even out skin.
The Healing brush will correct spots and blemishes quickly without effort. The standout feature is the Liquify tool, which allows you to make adjustments to facial features.
Pros:
Free
Lots of features and tools
Can combine with Photoshop and Lightroom
Save files in PSD format and include layers
Cons: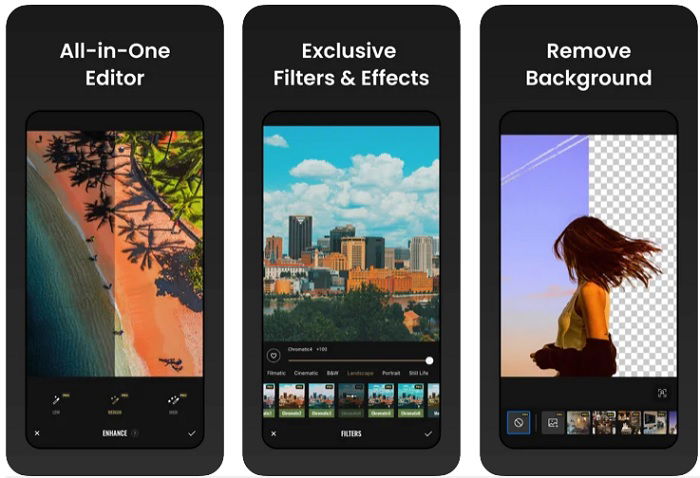 Fotor app, a Photo Retouching App" width="700″ height="478″ />Fotor is more than just a portrait photo retouching app. The Fotor app is both an editor and collage maker that allows you to add filters, effects, frames, and graphics enhancements to your photos.
You can easily edit your portrait photos and, at the same time, be creative with graphic design.
Pros:
Easy to use
Photo editing and graphic design
Frequently updated web version
Share your photos through social media and e-mail
Cons:
The help-related resources could be improved
Limited functionality of the free version
Snapseed is fast becoming one of the most popular photo editing apps for iOS and Android. It's easier to use than Adobe smartphone apps. But you still get a fabulous array of functions and tools. You can even work with RAW files.
It's excellent for retouching selfies and social media content. You can add vintage effects like film grain or change the photos to black and white. But you also have more precision tools, like white balance, healing brushes, and perspective enhancers.
Pros:
Easy to use
Excellent Retouching tools
It's free
Cons:
Regularly requires updates
TouchRetouch is all about removing objects from a photo. It allows you to remove street signs, people, power lines, and a lot more.
It's also a great option to clean up portrait photos and remove imperfections from a face.
Pros:
Best choice for removing objects
Cons:
Very specific purpose
Not free
Conclusion
There's no reason not to start with portrait photography, and it doesn't have to be expensive or difficult.
Just download your choice of the best photo retouch app on your smartphone and start shooting. You'll get amazing results in no time.
And check out our Effortless Editing with Lightroom course to learn how to edit your photos like a professional!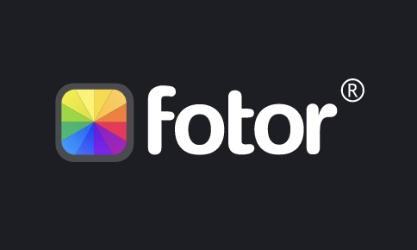 Fotor
Looking for a solution to enhance your portrait photos? Check out this software that offers a range of features for photo editing, graphic design, and more.