Creating collages used to take a lot of effort and editing skills. But the right collage app changes that! These days, you can use an app to get beautiful results. In this article, we'll take a look at some of the best photo collage apps available out there for your smartphone photography.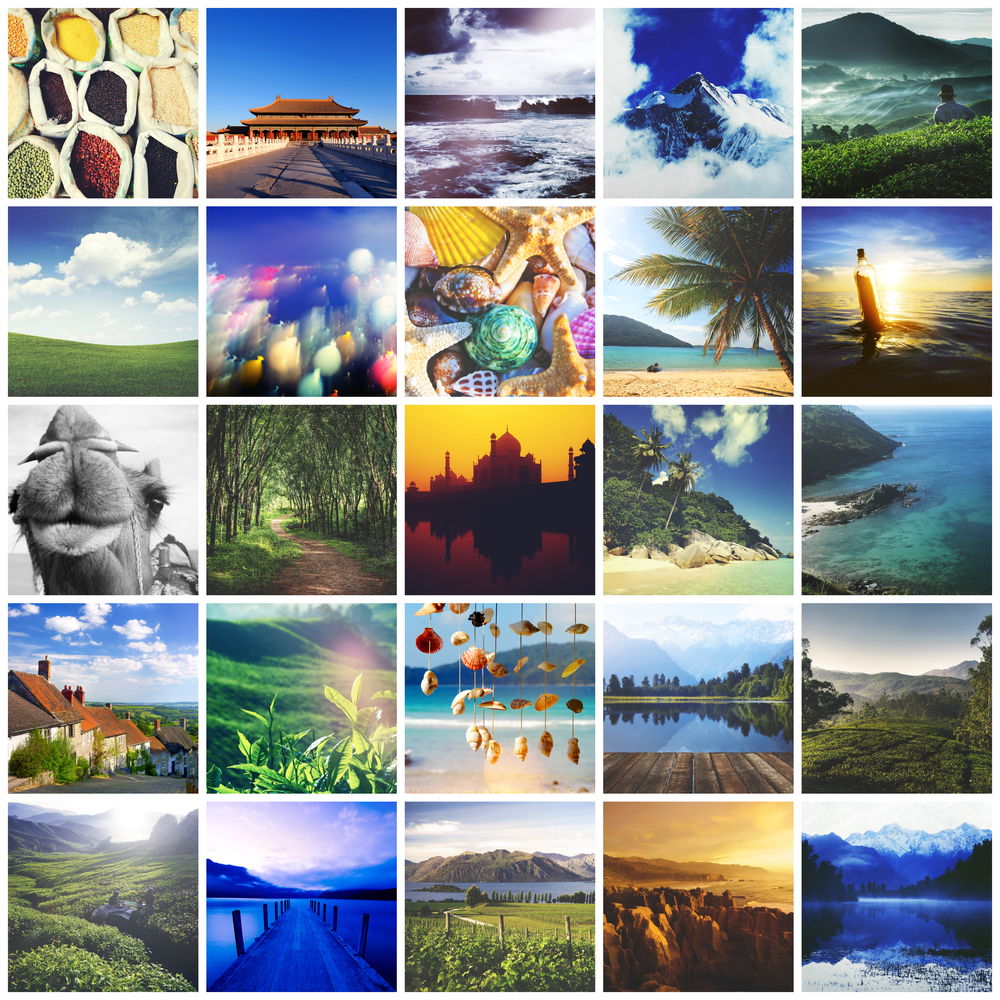 10 Best Photo Collage Apps for 2022
The best photo collage app is an excellent tool for photo enthusiasts and social media users. They allow you to share or display multiple photos at the same time. All the photo collage apps in the following list are easy to use and come with several features to create unique collages in seconds.
10. Photo & Shape Collage Maker
Want to turn your photos into an eagle or moon-shaped mosaic? Then this is one of the best collage apps for you. It's fun to use, and it creates art without much effort using an algorithm.
To use this collage maker app, you'll first need to choose eight images from your gallery. Afterward, select a shape you like, and the app automatically trims those photos to fit your chosen frame.
If you want to improve your collage, adjust the exposure and the colors by tapping the sliders icon. If you don't like its custom shapes, you can try the app's collection of grid layouts, too.
I admit that it has much more limited editing features than its competitors, so we wouldn't call it the best photo collage app out there. But it does the job if you want to create a simple collage.
Price: Free
Download: Android
Diptic is one of the best photo collage apps you can download. It offers creative custom layouts that you won't find anywhere else. Its fancy designs include peace signs, hearts, and even waves.
Apart from the unusual designs, it also has classic layouts if you prefer clean and simple ones. And if you're in the mood for bolder frame options, there are even bordered layouts for you to try.
Diptic also features animated selections for creating unique content. By switching the photos from one grid to another, people can view the images better.
Customization and Collage Options
But this photo collage app's most significant selling point is that it allows you to customize your work. That means you can change the colors, sizes, and even the aspect ratio of your borders and frames. Your photo collages will be just as you like.
The app includes a variety of textures to choose from. So if you're bored with using plain colors, you can always try using patterns instead.
And what if you don't like any of the layouts? The app lets you manipulate your frame by dragging lines and joints to alter the size and shape of the grids.
This may confuse you at first. But don't worry, it's intuitive, and you'll understand how to use it in no time. It's an excellent way to create collages, whether for Christmas greeting cards or to upload on social media.
It's an affordable one-time purchase. But there is an extra in-app cost for expandable layouts.
Price: $ with in-app purchases
Download: iOS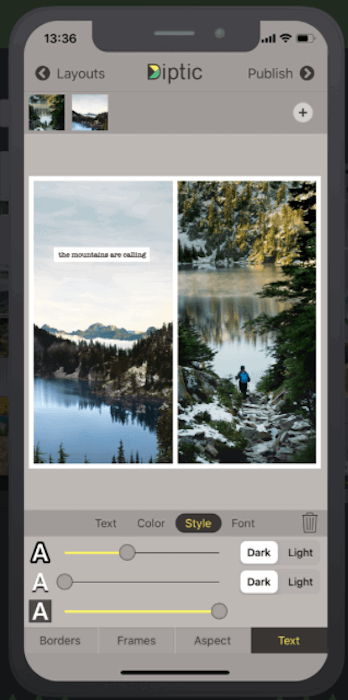 8. Pic Stitch – Collage Editor
Photo collage apps are everywhere. They all offer the same features for the most part. What makes PicStitch different? It allows you to place video clips in your layouts. If that isn't enough, you can even add music within the app.
Of course, you can create regular photo collages with this app, too. It has all the features most other apps offer, such as templates and borders. And it even lets you add stickers and text for a personalized touch for the perfect photos.
How to Create Video Collages
To use PicStitch's video function, all you have to do is drop a short clip into one of the frames like a regular photo. Once it's in place, a video editor will pop up.
You can drag the blue tabs at the bottom of the screen to trim your footage between six and fifteen seconds long. After trimming your video, you now have the option to adjust the orientation and change the speed of the clip.
You can also add filters to bring out the colors of your collage. When you're satisfied with the edit, press Done, and the footage will be ready to download.
Price: Free with ads and in-app purchases or upgrade with a yearly subscription ($$) or one-time payment ($$$)
If you want to have fun and make cute collages with your photos and videos, you need to try this collage maker. It has dozens of free collage templates similar to what others already offer.
This collage maker lets you choose templates by their aspect ratios. For instance, you can select 1:1 or 4:5 ratios to create collages for Instagram. But you can also try the regular 4:3 or 5:7 ratios if you'd like to have regular-sized prints.
Once you fill all the panels with photos, you can change the border or place stickers on them.
Scrapbook Feature
What sets the PhotoGrid app apart is its scrapbook feature. It lets you add backgrounds and stickers and even type some text.
The scrapbook works the same way as the grid layouts. Place the photos into the frames like a regular photo collage. You also get to change the background and even try different shapes as your frames. That means you use stars and triangles instead of square and rectangular borders.
Price: Free with in-app purchases
PicsArt is an all-in-one photo editor that allows you to easily create on-trend photo collages and share them on social media. The app comes with fun template designs for social media and professional templates for business.
You can select up to ten images at a time and put them in a photo grid collage or freestyle collage. There are also scrapbook layouts in the form of frames. They cover the usual seasonal holiday and celebrations.
A convenient option is their free photo library if you need stock photos to fill out your collage. Plus, their interface for editing collage borders and background colors is very straightforward to use.
Advanced Editing Tools
This collage maker offers advanced editing tools. With PicsArt, you can edit both photos and video. A few of the app's tools are background changer, double exposure, and image overlays.
PicsArt is a good option if you look for a collage maker that is also an advanced photo editor. You can try it out for free. But make sure you cancel the free trial if you don't want to commit to a yearly subscription.
Price: Free 7-day trial with monthly and yearly subscriptions ($$)
Ribbet is a versatile photo editing app that offers collage templates for every occasion. The app comes with multiple tools to create the perfect photo collage.
You can add special effects, frames, or text to them. The collage interface has a nice visual layout showing layout possibilities with "One Big Photo" and "Jigsaw" options.
Premium Version
This collage maker comes with a free version with basic features. Or you can sign up for the Premium version to access all of their effects, fonts, tools, and more.
The app's premium version offers professional editing tools like Clone, Curves, Dodging, and Burning. This allows you to correct flaws in your pictures before putting them together in a collage.
Price: Free or upgrade to Premium ($$) with monthly and yearly plans
If you like to keep everything simple, this free photo collage maker from Instagram is perfect for you. It doesn't have as many features as its counterparts. Ironically, its lack of customizability is what makes it one of the most user-friendly options on this list.
Once you get on the app, all you have to do is select the photos you'd like to use. Then they'll show up in all the layout options available for you. You can then slide the images around to rearrange them.
Editing Collage Details
At the bottom of the screen, you have four icons to help you edit your design. Tap the Replace icon if you want to change your photos. You can also use the Mirror or Flip tools to reorder the images.
If you want to change the size of the frames, tap the blue handles and push them in or out. If you're going to try another frame, select "Borders" to look for a new layout.
After you finish, you can save the file and share it directly on Instagram. Use Layout for a no-frills design layout.
Price: Free
Moldiv is one of the best free photo collage apps to fulfill your mobile photography needs. It offers free collage templates, filters, and photo editing tools to let you do everything.
It has one of the most extensive collections of different layouts, with 312 options to choose from. Once you find a template, the app will tell you to tap one of the photo collage frames to upload a photo.
Editing Tools and Other Options
As soon as you fill the template, you'll have access to various editing tools such as Switch, Rotate, and Filters. At the bottom of the screen, you'll also find the Background icon. Tap it to change the frame and the color of the layout.
If you want to have a little fun, you can also try the app's magazine layouts. You can choose from dozens of templates, change the titles, and add text or captions. This option is not only perfect for blogging. It is also a helpful tool for creating content for social media.
Price: Free with in-app purchases
Pic Collage is perfect if you're still new to creating photo collages. This photo collage maker even shows you what to do with helpful on-screen instructions. With visual illustrations and arrows, you'll know where to add photos and how to edit them.
Pic Collage icons also have bright colors and are labeled well, so you know what they're for. It's an easy interface to navigate.
Collage Features
Apart from grid layouts, Pic Collage also has a freestyle feature. It lets you arrange the frames in any way you want.
And if you want to spice up your social media accounts, you can also try their templates. There are plenty of colorful options and fun graphic designs to choose from. Templates are based on themes, image size, and the number of photos you want to use.
For a personalized look, you can add text and even create custom backgrounds. And Pic Collage also offers the chance to customize your creations with stickers. All these incredible features will ensure you've got all the collage-making options you'll ever need.
Price: Free with in-app purchases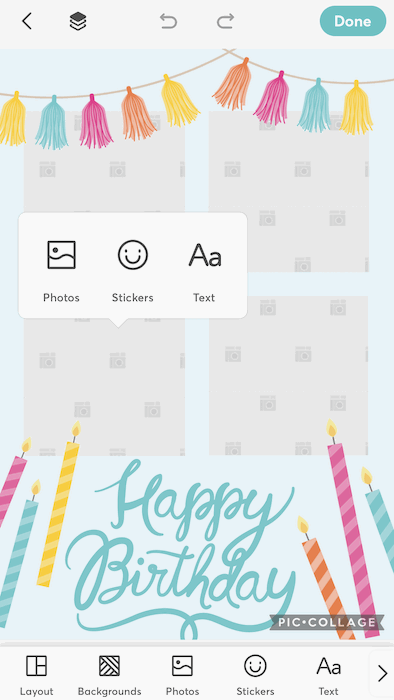 Canva is an excellent photo collage app for people who want to create professional-looking collages. The workflow with this app is quick, easy, and provides consistent results.
Because of all the tools and features it offers, it's also useful for those who work with social media. This photo collage maker offers so many different social media templates. It has everything from Instagram Stories to Facebook banners.
That way, you can easily adjust your photo's dimensions for the most popular media platforms out there. Once you tap the social media platform you want, several custom layout options will pop up below it.
Collage Options
Type "collage" in the search function for each social media platform and you'll be offered an assortment of collage templates. They all contain sample pictures and text to make it easy to envision what they will look like. You can double-tap either the words or the photo to change or edit them.
You can also create a collage by scrolling down to "Photo Collage" to choose a template you like. There are plenty of fantastic options to choose from, such as advertising grids and layouts for holiday occasions.
You can further customize your work by adding graphics or text to the photos. This is one of the best free photo collage apps available to download.
Price: Free with in-app purchases or upgrade to Canva Pro ($$$)
Conclusion
Choosing the best photo collage app for you is a matter of deciding which features you love the most. Each photo collage app has something unique to offer. So, in the end, it's up to you to figure out which one you'd like to use.
We like the free version of Canva, which offers excellent collage designs tailored for social media channels and projects. But if you want simple collage layouts, you can't go wrong with Layout, especially if you're primarily using Instagram.
Since you can download most of these photo collage apps for free, you should test them to see what the best option is for you. There are many different apps to produce unique collages for every occasion. Have fun, and don't be afraid to experiment!
Check out our Urban Smartphone Minimalism e-book to create perfectly framed and eye-catching shots!