Adobe first launched Photoshop's new sky replacement tool in their 2020 update (version 22.0). And they updated the Photoshop (PS) sky replacement tool . Adobe hit the ground running, but Adobe Photoshop isn't the only tool out there for replacing skies. Is Photoshop even the best tool for changing skies? For this article, we set out to find the best sky replacement tools.
Test Images and Options We'll Review
Our test image has a washed-out sky and fine detail in the background trees. The tools that couldn't handle these issues didn't make the cut. Also, while it's nice to have sky images available in the program, these are made by other photographers and we prefer to use our own replacement skies. So we'll let you know if this is possible in the software, using a small replacement sky image from an iPhone. Lastly, we also looked at how each tool managed file size issues.
We've split the tools into apps and software. If you primarily photograph and edit on your mobile devices, focus on the apps. If you post-process on a computer, the software tools are for you.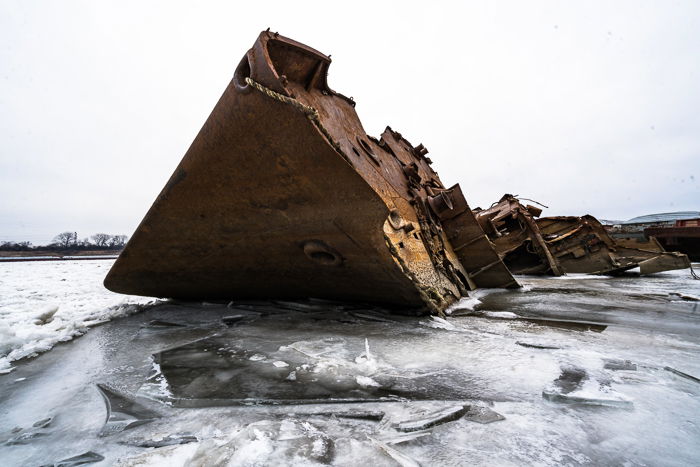 [Note: ExpertPhotography is supported by readers. Product links on ExpertPhotography are referral links. If you use one of these and buy something, we make a little bit of money. Need more info? See how it all works here.]
Best Sky Replacement Software
OS X | Windows | PS Plugin
$79
Luminar's AI sky replacement software packs a lot of punch. It is fast and easy to use. Use one of the skies provided or upload your own images. Initially, the mask was not as good as Photoshop. But tweaking the mask refinement sliders editing the original image helped. With difficult masks, Photoshop is instantly better. But Luminar AI bumps Adobe Photoshop from the top spot with its creative tools. Add a moon, a sunray, or fog to your sky. Move the effects around and make them your own. Best of all is the reflection tool that reflects the sky image in the water.
How to Replace Sky with Luminar AI
Open image in Luminar AI
In the Edit tab, select the Sky panel
Select a sky or click + to add your own
Pros
Easy to use
Highly customisable
Many creative tools
Reflects sky in water
Cons
Struggles to mask difficult backgrounds
OS X | Windows
$19.99/month
With just a couple of clicks, Photoshop will change your sky. If you already use Adobe products, this is the quickest way to get the job done. The AI sky replacement tool does a good job masking around background details. It also blends foreground lighting and colour with the new sky image.
The look is customisable. Easily change the sky temperature, horizon blending, and foreground lighting. Both sky and foreground changes show as editable layers, and you can adjust the mask if necessary. It masks better than Luminar AI, but it lacks creative options. If you want your sky replacement software fast and without bells and whistles, this is your program.
How to Replace Sky with Photoshop
Open image in Photoshop
Select Edit > Sky Replacement
Select a sky or click the gear to add your own
Click OK
Pros
Easy to use
Customisable lighting and colour adjustments
Cons
OS X | Windows
$79
Landscape Pro isn't just for landscape photography. It has a lot of built-in presets that you can adjust with sliders. You can add your own sky image or use one of the presets. Along with skies, you can adjust lighting, atmosphere, and many other sky elements. You can even move individual clouds around and move the sun to paint on 3D lighting effects.
The precision of Landscape Pro relies on how well you label and mask the elements in your scene. The program helps, but you, not AI, masks around trees and other objects. There are a lot of effects but use them sparingly and at a low opacity. Many are over-the-top at full power.
How to Replace Sky with Landscape Pro
Open image in Landscape Pro
Label sky and other objects in the image
Refine the masks
Open the sliders tab in the Sky panel
Select a sky or click + to add your own
Pros
Many lighting and atmosphere effects
Reflects sky in water
Cons
Manual masking
Unrealistic and garish effects
Can be a bit sluggish
OS X | Windows
$15/month
PhotoDirector 365 has a nice AI sky replacement with additional lighting effects. The process is almost instant. Click a sky, and AI instantly finds and replaces it. It is as fast as having a magic wand. The AI masking was a bit inconsistent. For some of the skies, the background trees showed halos. But for our target sky, there was no problem at all. There does not seem to be a way to refine the mask. The sky and foreground colour adjustments are basic. But there are many effects like lens flares, light rays, and even some animation that make this program worth exploring. All effects render instantly.
How to Replace Sky in PhotoDirector 365
Open image in PhotoDirector 365
Select Sky Replacement in the Photo Effects panel
Select a sky or click the + icon above My Templates to import your own
Pros
One-click sky replacement
Many lighting and animation effects
Instant results
Cons
Inconsistent AI masking
Basic colour blending
Best Apps with Sky Replacement Feature
We also set out to find the best sky replacement app. Photo editing apps, which were once simply playgrounds for the casual photographer, now include powerful features like sky replacement. Not many can compete with photo editing software, but here are a couple of photo editing tools that try.
1. Lightleap by Lightricks
Free with in-app purchases
Lightleap by Lightricks is a subscription app, but there are enough free features to whet your appetite. One of the features is sky replacement. You cannot use your own sky photos. But there are a handful of free skies and many more if you subscribe to the app. Click a sky background, and the program instantly masks and replaces the sky. The masks worked well with lighter skies. Darker skies showed a halo around the background trees in the target image. As the name would imply, there are other light tricks to play with including lightning effects and shooting stars. But results are not customisable.
How to Replace Sky with Lightleap
Open image in Lightleap
Select the Sky tool
Choose a sky background
Pros
One-click sky replacement
Many lighting and animation effects
Instant results
Many freebies
Cons
Costly subscription
Inconsistent AI masking
Cannot import skies
Results not customisable
2. Picnic – Weather Genie Photo
Free
All Picnic does is change skies. One click instantly masks the sky and colourises the foreground to match. The masking works well with light and dark skies. You cannot use your own skies, and there are not as many choices as Lightleap. There are only two adjustments, one for the sky background and the other for the foreground. But the app is free and fast. If all you want is a quick sky replacement, this is your app.
How to Replace Sky with Picnic
Open image in Picnic
Select sky background
Pros
Free
Fast
Consistently good masking
Cons
Limited sky selections
Few customisations
Conclusion
While Adobe Lightroom does not let you replace a sky, there are plenty of other sky replacement tools out there. Many are inexpensive and easy to use. Gone are the days of painstakingly masking the sky. Software and apps use artificial intelligence to detect skies quickly and with surprisingly good results. AI sky replacement tools save you hours of work. With the right tools, replacing humdrum skies with something more exciting is a snap.
Our top software pick was Luminar AI, just edging out Photoshop, with easy-to-use extras and no subscription required. If you are already part of the Adobe family and only want to replace the sky, Photoshop's sky replacement tool is one of the easiest tools to use in the program. Phone-based photographers have options, too. Lightleap is our top pick. Apps are not as flexible as the software. But even the free tools in this app will get the job done.
For an easy to use photo editing software, see our new review on InPixio, too!
Are you wanting to capture beautiful landscapes without going too far from home?  Check out our Simply Stunning Landscapes course for a fun and easy way to master landscape photography.