The f-stop Dalston is a roll-top camera backpack meant for urban use. It has a simple design, uses durable materials, and is lightweight. It lacks additional features, but urban explorers with a stripped-back camera setup might make good use of it.
f-stop is a relatively young company that started out in 2006. Even though they developed a cult following in the camera bag world, they remain one of the lesser-known companies. They mark innovation as their key focus. But I'm afraid the Dalston 21L isn't the best example of their innovative thinking.
The Dalston does have some positive aspects. But it scores low compared to the other backpacks we looked at. The bag is also let down by a short warranty and misguided marketing.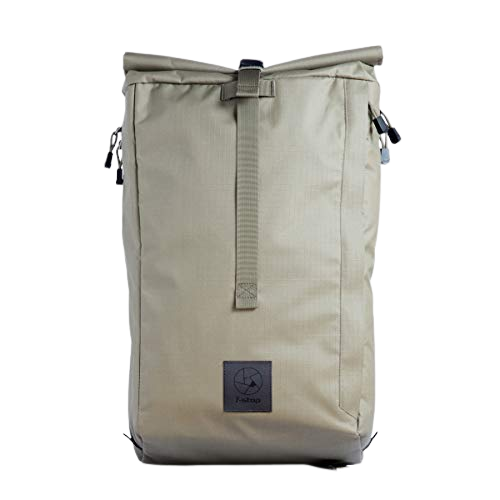 Experience the convenience of urban exploration with this lightweight roll-top camera backpack. Designed with durable materials, it's perfect for photographers with a minimal setup. Despite its feather-like weight, it boasts a robust exterior and a 21L capacity. Enjoy good weather protection and a trendy roll-top design, ideal for the modern urbanite.
For full transparency about our review process, you can read about how we scored and ranked the bags here.
Strengths and Weaknesses of the f-stop Dalston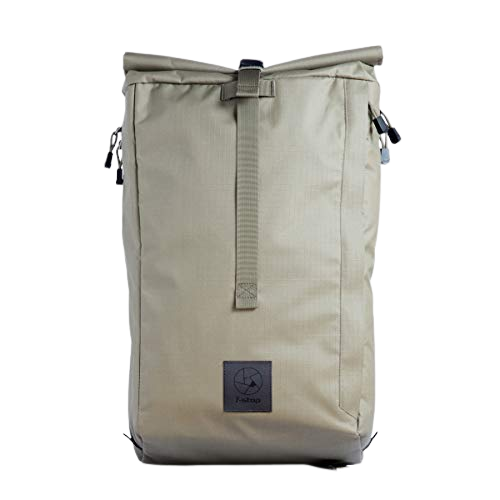 Weight

Weight

800 g

Capacity

Capacity

21 L

Access Points

Access Points

Top, side

Airflow Back Support

Airflow Back Support

No

Laptop Sleeve Capacity

Laptop Sleeve Capacity

15-inch

Tripod Holder

Tripod Holder

Warranty

Warranty

2 Years

Waterproof Rating

Waterproof Rating

Weather-resistant
The Dalston's greatest strength is its weight. Despite the 21L capacity, it's as light as a feather. It weighs just 1.8 lb (800 g) with the padded insert.
The outer materials are fairly robust and durable. And they offer a good amount of weather protection. It also has a padded laptop sleeve. And the roll-top design is very popular with backpack fans right now.
The finish of the materials has to be the first weakness. Of course, this is a cosmetic issue. But the thoroughly synthetic feel doesn't scream luxury. The bag also has layout and access issues. And the camera insert lacks adequate padding and protection.
There's far more to pick apart about the f-stop Dalston. But you'll have to keep reading to find out more about this camera backpack.
Design and Color Options
At a distance, the Dalston is simple, smart, and stylish. As the Dalston name suggests, they're going for the urban hipster market. I think the aesthetics hit the target pretty well. And the roll-top is a popular type of backpack right now.
The color options are a major problem. You only have a choice of two colors, and neither is particularly appealing. There's the Aloe, which is closer to olive green if you ask me. Or you can go for the Nasturtium, a bright, abrasive orange color. Those are your only choices.
These colors don't fit with their target customer of the trendy urbanite. The Aloe is the more subtle of the two. And it has a camouflage element to it. But the Nasturtium is loud and clashes with everything. That's no good for discreet street or urbex photographers.
We could forgive f-stop if they had an option in black. But with only two color options—both of which I find undesirable—it's hard to sympathize with their decision.
Build Quality and Durability
The durability of the external materials is a highlight of the Dalston 21L. f-stop sourced decent materials to build the backpack. But the build quality doesn't support the materials in creating a solid and reliable camera backpack.
Exterior Material
The main external material is 420D ripstop nylon with a TPU laminate coating. "Ripstop" means that it can't be ripped. At least, you can't rip it without the help of knives or other tools. That means it's strong and won't be torn apart by thorns or a loose nail.
When you get up close to the material, it doesn't inspire confidence. There's a visible checkered pattern on the nylon. And you can see it from the outside and inside. That shows you how thin the nylon is. And from the inside, it's nearly translucent when you hold it up to the light.
The bag feels synthetic. All the bags we've looked at are made of polyester or nylon, but the Dalston feels rough and untreated. It's coarse to the touch and makes a loud scratchy sound when you touch it. I understand this is a cosmetic issue, but the feel and sound impact the user experience in a negative way.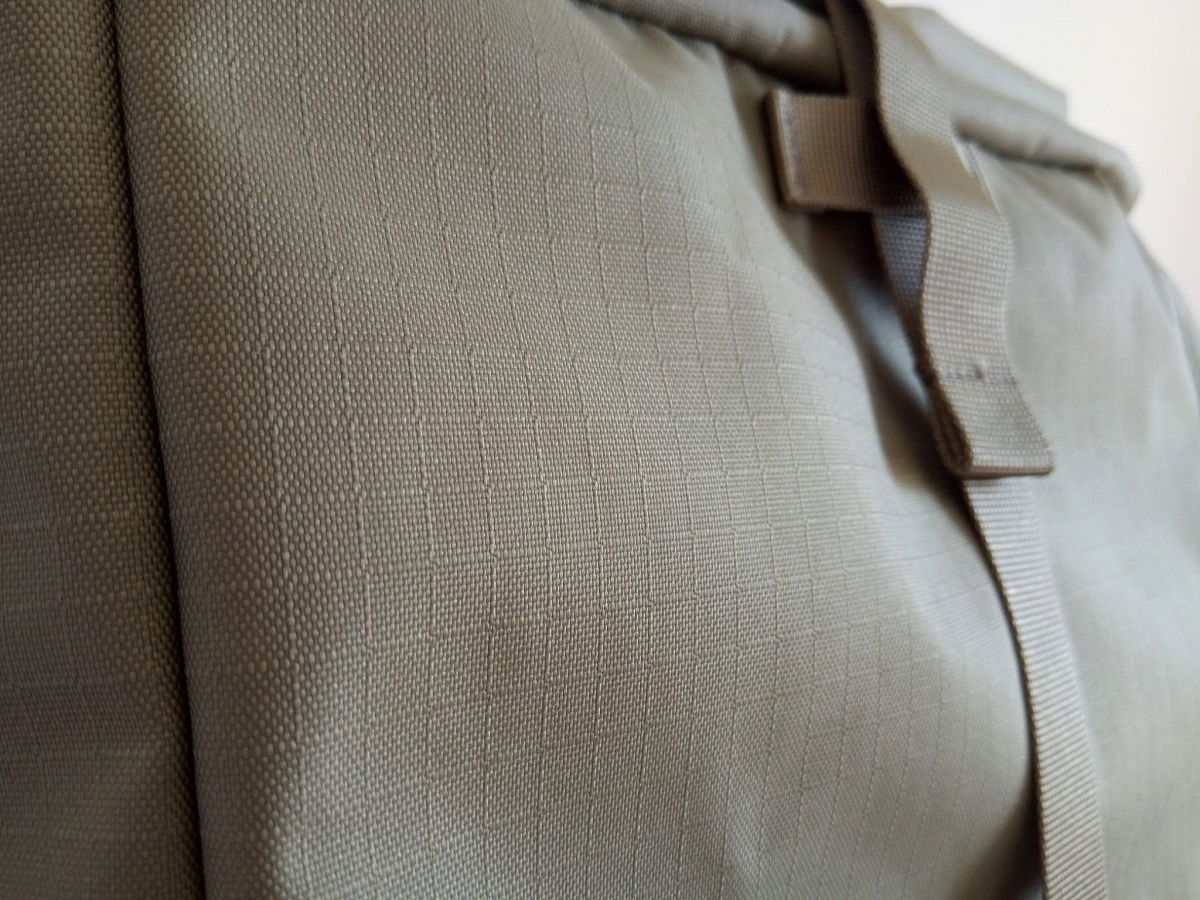 Weather Protection
The exterior 420D nylon has a TPU laminate coating that adds some weather protection. The bag isn't fully waterproof, so you will need to take care in torrential rain. But the coating creates a weather-repellent shell for your camera gear. You don't need to worry about light rain showers or the occasional splash.
The roll-top design also helps keep your gear dry. When rolled up tightly, you create a seal and water can't get in. It isn't totally watertight, so don't submerge the bag. But it does protect against rain.
Interior Material
The materials inside the main compartment look and feel strong. It's a robust nylon that's smooth and gentle to the touch. And there's a pleasing gleam to it. You also get this smooth nylon on the inside of the laptop pocket.
Other than the padded insert, there's not much else in terms of internal materials. Without the insert, the Dalston is a roll-top sack. It has no extra pockets or features inside. That means there are no additional materials for us to score.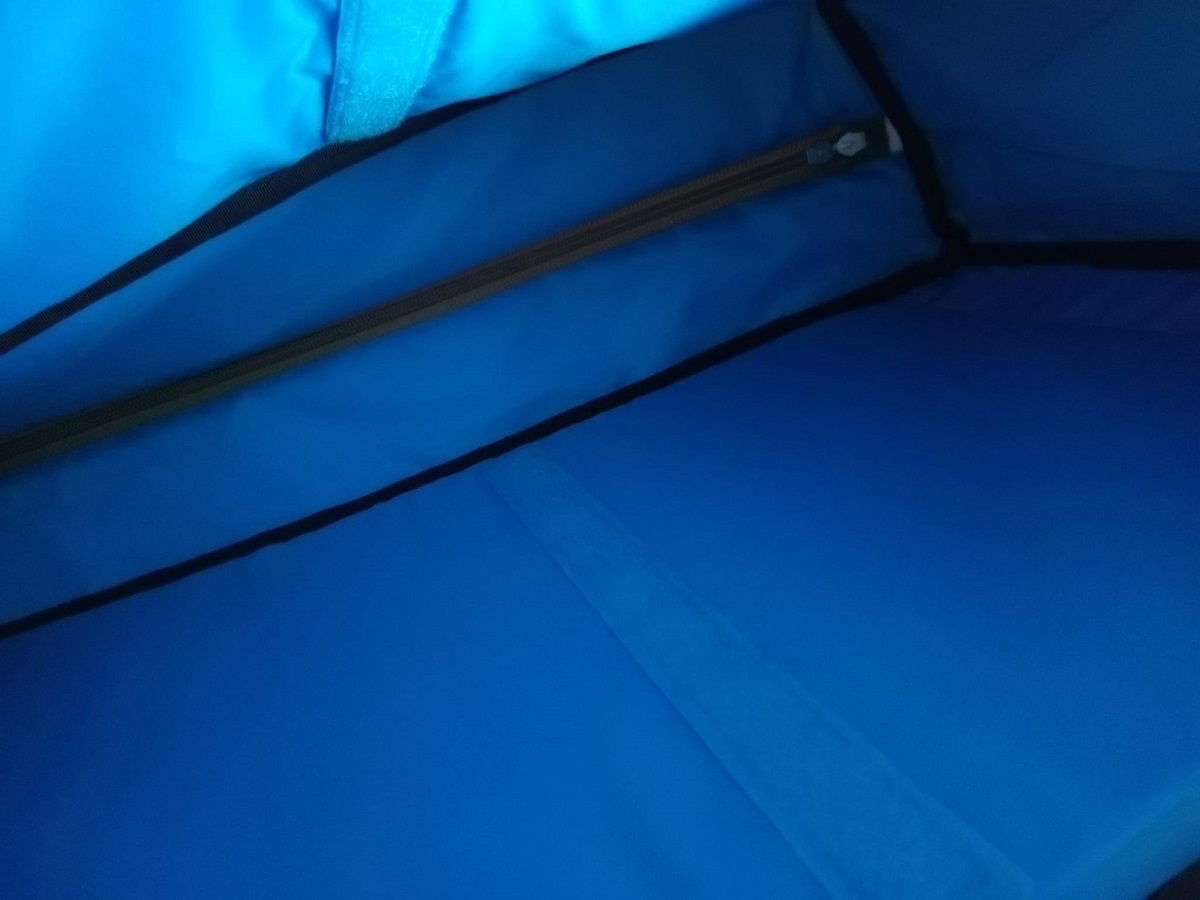 Straps and Back Support
f-stop has given the Dalston thermoformed EVA shoulder straps. That sounds fancy, but in reality, the backpack has standard shoulder straps with some padding. They're not bad, but we've certainly seen better.
The straps have a thin layer of foam to cushion the weight on your shoulder. And they are wide, which helps distribute the weight evenly over your shoulder. That stops them from digging in when you're carrying a heavy load.
The foam has two grooves in the upper section, allowing it to fold naturally over your shoulders. It feels comfortable when you're wearing the backpack. And you can easily adjust the straps to get the perfect length.
A chest strap is always a positive. And the Dalston has one you can adjust, raising and lowering it on the shoulder straps. It's a huge benefit when carrying a heavy pack.
There is a good layer of back padding on the Dalston. It's a "Jersey laminate EVA-padded back panel." The padding is good for protecting your gear. But it's completely flat with no mesh netting and doesn't have air channels for breathability. And it sits flat against your back, which won't help you avoid back sweat.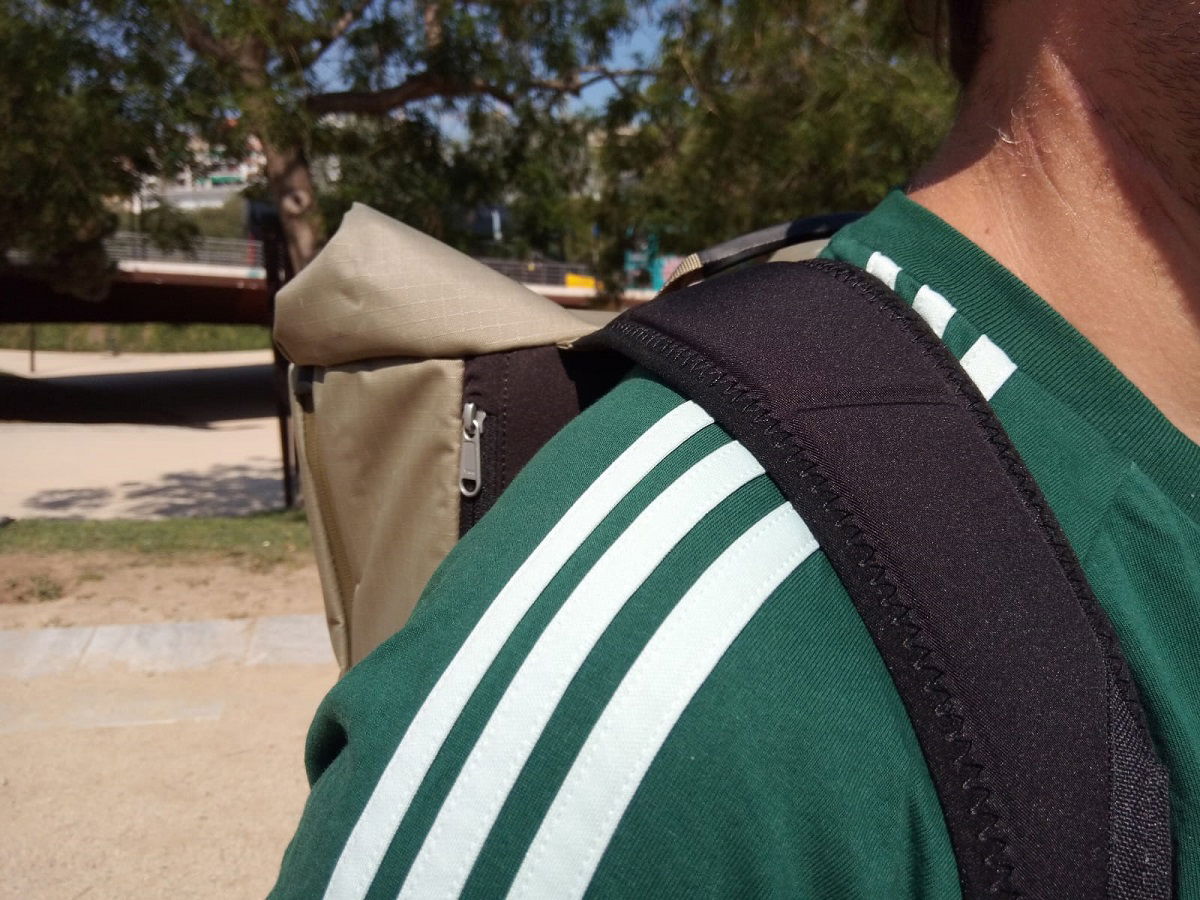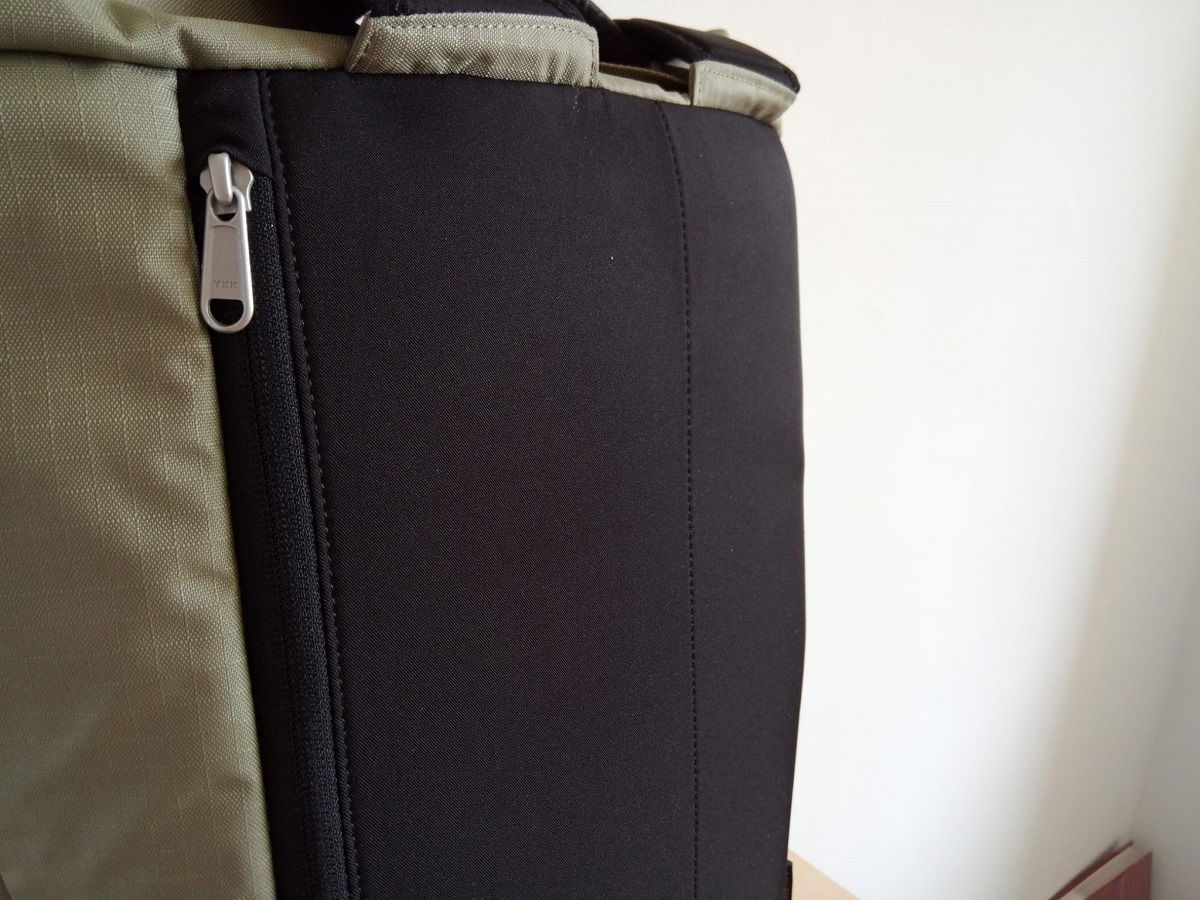 Seams and Stitching
At first glance, the exterior stitching seems neat. They've used a neat thread that's the same aloe color as the main material. The problem is that most of the seams and stitching are clearly visible and unprotected.
There are a few examples where the seam is tucked away and folded. But many of them are exposed, leaving them vulnerable. It's easy for the threads to come loose or fray. And it doesn't take long until you start to see signs of this happening.
The stitching on the shoulder straps has a zig-zag pattern. It feels secure and looks neat. But the stitching pattern has a large surface area, leaving the thread exposed. This could affect the long-term durability of the bag.
The seams of the inner lining have much better protection. All the seams have black nylon lining that keeps the joints firmly held together. And the stitching is practically invisible.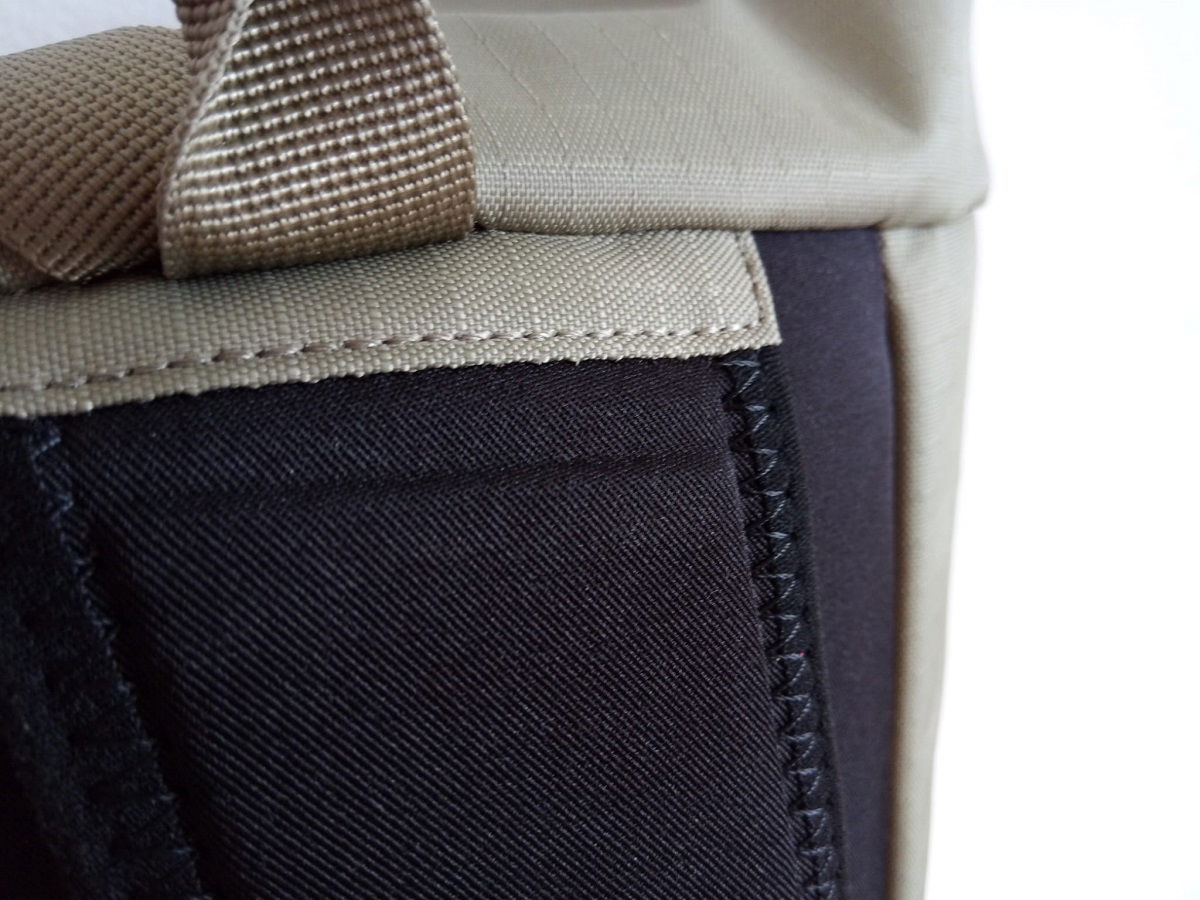 Internal Padding
The Dalston has a padded camera pouch with removable dividers. The entire pouch is also removable, which transforms it into a standard backpack.
The outer padding of the camera insert has a good amount of foam. It's about 1.5 cm thick and firm but not hard. There's some give when you squeeze it with your fingers. But it doesn't buckle or collapse until you apply a lot of pressure. It's a rigid structure and protects your gear.
The dividers are slightly thinner. But they still have a reasonable amount of foam padding. It feels less yielding than the outer foam. It feels a bit like thick cardboard but behaves like foam when you bend it. These dividers provide a good level of protection.
The outside is covered with nylon that's similar to that found in the main interior compartment. And the inner pouch is lined with a fleece-like material. This is a scratch-free cushion for your delicate gear. And it works as an adhesive for the Velcro on the edges of the dividers.
The Velcro on the dividers allows you to remove or rearrange the dividers within the insert. This is great for flexibility and versatility. But the fleece lining and Velcro connect too well. It's often difficult to pry them apart. It makes rearranging the pouch an infuriating experience.
Also, the fleece lining is not well-connected to the foam. That means the lining detaches from the foam and hangs loosely over the padding. This makes removing the dividers even more difficult. Over time, the quality and experience deteriorate.
Zippers and Fastenings
There are two large zippers on either side of the Dalston. They have metal zipper heads, but the teeth along the zipper are made of plastic. Plastic zippers are less durable than metal zippers. And they are more prone to buckling.
The bag's design also gives the zippers a bit of a problem. When you open the side pocket fully, the opening bulges in the middle. It's then more awkward to close the zip with one smooth movement. It often gets caught or jerks.
They do have thick cord zipper pulls. They make opening and closing the access points easier. And you can lock them together using a padlock for security. But there are two side openings, so you'll need two padlocks for total security.
Weatherproofing is a feature of the side zippers. A rubber lip at the top and bottom stops water from getting in at those weak points. And the zippers have a rubber coating. The trouble is the rubber coating doesn't always meet in the middle. It will be fine in light showers. But we advise caution in heavier downpours.
The roll-top opening has two pop buttons to keep it closed. And there's a nylon strap and plastic buckle to keep it tied down. These fastenings work well, but f-stop hasn't splashed out on metal fittings.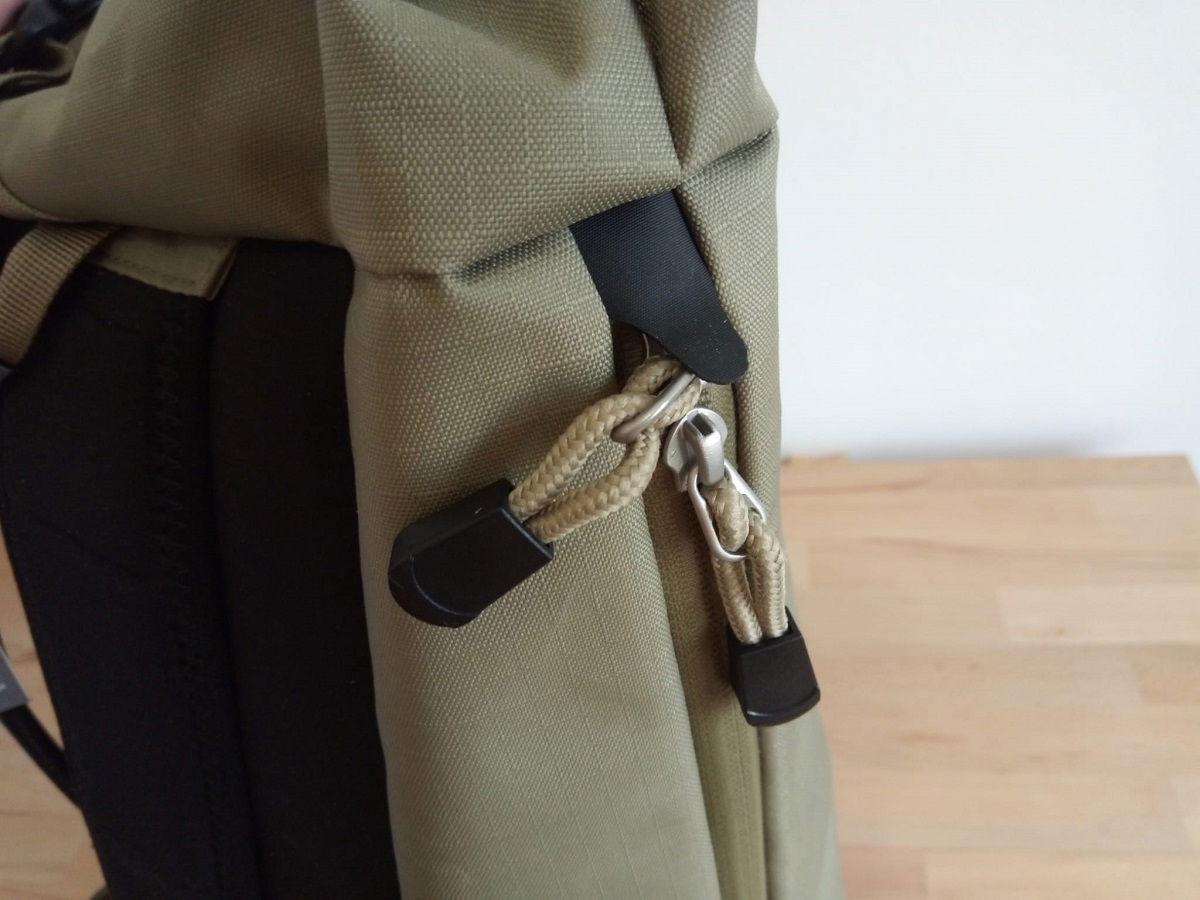 Functionality and Ease of Use
When you produce a simple camera backpack, people can forgive a lack of features. But a simple backpack needs to function well. And while f-stop has achieved some of its goals, the Dalston doesn't deliver a pleasurable user experience.
Size and Weight
The size and weight are two strong positives for the f-stop Dalston. It has a large 21L capacity. That's plenty of storage space for camera gear and other items. And it's super lightweight, weighing only 1.8 lb (800 g) when empty.
You can also increase or decrease the size using the roll top. You can roll it down if you don't have much in there. Or you can unroll it to give you more storage space.
The side zippers and back padding give the backpack a rigid shape. This prevents you from rolling the top down beyond a certain point. That means the bag, even when empty, has a large shape.
Capacity
The f-stop Dalston has a large main compartment. That gives you a large capacity for non-camera items like clothes. And you can increase space by removing the camera insert. Without the insert, the main compartment is very spacious. You can pack enough for a short vacation.
And as we've said, the capacity can be increased if you unroll the roll top. That's handy if you're cruising the thrift stores while out with your camera. It's easy to increase the capacity for a few extra items.
You also have a rear pocket for laptops and tablets. And there's a front pocket for cables, UBSs, and other small accessories. That's the full extent of extra pockets. But the capacity of the main compartment is the top selling point in this department.
Organization and Customization
With a removable camera insert, you can transform the Dalston from a camera backpack to a normal backpack. That makes it a multipurpose backpack, which certainly broadens its appeal.
You can also customize the padded insert. There are five dividers, and thanks to the Velcro, you can rearrange them or remove them altogether. You can create unique layouts that match the gear you have. And you can make new arrangements if you change your camera setup.
We've already touched on the problem with the materials in the insert. But at least you can still rearrange the layout in the camera section.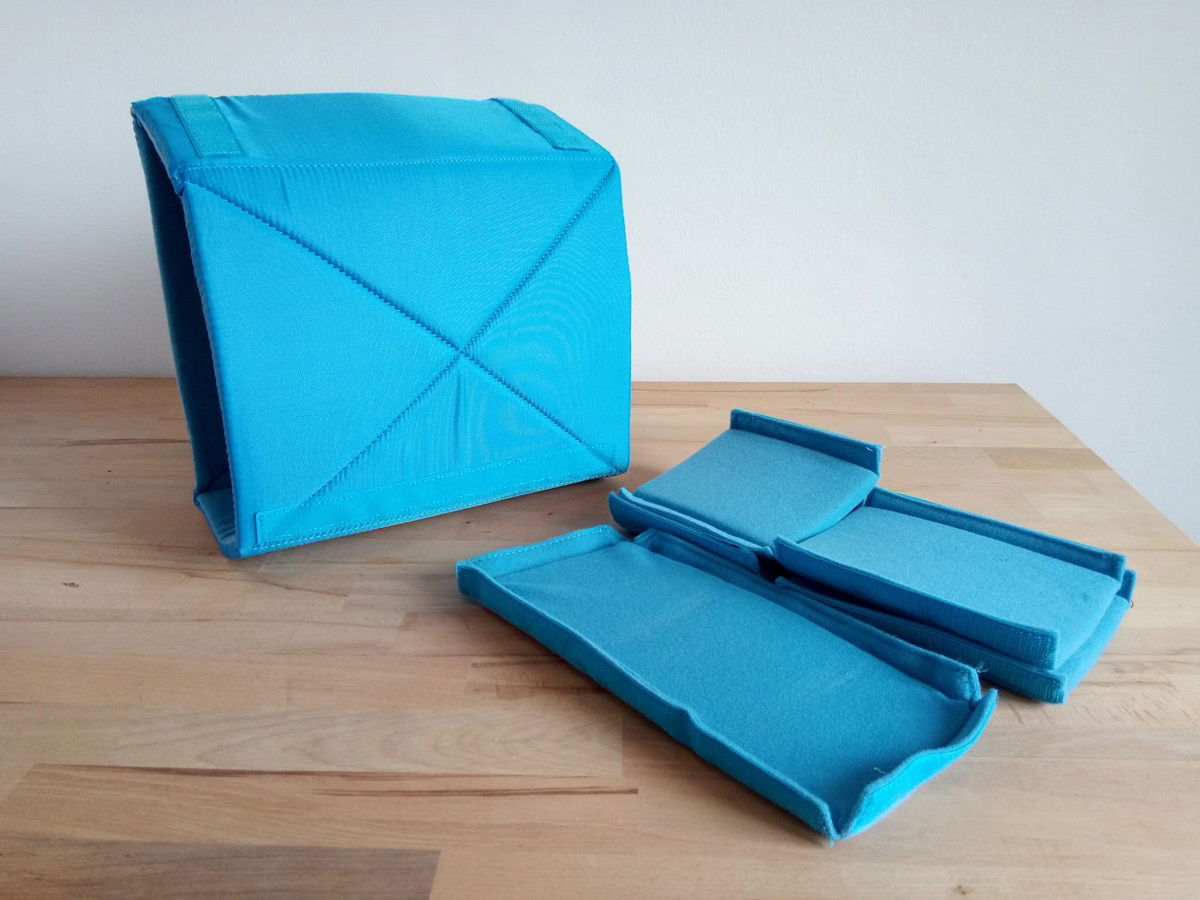 Access Points
The roll-top is the main opening for general storage. But for camera access, you have to use the side openings. The Dalston has no front or rear access points for loading or unloading camera equipment.
The roll-top opening is wide, allowing you to easily see what you're doing. And you can use both hands to retrieve items from within. It's easy and uncomplicated.
Unfortunately, the same can't be said for the side access points. They aren't complicated, but they make loading and unloading a chore. And the design and layout make it difficult to grab gear from the bottom of the bag.
The zippers run all the way down the side and sit in the center of the side section. When it's open, you only have access through the gap in the open zipper. You can pry the zipper apart further, but it still limits the space you have to work with. It's difficult to get the camera in and out.
The side zipper does open all the way to the bottom of the bag. But the narrow opening makes it difficult to get items from the bottom. The side flaps get in your way, and you can't pry them apart enough without the risk of breaking the bag. You have the same problem on both sides.
Bags with side access usually have a flap opening or a zipper that opens to a full section. But the Dalston has a straight zipper that doesn't give you the access you need. Getting gear in and out is far more difficult than it should be.
The side zippers also give access to the space above the camera insert. On one hand, that's handy for accessing stuff. But it also means items from that section might fall out when you're tending to your camera.
The side access is a serious flaw in the Dalston's design. If you're making a camera bag with side access as the only option, make sure the access point is functional. This is the point when we fully realized f-stop didn't achieve what it set out to. When simplicity is the key, you have to get the basics right. And this is a definite misfire.
Security
The Dalston is light on security features. We don't expect Fort Knox-level security for a day bag, but we do expect more than this.
The only real security-conscious features are the zipper pulls. They have a thick cord with a plastic top. They can be tied or locked together. But as we said above, you'll need two separate locks for each side. There's also no way of locking the roll-top opening.
Additional Features
Simplicity was the aim of the Dalston. And that means there are very few additional features, and certainly very few we haven't mentioned already.
You have the laptop pouch at the back of the bag. It's a large pocket that can store a 15 or 16-inch laptop, provided it isn't too thick.
You can also stow your tablet in there. But the bag doesn't have separate sleeves for laptops and tablets. It's one large pocket. Also, the pocket's zippers open on the side. Remember to close it, or your device will fall out.
There's a pocket on the front. You can get a tablet in there, but there's no padding. It's good for odds and ends, but not ideal for electronic devices.
The top handle helps you lift or move the bag over short distances. But it looks and feels like an afterthought. It's a nylon strap with a bit of rubber wrapped around it. It's helpful but doesn't make me feel confident it can hold heavy loads.
The top buckle and the chest straps are two additional features already mentioned. They are both useful and add value to the bag. But the Dalston could do with another feature or two to make it worth the price.
Compatibility and Versatility
The compatibility with cameras, lenses, and other equipment is a strong point for the f-stop Dalston. You can get plenty of gear in there. And you have enough scope to customize the interior to suit your camera setup.
Compatibility for Cameras and Lenses
The Dalston 21L has a large padded camera insert. It takes up about 50% of the space of the bag's main compartment. That means it can hold large camera bodies. And there's space for a few extra lenses.
You'll have no problem loading a full frame DSLR with a standard lens attached. Bigger lenses, like a 70-200mm, will have to be stored unattached. But you can get lenses of that size in there. That's impressive for a casual day bag.
Two mirrorless camera bodies will fit without issue. And you can definitely find space for street photography cameras like the Fujifilm X100V or Sony a6600.
The Dalston is a good option for vloggers and content creators. Carrying a vlogging camera and a couple of lenses is no problem. And there's ample room for additional equipment like selfie sticks and ring lights.
Carrying Versatility
You don't get much carrying versatility with the Dalston 21L. Other than the top handle, the shoulder straps are the only way to carry the bag.
The shoulder straps are well-padded and broad, so they are comfortable. And you have the chest strap for extra support with heavy loads. But the Dalston offers no carrying alternatives.
This isn't too much of a disappointment. The Dalston is a casual camera backpack for inner-city travel. And most street photographers are happy with the traditional two-strap backpack. It's spacious enough for the gear, both your hands are free to operate the camera, and you have side access for quicker camera retrieval.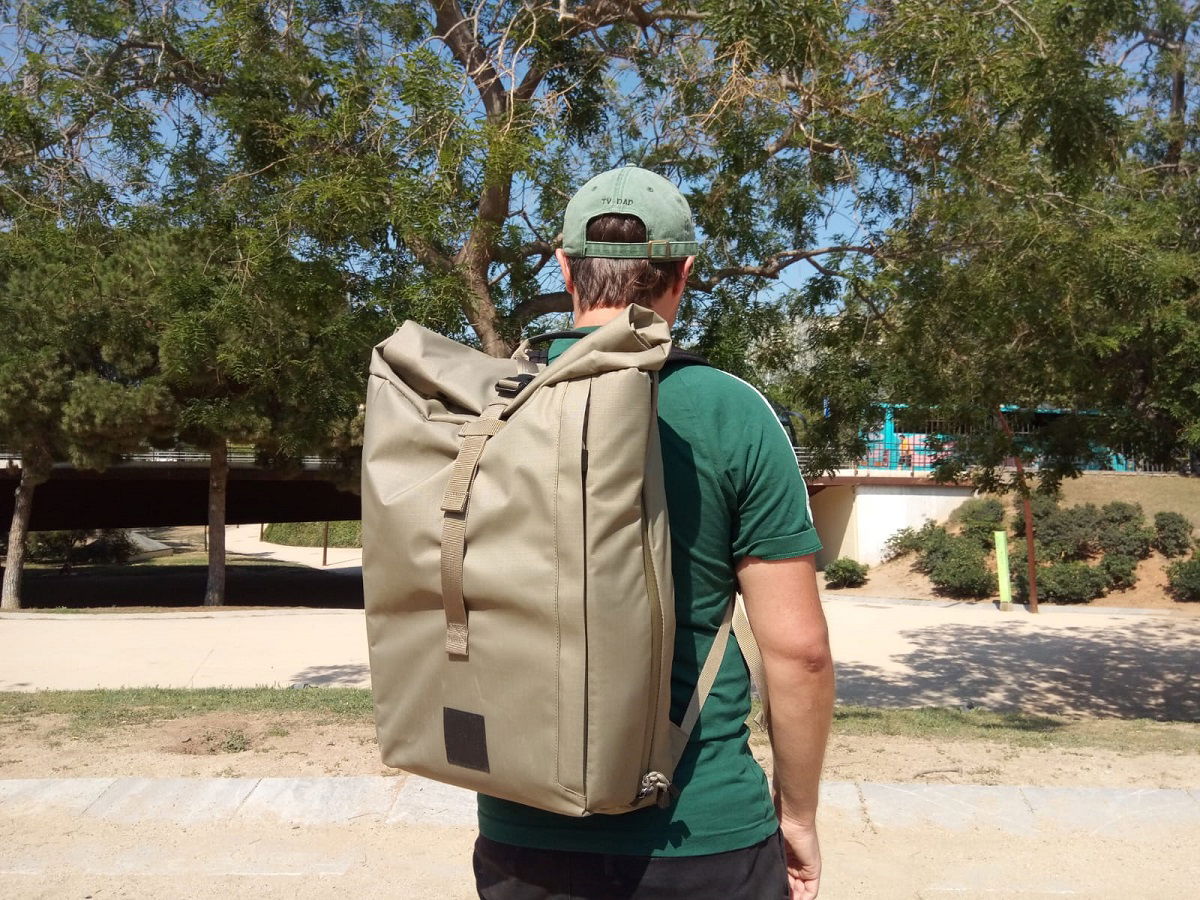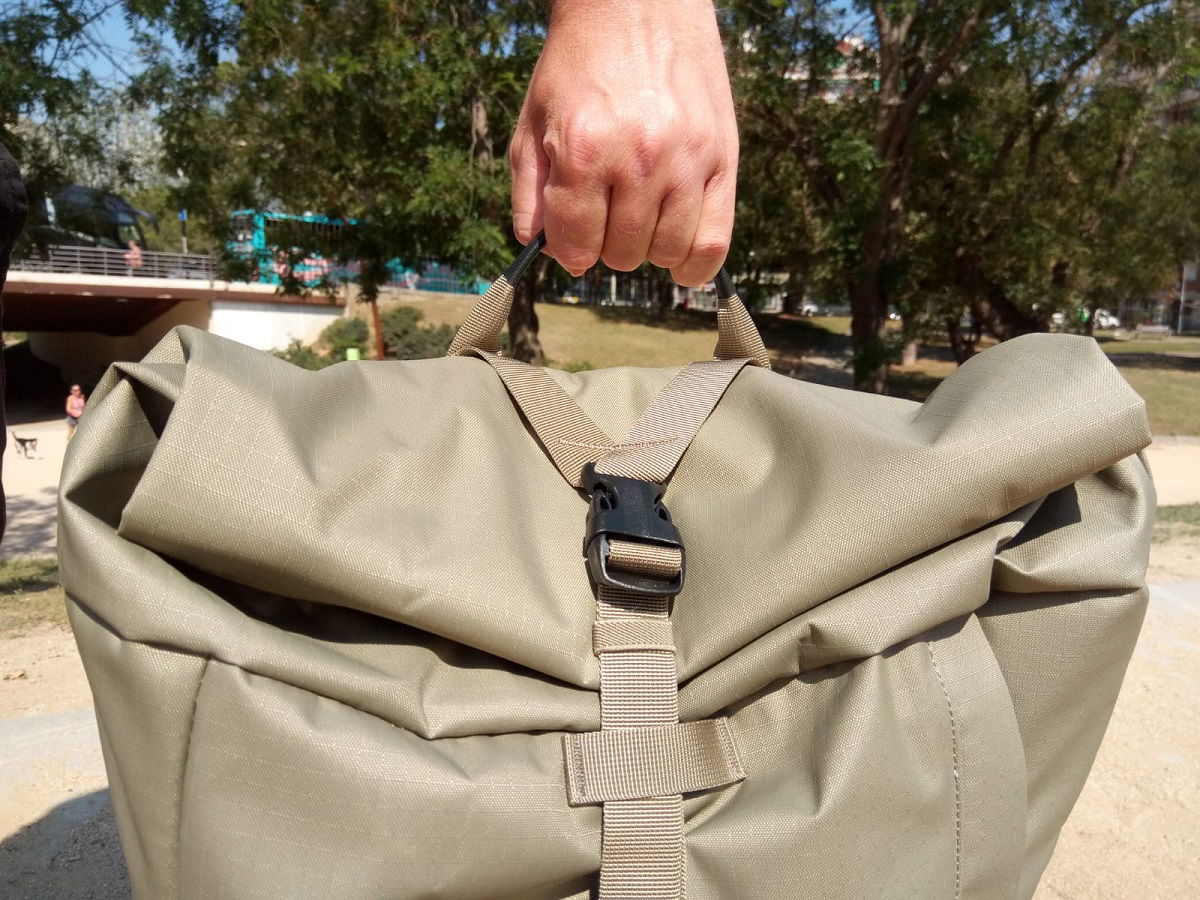 Price and Value
The Dalston 21L is overpriced. It's a simple camera backpack for urban environments. There's nothing wrong with that. But despite the weather protection, we can't say the Dalston delivers enough to warrant the price.
If you're producing a stripped-back camera backpack, the price should reflect that. You do get decent padding and space inside the bag. But it fails on some of the fundamentals. And f-stop needs to nail the fundamentals to charge this much for a nylon sack with a padded insert.
Warranty
A two-year warranty is disappointing on a bag like this. It doesn't inspire confidence in the bag, which is already low. A longer warranty period would at least demonstrate that f-stop believes in the product.
f-stop offers a 20-year warranty on its Dyota backpack. That's a more expensive camera bag. But why is there such a big difference in warranty offers? This suggests they have little faith in the Dalston.
In many countries, companies are legally obliged to offer one year warranty. That means f-stop is only giving you an additional year on top. It doesn't inspire confidence.
Sustainability
f-stop does talk about sustainability on its website. It uses recycled materials for its packaging, which is honorable. But other than that, they don't specify any other sustainable policies.
They do take ownership of their production line. There are no third parties or outsourced labor. This is great on ethical grounds. And labor standards do bleed into sustainability, so we can appreciate their efforts in that department.
Alternatives to the f-stop Dalston
If the f-stop Dalston isn't the backpack for you, here are some alternatives that might be a better fit.
The Duo Daypack from Wandrd is our top-rated day bag. It's a camera backpack of outstanding quality. Everything from the materials to the stitching is impressive. And it has front and side access options that work really well.
The outside of the bag is fully weatherproof. The thick nylon is weather resistant and it has a weather-repellent coating to maximize protection. Even the zippers have a rubber coating to keep the water out.
With excellent interior padding, you know your gear is safe. You have the "pop camera cube" for your mirrorless or DSLR camera. And there are elasticated pockets for all your accessories. It's lightweight, compact, and stylish. And it will carry everything you need in any weather.
Use our discount code EXPERTPHOTOGRAPHY at checkout for 15% off your first order!
The Nomatic McKinnon is another stylish and versatile camera backpack. It offers good protection, has useful features, and has an easy-on-the-eye aesthetic. It's more expensive than the Dalston. But the higher price comes with better construction, materials, and usability.
The ladder insert and the removable camera cubes protect your gear. The padding is thick yet yielding. And you can customize the layout to fit your camera gear. There's no side access, but you do get water bottle holders and tripod straps on the sides.
It's one of the most comfortable backpacks we tested, even with a heavy load. The straps have a good amount of padding. And you have internal supports and a chest strap to distribute the bag's weight. You can also adjust all the external straps to find the perfect fit.
The McKinnon from Nomatic is a quality backpack. Every aspect and feature is considered and perfectly executed. It's on the pricey side. But I can't imagine many photographers would regret spending money on this camera backpack.
Use our discount code EXPERT15 at checkout for an extra 15% off!
If you want a quality day bag at a reasonable price, you have to consider the Lowepro Fastpack BP 250 AW III. Lowepro doesn't have a reputation for making the most stylish backpacks. But the Fastpack has a casual design that looks good in any city.
It has a unique side/front opening. You can unzip it part way to access your camera from the side. Or you can open it all the way to get full access at the front. It works well without undermining the form or protection of the bag.
The camera section is big enough for a full frame mirrorless or DSLR camera. And you can still get a couple of extra lenses in there. And you have the free packing space above for your personal items. It's also comfortable to wear for long periods. And it's one of the best value backpacks we've reviewed.
Final Verdict of the f-stop Dalston
Measurement

Measurement

Score

Design and Aesthetics

Design and Aesthetics

Build Quality and Durability

Build Quality and Durability

Functionality and Ease of Use

Functionality and Ease of Use

Weather Resistance

Weather Resistance

Compatibility and Versatility

Compatibility and Versatility

Value for Money

Value for Money

Total Score

Total Score
With a final score of 60.6 out of 100, the f-stop Dalston hasn't done well. It gained points for the exterior materials and weather protection. But it struggled to pick up points in many other categories.
There are a couple of successful aspects. But overall, the camera backpack has failed to deliver on its promises. And the truly troubling thing is that it didn't promise much and it still under-delivered.
It is a lightweight backpack. Even with the padded insert, it weighs very little. It also gives you a reasonable amount of weatherproofing. And it has a large capacity with decent space for cameras and lenses. But that's where the positives end.
The Dalston's biggest flaw is the side access design. Accessing your camera is far more complicated and frustrating than it should be. And you only have side access for camera gear. There's no option to see all your gear together.
We appreciate a simple bag design. But you have to nail the basics if that's your approach. And f-stop, for the most part, hasn't.
The Dalston, as a lightweight roll-top, will have its fans. But as a roll-top nylon sack with side zippers, we're struggling to see how f-stop has justified the price. We think your money is better spent elsewhere.