As its name suggests, the Lowepro Fastpack Pro BP 250 AW III is a camera bag built for speed. Convenience is its highest priority, thanks to ingenious access points. But it also provides good security for your equipment.
The Lowepro brand should be a familiar name to most photographers. If you have ever popped into your local photography shop, they will surely have had a small selection of Lowepro camera bags.
As an established photography brand, Lowepro continues to innovate in camera bag technology. And they have such a wide range. So you can find the perfect bag for your specific photographic niche.
The Fastpack Pro BP 250 AW III is a camera bag for the photographer on the go. It is perfect for photojournalists or wedding photographers who must act quickly to get the perfect shot!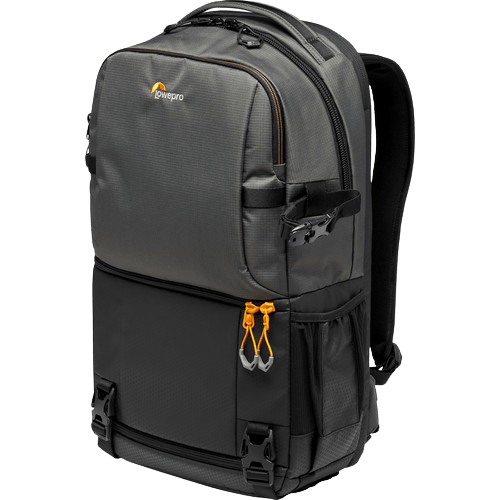 Lowepro Fastpack Pro BP 250 AW III
This camera backpack, designed for fast access and convenience, is a game-changer for on-the-go photographers. With its lightweight nylon material and quick-access design, it's perfect for photojournalists and wedding photographers. The minimal yet strategic padding ensures comfort without sacrificing security and space. Enjoy the ingenuity of its QuickDoor access that combines the best of side and full compartment access. Despite its comprehensive features, it remains lightweight and easy to carry. It's ideal for those seeking a practical everyday backpack.
For full transparency about our review process, you can read about how we scored and ranked the bags.
Strengths and Weaknesses of the Lowepro Fastpack Pro BP 250 AW III
Lowepro Fastpack Pro BP 250 AW III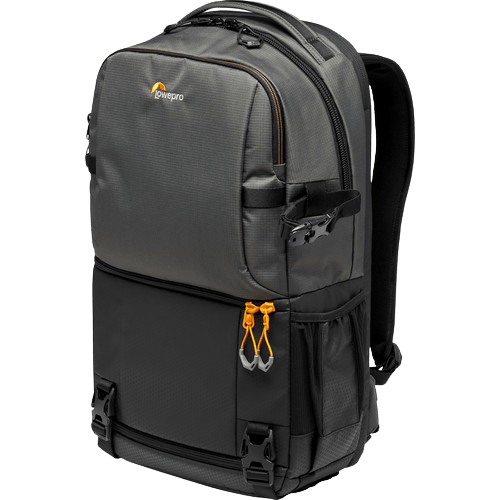 Weight

Weight

1450 g

Capacity

Capacity

25 L

Access Points

Access Points

Front, side

Airflow Back Support

Airflow Back Support

Yes, with mesh

Laptop Sleeve Capacity

Laptop Sleeve Capacity

16-inch

Tripod Holder

Tripod Holder

Warranty

Warranty

Lifetime

Waterproof Rating

Waterproof Rating

Weather-resistant
The main strength of the Lowepro Fastpack Pro BP 250 AW III comes from its access. Lowepro has designed a QuickDoor access that combines two camera bag access methods.
I am not usually a fan of side-access bags as it's limiting when making big changes to your gear out on location. But the QuickDoor access gives you the best of both worlds.
You can store and retrieve your camera quickly through the side access. Or you can also lay your bag down and reveal the whole camera compartment.
Another noticeable strength is the bag's lightweight nylon materials. This helps to not compromise security and space. For being a comprehensive camera bag, it weighs a minimal amount.
These two strengths of quick access and lightweight materials make it an ideal camera bag for many photographers. It's especially good for those looking for a convenient everyday backpack.
Its main weakness comes from its padding. It is not the most comfortable camera bag on this list.
It does provide padding in the right places. But these paddings are minimal and feel like thinly covered cardboard.
At least it does have some form of padding. And as the camera compartment volume isn't huge, you won't be lugging around the heaviest bag.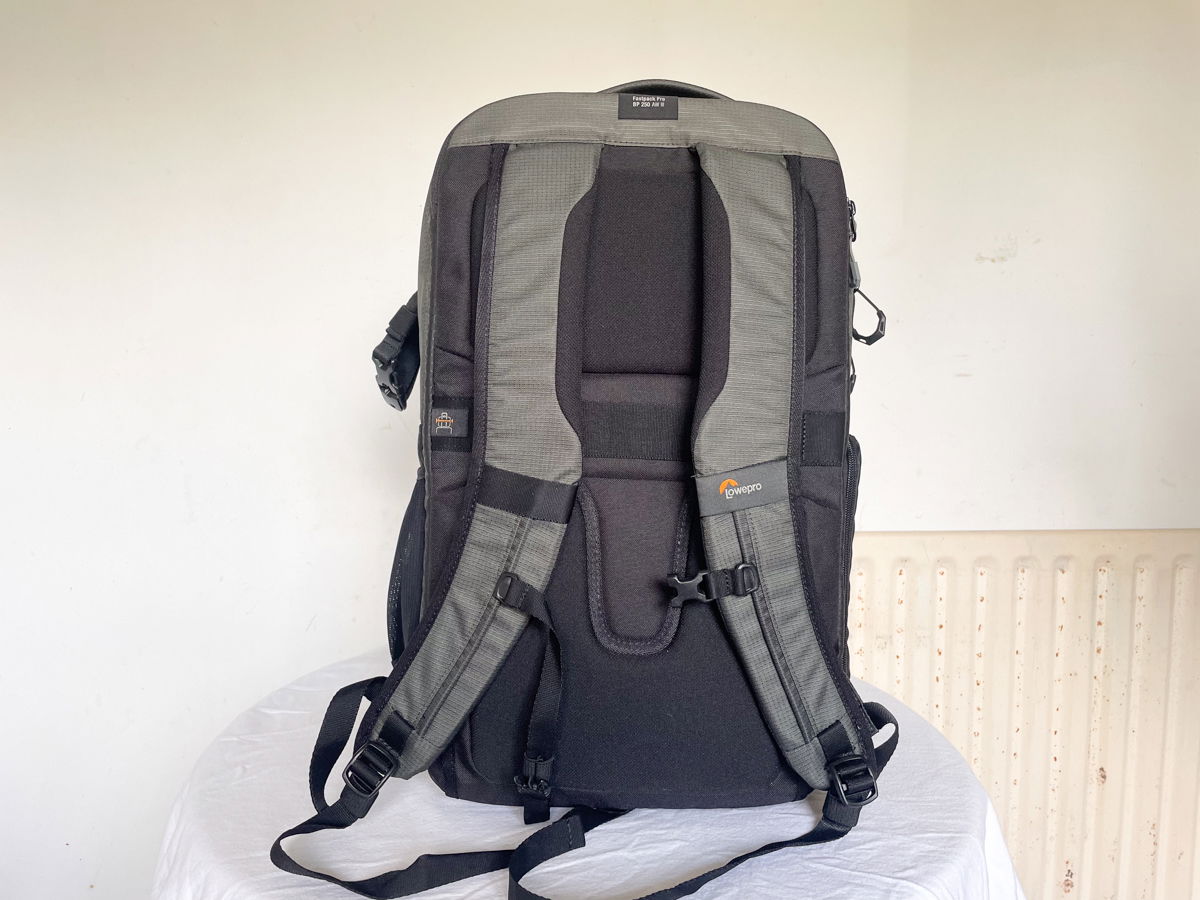 Design and Color Options
I like the Fastpack Pro because Lowepro has prioritized function over fashion. It feels like a bag built by photographers for photographers. The bag is quite boxy, so it utilizes space to the fullest.
This approach to building a bag is felt in every backpack section. Everything from the access points and various pockets to the zippers was designed for the user's experience.
You even find small details like a fleece-lined section in the front pocket. Or the raised CradleFit laptop compartment. So your laptop isn't damaged when you place your laptop when on the ground.
Small protective features like this go a long way and are easily appreciated by photographers who care about their gear.
One point to consider is that it looks like a camera bag. Of course, this happens when you design for functionality. But this may be a point to consider if you are alone in places where theft is abundant.
The Pro BP 250 AW III comes in a split-tone, gray-and-black color scheme, with the camera compartment in black. It looks great. And apart from the yellow zippers, it helps you blend into your environment.
Build Quality and Durability
The Fastpack Pro BP 250 AW III build quality meets Lowepro's high standards. Lowepro has set the bar for camera bags over the past decades, so you can expect the Fastpack to be up to par.
Lowepro prioritizes weight over comfort, so there is a slight lack of padding where photographers may want more. This is not a dealbreaker, as many camera bags provide the same (if not less) padding.
Let's now dive into more specific sections to properly interrogate the Fastpack.
Exterior Material
You will notice that the camera compartment and the rest of the bag are made of different textures.
The top half provides you with tear-resistance 300D nylon. The camera compartment material is slightly more durable as it is made of a polyurethane (PU) coated fabric.
The synthetic PU-coated material is more effective against dirt, abrasion, and moisture. It also aids the bag in waterproofing. You may wonder why this material doesn't cover the whole bag.
I imagine that Lowepro is trying to save weight by covering the top half with this light nylon. Plus, the ripstop material on the top is more suited to protecting your valuables.
Another interesting mix of materials is on the tripod or bottle holder. Lowepro has not gone with full mesh for this area as they understand tripods can easily rip this.
Instead, they went half and half, reinforcing this pocket in the highest stress areas. This is a smart way to reduce weight, but I am curious how long it will last in the field.
Weather Protection
The two main external materials, the ripstop nylon and the PU-coated fabric, are water-repellant. This will give you ease of mind if you are in a sudden downpour.
But you will notice that the zippers lack waterproofing. So you should find cover relatively fast.
The bag does come with an all-weather cover for those more desperate situations. With this cover over, you can confidently finish the rest of your hike without worrying about your camera.
Interior Material
On the inside of the bag, you will find the same 300D nylon on the outside, but this has a polyurethane coating. This is a smooth and durable nylon that won't damage any of your valuables.
I like that this interior is light gray. This makes searching for specific items quick and easy, even in the dark.
One welcome feature for photographers is a fleece-like pocket with brushed tricot lining. It is not a full compartment. It just lines one of the envelope pockets inside.
This is purposely built for valuables such as sunglasses. But you can also use it to store your filters if they don't have a case.
It isn't a huge pocket, so it can only store smaller-diameter filters. But the brushed-tricot pocket is colored a bright orange so you can easily identify your items.
The laptop sleeve is also in this bright orange color. This is because the industry-standard computer is an Apple, and MacBooks would be harder to spot with the light gray found elsewhere in the bag.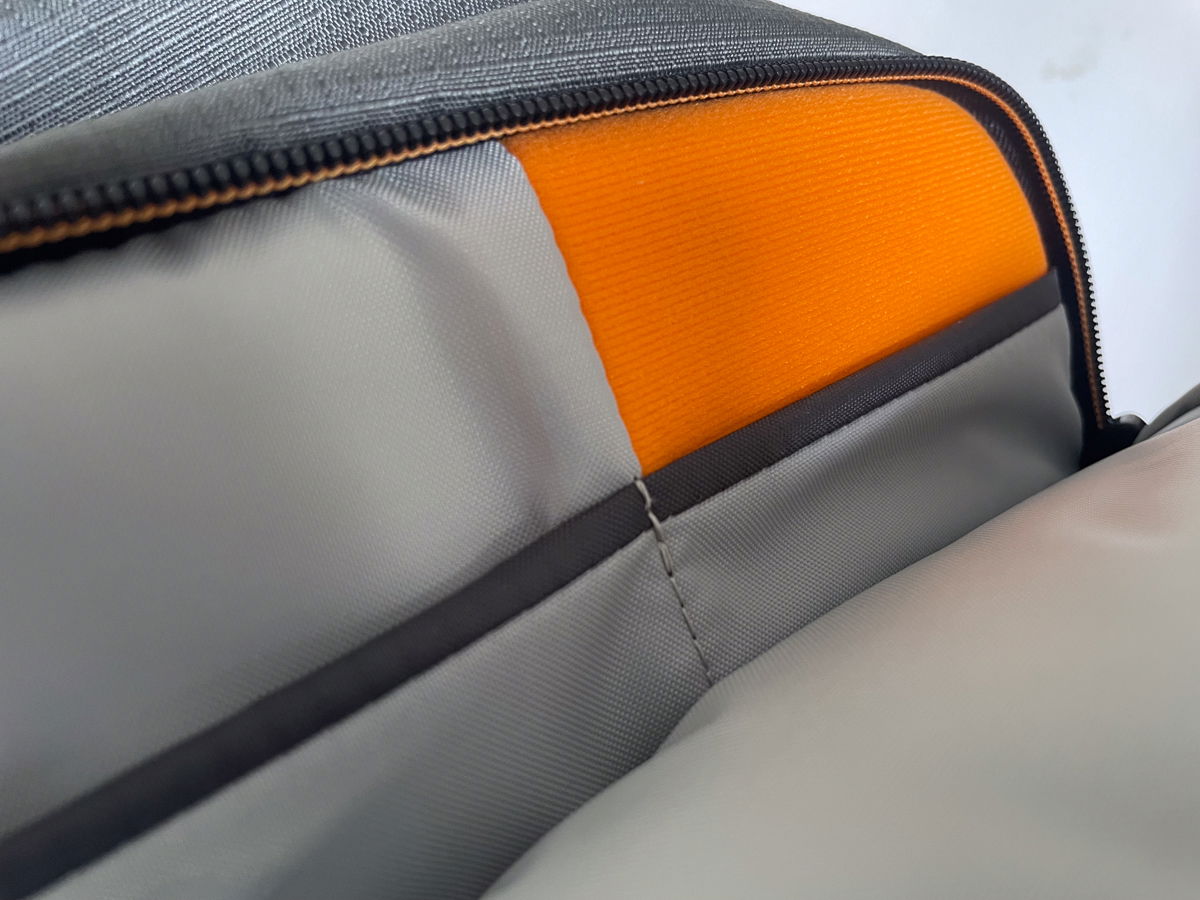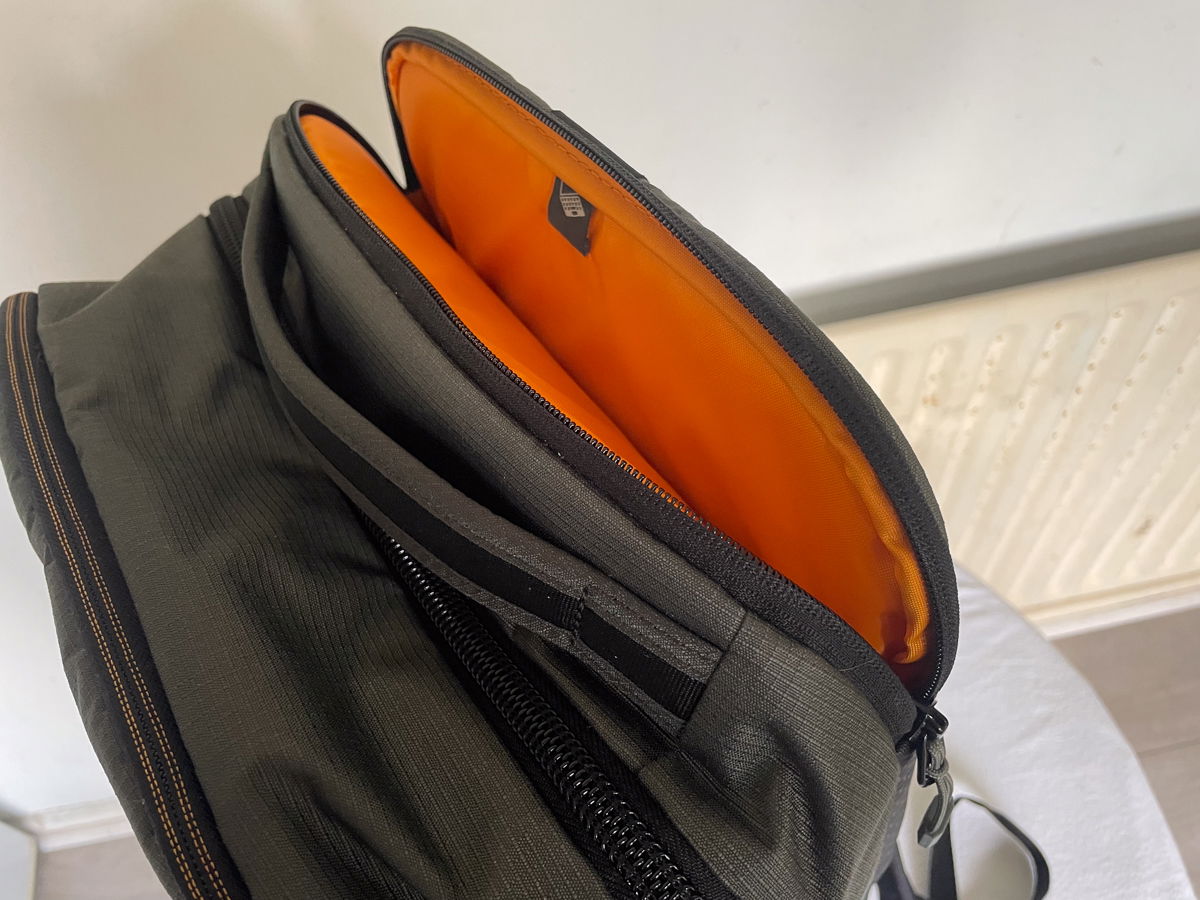 Straps and Back Support
The biggest weakness of the Lowepro Fastpack Pro BP 250 AW III is the padding on the back and shoulder straps. There is padding, but it is minimal.
I spent a day shooting with light equipment in the bag, and the bag was fairly comfortable. The saving grace is that the straps are wide, which tends to be more comfortable.
Another saving grace is the softer mesh material placed around the neck area. This ensures you don't get any uncomfortable chaffing on long walks.
You will find the same depth of padding on the back support. Again, it could be better, but it's far better than nothing.
This back support is cut in a breathable design, giving you extra relief on those warm summer days. It also has a cutout for your spine to provide as much comfort as possible.
The chest strap clips are simple and made of thin plastic. They will last a while but may easily break if mistreated.
But I do like how adjustable the chest straps are. A plastic clip hugs a covered railing, so you can easily slide these fastenings up and down.
Another feature I love is the waist straps the Fastpack Pro has. They have even less padding than the rest of the bag. But this lets you store them behind the bag's back support!
Tucked straps are a welcome feature for photographers familiar with using a bag in a city environment. The fewer features you have that can catch on objects, the better.
It also looks untidy, having straps hanging all over the place. And the other advantage is that it is extra padding for your lower back!
I am also a big fan of the lengthened handle on the top. It is wide enough to grasp with two hands. This makes it extremely accessible, which isn't surprising after looking at the bag's overall design.
You will also notice a luggage strap on the back of the bag. This is handy if you're looking for a bag to go jet-setting with.
One note I must make is that the luggage strap is slightly loose. So it might not be the most sturdy of fastenings. But you can always reinforce this with the chest and waist straps.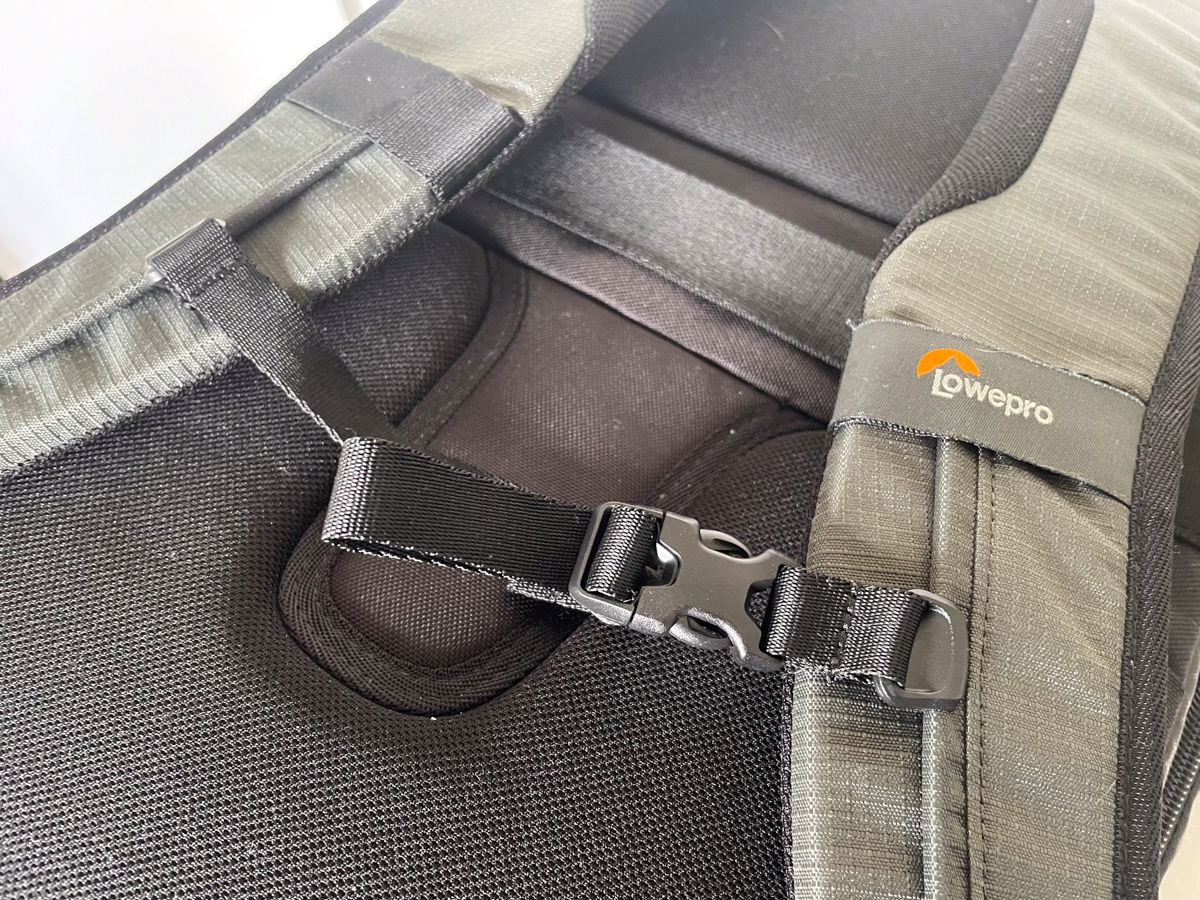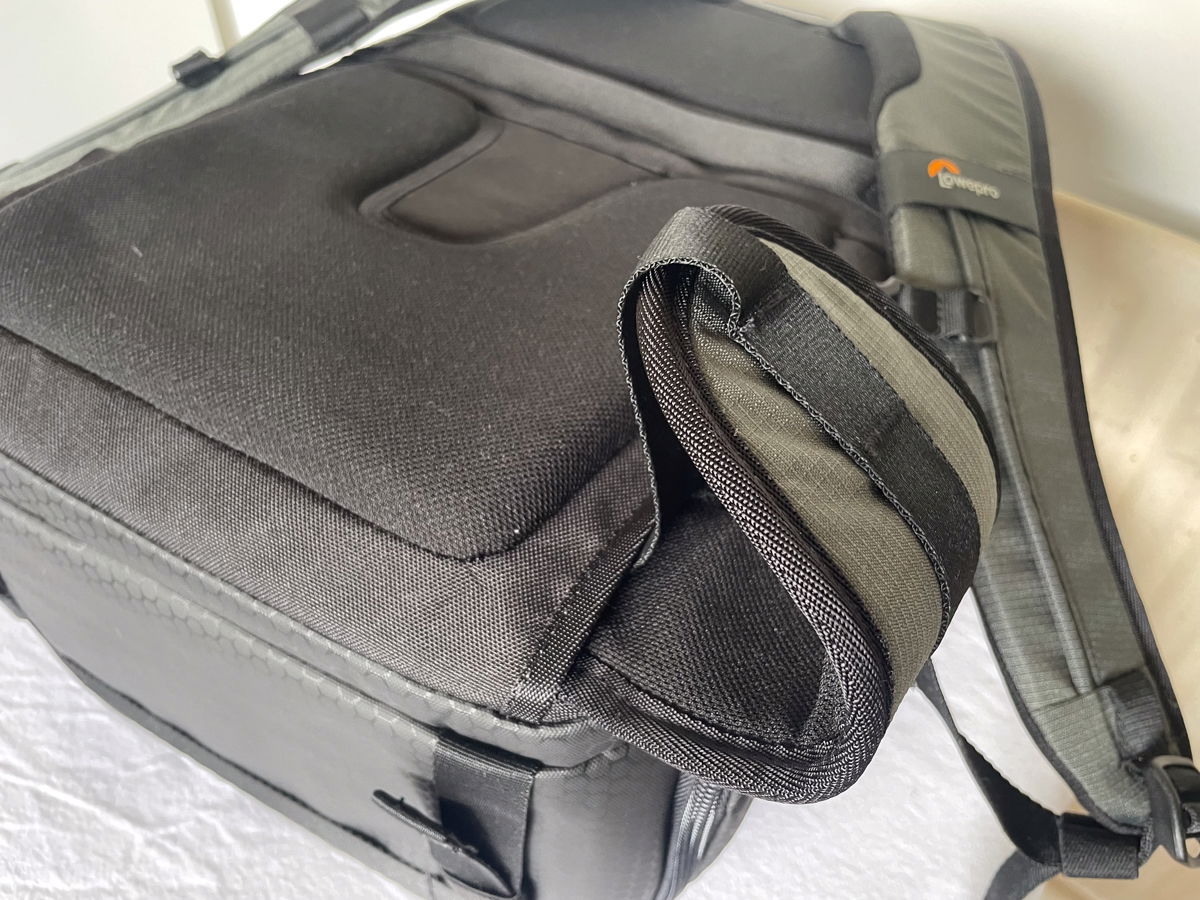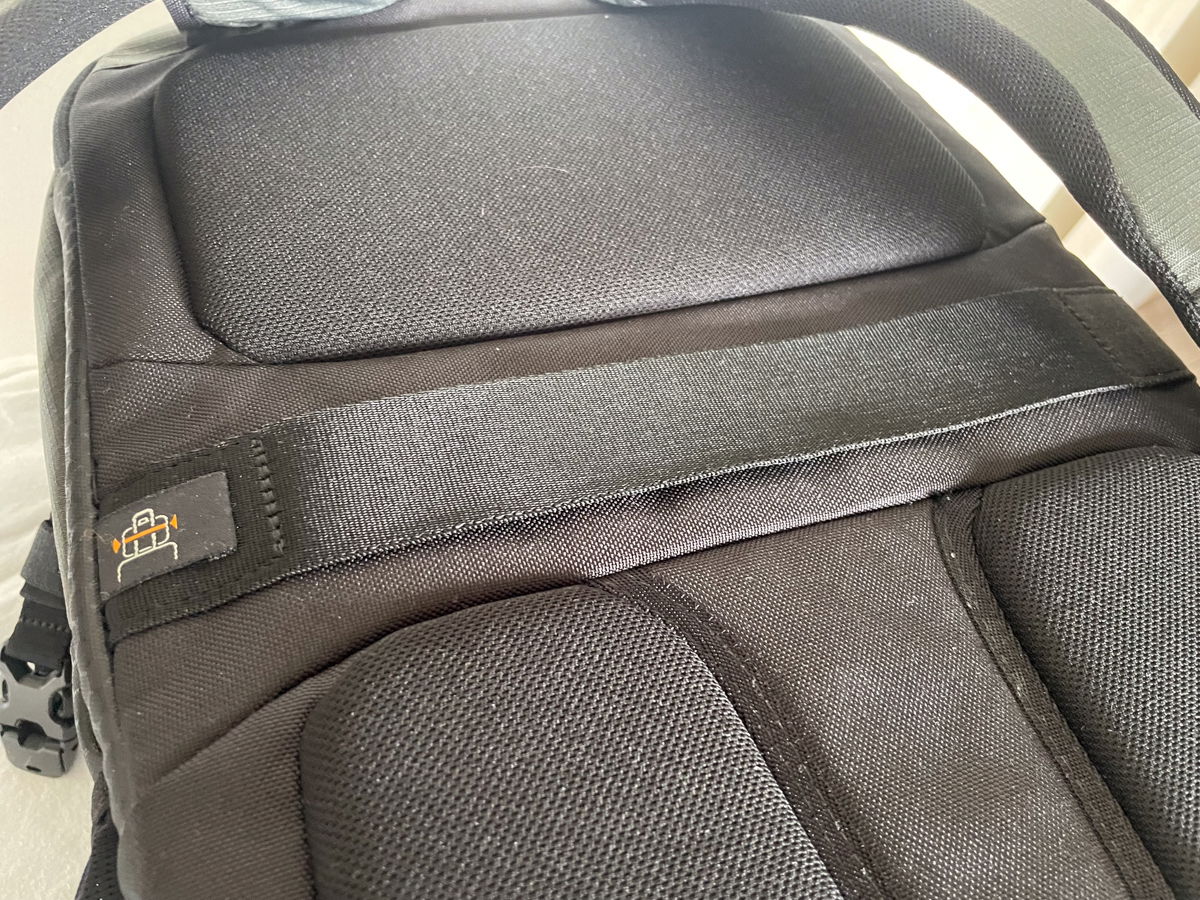 Seams and Stitching
The seams and stitching all over the bag are of high quality. They all feature tight and close-together stitching that helps protect the bag from damage and water.
In fact, when looking at the bag closer, there is no visible stitching. They are all tucked in. Even after a more detailed inspection, I struggled to find vulnerable edges around the bag.
There isn't much reinforcing in crucial places. But the stitching seems so well put together that it doesn't need it.
Overall, I am impressed with the build quality of the Lowepro Fastpack Pro BP 250 AW III. I can see this bag lasting a long time. It is no wonder why Lowepro has a lifetime warranty!
Internal Padding
Inside the Lowepro Fastpack Pro camera compartment, you will find enough space for a range of equipment.
The dividers that Lowepro uses are tough. At first glance, they seem too tough to separate expensive equipment. But on closer inspection, this rigid foam is great at absorbing shock.
The padding is coated with brushed tricot. This material ensures your equipment won't damage from extended shaking like on bumpy car rides. It will also keep its soft touch for an extended period.
The main dividers are the same thickness as the smaller partitions. This is an efficient use of space while also demonstrating that Lowepro trusts the protective qualities of this padding.
There is at least one centimeter of padding encasing the camera compartment. This is a small amount of padding, but you will find camera bags that provide much less.
Zippers and Fastenings
I am a huge fan of the zippers on the Lowepro Fastpack Pro BP 250 AW III. Convenience and easy access were the Fastpack's main aims, and a big part of its success comes from the zippers.
The two main compartments (camera and top) use wide YKK zippers with wide U-shaped zipper pulls. These zipper pulls provide you with quick and easy access every time.
You may think this is a minor detail. But honestly, this action goes a long way, especially when rushing to get your out gear for the perfect shot.
The camera compartment zippers are a bright orange to aid your speedy camera access. This lets your brain identify where to grab in a split second.
You may think these bright-colored zippers help thieves target this pocket. But Lowepro has thought of an ingenious way around this.
You can feed the main bag clip at the bottom through the zipper pull's wide opening to securely anchor the zipper. This ensures you notice something before anyone can enter your bag.
Elsewhere in the bag, you will find fabric-covered zippers in various sizes. This fabric covering gives the zippers slightly more weather protection.
But they are slightly stiff when opening. However, this isn't an issue as the main compartments have easy access.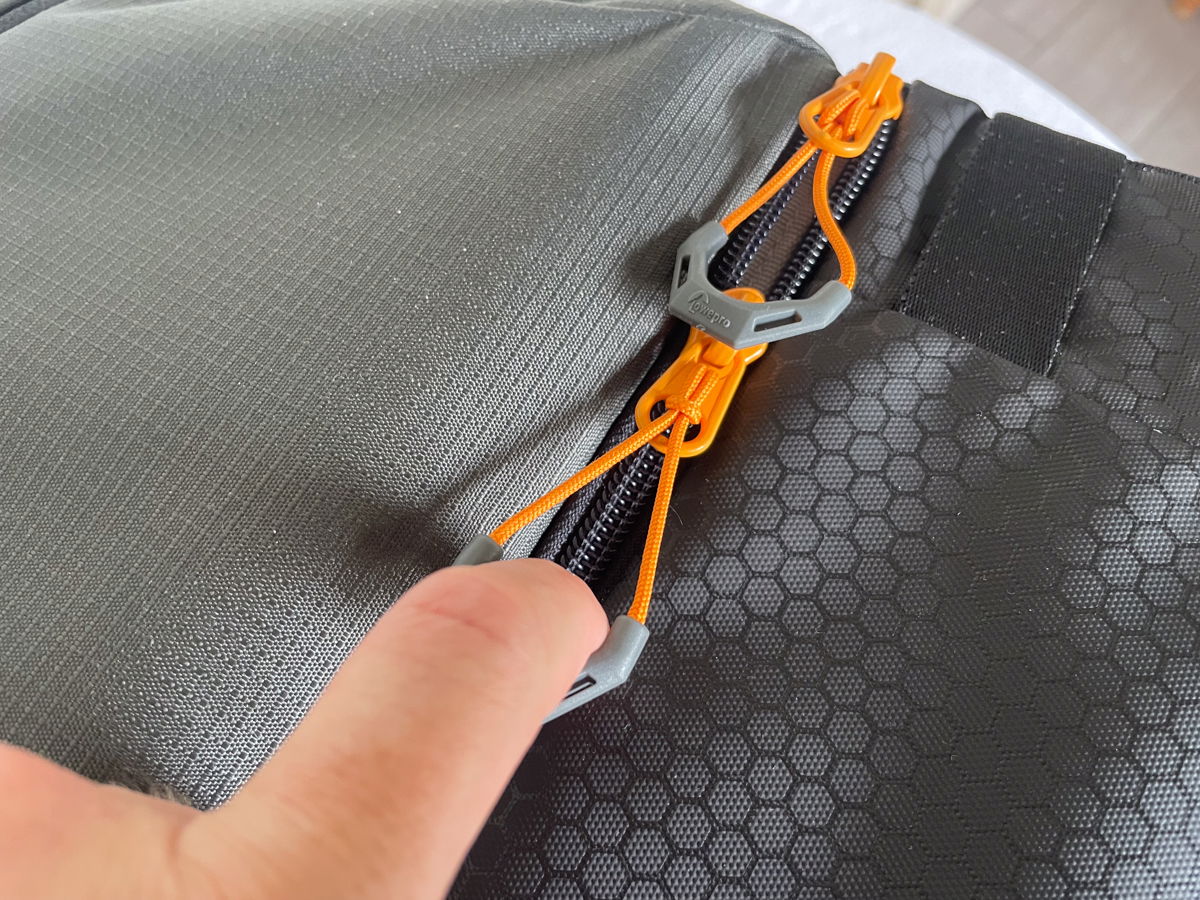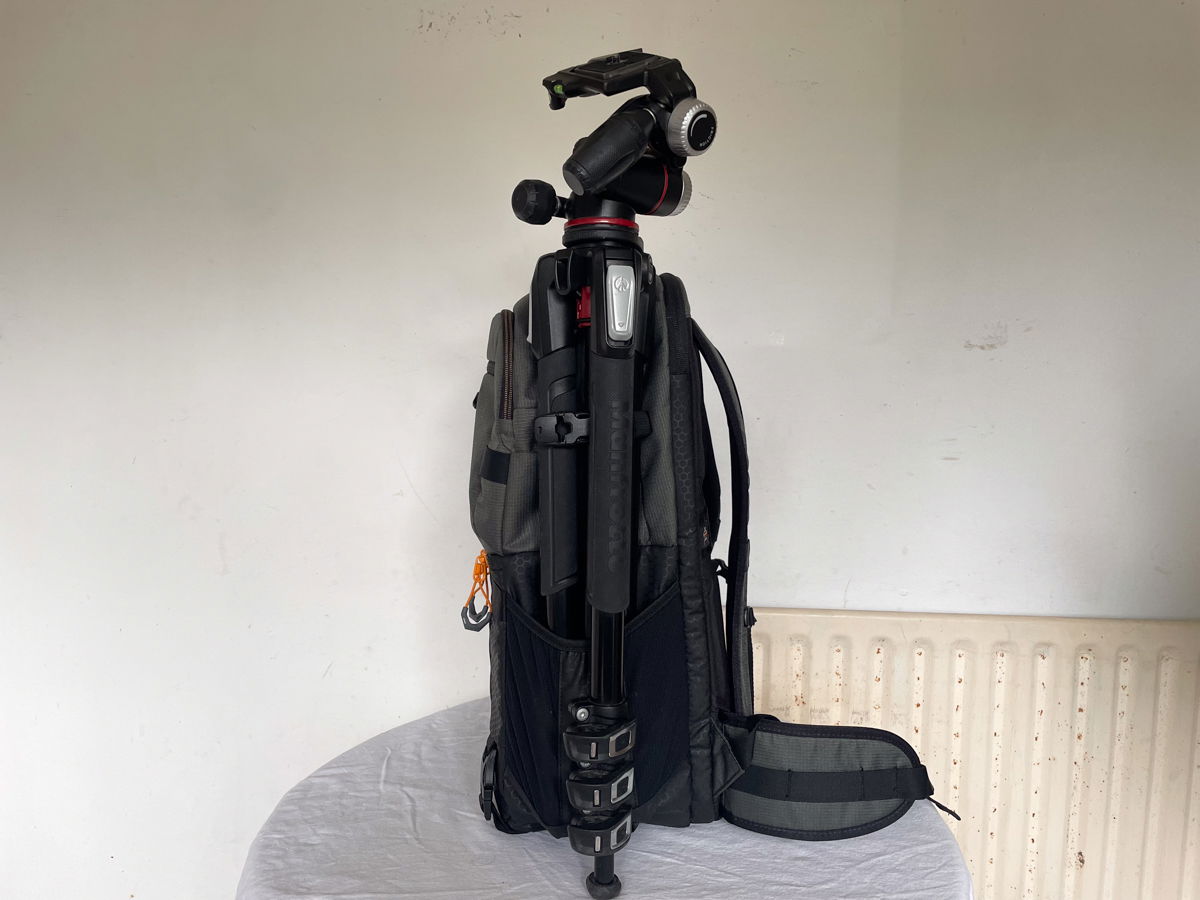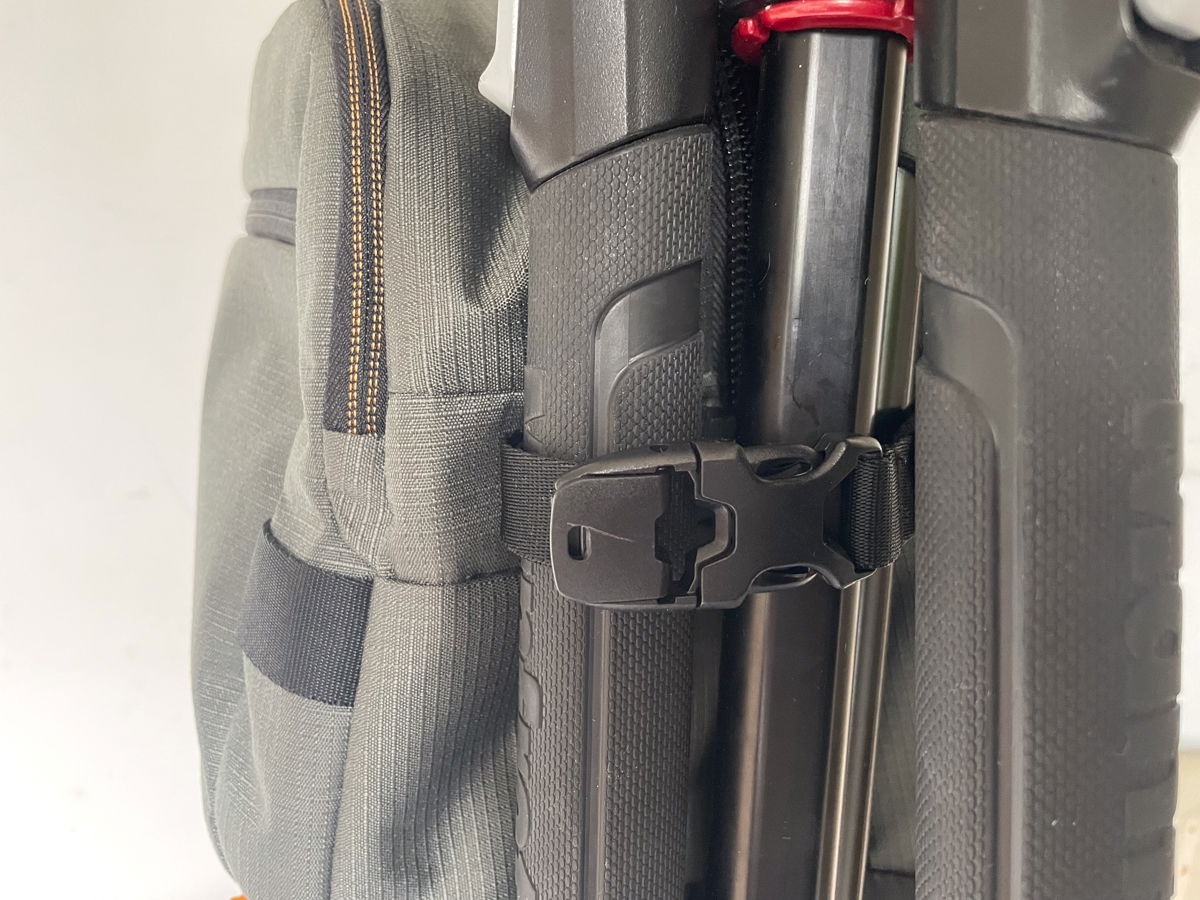 Functionality and Ease of Use
The Lowepro Fastpack Pro BP 250 AW III is the go-to camera bag if you are looking for great functionality and ease of use.
Lowepro has thought of every single minute detail on this bag and has managed to maximize the space and efficiency all for our ease.
So let's take a look at how Lowepro has managed to achieve this in more detail.
Size and Weight
Thanks to Lowepro's lightweight material, the size-to-weight ratio of the bag is better than I had expected. This may be where the reduction of foam and padding comes in handy.
It may come across as a fairly large bag. But upon picking it up, you can see how many photographers would choose it for a hike or travel.
The Fastpack has no extra sections irrelevant to the modern photographer. If anything, they have stripped down some features. An example is removing a side pocket for the quick-access flap.
Every centimeter of this bag is used efficiently. This is perfectly demonstrated in the bag's top half, where all pockets are designed to maximize the space.
Capacity
The Lowepro Fastpack Pro is a medium to large backpack with only a 14-liter camera compartment. This shows that Lowepro has put special importance on the compartment for personal items.
This feature is ideal for those who only want to take one bag with them, not one camera bag and one personal bag. This is at the top of my criteria list when looking for a bag.
The boxy shape of the bag emphasizes this. You can pack your bag, and it still efficiently fits into a trunk or an overhead compartment on a plane.
The two thin pockets on the front of the bag maintain the space inside the main compartment. The stitching on the front lets thick items protrude outward instead of back into the internal space.
If you're efficient with this space, you can easily pack enough clothes to go away on a long weekend in the Fastpack!
Organization and Customization
When considering the Pro BP 250 AW III customization, you only get a few options to play around with the dividers. But Lowepro has also added smaller features that make the Fastpack customizable.
You will want to keep your camera in the quick-access zip compartment. But still, you will find that you can set up your bag how you need it, even with having one side dedicated to the side access.
You will find a hook inside next to the quick-access opening. You will also notice a similar clip in the personal items compartment for the all-weather cover.
One notable feature is that the two compartments are completely separate. So you are not able to extend your top compartment.
However, this doesn't stop you from packing socks with the spare dividers! Or, visa versa, putting a spare lens or flashgun in the top compartment.
Access Points
The Fastpack Pro's access point is its most attractive feature. It combines the best features of two access methods to give you both speedy access and a comprehensive view of your kit.
You can open the side-access pocket to quickly store your camera or lenses, then fully open the whole compartment for complete access to gear.
This two-way approach will suit several photographic genres and will be a godsend for some.
Some other camera bags have the same feature, but side and top access use different zippers. This constrains the side access, making it more complex to quickly pull out your camera.
One reason photographers may prefer separate zippers is safety. But after using the Fastpack, it would be extremely unlikely to drop gear by extending the side-access zipper further than you should.
These two access points are a major player in convenience, a highly sought-after factor for photographers looking for a new camera bag.
The more convenient and accessible a camera bag, the better. And the Lowepro Fastpack Pro BP 250 III does this superbly.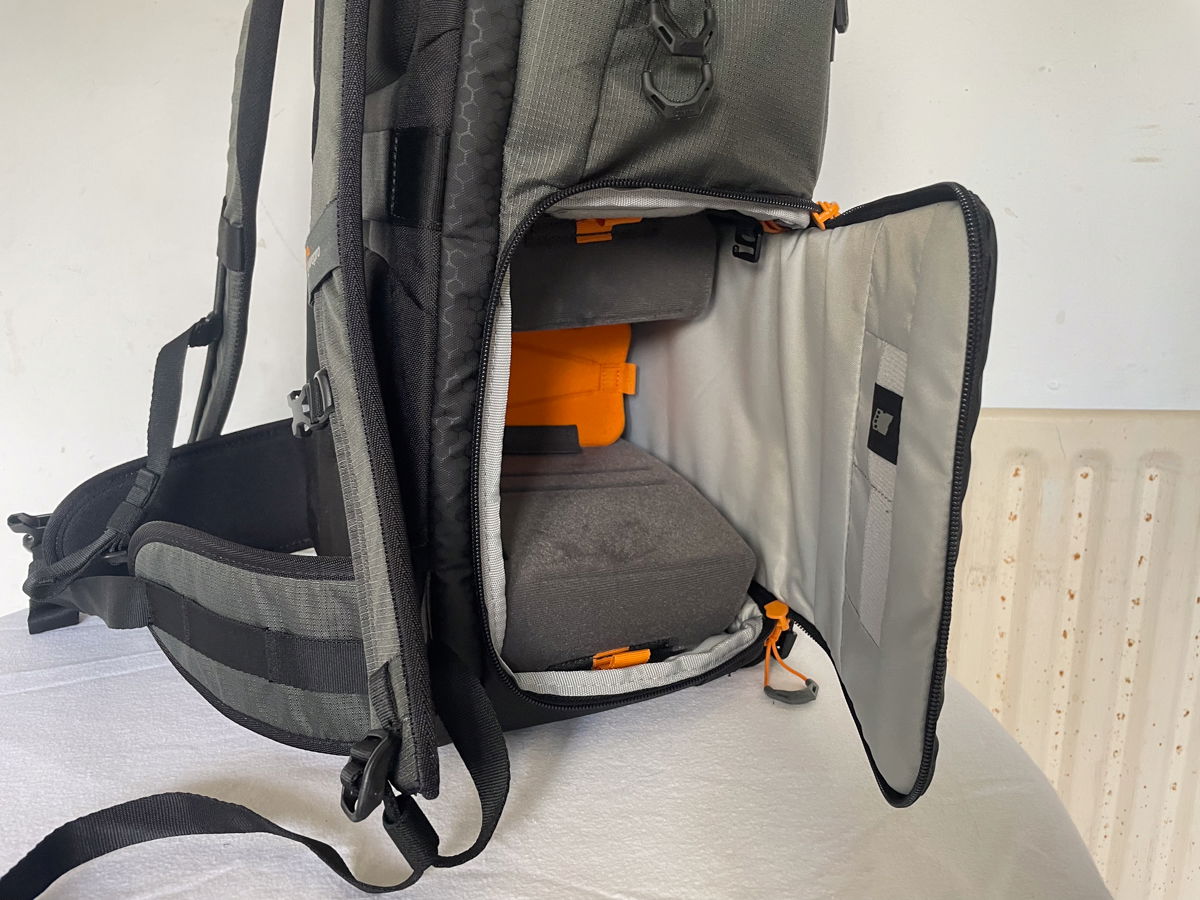 Security
Convenience can come at a price. It might make it more convenient for unwanted access to your bag. Luckily, Lowepro has added features that allow you to secure your camera compartment.
Two security features utilize the wide U-shaped zipper pulls and the bottom clips. First, the clips' positions mean you won't accidentally open the bag's bottom, causing all your contents to fall out.
These clips can also be used as a secure fastener. You can zip the bag and feed the final clip through the zipper pull loops to hold them in place.
This small feature is brilliant and can ease your mind in uncomfortable environments. It won't fully stop someone from getting into your bag, but you will notice and have time to act.
Using the tripod strap, you can use this same method of securing zippers on the top compartment. All the zipper pulls have wide enough loops to fit a padlock if you want extra security.
Lastly, the CradleFit system for the laptop compartment is another way the Fastpack helps secure your valuables.
Additional Features
The Fastpack Pro BP 250 AW III features all the additional items essential in a competent camera bag. But it has no extra stand-out features for those who want a cutting-edge bag.
As previously noted, it compromises its side access point for an extra water bottle holder. But you can attach your tripod to the bottom to use the tripod holder for water bottles.
Bottom clips give an extra touch of versatility, allowing you to carry more items externally. You could fit a sleeping bag for camping trips or even an extra sweater or jacket rolled up!
The fleece-lined pocket in the front is also a nice little touch. It is made specifically to protect delicate items like sunglasses. But you will be able to use it for filters and other lens-based objects as well.
The wide handle at the top of the bag is another feature that goes a long way in ease and convenience. And the CradleFit laptop system also considers safety smartly and simply.
Compatibility and Versatility
The Lowepro Fastpack Pro BP 250 AW III is widely compatible with various equipment, from personal items to camera gear. This is thanks to its boxy, space-efficient design.
It utilizes its size to the fullest. And its versatility is also a strong point, as it employs small features that let you use the bag in different ways.
Compatibility for Cameras and Lenses
Although the camera compartment isn't the largest, you can still store a healthy amount of kit.
You can use the whole bag width by having your camera near the side access. This is plenty of room to store a DSLR with a 70-200mm lens attached while also giving you convenient access.
If you don't fancy a telephoto, you could attach a 50mm with enough space for an extra lens in this section. Aside from this section, you have enough space to store two or even three more lenses!
You will notice that the other side of the camera compartment has a reduced width compared to the space to store your lenses. I am a big fan of this section as it is useful for storing accessories.
I normally use the lens sections to store my accessories, so these are perfect. They give you enough space to store light meters, flash guns, and even a range of filters.
You could even fit an extra camera like a Fujifilm X100! Unfortunately, you only get one divider that matches this width size, so you can't separate or customize this section as much as you might like.
You will also notice a nice depth inside the camera compartment. So I can even store my Canon 5D Mark III with an attached battery grip. It may be pushing it, but it does fit.
And, thanks to the design of the side access door, you can easily pull a large DSLR camera out.
Carrying Versatility
The Lowepro Fastpack Pro BP 250 AW III doesn't provide different bag-carrying methods. (Lowepro does have a sling bag version called the Slingshot SL 250 AW III.)
The camera bag's luggage strap and the wide top handle ease its maneuverability. But they are short-term solutions.
Instead, its versatility comes from using the straps that wrap around the bottom of the bag to carry extra items. They even let you carry difficult, oversize, oddly-shaped items that may not fit inside.
The other highlight of its versatility is its retractable waist straps. A small feature like this makes it much more convenient as a regular bag for everyday use or when you're not carrying a heavy load.
Price and Value
The Pro BP 250 AW III's price tag places it around the middle of our camera bag reviews. And if you consider its storage, usability, and functionality, this is a great price for such a comprehensive bag!
The materials are of high quality, and the stitching and general construction look like it's built to last. So Lowepro has not compromised on the construction or materials when producing this bag.
They may have saved money slightly with less padding on the shoulder straps and back. But I recently went for a job that involved carrying this bad all day, and the padding wasn't an issue!
I did have a minimal amount of camera equipment (one DSLR and two lenses), but the bag never reached the point of discomfort.
Lowepro brings us a bag that hits all the right spots for a good price. It isn't the cheapest camera bag out there, but you get a quality service you should expect from paying this amount.
Warranty
Lowepro puts its money where its mouth is, offering a lifetime warranty to all original owners of their bags via Videndum. All you have to do is register your product when you buy it.
Lowepro makes you re-register your product 10 years later, so you must make a mental note to take advantage of the lifetime warranty.
Their camera bag's lifetime warranty is fantastic and tells us they are confident in the products they are putting out.
But reading their warranty exclusions, they tend to be frugal. They even mention they won't cover faults due to wear and tear from sliding parts like zippers.
However, most people's experience with returning items I've read has been positive. You can look at the fine print of Lowepro's (Videndum) warranty on their website.
Sustainability
The Fastpack Pro BP 250 AW III isn't made out of sustainable materials. But Lowepro plans to make all its camera bags out of recycled material by 2024. And the warranty does add to its sustainability.
The lifetime warranty means you can keep the bag you love for longer. This dispels the need to consume more environmentally unfriendly materials.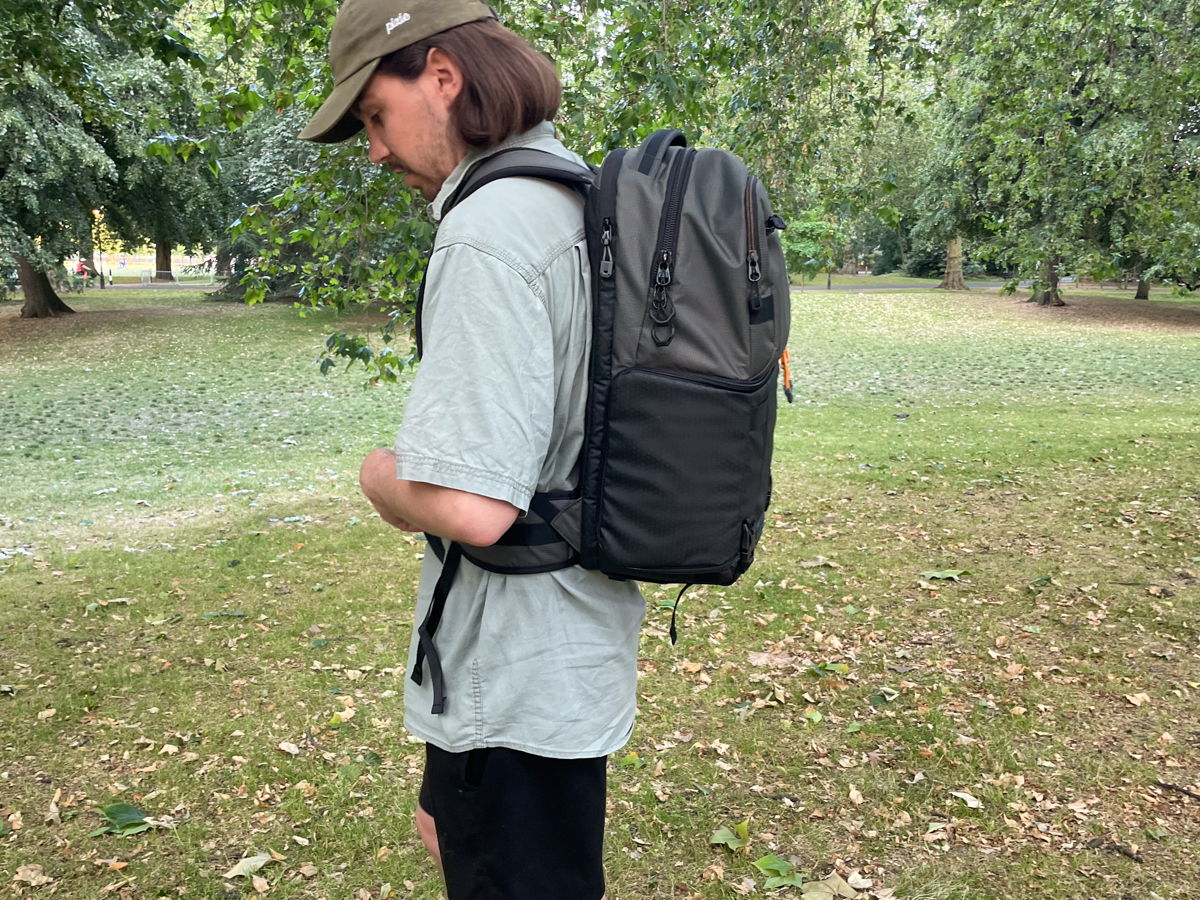 Alternatives to the Lowepro Fastpack Pro BP 250 AW III
Some alternative bags are listed here in case the Lowepro Fastpack isn't the best fit. Or compare them and see which one is better!
The Wandrd Duo Daypack gives photographers a similar experience to the Lowepro Fastpack.
That's because it gives a quick access option and lets you open the entire camera compartment. This is useful for photographers who like versatile bags.
The Duo Daypack is ideal for people who like keeping their equipment neat. It is also ideal for photographers who like a sleek and minimalistic look to their camera bags.
The main disadvantage of the Wandrd Duo Daypack is that it doesn't have the same space for personal items as the Lowpro Fastpack.
This makes the Lowepro Fastpack ideal for travel, whereas the Wandrd is good for single-day excursions.
Use our discount code EXPERTPHOTOGRAPHY at checkout for 15% off your first order!
The Manfrotto Light Multiloader is a great alternative if you want a bag that allows you to see the full extent of your camera gear. It lets you carry much more equipment but has space for personal items.
The Multiloader is best for photographers who need to carry a wide range of gear. And it is ideal for those who may have to take out all their kit for travel.
The main disadvantage of this bag? It is bigger and bulkier than the Fastpack. It may feel heavy after carrying it all day. This is partly due to more padding and space for the camera and lenses.
The Manfrotto Multiloader does allow quick access to your kit, similar to the Lowepro Fastpack. So the choice is whether you want a more compact camera bag or one that can carry it all.
If the price is the most attractive point in the Lowepro Fastpack, you should look at the Tenba Fulton V2. This bag isn't similar to the Fastpack, but it is on the cheaper side.
The Fulton V2 is a roll-top bag that only allows you to access your gear from the rear. This means you get the opposite of a quick-access bag.
The positives are that the bag has great weatherproof materials, and the rear access provides more security. It is also a cool-looking bag that isn't easily identifiable as a camera bag.
The Tenba Fulton V2 bag allows you to store a nice range of equipment. And it also has an extendable space for personal equipment, thanks to the roll-top design.
Final Verdict of the Lowepro Fastpack Pro BP 250 AW III
Measurement

Measurement

Score

Design and Aesthetics

Design and Aesthetics

Build Quality and Durability

Build Quality and Durability

Functionality and Ease of Use

Functionality and Ease of Use

Weather Resistance

Weather Resistance

Compatibility and Versatility

Compatibility and Versatility

Value for Money

Value for Money

Total Score

Total Score
The Lowepro Fastpack Pro BP 250 AW III scored a total of 81.5 out of a possible 100 points. It placed 4th out of the top 18 camera backpacks.
You can be assured you are buying one of the best camera bags on the market. It only comes short of the top camera bag by 3.8 points! So it comes down to your design preference and intended use.
The Fastpack Pro BP 250 AW III is a wonderful bag that may be exactly what some photographers are looking for. It suits an extremely wide range of photographic genres.
The backpack is aimed at photographers who want convenient access to their bags with enough personal space to be used as an everyday bag.
It is useful for casual genres of photography, like street or travel photography, or when you hike through landscapes. And it will also aid photographic jobs—from wedding shoots to photojournalism.
It is always risky when a camera bag blends functionality in interesting and fresh ways. But thanks to their simplicity of features, Lowepro has made an excellent new approach to camera access points.
I am a big fan of its efficient use of space and consider this point alone a big reason to purchase this product.
It's a camera bag that provides easy side access but lets you sort through your gear efficiently. If you want that, the Lowepro Fastpack Pro BP 250 AW III is the bag you're looking for!