The Manfrotto PRO Light Multiloader Camera Backpack M is an impressive camera bag from one of the best-known names in photography gear. Manfrotto is a well-respected brand in the camera world.
Manfrotto has been making photography accessories for more than 50 years. That is quite some pedigree. Their products are known for their functionality, thoughtful design, and attention to detail. In fact, they were the manufacturer chosen to make the National Geographic-branded camera bag.
The Manfrotto PRO Light Multiloader has impressed us with precisely those factors. The design is great, the details rarely disappoint (if ever), and it's extremely functional. We rank the Multiloader as one of the finest camera backpacks we tested among dozens of competitors.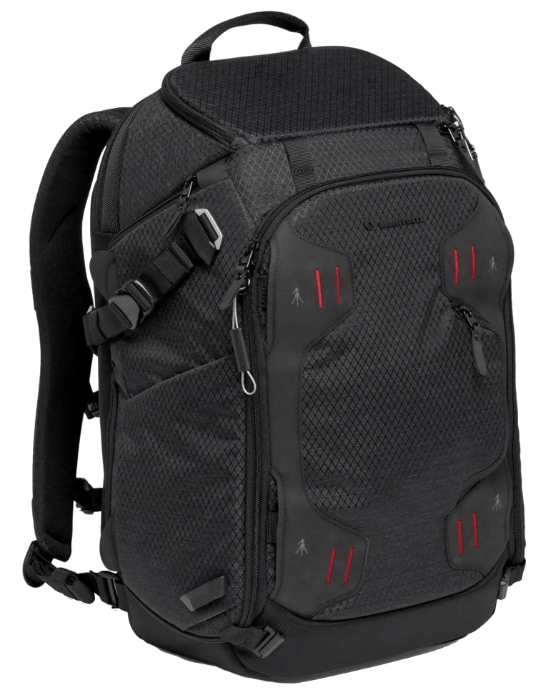 Manfrotto PRO Light Multiloader
Experience the epitome of functionality, thoughtful design, and attention to detail with this camera backpack. With a sturdy and spacious structure, it's perfect for carrying your gear on any adventure. The comfort and adaptability are impressive, and it's trusted by National Geographic. This camera backpack is a worthwhile investment for any serious photographer.
For full transparency about our review process, you can read about how we scored and ranked the bags here.
Strengths and Weaknesses of the Manfrotto PRO Light Multiloader
Manfrotto Light Multiloader Camera Backpack M for DSLR/Camcorder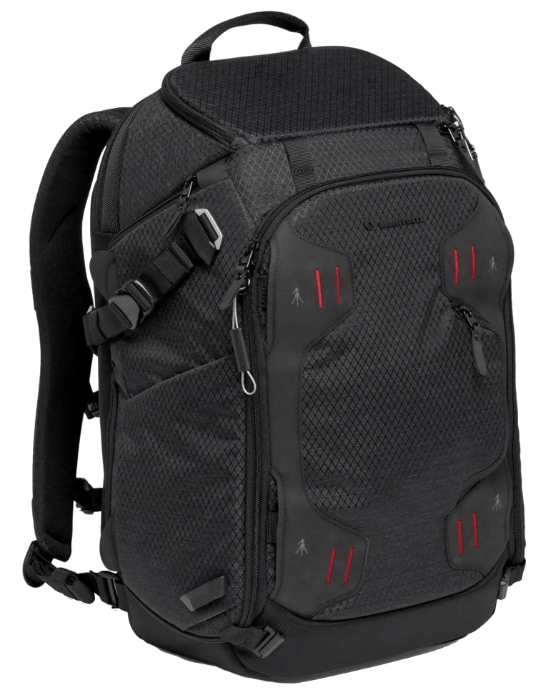 Weight

Weight

2160 g

Capacity

Capacity

26 L

Access Points

Access Points

Front, top, side

Airflow Back Support

Airflow Back Support

Yes, with mesh

Laptop Sleeve Capacity

Laptop Sleeve Capacity

15-inch

Tripod Holder

Tripod Holder

Warranty

Warranty

5 years

Waterproof Rating

Waterproof Rating

Water-repellent
The Manfrotto PRO Light Multiloader is an extremely attractive camera bag option. It does most of the things you want. And it does them to a very high standard.
It has many strengths. The design allows for maximum interior space for its exterior dimensions. The quality of materials is very high. And the bag is carefully designed and constructed to a high standard.
There are few weaknesses, if any. It is perhaps big and heavy if you are looking for a small, lightweight backpack. (If you are, then take a look at our top recommendations for small, lightweight backpacks.)
My biggest criticism is that there are so many configuration options. That's mostly a good thing, but it might take a while to work out how to set up your bag. And I would have appreciated a quick guide. Instead, I had to look at the product page on Manfrotto's website. But that's about it.
Design and Color Options
You can have your Manfrotto PRO Light Multiloader in any color, as long as it's black. Well, the Multioader's color is described as Black Chrome.
Whatever it's called, it's a no-nonsense color with some complementary detailing. The main fabric is ripstop nylon with an attractive diamond pattern stitch effect. Areas at risk of high abrasion are made of a Cordura-style fabric. And there are Hypalon reinforcement panels in key areas.
There are eight flashes of red in the Hypalon patches where the Duralon aluminum tabs for the tripod straps attach. The stitching on the shoulder strap attachment points is red. And so is the fabric visible through the mesh airflow channel on the back.
Inside, the main lining is a medium gray, offsetting the red equipment dividers. Mesh pockets are a contrasting black. It's a straightforward and businesslike color scheme.
The bag itself reminds me of a military rucksack. It's basically a slightly tapered elongated cuboid. It's conveniently sized to comply with most airline carry-on baggage requirements. I can tell you from experience it fits nicely in the overhead locker.
Build Quality and Durability
The impression of a bag that means business is maintained as we examine the details of the build quality of this Manfrotto. Having made a couple of short flights with it, I'm impressed that the exterior fabric appears to resist scuffs and scratches.
There are two raised "feet" running the width of the bag's base. These keep the main fabric off the floor. It all looks and feels very robust.
Exterior Material
The external material is ripstop nylon. The base is a Cordura-style tough fabric. And key points are reinforced with Hypalon—a synthetic material known for its resistance to abrasion, chemicals, and UV light.
It has a pleasant part rubber/part faux suede feel to it. The straps are sturdy nylon webbing with Duraflex plastic and Alula aluminum buckles and fastenings.
Weather Protection
The external fabric is treated to make it water-repellent. If you're nervous about prolonged exposure to wet conditions, there is a separate rain cover provided. It stows in its own pouch that hangs from a zipper puller if there's no room in the bag. (Or if the pouch is wet.)
Rather handily, it also reverses to provide a reflective cover. This helps keep your gear cool under intense sun. It's a genuinely thoughtful touch.
Interior Material
Apart from a couple of black mesh pocket areas, the interior is made of soft Velcro-friendly gray fleece material. The moveable dividers are a part of Manfrotto's own M-Guard system. Here they are bold red to offset the bag's main color scheme and reflect the brand colors.
It's soft enough to ensure it doesn't scratch any delicate surfaces.
Straps and Back Support
Another area where the Multiloader delivers the goods is with its straps. The shoulder straps are comfortably padded and height-adjustable. Attached to them are two chest straps. There are seven possible fixing points for these straps, allowing a lot of flexibility for people of all shapes and sizes.
One slight criticism: the shoulder straps are mainly suspended by Duraflex catches. Each strap consists of padding attached to a webbing strap. The padded section tucks into a sleeve and is secured by concealed Velcro. This end of the pad is not sewn completely, and it stretches when detached. It's not a major problem, as the strap is suspended by the webbing. But it is the one area where I hesitate to move something around.
Then there is the padded waist strap. It's essential for wearing this bag for long periods as this is the main load-bearing strap. Rather neatly, the waist strap doesn't dangle annoyingly when not in use. Instead, it folds up alongside the generous back padding.
When I realized that border control was going to be a long wait, I was able to quickly and easily fasten this strap. And I did so without needing to take off the bag! And likewise, removing the waist strap before boarding a bus was quick and easy. It's simple, but it's brilliantly effective.
There are also two height-adjustable chest straps. They have seven possible fixing points on a laddered webbing strap on the shoulder pads. And if you don't want them, you can remove them completely.
The carrying system is another win for Manfrotto. As well as the standard backpack configuration with or without chest and waist straps, it can be used in different ways. There is a comfortable top handle. And typical for this bag, it sits proud on the body for easy grabbing. But doesn't get in the way of accessing the top zipped compartment.
If you prefer, there is a padded, strong side handle for carrying the bag horizontally.
But it doesn't stop there. You can arrange the straps to provide you with a sling bag or duffle bag configuration. The former allows quick access to your most-used gear and the latter gives you full access to the main compartment.
Seams and Stitching
The stitching looks and feels very secure. Seams and zippers are stitched internally and reinforced with nylon piping. Straps and ladder systems are made from sturdy webbing with strong stitching.
Internal Padding
One reassuring feature of the Multiloader is that every external side is protected by at least half an inch of foam padding. The "feet" mentioned earlier are made of specialist SAS-TEC high-density foam. SAS-TEC specializes in making padding for protective motorcycle clothing. This is reassuring when you're lugging your expensive gear around.
The laptop sleeve is located between the shoulder straps and the main body. That means your laptop is protected by the substantial padding for your back and the standard external foam. And there's even another layer of foam between the laptop and the body of the bag.
The M-Guard dividers are made of high-density EVA foam. Manfrotto claims this foam is both 50% thinner and 50% more shock-absorbing than previous Manfrotto dividers. This means they are both slim and very protective.
Finally, the top compartment—accessible via the top hatch—is made of strong foam covered in soft fleece. If a top-access space isn't what you want, you can fold this away. This provides a whole-bag compartment accessible from the top.
Zippers and Fastenings
The YKK zippers are metal and all have dark gray Hypalon tabs. Personally, I prefer a brightly colored tab so they're easy to spot. All the bags I own have fluorescent duct tape aftermarket additions.
There are three zippers that are exceptions to this. One for the main compartment, one for the top, and one for the laptop pocket. Here you find plastic-coated-metal security loops.
These can be attached to the sewn-in TSA-approved combination lock. This might discourage a casual thief, but it's not much more than a visual deterrent. One disadvantage of such a flexible bag is that, by my reckoning, there are at least three other zippers that need to be secured to actually prevent access.
Functionality and Ease of Use
You probably already realize that I love this Manfrotto PRO Light Multiloader. This is largely down to its functionality and ease of use. The Multiloader designers seem to have anticipated the photographer's every need and accommodated it.
Let's start with functionality. I need a camera backpack to transport my expensive and often heavy camera gear from point A to point B. And it often stays with me for the entire duration of a shoot.
The Multiloader ticks all those boxes. The gear is safe. It feels like you are nestling your kit in the safest of places. At the same time, it is easily accessible. It has access points on the front, top, and sides. Small buckles limit the travel of the zippers according to which configuration you're using.
In other words, the stuff is safe. So when I slung it in the overhead locker, I had no fears about my gear. But I also had easy access for the trip to my book, headphones, etc., right there in the top compartment.
If I were going on a shoot that required two cameras and two lenses, I could ditch the top compartment and open up the whole interior. This bag has functionality and ease of use nailed down.
Size and Weight
The Manfrotto PRO Light Multiloader isn't a bag I would choose to carry a mirrorless camera or APS-C outfit for a day. It's too big and heavy.
Its external dimensions are just shy of 50 liters. And at 4.75 lbs (2.16 kg), it's heavy. But when it looked like the airline was going to ask me to put it in the cargo hold, I wasn't too concerned. The level of protection seems comparable to that offered by a much heavier hard-shell flight case.
Capacity
I can easily fit a Canon EOS 5D Mark III with battery grip and 70-200mm L series lens, plus two other L series zoom lenses (16-24mm and 24-105mm). And there's still room for a Speedlite and an additional camera body in the main compartment. And that's all without sacrificing the top compartment!
I can also attach a tripod in three different places. The main attachment point on the side of the backpack can take up to a Manfrotto 055 full-size tripod. This is an expandable pocket with a strong webbed strap at the top.
The front of the Manfrotto PRO Light Multiloader can accommodate one full-size tripod or two monopods or lighting stands. This is thanks to the two pairs of straps.
They can be used to secure a larger accessory in the center. Or they can be used to attach two smaller ones on either side of the front. This is due to the wisely designed strap configurations. And confirming the thought that has gone into the design, this doesn't result in lots of loose straps flapping about when you're not using them. They slip neatly into pockets when not in use.
It's easy to forget the laptop compartment because it's neatly sandwiched between the main compartment and the shoulder straps. There's a top opening, so even if you forget to zip it up, your precious laptop won't fall out. In fact, I had to unpack my gear to photograph it because I did, indeed, forget it.
At the same time, you have unimpeded access however you choose to configure the straps. It is a simple soft-lined sleeve for a laptop. There are no pen pockets or other sub-dividers. To nitpick, perhaps the one thing missing is a separate tablet sleeve.
Organization and Customization
We've already covered strap customization and access-point flexibility. The main compartment is customized through removable M-Guard dividers.
There are three full-width articulated dividers. The articulation means they can be full-width or subdivided vertically. They have Velcro attachment tabs on the long edges. When not in use, these tabs can be folded down to avoid snagging things. The same goes for the Velcro tabs on the ends.
There are also five smaller M-Guard dividers. All the dividers are molded into ribs or articulations. One advantage to this is that the Velcro doesn't pull up large sections of fabric. This is handy and it reduces wear on the fabric (and your patience).
The top-access compartment is a single piece of foam padding attached by Velcro. You can maximize space in the main compartment by folding it flat against the back. Or if you don't want to sacrifice depth, it can be easily removed.
Additionally, there is a full-width mesh pocket on the flap of the top access that's subdivided in half and accessed via envelope openings. There is a zippered mesh section running the full length and a third of the width of the main access flap. Again, this is divided in half. One of these easily holds my 4 x 3-inch (10 x 7 cm) travel case for my SD cards. And the other accommodates my Ricoh Theta S 360 camera.
A final mesh pocket with an envelope opening is inside one of the side-access panels. It's big enough for a passport or a small book. Another zippered passport-sized pocket is on the front of the backpack. I wouldn't keep anything that valuable in such a vulnerable place. But it's handy for a lens-cleaning cloth and blower brush.
Finally, each side of the backpack has an elastic gusset pocket. One side is designed for a tripod. The other will take a large water bottle. I've been using it for a collapsible umbrella because, well, England.
Access Points
Access is well catered for. There's a big access point on the front and a zipper configuration that allows access from both sides. Additionally, the top access point opens either to the separate compartment or the whole bag. It depends on how you choose to configure it.
Security
The laptop pocket is neatly tucked away. It would be difficult for a thief to access it if you're wearing the bag. It, and two other main zips, can be locked to the built-in padlock. The exterior fabric is sturdy. Of course, it could be cut by a sharp knife. But it is ripstop, so the cut would have to be a long one. And another big impediment to a knife attack would be the padding integrated into all the exterior surfaces.
Additional Features
The wearer's comfort is aided by generous EVA padding on the back. It's covered with mesh and separated by a generous vertical airflow channel.
Compatibility and Versatility
It's easy to see how the Manfrotto PRO Light Multiloader would suit a range of photographers. It's big enough to carry a professional video rig like the Sony FX6. But it will also accommodate an impressive amount of gear for a long assignment.
Compatibility with Cameras and Lenses
Because the M-Guard dividers are well-designed and generously provided for, it's hard to think of a gear setup that couldn't be accommodated. And they are easy to move and rearrange, if your needs change job by job.
Carrying Versatility
The ability to use this as a backpack, sling, or duffle bag is a real bonus. Partly because you don't have to be a "backpack photographer" or a "sling bag photographer."
The backpack configuration is certainly the most convenient for traveling with a heavy load of gear. But it's often not the best when you're on a shoot and need quick access to your kit. The Multiloader's got you covered.
Sustainability
At the time of writing, Manfrotto doesn't have any information on the sustainability of the materials or processes used in the manufacturing of their bags. The parent company Videndum has a group-wide Environmental, Social, and Governance (ESG) strategy.
Price and Value
The Manfrotto PRO Light Multiloader is one of the biggest camera backpacks we have reviewed. And it is one of the more expensive. But without a doubt, it's the bag to beat.
Its combination of features, quality, and protection means it's a steal for the price. If you are carrying $5,000 worth of gear, then $300 or so on a bag to keep it safe seems like a no-brainer. It's not so much that I can't afford to lose my gear. It's that I can't afford to replace it. My anxieties are reduced with it safely nestled in the Mulitloader.
Alternatives to the Manfrotto PRO Light Multiloader
It's hard for me to think why you wouldn't want to buy the Manfrotto PRO Light Multiloader. But if it's not for you, it leaves you with only a couple of equally outstanding camera backpack options.
The Wandrd Prvke is a slightly different beast but an excellent choice as well. It's more compact and more modern in its styling. It is an excellent bag with a well-deserved reputation and a lot of fans.
It came out on top in our extensive review of camera backpacks. It hits the sweet spot where versatility, style, and practicality meet. It's a good-looking roll-top bag with excellent adaptability.
You can use it as a simple backpack. Or you can use all the space inside for a large camera cube when you need to carry more stuff. Or you can use a smaller cube and still have room for your personal items.
The Prvke features top-quality components from top manufacturers. The backpack has shielded zippers to keep the water out and waterproof tarpaulin and Cordura outer fabric. And all these materials are put together in a way that speaks of quality.
A removable camera cube normally means no side access to your gear. But Wandrd has an ingenious solution to that, and the removable cube has a side door that's fixed to the main bag's side access. It's a brilliant solution. And it means the cube can be carried on its own by the built-in handle or by attaching a strap.
Another choice would be the Nomatic McKinnon. This is more similar in size and shape to the Manfrotto. And it also scores highly for its practicality and the way it safely secures your gear.
The McKinnon is a collaboration between a well-respected gear manufacturer and a renowned photographer. So you'd expect it to be good. And the McKinnon doesn't disappoint.
It's a clean, good-looking design. The exterior isn't just attractive, it's waterproof and durable. And everywhere you look, the components are equally top-quality.
The interior is just as impressive. Lined in a gold Veltex fabric, it's beautifully offset by the black insert dividers and black bias tape finishing. It's a quality look and feel to the whole backpack.
The quality of the padding gives you confidence that your equipment will be safe. But the ace up the McKinnon's sleeve is its flexibility. The main compartment can be entirely devoted to use as a backpack. And you can access the space via the main clamshell opening or the top access point.
If you rearrange the "ladder" and add a camera cube or two, you have two different amounts of gear capacity. Swapping out the cubes and rearranging the ladder is simple and quick. The whole thing is impressively planned and executed. The one shortcoming is the lack of side access to your camera gear.
I would be happy to use the McKinnon as my camera backpack any day.
Use our discount code EXPERT15 for an extra 15% off!
If practicality and functionality are your main selection criteria, then the Lowepro Fastpack Pro is a great choice. It's more suitable as a day bag with room for a small camera kit. But it impressed us with its quality and practicality.
We were impressed by how focused the design of this Lowepro backpack is on usability. It hasn't sacrificed style or convenience. And it is all carried out to the highest standards. Top-class components and superb build quality are evident throughout.
This is smaller than many of the bags in our mammoth review, but it can still accommodate a full frame DSLR, even with a 70-200mm lens. And you can access the camera compartment via the main flap or through the side.
Final Verdict of the Manfrotto PRO Light Multiloader
Measurement

Measurement

Score

Design and Aesthetics

Design and Aesthetics

Build Quality and Durability

Build Quality and Durability

Functionality and Ease of Use

Functionality and Ease of Use

Weather Resistance

Weather Resistance

Compatibility and Versatility

Compatibility and Versatility

Value for Money

Value for Money

Total Score

Total Score
The Manfrotto PRO Light Multiloader sits comfortably at the very top of our extensive review of camera backpacks. It impresses in every category. We are impressed with its flexibility and adaptability. It is clearly designed by people who understand the needs of photographers.
Some of the team are underwhelmed by the styling (or perhaps lack of it). This is, of course, a very subjective thing. To me, it looks fantastic.
Most importantly, it does the three essentials very well. It carries my kit, it keeps it safe, and it's comfortable to use for long periods. Hats off to Manfrotto for an excellent product.