Every camera backpack story seems to start with its creators realizing that the perfect camera bag didn't exist and deciding to make their own. And the Wandrd Prvke is no exception.
The Wandrd brand was established in 2015, first by two and then three Cope brothers. And the Prvke was their first camera backpack. This model is an updated version of the original.
We tested the 21L Photography Bundle with the Essential Cube. But there is also a larger Pro Cube option. And there are 31L and 41L versions that come with even larger cubes.
We have tested a lot of bags that compete with the Wandrd Prvke. But this is one of the best camera bags we have seen. It's well-made and very practical. In fact, it came out top in our mammoth test.
A pretty comprehensive lifetime warranty also backs it up. And we think it will get the job done as well.
As with all their bags, this was funded by a Kickstarter campaign. And in the few short years they have been around, Wandrd has established itself as a well-respected camera bag manufacturer.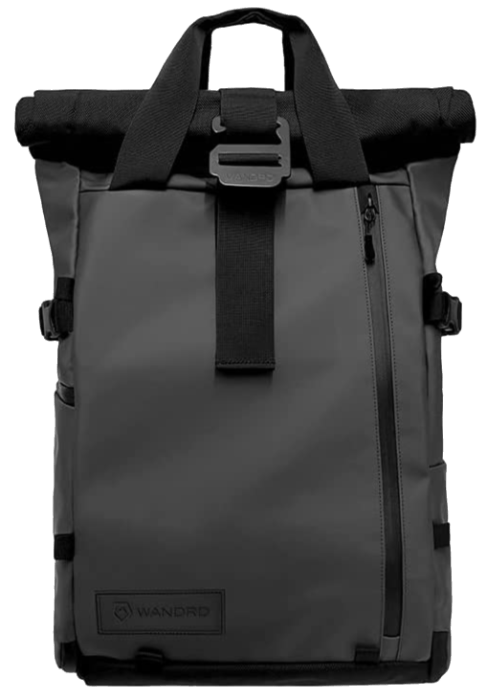 This camera backpack is a stylish, durable, and versatile solution for photographers on the go. With its exceptional build quality and practical design, it safely stores your gear while providing easy access. Offering a lifetime warranty and various size options, it's one of the best camera bags available. It's perfect for adventurous travelers with serious photography equipment.
For full transparency about our review process, you can read about how we scored and ranked the bags here.
Strengths and Weaknesses of the Wandrd Prvke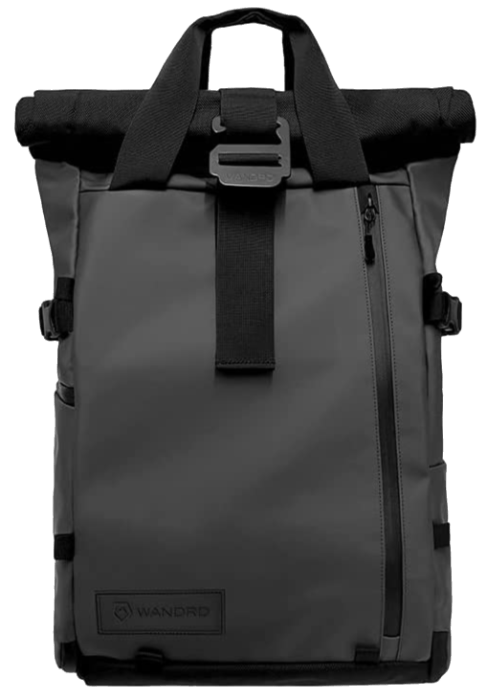 Weight

Weight

1300 g

Capacity

Capacity

21 L

Access Points

Access Points

Back, side, top

Airflow Back Support

Airflow Back Support

Yes, with mesh

Laptop Sleeve Capacity

Laptop Sleeve Capacity

15-inch

Tripod Holder

Tripod Holder

Warranty

Warranty

Lifetime

Waterproof Rating

Waterproof Rating

Weather-resistant
The Wandrd Prvke is a well-made, good-looking camera backpack.
And I love Wandrd for actually providing guides to tell you about its features and how to use them. They're on the bag and in online videos. It's a nice touch, as most companies don't bother to do this.
The quality of the materials used in the Prvke is obvious when you inspect it. From the fabrics used to the zippers and buckles—they are solid choices.
This is reassuring when committing thousands of dollars worth of kit to a bag. And it also means that everything works as it should.
The Prvke is very versatile. It can be used simply as a roll-top backpack. Or you can add a camera cube and make it a camera backpack. Rather nicely, the cube can be used as a small bag on its own.
It has detachable straps for the chest and waist, both of which are important for carrying heavy loads. But they're not flapping about when you don't need them—another design plus.
Perhaps the weakest point of the 21L Prvke is that, for its overall size, the camera capacity isn't great. But I don't think this bag is designed for the jobbing pro going from shoot to shoot.
It's for the adventurous traveler who also happens to be a photographer with some serious gear to keep safe. However, there are also 31L and 41L versions depending on the space you need.
Design and Color Options
The Wandrd Prvke is available in six colors. They are Black, Wasatch Green, Aegean Blue, Yuma Tan, Sedona Orange, and MultiCam Black (a camouflage pattern).
I don't care for the camo option, but the other colors are gorgeous. Of the three size options, the 41L is only available in Black.
The design gives a very simple, clean look. The Prvke looks like a stylish roll-top backpack. Without the camera cube, the sides are soft, adding to its casual appearance.
We think it's one of the best-looking camera backpacks we've seen. And we've seen a lot!
Build Quality and Durability
Here, the Prvke impresses. Using quality materials, the bag has no weaknesses, as far as I can see.
Exterior Material
A combination of waterproof tarpaulin and Cordura provides a robust external shell. Most facing surfaces are tarpaulin. Cordura protects the base and other high-risk areas.
The tarpaulin has a smooth finish, a little like faux leather. It seems robust. Although, Wandrd says they'll be disappointed if you don't scuff your bag because it means you're not going out enough.
Weather Protection
That tarpaulin and ballistic nylon mean that the main fabric will resist most water attacks. And it is helped by YKK weather-resistant zippers.
Wandrd says that the Prvke is "damn close" to submerge-proof.
Interior Material
The internal material is ballistic nylon. And there are three memory-card-sized mesh pockets in the side-access zippered flap.
The only other exception is the tablet sleeve. This has one soft, fleece-lined surface to protect your tablet's screen.
Straps and Back Support
Nicely-proportioned straps are well-padded with what feels like EVA foam. There is a height-adjustable chest strap. This clips onto a slider on each shoulder strap.
Instead of having a center buckle, which can press painfully on the sternum, one of the clips is easily removable. So if you're not using the strap, it can be clipped to one slider so it doesn't flap about.
The waist strap is detachable. It is clipped to two strong webbing loops by good quality Woojin Plastics gatekeeper G-hooks.
My one hesitation with G-hooks is that if, like me, you were born with more than the usual complement of thumbs, it can be a bit fiddly. But even for me, it's less than a minute to attach or detach both.
The waist strap is padded and comfortable. There's a small zippered pocket on one side for small items. A memory card or two, perhaps. An earbuds case is about the most you could get in there.
The back padding is very generous and comfortable. There are three mesh-covered pads for the shoulder blades and lumbar area. Generous airflow channels between them allow additional comfort.
Seams and Stitching
The quality of the stitching and seams is as good as the rest of the bag. Seams are bound with bias tape where visible.
Internal Padding
On its own, the Prvke camera bag only has padding to protect your laptop and tablet. But that is because it's designed around Prvke's Camera Cube system (more about this later).
The cube system's material is plush and Velcro-friendly. The external walls feel like a dense EVA foam, with a less dense foam on the inside.
And the internal dividers have the same dense core, with two layers of softer foam. So I was happy to nestle my gear in it.
Zippers and Fastenings
Wandrd makes a point of using quality hardware in its bags. It's not surprising, given they guarantee them for life. So you will find zips by YKK and the other fixing made by Woojin Plastics or Nifco.
One aspect I particularly like is the use of tabs and Velcro to make sure everything is secure. For instance, as far as I can see, the camera cube is unlikely to spontaneously fall out of the Prvke.
It is held in place by three Velcro panels and a webbing strap. No doubt, it stops you from bringing the cube with you when you grab your camera quickly.
Repeated Velcro strips secure the roll top. So it is fixed no matter how compressed or expanded it is. And finally, an oversize black metal G-hook locates in one of several loops in the webbing strap.
Again, this helps to secure it no matter how full or empty the Prvke bag is. I personally think a magnetic catch or buckle might be better. But this is a style statement as well.
Functionality and Ease of Use
The Wandrd Prvke is a cinch to use. All your needs, especially if you're looking for a daypack and camera backpack in one, are easily met. This is mainly due to the removable camera cube system.
Size and Weight
There are three sizes of the Essential Camera Cube (Essential, Essential Plus, and Essential Deep). But only the Essential fits the 21L Prvke.
It also accepts the Camera Cube Pro (the Pro version, not the Pro Plus or Pro Deep). So it's well worth checking out the possible configurations of bag and cube before taking the plunge.
We were sent the Essential for the 21L, so that is what we are reviewing. The Prvke comes in under 4.4 lb (2 kg) with the Essential Cube.
It's a trim size. And with comfortable straps and a waist strap for long or heavy carries, it's a practical proposition.
Capacity
First of all, the Essential Cube works as a standalone, small, padded bag. It has loops for attaching a strap and an EVA foam padded handle. So you can grab the cube and go.
Even though I say "small," I can fit my Canon EOS 5D camera and two L Series zoom lenses in it. But there's not much room for anything else. The Essential is designed for mirrorless cameras or similar.
Wandrd says it will take a camera and lens, plus four other lenses, including a long telephoto zoom. This would still leave room at the top for accessories.
But if you want something bigger, consider the Pro Camera Cube (Pro). It is about one-third bigger. Or upgrade to the 31L or 41L Prvke and larger cube options.
Another option is to have several cubes if you have particular "sets" of gear. Keep your film kit in one cube. And swap it for your drone or DSLR gear in others as needed. Just pop them out and in.
And the bag's capacity can be increased by up to five liters by expanding the roll top. It's not much use for your camera gear but great for food or weatherproof gear.
Organization and Customization
Besides the cubes, there are some really neat touches to the Prvke's organization. A long zip to the side of the front panel gives access to a pocket.
This is big enough for a US Letter (A4) size folder. It's not very deep but will cope with a textbook or journal.
On one side of the bag, there is a bottle or tripod pocket. It has a zipper and an elasticated gusset. So when there's nothing in it, it stays neatly flat against the side of the backpack.
Next, another pocket is at the top of the bag, between the roll top and the shoulder straps. This is soft-lined to protect sunglasses, your phone, or even a Kindle.
This top pocket has a shielded, water-resistant zipper like almost all external zippers. The one exception to that is the passport pocket.
The passport pocket is in the ventilation channel on the back and behind the trolley-case strap. It's perfect for your passport as it is impossible to access while you wear it.
Inside, the main flap has two small zippered pockets, a wider zippered pocket, and the laptop and tablet sections. These last two are held closed by a substantial Velcro-fixed flap.
The top section is separate from the main body. But it has a zippered opening.
And the floor of this top compartment can be folded down. So you can have top access to the whole bag if you are using it without a camera cube.
And if you still want more, there is a zippered pocket at the base of the bag as well. It's small, but you could fit a Moleskine pocket journal.
Access Points
I'm not overly keen on bags with the main access at the rear. But I don't dislike this one. The straps don't get in the way, as the clamshell design means they fold open with the flap.
When open, it gives you access to your camera cube. And also to the top section of the bag. As expected, this top section can also be accessed through the rolltop.
There is a side access point to the bag and, thus, the camera cube. Not many manufacturers have solved the problem of side access to a camera cube. But Wandrd's solution is neat and effective.
First of all, the main flap for the cube has a central seam. And when you put the cube in the backpack, this allows the flap to be folded against the side and underneath.
Next, the side access zippered cube flap slips into the side access flap of the main bag. So unzipping the outside side flap gives you ready and unencumbered access to the main cube.
It's simple but effective. I've seen a few camera backpacks and removable cube setups, and this is the most seamless one.
There's almost nothing to give away the fact that the camera cube is removable. Well done, Wandrd!
Security
The heavily-concealed passport pocket is probably the best security feature of the Prvke. The rear-entry clamshell design helps to keep your gear safe while you wear it.
And the outer tarpaulin material would not be an easy target for a slash attack. Plus, there would be quite a lot of padding to get through.
There is another discreet pocket for keys as well. It has a webbing strap with a carabiner—a useful addition to any bag.
Additional Features
There are multiple lashing points for attaching extra gear. These are on the shoulder straps and in several places on the front and side.
Both sides of the bag have lashing straps. One of which works with the tripod pocket below it. But it's too high to secure some items like small water bottles.
Compatibility and Versatility
With the possibility of choosing various camera cubes, the Wandrd Prvke is a pretty versatile camera backpack.
Compatibility With Cameras and Lenses
As we've seen, you could get away with carrying a DSLR and a couple of lenses with some ease. A mirrorless camera kit would suit the 21L Prvke well.
At the other end of the scale, the Pro Deep cube in the 41L Prvke would accommodate two full frame DSLRs and a range of lenses.
You could take what you need and still have room for snacks or other things. This is especially true given the option of the expanding roll top and the lashing points.
Carrying Versatility
You have the shoulder straps and can use the chest and waist straps. But I like being able to remove the waist straps. They can be a real pain if you're not using them.
I prefer the option of being able to tuck them away, even when wearing the backpack, as with the Manfrotto PRO Light MultiLoader.
There is a top carrying handle, which is in two parts, held together with magnets. Wandrd says that this updated version of the Prvke has improved magnets.
I still don't find them utterly reliable to snap the handles together. And I wouldn't want to carry a heavy bag with the handle for long, as there's no padding.
Price and Value
This is all well and good. But the best camera backpack is of no use if you can't afford to buy it. And this is good news for Wandrd, I believe.
We tested the 21L Photography bundle with the Essential Cube. And it is one of the best value bags I have seen in all our tests.
That value, of course, is a combination of price and quality. And this is one of the best performers on that metric.
Warranty
The Wandrd warranty is about as comprehensive as you could want. If parts of the bag fail that shouldn't, they will repair or replace your bag.
Sustainability
Wandrd doesn't give any information about sustainability. But the commitment to quality components and a lifetime warranty means this bag is less likely to end up in a landfill. And we're all in favor of that.
Alternatives to the Wandrd Prvke
We think you'd be hard-pushed to get a better lightweight camera backpack than the Prvke. But not everyone wants the same thing. So here are some suggestions if the Prvke isn't exactly right for you.
If you want an alternative with a roll-top, then the Thule Covert is a good choice. It is a high-quality bag that's as rugged as it is versatile.
Thule's reputation is built on quality and reliability. And you can see why when you look at the Covert. The material is thick, water-repellent nylon. And all the components are top-notch.
There is a main compartment that holds Thule's excellent camera pouch. You can access this through the roll-top or from either side. And you can remove the pouch and just have a good old-fashioned backpack if that's what you need for the day.
Perhaps the weakest point of the Covert is the two-year warranty. We feel that the bag deserves more. And it certainly is very short compared to the other backpacks we tested.
If you want a stylish bag and don't want a roll-top, then the Nomatic McKinnon is an excellent choice. It is well-made, has flexible storage options, and is a real head-turner.
It certainly turned my daughter's head, and it will soon be escorting her and protecting her gear on a photoshoot in Tokyo!
It's a no-nonsense design with a protective outer shell of waterproof fabric and rubber-shielded YKK zippers. And the quality continues inside with plush gold-colored Veltex fabric.
The McKinnon's versatility is a real strength. With a choice of removable camera cubes and an adjustable "ladder," it has you covered. The internal padding is high-quality, dense foam.
It's an excellent blend between style and function.
Use our discount code EXPERT15 at checkout for an extra 15% off!
If you worry you'll have to leave a lens or two behind, the Manfrotto PRO Light Multiloader could be for you. It is bigger and immensely versatile. And it's really well-made and practical.
Cutting a different style from the other camera backpacks, it is a solid-looking, no-nonsense design. It is the most versatile backpack we tested. It can be used as a backpack, a duffel, or a sling bag.
The Multiloader name is an apt one. You get access from the front, both sides, and the top. (Although the top is only for the top compartment.) Everywhere you look, there's a neat design feature.
I particularly like the stowable hip belt. It's there when you need it. But you can put it away when you don't (even when wearing it).
And the materials are of excellent quality—from the internal padding dividers to the zippers and buckles.
It's not a lightweight day bag for putting your beach stuff and mirrorless camera in. But it is a serious bit of kit for carrying everything you need for a day's shooting.
Final Verdict of the Wandrd Prvke
Measurement

Measurement

Score

Design and Aesthetics

Design and Aesthetics

Build Quality and Durability

Build Quality and Durability

Functionality and Ease of Use

Functionality and Ease of Use

Weather Resistance

Weather Resistance

Compatibility and Versatility

Compatibility and Versatility

Value for Money

Value for Money

Total Score

Total Score
If you want the short version, I'm taking the Prvke on my holiday with me next month. All too often, I don't take my camera out for the day on holiday because I don't want to lug a great big camera bag.
But the Wandrd Prvke swallows what I need for a day out, and I can fit in a drink, a light coat, and a towel for the beach. It seems the perfect solution for that.
I won't use the 21L for an all-day photoshoot if I need two full frame DSLRs and various lenses. But on the strength of this review, I would be tempted to look at the larger versions to fit that bill very well.
It's a great-looking bag with a bunch of useful features. It's built to last and to keep your precious gear safe. I like this bag a lot.
Use our discount code EXPERTPHOTOGRAPHY at checkout for 15% off your first order!