The Thule Covert 32L is a rugged camera backpack for photographers passionate about the great outdoors. It's on the heavy side but justified by its durable materials and overall build quality.
Thule isn't your average camera backpack manufacturer. It is a Swedish brand dedicated to outdoor equipment. They've been in business since 1942. And since then, the Thule catalog has grown to include everything from camera backpacks to camping gear.
Thule has a reputation built on quality and reliability. After all, inadequate gear can have grave consequences when camping or hiking. And this high standard is evident in the Covert backpack.
At first glance, the Covert camera backpack aligns perfectly with the Thule philosophy. And as we dig deeper, you'll see they haven't cut any corners.
It is one of the pricier backpacks we've reviewed. But it's a worthy investment if you're an intrepid photographer passionate about the outdoors.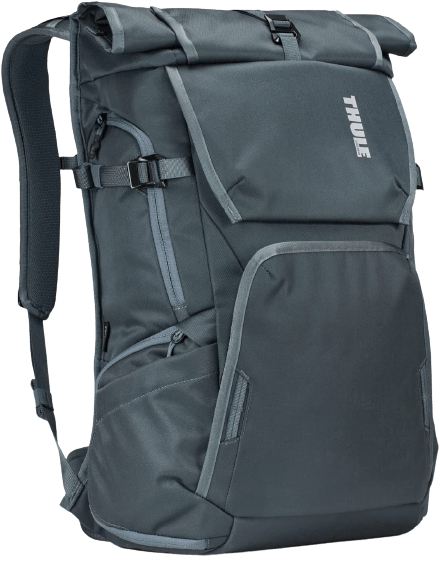 Unleash your adventurous spirit with this rugged camera backpack that's specifically designed for outdoor enthusiasts. With its durable materials and reliable construction, it offers a high level of protection for your gear. Despite being on the heavy side, its weight is justified by its superior quality and versatility. It's a worthy investment for intrepid photographers that offers ample storage, customizable padded dividers, and excellent weather protection.
For full transparency about our review process, you can read about how we scored and ranked the bags.
Strengths and Weaknesses of the Thule Covert 32L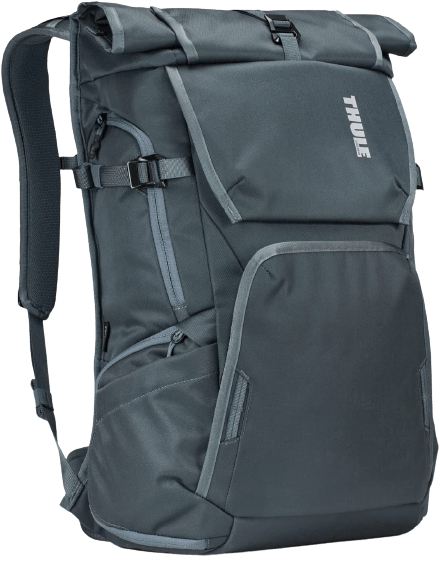 Weight

Weight

2140 g

Capacity

Capacity

32 L

Access Points

Access Points

Back, side

Airflow Back Support

Airflow Back Support

Yes, without mesh

Laptop Sleeve Capacity

Laptop Sleeve Capacity

15-inch

Tripod Holder

Tripod Holder

Warranty

Warranty

2 Years

Waterproof Rating

Waterproof Rating

Water-repellent
The strength that strikes you first is the overall quality of the bag. The materials are strong, and the construction has no obvious flaws.
There are a ton of interior and exterior pockets. There are extra straps for comfort and safety. And the bag offers a high level of protection for your gear.
It's versatile in terms of storage. The padded dividers can be rearranged or removed. And you can completely remove the padded section from the main bag.
This gives you more storage space within. And the padded section works as an independent sling bag.
The main weakness is the weight of the bag. Without anything in it, it weighs 4.7 lb (2.14 kg). The weight comes from the quality of the build materials. But it's still on the heavy end of the scale.
Design and Color Options
When it comes to looks, the Thule Covert isn't for everyone. Personally, I think there's an honesty to the design I find endearing. It's an outdoor backpack that looks like one. You get what you ask for.
The color options are limited, with only black and dark slate available. It fits with the color themes of Thule's wider product catalog.
A few more options might be nice. But black is always a popular color. And the dark slate grey is neutral and inoffensive.
The Thule Covert isn't a fashion statement. It's not a trendy backpack for cruising around a city center. Nor does it have a sleek and smart appearance for serious business people.
But that is not Thule's market. Thule makes gear for outdoor enthusiasts. And the Thule Covert meets that brief perfectly.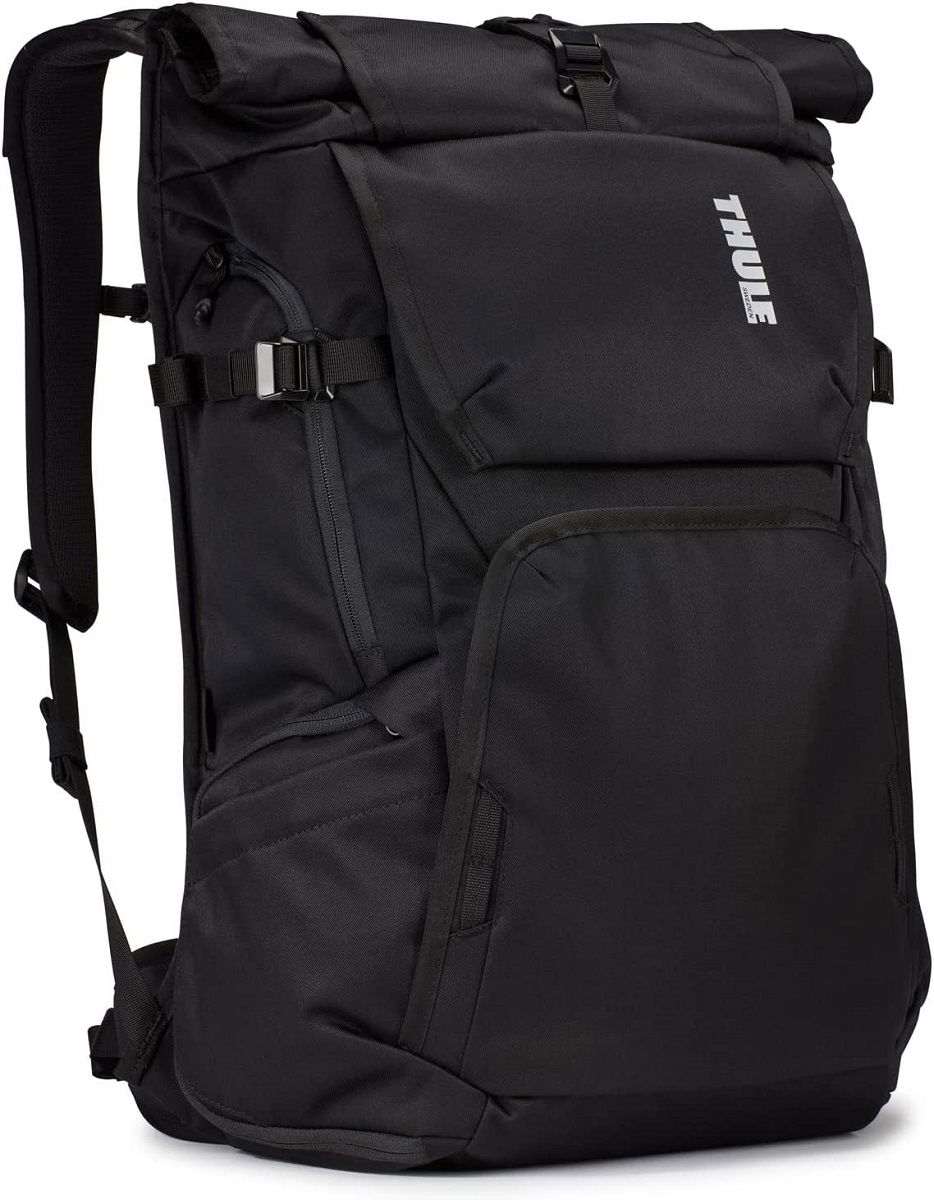 Build Quality and Durability
The build quality of the Thule Covert was something that struck me straight away. My first thought was that it looked like a well-made bag. But as we all know, looks can be deceiving.
Thankfully, even with a name like Covert, there's no deception when it comes to quality. The build quality is top-notch inside and out. And it's a durable backpack for outdoor use.
Exterior Material
The main exterior material is tightly woven nylon. And it does feel synthetic.
But it's not too coarse to the touch. It's non-abrasive if it rubs against your skin. And the scratchy sound isn't as loud and annoying as with other Nylon bags.
The outer material also has a reassuring thickness. It offers a decent amount of protection for the contents of the bag.
Plus, it doesn't tear easily. It would take a targeted attack with something sharp to get through. So you don't need to worry about brambles or hawthorn ripping it open.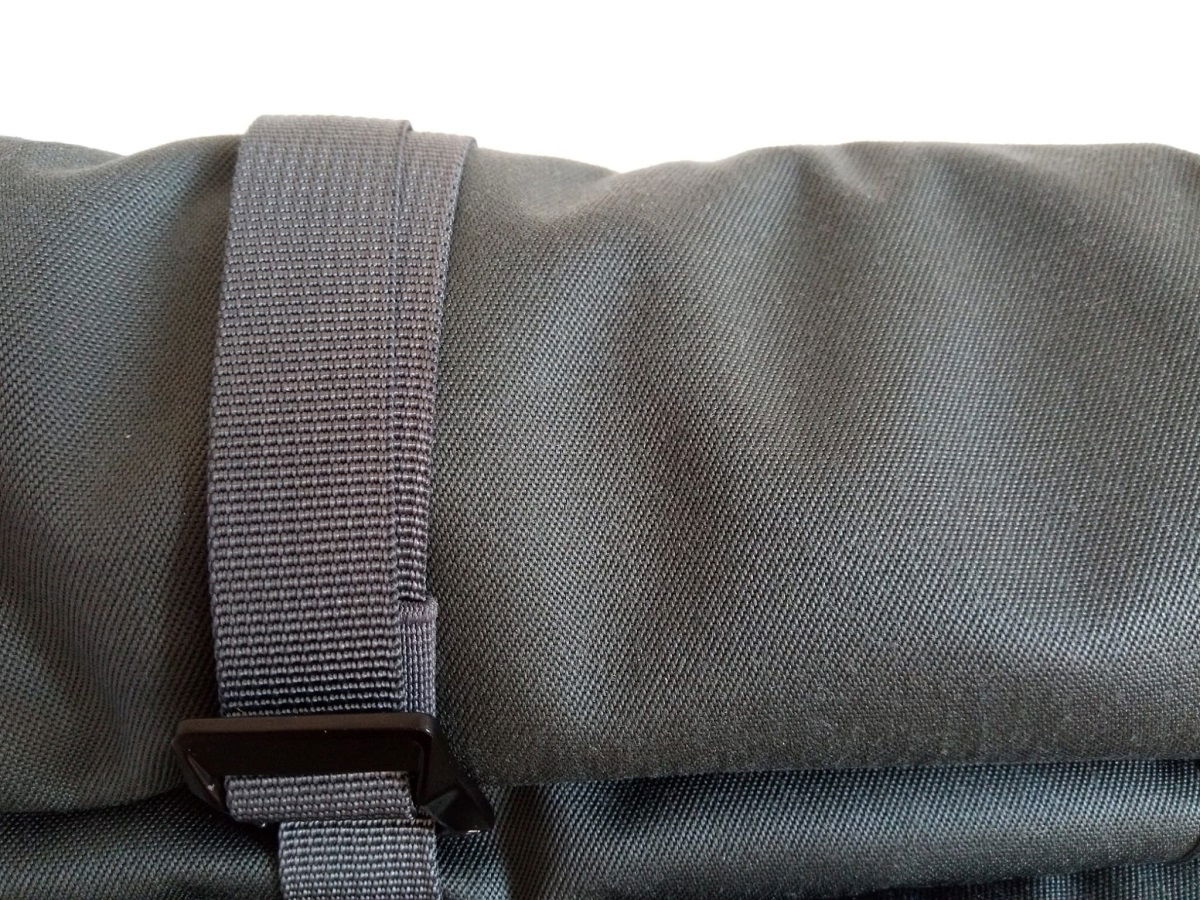 Weather Protection
The Covert offers good protection against the elements. It isn't fully waterproof, so your gear won't survive a dunk in the lake. But it has a highly water-repellent outer material.
The water-repellent fabric keeps your camera and lenses protected in rainy weather. And we don't just mean a light shower. It can keep the water out even in prolonged heavy downpours.
The bag design also helps with rain protection. First, the bag has a roll top. No water can find its way in when this is rolled down and closed.
Also, the main access to the camera section is well protected. The access is at the back, which will be against your body.
And the back protection adds several more layers of protection. So there's no way for water to get in.
Interior Material
The upper section of the inner bag has the same material as the outside.
It doesn't offer much additional padding and is a bit more coarse to the touch. But it is robust and water-repellent, keeping the contents dry.
The nylon in the back pouches is smoother. It has a similar feel to the material used for the outside of the bag. This means your laptop or tablet won't get scratched in there.
Several internal pockets have a mesh lining. This is not something I'm a fan of in camera bags. I find things can poke out or get caught in the webbing.
But the mesh material is a robust fabric, so there's little concern about it breaking. It feels secure when you apply pressure to it.
Internal Padding
The internal padded section offers excellent protection for your gear. The main material is soft, smooth, and non-abrasive.
This means your gear won't get scratched if there's any movement. And you don't need to worry about lenses and screens being scuffed.
The soft material also works as an adhesive for Velcro on the dividers. This lets you rearrange dividers in any way you need. And it gives good flexibility if you want to take different gear from time to time.
The padding of the pouch's outer wall is excellent. There's a nice thick layer of padding. And the foam is firm yet soft.
You get four padded dividers. Two have the thick foam of the outer walls.
The other two use a thinner, harder foam. They offer less protection. But they are slimmer, which helps you squeeze in more accessories.
Straps and Back Support
The shoulder straps have a sophisticated, ergonomic design. They are slightly S-shaped, so they fit naturally over your shoulders. Even with a heavy load, they don't dig into your neck or slip off.
The should straps are well-padded and have a broad surface area. This distributes the weight evenly over your shoulders so the straps don't dig in or chafe.
The buckles also allow you to adjust the straps to get the perfect fit. They make a big difference to comfort when carrying a full pack.
All backpackers know the importance of a chest strap. Thankfully, Thule knows its audience, and the Covert backpack has one.
It takes the pressure off your shoulders by spreading the bag's weight across your body. And it allows you to travel with more comfort for longer.
The waist strap is another thoughtful addition. This strap keeps the backpack tight to your body, so it doesn't move about when you're walking.
It also helps to distribute the weight across your body, taking pressure off your shoulders. You will need it if you're walking long distances.
The Covert also has a top hand strap. It's small with minimal padding, but we're happy it's there. You won't carry the pack with it for long. But a top strap is an essential feature in a camera backpack.
International travelers will appreciate the luggage strap. It hooks over the handle of your roller case. So you can wheel both bags along. It's a handy feature if you regularly travel by train or plane.
Although, I wouldn't blame you if you couldn't find the luggage strap. It sits flush against the back panel, and you might not even notice it.
But now you know it's there. And it's a thoughtful feature that makes the Covert a good backpack for long trips.
Seams and Stitching
All the seams have an additional nylon layer stitched on. It's another thick, durable nylon that stops the edges from ripping or fraying.
You find the nylon seams around every open edge, even around pockets. It tells you this is a well-put-together bag.
You get high-quality stitching inside and out. And after a fairly thorough investigation of the bag, I've found no loose ends or weak spots. There's even extra stitching in areas that might experience stress.
The best example is the stitching that connects the shoulder straps to the main bag. You can pull and stretch the seams, but no stitching comes loose.
So the back seams ad stitching can deal with high levels of stress. And that gives you even more reassurance on safety. There's no worry that an overburdened pack will cause it to fall apart.
Zippers and Fastenings
The Thule Covert is a zip-heavy backpack. But every zip is good quality with smooth action when opening and closing them.
The material on the zip's sides is perfectly measured, so you don't get any buckling. And the zip handles are solid metal.
Every zip also has a cord hoop attachment. This has two benefits for the user. First, they make it easier to use the zippers, giving you something more to hold on to.
Secondly, they add an extra level of security. The hoop allows you to hook a padlock through them so they can't be opened.
The Covert also uses buckles for loose fastenings. The straps at the sides and the top have solid metal buckles. This is great because you know they won't break without a fight.
The shoulder strap buckles are made of plastic. It's a strong plastic, so they still provide security. But it's disappointing they didn't use the metal buckles throughout. Thule loses a mark for that one.
Functionality and Ease of Use
The Thule Covert is a highly functional bag. As we said at the top, Thule's outdoor gear is made for a purpose. And this backpack certainly delivers on that front.
But the Covert isn't perfect. And there are a few niggling issues that affect the overall experience with the bag.
Size and Weight
The Covert is a big backpack with a 32-liter capacity. And as we stated before, it's one of the heaviest backpacks we've reviewed.
It weighs 4.7 lb (2.14 kg) before putting your camera in. When fully loaded, you could be dealing with a pack that weighs 11 to 15 lb (5 to 7 kg).
Thule has mitigated the weight problem slightly. They have well-designed, adjustable shoulder straps. And there's a chest strap for better weight distribution.
But there's no avoiding the Covert is heavy compared to other camera backpacks.
Capacity
Overall the bag has a good capacity for gear and extras. It's a 32L bag, so you'd expect space. But the Covert does deliver good storage.
You can carry camera gear, laptops, other gadgets, and clothes. And there are plenty of pockets to choose from. But the number of pockets is also a bit of a problem.
I don't think having a lot of small pockets really adds much value. A few are helpful, but too many can be confusing. Having too many pockets can make it harder to find what you need.
Another problem is the size of the padded camera pouch. Thule advertises it as a DSLR camera bag. But a more compact mirrorless would sit more comfortably in there.
A full frame DSLR will fit. But you won't have much space left for lenses, especially if you use telephoto lenses.
It's possible to get two smaller cameras in there with lenses attached. But you'll only have space for one if you have a large-body camera.
It isn't a tiny space. And it's spacious enough for most photographers. But professionals might find this frustrating.
Organization and Customization
The bag is well organized in its original form. It's easy to pack your gear and keep things organized.
A lower section has a padded camera pouch. There's an open storage section above. The back section has pockets and sleeves for laptops and tablets. And you have expandable side pockets.
The padded dividers in the camera pouch are all attached using Velcro. This means you can position them however you like.
You can customize the pouch to fit your gear exactly. It's ideal if you like to head out with different setups. And it helps keep your gear safe when loaded.
You can also remove the dividers completely. This lets you use the pouch for larger items. Or you can use it for carrying your clothes or food.
You can increase space in the backpack by removing the camera pouch. This allows you to use the bottom section for normal backpack storage.
And the fact you can use the pouch as a separate sling bag gives you the best of both worlds. You get more storage in the backpack. And you still have a protective bag for your camera gear.
Access Points
The Covert has three access points for the bag's camera section and the roll top for the upper compartment.
Opening the back reveals the full camera pouch. You have to fully unzip and pull down the back of the bag, which is a hassle.
The fact you get full access is great when packing before and unpacking after a trip. But it isn't convenient if you want to quickly grab your camera.
Thankfully, the Covert gives you two side access openings. They are on both the left and right sides. This makes it easier to grab your camera on the go. And it's easy whether you're left- or right-handed.
The only problem is the size of the side access pockets. Mirrorless users probably won't have a problem. But those using full frame DSLRs might find getting the camera in and out tight.
The laptop and tablet sleeves in the back section are good for security. But it doesn't make for speedy access.
Thankfully, the sleeves sit vertically. So you don't need to unzip all the way around to get to them.
Security
The Thule Covert doesn't have any headline security features. But the overall design is security conscious with no obvious vulnerabilities.
The biggest access point is the back opening. This reveals the camera section, the laptop sleeves, and the upper storage section via some netting.
But as it's at the back, no one can access it when you're wearing it. You also need to open it all the way to access the camera section. That makes theft while it's strapped on very unlikely.
The roll top also makes it difficult for thieves to access the main storage space. You can roll it tight and secure it with a buckle and strap. No one is getting in there without making a scene.
The side access points are the most vulnerable when wearing the bag. There is a chance others can access these pockets without your knowledge. It wouldn't be easy, but it's possible.
The best security features are the chord hoops on the zippers. You can tie these together or put a lock through them. That prevents anyone from getting into the backpack without effort or a key.
Of course, locking the side pockets makes it more inconvenient if you want to quickly grab your camera. But it's good to know you can lock the bag down when traveling.
Additional Features
Thule has been generous with additional features on the Covert. First, you have pockets of all different sizes. But you also have features specifically designed for photographers.
Both sides have water bottle pouches. And these can also be used to carry a tripod. You need to use the side straps for the tripod. But you have one on both sides.
And the straps use the more superior metal buckles. They're strong enough for a good-quality tripod.
Unlike many camera backpacks, the Covert has two separate device sleeves. There's one for your laptop and one for your tablet.
This gives you good gadget options when traveling. You don't need to squeeze a laptop into a tablet pocket or have a tablet sitting loosely in a laptop sleeve.
The back storage also includes a net pocket. I'm not the biggest fan of them. But it does let you see what's in there. And the location makes it ideal for computer cables, USB sticks, and chargers.
We mentioned the chest and hand straps earlier. But they are additional features we like to see.
The chest strap is particularly important due to the backpack's weight and purpose. It's a heavy bag to carry over tough terrain. So the chest and waist straps are life savers on long hikes.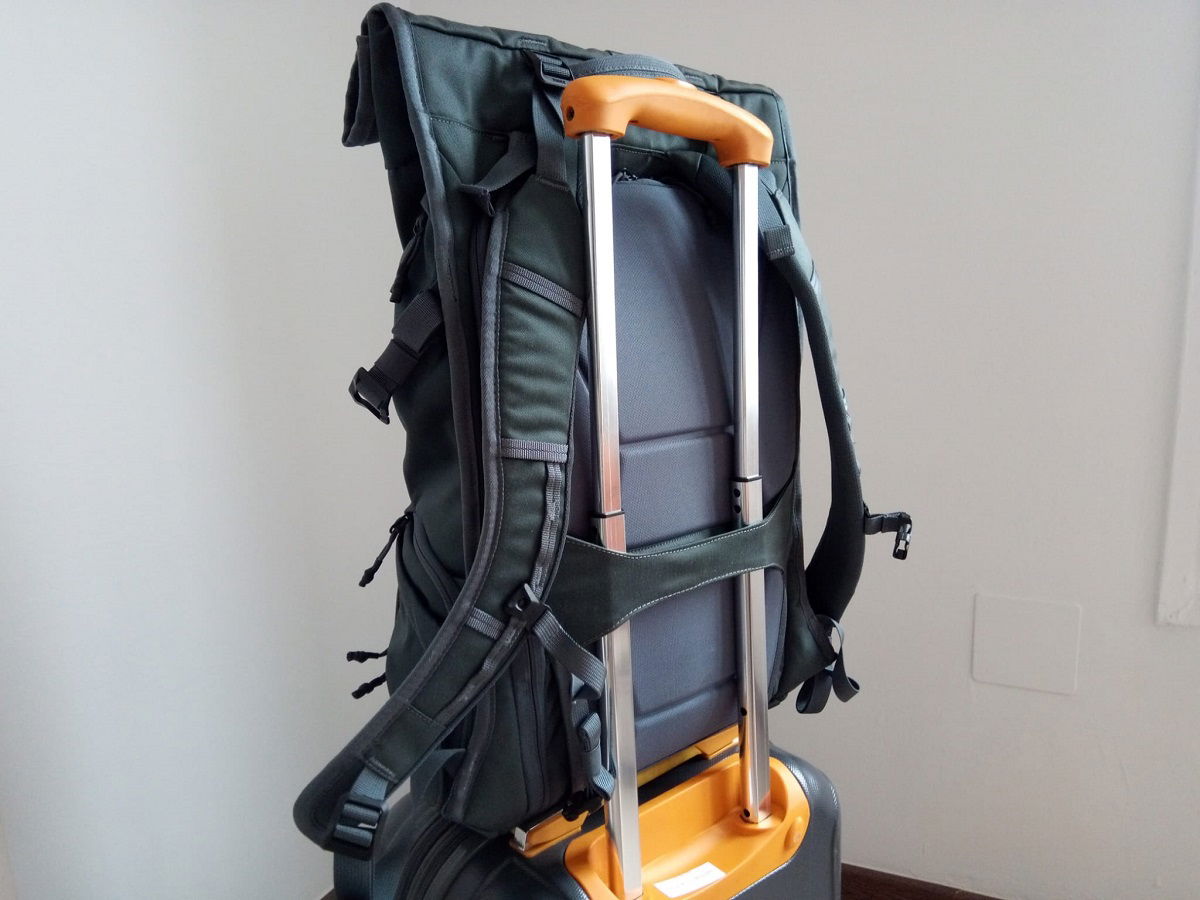 Compatibility and Versatility
The Thule Covert doesn't have the best compatibility. But it does have excellent carrying versatility.
Compatibility With Cameras and Lenses
Compatibility is one of the biggest weaknesses of the Thule Covert. The camera section is small, especially if you consider the overall size of the backpack.
Photographers using mirrorless cameras might not notice the lack of space. It's certainly spacious enough for a full frame mirrorless and a couple of lenses. But DSLR users might be left frustrated.
You can get a full frame DSLR in there, no problem. But that leaves you limited on lens space.
Primes and wide-angle lenses shouldn't be a problem. But you won't be taking many telephoto lenses on your next hike.
One 70-200mm lens will fit when attached to your camera. And you can fit a few more lenses or accessories around it.
As we've said, the padded dividers attach using Velcro. And the interior fabric lets you attach the dividers wherever you like. This gives you the freedom to arrange the interior to fit your gear exactly.
You can also get a reasonable amount of equipment in the pouch. But you can't pack for every eventuality.
The padded pouch is big enough for most drones. But if you're taking a drone, you won't be able to take much else that needs protection.
A mini drone will fit nicely. And you'll have space for an interchangeable lens camera too.
Carrying Versatility
The main backpack only has one method for carrying. And that's the classic double-shoulder style you'd expect from a backpack.
The two straps are excellent. And they're supported by a chest strap. But there's no option to convert it to a one-strap bag.
But the Thule Covert does have a secret weapon. The padded camera pouch can be removed and worn as a separate sling bag.
This fabulous feature greatly expands the bag's versatility. And it mitigates the bag's main problems of size and weight.
Rather than take the entire backpack, you can load up the pouch and venture out with just the sling bag. It's perfect if you want to carry light or you're just going for a walk with your camera.
Using the pouch as a separate bag also gives you more space in the main bag. You can pack that full of other things. And you still have a protective bag for your camera.
You get a new dimension of versatility to what would otherwise be a standard camera backpack.
Price and Value
At first glance, you might think the Covert has a heavy price tag for a camera backpack. It is at the pricier end of the bags we've reviewed. But while it might be expensive, it offers good value.
Thule is a brand that specializes in outdoor equipment. And the Covert is a specialist camera backpack for outdoor photographers.
You can't cut corners on outdoor gear because the risks are too high. And Thule has done no such thing with the bag's design, functionality, or materials.
All the materials are strong and protective. It has all the features a hiking backpack needs. And it keeps your gear protected from the elements.
Good protection doesn't come cheap. That's why we think the Thule Covert earns its price tag.
Warranty
We're disappointed with Thule's warranty package on the Covert. You only get two years of coverage after the purchase date. And considering all companies have to offer one year by law, that isn't much.
Thule offers an extended warranty on some of its products. But camera backpacks are not included. You can't even pay for a longer warranty.
The Covert has scored well for durability and quality. But the two-year warranty undermines the confidence in the backpack's quality.
This is really disappointing for a company with a reputation for durable products. Thule has to review this policy if they want a loyal fan base in the photography community.
Other brands are offering lifetime guarantees. And that makes a big difference to photographers wanting to make a wise, one-time purchase on a backpack.
Sustainability
Thule is a climate-conscious manufacturer. It is constantly setting targets to reduce its impact on global climate change.
It has factories in Europe, the US, and Brazil. The US factories use 25% green energy. And their European factories are powered with 100% renewable energy.
The materials for the camera backpacks are also ethically sourced. Plus, Thule uses sustainable and ethical practices throughout its processes.
From beginning to end, Thule has a climate-conscious strategy. In an era of mass waste and destructive practices, they deserve credit for taking steps in the right direction.
Alternatives to the Thule Covert
We understand the Thule Covert might not be for everyone. That's why we've included some of the best alternative backpacks.
Here's a quick overview. But you can read their full reviews or check out our roundup of all the best camera backpacks.
The Wandrd Prvke is another roll-top backpack built for an outdoor lifestyle. It's smaller than the Covert. And understandably, it doesn't quite have the same amount of storage space.
But the Prvke gives you fantastic all-weather protection. And Wandrd offers a lifetime guarantee on their bags.
The quality of construction and materials is excellent. There's fantastic attention to detail. And all the features are thoughtful and add value to the backpack.
The internal camera cube protects your camera gear. And there's plenty of scope for interior customization.
Wandrd gives you some choices with color and size options. And you can use the Prvke as a day bag in the city. Or you can use it for longer trips with your camera. It's strong, versatile, and looks great.
The Kiboko V2.0 is another outdoor adventure camera backpack. The Gura Gear gang designed it for wildlife photographers on safari. But it's a versatile backpack any photographer can use.
The main material is Gura Gear's unique X-Pac VX-21. It's lightweight yet durable and weather repellent. And its light weight is the Kiboko bag's big advantage over the Covert.
The Kiboko is far lighter on your back. And it has the capacity for large cameras and lenses.
With the dual front openings, you get two large storage compartments. Each has enough space for full frame DSLR bodies and telephoto lenses.
That's why wildlife photographers might opt for the Kiboko over the Covert. It's also a viable option as carry-on luggage when flying.
The Lowepro Fastpack BP 250 AW III is a more compact camera bag. It's a fantastic day bag. And it has weather protection to make it a great option for adventurous photographers.
The exquisite quality runs throughout the bag. So it's clear Lowepro hasn't cut any corners. And the bag looks and feels fantastic.
The design won't be for everyone. But it's smart and discreet enough whether you're in the city or the countryside.
The straps are comfortable, and the chest strap gives you extra support. The padded section fits a full frame DSLR and large lenses. Plus, you have complete side and front access.
The Fastpack BP 250 AW III has a unique design that works well. It also has plenty of space for other personal effects. And it has a reasonable price tag, especially for what you get.
Final Verdict of the Thule Covert
Measurement

Measurement

Score

Design and Aesthetics

Design and Aesthetics

Build Quality and Durability

Build Quality and Durability

Functionality and Ease of Use

Functionality and Ease of Use

Weather Resistance

Weather Resistance

Compatibility and Versatility

Compatibility and Versatility

Value for Money

Value for Money

Total Score

Total Score
The Thule Covert has a total points tally of 75.4 out of 100. It scored well with build materials and design. But it was let down by a high price and a short warranty period. With a better warranty, it could have been much higher on our list.
As a specialist outdoor company, Thule has created a camera backpack that fit's perfectly in its catalog. The Thule Covert It isn't for everyone. But it is fantastic for outdoor and adventure activities.
The design might appear unimaginative. But it's a well-thought-out camera backpack.
The materials are durable and weatherproof. It has additional straps for weight distribution. And the removable pouch gives you an extra flourish of versatility.
Thule has nailed the brief of a camera backpack for hiking. It isn't a collection of desirable features thrown together.
The company clearly has a good developmental process. They listen to feedback and provide products customers actually want.
Photographers looking for a stylish bag for city tours might look elsewhere. But adventurous ones who love hiking, camping, and the great outdoors will appreciate it. In this way, the Covert is a triumph.