The Gura Gear Kiboko City Commuter 18L+ is the latest creation from Gura Gear. The first Gura Gear camera bag was created to tackle the problem of weight when flying with camera gear.
The company was founded over 15 years ago by two photographers who exceeded the weight limits for carry-on luggage. It's easy to see the thought and care that has gone into it.
My first impression of the City Commuter is good. And these rarely change on closer inspection. Everything in life is a compromise. And if you want a light bag, you will have to compromise on space or protection. Gura Gear has pitched this bag to the mirrorless camera market. It's a daily bag for taking the gear you need.
As we have examined piles of camera backpacks, we have found that the devil is in the detail. And Gura Gear has got many of the details right with the Kiboko City Commuter. It has quality components, well-thought-out details, and meets the brief of being light.
This is one of the best lightweight camera backpacks we tested. And we like the fact that its main component, the external fabric, is produced in a carbon-neutral factory. Read on to find out exactly what we like about the City Commuter!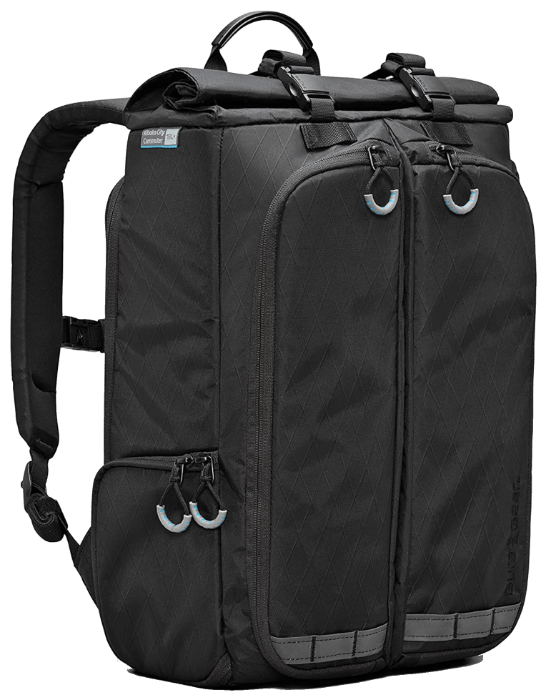 GuraGear Kiboko City Commuter 18L+
This
camera backpack
is a photographer's dream, designed by photographers themselves. With its lightweight design and high-tech weatherproof materials, it offers superior protection for your camera gear. It's tailored for mirrorless cameras but versatile enough for a full frame DSLR. It's packed with thoughtful details and customization options. It's an ideal choice for the eco-conscious, on-the-go photographer!
For full transparency about our review process, you can read about
how we scored and ranked the bags here
.
Strengths and Weaknesses of the Gura Gear Kiboko City Commuter
GuraGear Kiboko City Commuter 18L+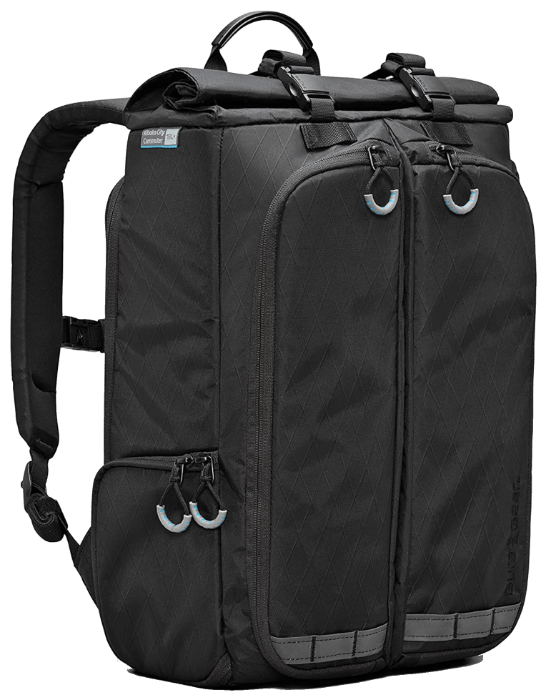 Weight

Weight

1700 g

Capacity

Capacity

18 L

Access Points

Access Points

Top, side, back

Airflow Back Support

Airflow Back Support

Yes, with mesh

Laptop Sleeve Capacity

Laptop Sleeve Capacity

16-inch

Tripod Holder

Tripod Holder

Warranty

Warranty

5 years

Waterproof Rating

Waterproof Rating

Weather-resistant
The external fabric is a very high-tech nylon/polyester laminate. Developed from yacht sail fabrics, X-Pac VX-21 is low-stretch, waterproof, and 100% climate neutral. It's a very "backpacky" material, but it is very resilient and waterproof up to 200 psi (14 kgf/cm2). Artilon foam takes care of the padding. Widely used in motorcycle helmets, it is light and resilient. And it is used generously here.
We also like the generosity of dividers. There's a full-length divider and 13 others of various sizes. This is great for customization. The bag that keeps on giving also provides both a laptop and tablet section. They are both padded, and the tablet section is lined with fleece.
Retro-reflective tape on the front, a suitcase-handle sleeve on the back, and Fidlock catches are all thoughtful touches in this bag.
The City Commuter's weaknesses are few. And none of them are fatal. Some of our team thinks it looks boring and nondescript. I'm not a fan of having to take your bag off in order to access the main flap. But others like the security that this brings.
Design and Color Options
The Gura Gear Kiboko City Commuter 18L+ is available in Black, Sahara, and Pacific. The design is modern and fresh. The basic bag shape is rectangular and the sides retain the shape even when empty. The basic rectangular form is topped with a roll-top.
All colors retain the black webbing and buckles of the original black. They blend nicely with the dark blue Pacific and stand out more against the sandy Sahara. I think the Sahara looks best, but it's all down to personal preference. The light gray interior and bright blue zipper piping are also common to all color options.
The main compartment is accessed from the back of the bag. That means you have to fold the shoulder straps over the front of the bag. The two zippers on the front give access to accessory sections with pockets of various sizes. Some are mesh, others are not. They allow easy access to items like pens, your phone, filters, and memory cards.
Build Quality and Durability
I'm not a huge fan of sail-type ripstop nylon. It tends to be noisy. But there's no denying its suitability for making a durable camera backpack. And the Kiboko City Commuter 18L+ has not skimped on components. Its zippers, buckles, and clasps all come from YKK, Duraflex, and Fidlock—all of which are respected manufacturers.
The quality of construction seems to match the components. For example, the strap attachment points are reinforced with bar tack stitching.
Exterior Material
The X-Pac VX-21 exterior fabric is extremely hard-wearing. Although I did find that it picked up some scuffs quite easily. The rear of the backpack is covered with mesh for comfort. And the padded side of the shoulder straps is covered in a more breathable fabric. Otherwise, it's ripstop nylon and polyester all the way.
Interior Material
The internal material is a light gray ripstop fabric. Gura Gear says they chose this color so your gear easily stands out. The exception is the brushed "Tricot" lining of the tablet compartment and the various mesh pockets. Additionally, the base of the main compartment is a Velcro-friendly material. This gives you complete freedom to place the dividers where you want.
Finally, there are patches of similar fabric on the interior sides. I like the way these have large X-stitch patterns. This limits how much the fabric pulls away from its base when detaching the dividers. It is a feature shared with the patches on the dividers themselves. It's a quality touch. The stitching and zipper pulls are in contrasting bright blue.
Straps and Back Support
The Kiboko City Commuter comes with two shoulder straps and a chest strap. The chest strap is height adjustable by up to 5.5 inches (14 cm). This is by way of sliding the wing clips on the piping.
The shoulder straps are comfortably padded with high-density foam. They are adjustable for length, and any extra webbing can be folded to stop it from flapping around.
There are three large mesh-covered high-density foam pads on the back. These fall roughly on the shoulder blades and at kidney level. The gaps between them allow airflow for your comfort. It's about as comfortable of an arrangement as you can get.
I wore it for a few hours on a hot Saturday afternoon shooting a football match. It was comfortable and very secure. It didn't slip around as I moved. And the side access worked well when switching from 16-35mm to 70-200mm lenses. The big L series 70-200 fitted in the bag with ease.
Gura Gear offers a detachable padded hip belt as an optional extra or as part of a package purchase.
Seams and Stitching
All the seams and stitching look very strong and well-made. Even the small magnets that hold the roll-top flap closed are neatly secured with a circle of stitches. Like all the interior stitching, this is in a contrasting light blue that makes it easy to find.
Internal Padding
One feature of the Artilon padding is that it gets stronger the more it compresses. This is useful not only in motorcycle helmets but also in keeping your camera gear safe.
There is no part of this bag where your equipment is exposed to the danger of an unpadded encounter with a hard object. Only the front pockets have no external padding. But these are not where you keep your most vulnerable items.
The internal dividers are all made of the same foam. They offer a reassuring degree of insulation from knocks and blows. A good camera backpack gives you the impression your gear is safely nestled in a secure location. And the City Commuter definitely gives you that sense of security.
Zippers and Fastenings
This is another area where you sense the designers' attention to detail. The six external metal YKK zippers have paracord pulls. These pass through hard plastic thumb loops that feel sturdy and resilient. They are also light gray and blue. Again, this really helps you find them quickly.
Two mesh pockets in the main flap of the big compartment are closed by metal YKK zippers. They have bright blue paracord pulls for easy location and pulling. They also have what Gura Gear calls "zipper garages." These are small pockets where you can park the metal zipper mechanism to minimize the chance of scratching your gear. The zipper garages look like they are made of Hypalon or something similar.
Each front flap contains two zippered mesh pockets. These zippers are the same as the main compartment ones but without the garages.
The roll-top mouth is secured by two pairs of magnets. They come together with satisfying certainty. Magnets are also deployed in other ways on the City Commuter. Excess lengths of the webbing strap on the chest strap and roll-top fastening straps can be rolled up and tidied away with a magnetic belt loop.
The bottle carrier/tripod pouch is kept securely flat against the side by magnets. One disadvantage of this I found recently was that this made the pocket reluctant to relinquish my metal water bottle!
And finally, buckles. The roll-top straps, chest strap, and laptop compartment are secured with Fidlock buckles. If you're not familiar with them, they are rather neat buckles that are easy to open with the slide of your thumb. It's simple to do, even one-handed. To close them, you just need to bring them together and they spring together magnetically. I confess it took this author a while to work out how to undo the buckles. But once you know, it's simple.
There are some buckles that aren't Fidlock but are good-quality Duraflex. You can see from the range of solutions for each fastening need that the designers have worked on tailored solutions rather than a one-size-fits-all approach. It's a definite success for Gura Gear.
Weather Protection
You can buy an additional elasticated waterproof cover for the Kiboko City Commuter 18L+. This is completely waterproof, including taped seams, for total peace of mind.
The bag on its own will withstand a great deal of wetting. The main fabric will not let any through. And although it doesn't have taped seams here, none of the seams gives direct access to the main compartment. There is always padding in the way. My impression is that a day-long soaking might lead to dampness. But your gear will not directly receive any wetness.
Functionality and Ease of Use
Once we're satisfied that a bag will keep our gear safe, it's all about practicality. How easy is it to get my stuff when I need it? There isn't a simple answer to that. It will depend on your preferences and your needs. But it's encouraging to see a camera backpack designer cater to as many possibilities as they can.
First of all, let's think about the main compartment. The camera backpack is designed for mirrorless cameras or similar setups. But I can fit my Canon EOS 5D Mark III with a 24-105mm f/4.0L lens attached, an extra 16-24mm f/4.0L, and Speedlite with relative ease. It still leaves room for the battery charger, my binoculars, or my new favorite toy—the Topdon TC02 thermal camera. And remember, all this fits with a camera that is really too big for the design. And we haven't even begun with the front accessory pockets or the top compartment.
My one hesitation about the bag's design is the location of the main opening. You have to fold the shoulder straps back over the front of the bag. It's good in the sense that it's much harder to accidentally set off without first closing the bag.
And the inconvenience is made slightly less by the side access opening. You can easily arrange for your main camera to be located there. And you can access it by swinging the bag to your side. The Kiboko is not unique in this arrangement, and it's a matter of personal preference.
The top compartment is accessed through the roll-top. It is a convenient place for keeping a raincoat or an accessory pouch, for instance. I have one with USB cables, camera remotes, and tripod tools.
Or if you're traveling, it's perfect for your airport reading and some snacks. This is a good time to mention that the "+" in the bag's name is not merely a branding foible. With the roll-top rolled, you have 18 liters of space. But if you need to stuff some extra things in the top compartment, you can steal an extra two liters.
The four sides of the top compartment have mesh pockets with elasticated openings and Velcro fastenings. The four on each long side are designed to hold an 82mm filter. The roll-top folds over twice and can then be secured using the Fidlock catches on two webbing straps. Excess length on the webbing straps folds up and is held neatly by magnetic-closure loops.
When you are traveling or on a shoot, the front pockets are pretty easy to access. They're useful for memory cards, pens, and a notebook. If you're spatially challenged like me, it might take a while to remember which side is which. But it's useful storage.
There are two different-length carabiners. There's one short one for your keys, so they won't swing about. And there's another on a long elastic, which is specifically designed to attach to Gura Gear's Tembo memory card wallet. The lanyard means you can take it out without detaching it. Another example of smart thinking since you don't want to forget your memory cards.
Size and Weight
The Gura Gear is not the lightest camera backpack we tested. But it is by no means heavy. And it strikes a good balance between weight and protection.
Capacity
Gura Gear gives examples of the kind of gear you can carry in the City Commuter. One example is two Sony A7R bodies, one with 24-70mm zoom attached. And on top of that, it can also hold an 85mm prime and a 100-400mm superzoom lens. That's a decent amount of gear in a relatively compact camera backpack.
Organization and Customization
This is another strength of the Kiboko City Commuter. The generous supply of inserts makes it pretty simple to tailor the bag to your needs. There's a full-length articulated divider, as well as 10 dividers of two different sizes.
And in case you are nervous about one particular piece of gear, there are two equipment protection pads to provide extra reassurance.
Access Points
The main access point opens to reveal the whole of the main compartment.
There is one side-access door as well as the main access point. It is handily located and allows you to grab your camera on the fly. For the type of camera the bag is designed for, it's perfect. I can't easily grab my EOS 5D, so I use the side access for a quick lens change. But that's not the fault of the bag at all.
The top access to the top compartment seems like the right balance between weather protection and accessibility. The latter is definitely helped by the Fidlock closures.
Security
The Kiboko City Commuter has a discreet zippered pocket for an Apple AirTag. There is also an RFID-shielded pocket in one of the front compartments. This is big enough to take a passport or a slim wallet.
The final security feature is on the main compartment's zipper pulls. They will accept a small luggage padlock. The bag is probably fairly safe against a slash attack because of the generous all-around padding. Only the front pockets are vulnerable to such an attack.
Additional Features
There are many thoughtful touches to the Kiboko City Commuter. And many of them are focused on protecting your precious gear. For instance, the buckle for the laptop section has a tab of soft brushed fabric. This prevents it from scratching your laptop or tablet.
The top carry handle is small. And it's covered in leather for a comfortable and luxurious feel.
Compatibility and Versatility
I like the fact that although the Kiboko is designed for smaller camera setups, it would work for a full frame DSLR in a pinch. And with the internal dividers that are supplied, the interior is very versatile.
Compatibility for Cameras and Lenses
There are lots of examples of camera kits that fit in the bag on the City Commuter Kickstarter page. Suffice it to say that it's very flexible. I think it's a great balance between size and portability.
Carrying Versatility
There's not much to this. The Kiboko has a top handle and two shoulder straps. So you'll carry it as a camera backpack or handheld bag.
Sustainability
We like the fact that Gura Gear uses the main material that is produced in a carbon-neutral factory. The very nature of the materials used in backpacks makes sustainability a challenge. So this is a real positive.
Price and Value
For the standalone bag, I think the Kiboko City Commuter 18L+ offers solid value for money. It's not cheap, but it has the perfect balance of weight, size, and protection. But if you add in the hip belt, tripod straps, and rain cover, the price goes up quite a bit.
It becomes more expensive than the Manfrotto PRO Light Multiloader Camera Backpack M, which has all of those things. But this is a slightly unfair comparison, as the Manfrotto is much bigger. For a bag of this size, with the protection it offers, we think the basic bag is good value for money.
Alternatives to the Gura Gear Kiboko City Commuter
Sometimes our choices come down to very subjective matters. If you're not sold on the Kiboko but want a great roll-top camera backpack, there are other options.
The Thule Covert stands out as an attractive roll-top camera backpack. It not only possesses a sleek appearance, but also provides exceptional protection for your belongings. With its convenient side access and ample capacity, it easily ranks among the top roll-top bags we tested.
What sets the Covert apart is its impressive blend of durability and versatility. Thule, renowned for its commitment to quality and dependability, maintains its reputation with the Covert. Crafted from thick, water-repellent nylon, this bag boasts high-quality components.
A notable feature of the Covert is its camera pouch, which grants access from both the top and the sides. In a similar vein to the Dyota, you have the option to remove the pouch. This enables you to utilize the bag purely as a backpack.
The only downside is the fact that the Covert only offers a two-year warranty. But we still think it's a great backpack that you should consider.
The Wandrd Duo Daypack has an open shell design. But it also allows you side access to the bag's contents.
This makes customization easy. And it allows you quick and convenient access to the kit you need the most. The "Infinity Zip" allows access from the front and sides. It's a very effective solution.
The quality of the materials and components is another thing we love about the Duo Daypack. It's made from ballistic nylon and is weatherproof. That includes the special YKK zippers designed to keep out the rain.
It's an outstanding backpack that checks most of the boxes. The interior is well-padded and adaptable. We think it's a bag worth considering.
Use our discount code EXPERTPHOTOGRAPHY at checkout for 15% off your first order!
The Think Tank Airport Essentials is beautifully made and packs loads of gear into a compact bag. We were impressed with this camera backpack and think it looks pretty good too.
This specialized backpack is specifically designed for air travel, catering to the unique needs of travelers. The Airport Essentials looks sleek and cleverly conceals its identity as a camera bag. Not only is it lightweight, but it's also an ideal size for carry-on luggage on planes.
Its most prominent selling point lies in its efficient use of space. Despite its compact size, this bag still accommodates a substantial amount of camera equipment. You can pack multiple camera bodies, including full frame DSLRs. And you'll still have room for lenses and other essential accessories.
There are sturdy top and side handles, as well as a tripod strap. There's also a chest strap and hip belt to alleviate the strain of carrying a heavy load.
Final Verdict of the Gura Gear Kiboko City Commuter
Measurement

Measurement

Score

Design and Aesthetics

Design and Aesthetics

Build Quality and Durability

Build Quality and Durability

Functionality and Ease of Use

Functionality and Ease of Use

Weather Resistance

Weather Resistance

Compatibility and Versatility

Compatibility and Versatility

Value for Money

Value for Money

Total Score

Total Score
Camera backpack manufacturers often (always?) say that their designs are driven by the needs of photographers. Sometimes we wonder who they have been talking to. But with Gura Gear, it's clear to see that they have anticipated our needs.
We need to be able to fit our gear in the bag, we need to access it easily, and we need it to be protected. On all these counts, the Kiboko hits the target. For a bag in the 18L range, you won't find much better.