The boom of technology has provided us with the best SD cards in the last few years. Long gone are the days of the digital camera feeling like an extended roll of film.  We are in the age where our memory cards can store so many more photographs compared to the 36 frames you would get from a 35mm roll of film.
But with so many SD cards out there, what should you consider? Today, I'll be looking at the best SD card over a range of budgets that lead the market this year.
[Note: ExpertPhotography is supported by readers. Product links on ExpertPhotography are referral links. If you use one of these and buy something, we make a little bit of money. Need more info? See how it all works here.]
What to Look for in the Best SD Cards
The most common form of memory card in the modern day is the SD card. SD, standing for 'Secure Digital', was released in 1999 and has become the industry standard. Let's first discuss the aspects you should be looking out for when comparing SD memory cards.
SD Memory Card Capacity
The most apparent and essential quality of a memory card, how many pictures it can hold. Capacity is commonly measured in Gigabytes (GB) but can stretch to Terabytes (TB). You can split SD cards into two different types:
SDHD (Secure Digital High Capacity)
SDXC (Secure Digital Extended capacity)
SDHD cards cover the capacity range of around 4GB to 32GB. SDXC's start from 64GB and can go all the way up to an astounding 2 TB. Choosing the capacity of your card is all about what you need the SD card for.
Benefits of a Large SD Card
Some types of photography contain fleeting moments, such as photojournalism or wedding photography. Here, you will want an SD card with a bigger capacity. It will give you a long time to take photos before having to change your memory card, potentially save you a couple of valuable seconds.
Bigger memory cards can be for you if you don't like the constant uploading of images to a computer. It's for people who will use the cards for simple point-and-shoot pictures. Or it's for photographers taking pictures in remote places for long periods of time. These will allow you to shoot for days, if not weeks, using up all the space on the memory card.
Benefits of a Small SD Card
If you aren't shooting an endless amount of photographs, a smaller capacity SD card can be beneficial. Smaller SD cards can be more convenient. You can create a streamlined method of taking photos to store different events on different cards. This method makes it easier to get your material onto the computer.
And instead of buying memory cards that you don't use a fraction of the space given, smaller memory cards will save you a bit of money. The less space, the lower the price.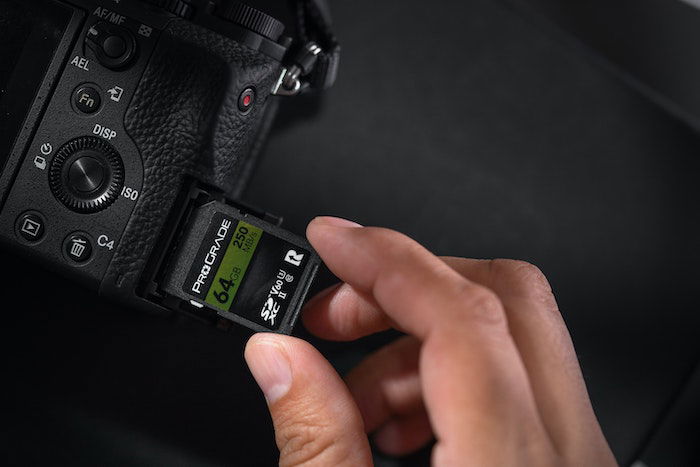 SD Memory Card Speed
There are two different speed specifications for memory cards that you will want to look at—the write and read speeds.
Read Speeds
The read speed is referred to as the transfer speed. This is the speed that determines how fast a file will take to get from card to computer. The rate is measured in megabytes per second (MB/s). As you may have guessed, the higher the number, the slower the upload time when transferring images. If you want to transfer files super fast, you can also check out our review of the best SD card readers.
Write Speeds
The write speed refers to how quickly a memory card can process an image you take. The write speed can be an essential factor to keep in mind. Pretty much any modern SD card will have enough speed for your average photographer. But when it comes to more specialist uses, this can be something to keep in mind.
For instance, some cameras will only allow their high range of burst mode if the memory card is sufficient. It is also evident when making long exposures. The quicker the write speed, the quicker you will see your photo on the camera.
What's the Best SD Card for 2021?
Now that you know some of the key elements to look for when looking for the best SD card, here are the 10 best SD cards for you to consider. I'm listing 7 regular-sized SD cards and 3 microSD cards.
The Best SD Cards (Standard Size)
SanDisk has been a name that has earned a trusted reputation in the photography industry. They provide a wide range of specifications, making it easier for you to find the best SD card. Out of all their memory cards, I have to say the best is their Extreme Pro line of cards.
With a write speed of 90MB/s, this will handle any DSLR camera offering multiple ranges of burst modes. It also writes to a V30 standard, meaning it will be able to record in 4K. It also provides a read speed of 170MB/s.
As this is the industry standard range of SD cards, the price has been kept competitive. I have chosen this 64GB version to give you plenty of images for a very fair price. There is a 32GB version which will be a bit cheaper. But I have learned it's better to be safe than sorry.
The Extreme Pro range also offers a UHS-II version. With a super-fast write speed of 260MB/s, you can take out the most demanding jobs. For instance, if you are shooting 8K, cinema-quality video. Of course, with these numbers comes a hefty price tag. If you are not using these for intensive processing jobs, you won't notice the difference.
You will find that a Lexar SD card is more expensive. This price is because they dominate the speed game in the world of SD cards. When you start to compare these specs to other brands, you realise they are great for the price. They offer UHS-II card capabilities with super-fast speeds for less than most.
Boasting write speeds of 260MB/s and a read speed of 300MB/s, you won't be checking your watch as the images start to pour in. But again, this will not be noticeable from the UHS-I range of cards. So maybe not worth the money if you want to save a couple of seconds on the upload times.
There are only specific cameras that can take full advantage of the card's most significant capabilities. Be sure to check if your camera is one. If not, and you still love this card, Lexar also provides you with backward compatibility. This feature means you can use it in other cameras, and it will perform at the highest possible level that the camera can take.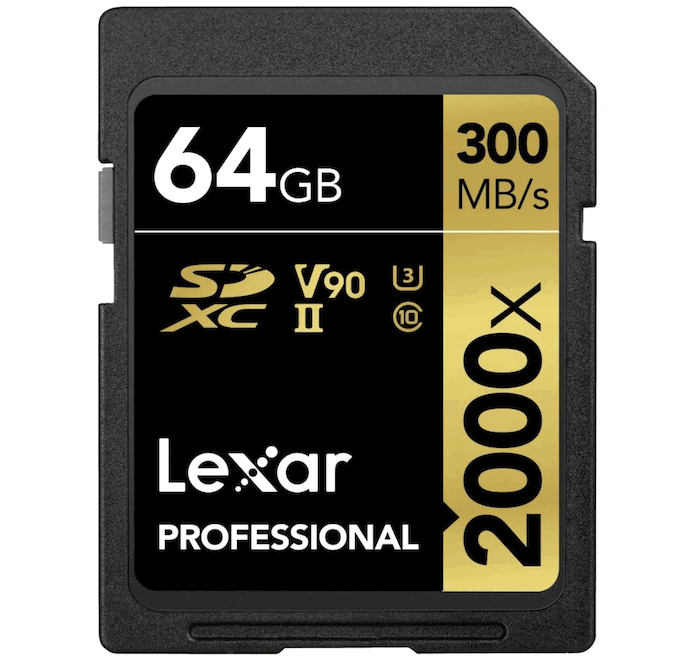 Another top competitor in the SD market is the ProGrade line of memory cards. They offer a UHS-II card for the lowest price but do not achieve the blinding speeds provided by other brands. This price is redeemed by delivering UHS-II capabilities to most full-frame cameras.
With insanely fast write speeds of 130MB/s and read speed of 250MB/s, there's no way you could say this card is slow. ProGrade provides more than enough power for amateur and professional photographers alike.
ProGrade also advertise their advanced Recovery Pro software. This software can be a lifesaver when disaster strikes. To have a company that provides this service is essential—that's why most do. But to be constantly working and developing this software is a different story. So this can be an element to take into consideration when comparing SD cards.
Sony has taken the role of completely redesigning the SD card for the rugged explorers out there. Introducing Sony's TOUGH series.
First released in 2020, they are the first company to take off the ribs between the connectors to allow for added durability. Adjustments like these have led to Sony claiming to have the world's most demanding SD card. Sony boasts 18-times more bending resistance than a regular SD card.
If you have a camera that can take advantage of its UHS-II, V90 nature, you'll get read speeds of 300MB/s and write speeds of 299MB/s. Sony puts your mind to ease with these incredible speeds, allowing professionals to be out in the field and have one less thing to worry about.
With the innovations in design, this could be a pioneer for SD cards in the future.
The SanDisk Ultra range is the best entry-level SD card. This range will cover all your photographic DSLR needs, from basic images up to full-1080p HD video. The price will have you jumping for joy and have you contemplating buying a few, which is always a good idea.
This SD card provides a read speed of 80MB/s and a write speed of at least 10MB/s. You don't want to get a card that goes slower than this. This doesn't mean that the card is slow.
It won't take too many minutes out of your life for photographers who aren't taking pictures every day. And for professionals, this is the perfect card to have a couple of lying around in case of emergency.
This is the memory card I would recommend for amateurs and professionals who want fast read and write speeds but don't need high-end cards. It is the memory card that I use. And it hits the sweet spot of being fast, having a lot of space, and being relatively cheap.
With write speeds of up to 70MB/s and read speeds of 150MB/s, you won't need much higher if you're shooting photographs. Even if you're filming a video, this SD card will be able to capture the full 4K quality.
If needed, you can get this type of SD card up to 256GB. I had contemplated going for the full 256GB card. But as 128GB is plenty for me, I didn't have to waste the money for space I wouldn't often use. I have had no issue with this card and don't think I have reached its largest capacity on any jobs either.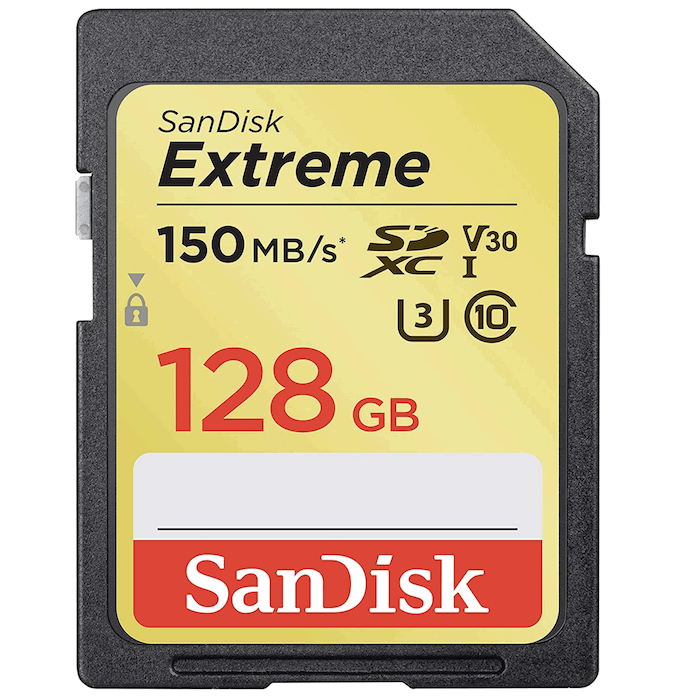 A cheap alternative to the SanDisk Extreme range is the PNY Pro Elite range. They are both similar in price, but PNY comes in just below SanDisk. Its write speed for photo files is 90MB/s and can transfer them to your computer at 100MB/s. In comparison, this means you'll see your photos a split second quicker on this card. But also, you'll be waiting a bit longer when uploading them to your computer.
PNY is for the person who wants to save a bit of money. It is also helpful if you shoot long exposures. This is because the image will process faster. When on location, I would prefer to see my image quicker than waiting longer at my computer the next day.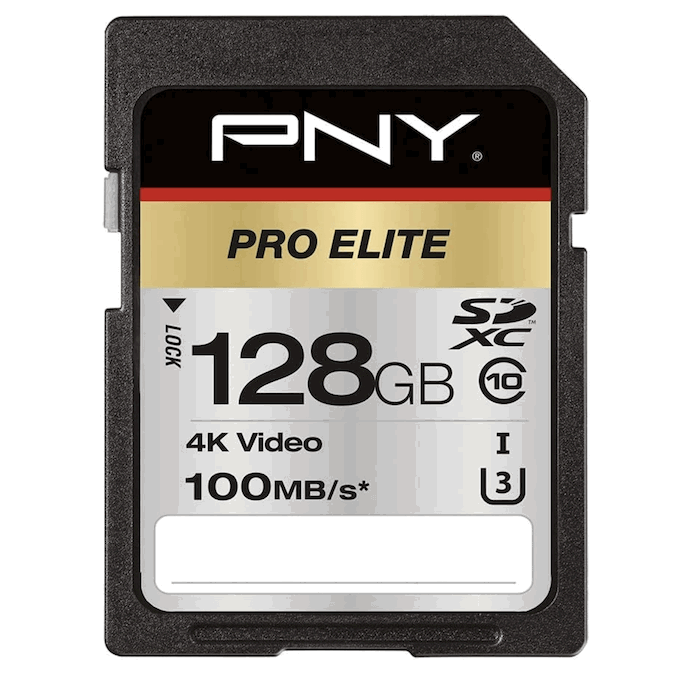 The Best MicroSD Cards
MicroSD cards are rare in DSLR cameras. You will find them in digital point-and-shoot cameras or drones. But you can still use a MicroSD card on cameras through an adapter. This may be helpful as their size means you can carry them anywhere. Let's discuss some of the best microSD cards in case you have equipment that uses this.
Of course, SanDisk produces great SD cards of this size as well. Its top of the range being this SanDisk Extreme Pro 64GB memory card. With a read speed of 170MB/s and a write speed of 90MB/s, this microSD card packs a punch that beats the regular-sized Extreme range that SanDisk offers.
As you'll be paying less due to its size, it is worth investing in a good microSD card. This is particularly useful for phones that take 4K video.
If you don't want to worry about taking up space, SanDisk produces this range up to 512GB. 64GB will do most pieces of equipment well, but it is worth considering how often you want to wipe your cards.
Like a regular SD card, Sandisk does have a cheaper range. As read and write speeds aren't as crucial with some microSD devices, saving yourself some money on this range could be worth it.
If you are considering economical options, the Pioneer 256GB microSD could be for you. This gives you the most bang for your buck out of the microSD's we're looking at.
It can read at speeds up to 95MB/s and also has a write speed of 60MB/s. This makes it not as powerful as the top range of microSDs. But you won't notice the difference if you use it for photography or even for point-and-shoots.
If capacity is your aim, Lexar offers the best 1TB option for microSDs. The 'PLAY' title of this range of cards speaks to its preference for gaming. The card is built for use with the Nintendo Switch or other handheld devices.
But it will still work on any device that takes a microSD card. If you shoot a lot of photos and videos on your smartphone, this card is for you.
The price is on the cheaper end for this size. If we look at the cost to performance ratio, this one comes out on top. It reads at 150MB/s, and it's not just size but the power that makes it so successful. So if you require the most space but don't want it to be slow, look no further.
Conclusion
We live in a time where we have a mass amount of information stored on a chip the size of our thumbnails. SD and microSD cards are all about size and speed.
As this technology is so advanced, you won't need to pay extra for the extra capabilities if you are a regular photographer. There is no point in paying for the best SD card if it doesn't change how you work.
It is all about identifying what you will use your camera for. Check your camera's manual to see if you need a faster write speed for burst mode or if you're an astrophotographer making star trails. Either way, from experience, I have learned always to take more than one when you go out to take photos!
Are you looking for complex photography concepts made simple? Check out our Quick Capture Cheat Sheets! They fit in your camera bag and help you learn as you shoot.