Our Top 3 Picks
Camera phones make the world go round. Everyone has them, and they make the perfect tool for capturing almost anything. Smartphones nowadays have very good sensors, and allow you to capture everything from selfies to telephoto focal lengths.
This is the camera you always have with you. You can instantly share the images across a slew of different social media in a few clicks.
Here are the best camera phones money can buy.
[ExpertPhotography is supported by readers. Product links on ExpertPhotography are referral links. If you use one of these and buy something we make a little bit of money. Need more info? See how it all works here.]
Wileyfox Swift 2 Plus
Release date: November 2016
Rear camera: 16MP
Front camera: 8MP
OIS: No
Rear camera aperture: f/1.9
Autofocus type: Phase detection
Weight: 155g
Dimensions: 143.7 x 71.9 x 8.6mm
Weight: 155g
Storage: 32GB
To be honest, this one took me by surprise too. I didn't know the name of this manufacturer before, but I'm glad I came across it.
The Wileyfox Swift 2 Plus is a sturdy, well-built smartphone and one that fits into the budget price range.
As you can imagine, the price isn't going to give you everything your heart desires. But it will give you enough of what you need.
Low light images are troublesome. And there isn't a huge range of features that you'll see with the other camera phones on this list.
You do get a 16MP camera and a 3L8 Samsung sensor. Don't forget, it's a budget camera phone, not a cheap one. You'll still get great images with rich colors and fine detail.
We like the autofocus, making it the best of the cheaper smartphones around.
Xiaomi Mi9
Release date: Apr 2019
Rear camera: 48MP (f1.8) + 12MP (f/2.2) + 16MP (f/2.2)
Front camera: 20MP
OIS: No
Weight: 173g
Dimensions: 157.5 x 74.7 x 7.6 mm
Storage: : 64/128GB
If you're looking for value for money over camera features, you've come to the right area. The Xiaomi Mi9 is an excellent smartphone camera for its price.
With its triple camera setup, you can capture wide, ultra-wide and telephoto focal lengths. You'll gain great color renditions and a respectable dynamic range.
Inside, smart software can easily defocus the background. This is great for the portrait mode, bringing more attention to the person rather than the scene. You'll find this in some of the pricier models in our list.
Don't be confused – it isn't the best camera phone we will be looking at. Slow shutter speeds come with the lack of OIS (Optical Image Stabilisation). You might also find the noise reduction too aggressive.
For video, you do get electric image stabilization and can capture 4k at 60fps. For an affordable camera phone, you also get a great design for the cost.
Moto G7
Release date: Feb 2019
Rear camera: 12MP & 5MP (for depth)
Front camera: 8MP
OIS: No
Rear camera aperture: f/1.8
Autofocus type: Phase detection
Weight: 167g
Dimensions: 1453.8 x 72.3 x 8.3mm
Storage: 64GB
The G7 series is designed to give you everything you need in a smartphone, and a little extra. All for a third the price of a new iPhone or top Android phone.
It is a great phone, with an exceptional camera for its affordable price tag. One of the best parts of this set up is the dual-camera system. This gives you depth in the images you take, making them very special.
The setup allows you to take images easily and straightforward. The portrait mode is especially useful if you're into that type of thing. You even get an 8MP selfie camera, which is nice, but not as strong as it could be.
In other aspects, you won't find NFC with the American models. It can't compete with the leaders of this post. But, if you are on a tight budget, it's the best of the best.
Samsung Galaxy S9 Plus
Release date: March 2018
Rear camera: 12MP + 12MP
Front camera: 8MP
OIS: Yes
Rear camera aperture: f/1.5-2.4, f/2.4
Autofocus type: Phase detection
Weight: 189g
Dimensions: 158.1 x 73.8 x 8.5mm
Storage: 64/128/256GB + microSD
Over a year ago, Samsung released the Galaxy S9 Plus. It was another great addition to a glorious range of camera phones. So good in fact, it's becoming more and more difficult to greatly improve.
It comes with a big screen, meaning you see more of the images you are capturing. Most will care about the quality of the sensor and lenses, and quite rightly too.
Dual 12MP cameras sit on the rear, and although not unique in resolution, they do hit the f/1.5 mark. Perfect for low light situations. You can even tweak the aperture for sunnier environments.
The video mode is possible at a super slow motion 960fps, allowing for very creative filming. The selfie camera comes with bokeh enabling, which is impressive, even without the strong noise reduction.
OnePlus 7 Pro
Release date: May 2019
Rear camera: 48MP (f/1.6) + 8MP (f/2.4) + 16MP (f/2.2)
Front camera: 16MP
Weight: 162.6g
Dimensions: 162.6 x 75.9 x 8.8 mm
Storage: 128/256GB
For portraits, the OnePlus 7 Pro is a great tool. It is a beautiful and well-designed phone, that doesn't ruin the facade with a selfie camera. For images of yourself, there is a pop-up that keeps the aesthetic simple and clean.
The primary camera is the best so far to land on a OnePlus camera phone. The wide-angle packs a huge 48MP sensor, alongside an f/1.6 lens.
As you can imagine, it grabs a lot of detail from any scene – even low light. It gives you versatility by letting you use the 13mm ultrawide camera with a 3x zoom. On top of that, you get OIS across all three cameras.
While capturing in night mode is helpful, it doesn't hold water to the Huawei P30. There is no wireless charging available and no water resistance. But you can't have everything for the affordable price tag.
Honor 20 Pro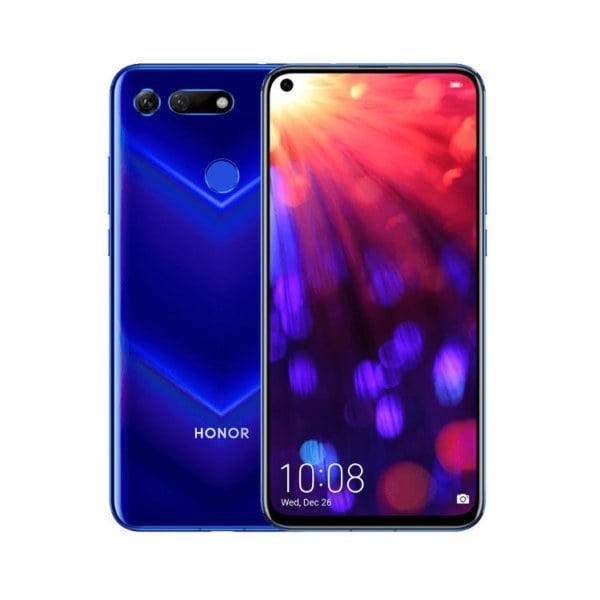 Release date: June 2019
Rear cameras: 48MP (Wide Angle Lens, f/1.4, OIS), 16MP (Ultra Wide Angle Lens, f/2.2), 8MP (Telephoto, f/2.4, OIS)
Front camera: 32MP
OIS: Yes
Weight: 182 g
Dimensions: 154.6 x 74 x 8.4 mm
Storage: 256 GB
You might be surprised, but the Honor 20 Pro is almost the same as the P30, except the price tag. What you might not know, is that Honor is a youth-orientated sub-brand of Huawei.
From looking at the phone, you'll notice four rear-facing cameras. the primary one boasts a 48MP resolution. you also get a maximum sensitivity of 204,800 and aperture of f/1.4.
These specs make this the best quality camera phone to date. Perfect for low light conditions, allowing you to capture in almost pitch black room. The primary lens is supported by an 8MP lens, giving a 3x optical zoom.
On top of these, a 16MP ultrawide camera gives a 13mm focal length. The 4th camera is for macro shots at 2MP which gives you a 4cm minimum focusing distance.
In terms of price, it is half the price of the iPhone XS making it a bargain for what you get.
Asus Zenfone 6
Release date: Apr 2019
Rear camera: 48MP (f/1.8) + 13MP (f/2.4)
Front camera: 8MP
OIS: Yes
Rear camera aperture: f/1.5 + f/2.4
Weight: 190g
Dimensions: 159.1 x 75.4 x 9.2 mm
Storage: 64/128/512GB
If selfies are your thing, this is the best camera you can hope for. This is surprising at a first look since the front facade is just glass. But, the powerful rear-facing camera flips up to point to the user.
This is ingenious for both capturing selfies and keeping the camera's needs to a minimum. Those who marvel at product design should appreciate this idea, even if they are against the small, motorized flip-up camera.
The two cameras give you 48MP + 13MP resolutions. And there is a front facing camera of 8MP just in case you don't need the power that Instagrammers require.
On top of this, there is a 5000mAh battery that is double that of the iPhone XS. This means it will last a day. although it doesn't feature an OLED screen, it's still a very strong model.
The camera isn't as strong as other cameras on our list, it's concept and quality stands apart.
Google Pixel 3
Release date: November 2018
Rear camera: 12.2MP
Front camera: 8MP
OIS: Yes
Rear camera aperture: f/1.8
Autofocus type: Phase detection and laser
Weight: 148g
Dimensions: 145.6 x 68.2 x 7.9mm
Storage: 64/128GB
The original Google Pixel was a marvel in how a company could overcome the limitations in processing from a small sensor.
Pixel 3 has a 12MP camera, with an aperture of f/1.8 and 28mm-equivalent focal length. The processing behind it is less aggressive than the P30 Pro, meaning your shots will come out more natural.
On top of this, the images you do get are sharper and contain more detail than the Huawei. But, this is only the case with the primary camera. The single lens on the rear doesn't give you the versatility you can get from other camera phones.
What they did create was a Super Res Zoom. This combines a burst of images to produce a digitally zoomed image. This, however, falls short of any and all images produced with optically zoomed images.
For good results, keep the zoom at 2x – go further, and you'll find the images come out soft and blurry. They hardly compare to the telephoto lens you find in the Honor 20 Pro.
Sony Xperia 1
Release date: Apr 2019
Rear camera: 12pm (f/1.6) + 12pm (f/2.4) + 12MP (f/2.4)
Front camera: 8MP
Rear camera aperture: f/1.5 + f/2.4
Dimensions: 167 x 72 x 8.2 mm
Storage: 128GB
For great videography, you're in the right place. One of the most recent cameras to join our list is the Sony Xperia 1. This is the system that lets you take control of your settings manually.
With this little beast, you can shoot up to21:9 for perfect cinematic scenes. With this, you have full control with a wonderful flat profile that you'll want to edit in Premiere Pro or Resolve.
This matches up with the 21:9, 4K HDR screen. With it, you get a clean UI and an attentive chipset under the bonnet, giving you juice when you need it.
The 3330mAh battery could be better, and there is no wireless charging. Thank goodness for the 128gb storage, which you'll fill up easily when this camera phone is in your hands.
iPhone XS
Release date: September 2018
Rear camera: Dual 12MP
Front camera: 7MP
OIS: Yes
Rear camera aperture: f/1.8 and f/2.4
Autofocus type: Focus pixels (i.e. Phase detection)
Weight: 177g
Dimensions: 143.6 x 70.9 x 7.7mm
Storage: 64/256/512GB
This is the camera phone everyone's been waiting for. Although, it only reached number three on our list of 12. Firstly, the extra money you'll drop on the XS doesn't necessarily mean a better experience.
This is the best iPhone to be released, and it obviously has a lot of intent with its sleek design. Futuristic in fact. It is a 5.8-inch device that looks great in the hand and works well as a camera phone.
The primary camera is a powerful dual 12MP system, hitting the f/1.8 and f/2.4 apertures respectively. Both feature optical image stabilization, ensuring impressive shots with natural colors.
A telephoto sensor comes with the second camera, allowing detail at a further distance. Actually, further than the others on our list. The new sensor has 1.4µm pixels and is now twice the speed of its predecessor.
All this mixed with the new Smart HDR and Depth Control means it is money well spent.
Samsung Galaxy S10 Plus
Release date: March 2019
Rear cameras: 12MP (Wide Angle Lens, f/1.5, OIS), 16MP (Ultra Wide Angle Lens, f/2.2), 12MP (Telephoto, f/2.4, OIS)
Front camera: 10MP
OIS: Yes
Weight: 175 g
Dimensions: 157.6 x 74.1 x 7.8mm
Storage: 128/512/1024GB
The Samsung Galaxy S10 Plus is a behemoth. It's big, and some find it slippery to hold. In terms of everything else, the S-Series from Samsung has always been in the top areas of lists for its camera quality.
On the rear are three cameras. Some find this lacking compared to the quad-camera phones you can get nowadays. But, as a wide/ultrawide/telephoto combo, there is not much you can't do.
Don't be put off by the 12MP primary lens. The 48MP cameras record in 10/12MP in real-world shooting. We do like the 4Kvideo mode, and it comes with digital video stabilization.
There is even HDR10+ support, allowing you to show off ultra-high contrast video on compatible television sets.
Huawei P30 Pro
Release date: April 2019
Rear cameras: 40MP (Wide Angle Lens, f/1.6, OIS), 20MP (Ultra Wide Angle Lens, f/2.2), 8MP (Telephoto, f/3.4, OIS)
Front camera: 32MP
OIS: Yes
Weight: 192 g
Dimensions: 158 x 73.4 x 8.4 mm
Storage: 128/256/512 GB
The number one spot is taken by the Huawei P30, and it comes with no surprise. It's one of the newest camera phones to be released, even amidst the tricky situation Huawei have found themselves in.
Politics aside, this is the best camera phone on the market. It has it all – amazing low-light photography, crazy 5x optical zoom and power specs under the hood. All these give it an expensive price tag.
For all those photographers out there, the cameras come from Leica – who needs no introduction. There are four of them on the rear, one of which is a time of Flight sensor.
This allows for gesture recognition amongst other things, making the depth sensing on this camera phone unbelievable. Of course, the screen isn't as good as it could be, but you can't have everything.
For serious photographers and those who can afford it – there is no better.