Are you looking for a GoPro alternative? "GoPro" has become synonymous with "action camera." That reflects a simple truth. GoPro pretty much invented the action camera in the modern digital age.
Imitation is the sincerest form of flattery, of course. And many GoPro alternatives have followed GoPro's lead. The range is now quite dizzying. Some have redefined the action camera.
It's a tough and varied field. Our top pick for an alternative action camera has a unique modular design, 8x slow motion at full HD, and great image stabilization.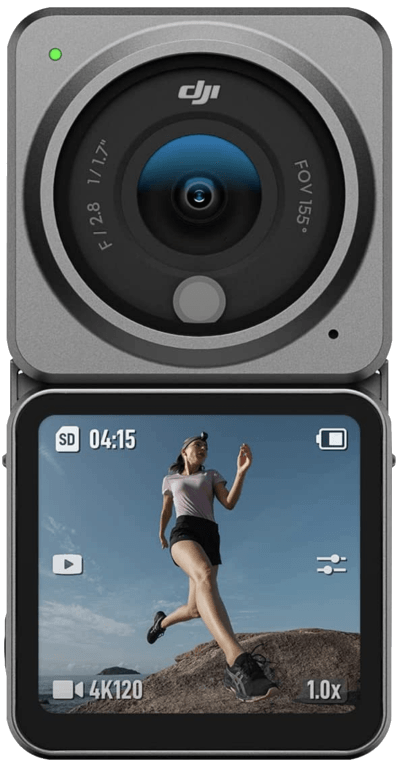 Capture stunning action shots with this state-of-the-art camera, perfect for any outdoor adventure.
Buy from Amazon
[Note: ExpertPhotography is supported by readers. Product links on ExpertPhotography are referral links. If you use one of these and buy something, we make a little bit of money. Need more info? See how it all works here.]
What Is the Best GoPro Alternative in 2022?
We've put together a great collection of alternative action cameras. Before we look in detail at why we like them, here's a summary,
And now, starting with our overall top pick, here are the in-depth looks at each camera.
1. DJI Action 2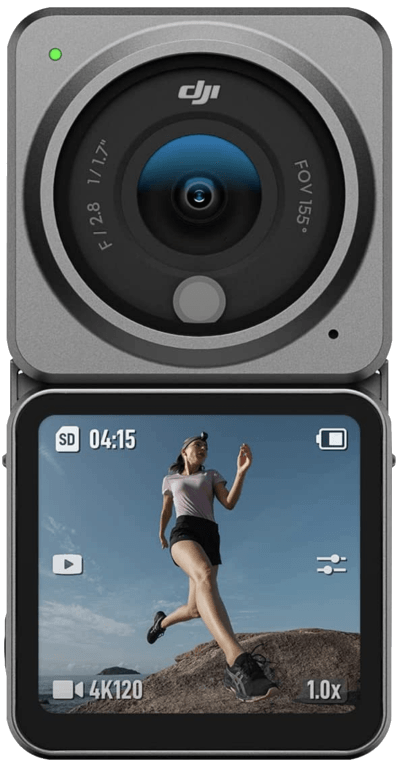 Time-Lapse Built In
In-body Stabilization
Electronic Image Stabalization
Best For
Users needing flexible mounting options
The DJI Action 2 takes an innovative approach to creating an action cam. And the results are interesting and largely successful. It is definitely pitched head-to-head with GoPro in the battle for a premium action camera. The DJI Action 2 is modular and the main camera is a small cube.
DJI makes the most of this modular capability. You can add a battery module for extended power. Or a front screen module for selfies or talking to the camera. You connect these to the camera magnetically.
Magnets are also the key to a range of mounting options. A lanyard allows you to clip the camera to your clothes, and there are headbands, ball joints, and mount adapters. Perhaps only the Insta360 Go 2 is as flexible.
The DJI Action 2 does not compromise on image quality. You can get amazing slow-motion shots in 4K at up to 120 fps. The image stabilization is consistently impressive. The horizon lock keeps everything steady.
Choosing between this and the GoPro Hero11 Black depends on personal preference.
2. Insta360 GO 2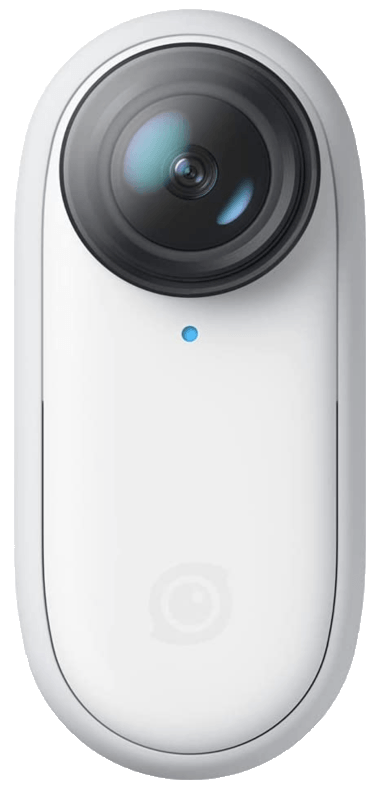 Max Video Resolution
Full HD
Time-Lapse Built In
In-body Stabilization
Electronic Image Stabalization
Best For
Anyone looking for a small, adaptable action cam
The Insta360 GO 2 looks nothing like a GoPro. There is no screen and no 4K. So how can it be more expensive than the cheapest GoPro camera?
Well, the Insta360 Go 2 actually makes a GoPro look chunky and awkward to carry around. The tiny camera comes with a charging case. It's sleek and fits easily in your pocket. It has two built-in legs so it can lean back and film on any flat surface.
It also contains a small status screen and remote control buttons so that you can control the camera from up to 33′ (10 m) away. As if that wasn't enough, the case has a standard tripod mount, meaning you can mount it in various ways. A pivot mount with a reusable sticky pad sticks the camera to pretty much any flat surface.
All in all, the rapid versatility sets the GO 2 apart from all the cameras we have seen so far. But you have to weigh the lack of 4K video and consider how important that is for you.
The image quality is good. Image stabilization is impressive and horizon lock means your viewers won't get vertigo from watching your footage. It's cool to watch. This is one of the most versatile and well-thought-out GoPro alternatives around.
3. Akaso EK7000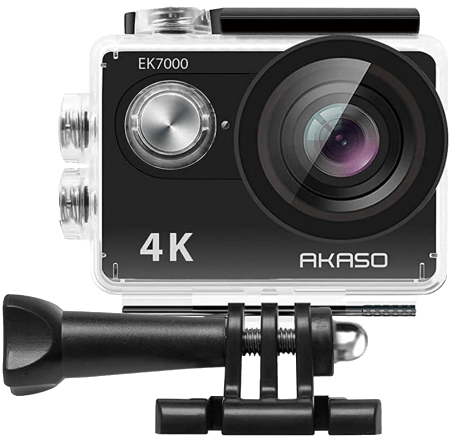 Time-Lapse Built In
In-body Stabilization
Unspecified
Best For
First-timers not wanting to commit a large budget
The Akaso EK7000 would be a great GoPro alternative for someone who wanted to try one out without committing large amounts of money. Or if you were filming something and there was a chance you might lose the camera. Then the Akaso would be perfect.
It has a 170-degree viewing angle, films up to 4K at 25 fps, and has a maximum resolution of 16 MP for still photographs. Using image stabilization will crop the viewing angle a little.
Video quality is what you hope for in a cheap GoPro alternative. It is a cheap action camera that you can use underwater and will capture reasonably good video and still photos. If a low price is your main consideration, then it is a passable introduction to the world of action camera photography.
4. Akaso V50X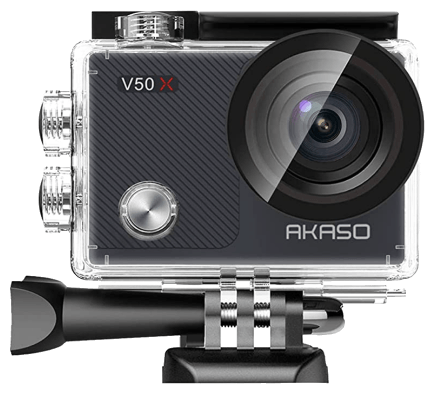 Time-Lapse Built In
In-body Stabilization
Gyro Stabilization
Best For
Users wanting an old-style action camera at a decent price
The Akaso V50X improves on several aspects of the EK7000. The touchscreen is more responsive. The field of view adjusts to 70, 110, 140, and 170 degrees. Image stabilization is also significantly better.
The video quality on this GoPro alternative is less punchy than its more famous inspiration. GoPro video tends to be quite contrasty, giving it a recognizable GoPro "look." The Akaso is slightly flatter. This might be more to your taste. It does mean that there are places where the video is less likely to blow out in the highlights.
Slow-motion footage is pretty impressive at this price point. Low-light photography (which is always a problem with small sensors) is not as good here as with the HERO8. The latter has a low-light mode which reduces noise and increases sharpness. The V50X can't match this, but it is significantly cheaper.
This is still a good choice if budget is your main factor. If you can stretch to it, compared with the EK7000, then it's worth the extra cash. It outperforms the cheaper stablemate across all the important factors.
5. Akaso Brave 7 LE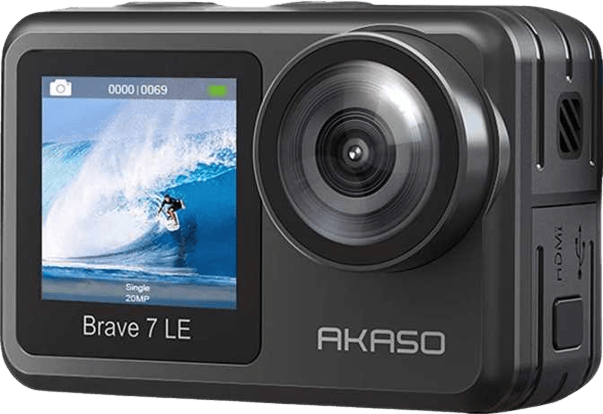 Time-Lapse Built In
In-body Stabilization
Electronic Image Stabalization
Best For
Photographers wanting a mid-range, well-specced camera
The last and most expensive Akaso GoPro alternative is the Brave 7 LE. GoPros are heroes, and Akasos are brave. The Brave 7 LE has some notable improvements over the V50X. The most obvious is that the Brave 7LE has a front screen. This makes a big difference for action camera users.
Image stabilization performance is better, although it still has the crop factor. There is some waterproofing built into the main camera. It won't mind getting splashed, and you can submerge it in water. Remember, though, that depth ratings are for static situations. If you dive into a 10′ pool, your camera needs more than a 10′ rating.
As with all the Akaso cameras in this review, the Brave 7 LE comes with an impressive number of accessories. Waterproof housing, lots of different mounts, and a dual battery charger—with two batteries! It also has a standard tripod mount on the body.
Image quality leans more toward the GoPro look than the other Akaso cameras here. It's not quite as punchy, but blacks are much more compressed. Detail retention in shadows is still good. And there's no significant problem with blown-out highlights.
In a side-by-side test with a GoPro HERO9, the GoPro outperforms on most metrics. But they are in very different price brackets. The Akaso Brave 7 LE is perhaps the one Akaso camera you can recommend without emphasizing "for the money" at the end. This makes it one of the best GoPro alternatives in this review.
6. Insta360 ONE RS Twin Edition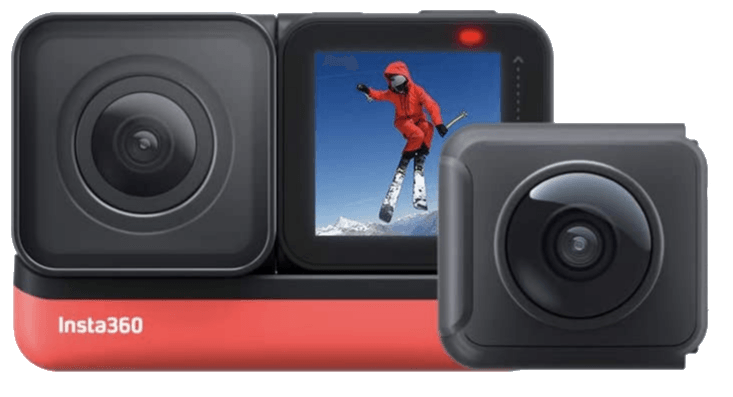 Time-Lapse Built In
In-body Stabilization
Gyro Stabilization
Best For
Anyone wanting 360-degree capability
The Insta 360 ONE really is a fresh approach to the GoPro alternative. It's a modular camera. There's the ONE RS Core, a cube that is the heart of the camera, with a screen on one side.
You can add the 4K boost lens. Or you can choose the 5.7K 360 lens for 360-degree shooting. Or there's the 5.3K 1-inch lens made by Leica. This has the largest sensor of any action camera.
All these modules lock together rather cleverly. This gives probably unmatched flexibility in any single camera.
Every camera reviewed so far has fallen short of GoPro's highly-regarded IS system. With the Insta360, the maximum stabilization is arguably as good as the GoPro HERO10. It doesn't have the same flexibility, though.
It's high praise for the Insta360 ONE that it is often put up against the HERO10 for comparison. In its 4K edition, it is significantly cheaper than the GoPro. For a little bit more than the GoPro, you can add the 360-degree lens for amazing video footage.
With the "invisible selfie stick," the camera appears to be hovering above your head or traveling alongside you. You can reframe the footage after shooting to give some striking effects.
I think that video quality, slow-motion quality, and some of the time-lapse capabilities are better on the HERO10. But the Insta360 ONE is close enough to make it very tempting as a high-quality alternative to a GoPro.
7. DJI Pocket 2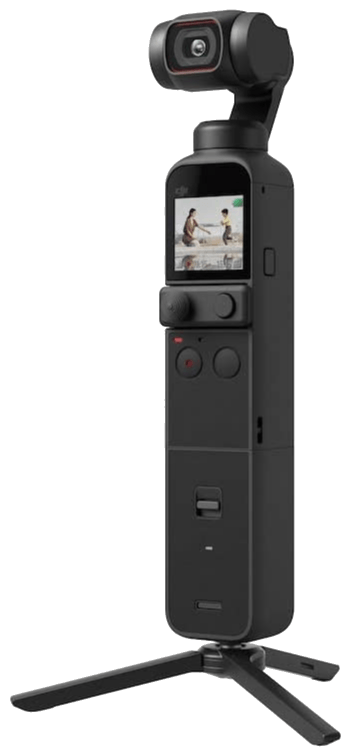 Time-Lapse Built In
In-body Stabilization
Motorised Gimbal Stabilization
Best For
Walk-and-talk vloggers
As you can see from the above specifications, the DJI Pocket 2 has the most-impressive camera specs. But it doesn't have waterproofing. Is it even an action camera? Well, I think it depends on what you want. If you're kayaking or dirt biking, probably not. But many GoPro alternatives get used because of their compact size and image stabilization. The DJI Pocket 2 could often be a good choice.
First of all, stabilization causes no loss of image quality here. That's because it's mechanical—via a gimbal—not electronic. Secondly, it has a big sensor, and the quality of the video and stills captured is high. Slow-motion footage is shot at 240 fps, which is better than anything else we've seen so far.
Combining pre-timed panning with time-lapse video produces some stunning results. Creators looking for a simple walk-and-talk camera will find the Pocket 2 an excellent choice. The reliable stabilization and video quality are added bonuses.
8. Olympus Tough TG-6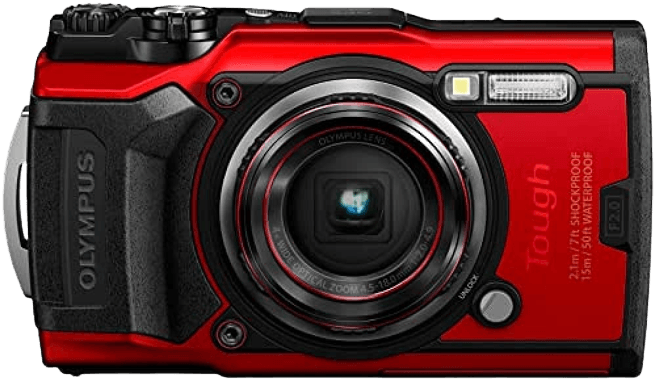 Time-Lapse Built In
In-body Stabilization
Sensor-Shift
Best For
Underwater photographers
The Olympus Tough TG-6 is a different beast. Compared with all the other GoPro alternatives, it is indeed a beast. I include it here for those who might want an action camera mainly for its waterproof credentials. (Even though the case is sold separately.) The TG-6 is mainly an underwater camera. It's designed to be tough out of the water, but it's optimized for use in the water.
The quality of video and still photos from the Olympus is as you would expect from a major manufacturer. Underwater photographers particularly like the macro and microscope modes. The quality of the pictures is amazing.
Olympus has been making compact cameras since the 35mm 1/2 frame Pen in 1959. So they know a thing or two about it. The Tough TG-6 is a refinement of the highly rated TG-5. It is easier to use, with quicker access to macro and microscope photos.
The TG-6 fits neatly between compact action cameras and big specialist DSLR underwater rigs. If underwater is your thing, this is well worth considering.
What Should You Look for in an Action Camera?
The best GoPro alternatives will perform strongly in all of these areas.
Ruggedness
Action cameras have to withstand treatment that would destroy a normal camera. Your action camera laughs at The Four Horsemen of the DSLR Apocalypse—water, dust, grit, and shocks.
The best GoPro alternatives rely on the main body for waterproofing, dust, and shock resistance. In many cases, this does still leave the lens vulnerable. Especially because the wide-angle lenses used often protrude from the camera body.
Waterproofing
Action cameras vary in their resistance to water. Some have a watertight body for limited proofing but need an external housing to go deeper.
Image Stabilization
There's a point where shaky camera work ceases to emphasize the action and starts to become tiresome. Electronic image stabilization (IS) is an important consideration in choosing a GoPro alternative. Unless you want a Cinéma vérité feel to your bungee jump, you will need in-camera IS. The best GoPro alternatives will also offer some form of horizon leveling.
Viewing Angle
One key aspect of that GoPro "look" is the wide viewing angle. A very wide-angle lens allows you to capture all the action without worrying about framing the shot. After all, your attention is likely to be elsewhere. A feature to look out for is adjustable "digital" lenses. Basically, the digital cropping of an image allows a tighter composition. This is possible nowadays because cameras record in at least 4K.
Image Resolution
Action cameras need to be good at both video and still photography. Perhaps video is more important. Many allow you to capture high-resolution stills from video footage. When choosing a GoPro alternative, it's important that you don't compromise image quality.
Sound
Flexibility in recording sound is important. My recent review of microphone attachments for action cameras talks you through the options for improving the sound of your video. Poor sound is more likely to ruin your video than anything else. It's worth it to have external microphone connectivity on your GoPro alternative.
Other Considerations
There are so many features to look out for. Keep your eyes open for:
Battery life
Remote control or voice control
Face or smile recognition
Front screen
Time-lapse
Conclusion
The competition in this sector is good news for the consumer. It has led to some exciting innovations. At the top end of the scale, the quality and features of the best GoPro alternatives are quite something.
There is more good news. Less sophisticated cameras are competitive at the cheaper end of the price scale. None of the cameras in this review is a poor performer. This means you can find a good GoPro alternative with solid features that won't break the bank.
If you're not completely sure about an action camera, or your budget is really tight, then you can't go too far wrong with the Akaso EK7000 Pro. It will give you footage your normal camera or phone can't.
If you're looking for a top-quality GoPro alternative, then the DJI Action 2 is a great choice. It has an impressive range of features. It performs at an excellent level and has flexibility that sets it apart.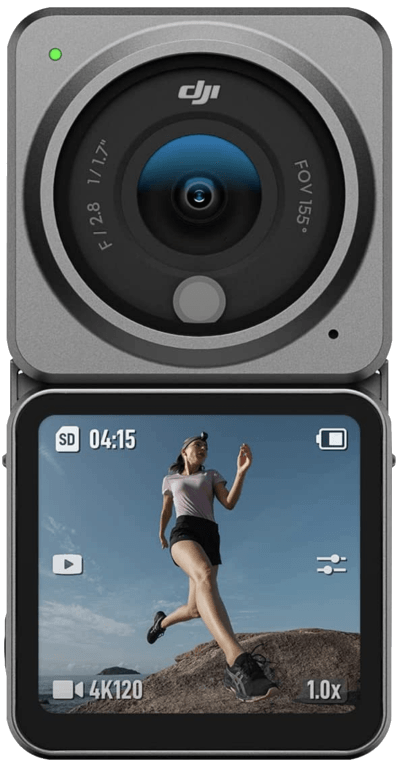 Capture stunning action shots with this state-of-the-art camera, perfect for any outdoor adventure.
Buy from Amazon
Check out our Total Time-Lapse course to get amazing time-lapse videos from any of these action cameras!