360 cameras are becoming all the rage. 360 cameras are no longer exclusive to expensive productions. The 360 camera is now consumer-grade, and many brands are rushing to develop their own version.
But not all 360 cameras are equal. The brand new Insta360 One R Action Camera aims to be a step up above the rest by being a fully modular system. Quite a unique feature!

[Note: ExpertPhotography is supported by readers. Product links on ExpertPhotography are referral links. If you use one of these and buy something, we make a little bit of money. Need more info? See how it all works here.]
Insta360 One R Specifications
The Insta360 One R Action Camera specifications are drool-worthy for the sports videographer.
The base camera model has FlowState stabilization, Insta360's patented technology. This smooths out bumpy footage and makes it watchable. This works due to an internal 6-axis gyroscope.
The camera is also waterproof at up to 5 meters without protective housing. It has an auto frame mode that allows the camera to track a subject throughout your capture, voice control for hands-free control, a HDR mode, night shot for low light captures, slow motion and hyperlapse modes, and a reversible touch screen. RAW photo mode is also available.
The still photo resolution sits at larger than 3000 pixels, which is a great resolution for action cameras!
The video resolution can shoot at up to 100 frames-per-second depending on the mode, which is mind-boggling.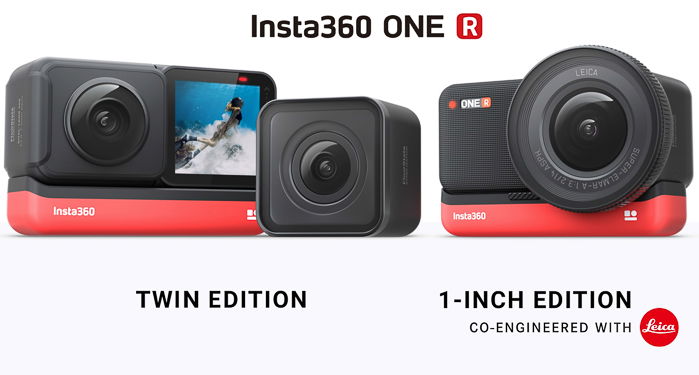 The Twin Edition tends to catch most peoples eye. This version includes two camera lenses, the 4k Wide Angle Lens and the Dual-Lens 5.7k 360 lens. The wide-angle lens features an aperture of F/2.8, and the 360 has an aperture of F/2.0. Nice for low light captures and good subject separation.
Then there is the One Inch Edition. This one features a 14mm lens at F/3.2, ultra-wide-angle. This lens is a collaborate with Leica and features Leica glass.
There are other packages, such as the Trio Editing. This features all three lenses, and also includes accessories and housing for drones, underwater, and more.
Build
When this camera is put together, it appears to be a typical small action camera. Upon closer inspection is when you notice that all the components come apart! Taking the elements apart and putting them back together is quite satisfying.
Unlike a traditional DSLR or mirrorless camera that requires a twist and lock, these pieces just pop into place. A bit like a Lego. The downside is that you have to disconnect from the battery to swap the components, so it's not as instantaneous as it sounds. The One Inch Edition requires you to take off the front cover too.
The physical build itself is sturdy and feels like it can handle a lot. You never want a sports camera to feel flimsy. That said, the locking mechanism does not seem very sturdy, although it has not yet fallen off yet.
Shock and water resistance is a must-have in a camera like this. The One R delivers on both of those fronts. It is waterproof up to 5 meters, but divers should still look into a water housing just in case.
This 360 camera is sized at 72mm by 48mm x 43mm on average, but size does change a bit depending on the attached lenses. The screen is a 1.3-inch square display, a bit small for everything you need to use it for. That said, pocket-size and modular ability may be worthwhile for the screen size sacrifice.
There are tactile buttons for ease of use located at the top of the screen cube. The buttons are large and easy to find!
Overall Thoughts
Competitors
GoPro is this camera's biggest competitor in regard to quality. The cameras are quite different, but the end result is comparable. The exposure, when set to auto, was very accurate (A+ to the great sensors!), but the detail was lacking in certain instances. Footage of grass, for example, rendered fuzzy in comparison to the Hero8 in which the detail is sharp and fine.
Advantages
However, this camera really leads the pack with its resolution. It is able to capture in over 5k! Improvements in color rendering, contrast, and depth are immediately noticeable when set to this mode. This also allows for more detailed editing and post-processing. The higher resolution equals more control over color grading and cropping.
The image stabilisation system is also quite nifty. It utilises a 6-axis gyroscope versus 3 to a maximum of 5 axis in other cameras. There is a slight distortion in the ultra-wide-angle shots right at the very corners, but it really was a reach to find this. As a pixel peeper, I noticed. The majority of the world would not.
The AI tracking is something of sheer beauty. You can use this feature during footage and post-footage! You can track a subject after capturing the footage and have the application re-frame. That's something really amazing and a must-have for action content creators.
Downsides
I found the use to be a bit more difficult than I expected. It can be intuitive if you memorise the various gestures required to operate the camera. Swipes up, down, left, and right open up various menus and options. I still don't believe I found everything I was looking for with limited use, unlike other brands, in which it was fairly easy to set up in a few moments.
Although battery life is rated for 65 minutes, I could average an actual battery life of 45 minutes. The screen being on at all times will drain the battery rather quickly.
For the vloggers, there is no dedicated microphone output, but you can buy a USB-C compatible one and use that.
Pros
Modular system with multiple cameras in one. Build it up to what you need!
Amazing video resolution.
Great collaborations with Leica and Adobe for high quality work.
A slew of incredible features and modes.
Exceptional image stabilization system.
Small and compact.
Cons
Pricey. 

Changing lenses requires disassembling the whole system, not so practical in the field. 

Small screen. 

Has some sharpness issues when compared to competitors.

Not as intuitive menu. 
Conclusion
In conclusion, what's better? The GoPro Hero 8, or the Insta360 One R?
The answer is really in what you plan on using it for. This camera tends to combine the best of all worlds due to its ability to swap lenses and screen. The modular build leaves the door wide open for some cool adapters and accessories as well. You are able to build this camera into whatever you need it to be!
However, its price point is very steep in comparison to competitors, and the still image quality may not be up to par in relation. There is some detail loss, and the colors are not as punchy. That said, the collaboration with Adobe helps to relieve this downside with program add-ons and post processing-features.
The video quality is a different story. It has excellent stabilization and exceptional video resolution.
If you don't plan on taking still images, and the cost is not too much of a factor, the Insta360 One R is a good choice.