If you're capturing adventure or action photography, you need a camera that fits the setting. GoPro photography is a great way to record moving subjects, even if you are that subject.
Here we look at what makes GoPro photos look good. You'll find GoPro photography tips and tricks, especially useful if you're not used to capturing with GoPro cameras.
Stability And Versatility
Joby GorillaPod Action Camera Tripod
Take your GoPro photography to the next level with a versatile, lightweight, and easy-to-use tripod. Get stable shots, precise control, and secure mounting with this essential accessory.
GoPro Photography
Chances are if you're looking at GoPro photography tips and articles like ours, you are looking to buy a GoPro. Or, you want to understand how to use a GoPro to take awesome photos and action shots.
With a GoPro or similar action photography camera, it is relatively simple to capture great photos. These cameras are easy to use and can be configured in many different ways, depending on what you want to shoot.
What Is a GoPro?
A GoPro camera was an institutional digital camera system when it was first released back in 2006. The GoPro HERO was able to capture video in 10-second segments. No audio, just visual.
13 years later, and we have the GoPro HERO 8. It offers 4K video at 60 fps from a 12MP sensor and HyperSmooth video stabilization. You can record and shoot GoPro photos in many different ways. You can even take underwater shots.
It measures a mere 1.1 x 1.9 x 2.6 inches ( 2.8 x 4.8 x 6.6 cm) and weighs 4.5 ounces (126 grammes). There are many features, such as voice-activated control for capturing images.
What makes this camera special is its angle of view. The wide-angle on GoPro cameras are 170° wide, giving it a unique look.
What Makes a GoPro a Great Action Camera?
There are many reasons why a GoPro makes a great action camera. Firstly, its size. It's a tiny machine with many features that are specifically for adventure or action photography.
The best parts are the LCD screen for framing and its waterproof body. There are Wi-Fi and Bluetooth connections available, allowing you to use your phone to frame and capture your GoPro photos.
This is really handy when the GoPro is mounted to your chest, helmet, bag, bike, snowmobile or kite.
It is a versatile machine. Small enough to place anywhere, especially as you have GoPro and third-party mounts available readily. There are many modes that you can use to capture awesome GoPro photography.
GoPro's feature burst rates that capture 30 shots in one go. This can be configured at different intervals. Two images every second is possible, where others find a bigger benefit with something faster, such as 30 images in 3 seconds.
With this, you can capture snowboard jumps, and hopefully, landings.
GoPro Photography Tips
Bring Extra Batteries
This should go without saying. GoPros are action cameras, meaning that the majority of its users are going to be using them in the field.
Being away from home means less access to electricity. Having less electricity will make charging your GoPro batteries a tad difficult. that is unless you have a solar charger and power bank.
The GoPro can run for two hours in continuous use. This is enough for a short stint on the slopes. Having extra batteries means you can charge them when the others are in use, and Vise Versa.
Framing and Composition in GoPro Photography
As with any area of photography, framing and composition are key. It is perhaps more important due to the small size of the GoPro camera and its wide-angle field of view.
What makes it more difficult, is that some of the earlier models don't have an LCD screen. You need to wing it or use your smartphone through Wi-Fi connectivity to see where you are shooting.
If you don't have a compatible model, or it ran out of juice, you are on your own.
Plan and Plan Some More
All good photography comes from planning your shot. Of course, you can grab great GoPro pictures from an off-the-cuff shot, but they are less likely.
Whether you are a travel photographer, action and adventure photographer or just like to capture moments, a little planning goes a long way.
You might not know every facet of the location you are aiming for. But, you will know something. So use that knowledge in setting up an idea to try. Then you can research how to do the shot before you get to the 5G-less jungle.
Get Out of the Box
Your GoPro photography style is important. This is something that sets you apart from all the other photographers taking similar GoPro photos in common areas.
Many people are going to use GoPro cameras while they ski. But how are you going to show your images are different, and therefore better? They need to stand out.
One of our top GoPro photography tips is that originality is important. Especially as there are more and more people capturing images. There are no new places.
You need to show the same places in a different light. Change your perspective. Go down low, or high up, and try something new.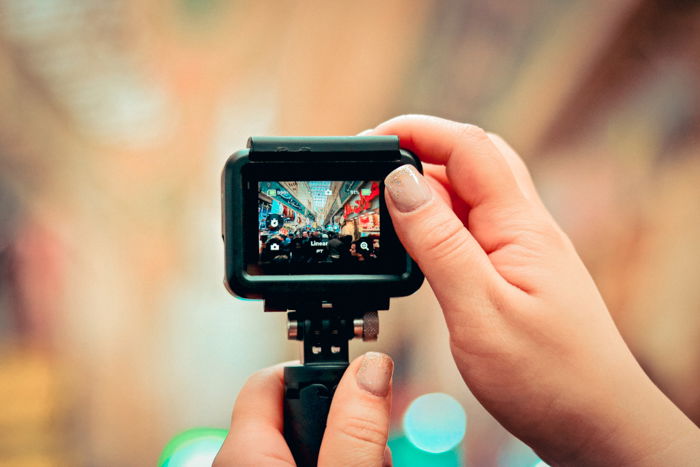 Make It Burst
Burst shooting is another way of looking at capturing a scene continuously. This is something best used for moving subjects.
The subject can be someone in front of the camera. Or it could be you, holding the GoPro, where the scenery is moving like the background of a Scooby-Doo cartoon.
The GoPro excels in continuous shooting. With the GoPro HERO 8, you get 3, 5, 10 and 30fps with burst options of 1, 3, 6 and 10 seconds. Imagine capturing 30 images in 3 seconds.
Not only does burst mode give you a pretty cool gif, but allows you 30 choices to choose the best shot.
Forget Midday
Midday is terrible. The sun is at its highest point in the sky, meaning it sucks out all the colors you could capture at different times of the day. Here you get white, which might not be the best for your GoPro photography.
By going for sunrise or sunset, you get the golden and blue hours respectively. If you see mountains, you also have a chance to shoot the alpenglow effect.
On top of that, the shadows are at their smallest. This means less chance of adding them for a powerful effect. Plus, you miss the golden color you could get at earlier or later times in the day.
If you insist on the midday-shoot, then use filters to aid the situation. A neutral density filter will work wonders, and a UV filter will add contrast and sharpness by removing haze.
The Little Extras
The best thing about GoPro photography is there are a lot of extras. By this I mean accessories. There is a capture watch you can use, so you don't have to search for the capture button while skydiving over the Grand Canyon.
There are clamps that act like a tripod, making it easy to attach and remove in a jiffy. Tripods such as the Joby GorillaPod hold it still without being over the top and excessive in the weight department.
I personally like the Floatex case. Not only is it orange, and it sticks out like a sore thumb. But it also floats, meaning your GoPro is easier to pick out of the water.
Familiarise Yourself
You more you shoot with a GoPro, the easier it will get. The more practice you get, the more awesome and amazing your images will be.
My first GoPro cam was a little strange to use from the get-go. The wide-angle was something I wasn't used to. After a little use, I was able to set up the GoPros in many locations, with a good idea of the scene.
I got used to it so well, I could tell where it needed to be pointed and at which angle. This was handy when experiencing connection problems.
Knowing where the settings are and how to get to them means you can capture great images without seeing a screen. Just in case the worst happens, you understand. Nothing scarier than a dead battery.
Common GoPro Photography Questions
Is GoPro Good for Photos?
Yes and no, it all depends on what you want to capture with it. I have a GoPro which I use for band and live music photography and video. It suits my needs, due to the wide-angle lens, Wi-Fi connectivity and small size.
It comes with a waterproof case, making it possible to film and capture underwater. The other great thing about these small action cameras is the burst mode and automatic shooting.
These things make it great for timelapse photography. It is a vloggers dream, making it great for sports and action photography, and allowing it to stick to almost anything.
But, there are compromises. The wide-angle is too wide for some uses and users. I don't like to use it for simple shots of the family, or street photography.
If you have a model without the LCD screen, you'll need to use your phone or guesstimate. The quality can be a letdown, and shooting in low light is moderate. It will blow out highlights if you're not careful.
For some people, a DSLR or mirrorless is not practical. For one, you can't connect them to your head, chest or BMX rail. A GoPro can be jammed on the end of a ski pole without adding much extra weight.
This camera gets to go where other cameras can't. So, it turns into a question of Do you want the shot or not? With the GoPro HERO 8, the quality is great and is expected from the 12MP camera.
Burst mode is great for capturing a succession of shots. I don't know any other camera that can capture 30 images in 3 seconds, for example.
Which Is Better GoPro or DSLR?
A DLSR is better than a GoPro in many ways, but they aren't exactly comparable. DLSRs have a huge amount of research, development, and due to the number of companies around, healthy competition.
Not surprisingly, a DSLR camera can capture well above 30MP resolution images. GoPros have a maximum resolution of 12MP. You'll get more tonal range and detail in the former camera.
Video is possible across both types of camera, however, DSLRs can't hit the 240 fps that a GoPro can in Slo-mo mode. They both capture 4K video with a bunch of different settings, speeds, and resolutions.
The biggest advantage that DSLRs have over GoPros is the chance to change lenses. If you have enough disposable income, you can cover all focal lengths and field of views.
With the GoPro models, you get to choose between four sizes; SuperView, Wide, Linear, Narrow. You also get a better burst rate. 3, 5, 10 and 30fps are possible with burst options of 1, 3, 6 and 10 seconds.
The GoPro is waterproof without a case up to 10m. DSLRs are lucky if they are weather-resistant, meaning anything more than a slight drizzle will have you running for home.
DSLRs are heavy and cumbersome. GoPro cameras are not. GoPros can work from your phone, much like a drone can. Yet, DSLRs still have a problem with simplifying the connection between devices.
If you're looking to capture Raw images for editing purposes, both utilize this file format. But, GoPro doesn't use it for every one of their burst modes.
So, it's down to the subject matter and the user. For a well-performed portrait picture with stunning bokeh and a rich tonal range, go for a DSLR.
If you want to capture a selfie while hurling down the slope, go for the GoPro.
How Do You Take a Good Selfie With a GoPro?
There are two ways you can hold a GoPro for a good selfie with a GoPro. Firstly, due to its wide-angle, you can handhold the camera and shoot at arm's length. For even wider shots, you can use a selfie stick.
Having someone double-check the scene is a huge benefit. This can be done on your mobile or on the LCD screen on the back. For smartphone connectivity, you can set up a Wi-Fi connection.
After the camera is set and framed for the environment, set up your subjects. Tell people to gather around you, with you in the center. That way, you have more control over where people are.
Use the Multi-shot/Photo time-lapse mode on the camera. This setting will give you an image every 0.5 seconds, giving you plenty to choose from. There is at least one blinker in each group shot.
By using this, you can slightly change the setting with each shot by slightly moving the camera as it shoots. Face the sun so you are all equally well lit.
Why not check our posts on taking unique photos or pursuing photography as a hobby next!
Stability And Versatility
Joby GorillaPod Action Camera Tripod
Take your GoPro photography to the next level with a versatile, lightweight, and easy-to-use tripod. Get stable shots, precise control, and secure mounting with this essential accessory.