Sport is a dominant force in people's lives. It's an obsession for millions all over the world. They watch events on TV, fill stadiums, and lace up their boots to play. From football to table tennis, we all love sports.
Sports photography is an essential element of our sporting culture. Sports photographers capture the biggest moments and document the most famous sports stars.
Sports photography isn't easy. Much like sport, it takes skill, knowledge, and practice to master. Expert Photography will give you all the skills and knowledge you need to master sports photography. Then you just need to practice.
eBooks and Courses for Everyone
What Is Sports Photography?
Sports photography is the art of documenting sports, athletic activities, and athletes. The photographers stand on the sidelines, capturing the action as it unfolds on the pitch, court, or track.
Sports photography is big business. And the photos are used in newspapers, magazines, and online publications. They fill the back pages of national newspapers. And popular sports like football have dedicated publications that are filled with excellent sports photographs.
Sports photography keeps people connected to the sports they love. Most people can't go to every live game, so they need a way of keeping up to date. The work of sports photographers keeps them in touch.
Sports photography creates timeless, iconic images. Certain sporting events become more than just a game. Some moments are true historical events, part of the fabric of our popular culture.
Sports aren't scripted. And you get no retakes. The action is live, and the photographer has to be ready with their camera. Sports photography is about knowing the sport and being alert during the event.
Other areas of sports photography are more planned and choreographed. Photoshoots for sports brands or athletes follow a similar process to fashion and portrait photography. And many coaches and trainers use social media for marketing and business.
Many sports photographers are freelancers, while others work for publications. Some photographers will cover many sporting events, from the Olympics to a Formula One Grand Prix. Other photographers dedicate themselves to one particular sport. And that could be anything from football to surfing.
It might be pointing out the obvious to say that these photographers love sports. And the best sports photographers let their passion shine through in their work. They use their photography to pass on their passion to the viewer.
Sports photographers are a dedicated breed. You'll see them on the sidelines, camera in hand. And they'll be taking pictures in the sun, rain, or snow. They follow teams around the world. And they push the limits to get the best shots.
Check out our list of the best sports photographers to follow today in the link above. It's the best place for sports photography inspiration.
Camera Equipment for Sports Photography
Sport is fast-paced and action-packed. There are many blink-and-you-miss-it moments during a sporting event, so you need to be ready. You need to know the sport. But you also need the right equipment for sports photography.
Choosing a camera is the right place to start for photographers. And a sports photographer needs a camera that can capture fast-moving subjects. That means you'll need a fast shutter speed and burst mode.
Sports photography gear also includes lenses that get you close to the action. Many photographers use telephoto lenses, as they have excellent magnification abilities. Tripods and monopods are also common accessories in the sports photographer's kitbag.
Shooting sports photography has unique requirements. Everything is moving quickly, and the athletes aren't going to stop and pose for a photo. You need to be ready, and so does your camera.
A fast shutter speed is essential in sports photography. If your shutter is too slow, your pictures will have motion blur. This could damage your image quality and your reputation as a professional photographer.
The burst mode is another specification to look for. You need a fast continuous shooting speed to capture the very time-sensitive moments. A fast burst lets you shoot moments of impact, like when boot hits ball or glove hits face.
DSLR cameras are popular among professional sports photographers. They're reliable machines that produce excellent quality images.
Like in many other areas of photography, mirrorless cameras are becoming more popular. Mirrorless cameras have an electronic shutter. This allows for silent shooting and faster burst speeds. These are both beneficial features for a sports photographer.
Click the link above for our list of the best cameras for sports photography.
Some sports require different lenses. Photographers are restricted to designated areas at some sporting events. This means they can't always get as close as they'd like. And they certainly can't go on the court or field.
A telephoto lens is what you need to get close to the action. Telephotos have excellent magnification, so you can get tight shots without stepping over the line.
A zoom lens is also handy in these situations. They give you more versatility than a prime lens. You can change the focal length when the action is closer or further away. You won't have to waste time changing lenses.
Some sports photographers do use prime lenses. They produce excellent quality images, just as long as you're close enough. Fisheye lenses are also popular with skateboarding and surf photographers.
For more information on the best lenses for sports photography, click the link above.
Stability is at a premium when shooting at live sporting events. And you might have your camera in your hands for hours on end, which can lead to fatigue. Tripods and monopods give you the support you need when you're on the job.
Tripods are excellent if you're staying in one place for a long time. The stability they provide gives you more freedom with your exposure options. You can keep your ISO low while using a faster shutter speed and smaller aperture.
Tripods aren't always convenient for sports photographers. They need to follow the action, which often involves moving around. But if you still need help with stability, a monopod is the accessory you need.
A monopod gives you a stable platform to shoot from. You have more options with your camera settings. And you also have the freedom to move from place to place.
Click the link above to see our list of the best tripods and monopods.
You need to be prepared when covering sporting events. You have your camera body and lenses. But sports photography requires more equipment than that.
You'll need a tripod or monopod. But you might also need something to keep your gear dry if the weather turns bad. You'll need to take fantastic photos, rain or shine. And being prepared with the correct equipment is important.
You also need spare SD cards or external storage. You don't want to run out of space if the game goes into extra time.
The right camera bag is also essential. Expecting the unexpected is part of sports photography, so you need everything with you. You don't want to be caught off guard if the conditions change.
Winter sports need a photographer, just like summer sports. But photography in cold weather has a unique set of problems you need to overcome.
If your camera is made by a reputable manufacturer, you don't need to worry about quality. Canon, Nikon, and Sony make excellent cameras. But even high-grade machines have their limits when it comes to cold weather.
Cameras can freeze, and cold weather can damage the inner components. And battery life is reduced if your batteries get too cold.
When shooting winter sporting events, you'll be dealing with below-freezing temperatures. But the photography can't stop when it gets cold. A professional sports photographer needs to know how to cope when the temperature drops.
The article above has all the information you need on caring for your camera equipment in cold weather.
How to Photograph Sports
Capturing the sporting action isn't a walk in the park. You need the right equipment. But you also need to know how to use it for successful sports photography shots. In this type of high-paced professional photography, you need to be the master of your camera.
Don't worry if you're new to sports photography. You can take your time to get to know the settings on your camera. And you can cover several sporting events for practice. Like in sports, practice makes perfect.
Understanding your camera settings is vital for sports photography. You need to know how to get the best results. And you don't want to miss the action. The conditions can change at any moment, so you need to be able to adapt.
Shutter speed is the most important setting for sports photography. You need your shutter speed as fast as it will go. And if the lighting isn't great, you'll need to increase your ISO to compensate for the fast shutter.
Shutter priority mode is an excellent option for shooting sports. It's a semi-automatic mode where you and the camera share responsibility for the exposure. The camera takes care of the aperture and ISO. And you stay in control of your shutter speed.
Autofocus systems are excellent, too. They use phase detection to lock and track your subject as they move across the frame. Some advanced systems can even predict the subject's movement to increase focusing speed further.
Continuous focus modes are very beneficial for sports photographers. This mode constantly adjusts the focus to make sure your subject remains sharp. It's perfect for moving subjects like runners and cyclists. This mode is marked as AI Servo AF on Canon cameras and AF-C on Nikon cameras.
If you want more focusing tips for sports photography, click the link above.
Many sports are high-speed. Motor racing and cycling are very high-speed. Track athletes are pretty swift, too. And football players aren't exactly slowpokes.
You also have sports equipment moving around. A striker can hit a football with considerable power. And top tennis players can serve with a ball speed of over 120mph. These are often too quick for the naked eye, so you need a few tricks up your sleeve.
Read the full article at the link above for all the tricks to capturing high-speed photography.
Burst mode is an essential tool in the arsenal of a sports photographer. Even if you've got the fastest trigger finger in the west, you can't catch every moment.
The continuous shooting mode can help you capture the exact moment you need. It could be the point of impact between bat and ball. Or it could be a basketball player lifting off for a slam dunk.
The burst is the perfect tool. But you still need to master it for perfect shots. Timing is everything. And you can still miss the moment if you get it wrong.
For the full tutorial for perfectly-timed shots with burst mode, click the link above.
You don't always need the biggest and best professional camera. You can capture great sports action on your phone too.
Smartphone cameras are improving all the time. The image quality can rival many entry-level DSLR cameras. And now, iPhones have an excellent burst mode for fast-action photography.
It takes some patience and practice to perfect your action shots. But you'll be able to capture fantastic sports photos with the phone in your pocket. Click the link above for the full tutorial.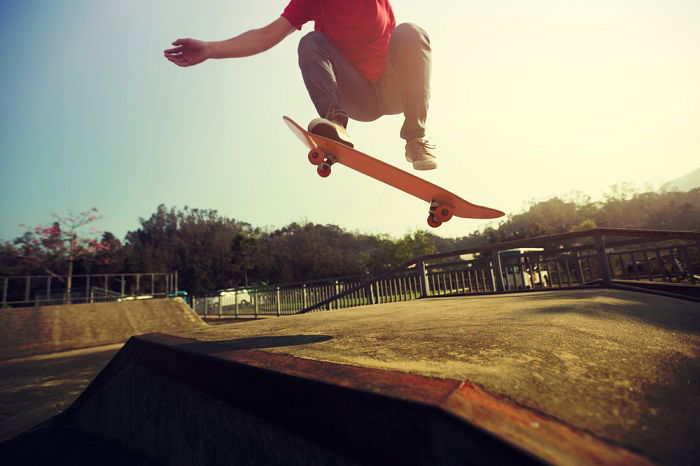 Usually, you want to keep motion blur to a minimum. And it's often considered a defect in a photo. But you can also use it as a cool effect in photography. Motion blur can add energy and movement to your images when used correctly.
You can create motion blur manually. Simply slow your shutter speed down when the subject is moving. You still want to avoid camera shake, so don't go below 1/125 sec.
You can also add motion blur when post-processing sports photography. It's a simple process if you have Adobe Photoshop.
See our full article on motion blur photography by clicking the link above.
GoPro is synonymous with action cameras. They're the market leader and trend-setter in the action camera league. And they're great for shooting action-packed sports photography.
A GoPro camera is small and lightweight, so you can attach it to helmets and handlebars. You can capture amazing POV shots and footage when you're the one in action.
Despite their small size, the image quality is excellent. And they have a wide-angle lens which works well for action photography. And GoPro cameras also have a burst mode, so you don't miss a thing.
Read the full article on GoPro photography by clicking the link above.
While camera movement is usually avoided, you can use it for a creative effect. It's another way of adding movement and energy to your sports photography.
Intentional camera movement (ICM) is where you move your camera during a long exposure. It creates a blurred effect in your image. It's not easy, as too much movement will turn your photo into one big blur. But when done well, it can look great.
If your subject is moving across your frame, you can track the subject with the camera by turning it. This will keep the subject in focus but blur everything around them.
You'll need the full tutorial to master ICM. Click the link above for all the information.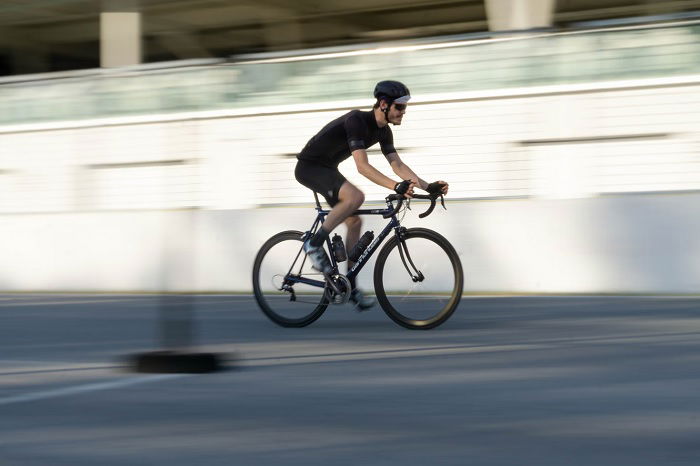 Types of Sport Photography
Football, or soccer, is the world's most popular sport. It unites nations and builds bridges across the globe. Millions love to play football, from professionals in giant stadiums to kids in the back streets.
It's known as the beautiful game. But capturing beautiful soccer photography isn't always easy. There's a lot of movement on the pitch. And you need to know where the ball might go next. It takes patience and understanding.
Whether you're shooting the world cup final or a Sunday league game, we can help you improve your football photography. Click on the link for our top 10 tips for soccer photography.
Basketball is a fast and furious game. There's end-to-end action accompanied by incredible athleticism and skill. Sometimes it can be hard to keep up and capture the action with your camera.
You need to set your camera up correctly before the action even starts. You don't want to be fiddling with your settings while the game is in full flow.
Knowing the correct settings and strategy is half the battle. And it's something we can help you with. We have 10 excellent tips for better basketball photography. Click on the link above for the full article.
Marathons always create a buzz no matter what city they're in. People fill the streets, and the sense of excitement builds into a carnival atmosphere. A marathon is a fantastic event to hone your sports photography skills.
You can apply sports photography basics, like using a fast shutter speed. But there's more to marathon photography than that. With so many people, marathon photos can look like a crowd of people.
The article above has the best sports photography tips for marathon events. There are tips for camera settings, finding the best location, and the best accessories for marathons. Check out our top 10 tips for marathon photography to get ahead of the pack.
If you're interested in water sports, we have some tips for taking professional photos of swimmers. Swimming photography is a different art form from shooting land-based sports. But we have all the info you need to make a splash with your water sports photography.
Swimming events are exciting places to photograph. The echo of the pool room creates an incredible atmosphere for competitive sports. But the photos can often look like splashes and not much else. Click the link above for more info on swimming photography.
Yoga has been a physical and mental practice in eastern spirituality for centuries. And now, it's becoming one of the most popular activities in the western world. It's a non-competitive activity aimed at finding inner peace rather than glory over your opponent.
Yoga photography needs to reflect that philosophy. It's not about competition, like most other sports. It's about slowing down and finding tranquillity.
Having an expert yogi to pose for the photos is excellent. But you can also take photos of yourself if you're both the yogi and photographer. All you need is a camera and a tripod.
We can help you with the settings and techniques for stunning yoga photography. Click on the link above for the complete yoga photography tutorial.
Baseball is America's pastime. It's one of the country's most traditional sports. And it's still one of the most popular in the nation. Fans fill the stadiums and play in softball leagues. That gives plenty of opportunities for aspiring baseball photographers.
Baseball involves bursts of action. So you need to be ready and prepared. That means understanding the game and understanding your camera. You need the proper settings to get the best baseball and softball shots.
You'll need to see our secrets for baseball photography before the next double-header. Click the link above for our full article on baseball photography.
Boxing has always been a draw for sports photographers. There's tension, drama, and big personalities. There's a certain romance that cuts through the violence in the ring. The dedication and determination of the fighters make a fantastic subject for sports photography.
Boxing gives you different environments for photoshoots. You can capture live bouts with two fighters slugging it out in the ring. Or you can take a more personal route, taking pictures of a boxer in training. Both make excellent photos for sports publications.
We have the article you need to read if you want to improve your boxing photography. Follow the link above for powerful boxing photography tips.
Motorsports provides plenty of subject matter for sports photographers. You have the action on the track. And there are the cars and bikes that also excite the interest of fans and enthusiasts. Then you also have the drivers. They bring the personality to the exhibition.
Motorsports are all about power and speed. That's what makes them exciting. But that also makes them difficult to capture on camera. Not many vehicles move faster than a Formula One car. They whizz by so fast it's hard to get a shot.
With our 8 secrets for motorsports photography, you'll be lapping the competition with your perfect motor racing images. Click the link above for the full breakdown.
Skateboarding is for the thrill-seekers among us. And there must be plenty of them, as skateboard magazines are some of the most popular sports publications. That means there are plenty of opportunities for skateboard photographers.
Skateboarding tricks are impressive. But they happen in a flash, so they're easy to miss with your camera. The correct settings are crucial for excellent skateboard photography.
The skaters and their lifestyles are other important aspects of skateboard photography. You can use your camera to tap into the relaxed and carefree atmosphere of the skate park.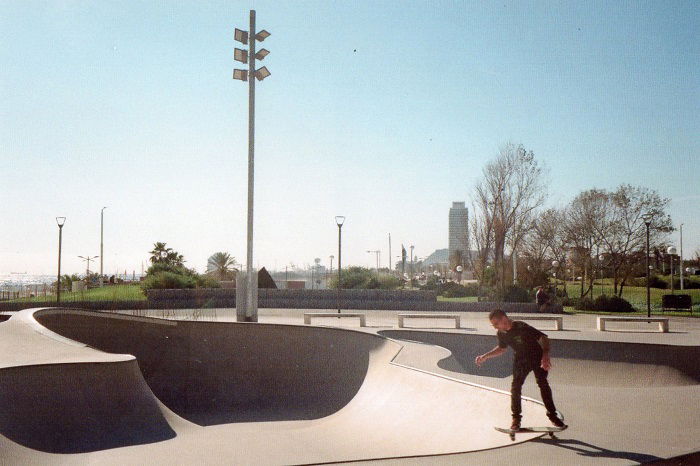 Figure skating is one of the most elegant and beautiful winter sports. The skaters glide effortlessly across the ice, jumping and spinning as they go.
Capturing the skaters in the middle of their movements isn't easy. And an ice rink offers unusual conditions for sports photography. There's a lot of white, and you're always at a distance.
Check out our 8 great tips for figure skating photography in the link above. You'll be the ice master of sports photography in no time.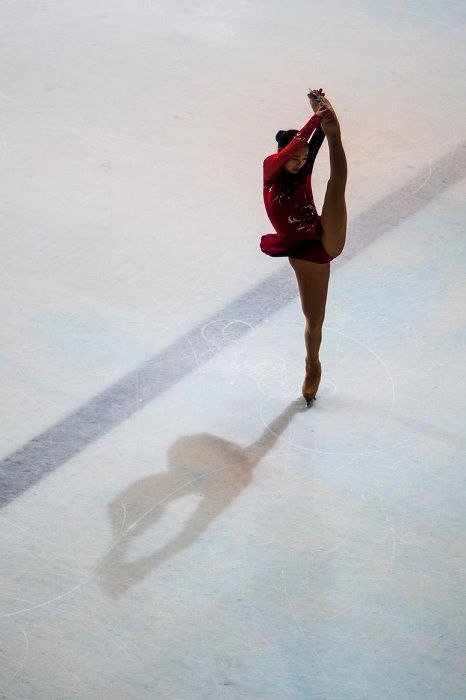 Surfing is very popular all over the world. It's a sport that appeals to people for the lifestyle as much as the activity itself. But surf photography has a unique set of challenges you need to think about.
You can't surf without the sea. And water and cameras don't exactly play well together. But there are ways to can tackle this problem. There's protective gear and underwater cameras. And there are techniques for getting amazing in-water shots.
Check out our article above for our best tips for surf photography. And if you need more inspiration, check out our list of the best surf photographers today.
Professional cycling is another high-speed sport, making it tricky to catch on camera. But we've got the best tips for better cycling photography.
There are different kinds of cycling events. There are tournaments in a velodrome, with cyclists speeding around at incredible speeds. And you have endurance races like the Tour De France.
Your camera gear and photography strategy will change depending on the event you're shooting. Doing your research and preparation is part of the process of cycling photography.
See the complete article in the link above for better cycling photography.
Post-Processing Sports Photography
A lot of the hard work is done at pitchside with sports photography. You snap the action with your camera as it happens. But the process doesn't always stop there. You can add to and adjust your sports photography by editing your photos.
All you need is photo editing software. You'll be able to enhance your work from the comfort of your own home. Post-processing can boost your work, making it stand out to employers and publications. That's important if you're a freelance photographer.
Adobe Lightroom is the premier software for photo editing. And the preset functions are some of the stand-out features. There are presets for portrait and landscape photography. And you can develop your own personal presets for a unique look.
We have some of the best Lightroom presets for sports photography. They are designed to enhance sports and action images, giving your photography even more energy.
Check out the full article so you can try our sports photography Lightroom presets.
Adobe Photoshop is another excellent software choice for photo editing and manipulation. You've probably heard of Photoshop before, as it's the industry's leading editing software. But don't worry if it's new to you.
This article is perfect if you need a helping hand with Photoshop. It's a thorough editing suite, and there's a lot to take in when you first start using the program. But our tutorial breaks it down and guides you through the Photoshop process.
The post will give you plenty of tips and tricks you can apply to your sports photography.
Editing photos can be time-consuming. Thankfully there's a way to speed up the process. Batch editing drastically cuts post-processing times. It means you can produce more and hit your deadlines.
Our tutorial gives you all the information you need for batch editing in Adobe Lightroom.
Conclusion
As long as the world loves sports, the world needs sports photographers. It's an attractive route for a freelance photographer. But sports photography isn't easy. You need to know the sport you're shooting. And you need to master your camera settings.
Different sports require different settings and techniques. Shooting a tennis match is different from shooting a mountain biking event. You need different skills and different equipment to get the best results.
But you don't need to box yourself in. You can pursue one type of sports photography. Or you can travel the world shooting any sport you can find. As long as you have a passion for sport and photography, your sports photography will continue to improve. Now's the time to start your sports photography business.
Check out our Photography Unlocked e-book to master your camera's settings for sports photography!
eBooks and Courses for Everyone