The Sigma 70-200mm f/2.8 telephoto zoom is one of the most versatile lenses available. From a portrait focal length to one that works for many sports, it does all this with the fast maximum f/2.8 aperture.
But those are just numbers. The question is whether this lens can deliver the results you need daily. If you want to know the answer to that and whether the Sigma 70-200 should be on your shopping list, read on!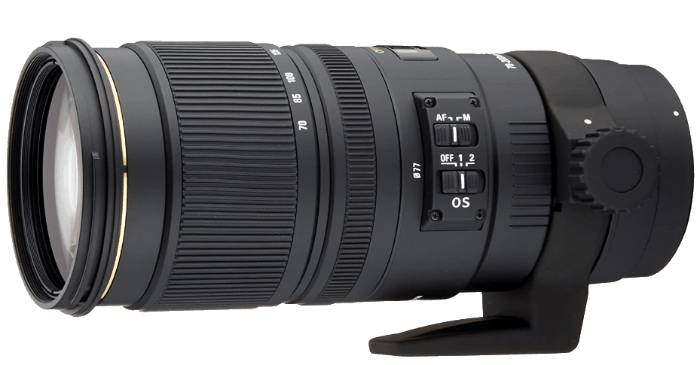 Sigma 70-200mm f/2.8 APO EX DG OS HSM Zoom Lens for Canon EF-Mount
Get the most out of your photography with the versatile and high-quality telephoto zoom lens. The sigma 70-200mm f/2.8 offers excellent correction of color aberration and a constant aperture of F2.8 over the entire zoom range.
Sigma 70-200mm f/2.8: What is a Telephoto Lens?
To start us off, a telephoto lens is a long lens that allows you to photograph distant subjects easily. This is due to how long their focal length is. A lens is considered a telephoto lens if it has a focal length of over 60mm.
Many people confuse telephoto lenses with zoom lenses. But they are different things. A telephoto lens can be (but does not have to be) a zoom lens.
Telephotos come in a variety of focal lengths. The most popular is the 70-200mm.
This lens allows the photographer to sit far back and not disturb what is happening while taking photographs. A telephoto lens is useful for action photography in general.
They are also popular in portrait and macro photography. They produce a natural perspective free from the distortion caused by a wide-angle lens.
Sigma 70-200mm f/2.8 DG OS HSM Overview and Specifications
Sigma 70-200mm f/2.8 APO EX DG OS HSM Zoom Lens for Canon EF-Mount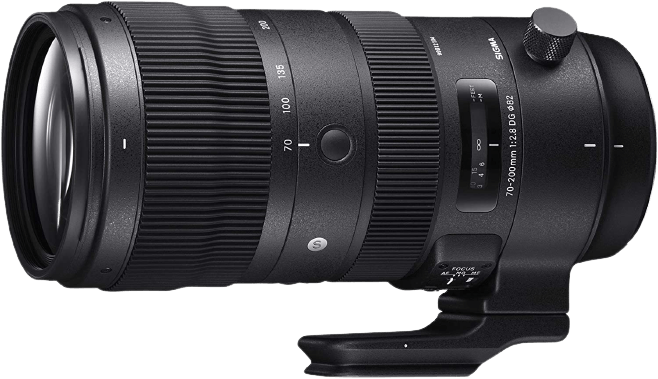 Brand

Brand

Sigma

Lens Mount

Lens Mount

Canon EF

Maximum Aperture

Maximum Aperture

f/ 2.8

Focal Range

Focal Range

70-200 mm

Image Stabilization

Image Stabilization
Before we jump into the cool features, the Sigma 70-200mm f/2.8 DG OS HSM is a Sport line lens. It is available for Canon, Nikon, Sony, Sigma, and Pentax.
And it offers a mount conversion service if you want your lens to fit onto a different camera brand after you buy it! That's pretty cool.
Sigma also prides itself on going the extra mile for compatibility. As a result, the Canon mount version is compatible with Canon's internal chromatic aberration.
For action photographers, the significant benefit of the Sport line is its ability to survive some rough conditions. Created with a workhorse mentality, the Sigma 70-200mm f/2.8 DG OS HSM Sport features a slew of unique and useful features.
This lens has a focus range limiter switch. In layperson's terms, this is a button that restricts the range of distance your lens can focus.
I use this feature myself when I photograph dog agility shows. It helps me ensure that the lens doesn't focus on any obstacles near me but remains locked on a running dog far away.
I also use this for concert photography to ensure that microphones and other obstacles aren't an issue.
Another great feature is the image stabilization system. This incorporates Intelligent OS, the latest algorithm to deliver image stabilization. The mode can be adjusted by a switch on the side of the lens, with two modes to choose from.
This lens utilizes a rad HSM (Hyper Sonic AF Motor) for its focusing. HSM uses ultrasonic vibrations to drive the focusing group. This motor benefits an internal focusing system.
The HSM can be easily overridden for manual control via a finger switch on the lens.
There is a lens detail I think is cool for those that shoot in difficult conditions, such as a live concert. It is the Manual Override (MO) mode, which can be triggered on the lens.
With MO, you can continue using autofocus as normal. Then you can make final manual adjustments using the focusing ring around the lens.
The lens can focus as close as 1.2m away from the subject unless restricted by the focus limiter.
The lens also comes with a locking lens hood. This is great, considering the number of times the hood on my other lenses goes flying off because it got bumped!
The lock is sturdy but very easy to use when I need to get the hood off in a flash. It also comes with a very nicely padded and durable case.
Build
As I mentioned earlier, I have tried a lot of 70-200mm lenses. I mean, a lot. Every new one on the market. The 70-200 was the first lens I bought twelve years ago.
This Sport version of the lens caught me by surprise for sure.
Before we even get into the construction, I can tell you that this lens is not the heaviest by far. I tend to shoot sporting events for 12 hours at a time. My back is bowing in thanks to the decreased weight.
It weighs a tiny bit less than 4 lb, so it is very usable. Yes, the Canon equivalent is lighter. But the reason this lens is a smidgen heavier is worthwhile.
With length, the Sigma 70-200mm f/2.8 DG OS HSM Sport is a customary 3.7 inches in diameter by 8.0 inches in length.
The physical build of this lens is fantastic. And it lends to its workhorse properties (weather sealing and shock absorbency). The body is constructed from a clever mixture of a durable form of plastic, metal, and a new compound known as TSC. (This is short for Thermally Stable Composite.)
The lens feels durable. I found it more shock-resistant than many of my other lenses. The glass is high-grade, with 24 Elements in 22 Groups.
I really liked the tactile feel of the focus and zoom rings. It is very comfortable to use.
The weather sealing is incredible. I took this lens out on a very cold and foggy morning. As such, the air was full of water droplets and wetness.
I felt confident taking this lens out for a spin in whatever situation I encountered. The weather sealing is a testament to a highly effective dust and splashproof structure. It has special sealing at the mount connection, manual focus ring, zoom ring, and cover connection.
As for the glass, the forefront and rear lenses incorporate water and oil-repellent coating. You can wipe away water easily. And it prevents oil and fat from sticking to the surface, even in challenging shooting conditions.
At the same time, the maintenance of the lens surface becomes easier, as mentioned by Sigma. Working in tandem with weather sealing, it sounds like little is impossible with this 70-200mm lens.
There's only one downside I find with the construction. The customary tripod foot (that many 70-200mm lenses have) cannot be removed. This lens is also still technically heavier than the Canon or Nikon versions. I'd argue this is a fair trade for how shock resistant and durable it is.
But the lack of a removable foot doesn't bother me, but it can bother some photographers.
Ease of Use
Something to mention before getting into the technical garble of whether this lens is worth the investment. I think ease of use is just as important (if not more so in some regards).
Picking up this Sigma 70-200mm f/2.8 was like holding an old friend. The design was very familiar and comfortable. This focal length is likely the most comfortable telephoto you will ever use.
All the on-lens adjustments were within easy reach and quick finger access, even for small hands like mine! I could leap right into this lens's use without a shadow of a doubt. I forgot I wasn't using my 70-200mm lens multiple times.
If this lens weren't a beautiful black vs Canon's off-white, it wouldn't have even occurred to me that something was different. As such, ease of use was a big, positive thumbs up for this guy.
Focus and Sharpness
The Sigma 70-200mm f/2.8 DG OS HSM ticks off every wants and needs list you may have if you want to capture the action!
There is an incredible, patented HSM motor within the lens. It ensures that the autofocus doesn't make loud and obnoxious noises. So it doesn't distract your subject. This also lets you get closer for some really nice tight shots.
The autofocus itself is superb. The accuracy is down to incremental movements or small subjects (such as 4 lb dogs leaping over jumps!). This allows me to capture agility trials with ease. 
A big problem with many lenses is something called hunting. This is when the lens is unable to find focus and keeps going in and out looking for it. Thankfully this lens doesn't suffer much with this problem. Even when the location got darker, which tended to prompt hunting, the Sigma 70-200mm f/2.8 DG OS HSM performed brilliantly.


However, with so many different versions of this focal length on the market, what would cause me to recommend the Sigma version? One key word: sharpness. This lens is sharp on both a technical level and that of its superb autofocus and quality glass. 
Sharpness is technically an illusion. How sharp something looks is due to the contrast of your subject. Lots of contrast equals sharper looking image! This lens produces brilliantly contrasted images that appear very sharp. 
Zoom lenses are never the same caliber of sharpness as fixed focal lengths. But new technology ensures that the difference is incremental at best. So this lens looks sharp even when capturing wide open at f/2.8.
Center sharpness at 70mm is fantastic throughout its other focal lengths. Corner sharpness is excellent but drops slightly to 100mm and beyond at a larger aperture.

Depth of Field and Bokeh
An aperture of f/2.8 is a fairly wide aperture, offering a beautifully creamy bokeh. Bokeh refers to the parts of an image that are blurred or out of focus! The bokeh looks quite natural with this lens because of the 11 diaphragm blades. 
However, there is some vignetting and darkening of the corners in wide apertures. I have always liked this look as it pulls the eye to the center of the frame, but some may not be as kind to it- just something to keep in mind!

Image Stabilization
Image stabilization is a system that helps your lens account for unexpected hand movements or other kinds of shakes. This lens features something called Intelligent OS. It is a brilliant stabilization system from Sigma. The intelligent OS works horizontally, vertically, or diagonally, in whatever direction your lens is being held or used. Pretty cool, right? 
Image stabilization can be turned on or off with a flick of the convenient switch on the side of the lens. You can also choose between two stabilization modes as well.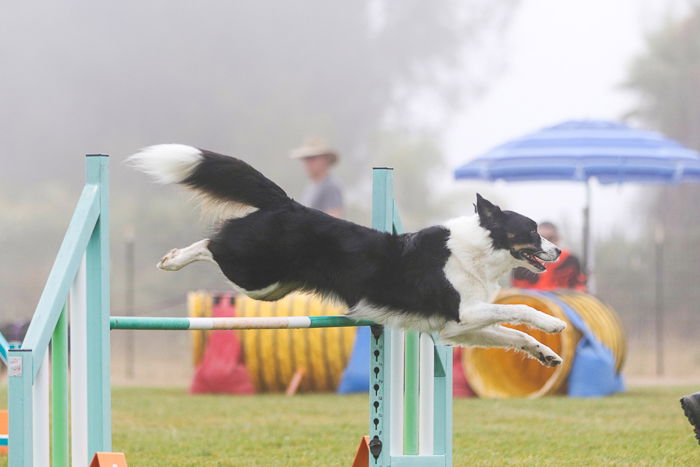 Chromatic Aberration and Flare Resistance
In luxury lenses, the glass tends to have a coating to aid with various things. This ranges from reducing flare and ghosting to accounting for UV rays and weather sealing. This lens is no exception. The Art line from Sigma has a great coating for the glass. 
There are also 24 elements spread across 22 groups in this lens's optical array. This includes nine FLD pieces of glass and a single SLD lens, all used to help control chromatic aberration. As such, this lens has minimal to no chromatic aberration. 
The Canon mount versions of this lens also enjoy compatibility with a full set of in-camera corrections for lens aberrations. So it acts very much like a native lens.
Chromatic aberration is that annoying neon purple fringe. It can wrap around your subject in an image where the subject is heavily contrasted against the background.
This problem tends to plague lenses with wide apertures.
Conclusion: Sigma 70-200mm f/2.8 DG OS HSM
I loved playing with the Sigma 70-200 f/2.8 DG OS HSM lens. The price tag may seem hefty to some, but it's much more affordable than equivalent lenses of this high caliber.
Perhaps you shoot outside as much as I do in less than favorable conditions that come along with outdoor adventure. If so, you will get much bang for your buck out of their lens from Sigma's Sport line.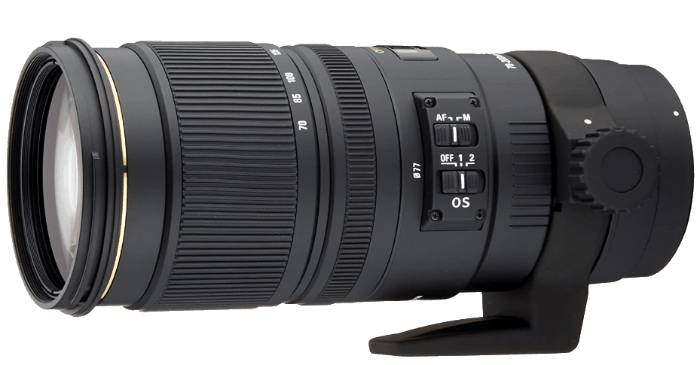 Sigma 70-200mm f/2.8 APO EX DG OS HSM Zoom Lens for Canon EF-Mount
Get the most out of your photography with the versatile and high-quality telephoto zoom lens. The sigma 70-200mm f/2.8 offers excellent correction of color aberration and a constant aperture of F2.8 over the entire zoom range.