There are many camera brands to consider when buying a camera. And the different brand names and camera types can make searching for a camera daunting. You want to know which camera brands are the best without having to buy a collection of cameras.
We'll take you through the best camera brands. Understanding each brand and what it delivers will help you navigate through all the technical data. Once you know Nikon from Leica and Pentax from Polaroid, you'll be able to make better decisions in the marketplace. And it won't take long until you've found the perfect camera.
eBooks and Courses for Everyone
What Is the Best Camera Brand?
This might sound like we're avoiding the issue, but it's impossible to say which camera brand is the very best. There are several front runners, names that photographers at all levels will be familiar with. But each manufacturer has its own strategy and unique appeal in the camera world.
Canon and Nikon are two of the most prestigious names in photography. They've maintained a broad appeal with photographers at all levels for decades. And they made a smooth transition from film photography to digital. Fujifilm is another brand in that category. But they sit behind Canon and Nikon in appeal and camera production.
Sony is one of the biggest tech companies in the world. But their rise in the camera world is a modern phenomenon. They've become leaders in digital mirrorless cameras, even though they started later than many competitors.
Panasonic Lumix is another digital brand finding its niche in modern times. They are pioneers of the Micro Four Thirds system. And they produce cameras that favor video production. Olympus is their partner in the field of Micro Four Thirds cameras.
These are just a few of the biggest camera brands in photography. And we're only scratching the surface. But the point is that every camera brand has its strengths. And once you know where each brand excels, you have a better understanding of the camera world.
14 Best Camera Brands
Now we'll take a look at the best camera brands in more detail. We'll tell you what each brand does best and why you need to know about them.
1. Canon
Canon is one of the most respected names in photography. They've been around for decades and remain at the top of the photography tree. Their name alone has connotations of quality, reliability, and performance. And they don't rely on the credit of their brand name. They innovate and consistently produce cameras worth using.
Canon was a pioneer of accessible 35mm cameras for the mass market. From the Canon AE-1 to the Canon A-1, they dominated the 35mm SLR market in the 70s and 80s. And unlike many competitors, they made the jump to digital without a misstep.
They have a broad appeal in the modern photography scene. They have a wide range of cameras. And there's a model for every type of photographer. Everyone from beginners to professionals use Canon cameras.
They have an excellent range of DSLR cameras. The Canon EOS SL3 is ideal for beginners. And there's the Canon EOS 90D if you want a more advanced DSLR camera. They also have fantastic compact cameras, with the Canon PowerShot G7 X Mark III being the pick of the bunch.
Canon is also keeping up in the mirrorless camera market. Their EOS M6 Mark II is a fantastic all-around APS-C mirrorless that'll please photo and video shooters. It's beginner-friendly too. The Canon EOS R5 is at the other end of the scale. It's a full frame mirrorless camera pushing the boundaries of what's possible. It has a 45 MP image resolution and 8K video.
2. Nikon
Nikon and Canon have grown up alongside each other, becoming the two biggest camera brands in the world. Nikon cameras have a broad appeal in the modern photography scene. They have DSLR cameras for all skill levels as well as APS-C and full frame cameras. And they, too, are branching out into mirrorless digital cameras.
The FM2 was Nikon's answer to Canon's AE-1. And they were two of the all-time great 35mm SLR cameras. And Nikon also transitioned seamlessly to digital cameras when analog photography was on its way out. They remain one of the most popular camera brands in the world. And their unrivaled range of DSLR cameras is part of their appeal.
The Nikon D3500 is widely considered to be the best camera for beginners. It's an entry-level DSLR camera that helps beginners get started without oversimplifying photography. The Nikon D500 and D7500 are two fabulous mid-range DSLRs. And the Nikon D850 is one of the most highly regarded professional cameras on the planet.
Nikon's Z series is gaining a lot of attention from mirrorless camera fans. The Nikon Z50 is an intermediate crop sensor mirrorless camera. The Z6 II has been a popular full frame mirrorless. And the Nikon Z7 II is their top professional mirrorless option.
3. Fujifilm
Fujifilm is another of the old guard, safely making it through the analog era into the age of digital. While never dominating the market in the style of Canon and Nikon, Fujifilm is still one of the best camera brands. They don't have a wide range of camera types like Canon and Nikon. But they have found their niche in the modern photography scene.
Fujifilm was one of the first camera brands to focus all its attention on mirrorless cameras. And their X Series of mirrorless cameras has some excellent models. The Fujifilm X-T4 is their flagship camera with a powerful APS-C sensor. It's a good choice for enthusiasts and experts. And the X-T200 is a more beginner-friendly option in the X Series.
Fujifilm has another niche in medium format photography. Medium format cameras use a large sensor with a high resolution. They're used for landscape, portrait, and fine art photography. Fujifilm is one of the very few digital camera brands to venture into medium format cameras. And the Fujifilm GFX100 is an industry leader with a 102 MP resolution. And the GFX 50s II is a more accessible model.
Their Instax instant cameras are also very popular. They've become the main rival to Polaroid in the instant photography market.
4. Sony
Sony is a world-renowned tech brand. But they're relatively new to photography compared to the previous brands on the list. Despite their late entry, they've become one of the biggest players in digital mirrorless cameras.
Sony now makes some of the finest mirrorless machines. They have compacts and crop sensor cameras. But it's their full frame mirrorless camera range that steals the headlines. And Sony is a popular brand among videographers.
You can't ignore the Sony Alpha (a) series. There's the Sony a6400, an APS-C mirrorless that has enduring popularity. But the Sony a1 is the flagship model. With a 50.1 MP full frame sensor, it's a true trailblazer. It isn't cheap by any standards. But it is a phenomenal camera with fantastic image quality.
The Sony RX100 VII is a fine choice from their compact range. And we can't leave out the Sony a7R IV. It's another full frame mirrorless. And your eyes will light up when you see the specifications. It's proof of Sony's dominance at the top end of the full frame mirrorless industry, solidifying its claim as one of the best camera brands.
5. Olympus
Olympus is another member of the old guard of camera brands. They had some fantastic cameras during the heyday of film photography, with some of the most popular models of the era.
The Olympus Pen was a fantastic model for travelers. And they've continued that series into their digital era. The Olympus Stylus Zoom is considered one of the greatest compact cameras of all time.
Olympus is still going strong with its digital cameras. And they've carved out a niche in the Micro Four Thirds (MFT) section of the market. Micro Four Thirds cameras use a smaller sensor than APS-C and full frame cameras. And that allows them to be more compact and lightweight.
Olympus is a pioneer of the MFT system. The Olympus OM-D E-M1 Mark III proves that Micro Four Thirds cameras can compete with the bigger boys. It's a compact machine, but it's packed with fantastic specs and features. The OM-D E-M5 Mark III is a top option for a beginner photographer.
The Olympus Tough TG 6 is a popular compact camera with action fans. It's a waterproof compact with a rugged body. Its strength, durability, and performance make it the best waterproof compact digital camera.
6. Panasonic Lumix
Panasonic Lumix is becoming a popular camera brand among creatives of all kinds. They produce incredible hybrid cameras that focus on video recording just as much as photography. And as the creative industries move toward photo and video production, the popularity of their cameras grows.
Panasonic cameras are the main rival to Olympus in the Micro Four Thirds division. The Panasonic Lumix GH6 is the perfect example of what this brand has achieved. It's a Micro Four Thirds camera with incredible photo and video performance. And the G100 is an ideal camera for vloggers.
They have also moved into the full frame camera market. The Panasonic Lumix S5 is definitely worth looking at if you want a full frame mirrorless camera with excellent video quality. And their compact camera range is second to none. Check out the TZ90 if you need proof of their compact quality.
7. Leica
Leica is a luxury camera brand. The name is synonymous with classy, high-quality cameras. There's no such thing as a budget Leica camera. All Leica cameras have a heavy price tag, but you get what you pay for.
Leica was founded in 1869 in Germany. And their reputation has grown during the age of digital cameras. They still service and repair their film cameras, which is fantastic if you have one. But it also means you're unlikely to find a bargain in a garage sale.
The Leica SL2 is a fabulous full frame camera. It's everything you'd expect from a Leica camera. And the Leica Q2 is a phenomenal compact camera. No other compact comes close in terms of performance. But it's also leagues ahead in terms of price.
8. Pentax
Pentax has consistently produced solid SLRs and DSLRs over the last few decades. Pentax is owned by Ricoh Imaging, but they still use the Pentax name for their DSLR cameras and lenses. They don't have the output and product range compared to rivals. But Pentax cameras are known for their build quality and reliability.
Pentax has some of the best DSLR cameras for professional photographers. The Pentax K-70 is an excellent camera choice for beginners. And you have the flagship Pentax K-1 Mark II. It's a rugged and reliable camera favored by wildlife and landscape photographers all over the world.
Pentax also has some medium format cameras. The Pentax 645z is ideal if you need more resolution than a standard APS-C or mirrorless camera. The image quality is absolutely stunning.
9. Ricoh
While it kept the Pentax name for the DSLR range, Ricoh does have a selection of cameras under its own brand name. They have two high-quality compact cameras—the GR III and the GR IIIx. And they have several waterproof point-and-shoot cameras. The Ricoh WG-6 is the top pick.
They also have some 360-degree cameras. 360-degree photography is a niche subject, but it's becoming popular with social media stars and content creators. Check out the Ricoh Theta Z1 if you're interested.
10. Polaroid
The name Polaroid is synonymous with instant cameras. While Fujifilm is putting up a fight with their Instax cameras, Polaroid has dominated instant photography since the 70s. There was a decline in demand as digital and smartphone cameras became competitive. But they've seen a resurgence over the last 10 years.
You can still buy the Polaroid 600 model, which is their classic model. But Polaroid has revamped its catalog with the Polaroid Now and the Polaroid Go cameras.
11. GoPro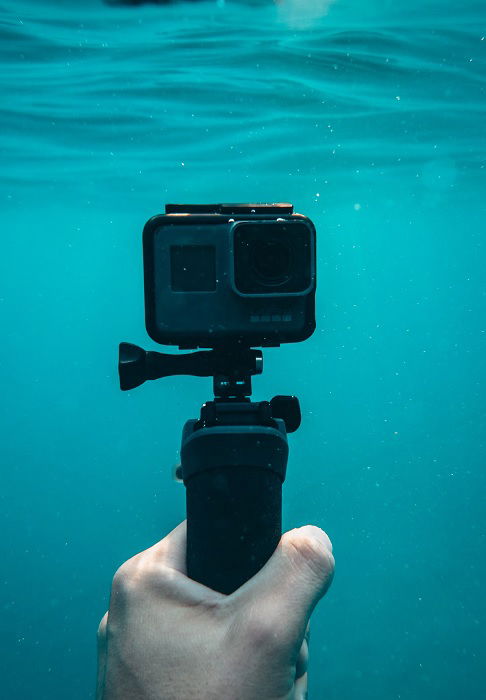 GoPro is a young upstart in the photography world. It's a relatively new camera brand on the scene, but they've revolutionized action photography. They invented the dedicated action camera, and they still dominate that market after more than a decade. They are fantastic photo and video cameras.
The GoPro Hero 11 is the newest version of their classic action camera. GoPro cameras are small, robust, and waterproof. And they continue to impress. You only need to look at your social media feed to see the impact GoPro has had on photography and video production.
12. Hasselblad
Hasselblad is a dedicated medium format camera brand. Hasselblad cameras had a strong reputation among medium format photographers during the days of analog. And that reputation has continued with their digital medium format range.
The Hasselblad 907X 50C is a fabulous medium format camera. Hasselblad's expertise in medium format shines through in this camera. The Hasselblad X1D II 50C is another quality camera. But Hasselblad is a luxury camera brand, and you need to pay for that level of image quality.
13. Kodak
Kodak is one of the most famous brands in photography. They are more well-known for their film stock than their cameras. But they do still have some cameras on the market, so they deserve their place as one of the top camera brands.
Kodak Gold is one of the best mass-market film stocks you can find. And the Porta 400 color stock is one of the most popular among modern film shooters. The Kodak Tri-X 400 is a fantastic black and white film stock.
The Kodak camera line is limited. The Kodak PixPro FZ43 is a cheap and fun compact camera. And there's the Kodak PixPro AZ252. It's a first-class bridge camera that's ideal for young beginners.
14. Sigma
Sigma is better known for its lenses and accessories, but they also have a few specialist digital cameras. They have the Sigma FP if you want a full frame mirrorless camera. The Sigma SD is their APS-C offering. And their DP1 is a fixed lens camera. Sigma is a specialist brand and the cameras aren't cheap. But they're worth it if you have the budget.
Conclusion
It's impossible to say which is the best camera brand. It depends on what you're looking for from your camera. Canon and Nikon could be the two top camera brands. And they have the biggest range of quality cameras. They have DSLRs and mirrorless cameras for beginners, enthusiasts, and professionals.
Sony has become the biggest name in full frame mirrorless cameras. But you can also look at Olympus and Panasonic if you want a Micro Four Thirds camera. And we can't forget Fujifilm and its great all-around mirrorless cameras.
Then you have your more niche brands like GoPro and Polaroid. They dominate those gaps in the market. And Hasselblad continues confidently as a high-end medium format manufacturer.
Looking at all the best camera brands can be confusing. But once you know what each brand produces, looking for a new camera becomes much easier. Now you can use your camera brand knowledge to find the perfect camera.
Check out our Photography Unlocked e-book to take stunning photos no matter what camera brand you use!


eBooks and Courses for Everyone