If you plan to get into the wonderful world of film photography, you've come to the right place. The best gear to start with is a 35mm film camera. This format is still often used because of its convenience.
Nowadays, shooting film is becoming more and more popular, and the prices of these cameras keep going up.
Below we list some of the best 35mm film cameras you can still find today!
[ExpertPhotography is supported by readers. Product links on ExpertPhotography are referral links. If you use one of these and buy something, we make a little bit of money. Need more info? See how it all works here.]
The 9 Best 35mm Film Cameras for Beginners
There are many reasons you might choose one 35mm film camera over another. Keep in mind that even 35mm film cameras come with different price tags. Besides your budget limit, there are other factors you have to consider when you choose among the best film cameras.
In this article, we look at 9 of the most beginner-friendly 35mm film cameras available.
The Olympus OM-1 was the 'Leica of the working class'. It is quality packed into a small size. Great for both beginner 35mm film photographers and more experienced users. It is also an excellent travel choice.
What is to love about this system is a shutter speed dial on the lens mount. This allows you to keep your eye on the camera without having to fiddle with a top-side dial.
Another quality benefit to this system are the OM mount lenses made by Zuiko. They outperform many other brands on the market, making this one of the best film cameras for beginners.
One of the most underrated 35mm film cameras is the Minolta X-700. Throughout two decades, it stood out. A few of the reasons for this were the many exposure modes, TTL flash metering, and bright viewfinder.
The plastic body allowed it to be lightweight without being low quality. This is an excellent camera for hobbyists and professionals alike.
One of the problems you might face is with the shutter speed. The photographer must take their eye off the viewfinder to see the shutter speed setting.
Also, if a recommended shutter speed falls between two-speed settings, both will light up. You will have to select the one you believe is best.
The Olympus MJU-II is an award-winning 35mm compact camera. Many photographers call it the 'ultimate point-and-shoot' camera.
This camera has a sharp 35mm F2.8 lens, accurate autofocus, and great metering. Plus, it has a weather-sealed camera body that fits in your pocket. Moreover, the camera is super easy to use. It has a sliding lens door and three buttons.
The most significant disadvantage of the Olympus MJU-II is its high price. You get a pretty old camera for the price you pay.
The Nikon FM2 is a great camera for hobbyists who want to bring their photography to the next level. It does this at an affordable price. Mechanical shutter? Check. Accurate light metering? Check. Fast shutter speed to 1/4000th of a second? Check. And, it is perfect for outdoors where you do not have easy access to batteries.
It is also easy to use, allowing beginners to get to grips easily and quickly. The best thing about this camera is that it does not need a battery. Everything works fine without one.
What you will like most about this beauty is its craftsmanship and the choice of bayonet lenses. It is a vintage camera that you can still use without worrying about breaking it.
This camera aimed itself towards the amateur photographer market and was first introduced in 1976. These were top-rated cameras with students because they were cheap. It allowed them to learn and lasted a long time, as they were built like a tank.
There are still many around, so finding one should not be a problem.
This has to be one of my all-time favourite Canon cameras. It has a fixed lens, and it is the best-selling rangefinder of all time.
It's an excellent choice for street photography. Its compact design allows discreetness and lets you carry it anywhere.
Complete manual control, plus a shutter priority mode, were the standard for more expensive cameras. This affordable 35mm film camera has them, too, making it a sensation among amateurs and professionals alike.
The Nikon F6 comes from a long line of 35mm SLRs, such as the Nikon F and F4. The great thing about this beast is you can pick it up new.
You can choose program mode, shutter priority, and aperture priority through to manual. It also has automatic film loading and auto film advancement, saving valuable time during the capture.
The newer series SLRs of Nikon have an excellent lens and mount compatibility with the more recent DSLRs. It might be a perfect choice for those who own Nikon cameras to build up a solid gear of film and digital cameras using the same lenses.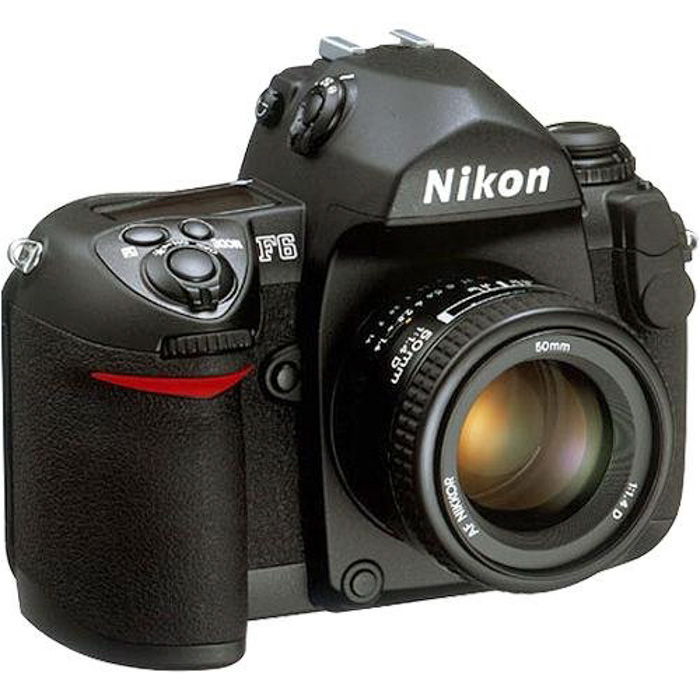 We all know Leica well. Many legendary photographers valued this iconic brand and turned it into a sensation.
The Leica M6 was the first 35mm rangefinder camera in its class. It has a beautiful design. Compact and with a subdued shutter sound. Perfect for candid images.
A perfect film camera, however, comes with a very high price tag. It is also hard to find one. We recommend buying one from an authorised dealership or an established photo store.
Also, do not forget that being a Leica owner means being in a community. This comes with benefits such as this brand's incredible repair and maintenance system, which still allows sending your film cameras to an official store to repair. No other brand does that.
Canon produced the Canon AE-1 for nearly ten years. When you create a fantastic camera, there is no reason to change. This camera was the new and improved SLR design that overhauled the way 35mm SLR cameras were made.
This was Canon's first affordable TTL (Through the Lens metering) camera. It has precise metering, shutter priority mode, and later on, the company added the auto-exposure feature.
Because of the low cost and added features, it became one of the most popular 35mm film cameras. This means it's not hard to find them today.
Conclusion
Shooting film has lots of benefits. You have 36 shots, so you are more conscious when it comes to taking a picture.
You do not need to use special effects or post-processing for having a vintage look. Buying a 35mm film camera will open a whole new world in photography.
The prices of the 35mm film cameras are going up. It's a smart decision to invest in one now before it gets more expensive. We hope our list helped you to find the best 35mm film camera for you!
In need of some more tips? Learn how to capture stunning images with the camera you already own with our Photography for Beginners course!