The Kodak Ektar H35 is a half frame film camera that was released in 2022. It's a revived version of the Kodak Instamatic with a few minor changes for the modern shooter. The revival of the Instamatic range is an interesting sign of things to come, but is it a good camera to shoot with? Or should you try to find an original one?
Summary of the Kodak Ektar H35
The Kodak Ektar H35 has a low-fi aesthetic and is not for those looking for sharp images
It is a light and portable point-and-shoot camera for any level or style of photography
The fixed shutter speed can be unreliable when shooting motion
You'll find you need the flash in more situations than you normally would
This is an extremely fun camera. Buy it if you want to have fun with photography again!
As an experienced film photographer, I found the Ektar H35 to be refreshing to use. It's a very simple camera that produces images reminiscent of disposable cameras. The portability makes the camera accessible for everyday use when you don't want to shoot with your phone.
Disclaimer: We have not edited any images taken with the Kodak Ektar H35 in this article. Images would benefit from a slight sharpening in Photoshop or Lightroom. But to give you a realistic preview, we have left the images as they are.
Images may also appear worse than they come out due to the small image size we use for the website. And Kodak did not send us this camera for free.
The Kodak Ektar H35: The Newest Portable Point-And-Shoot
The Instamatic was an incredibly successful range of cameras that hit the streets in 1963. It allowed people to have a point-and-shoot camera for a low price.
Now, with the recent boom in film cameras' popularity, we have a new edition with the Kodak Ektar H35. And it couldn't have come at a better time.
We live in an age of mind-blowing megapixels. But many photographers are drawn to the low-fi aesthetic of point-and-shoot photography.
The Ektar H35 is reasonably priced. And it produces the unique aesthetic loads of photographers are looking for.
You can look at it as a substitute for disposable cameras. And this will satisfy those who are conscious about wasting disposable plastics.
It is hard not to fall in love with this camera. Often, the most enjoyable parts of photography involve a camera that allows you to be free… to not worry about the endless settings found on digital cameras.
The Kodak Ektar H35 allows you to let go and focus on photography's purpose, capturing moments and memories.
Who Is the Kodak Ektar H35 For?
Honestly, the Kodak Ektar H35 is for every type of photographer. But it is particularly for photographers who want an inexpensive camera to inject some fun into photography again.
It could be for professionals who spend their working hours photographing. Or it could be for teens who no longer attach value to their smartphone pictures.
And if you have been looking for a pocket camera, it will be almost impossible to find one smaller than this that takes 35mm.
Kodak Ektar H35 Specifications
The Kodak Ektar H35 is a 35mm point-and-shoot camera. It is extremely compact and even features a built-in flash. Let's start by exploring the Kodak Ektar H35's main features.
Camera Lens
The lens on the Ektar H35 is equivalent to a 22mm lens with an f/9.5 aperture. This is considered a wide-angle lens.
The focal length is perfect for shooting images of your friends from a few meters away. It also works great for landscapes and general street photography.
The camera lens is made from an optical grade acrylic. I'm surprised by the results of this plastic lens, especially as it takes up a tiny portion of film!
Of course, it's not the sharpest. But it does make the camera more durable. It also gives this timeless aesthetic that is amplified by shooting on film.
Camera Settings
The camera shoots with a shutter speed of 1/100 s. This is fast enough to account for camera shake but not fast enough for quick shots.
Keep this in mind when photographing, as the more still you are with your camera, the better your results will be. I will get onto this in more detail a bit further on.
Kodak says the Ektar H35 is focus-free and, therefore, easy-to-use. Realistically this gives you sharper images based on the amount of light in the photograph.
It has a minimum focus distance of 1.5 meters. So remember this when photographing.
Camera Body
The viewfinder is a unique feature of the Kodak Ektar H35. It is in portrait orientation. So you hold the camera normally for portrait shots and turn it for landscapes. This may seem backward for beginners. But don't worry. It becomes second nature quickly.
One of the best features of this film camera? It is extremely lightweight and compact. It is a bit smaller than the old Kodak Instamatic, which used a smaller film type.
This size makes it extremely portable and light. So it's a perfect companion for any day trip or even just a walk to the shops!
I put the camera in my coat pocket or the top pocket of my shirt most of the time. This meant that I had the camera in my hand within seconds when a situation arose.
The camera may be too bulgy for trouser pockets. But it will still fit in there if you don't mind the discomfort.
Its size makes it ideal for a backpacking holiday or camping trip where every item is extra weight you have to carry. Also, if you're someone who packs their suitcase or bag to the brim, this camera is for you.
It can fit anywhere. And if it doesn't, just carry it with you!
Camera Design and Colors
The simple retro aesthetic Kodak has achieved with the Ektar H35 is beautiful. I wouldn't be surprised if people buy this camera just to put it on a shelf!
Kodak has decided to include a choice between four colors. The camera body comes in black, brown, sage, or sand. I love this natural color pallet. It adds an extra level of personalization to point-and-shoot photography.
This color choice also means you can match your preferred color to your outfit or even the aesthetic of your other camera equipment!
Key Features of The Kodak Ektar H35
We want to highlight two special features of the Kodak Ektar H35. It's a half frame camera that uses double-exposure film. And it's easy to use!
A Huge Money Saver With Double-Exposure Film
Most film lovers have been in a tricky predicament in recent years. We want to shoot with film cameras, but it's getting increasingly expensive.
The Kodak Ektar H35 fixes this issue, as it's a half frame camera! This means you get double the number of photographs than a regular 35mm point-and-shoot camera. Instead of 36 exposures, you get 72!
Double the amount of photos means your roll of film will last much longer. It even means you save money on processing costs. This is because you would normally have to pay twice for the same amount of shots!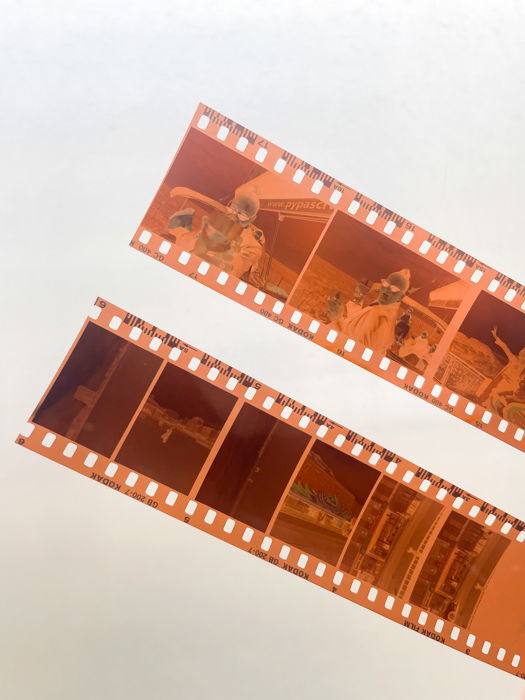 Many times with other point-and-shoot cameras, I won't take a picture as I want to save one of my 36 exposures. This worry is completely wiped out with the Kodak Ektar H35.
I could waste some exposures on photographs I knew wouldn't work just because I had so many frames left! This feature alone made it extremely fun to shoot with.
And honestly, the money factor alone makes it worth buying. Especially if you are shooting film for the timeless aesthetic that many film photographers are chasing after.
Extremely Easy to Use
Another strong point about the Kodak Ektar H35 is its incredibly easy usability. Honestly, even a toddler could operate this camera without many issues. (They may have to get help loading the film, though.)
All you have to do is wind to the next shot and click, just like a disposable camera! A ring around the camera lens enables the flash. Turn this to activate the flash, which will notify you by a red light next to the viewfinder.
One aspect I like is that you must press down the shutter release quite far. This may seem inconvenient, but it is a smart feature. I often ended up winding on the film to not take the shot. This leaves the shutter release cocked and ready to take a picture.
With the extra depth on the release, I never mistakingly pressed the shutter or mishandled it when it wasn't in use. And it never went off while in my camera bag.
What's in the Box?
Let's look at what comes in your Kodak Ektar H35 box. You will find the camera, a small camera pouch, and a camera strap. Both are made of comfortable materials and will help prevent your camera from getting damaged.
You won't find any instructions in the box. Instead, you will find a small card with QR codes to a Quick Start Guide and a Tutorial Video.
The Quick Start Guide guides you through everything you need to know, from loading film to loading the battery. The Tutorial Video shows you all these actions in a quick and fun way.
This small card is a great idea and means you can keep it in your camera bag as a reminder if you need more confidence! It is also a great way to reduce paper waste that most would throw away anyway.
The camera does not come with film or a battery. So make sure you also pick these up!
Recommended Film to Use
Considering the camera lens and settings, I recommend ISO 200-400 film. I shot on ISO 200 film and found it struggled on overcast days or in heavy shadows. So an ISO 400 film would do better in these conditions.
I also recommend getting cheap film as this camera won't be able to take full advantage of a film like Kodak Portra.
You can read our articles on the best color film or black-and-white film you can buy.
How Does The Kodak Ektar H35 Perform?
If you want a quick answer to how this camera performs, it is incredibly fun! It is suitable for any level of photographer, from complete beginners to paid professionals.
The camera will give you photos of memories you can cherish forever. So pick up this camera and get shooting straight away!
But let's get into the results of taking pictures with the Kodak Ektar H35. I will dissect the camera's performance so you can fully understand how it shoots in different environments and how to get the best results!
Daytime Shooting
Shooting on a sunny day is always going to be easy. With the Ektar H35, you get beautiful results that rival some disposable 35mm cameras.
You will have to take into account the 1/100 s shutter speed still. That's because if you quickly raise the camera to your face and snap, you may get blurry images like mine.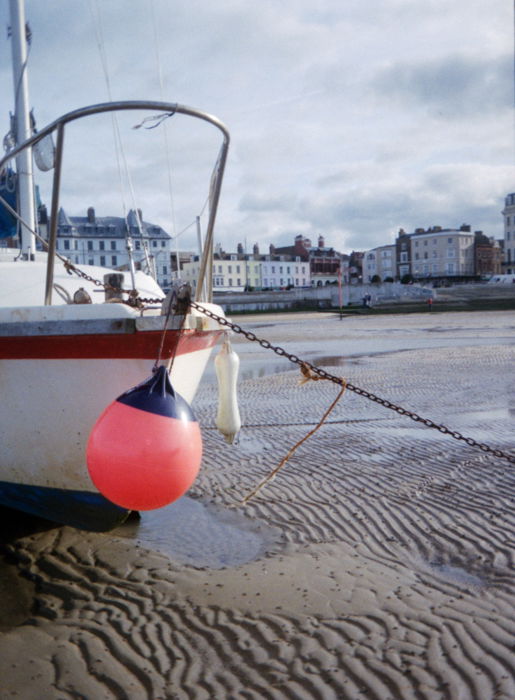 If you take the time to be as still as possible, almost acting like a tripod, you can get the best results.
Shooting into the sun can create a unique lens flare. This lens flare comes out circular. Some photographers can use this to their advantage. But as a whole, in photography, you don't want to shoot directly into the sun.
Low-Light Photography
Here's where the Kodak Ektar H35 starts to struggle. It could take better to low-light situations.
This is where the flash is crucial, particularly indoors. I found (with my ISO 200 film) that even overcast days could be challenging for this film camera, especially in the shade.
Below is a picture of a midday shot down a cramped street in the shade. It does pick up information, but it is very underexposed. You can save some of this information in post-production thanks to the film.
My recommendation is to be conscious of the ISO you are using. But this won't save you on every occasion. So the best way to combat this is to use flash when you have the slightest thought it may be too dark.
Flash Photography
As specified above, you will use your flash often with the Ektar H35. The flash works great in many environments and operates similarly to disposable cameras.
Adding a flash to this film camera was critical. It transformed it from a throw-away camera to a camera you can use daily.
When shooting with flash, you will have to keep distance in mind. Like any flash, if you are too close to your subject, it will just overexpose them.
As stated before, you will even want to use the flash during the day. This is particularly crucial in indoor environments. You will also want to use it in shady environments.
Take this example below of me trying to photograph the parakeets in my local park. I wanted a picture showing them in the shady trees on an overcast day.
The flash not only helped me freeze the bird in motion. It also added the right amount of light to just about capture the bird.
Shooting Motion or in Motion
The biggest advantage of having a compact camera like this is to take quick snaps. But the Kodak Ektar H35 works poorly in this category with a fixed shutter speed. And you will have to consciously decide to slow down while taking photographs.
Below is a picture of me taking a panning shot of a seagull for reference. I love the camera's result, from the colors to the slightly soft focus. But most people will look for a sharp image that freezes the subject and its surroundings in the frame.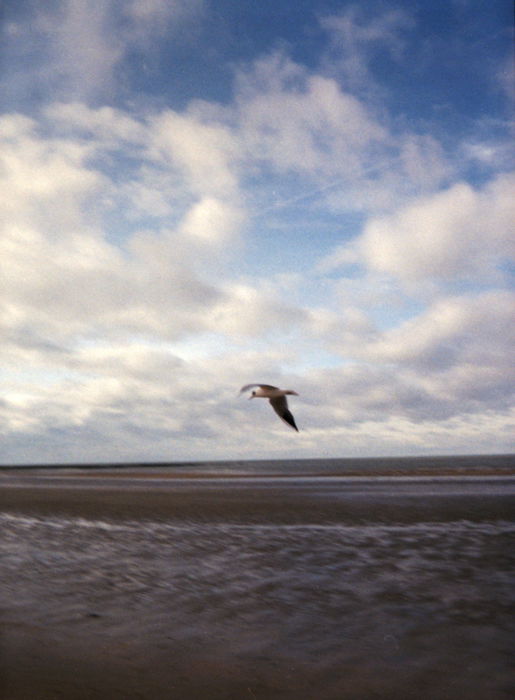 As I stated before, the way to get the best results is by slowing yourself down and being conscious of how still you hold the camera.
Below is a picture I took while cycling on my bike. This was to really see how well the camera could deal with movement. And as you can see, the results aren't great.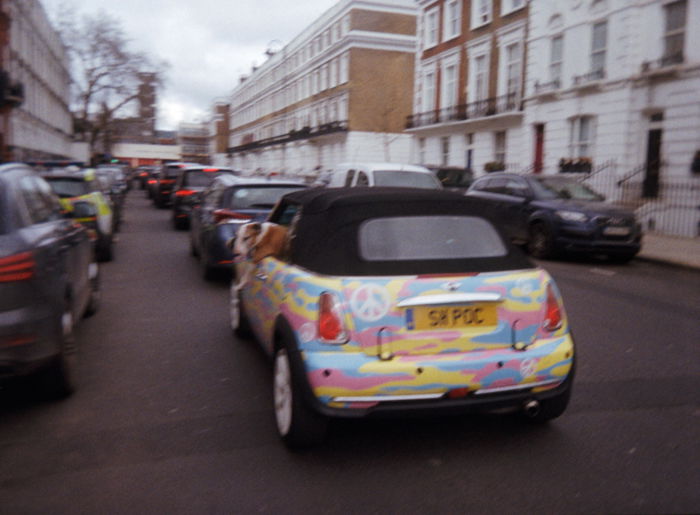 Landscapes or Cityscapes
Even with the focus-free approach, you can expect fairly decent landscapes from the Kodak Ektar H35. Its lens has a 1.5m to infinity focus range. So it's a great companion for a hike or city exploration.
You shouldn't expect to get the sharpest of images. But this camera does a great job of capturing the feel of a landscape.
This is thanks to the soft image created by the small film dimension and lens. The photos I got back had a dreamy aesthetic to the landscapes.
Even though the images weren't sharp, I loved the landscapes. I could imagine this camera performing extremely well on a bright autumn day.
Portraits
If you want to solely buy a cheap film camera to take images of you and your friends, the Kodak Ektar H35 is for you.
It performs exceptionally well for portraits if you have the right light and are in the right focus distance. This is thanks to its great usability and the soft results it produces.
Here's the secret to the Kodak Ektar H35's great ability in portraits… the soft lens. This lens produces flawless skin without any Photoshop intervention. It can smooth over pores while adding this grainy, textured film effect.
I love it for portraits and wish I had shot more. A point to remember is that you should use flash if you are not shooting in direct sunlight. This can be hard to remember. But it will make all the difference when shooting pictures of you and your friends.
The camera will even work great for selfies!
Street Photography
You can find some of the best qualities of the top street photography cameras in the Kodak Ektar H35.
You want a light and portable camera. It should be discrete and hold many images, allowing you to snap without changing the film or memory card. This film camera is ideal for these circumstances.
The camera starts to fail around the points I have highlighted—speed and low light. I tried to quickly snap a candid of a chance encounter on a few occasions.
Looking back at the results, I wish I had been slower with taking the image. Slowing down means the subject may notice me, but getting the shot is worth it.
Common Mistakes Using the Kodak Ektar H35
I will now highlight two common mistakes you want to avoid with the Kodak Ektar H35.
Be Mindful When Scanning Double Frames
One of the biggest mistakes I see with people using the Kodak Ektar H35 is that they show two frames as one image. I absolutely love a diptych, and if you plan to make diptychs with this format, go ahead.
But 99% of the time, it's not because these photographers want to create these formats. It's usually because the people they take it to for film scanning don't know they are half frame!
An easy way to overcome this is to cut out each image in Photoshop and save them as new files. A downside is that the people scanning them probably cut off 0.5mm of each image by doing a 35mm scan.
I suggest talking to your film scanner and letting them know the film is shot in a half frame camera. The best option is to get a film scanner and scan it yourself!
Avoid Shooting Into the Sun
Another point you want to consider is not to shoot directly into the sun. This is not because it is a photography no-no or produces a circular lens flare. It is because I had one image that caused a light leak onto the image before it!
This is likely due to the angle I took the picture. But I would be annoyed if the ruined picture was a shot I wanted to cherish.
The only way to avoid this is to be careful when shooting into the sun. I suspect it is because the sun is right on the edge of the frame. So it may be best to ensure the sun doesn't sit directly on either side of the frame.
Alternatives
It is hard to find other commercially available half frame cameras. You may only come across the One Shot 35 half frame camera.
If you are looking for other options, you must look in the second-hand market. The most notable options are the Olympus Pen F or the Canon Demi. But they may be hard to find.
If you are looking for cheap point-and-shoot film cameras, look at the Kodak Ultra F9. You may also want to consider the Kodak M38. But I would save money and still go for the Kodak Ektar H35 with double the shots.
Our Verdict
It's pretty easy to see I had an absolute ball with the Kodak Ektar H35. My normal photographic work involves shooting with medium- or large-format cameras. Not having to worry about a whole checklist of camera operations felt freeing and fun!
If you are tempted in the slightest to buy this camera, you should. I may be biased, but I already know a number of friends who could benefit from this camera. And I can guarantee I will be gifting them as presents.
The price point is perfect for gifting to a friend or loved one. And it's also a great way to create memories together.
I applaud Kodak for providing a camera that fits the current demands of today… not just with the price but also with the aesthetic, size, and freedom. Now, we can all pretend we are road-tripping through a movie. And we now have the photographs to prove it!
Scoring