There are hundreds of options when it comes to choosing the best travel camera bag. However, it always depends on what you need. Some photographers prefer bringing a comfortable messenger bag. Others need a roller bag with lots of capacity to bring all their gear on a long trip.
In this post, we will help you find the perfect travel camera bag depending on your preferences and needs. Whether you are a street or wildlife photographer, you will find the best options according to security, comfort, durability, and more.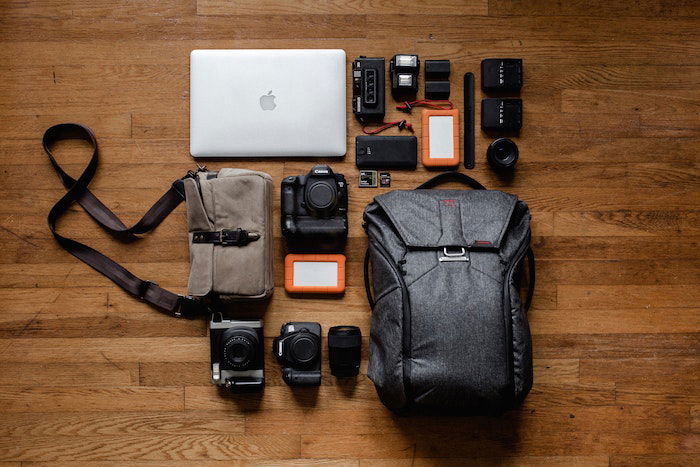 16 Best Travel Camera Bags to Buy
Choosing the right travel camera bag is essential because it will protect your gear and help you stay organised while away from home.
For this reason, we have chosen 16 travel camera bags considering different preferences and situations you might experience while traveling with your photography gear.
Many photographers use their travel camera bag extensively throughout the day. They change lenses, grab extra equipment, and are always digging inside of it. For these travel photographers, a portable bag is a necessity.
A portable camera bag is one you can wheel along, use as a backpack and carry short distances by hand. It allows you to navigate different distances, situations, and/or environments.
The Neewer 2-in-1 Rolling Camera Backpack is a beast. The depth allows you to store your equipment vertically, letting you take everything with you. This is the best camera bag for moving around easily. This option is not for the hiker but perfect for those shooting high-end lifestyle photography abroad.
On top of a DSLR with a telephoto lens, it fits another camera body with up to nine other spaces for lenses and devices.
Some other features of this camera travel bag are:
Shoulder straps and pull handle can easily tuck away
Can hold two full DSLR bodies with lens attached, such as Canon 5D2+70-200mm
Side straps for carrying a tripod monopod or light stand
The case body is made of high-density waterproof nylon
Many of us travel photographers want to go off the beaten path and explore new places. There will always be locations that will see a traveling photographer as an easy target. You should not announce yourself. There are ways to do this. Have a camera bag that does not look like a camera bag. Especially an expensive one.
The best camera bag we recommend to minimise your risk of theft as much as possible is the Think Tank Photo Airport Security V3.0.
This camera bag's security features are amazing. And it's the perfect flight companion due to its compact size. Not only does it have a combination lock, but a cable to secure it to a stationary object. This means you can rest assured, no one is taking it if you get distracted.
That is great since this bag is going to hold three DSLR bodies and seven other devices.
Other features are:
It fits 2 Gripped DSLRs with lenses attached plus 4–6 additional lenses,
Max Lens: 600mm f/4 detached or 500mm f/4 attached
Meets international airline carry-on requirements
High-strength coated cable and combination lock for the laptop compartment
Traveling abroad means new smells, tastes, experiences, and weather. The latter is sometimes unpredictable. So, you should make sure to have the best camera bag with you for every kind of weather.
There is a lot to like about this bag, as it seems to offer everything. Not only does it have plenty of storage space for your gear, but it will also hold a tripod. There is also space for a laptop and two other items in the side pockets.
For weather protection, the polyester used is rain resistant, and a rain cover adds an extra layer for worse conditions.
Tripod attaches via adjustable undercarriage straps
Hidden zipper pocket on the back
A USB port allows you to charge devices out of the bag
High density waterproof 900D polyester nylon and rain cover

If you are looking for a durable camera bag for travel, Domke F-2 is your choice. The cotton canvas is what makes this back durable. It might even look better with a bit of scuffing, as it has that slight vintage yet military feel to it.
This is heavy-duty and a pleasure to use. It is a shoulder bag, giving you the photojournalist vibe.
One of the best things about camera backpacks made out of canvas is you can make them more durable and weatherproof. All you need is some time, patience, and some paraffin wax.
Ideal for two DSLRs alongside multiple lenses up to 300mm, flash unit & small tablet computer
12 compartments and pockets
Patented padded, adjustable & removable four-compartment insert system
Adjustable non-slip Gripper Strap securing the bag to your shoulder comfortably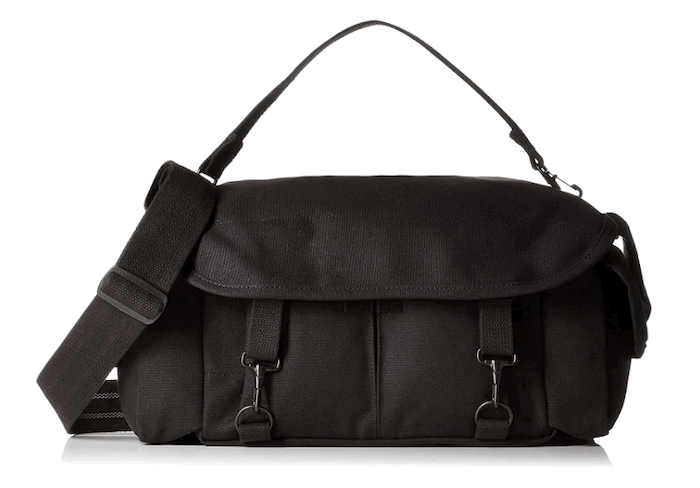 Quick access to your camera gear can give you a few vital seconds extra to grab the shot. You can be proud of an environmental portrait, while others are still fumbling around with zippers and camera cubes. Besides, putting your camera back easily means you are less of a target of theft.
If you are looking for a camera bag with multiple access points, the Peak Design Backpack 20L is a good choice. This bag is smart, sleek, and very minimal. There are so many features about this bag that make it amazing to use.
You can also check our in-depth Peak Design Everyday Backpack V2 review for more information!
Waterproof
Holds Full Frame DSLR & 3-4 Lenses
Three Flexfold Dividers Protect Gear
Built-In Expansion with Maglatch System
The best travel backpack to carry lots of weight is the Endurax Extra Large Camera Backpack. It will hold two different camera systems and all the gear associated with them.
This travel camera bag is one of the biggest on the market, letting you fill up on whatis needed. Perfect for those who cannot decide what to carry on luggage.
You can attach a tripod to three different places, making this a very versatile camera bag system.
The bottom compartment can be removed and worn around the waist, allowing for more storage and ease of access—a great all-rounder travel camera backpack.
Will hold two pro-sized mirrorless cameras, 6-8 lenses, 2-3 flashes
Organiser compartments for storing odds and ends
Flip-out tripod holder for a full-size tripod
Rain cover included
Comfort is important when you are carrying around a lot of gear. It can get tedious very fast without some lumbar support or waist belt. If you plan to travel and photograph, investing in a comfortable travel camera bag is the way forward.
One of the bags that are the most comfortable to wear when travelling is the Lowepro Inverse 200AW Beltpack Camera Case.
This bag goes around your waist, distributing the weight around your centre of gravity. Your back will thank you as you realise this is a natural way to hold, carry and access your equipment.
Designed to fit a Pro DSLR with medium zoom lens attached and two extra lenses
3D contoured mesh lumbar belt with dual-adjust system
Patented, built-in All Weather AW Cover
A detachable, padded shoulder strap provides an extra carrying option.
Being able to travel light is a godsend. More often than not, this will depend on your photographic field and how much equipment you need.
If you have a mirrorless camera, an extra lens, and a few batteries the Lowepro m-Trekker BP 150 is the backpack for you.
Lowepro is said to have some of the highest quality camera bags for travel. They have so many systems, and this is their travel light version. Compact and concise, you will be able to house a DSLR and a few lenses easily. Smaller items can be fitted in the pockets lining the tablet area.
It has a casual travel style, allowing it to fit in with business areas easily.
It can hold a mirrorless/DSLR camera and four lenses
Holds a small tripod
Robust fabric options defend against wear and tear
Body-side access safeguards against theft
For those who need to travel by plane, the Vanguard Havana 48-Backpack is the perfect bag. Not only will it hold and protect your camera gear, but it is also carry-on approved.
The Vanguard Havana 48-Backpack serves as a great all-rounder, and there will be no problems as you pass through airport security. The cover and style do not scream expensive camera gear, keeping opportunists at bay.
Whether a short city trip or a much longer journey, you will benefit from all this bag has to offer:
Well-padded camera insert and dividers
Monopod/small tripod connection
Total coverage protection when using the rain cover
Ideal for a DSLR with lens attached, 2-3 lenses, a flash, accessories
Versatility is the key for the WANDRD – Hexad Carryall Travel Duffel Bag. Whether you are using it for photography or not, this is the perfect travel bag for those who want a little more organisation.
You can choose to use 1/4 or 1/2 of this bag as a dedicated camera area. Perfect for all occasions as weather-resistant materials are used.
The rest of the bag is available for clothing, personal effects, or anything else you might need for the journey ahead.
Uses camera cubes to create camera sections
Padded laptop sleeve
Side camera access
RFID secure passport pocket
If you are a travel photographer, and you do not like the idea of one bag, we have a solution. You use a dedicated bag for clothing and toiletries and a separate bag for your camera gear.
The Boundary MK-1 is a camera bag that has it all. Your gear sits in the main compartment, which is a self-proclaimed 'bombproof' shell.
Those who use mirrorless systems have found they can add their camera body and eight lenses. The smaller pockets hold filters, memory cards, and batteries.
3 Zipped Access Points With Locking Zippers
Multiple Padded Dividers Included for Personal Customisation
2 Stretch Mesh Pockets for Quick Access
Padded Top Hand and Side Carry Handle4
If you look for a smaller day-to-day option, the Lowepro Streetline SH120 Shoulder Bag is the best choice.
As an everyday sling bag, this is a great option. It looks professional and feels heavy duty. It is perfect when you do not want to carry too much weight. Small, but big enough to fit a mirrorless camera body and a lens or two.
This camera sling bag offers multiple pockets for minimal items, like memory cards or even business cards.
Collapsible bellows that provide suspended protection from impact when deployed
It folds flat when not in use
Blend of coated fabrics with the look of canvas
Premium leather grab handles provide an extra and refined carry option.
For those hiking and outdoors enthusiasts, a comfortable bag with a camera compartment is a must. It also needs to be able to carry enough weight and be weather protected.
One of the best camera bags for outdoor and hiking is the EXPLORE 40 from Shimoda. This bag will carry camera gear, food, clothing – all of it is fully customisable.
This is great as many photographers in the outdoors require different disciplines. Some camp, others will not.
Multiple access points – rear and side
Height-adjustable harness
Fully customisable camera inserts
Carry-on friendly
For birdwatchers and animal photographers alike, you need something a little inconspicuous. Military or tactical bags give you portability, quick access, and possibly a hydration system. One of the best tactical camera bags for travel is the Echo Niner Low Profile Covert.
The LPC bag is a multi-functional bag. Not only can it be used on its own, but it can serve as a padded insert with some messenger bags.
It has a lightweight design and comes in green, brown, and black camouflage. It does not look like a camera bag either, adding another level of security.
Internal padding separates into seven areas, protecting camera bodies, lenses, and other devices.
Padded Shoulder Straps
Padded Interior. The three sections are collapsible to accommodate anything
420D Nylon Yellow Packcloth Interior
Mil-spec nylon webbing
If you are a stylish traveler, you might be looking for a camera bag that makes you more approachable. For these cases, the Billingham Hadley Pro is the ultimate travel companion. It's smart, with a great color theme and, will suit any event where scruffiness is frowned upon.
A professional photographer's bag that is not too obvious, allowing you to work in peace.
Removable camera insert secures with a single press stud inside the main compartment
Dual expandable slip pockets at the front
Interior top divider on camera insert shields your gear from rain or snow
Holds DSLR & Lens, 70-200mm, Flash
Traveling with your camera equipment to new, unvisited locations means you do not know what to expect. Protection for your bag against bumps, drops, scrapes, and spillages is a must. Being able to lock them is even better. The best option we suggest to protect your items is the Arco Video Dr. Bag 20.
Arco is a company that deals specifically with video cameras. But who is to say you cannot use this bag for smaller DSLR camera systems. It comes with dividers that provide excellent protection for all your camera gear.
It opens like a doctor's bag, making it unique. You can put it down, open it up and use your gear. Then, pack it away and move on to the next location.
Water-Resistant Hard Exterior Shell
Removable Padded Interior Dividers
Top and Side Handles
Shoulder Strap and Bottom Trolley Strap included

Conclusion
Investing in a good camera bag for travel is crucial for keeping your gear safe and organised. Considering your needs will allow you to find the perfect travel camera bag for any situation.
If you can travel light, you might want to opt for the Lowepro m-Trekker BP 150. Still, photographers carrying lots of equipment should consider buying the Endurax Extra Large Camera Backpack.
Each one of these travel camera bags has a specific functionality. Whatever your preferences are, make sure to pick a functional bag that keeps your gear protected.
If you're looking for ultimate protection of your gear, check out our review of the best camera hard cases!
Now that you have your travel bag, go out and capture stunning wildlife with our Wonderful Wildlife course!