The Kiboko is Gura Gear's flagship camera backpack. The company's founders developed and released it nearly 15 years ago. And now there is the Gura Gear Kiboko V2.0 22L, which we'll look at here.
Their target market is wildlife and outdoor photographers. That's why Gura Gear prioritizes durable materials and capacity for large lenses. But their wildlife focus hasn't created any limitations. It's a versatile backpack any photographer can use for air travel or outdoor expeditions.
Gura Gear is a relatively young company. But they have built a strong reputation and fan base among adventurous photographers. Experienced, world-renowned photographers endorse their products.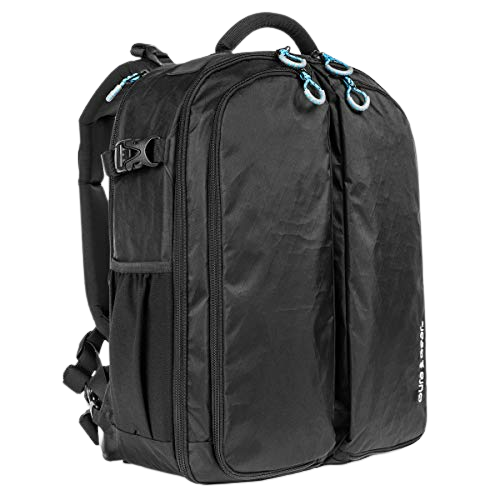 Designed by photographers for photographers, this camera backpack is perfect for outdoor and wildlife enthusiasts. Made from durable materials, it offers ample room for large lenses and provides excellent weather protection. It's versatile enough for air travel or outdoor expeditions and is endorsed by world-renowned photographers. A fantastic choice if budget isn't a constraint.
For full transparency about our review process, you can read about how we scored and ranked the bags here.
Strengths and Weaknesses of the Gura Gear Kiboko V2.0 22L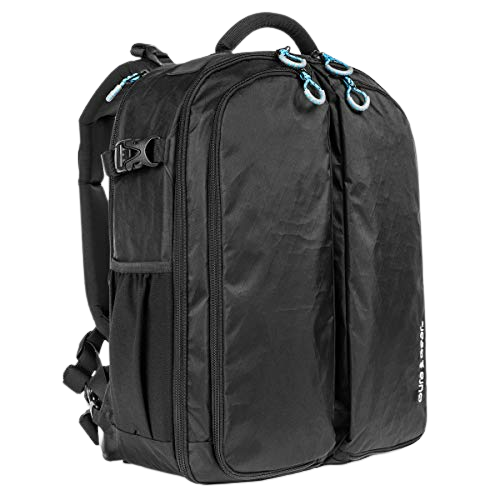 Weight

Weight

1680 g

Capacity

Capacity

22 L

Access Points

Access Points

Front

Airflow Back Support

Airflow Back Support

Yes, with mesh

Laptop Sleeve Capacity

Laptop Sleeve Capacity

15-inch

Tripod Holder

Tripod Holder

Warranty

Warranty

5 years

Waterproof Rating

Waterproof Rating

Weather-resistant
The main strengths of the Gura Gear Kiboko V2.0 are its outer materials and storage capacity. The bag's rigid outer frame gives good protection. But we expected more padding in the interior.
The lack of other access points also damages its versatility score. Some photographers might find the butterfly opening design useful. But we found it is a source of frustration.
While the dual opening on the front is unique, it also limits the flexibility and versatility of the bag. It reduces the capacity. And it can be annoying if you open the wrong side.
Weather protection is a highlight of the Kiboko. The laminate X-Pac VX-21 outer material is weather-resistant.
And it comes with a waterproof cover for even better protection in wet weather. That's important when you're on a photo safari.
The straps are another strong point. The shoulder straps are robust. And the bag has a chest and waist strap to help distribute the weight.
It also has useful features like a laptop sleeve, tripod strap, and water bottle holder. These extras give the bag a mass appeal in the photography community.
Design and Color Options
The Gura Gear Kiboko V2.0 22L scored 5.4 out of a possible 8-point total in this category.
Black is your only color option for the Kiboko V2.0. You can't go wrong with black, but other options would have been nice.
From afar, the simple design is unassuming and casual. Other than the side straps, there's nothing to suggest this is a camera bag.
It won't win any fashion awards. But it's also unoffensive enough for most traveling photographers.
Whether you're walking through a city or an airport, few will guess you're a photographer. This means you're less likely to be targeted by thieves.
The design issues become apparent when you take a closer look. The bag's outer shell has a wide mesh covered with water-resistant material. This makes the outer materials look thin and cheap.
We know they are not and know they serve an important purpose. So we can forgive Gura Gear. But they lose a mark for aesthetics.
The interior is also unpleasing to the eye. It combines dark and light gray with bright blue lining around the openings.
This color combination has the look of cheap outdoor equipment. Again, the materials aren't cheap, but they look it.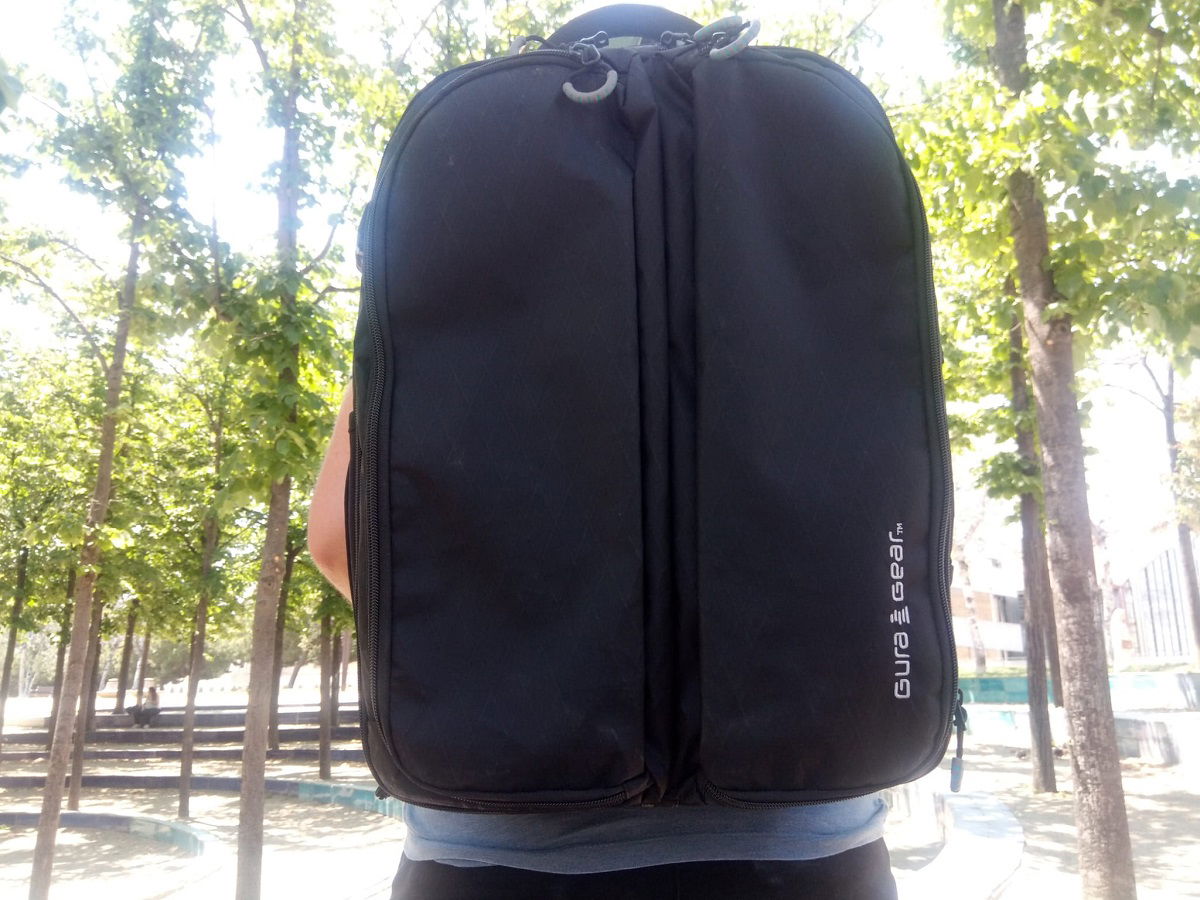 Build Quality and Durability
Here the Gura Gear Kiboko V2.0 22L gets 25.3 out of 32 points. That's a mid-table score. So let's break it down and see how we came to that conclusion.
We have very few complaints about build quality and durability. Wildlife photographers demand high standards. And Gura Gear knows its target market well. The Kiboko can survive a life in the bush.
Exterior Material
Gura Gear is very proud of the laminate X-Pac VX-21 material used for the bag's exterior. It has four layers that create one strong yet lightweight material.
The bottom layer is a 50-denier polyester taffeta backing. This has a 0.25 mm waterproof film layer on top. Then there's a polyester X-ply webbing. And 210-denier nylon covers everything.
The fact you can see the polyester webbing makes the materials look thin. But you get a strong protective material when all these layers come together.
It's water-resistant for protection against showers and strong humidity. And it's a ripstop material that can put up with plenty of abuse.
Weather Protection
As noted, the X-Pac VX-21 is water-resistant. That means you don't need to worry about light showers, humid environments, or sea spray. No moisture will get through to your gear in these conditions.
However, the material is only water-resistant. It isn't fully waterproof.
But there is a fully waterproof rain cover if you get caught in a torrential downpour. It fits perfectly around the front of the backpack.
It has an elastic rim that wraps all the way around. It covers the main body of the backpack, keeping your gear dry.
But the elastic opening allows the shoulder and waist straps to come through. That means you can still wear the bag when you've applied the rain cover.
The rain cover is included with all Kiboko V2.0 bags.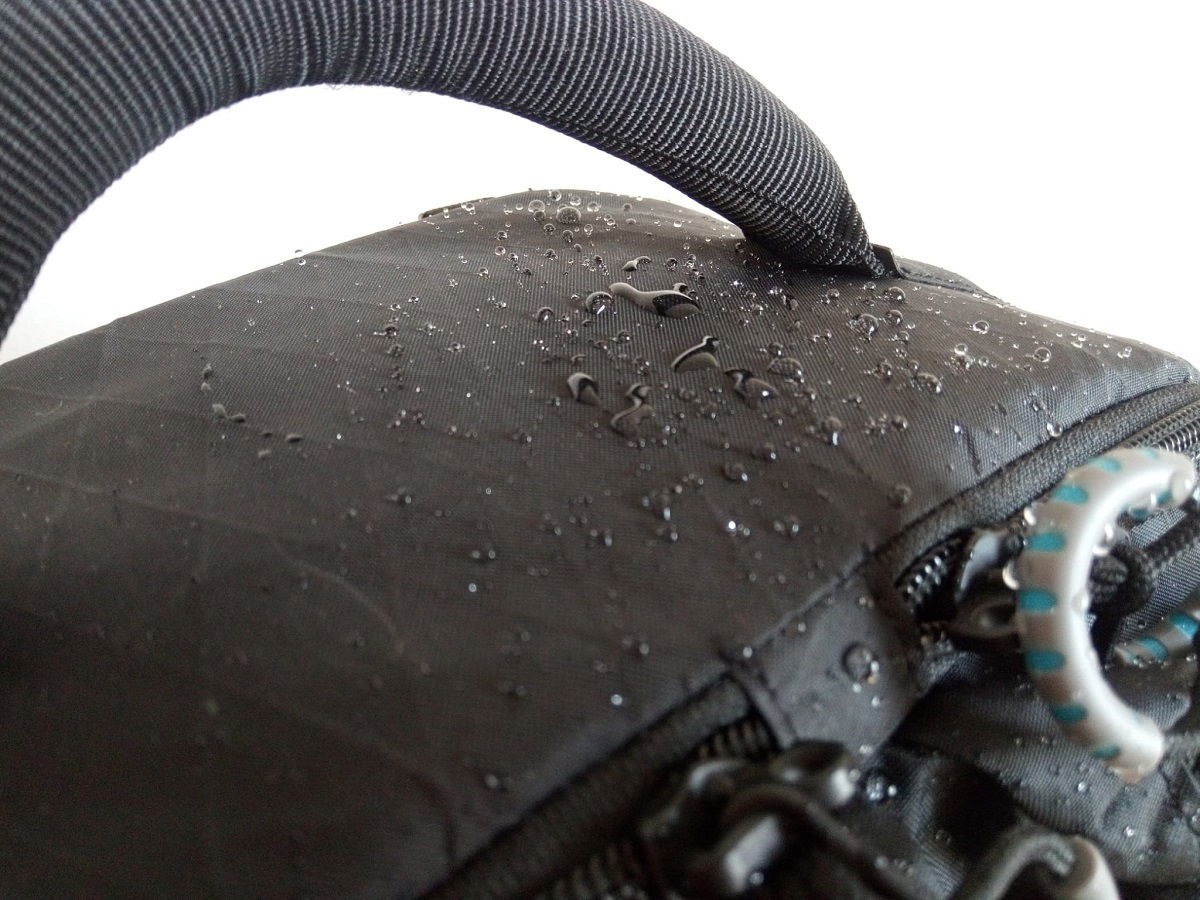 Interior Material
The color scheme doesn't do the interior any favors. But looks aren't everything.
When you get your hands in there, you realize there's no drop in quality. All internal materials are just as robust as those on the outside.
It's a synthetic paradise of nylon and polyester. The sides of the main compartment are lined with gray nylon.
The same material covers the padded dividers. And there are thick patches of coarse fabric where you can stick the divider's Velcro.
You also have nylon webbing for the net pockets inside the flaps. And these pockets have metal zippers with a zipper pull.
The two front compartments use the same materials. It's all gray nylon with more net pockets. Not the most exciting backpack interior. But we found very little to complain about with the build quality.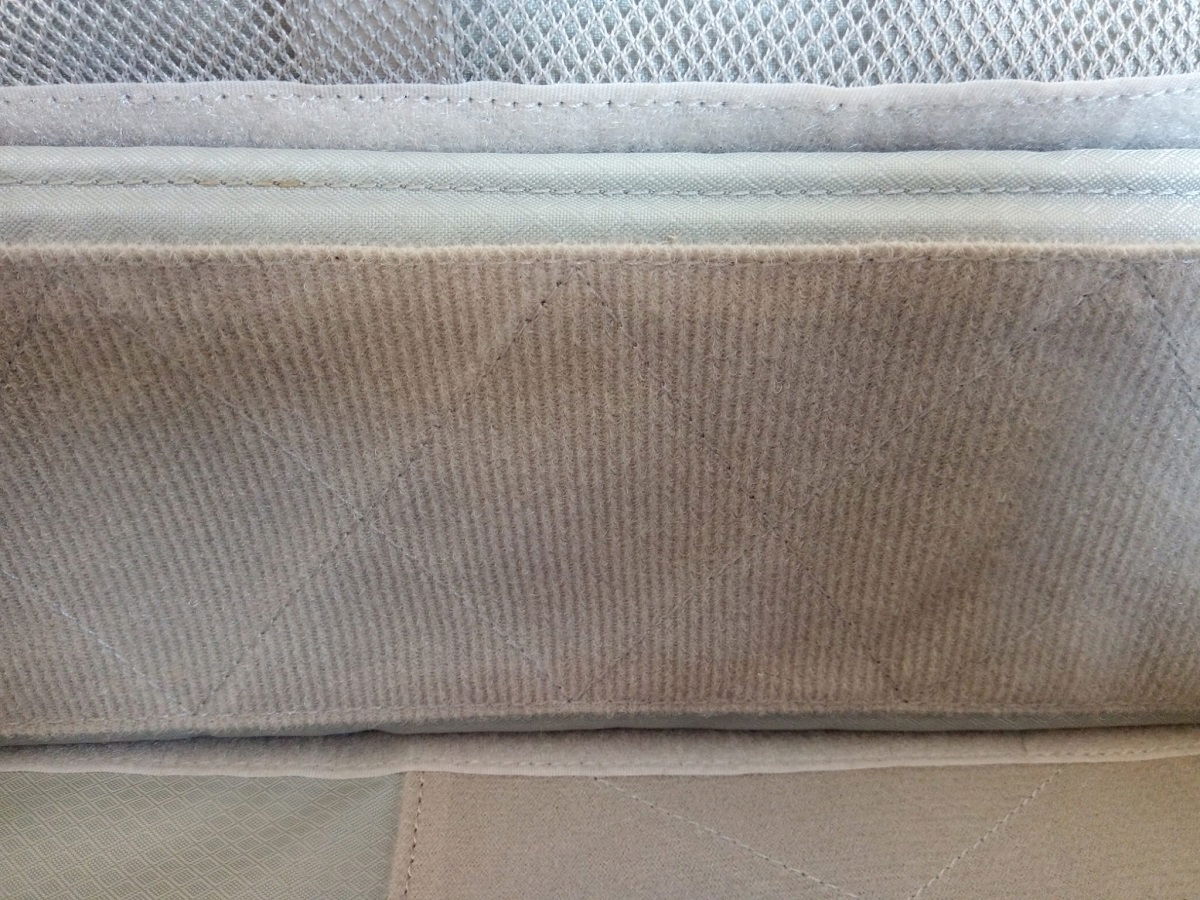 Straps and Back Support
The straps are a real highlight of the Gura Gear Kiboko V2.0 22L. The shoulder straps are thick with padding. And the padding is a thick foam with a gentle yield.
It's not so firm that it feels hard on your shoulders. It provides enough protection that even a heavy load is cushioned.
You can adjust the shoulder straps at the bottom and top. The bottom allows you to change the length of the straps.
And the top helps you keep the bag tight against your back. This stops the backpack from jolting up and down or knocking against you when walking.
No travel backpack is complete without a chest strap. And Gura Gear has delivered.
It's a thick nylon strap with strong plastic buckles. And you can adjust its height by sliding it up the attachment on the shoulder straps.
The Kiboko also has an excellent waist strap. Two thick pads that hug your waist, almost wrapping around completely. A big plastic buckle connects the right and left pads in the center.
The waist strap is big and cumbersome. It gets in the way when you lay the backpack flat, which you need to do to pack and unpack.
But thankfully, you can remove it. There's a plastic clip on either side. And there's a Velcro pad where the strap threads through the back of the bag.
The Velcro makes it tricky to slide through to remove or reapply. But being able to remove it is a big bonus. It's a small feature that really makes your life easier.
The chest and waist straps distribute the bag's weight across your body. It takes the weight off your shoulders, letting you walk longer without discomfort.
They have become common features in camera backpacks. But the Kiboko has some of the best straps we've seen. They are ergonomically designed. And they genuinely make it easier to travel.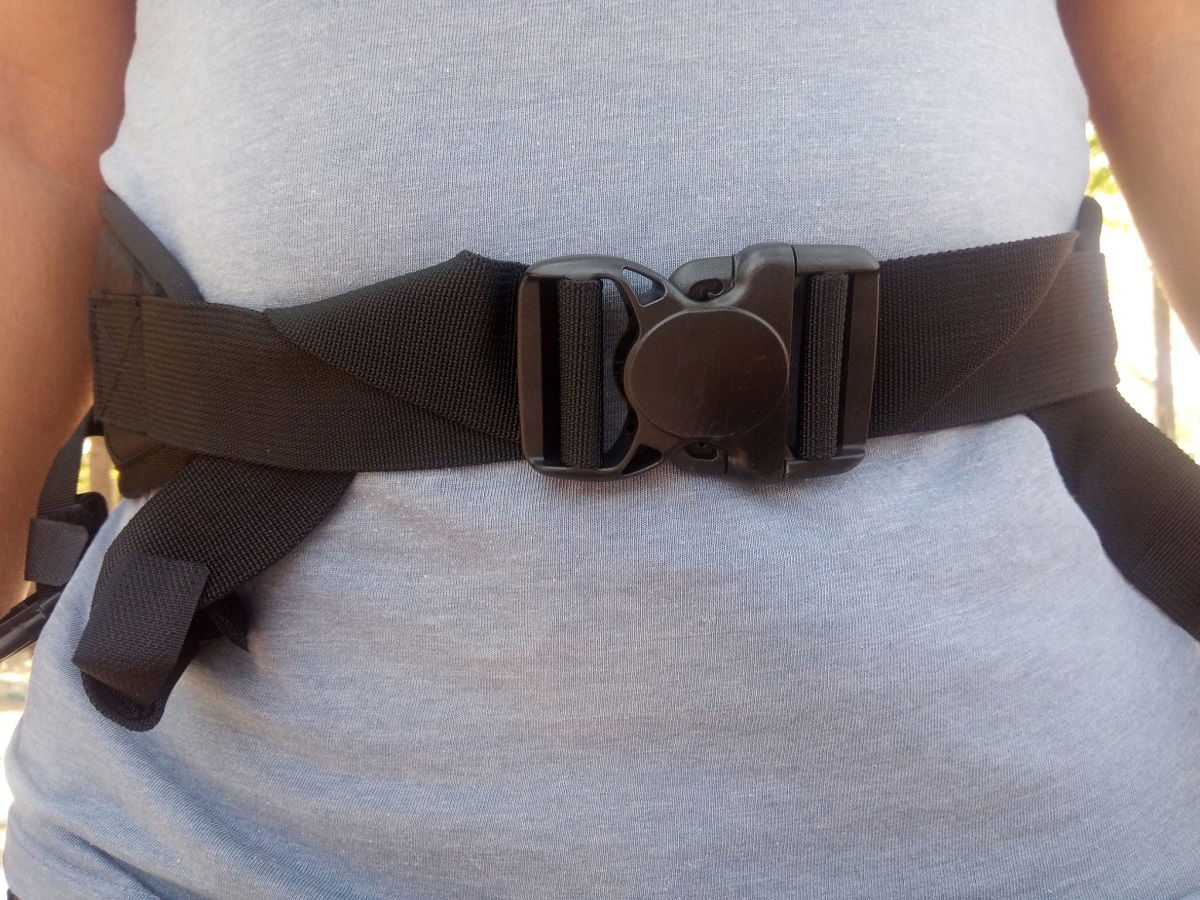 The back padding is exceptional. There are three pads built of thick foam that rest against your back when you're wearing the bag. It gives you fantastic comfort when carrying a heavy load.
And there's a large channel between the pads for air circulation. It also has a netted material to help your back breathe. You'll really feel the benefit in hot and humid climates.
Seams and Stitching
Most of the exterior stitching is hidden away. You can see the stitching because the Kiboko has seams tucked in.
This is actually a good thing as it leaves fewer vulnerable spots where water might get in. The folded seams give you better protection against bad weather.
The stitching is visible in a few locations, like the front pocket's top. They show a good stitching standard with a thin thread and a close stitch pattern. It's all very neat and tidy.
You also have a visible stitch where the top handle attaches to the top of the bag. Again, it's neat, tight, and the attachments feel secure.
The interior stitching is easier to find. It stands out because they've used bright blue thread against the gray nylon.
The colors aren't to my taste. But I can't find fault with the stitching. Everything is tightly secured. And all materials are expertly sewn together for a professional finish.
Internal Padding
Gura Gear provides plenty of dividers for the main compartments. They come in several different sizes. And that's fantastic for customizing the space to fit your gear.
My initial concern was the dividers' thickness or the lack of thickness. But while the dividers smaller dividers are thin, I was reassured by the quality of the foam.
It's a firm foam with a good amount of flexibility that cushions your gear. You can mold them to fit equipment. This is better than the thin dividers we've seen with other camera backpacks.
The longer dividers are only slightly thicker. It would be nice to have a bit more padding on these, as they often have pressure on both sides.
It's the same quality foam, so it's only a minor concern. And we understand it maximizes space inside.
The Kiboko's outer shell also provides excellent protection. The sides have a thick layer of padding all the way around.
It's not the foam used for the dividers. It's slightly more lightweight and firm. This gives you good protection and keeps the overall bag weight down.
Zippers and Fastenings
The all-metal zippers on the outside are of good quality. The zipper heads run smoothly when you open and close the openings.
The zippers for the two main compartments have a long distance to travel. But the smooth action means you can zip and unzip quickly without getting stuck.
The teeth of the zip track are small. And I've found that zippers with smaller teeth are more prone to jamming.
But it's not something I've experienced on the Kiboko. I attribute that to the quality of the zippers and how they are perfectly fitted to the bag.
The outer zippers have large zipper heads with zipper pulls. The hoops also have half a plastic ring to strengthen and make them rigid.
This makes using the zippers even easier. It also allows you to thread a padlock through two zippers to lock the backpack.
The internal zippers don't meet the same standard. There's only one zipper inside both main compartments, and they open the net pockets.
The zippers have a metal head and plastic teeth. And the action isn't as smooth as the external zippers.
While the net pockets aren't the most important section of the bag, the poor-quality zippers are disappointing. Looking at the bag, as a whole, these zippers are the first place we experience issues.
Functionality and Ease of Use
With 26 out of a possible 36, it's another mid-table score. Keep reading to see why.
The Kiboko bag's functionality speaks of how it was developed by and for photographers. It is missing some features you might expect, like side or rear access.
But there's nothing on it that doesn't serve a purpose. The streamlined design leaves you with a highly usable camera backpack.
Size and Weight
We're reviewing the Gura Gear Kiboko V2.0 22L. But 16L and 30L models are also available. The V2.0 22L is lightweight for a 22-liter backpack. And it is impressive how Gura Gear has kept the weight low.
The slightly puffy appearance of the padding gives the impression it will be heavy. But it's surprisingly light when you pick it up, weighing only 3.7 lb (1.68 kg).
The padding is excellent. They've used durable materials inside and out. You'll appreciate this when trekking through the jungle with full frame camera bodies and telephoto lenses.
The padding on the sides, back, and straps inflate the bag slightly. And the two front pockets also increase the depth of the bag.
But the Kiboko is still a convenient size for travel. You shouldn't have a problem using it as hand luggage when flying.
Capacity
The Kiboko 22L efficiently uses space when it comes to camera gear. You can take everything you need, from full frame camera bodies to telephoto lenses. But there is little room for anything else.
There are two front pockets on the openings of the main compartments. But as they sit at the front, you can't use them for anything bulky.
You also have a back compartment. But this narrow space serves as a laptop or tablet sleeve. There isn't too much flexibility there.
You can remove the dividers from the two main compartments. This allows general storage space. Having two main compartments lets you use them separately. But you lose camera gear capacity.
The net pockets are useful for cables, memory card cases, and other bits and bobs. You also have water bottle holders and tripod straps, But there isn't much space for larger additional items.
Its camera gear capacity is excellent. But the bag is lacking when it comes to additional storage. Customization options give you more freedom. But there are limitations on what you can carry.
Organization and Customization
The Gura Gear Kiboko marks high for its organization. And there's good scope for customization when carrying camera gear or other items.
We have to start with the two main compartments. Rather than having one larger main compartment for camera gear, the Kiboko is separated into two. And each side has a full set of removable dividers.
If you use two different camera systems, you can use one side for one system and the other side for the other camera. You can use one side for your cameras and lenses and the other for a drone setup.
All the padded dividers are removable. And they can be rearranged within the compartment, allowing you to customize the inside.
You can create a storage space that perfectly fits your camera gear. And both sides can have independent arrangements.
You can remove the dividers completely to give yourself standard storage space. And you can remove the dividers from just one side.
This gives you camera storage on one side and maybe clothes on the other. That's a good compromise if you only have one camera system.
There are no customization options when it comes to carrying the bag. Using the bag as a standard backpack is the only way to wear it.
Access Points
Two front openings are the only access points to the main compartment. We see side or rear (or both) access points with other camera backpacks. But Gura Gear has stuck with traditional front access.
Of course, with two front access points (one for each compartment), you can open one at a time. That's convenient because you don't need to open both if you only need something from one.
The lack of side access points does slow you down if you want to grab your camera for a quick shot. But I believe Gura Gear has taken a calculated risk.
They've opted for better environmental sealing and material integrity over quick access. And many photographers will appreciate this decision.
Security
The Kiboko V2 doesn't have any standout security features. The overall security of the bag is decent. But we expected a bit more, considering it's the second version.
The overall design doesn't scream camera bag. This helps you travel without being targeted by thieves.
But the main security features are the zipper pulls. There's a hoop with reinforced plastic to make them stronger. And these can be tied together when the bag is closed.
The zipper heads also have a smaller metal hoop built in. So you can thread a padlock through two of them to lock the bag when closed.
This is more secure than the zipper pull loops because they can't be cut. Unfortunately, you don't get a padlock with the backpack.
Additional Features
The Gura Gear Kiboko has a modest but useful selection of additional features. We've mentioned the lockable zippers on the front. And you have the net pockets in the interior.
The rear pocket is another useful feature. The pocket's main purpose is to carry a laptop or tablet. And it's big enough for 15-inch laptops.
But you can also use it for documents and folders. It's well-protected and out of the way. The only problem is the side opening. Laptops and tablets can fall out if you don't close this properly.
There's a water bottle holder on both sides of the bag. It has an elastic opening to take different bottle sizes. And thanks to high-up straps and buckles, the pockets double as tripod holders.
The Kiboko V2.0 has a unique strap and clip lock to hold the two front flaps open. You clip them together to keep them open, letting you rummage around. You don't need to keep opening the flap.
Compatibility and Versatility
The Gura Gear Kiboko V2.0 22L gets a 6.2 out of 8 compatibility score.
For cameras and photography gear, the Kiboko V2.0 has excellent compatibility. There's excellent efficiency of space in the main compartments. But this isn't the most versatile camera backpack.
Compatibility With Cameras and Lenses
With a bag designed for wildlife photographers, you need enough space for a telephoto lens. And thanks to the efficient use of space, you can carry large lenses without much trouble.
The two-compartment design strikes you as a problem at first. The central division leaves you with two medium-sized compartments rather than one large one.
This limits the amount and size of items you can store in there. And it does limit your options when packing lenses horizontally. But the bag has enough height for large lenses to be stacked vertically.
The half-size compartment gives the lens more support than a large space with dividers. So the lenses sit safely in a snug space.
The 22L model can carry an attached 300mm lens plus an unattached 400mm lens. And there's still space for two full frame camera bodies.
This includes DSLR cameras. And you can pack smaller lenses facing outward for even more efficient packing.
The extra support the center parting provides allows you to pack heavily on both sides. You can carry a telephoto lens in the left and right compartments.
And there's room for three or four camera bodies in total. So you don't need to leave any gear at home!
Carrying Versatility
There's very little versatility when it comes to carrying the Kiboko V2.0. It has two shoulder straps that let you wear it like a backpack. And that's about it.
Again, there is a handle at the top of the bag. It's strong, reinforced, and has a comfortable grip.
But you won't use it to carry the bag for long periods. It's useful when traveling by plane, train, bus, or car or when you just want to pick it up.
The Kiboko does have some of the best shoulder straps of any camera backpack. They are thick with foam, well-reinforced, and adjustable at the top and bottom.
Plus, you also have extra support from the chest and waist straps. Despite the lack of versatility, you're getting a backpack that's fit for purpose.
Price and Value
The value score is the main reason the Kiboko V2.0 is low in our list of reviewed bags. It scored reasonably well in all categories.
But it's one of the most expensive bags on the list. So this brings its overall score down.
The Gura Gear Kiboko V2.0 22L isn't a budget backpack. It's actually one of the most expensive bags we've reviewed.
The price might seem eye-watering at first, especially for a 22L bag. But the closer we looked at it, the more we understood Gura Gear's pricing.
The outside doesn't look terribly different from hundreds of other camera backpacks. But when you look closely and understand the special X-Pac VX-21 material, it isn't an ordinary backpack.
It has a lightweight material that's strong and water-resistant. Plus, the bag also has high-quality fittings and fixtures.
The outer zippers are excellent. And the internal materials are also strong and durable.
The padding is excellent, so you know your gear is safe. And the straps and back padding give you a comfortable experience when you're on safari or out for long shoots.
It's also suitable for air travel when used as hand luggage. But despite the numerous positives, the price of the Kiboko is still slightly higher than you might expect.
Warranty
Gura Gear offers a five-year warranty on its camera backpacks. While not a lifetime guarantee, it does inspire confidence in the brand and its products.
To receive warranty coverage, you need proof of purchase. So keep all receipts.
Gura Gear will repair or replace faulty products under warranty. But it falls under their discretion as to whether the type of damage is covered.
The warranty does not cover several conditions. This includes general wear and tear, abuse or misuse, unauthorized alterations, and accidental damage.
But Gura Gear still offers reduced repair service rates for products not covered by warranty. This means you can still get your Kiboko repaired professionally after the five-year warranty has elapsed.
Sustainability
As you might expect, this company is passionate about the natural world. So they have one eye on sustainability.
Gura Gear's primary laminate X-Pac material is produced at carbon-neutral factories. This means Kiboko bag production has a net-zero impact on the environment.
Of course, companies like Gura Gear can do more. But carbon-neutral production is a huge step in the right direction. And Gura Gear is doing more than man many competitors.
Alternatives to the Gura Gear Kiboko V2.0 22L
If the Kiboko V2.0 isn't quite what you're after, here are some other camera backpacks that may be a better fit. There's a rugged outdoor bag, an air travel specialist, and a fantastic all-rounder.
If you're a photographer with a passion for the great outdoors, the Thule Covert might be the bag for you. It's a tough and durable all-weather backpack with special features for photographers.
Your camera gear is secure in the padded pouch. And you can remove the pouch from the bag and wear it as a protective sling bag.
With pockets of all different shapes and sizes, there's no shortage of space in the main bag. And these include protective sleeves for your laptop and tablet.
When it comes to design, Thule has gone straight down the middle. It's an outdoor backpack that looks like an outdoor backpack.
While that might not be for everyone, it's hard to argue with the quality of construction and materials. Both inspire confidence in the backpack.
The Covert's main weakness is the disappointing two-year warranty. But Thule has some of the most sustainable practices of any backpack manufacturer.
As you might guess, this is a specialist backpack for air travel. The Airport Essentials looks smart and isn't an obvious camera bag. It's lightweight and the perfect carry-on luggage size for plane travel.
The top selling point is its efficient use of space. It's compact enough for carry-on luggage, but you can still travel with a decent amount of camera gear.
You can pack several camera bodies, even full frame DSLRs. And there's space for lenses and other accessories.
You have robust handles on the top and sides and a tripod strap. And you get a chest strap and hip belt to help you carry a heavy pack.
It isn't the most versatile camera bag and won't make the best day bag. But if you spend a lot of your life in an airport, the Airport Essentials could be the perfect solution.
It has plenty of well-considered features. And it's easy to travel with your camera!
The Prvke, Wandrd's flagship bag, is a fantastic camera backpack. It has a roll-top opening yet looks smart and stylish. You also get a decent selection of color and size options.
It's a versatile backpack you can use for inner-city and international travel. It works as a day bag, and you can use it for longer outdoor adventures.
The exterior has excellent weather protection. And with the removable camera cubes, your gear has a safe nest inside the bag.
You also get plenty of storage space for other items. Laptops and tablets have their own protective sleeves. And there are side straps for tripods and monopods.
It's a fabulous-looking camera backpack. And the construction and materials are seriously exquisite.
Every detail looks and feels luxurious. And there are no half measures or cut corners. So any photographer would be fortunate to own the Wandrd Prvke.
Use our discount code EXPERTPHOTOGRAPHY at checkout for 15% off your first order!
Final Verdict of the Gura Gear Kiboko V2.0 22L
Measurement

Measurement

Score

Design and Aesthetics

Design and Aesthetics

Build Quality and Durability

Build Quality and Durability

Functionality and Ease of Use

Functionality and Ease of Use

Weather Resistance

Weather Resistance

Compatibility and Versatility

Compatibility and Versatility

Value for Money

Value for Money

Total Score

Total Score
The Gura Gear Kiboko V2.0 scored a total of 72.4 points out of a possible 100 points, which placed it 14th on our list of the 18 best camera backpacks.
This may seem low, considering everything we love about the backpack. But the high price makes it hard to score higher than others we love, such as the Tenba Fulton V2 (at about a third of the price).
It's an impressive camera backpack. It doesn't look like anything special. But looks can be deceiving. It's a tough and rugged backpack made for a life of adventure.
The original target market is wildlife photographers. And while the Kiboko delivers for that group, the bag still has a broad appeal in the photography fraternity.
The rugged, weather-sealed design makes it ideal for the adventure trail. But it's also a fantastic bag for air travel. And the unique two-compartment design gives more security with larger items.
The camera and lens capacity are excellent for a 22-liter bag. The efficient use of space means you can take large telephoto lenses and several camera bodies.
All the straps are fantastic. And you know they've listened to feedback from real wildlife photographers. The bag's comfort is impressive, especially with a heavy load.
You must pay for this quality, as the Kiboko V2.0 has a hefty price tag. But it's worth spending the money if you want a trustworthy backpack. Plus, you also get a five-year warranty plan.