The Think Tank Airport Essentials is a camera backpack designed for air travel. It has a smart design, genuinely useful features, and is conveniently sized. It isn't the most versatile camera backpack. But if you want a camera bag you can use as carry-on luggage, the Airport Essentials is a top choice.
Think Tank is dedicated to designing and producing camera bags and equipment cases. It is a relatively young company that was founded in 2004. But they have a strong reputation that continues to grow in the photography community.
The Airport Essentials isn't the most versatile camera backpack. But all the features are perfectly suited to photographers traveling by train or plane. These include useful straps and handles. There's a special lock for security. And it has incredibly efficient use of space in the main compartment.
The warranty also increased the value for money of the Airport Essentials backpack. The price is competitive for a bag of this quality. But you also know it's a one-time payment for a bag you'll use for years to come.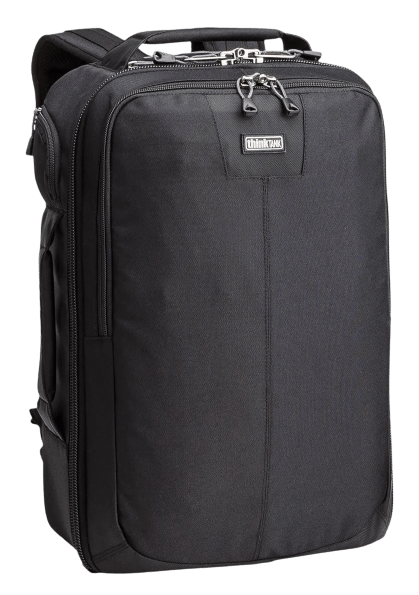 Think Tank Airport Essentials
Designed for air travel, this camera backpack boasts a smart design, has useful features, and fits conveniently as hand luggage. Perfectly suited for photographers on the move, it offers secure storage with efficient use of space and a special lock for added security. With a lifetime warranty, it's a one-time investment for years of use. Despite its lack of versatility, its strengths lie in its excellent storage capacity, solid protection, and stylish design.
For full transparency about our review process, you can read about how we scored and ranked the bags here.
Strengths and Weaknesses of the Think Tank Airport Essentials
Think Tank Airport Essentials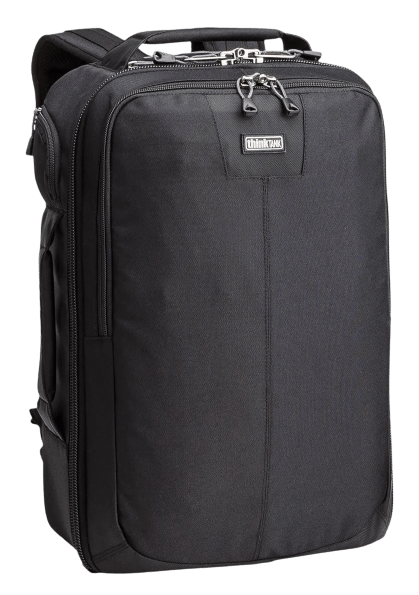 Weight

Weight

1600 g

Capacity

Capacity

15 L

Access Points

Access Points

Front

Airflow Back Support

Airflow Back Support

Yes, with mesh

Laptop Sleeve Capacity

Laptop Sleeve Capacity

13-inch

Tripod Holder

Tripod Holder

Warranty

Warranty

Lifetime

Waterproof Rating

Waterproof Rating

Water-repellent
The main strength of the Airport Essentials bag is its efficient design. It's a compact and lightweight travel bag. But it still has excellent storage capacity and provides solid protection. It's streamlined, purpose-built, and delivers on its promises.
More strengths include the aesthetic design and build materials. It looks smart enough for any traveling photographer. And it's a well-constructed backpack made with strong and durable materials. We'll look at this in more detail in the following sections.
Its weakness is the lack of versatility and flexibility. While it does hit the mark as an air travel bag, it lacks versatility. It doesn't have much appeal as a day bag for inner-city travel. And we don't recommend you take the Airport Essentials on your next mountain hike.
Design and Color Options
The aesthetic design of the Airport Essentials perfectly matches the bag's ethos. It's simple, stylish, and doesn't have any distracting features. And there's an efficiency and maturity that encourages a sense of reassurance.
The backpack has a rigid rectangular structure. It doesn't have a hard shell, but it does hold its shape well. You can apply pressure and it will pop back to its original shape when released.
Think Tank has made it the perfect size for carry-on hand luggage. The shape makes it easy to carry and store when flying. And the size means you can carry your camera gear without getting in trouble with the airline. It's neat and compact, so even the strictest airlines won't have a problem with it.
It's a camera backpack that doesn't scream camera backpack. It has the appearance of a businessman's carry-on bag. It's subtle and unassuming, which allows photographers to keep a low profile.
It's only available in one color option—Black. It is disappointing not to see some other color options. But black is always the most popular color with camera bags, so they won't get too many complaints from too many customers.
Build Quality and Durability
The overall build quality of the Airport Essentials bag is excellent. It looks the part from a distance. And this confidence is reaffirmed when you get up close. The bag lacks some internal padding. But it's a strong bag suitable for a busy travel schedule.
Exterior Material
The outer material is a canvas-like woven 600D polyester. It has a feel like coarse denim, but it isn't abrasive to the tough. You do get a scratchy sound when you touch it, but this is common with synthetic materials. And this bag certainly isn't the worst example.
There's a reassuring thickness to the outer polyester. It feels strong and there's no sense that it would rip easily. Air travel can be more demanding on a bag than you might think. And if you travel regularly, you don't want a bag that falls apart after a few trips. That's not a worry with the Airport Essentials.
Weather Protection
The polyester on the outside of the bag has a water-repellent polyurethane coating. It's a thin coating that most wouldn't even notice. But it does offer some protection against rain.
It's only a water-repellent coating, so the bag is not fully waterproof. This keeps the bag protected against light showers. But you'll need more protection when the heavens really open up.
Thankfully, Think Tank provides something more. The Airport Essentials comes with a removable waterproof cover. It fits over the backpack when the rain starts to fall. And it stows away neatly in the main compartment when not in use.
It's a nylon fitted rain cover with two polyurethane coatings and sealed seams. It's fully waterproof, so you can travel in any weather.
Interior Material
The inside of the bag is a mix of polyester and nylon. The sleek and stylish appearance of the exterior doesn't quite follow when you open up the bag. There's nothing wrong with the materials. But it starts to look like office wear rather than a stylish camera bag.
Despite not looking as smart, all the materials are robust. The bag is well-put-together and it doesn't feel like Think Tank took any shortcuts.
The main section has a layer of soft nylon. This offers some protection for your gear. But it also serves as a receptive material for the Velcro on the dividers. And the dividers themselves are foam covered in grey polyester.
The net pockets are made of nylon webbing. And there are thick nylon hoops on the internal zips. The interior looks far more synthetic than the outside of the backpack. But far fewer people will see the inside of your camera backpack.
Straps and Back Support
The shoulder straps are strong, well-padded, and adjustable. They fit nicely over your shoulders and are slightly curved to make them more ergonomic.
While there are no complaints about the amount of padding in the shoulder strap, there is an issue with the distribution. All of the padding is concentrated in the center of the straps. That means the weight isn't as evenly spread across your shoulders as it could be. But this is only a problem if you're carrying a very heavy pack.
You can adjust the length of the straps using the nylon cords and buckles. The buckles are plastic, but they are strong and work well.
We're pleased to see a chest strap for extra support. It helps distribute the pack's weight across your body, taking some pressure off your shoulders. They make a huge difference when traveling for long periods. And they're adjustable, so you can raise or lower the chest strap for the perfect fit.
The Airport Essentials backpack has fantastic back padding. There's a thick layer of foam. It feels soft against your back when the bag is full. And there are large channels between pads to improve breathability. You also have nylon netting to help air circulation. This is a nice feature because we all know how annoying a sweaty back can be when traveling.
Seams and Stitching
Unless you look closely, the seams are barely noticeable. And that's to the bag's credit. There is a lot of stitching, as the exterior consists of many pieces of polyester sewn together. But the stitching is always neat and tidy. The thread is discreet and the uniform stitching gives your bag a professional finish.
The stitching isn't quite as tidy on the inside. All fabric panels are securely fixed and there's no fraying anywhere to be seen. But it is more noticeable. It isn't as invisible as the stitching on the outside of the bag.
Internal Padding
The interior padding is the Airport Essentials' biggest disappointment. You do get plenty of dividers for organizing your gear. But apart from the two large dividers, they are all thin, firm, and offer little protection.
The two larger dividers that run vertically do have about 1 cm of padding. And there's a yielding firmness that feels like it can deal with bumps and bangs.
The smaller horizontal dividers don't inspire the same confidence. They're only a few millimeters thick and bend easily. The foam does have some cushioning properties. But there's so little of it you don't know how much protection it actually offers.
You can arrange the dividers however you like. And once all your gear is snugly packed, there won't be much movement. The small divider size also means there's more space for your gear. But we would like to see an extra millimeter or two of padding just to be safe.
The laptop and tablet pouches also lack padding. The laptop isn't too much of a worry, sitting snugly with padding on both sides. But your tablet sits in front of the laptop with very little additional padding. Your devices might feel a little exposed at the front of the bag.
Zippers and Fastenings
The zipper quality is very high with the Think Tank Airport Essentials. I'm particularly fond of the large zipper that opens the main compartment. But there is a disparity between the zippers on the outside and inside.
The exterior zippers are YKK RC Fuse abrasion-resistant zippers. And the main zipper is a sturdy, all-metal zipper with a smooth action. The zipper glides effortlessly as you open and close it, which is helped by the large teeth in the zipper.
It's also perfectly fitted and attached well, so there's no puckering or creasing when you pull the zipper around. It's a delight to use.
The other zippers are smaller, but they are also a joy to use. They are all made of metal, which makes for a smoother performance. And they are less likely to break. I doubt the zippers would give you any issues even after years of use.
As with most things on the Airport Essentials, the inside doesn't quite match. There are only two zippers on the inside—one for each net pocket. They aren't bad, but the quality is a step down from the excellent exterior zips.
The only other fastenings are the buckles and clips for the straps. These are all plastic, but they are strong and clip together nicely. There's no problem with them, but if this bag were more expensive, we would expect metal buckles.
Functionality and Ease of Use
The Airport Essentials does have a limited range of functionality. It's a bit of a one-trick pony. But it has a good level of interior customization, the capacity is excellent for the size, and it couldn't be easier to use.
Size and Weight
The size and weight are perfectly suited for air travel. The exterior dimensions are 11.5 x 18 x 7 inches (29.1 x 45.7 x 17.8 cm). That's small enough for hand luggage on even the strictest airlines.
It's a pleasant size to wear on your back. Even when fully loaded, you don't feel like you're getting in everyone's way. That makes passing through busy airports easier. And it's a convenient size for the flight. You can easily store it overhead or under your seat.
It's also a lightweight backpack. It isn't a complete featherweight, but it only weighs 2.6 lbs (1.6 kg). That means you can pack it to the brim before it starts to get too heavy. A camera bag that's too lightweight can make a photographer nervous. But the Airport Essentials has enough heft to tell us Think Tank hasn't cut corners.
Capacity
This travel backpack has one of the best size-to-capacity ratios of all of the bags we've seen. The Airport Essentials is a very space-efficient bag. You don't have the most flexible packing options. But when it comes to your gear, you can pack everything you need.
You can remove the dividers completely and transform it into a normal travel bag. The problem is you can't go half and half. You either have the dividers in and use it as a camera bag, or you take them out and use it as a travel bag. There's nothing in between.
The storage at the front does allow for extra items. And this section includes the laptop and tablet sleeves. And there's a good selection of other pockets for small accessories. The net pockets on the inside are also useful for loose cables and chargers.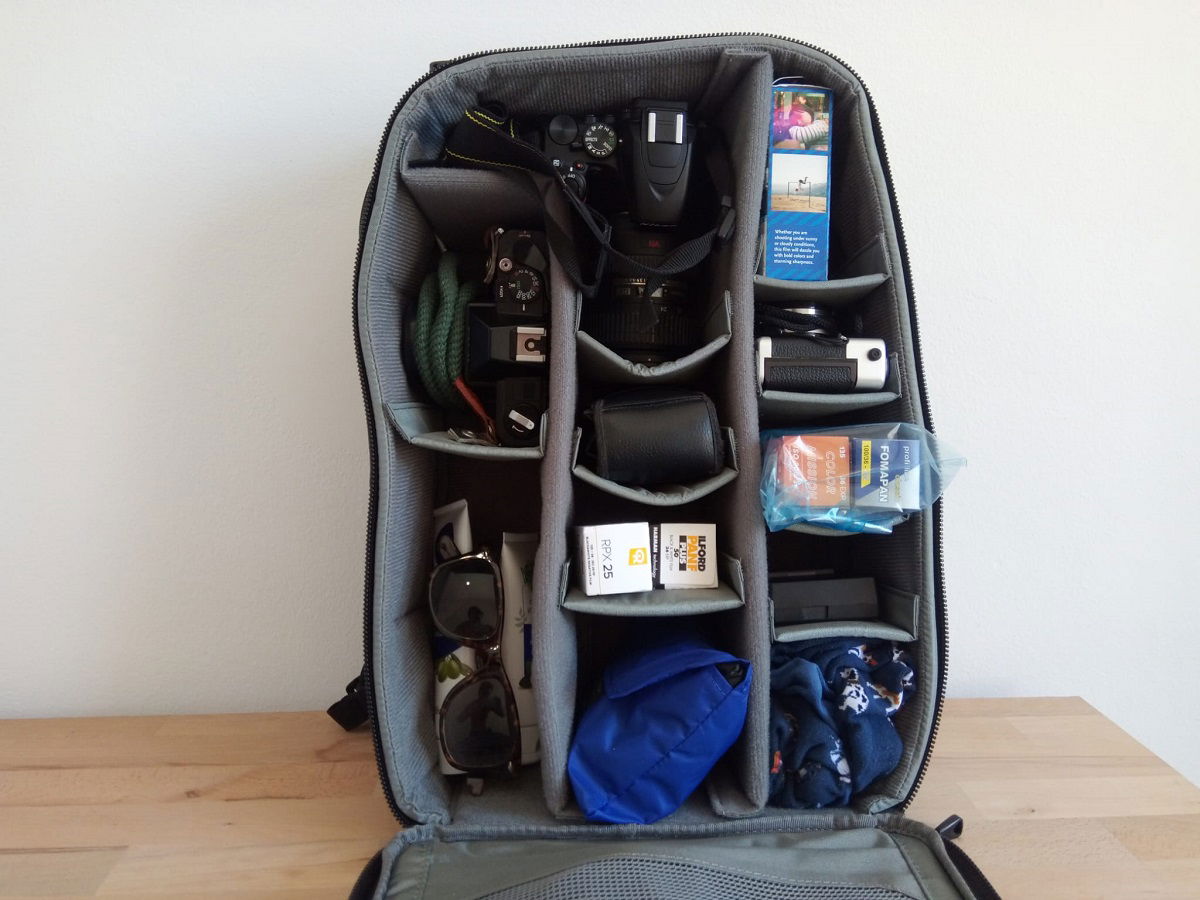 Organization and Customization
When it comes to traveling with a pack full of camera gear, the Airport Essentials is fantastic. It uses its internal space efficiently. And you have plenty of dividers to keep your gear organized inside.
All the dividers have Velcro edges, so you can position them however you like. That means you can easily rearrange the interior if you change your gear. And every item in your arsenal can have its own snug compartment.
You can remove all the dividers to create space for non-photography luggage. You can use it for clothes or other travel essentials. We appreciate the versatility, but you can't easily use the Airport Essentials as a hybrid bag. You can either use it for camera gear or for other things. But you can't use it for both at the same time—not very easily, at least.
The pockets on the front section help keep other gadgets stowed. But there are no options for customization here. All the pockets are fixed in position.
Access Points
The Airport Essentials backpack isn't equipped with many access points. The main opening at the front is the only access point for the main compartment. And you have to unzip it all the way to pull your camera out.
This is a downside to the backpack, but we understand the logic of the design. This is a bag for air travel. And it's unlikely you'll want to whip your camera out on short notice when flying. Keeping your gear safe and secure is the main priority.
You can easily access the front pouch with the device sleeves. And that means you can retrieve your laptop without much hassle. That's handy if you need to work when traveling.
We understand the Airport Essentials isn't a day bag, and quick camera access isn't a top priority. But some more access points would be nice.
Security
Security is of the utmost importance with international travel. And the Think Tank Airport Essentials has a few security features that give you peace of mind.
All the external zippers have hoops for attaching locks. You can tie them together or use a small padlock to prevent unwanted hands from entering.
The main security feature is the built-in cable lock. It has its own zipped pocket on the outer-top corner. And it's a 3-ply bonded nylon thread with a metal padlock. You can use it to lock the zips together. Or you can attach it to something sturdy, like a bike lock, or to your person.
There's no key to the lock. The padlock is locked and unlocked using a 3-digit code. You have to remember the code, but you don't have to worry about losing the key. It adds an extra level of security we're happy to see in a travel camera backpack.
Additional Features
The Airport Essentials doesn't have any headlining additional features. But it does have several smaller features that are thoughtful, appropriate, and genuinely useful. We've mentioned most of them above. But it's worth touching on them again to give you a more complete picture.
Laptop and tablet pockets have become essential features in modern camera bags. And the Airport Essentials doesn't let you down in that department. The laptop pouch is measured for 13-inch laptops, but you can get slimmer 15-inch laptops in there.
You can carry a 10-inch tablet in the tablet pouch. But there's less room for flexibility here. The tablet pouch also lacks the padding of the laptop compartment. And it sits in front of the laptop, so it's more vulnerable.
The backpack has a water bottle holder on one side. But it also doubles as part of a tripod holder. There's a detachable strap you can attach by threading it through a fabric hoop on the side of the bag.
The rain cover is an important additional feature we've mentioned. And the cable lock is a unique feature we haven't seen on many other camera backpacks. We also like the handles as well as the hip belt and chest straps.
Compatibility and Versatility
Versatility isn't a strong point for the Thank Tank Airport Essentials. It's a bag that fulfills a specific purpose. But it has excellent compatibility for a bag of its size.
Compatibility with Cameras and Lenses
This camera backpack makes efficient use of space. At least that's true if you're traveling with camera gear and not much else. The entire main pouch is dedicated to camera equipment.
You can get several camera bodies in there all at once. And they can be full frame mirrorless or DSLR cameras. The compartment is deep enough for either, even with battery grips attached.
Even with two camera bodies stowed away, you have space for several lenses. You can carry five or six standard or wide-angle primes or zooms. And carrying a 70-200mm is no problem at all.
The bag also takes lenses up to 300mm. That will limit your space for other things. But it's good to know you can travel with telephoto lenses when you need to.
You can move the padded dividers around for a unique arrangement that suits your gear. And you can change the setup whenever you need to. You can use the dividers to create perfectly sized pockets for large or small items. You have complete control over the space.
Carrying Versatility
The main carrying method is as a standard backpack. There's nothing wrong with that. We know the shoulder straps have decent padding. And you have the chest straps and hip belt to help distribute the weight.
You can't wear the bag as a sling or carry it as a duffle bag. But the Airport Essentials does have two useful handles. The first is a carrying handle at the top. It's a common feature in backpacks, and this backpack has a strong one. It also has thick and firm padding for a comfortable grip.
But the side carrying handle is a useful feature perfectly suited to travel bags. It allows you to carry the bag horizontally, which is more comfortable than a vertical grip. It's a helpful handle when you're getting on and off public transportation. And it makes taking the bag through airport security much easier.
Price and Value
We believe the Think Tank Airport Essentials backpack is priced fairly. It isn't a bargain backpack. But you don't want to cut corners when traveling by train or plane. And that's exactly what this bag is designed to do. And it hits the mark on many counts.
Thicker padding would have been nice. We're not asking for the best of the best foam inserts—we understand that would add substantial costs. But a little more thickness would give travelers better peace of mind.
It isn't a versatile camera backpack. But if you need a camera bag for air travel, the Airport Essentials is a good investment. You know you'll have an easy, stress-free time traveling with this bag. And that reassurance is worth the price of the Airport Essentials.
Warranty
Think Tank's lifetime warranty is another reason to consider the Airport Essentials for air travel. We mentioned the overall quality of the Airport Essentials backpack. And a lifetime guarantee from the manufacturer helps us trust the quality even more.
The warranty covers defects in materials, parts, and workmanship. Think Tank will repair or replace faulty parts. And they might even replace the product if necessary. That's at their discretion. And there are conditions to the warranty.
General wear and tear, cosmetic problems, and damage caused by abuse are not covered. That's fairly standard for a lifetime warranty.
There is a lot of grey area, as Think Tank has the final say on what is covered by warranty. But customer reviews are generally positive. Think Tank has held its word and replaced and repaired faulty bags. It's no surprise that Think Tank customers are loyal to the brand.
Sustainability
There's very little to say about Think Tank's sustainability practices. That's because the company has said very little about its sustainability practices. In fact, we couldn't find a single word about it on the Think Tank website.
Considering companies usually love blowing their own horn about being green, it's a bad sign when a company makes no mention of it whatsoever. That means Think Tank has lost a lot of points in this department, bringing down the overall score of the bag.
The only saving grace is the lifetime warranty. By repairing and replacing its bags, they reduce waste. Bags like the Airport Essentials are built to last. And they won't end up in a landfill after a few months. That is a sustainable practice, so there is at least some redemption in this department.
Alternatives to the Think Tank Airport Essentials
If the Think Tank Airport Essentials isn't exactly what you're looking for, here are some alternative backpacks. We have another backpack for air travel. There's a day backpack for travel. And we've included a high-capacity travel camera bag.
The Manfrotto PRO Light Multiloader is one of our top-rated camera backpacks. It's an impressive all-rounder, straddling several different photography niches. But it's one of the best camera backpack options for air travel.
The build quality is of the highest standard inside and out. The exterior is weather repellent, and the interior has an efficient use of space with high-grade padding. Your expensive camera gear is safe inside when you travel.
Comfort is one of the top selling points of the Manfrotto. The highly adjustable shoulder straps have thick padding. And there are two chest straps to help distribute the bag's weight. They're both height adjustable. And they make a huge difference when you're traveling long distances.
You have four access points for packing and unpacking your gear. And the backpack has nearly every useful feature you can think of. But these features aren't just thrown together. Every clip, buckle, and strap works as it should, providing a fantastic user experience.
If you're a traveler looking for a rugged day bag, you can't go wrong with the Wandrd Duo Daypack. It's a compact and lightweight backpack. And you can compress it down to a smaller size to be packed in a suitcase. And it has all the capacity you need in a day backpack.
It looks great. But the quality is more than just in appearance. The interior and exterior materials and craftsmanship are superb. There's incredible attention to detail. And it's a highly protective bag for your camera gear.
Bad weather is no problem for the Duo Daypack. It's thoroughly weather sealed with no need for a removable rain cover. Even the zippers are sealed against the rain. The internal padding is excellent. And you have padded pockets with elasticated tops for storing accessories.
Some might think it's pricey for a day backpack. But the quality, usability, and protection all justify the price tag. The Wandrd Duo Daypack is an exquisite backpack for adventurous photographers.
The Kiboko V2.0 is Gura Gear's latest version of their flagship camera backpack. It's designed by and for wildlife photographers with an emphasis on durability and lens capacity. But even though wildlife photographers are the target market, the Kiboko is a versatile bag any photographer can use.
With an original X-Pac VX-21 outer shell, the Kiboko is weather-resistant yet ultra-lightweight. It also has comfortable straps that make it easy to carry. The dual butterfly front openings give you a unique camera bag experience. You get two high-capacity storage compartments. And each can store large camera bodies and telephoto lenses.
The wide range of additional features makes it a highly usable backpack. The chest strap and hip belt distribute the weight when carrying a full load. You can travel with your laptop and tablet. And security-conscious zippers give you peace of mind.
The Gura Gear Kiboko V2.0 is a great alternative backpack for travelers. It makes the grade for photography expeditions into the wild. But you can also use it as carry-on luggage when flying.
Final Verdict of the Think Tank Airport Essentials
Measurement

Measurement

Score

Design and Aesthetics

Design and Aesthetics

Build Quality and Durability

Build Quality and Durability

Functionality and Ease of Use

Functionality and Ease of Use

Weather Resistance

Weather Resistance

Compatibility and Versatility

Compatibility and Versatility

Value for Money

Value for Money

Total Score

Total Score
With a final score of 75.4, the Airport Essentials has made it into the top ten of our list of camera backpacks. It isn't the most versatile. But the quality construction, efficient design, and lifetime warranty have bolstered the score.
The Think Tank Airport Essentials is a fantastic camera backpack for air travel. It isn't the most versatile or flexible backpack out there. But when we judge the bag on the brief Think Tank set itself, we have to conclude the bag is a success.
The outside looks smart yet unassuming. You can travel with ease, and you won't be recognized as a photographer. It's the perfect size for airline carry-on luggage. And all the features make a traveler's life a little bit easier.
The Airport Essentials isn't perfect. The lack of thick padding might concern some photographers. But when it comes to the efficiency of space, not an inch is wasted. You can travel with a full set of camera gear, including several cameras or telephoto lenses.
The bag is well-priced, well-constructed, and hits all its main objectives. There are fancier options on the market if you have a higher budget. But the Airport Essentials gives you good value for money if you want a camera backpack for air travel.