No matter what genre of photography you do, you will find a way to utilise that knowledge during travel.
It is important to pick a camera that suits that specialisation the most. From compatibility to low-light management, the best cameras excel in every area.
Read on to find out which are the best travel camera options out there!
[Our readers support ExpertPhotography. Product links on ExpertPhotography are referral links. If you use one of these and buy something, we make a little bit of money. Need more info? See how it all works here.]
What to Look for in a Travel Camera
Travel photography usually consists of many different niches. It can involve documentary, landscape, street, wildlife, architecture, and adventure photography. For this reason, when looking for a camera, you should choose based on the genre where you specialise.
There are a few factors you should definitely look at when picking a travel camera.
Some of these are coming straight from the nature of travel photography. Since you will be carrying your camera around a lot, it is important that the body is as compact as possible. A smaller camera will also draw less attention to you.
It is also vital that you pick a camera body that has a sturdy build. It should be water-resistant, as you do not want lousy conditions stopping you.
Extra features will help you speed up your workflow. Wi-Fi compatibility allows you to import your images faster. It also allows for remote control over your camera. GPS is a valuable tool for travels, as it remembers where you took particular photos. Having a tiltable touchscreen also provides you with flexibility.
Fast burst rate comes in handy when taking action or street photographs. The camera should be able to shoot at least 7fps. You may encounter low-light situations, so a high ISO capability is a feature to look for.
When travelling, you might not have the time or opportunity to charge your camera. So it is a bonus if the battery can last long without charging.
You might need a wide-angle lens for landscapes one day but a zoom lens for adventure photos on the other.  So, those cameras are the best choice, which supports interchangeable lenses.
Many travel photographers prefer mirrorless cameras for travel photography. This is due to their lighter weight and more compact size. In our list, we have collected both DSLR and mirrorless cameras. 
Best Travel Cameras
Let's take a look at our recommendations for the best travel cameras!
This camera leads the market in the lower-end mirrorless cameras.
Due to its small size, it is perfect for street photographers and vloggers. The tiltable LCD screen also makes it ideal for 4K videos.
It is also suitable for action photography to its high-speed continuous shooting. The 26 MP resolution ensures that you are getting quality images in every situation.
The Dual Pixel autofocus and the updated firmware ensure fast and accurate focusing. The camera offers eye-detection AF, which is a useful tool for taking portrait photos.
This compact mirrorless camera is one of the best choices for travel photography. The 26 MP APS-C sensor gives you high-resolution images.
The advanced hybrid viewfinder gives the perks of both optical and electronic viewfinders. The camera is capable of shooting at 11fps.
The autofocus performance is also outstanding, working well even in low-light situations.
There is a tiltable touchscreen for those looking for more flexibility. The 4K 30p video recording is also useful to those who want to record their travels on videos apart from images.
This Micro-Four-Thirds mirrorless camera is a perfect choice for both enthusiasts and beginners.
Its biggest strength lies in its versatility. The five-axis in-camera image stabilisation ensures you get sharp pictures even in low-light. The body offers 121 cross-type autofocus points and 4K video shooting.
You can take 50 MP ultra-high-resolution images. You can also use the live composite mode if you do long-exposure photography. The built-in Wi-Fi and Bluetooth are two extras that make this camera even more appealing.
If you want to know more about this camera body, check out our full review!
This body is an update on their top-level DSLR shaped APS-C camera.
Inside, you will find the 26-megapixel sensor, along with 425 AF points. With the accurate autofocus, you also get 15 fps continuous shooting.
The image quality is stunning. The contrast and phase-detection system help you capture the scene in a fantastic way.
On top of this, a booster power grip allows you to draw power from several batteries, letting you hit 30 fps. This is great for moving subjects. The Fujifilm X-T4 is a perfect choice for fast-paced portraiture sessions.
This is a higher-end crop sensor body from Canon, with a resolution of 32.5 MP and burst shooting up to 10 fps.
The Dual Pixel AF ensures accurate and fast autofocus across 45 cross-type points. The autofocus system is outstanding for the price range. It also includes eye-detection AF, which is especially useful for portraits.
The 4K video shooting and the Full HD 120p are good enough for budding videographers. There is also built-in Bluetooth and Wi-Fi, ensuring compatibility and efficient workflow.
This mirrorless body is an excellent choice as an entry-level full-frame portrait camera. The 24.2 MP resolution and 4K video compete with many other professional camera bodies.
Like in the other Sony mirrorless cameras, the autofocus is outstanding in the case of A7C as well. It offers a hybrid system of 693 phase-detection and 425 contrast autofocus points.
This body is the smallest and lightest (509 grams) full-frame camera in the market.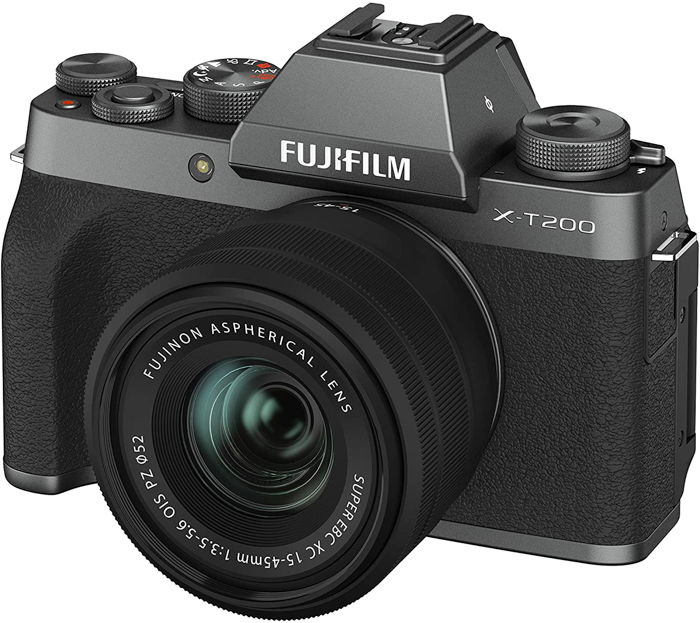 A good choice if you want an entry-level full-frame portrait camera.
Like in the other Sony mirrorless cameras, the autofocus is outstanding in the case of A7C as well. It offers a hybrid system of 693 phase-detection and 425 contrast autofocus points.
This body is the smallest and lightest (509 grams) full-frame camera in the market.
The 24 MP sensor of this APS-C camera allows you to take high-resolution images.
The camera includes 4K video capabilities and impressive low-light performance. It provides clear, sharp, and high contrast images in every setting.
The Dual Pixel autofocus system and cross-type autofocus points ensure accuracy and speed. In Live View mode, there are 143 focus points, which is a high number for a mid-range crop sensor camera.
Bluetooth and Wi-Fi improve compatibility with other devices for a smooth workflow.
This Panasonic camera's strongest feature is the built-in 5 axis image stabilisation. It works both for video and image quality. This allows you to take impressive low-light images without camera shake.
The tiltable touchscreen is useful for taking shots from a different perspective. Its Depth-From-Defocus autofocus technology calculates the distance of a subject. It then focuses quickly and accurately.
There are currently 27 compatible lenses available for this camera. This is an excellent opportunity to find the focal length that fits your shooting style.
The body is also capable of shooting 4K video, where you can choose frames to save high-quality photos.
This compact camera offers a 20 MP CMOS sensor and a Zeiss 24-200mm  f/2.8-4.5 zoom lens.
The high-speed autofocus has 357 focus points; a high number for a compact camera. It covers the whole frame, making accurate focusing easier. Artificial intelligent based object tracking is also available for humans and animals.
The 20fps continuous shooting is also something that makes this camera worth considering.
High image quality, 4K video, time-lapse shooting, and built-in image stabilisation give this camera outstanding value. It is an affordable yet professional option for those looking for a great travel camera.
Conclusion
There are many factors you should consider when picking the best travel photography camera.
Compact size and weatherproof build are a must. It is also useful if the body has built-in Wi-Fi and GPS. Apart from these, the faster the burst rate and the longer the battery life, the better.
Keep in mind that you should not base your decision on one specific feature. It is more important that you feel comfortable with the camera and it is intuitive to use.
If you are looking for the best travel camera, Canon EOS RP and Fujifilm X100V are our favourites. But, take your time to go through each description and pick the travel camera that suits you best.
If you liked this article, take a look at our collection of the most influential travel photographers!