The Wandrd Duo Daypack is a camera backpack of the highest quality. It's compact, lightweight, and made from robust materials that offer thorough weather protection. And it has unique and thoughtful features that genuinely add to the user experience.
Wandrd is a young company. It was started by and for enthusiastic photographers with a serious case of wanderlust. Their marketing tactics make you want to grab your camera and head off into the horizon. And even after just a short time with the Duo Daypack, we know it's the perfect travel companion.
The Duo Daypack scores high all across the board. Wandrd describes it as a dawn-to-dusk day bag. And it has nailed that brief. There are a few disappointments and curiosities here and there. But it's one of the best-quality camera backpacks we've had the pleasure of reviewing. The quality comes at a price, but the Duo Daypack is worth every penny.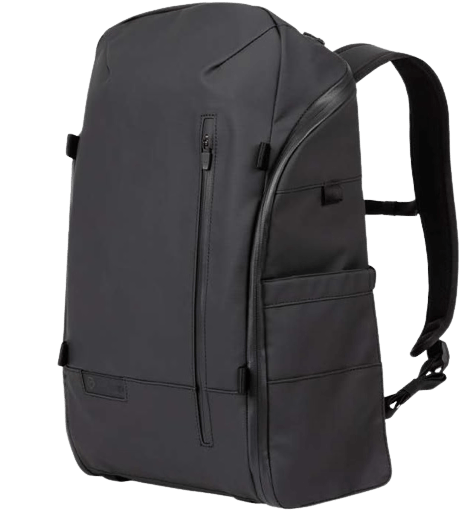 Experience the ultimate travel companion with this high-quality camera backpack. Lightweight, compact, and robust, it offers excellent weather protection and thoughtful features designed by photographers for photographers. Despite a few minor limitations, its superior construction, ample storage, and stylish design make this camera bag a worthy investment for any photography enthusiast.
For full transparency about our review process, you can read about how we scored and ranked the bags here.
Strengths and Weaknesses of the Wandrd Duo Daypack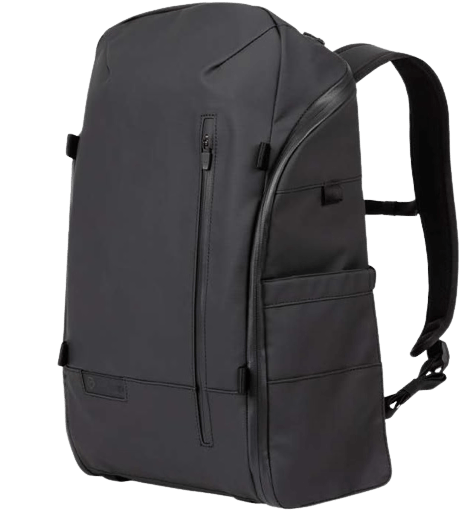 Weight

Weight

1200 g

Capacity

Capacity

20 L

Access Points

Access Points

Front, side

Airflow Back Support

Airflow Back Support

Yes, without mesh

Laptop Sleeve Capacity

Laptop Sleeve Capacity

15-inch

Tripod Holder

Tripod Holder

Warranty

Warranty

Lifetime

Waterproof Rating

Waterproof Rating

Weatherproof
The Wandrd Duo Daypack has quality running through it. From top to bottom, the materials are of the highest order. It's beautifully constructed and gives you a high level of weather protection. Everything from the straps to the stitching is top-notch.
The bag gives you plenty of storage. There's a wide array of pockets and pouches. And they all have protective padding. Many pockets are elasticated, so they can serve multiple functions. And the main zipper gives you easy access, even when you're on the move.
The main limitation is the space for camera bodies. But as a day bag, some photographers might favor having space for everyday items rather than just maximum camera capacity. It's also missing a few features we consider staples on a camera backpack. For example, the tripod and waist straps have to be purchased separately.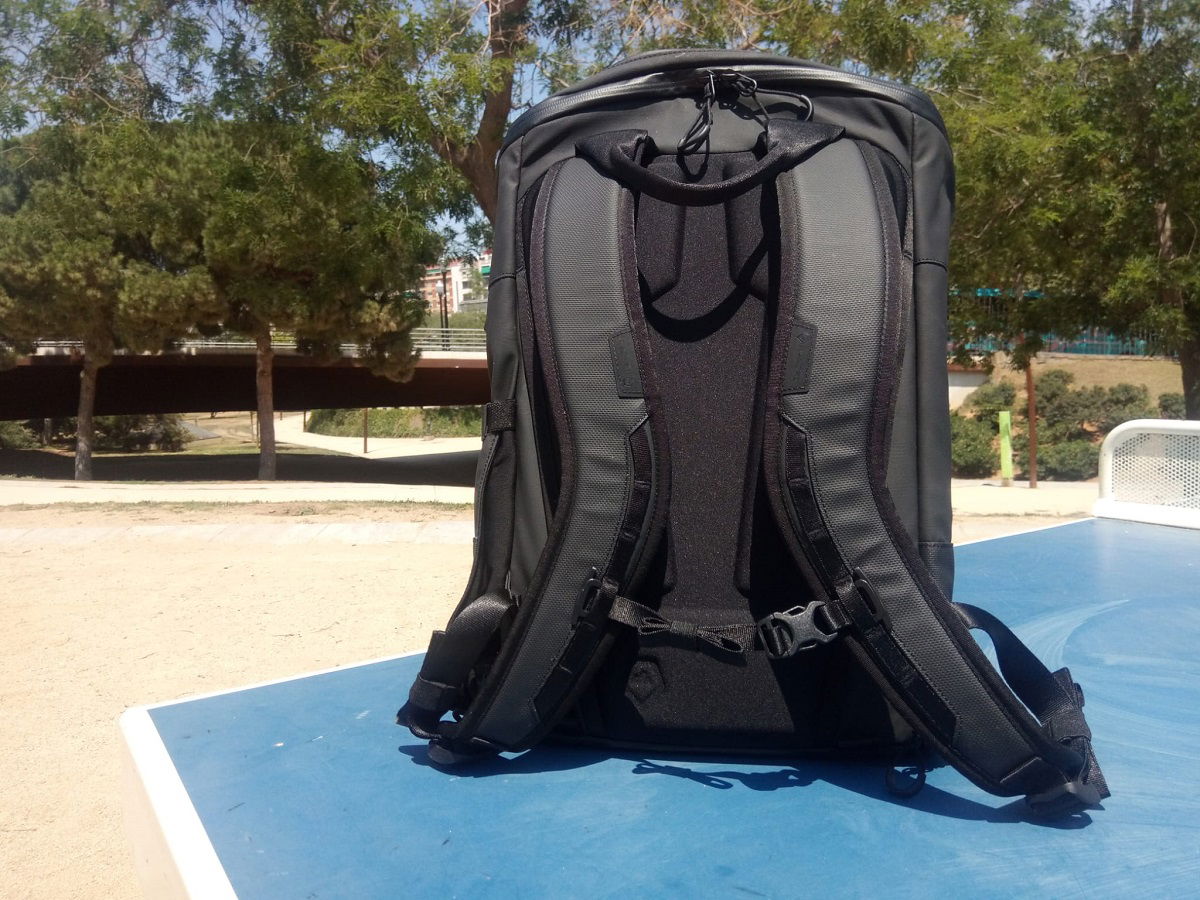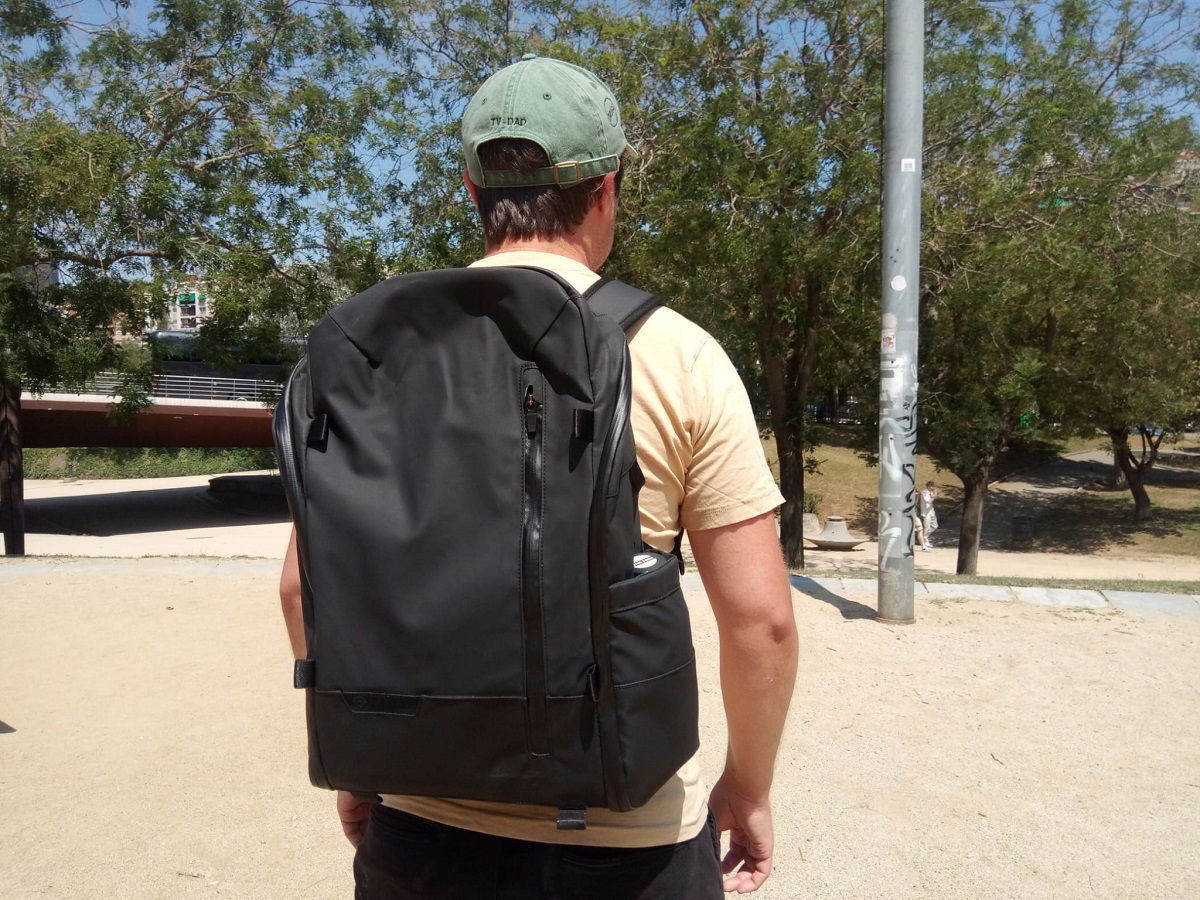 Design and Color Options
There's only one color option—Black. We always like to see a few color options on offer, so Wandrd loses a few marks. But black never goes out of style and is a popular choice anyway.
The Duo Daypack looks fantastic. It has a simple, uncluttered design that gives the bag a smart finish. The materials have a soft sheen in direct light. It's subtly stylish and will turn heads for all the right reasons.
Wandrd has created a robust outdoor backpack that doesn't look like just another nylon sack. Everyone from intrepid explorers to the fussiest hipsters would be happy wearing the Duo Daypack.
Build Quality and Durability
The build quality of the Duo Daypack is sensational. The external materials are strong and durable, and yet the bag still looks smart and stylish. And when we investigate the interior, we see that Wandrd hasn't cut any corners. It's made with high-quality construction down to every nook and cranny.
Exterior Material
The Duo Daypack is made of 840D Jr ballistic nylon with a protective coating. The nylon is thick, tightly woven, and very strong. You can feel the strength of it in your fingers. You'd need a knife to rip it open.
The coating gives the nylon a smooth finish. It feels slightly rubbery, but it isn't unpleasant. And it doesn't make a loud scratchy sound like coarser nylon materials. It adds to the subtle and discreet nature of the bag.
The bottom of the bag has a double padded layer of nylon. This adds extra strength and protection to the backpack. It prevents water from seeping through if you put it down in a wet area. And it stops the bottom from wearing out.
You will also find seatbelt nylon on the side and top handles. And the shoulder straps have a thinner, coarser nylon. But these are the finishing touches.
Weather Protection
The Duo Daypack has thorough weather protection. It isn't fully waterproof, so you can't submerge it underwater. But it can put up with torrential rain, keeping your gear dry in the worst weather.
The 840D nylon is waterproof on its own. But the bag also has a special coating that makes it even more water-repellent. Together, the nylon and coating stop water from seeping through. Moisture won't get through, even if you leave the bag in damp conditions for long periods.
Zippers are usually an area of vulnerability on weatherproof bags. But Wandrd has that covered. The zippers have a weather-resistant rubber coating that stops water from getting through the thread of the zipper. And rubber lips at the ends seal those vulnerable spots.
You don't need to worry if the heavens open when you're touring a European city. And the Duo Daypack can also cope with monsoon conditions if you're backpacking in Asia. That's good news for travel photographers.
Interior Material
When you open the bag, you find a palace of quality nylon. All the pockets use nylon, but it's not coarse or abrasive. All the materials are smooth, sleek, and soft to the touch.
The three net pockets have a soft nylon mesh with ultra-fine webbing. These (and many other pockets) have elastic around the opening. And the divider between the laptop and tablet sleeves has a soft fleece lining. This protects the screen against scratches and blemishes.
The interior nylon isn't as thick and robust as the outside. But all the internal materials are top quality. We have seen some manufacturers use cheaper materials on the inside. But Wandrd hasn't cut any corners. It's a classy backpack inside and out.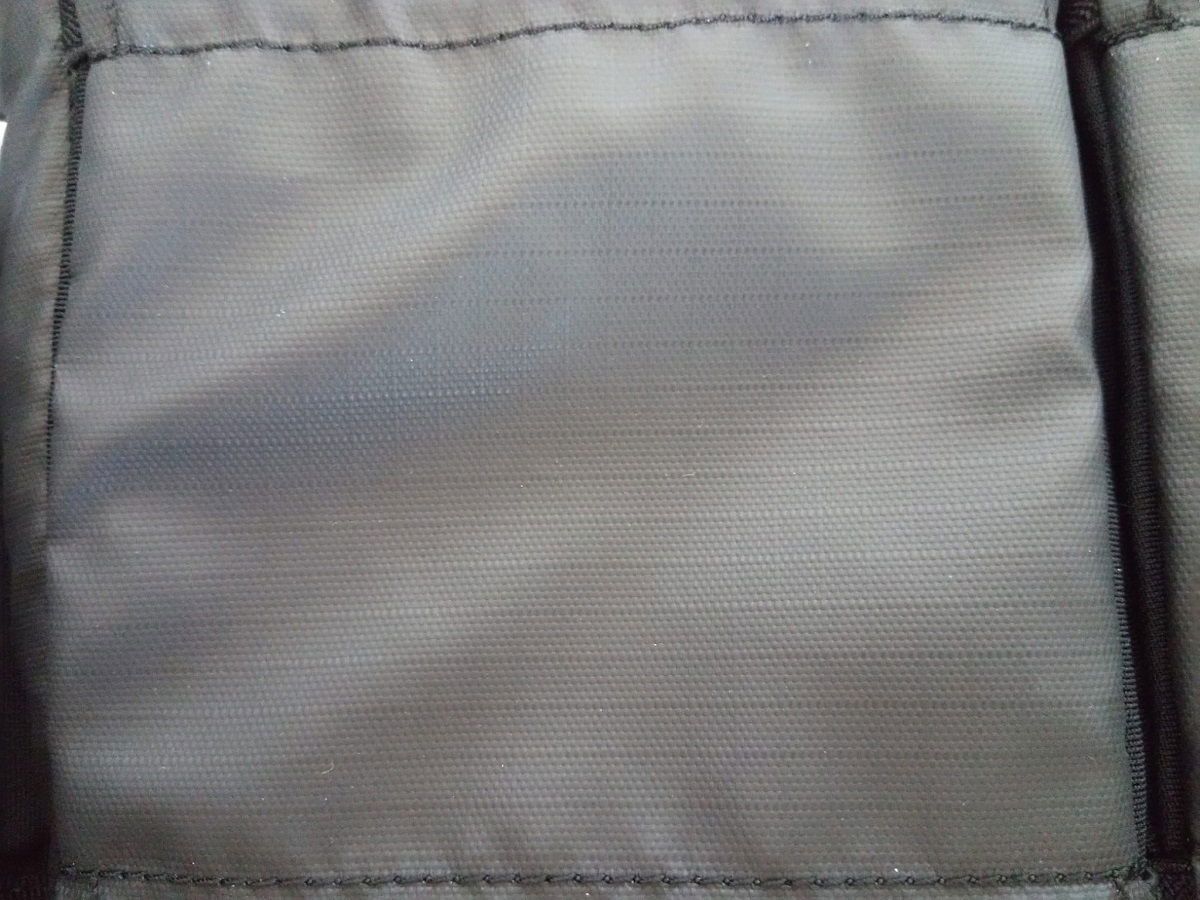 Straps and Back Support
With broad padded shoulder straps, the Duo Daypack is comfortable to wear. They don't have the thickest layer of foam padding. But considering the capacity and intended use, you can comfortably wear the bag for longer periods.
You can easily adjust the length of the shoulder straps. A buckle at the end of the padded sections allows you to extend or retract the nylon cord at the other end.
We're happy to see the Duo Daypack has a chest strap for extra support. It redistributes the bag's weight when you're carrying a heavy load. And you can adjust the height by repositioning it on the lower part of the shoulder strap.
It's a bit fiddly, as you have to twist the metal buckle, pull it out, and reattach it in another slot. But when it's in position, it makes carrying the backpack a lot easier.
The back padding gives you excellent back support. There's a thick layer of foam that's comfortable against your back. And there are two airflow channels to help circulation. That helps prevent your back from getting too sweaty.
You don't get a waist strap included with the Duo Daypack, but you can buy it separately. There are two nylon hoops where you can attach it. While a waist strap isn't totally necessary for a day bag, having to buy one separately is a bit frustrating.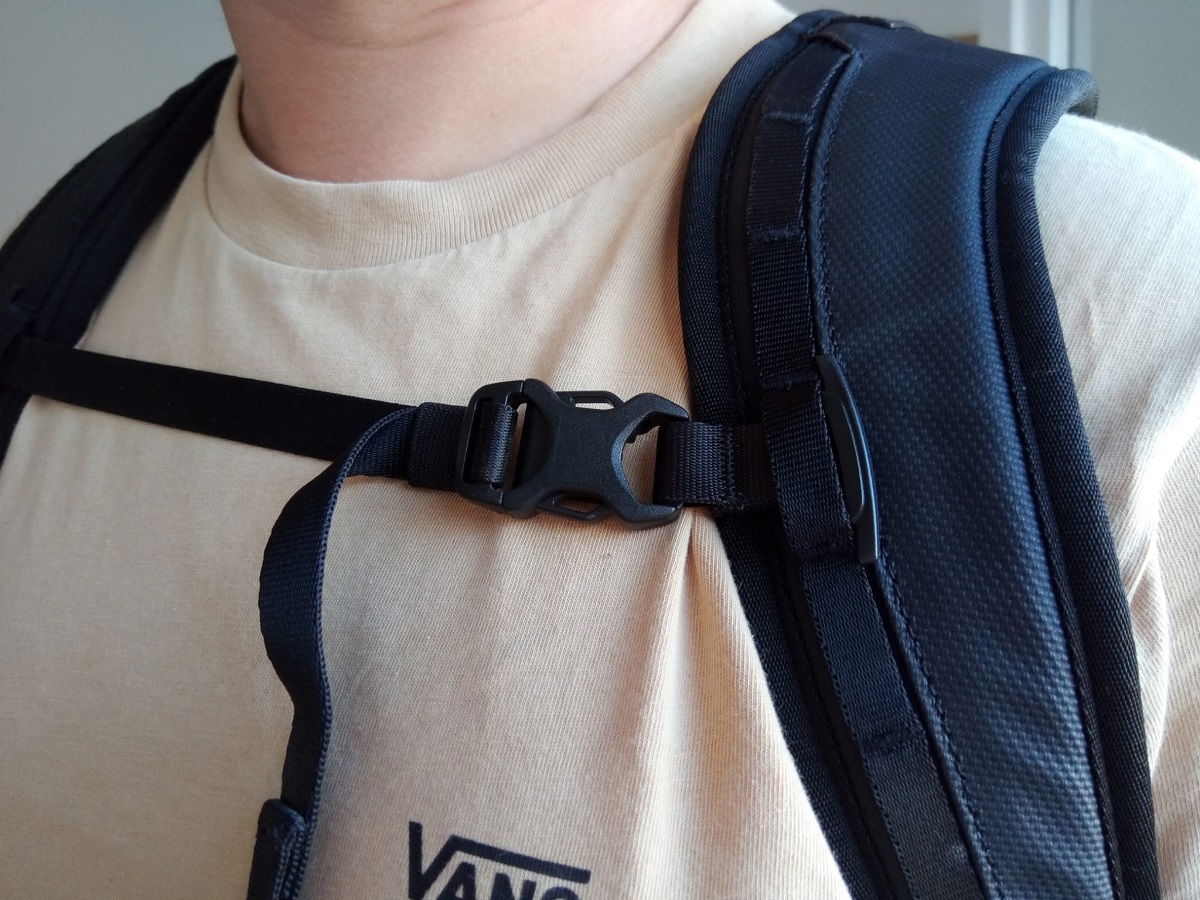 Seams and Stitching
All the stitching is impeccable, with neat seams throughout the backpack. The exterior has quite a few seams where different pieces of nylon are stitched together. But the craftsmanship is so good you barely notice the connections.
The black thread means the stitching is practically invisible unless you look closely. It's a fine thread that's tightly stitched through the nylon. The tightness means there's less risk of fraying or the thread coming loose. And it adds to the bag's sleek aesthetic.
With all the pockets, dividers, and folds, there's plenty of stitching on the inside. But again, it's all top-quality craftsmanship. The tightly stitched black thread holds everything together firmly.
The folds in the "pop camera cube" are places you might expect to find a weakness in the stitching. But we've seen no signs of deterioration or fraying. The tubes for the elastic pockets tops are other vulnerable points. But again, we don't see any weaknesses here.
Internal Padding
The Wandrd Duo Daypack offers excellent protection for your camera, lenses, and accessories.
Inside, there are two vertical pockets with elasticated tops. Both of these pockets have a thick layer of foam padding. The foam is soft, but it firms up quickly when you apply pressure. It's light, airy, and bends easily. That means it wraps around the item in the pocket rather than squashing it.
The camera section—or the "pop camera cube," as Wandrd calls it—has a different type of foam. This foam is firmer and less yielding when you apply pressure. That's because the cube needs to hold a rigid shape.
Despite the extra firmness, the camera cube's foam still gives plenty of protection. Your camera is safe from knocks and bangs when tucked away in the cube.
You also get thick foam padding in the laptop and tablet sleeves. There's a foam layer at the front and back with a soft, fleece-lined divider in the middle. This allows you to pack a laptop and tablet at the same time.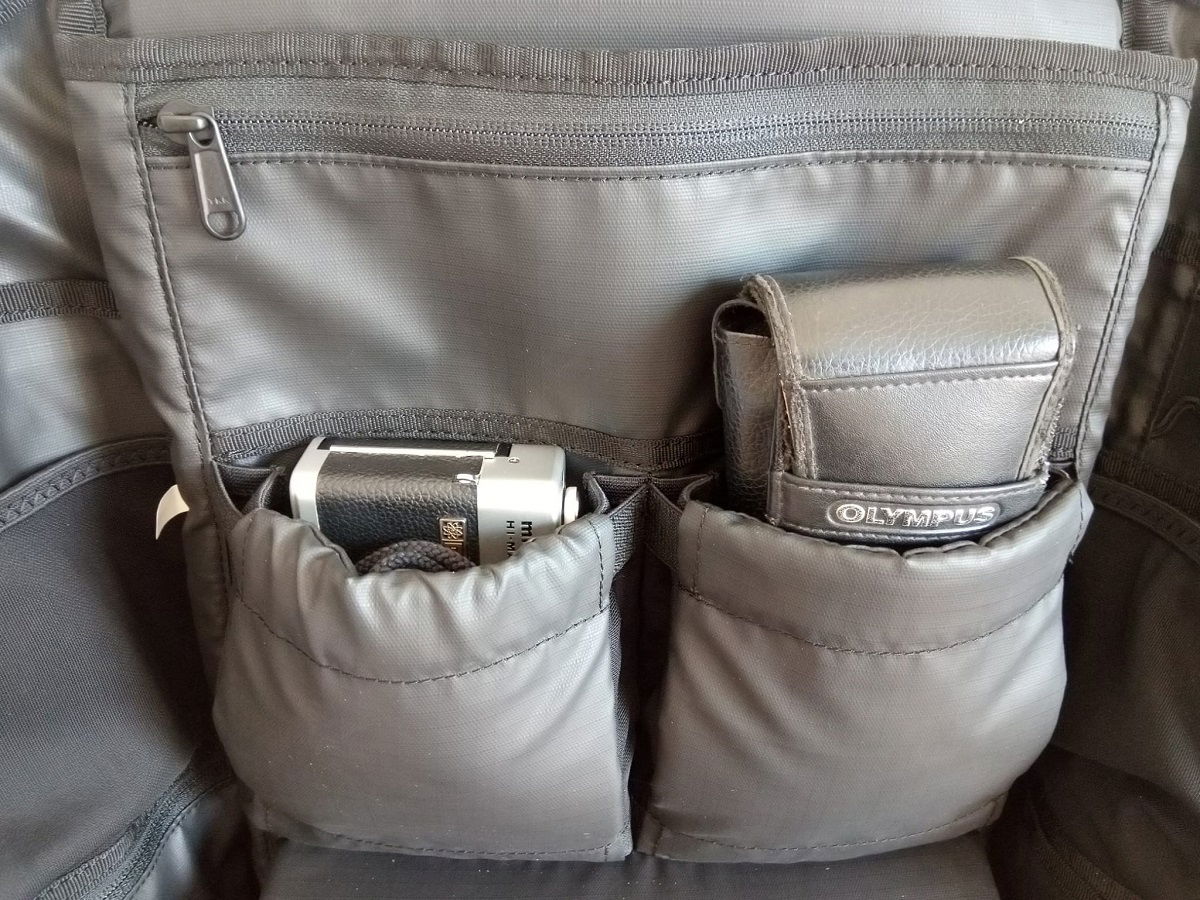 Zippers and Fastenings
With high-quality YKK zippers, opening and closing the backpack is an enjoyable experience. They are also weather-sealed. And we're sure they will last a long time.
The heads and threads of the YKK zippers are all metal. The action is smooth all the way up and down. Although, you do have to be more careful when you're zipping over the bottom corners.
As we've discussed, the outer zippers have a rubber coating. This stops water from seeping through, adding even more weather protection to the backpack.
There's only one zipper on the inside. And while smaller than the exterior zippers, it's an all-metal one that doesn't undermine the quality of the bag.
Other fastenings include the two buckles on the shoulder straps. Made of thick plastic, they work well and don't ruin the bag's aesthetic. But metal buckles would have been a classy touch. They did use metal buckles for the chest strap, so it's a shame they didn't do the same on the shoulder straps.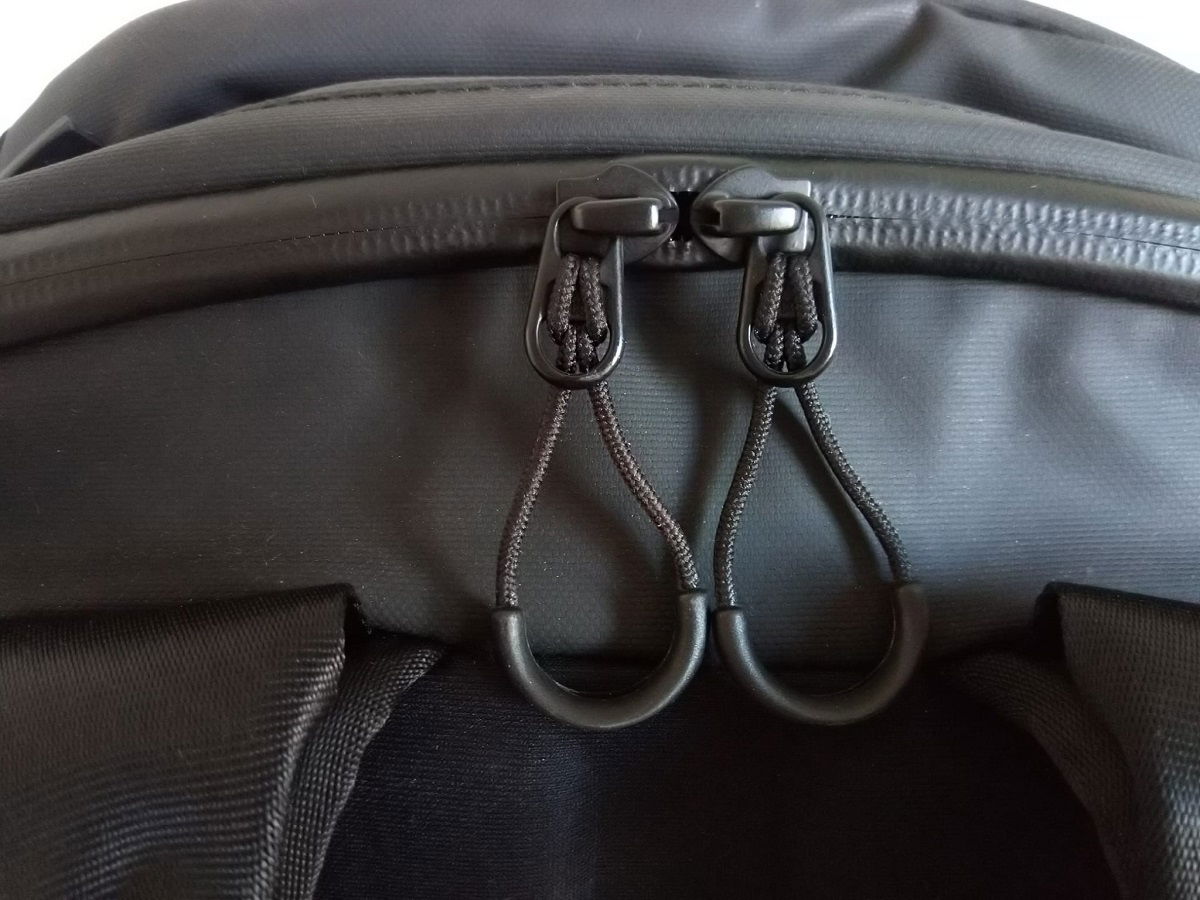 Functionality and Ease of Use
The Duo Daypack has a unique design that makes it a highly functional camera backpack. They've tried new things, and getting used to the layout will impact the ease of use for new owners. But once you understand it, you appreciate all the design features.
Size and Weight
It's compact for a camera backpack with a 20L capacity. It's also lightweight when unloaded, weighing only 2.6 lb (1.2 kg). And because it's a soft-shelled backpack with no rigid structure, you can squash it down. You can pack it in a suitcase without much trouble.
The clever and efficient use of space means you can fill the backpack without it becoming bloated. It always strikes a nice shape on your back. And you can walk down a crowded street or travel on public transportation without nudging people as you turn.
It isn't a specialist air-travel backpack. But the compact size allows you to take the Duo Daypack as carry-on luggage when flying. It's small enough to easily stow under the plane seat.
Capacity
The overall capacity is 20L. And while Wandrd has been very considerate, there's a lack of free-packing space. By free-packing space, I mean open space where you can pack everyday items. But you can rearrange the interior to give you more free space.
The Duo Daypack has plenty of pockets. There's the pop camera cube for cameras and lenses. But you also have two padded pockets higher up. They are both 5 inches (11 cm) wide. And you can use them for accessories like external hard drives. Or, thanks to the padding, you can store lenses or small cameras in them.
You have a rectangle zipper pocket above them. This is for storing cables and chargers. And there are two netted and two nylon pockets on the sides of the bag's interior. These are handy for other accessories and odds and ends.
You can travel with your laptop and tablet, both of which have a padded compartment. The laptop sleeve can fit a computer up to 15 inches.
There's a side pocket on the outside of the bag. And there's a handy pocket at the front of the bag. This is good for books, documents, and other slim items.
Organization and Customization
With all the interior pockets, you don't need to worry about organization. The space is so well-organized it's easy to keep all your gear in order. There's a designated space for every piece of equipment.
The pop camera cube is the most customizable. Firstly, you can customize the space inside the cube with the divider. But you can also fold the cube down. This opens up the space inside the bag and gives you a bigger free-packing area. That's handy for packing clothes or any other everyday items.
You can't remove the two padded pockets. But thanks to the elastic, they sit flush against the side of the bag. That means you have more space when you leave them empty. And even if you do put small items in there, the elastic stops them from bulging.
With all the pockets fixed in position, customization is limited. But with all the versatile pockets, you'll always have a well-organized camera pack.
Access Points
The Duo Daypack uses Wandrd's trademarked Infinity Zip system for access. It's a zipper that runs from one bottom corner, right to the top of the bag, and goes all the way to the other bottom corner. Opening it gives you full access to the bag's interior.
Opening the bag all the way gives you excellent front access. It's easy to pack and unpack your gear. And you can see everything all at once, which helps keep your gear organized.
The Infinity Zip also gives you side access. By opening the zipper part way up the side, you have access to your camera. This works on both sides. And the zipper has four zipper heads, meaning you can zip it closed at the top and the bottom.
It also means you can access both sides without needing to open the bag all the way. It's a small detail that makes a huge difference.
The zipper curves towards the back as it nears the top of the bag. This allows the bag's side panel to fold down and makes it easy to grab your camera. We've seen some side access points that make getting the camera in and out difficult. But the Duo Daypack's clever design makes it an easy operation.
The main Infinity Zip is the only access point. But thanks to the layout and four zipper heads, it operates as front and side access points. It's a highly efficient solution.
Security
The Wandrd Duo Daypack is light on security features, with only a few things worth noting.
The zipper pulls have plastic semi-circular heads you can tie or lock together. And because there are four zipper heads, you can lock the main zipper in two places. You have to provide your own padlocks. But you can lock the bag down if you need to leave it in a hostel, for example.
The laptop and tablet pockets are situated inside the main compartment. You have to open the main zip to get to them. That stops would-be pickpockets from quickly grabbing your device from an outer pocket.
The bag's appearance also helps in the security department. To the casual eye, it does not look like a camera backpack. And thieves are less likely to target you if they can't tell you're wearing a bag full of expensive camera equipment.
Additional Features
We already touched on some of the additional features, like the chest strap and laptop sleeve. But the Duo Daypack has a few more additional features worthy of your attention.
There's a water bottle pocket on the side of the backpack. It's a padded pocket that expands at the top, thanks to the elasticated rim. It will hold either a small or large water bottle.
The Duo Daypack has a carry handle on the other side. That means you don't have water bottle pockets on both sides. But the strong handle gives you another carrying option.
Air travelers will appreciate the suitcase-handle sleeve on the back of the bag. It's a space between the main bag and the back padding. And the handle of your wheeled suitcase threads through it. It threads through the side so the Daypack sits horizontally on the suitcase. That isn't ideal, but anything that makes air travel easier is a positive in our book.
Compatibility and Versatility
The Duo Daypack has excellent compatibility for a day bag of its size. It doesn't have the most versatile interior. And you don't get many carrying options. But it has space for pretty much everything you need on a day out with your camera.
Compatibility for Cameras and Lenses
You store your camera in the "pop camera cube." This is a padded rectangular pouch at the bottom of the main compartment. And you can put your camera in there with a lens attached.
You'll have no problem with full frame mirrorless cameras. And Wandrd assures us it can hold a full frame DSLR like the Canon 5D Mark IV. It'll be a bit of a squeeze, but you can get one in there.
It can also hold a full frame DSLR with a 70-200mm lens attached. That's convenient for fans of telephoto lenses. But that leaves you with zero extra space in the pop camera cube.
Thankfully, you can also use the padded pockets above to store lenses. They are better suited to wide-angle and standard lenses due to their size. But the pockets can hold APS-C mirrorless camera bodies as well. You can slip a Sony a6600 in the pocket without issue.
The lack of storage space for larger telephoto lenses means sports and wildlife photographers will struggle. But as a day bag, the Duo Daypack has the capacity for street and travel photographers. It's a great option for adventurous vloggers too.
Carrying Versatility
You'll carry the Duo Daypack by using the shoulder straps for the majority of the time. You don't have any other options for wearing the bag.
The bag does have a carrying handle on the side of the bag. While you wouldn't use this to carry the bag for long periods, it is useful for lifting the backpack. It's also handy if you're using public transportation or going through an airport.
The suitcase-handle sleeve also makes long-distance travel easier. You can attach the backpack to your suitcase and pull them along together. This takes the weight off your shoulders. And it means you don't have to put it on and take it off every ten minutes.
Price and Value
The price might strike some as a little high for a day camera backpack. But when it comes to value for money, the Duo Daypack delivers. From the moment you lay eyes on it, it's easy to see the quality of the material, design, and craftsmanship.
If you're traveling with your camera, it's worth investing in a backpack that's up to the job. There's no point saving a few pennies on a cheap backpack only to lose or damage your camera. The Duo Daypack might cost a little more than others. But the quality and functionality mean it's a great long-term investment.
It's also hard to find fully waterproof backpacks at this price. The weather protection alone goes a long way in justifying the price. And then you have all the internal padding and protection.
The Wandrd Duo Daypack will leave you with few regrets. It might feel like a lot of money to spend on a camera backpack. But you will feel justified when you have the bag in your hands.
Warranty
Wandrd offers a fantastic warranty package on all their backpacks. That means you get a lifetime guarantee when you buy the Duo Daypack. That gives you even more confidence in the quality of the backpack. And it inspires trust in Wandrd as a company.
The warranty covers damage caused by manufacturing defects. These include zipper and strap failures or defective parts in general. If the bag is rendered unusable, Wandrd will replace the bag. If it's a minor problem, they will send the replacement part or cover the cost of repairs (up to a limit of 50 USD/EUR).
The warranty does not cover general decay, intentional damage, or damage from mistreatment. You also don't have coverage if you bought the bag second-hand. You have to be the original owner with the original order number to claim anything through the warranty.
This is a fantastic warranty for a camera backpack. You're spending a lot of money on a camera bag. But when the company backs the quality of its products, you're making a one-time purchase. It's cheaper and more sustainable than buying many cheaper backpacks over the same amount of time.
Sustainability
The folks from Wandrd aren't clear on their sustainable practices. They do believe in transparency. And they are open about their production facilities in Vietnam. You can see photos of smiling workers on their website's Our Mission page. But little is said about sustainability, which is a shame.
The bag's quality and warranty package contribute to a sustainable brand. The Duo Daypack will last you a long time. And that's backed by the Wandrd lifetime guarantee. That means broken bags aren't ending up in landfills.
Wandrd promotes an ethical image on its website. And there's no reason not to believe what they say. The trouble is that they are light on detail. We really need more facts and figures before we can make a positive judgment. And because of that, they've lost a few marks in the sustainability department.
Alternatives to the Wandrd Duo Daypack
Despite the Duo Daypack's quality, it might not be the right camera bag for everyone. Thankfully, we've reviewed plenty of alternatives, so you can find the best camera backpack for you.
If you're looking for another day bag, the Lowepro Fastpack is a top option. It has excellent weather protection and a unique design that improves usability. And it's more affordable than the Wandrd Duo Daypack.
You can access the camera section at the side or the front. Unzip it partway for a side opening to grab your camera. Or unzip it all the way to give yourself full access to the padded pouch. It's versatile and functional. And they haven't sacrificed any protection for the sake of a unique gimmick.
It's a weather-protected backpack, so you can use it in bad conditions. It's a convenient size with plenty of storage space for cameras, lenses, and other personal items. The Fastpack is also a comfortable backpack with a highly competitive price tag.
If you're impressed with the Wandrd quality but need something bigger, you should look at the Wandrd Prvke. It's the flagship backpack from Wandrd. It has the same style, attention to detail, and quality construction as the Duo Daypack. But it's bigger and has more features.
It's a roll-top backpack with plenty of storage space. The interior has thick and protective padding for your delicate items. And there's plenty of pocket space for your photography accessories. And that includes dedicated sleeves for laptops and tables.
The Prvke is fully weather-protected. You can use it in torrential downpours without worrying about your gear. It's a highly wearable bag with adjustable straps and back support. It has excellent versatility, allowing you to customize the inside. And the side access points allow you to grab your camera quickly and easily.
Use our discount code EXPERTPHOTOGRAPHY at checkout for 15% off your first order!
If you need a camera backpack for air travel, the Think Tank Airport Essentials has to be on your radar. It's a specialist camera bag for frequent flyers.
It's compact and lightweight, allowing you to use the bag as carry-on luggage. But the efficient use of space means you can travel with plenty of gear. You can customize the main compartment by moving or removing the padded dividers as you wish. And it offers a good level of protection.
All the features are well-considered and make traveling easier. There's a chest strap for better weight distribution when carrying it. It has a suitcase handle strap and a built-in padlock for extra security.
It isn't the most versatile backpack. But it's affordable and perfectly designed for flying photographers. The Airport Essentials makes air travel with your gear a lot less stressful.
Final Verdict of the Wandrd Duo Daypack
Measurement

Measurement

Score

Design and Aesthetics

Design and Aesthetics

Build Quality and Durability

Build Quality and Durability

Functionality and Ease of Use

Functionality and Ease of Use

Weather Resistance

Weather Resistance

Compatibility and Versatility

Compatibility and Versatility

Value for Money

Value for Money

Total Score

Total Score
If you've read the review, you won't be surprised to learn that the Duo Daypack scored a very respectable 82.9 points out of 100. That puts it in the bronze medal position. The lack of camera space is the only real downside. Other than that, we love it.
The Wandrd Duo Daypack is an impressive camera backpack. It isn't a budget backpack. And many might not feel comfortable spending so much on a day bag. But the Duo Daypack justifies every cent of the price tag.
Wandrd uses high-quality materials throughout. The outer nylon is waterproof and has a water-repellent coating. The YKK zippers are also waterproof and have rubber lips to protect vulnerable points. And everything on the inside looks and feels fantastic. The elasticated pockets give you a wonderful user experience.
The interior design also helps you stay organized. The pockets have multiple uses. And the pop camera cube camera erects or folds away whenever you like. It has excellent capacity for a day bag, allowing you to carry a full frame camera with plenty of accessories.
The Duo Daypack isn't perfect. International travelers would probably appreciate a waist strap. And the tripod straps don't come as standard. And the shoulder padding is a little firm. But overall, the Wandrd Duo Daypack is a huge success.
It's lightweight, compact, and looks fantastic. It's one of the most durable camera backpacks we've used. And it's backed by Wandrd's generous warranty. For photographers looking for a long-lasting, durable, and usable day bag, the Duo Daypack is perfect. No one will regret buying this bag.
Use our discount code EXPERTPHOTOGRAPHY at checkout for 15% off your first order!