With many photographers switching to mirrorless bodies, camera sling bags have become popular! If you have switched gear recently or are just looking for a lighter kit, you may be in the market for a new camera bag. I am getting ready for a trip and often carry a big backpack with all my camera gear. But I wonder if a sling bag with less gear is the smarter option.
There are many slings on the market. So come with me as I look for the best camera sling bag. I will show you my top 10. Then we'll look at all the features of sling camera bags. You will find a sling bag perfect regardless of your budget or gear.
If you want a quick answer, the BAGSMART Crossbody bag takes the cake as the best camera sling bag in 2022. This is thanks to its exceptional price and its minimalist and stylish design!
What is the Best Camera Sling Bag?
Here's a quick look at my top 10 choices. I will then go into a bit more detail about each one. And at the end, I'll explain what a sling bag is and who uses them.
10 Best Camera Sling Bags in Detail
The BAGSMART camera shoulder bag is one of the top-rated slings. It is also one of the least expensive on our list. But it packs in a lot of high-end features. It is minimalist in design but surprisingly functional and roomy.
The main opening is wide, making it easy to access your gear. The bag fits a camera and one to two lenses with accessories. The bag is padded with a soft suede interior. And two padded dividers let you customize the interior space.
The bag has double, anti-theft metal zippers to allow access from either side. An inner pocket fits SD cards and smaller accessories. And the design is sleek with no exterior pockets. So you can't strap on a tripod or water bottle. But it has a padded shoulder strap and a top handle.
This water-repellant polyester bag comes in black or pink. The bag doesn't scream "camera bag." And if you remove the dividers, you have the perfect travel bag!
For the price, this bag cannot be beaten. It looks small and sleek, but you can fit a small camera kit inside. The super lightweight, inexpensive crossbody camera bag by BAGSMART is our top budget pick.
The Peak Design Everyday Sling 10L is a close second. It's expensive, but you can't beat Peak Design's quality and construction. The bag is made from recycled 400D double poly-coated DWR-impregnated nylon canvas.
There are two origami-inspired folding dividers. They divide the space but also fold to create a shelf. And you can access the entire interior space if you remove the dividers. This makes the bag flexible for an extra-large lens like my 200-600mm.
A slim front pocket with a hidden zip runs the length of the bag and gives you quick access to phones, wallets, and other small items. The design makes it tricky to get into, but the gear stored there is protected and hidden from view.
The interior compartment of the 10 L holds a 13-inch laptop. And the laptop compartment has a quick but secure magnetic closer. There's also an interior pocket for spare batteries and SD cards. And the stretchy material expands to fit easily around accessories like battery chargers and sunglasses.
The older version of the bag has a built-in tripod strap. This newer version includes detachable straps. I prefer the style of the older version. But the weight distribution is better on the newer model.
The bag comes with the signature Peak Design quick-adjust strap. It is reversible and adjustable with one hand. The material is like seatbelts that slide easily around your body. The bag is designed with hidden pockets to hide extra straps. This keeps the bag sleek and helps to avoid getting snagged on anything. Plus, the bag has a built-in handle for easy carrying.
The weatherproofing is in the fabric. So it won't wear off! The smooth zippers should give you a lifetime of use. Peak Design is not kidding when it offers a lifetime warranty. If you have a problem, they'll send you a replacement bag.
I am a bit of a Peak Design fangirl. I have an embarrassing number of their bags, including both versions of the Everyday Sling. One thing you should know about these bags—they are durable! I have banged these bags worldwide, and they still look fresh and ready for the next trip.
Slings by Peak Design come in three other sizes—3, 5, and 6 L. You can choose between black or ash color. The 6 L also comes in navy blue.
LowePro has a reputation for quality bags, and its Slingshot Edge 250 AW is no exception. This slim, mid-priced bag fits compact DSLR cameras with one or two lenses and various accessories. You can use the smaller section at the top for accessories or another lens. And you can access the main compartment from the back.
The bag rotates easily around your body for quick and easy access. It has a quick-access side pocket that zips around the back for full access to your camera gear. There are customizable interior dividers and interior pockets for SD cards and spare batteries.
There is a pocket for a small tablet or iPad and a small, quick-access pocket for your phone and wallet. And you have a mesh pocket perfect for a water bottle on the side.
The bag has two padded straps with a waist strap for extra support. And you can mount a tripod to the front of the bag using two extra straps. It's also weather-resistant and has a built-in rain cover.
The bag is black with orange highlights. The Slingshot Edge also comes in a smaller version, the 150 AW.
The Tenba Solstice Sling 10L is a solid, mid-priced choice. It is lightweight and compact. And the bag is marketed as having the all-day comfort of a backpack with the quick access of a shoulder bag.
The back has 3D air mesh to help keep you cool. And there's an extra safety strap for your waist that helps to secure a heavy load. The bag has a side opening for quick access and opens fully at the front. The bag can fit a camera with two to three lenses and accessories.
There are four dividers to customize the interior space, with various pockets for SD cards and extra batteries. An expandable pocket for a small tripod or water bottle is on the side. And there is also a tablet sleeve with slots for smaller gear.
The bag is made from water-repellant nylon. And there is a separate rain cover included. You have the choice of a black or a blue bag. Plus, Tenba also makes a smaller 7 L version.
The Think Tank Urban Access 8 sling camera bag is one of the more expensive choices. But you get the quality that you expect from this brand and a sleek, urban style.
The bag fits a camera and two lenses with various accessories. It is designed to allow access from either side, and you can wear the bag over your left or right shoulder. This flexibility requires extra caution, though. Your gear can go flying if you open the wrong zipper.
There is a detachable strap to secure a tripod and another you can put around your waistband for extra security. And you can configure the inner compartment to your needs. There is a deep front pocket for quick access to accessories, or it can hold a small tripod. There is also a pocket for a small tablet.
The bag has a wide, comfortable strap. The bag is water-resistant, with a rain cover tucked into the back. The bag is black with a grey interior. And if you need more space, Think Take makes a larger 10 L model.
The Amazon Basics Camera Sling Bag is surprisingly functional for its low price. The bag has two compartments. The bottom is for your camera gear and has adjustable dividers. It fits your camera with one to two lenses and a few accessories.
The top compartment is padded. So you can hold another lens or a flash. And the front pocket is great for extra batteries and memory cards. Plus, you can secure a tripod onto the bag.
The bag is ergonomically constructed and comfortable to wear over a long period. It has a padded strap reinforced for durability and a quick-release mechanism. The bag has two straps. One goes over your shoulder, and the other goes around your waist for extra security.
This lightweight, durable bag comes in black with a striking orange interior. And as one user put it, "It's like Amazon took notes from all the camera bag sellers and churned out the perfect bag." It is a lot of bag features for the price!
The VANGUARD VEO Discover 41 is a sling bag like no other. At first, you notice it has two straps, like a regular backpack. But VANGUARD has a strapping system that allows you to wear the bag over one shoulder. This unique feature lets you take advantage of the comfort of two straps and the convenience of just one.
My favorite aspect of this bag is the quick and convenient access. It has zippers on each side. So if you're left-handed or right-handed, you can take advantage of its quick access.
The VEO Discover 41 provides padded dividers. And other features that can be customized to you're personal shooting style. There is even a section to keep small laptops or tablets secure.
The bottom of the bag has waterproof material. So you can set your bag down without worrying about water seeping in. The bag itself isn't waterproof. But Vanguard provides you with a waterproof cover.
The Domke F-5XB is a popular retro satchel. It can be worn as a shoulder bag or as a crossbody bag. And it's the official camera bag of The White House News Photographers Association.
The bag has a large flap and zipper that makes for quick access. It fits a camera body and two lenses, along with some accessories. And it is probably best for a mirrorless camera system. There is no tripod, tablet, or water bottle storage. But there are many adjustable compartments and pockets.
It is padded on the front, back, and top. But some side padding would help. Inside are two removable padded dividers. And on the front is a small pocket for memory cards and batteries.
The shoulder strap is not padded for comfort but is non-slip. But the bag is durable and will withstand a surprising amount of weather.
It is made from distressed cotton canvas treated with non-solvent wax for durability. And the bag even comes with a tin of wax. It looks and feels like your favorite pair of jeans!
The Domke logo is very prominent. And some owners carefully remove it to be more inconspicuous. The bag is in the high-price range. And it comes in black, brown or sand color. If you are looking for a lightweight sling with an old-school vibe, this is your bag!
Mosiso's inexpensive sling bag is a surprise find with some of the top customer ratings. The bag has two parts. The main compartment is for your camera and lenses. And the top compartment stores accessories.
The bag is padded and has removable inserts to customize the interior space. You can fit a camera body and two lenses with some accessories.
It has an exterior mesh pocket with straps to hold a tripod or water bottle. And a hidden anti-theft zippered pocket on the back is a safe place to store travel papers and your wallet.
One nice plus is that it's colorful! If you are bored with black camera bags, Mosiso has you covered. The bag comes in nine colors, including black, khaki, and a selection of blues, reds, and greens. And the interiors are either orange or purple.
The back of the bag is soft, breathable mesh. It is water-repellant but not waterproof. But it comes with a rain cover like other sling bags on this list. So if you want a light, inexpensive sling bag, the Mosiso Camera Sling Bag is a great buy!
What is a Camera Sling Bag?
A camera sling bag is usually smaller than a backpack and is worn over one shoulder. Slings have a single strap that is worn diagonally across your body. (But there are also 3-point slingers.) Camera sling bags combine the best features of a hiking backpack and a shoulder bag.
The bag nestles into your back like a backpack. But it slides forward around your body when you need it. This lets you access lenses and accessories without taking the bag off. It is accessible like a shoulder, tote, or messenger bag. But it is less likely to fall off your shoulder when carrying your gear.
Some bags are designed to be used over either shoulder. Other bags are more comfortable for the right-handed photographer. Some include multiple access points and pockets to store accessories.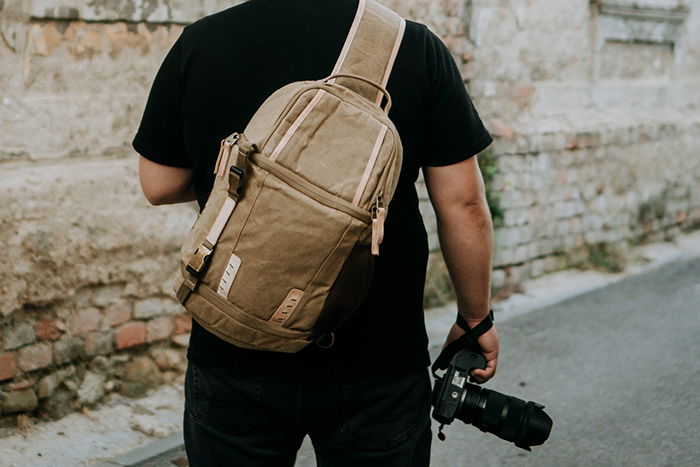 They usually have a large compartment for storing a camera and a couple of lenses. They also have smaller pockets around the bag to store accessories like batteries, SD cards, and your phone or tablet.
Most camera sling bags are not as large as backpacks. They are not meant for the same amount of gear. But some sling bags are big enough to fit laptops and have tripod attachments.
With slings, the weight is not evenly distributed across your shoulders. The heavier the sling bag, the more weight there is on one shoulder. A backpack is probably a better choice if you carry a lot of heavy gear. Backpacks are not necessarily better than slings, but they have different strengths.
Who Uses a Camera Sling Bag?
Sling bags are marketed to both DSLR and mirrorless users. (You may want a backpack instead if you have a DSLR and many lenses. But DSLR bags are often too big and bulky to be comfortable.)
Camera sling bags are most attractive to photographers on the go. Travel and street photographers can pack a camera, a couple of lenses, and bits of smaller gear for the day. Slings are the perfect balance of versatility and storage.
Most photographers have sling bags for smaller equipment, like drones. So they are the best choice for any photographer who wants to pack light and quickly change lenses.
Conclusion
Camera sling bags slide around your body. You swing them onto your back when moving and photographing. Then you can slide them to the front of your body to access lenses, batteries, or SD cards. The best camera sling bags combine security with accessibility. They are comfortable to wear and protect your gear.
If money is no question, the best camera sling bag is the Peak Design Everyday Sling 10L. It has one of the best designs on the market. But if you do not want to spend that much money, the BAGSMART shoulder bag is the solution. You get many of the same features at a fraction of the cost, which is why it places at the top of our list!