We take you through the best camera messenger bags available in 2023. You want something spacious and durable. And why not stylish too? The messenger camera bag has become a classic. And it remains popular with working photographers today.
We usually talk about what's in a photographer's bag. But the bag itself, although often overlooked, is just as important. As a photographer, you need a bag that is up for the job. It not only needs to hold all your gear, but it has to protect it too. Our top choice is the Peak Design Everyday Messenger V2. This is thanks to its expertly designed outer shell, comfort, and ease of use.
Peak Design Everyday Messenger V2
This stylish, durable messenger bag is perfect for carrying your camera gear in comfort and style.
Shop 2 Offers
[Note: ExpertPhotography is supported by readers. Product links on ExpertPhotography are referral links. If you use one of these and buy something, we make a little bit of money. Need more info? See how it all works here].
What is the Best Camera Messenger Bag?
Here is a quick roundup table of our top choices. Read below to explore each option in more detail.
Best Camera Messenger Bag in 2023
1. Peak Design Everyday Messenger V2
Dimensions
67 x 38 x 30 cm
Key Features
Versatile, customizable, stylish design
Best For
Photographers who want an all-round, long-lasting bag
Peak Design is one of the leading producers of camera bags. They're renowned for their durable and protective bags. And the Peak Design Everyday Messenger V2 is a continuation of that trend.
Their backpack camera bags are very popular. And this shoulder bag is just as durable and reliable. The whole bag is well-padded to protect your photography gear.
The main compartment is spacious, with ample room for your DSLRs or mirrorless cameras. You can pack a couple of cameras and still have space for extra lenses. And the Flexfold dividers keep everything separate and safe.
The Flexfold dividers are customizable, so you can change the layout to suit your needs for each shoot. You can also remove them completely, turning the Everyday Messenger V2 into a standard messenger bag. It's ideal for photoshoots as well as short trips.
The Messenger V2 comes in black or ash grey. No matter which color you opt for, it's a sensible and stylish messenger bag for photographers. It's not the cheapest on the list, but it's one of the best camera messenger bags on the market.
2. Billingham Hadley Pro Shoulder Bag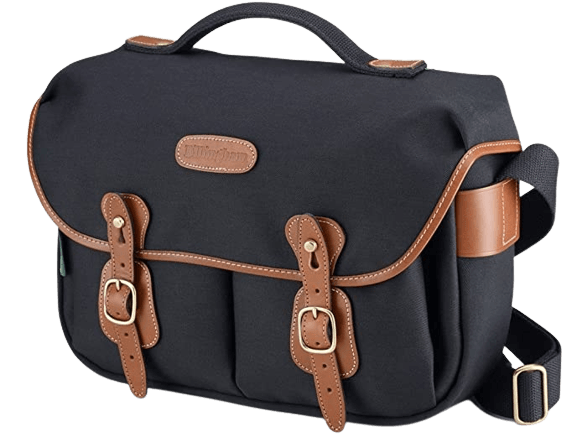 Dimensions
15.2 x 27.9 x 38.1 cm
Key Features
Stylish, well-constructed design
Best For
Press photographers
The Billingham Hadley Pro camera messenger bag looks great and performs well. It's a brilliant combination of form and function.
There are different color options to choose from. And they are all a combination of thick canvas and good leather. You can see the quality a mile off and even more when you look closer. The Hadley Pro is a well-constructed camera bag.
It has a padded interior pouch that protects your camera gear. You can remove the padded inserts and move them around for a customized compartment. And two hinged dividers are great for stacking lenses.
The main compartment is large enough for most modern DSLRs and mirrorless cameras. And there is enough space for at least two extra lenses. The two smaller front compartments provide storage space for smaller items. But they have less padding.
The adjustable shoulder strap is a bit thin. It's a canvas strap, but there's no pad for the shoulder, so it can dig in if you're carrying a fully loaded camera bag. There are also no feet on the bottom of the bag to protect it from wet surfaces.
The Billingham Hadley Pro is on the pricier side for a messenger bag. And it's not the most spacious. But the build quality is excellent. And it remains one of the top camera messenger bags.
3. Manfrotto BELLA V Shoulder Bag
Dimensions
26 x 14 x 20 cm
Key Features
Durable design
Best For
Photographers on a budget or in rugged environments
The Manfrotto BELLA V shoulder bag is a bag that is as rugged as it looks. This is for the photographers who know they'll be in challenging environments. Places where their kit will be getting knocked around.
Manfrotto is a tripod brand that is well known for its durable and reliable tripods. They have kept their company's ethos regarding their bags as the BELLA V looks up to the challenge. The added padding on top ensures it is protected even when you place your bag down.
The bag keeps your camera in a fast-grip position. This means you have to open the bag flap, and you can grab your ergonomic camera handle for speedy camera access. A feature like this is extremely helpful for street photographers who need to get their cameras out quickly.
The BELLA V can also carry two or three extra lenses with your DSLR in a fast-grip position. You will also find a few different pockets to place memory cards and other accessories. I also like how you have both a buckle and a zip for extra protection.
4. Lowepro ProTactic MG 160 AW II Shoulder Bag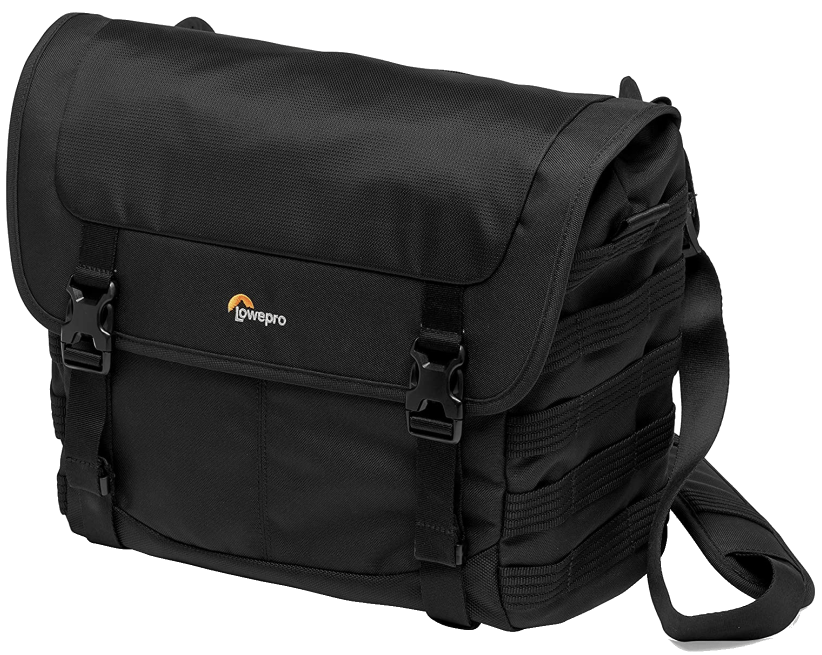 Dimensions
39.9 x 17 x 27.9 cm
Key Features
Versatile, wide main body
Best For
Professional photographers
The Lowepro ProTactic MG 160 AW II messenger bag is versatile and durable. It's made for photographers who love to work. It's the perfect bag if you're shooting from dawn to dusk.
It's a messenger bag that was designed for function over fashion. And that's not a criticism in the case of this camera messenger bag. Lowepro proudly focuses on the bag's functionality rather than how it rates on the catwalk.
The central interior compartment has excellent padding. And it's spacious enough for two cameras, whether DSLR or mirrorless. You can throw a lens and a small tripod in there too.
The interior is customizable, and you can remove the padded dividers if necessary. It was made to be versatile, and it is. You also have a dedicated impact-protected pocket for your laptop. And you don't have to remove other pouches to access it.
The shoulder strap is adjustable, with a broad pad. It's comfortable, even if you're wearing it for long periods.
It's designed for a life of work, so function comes first. It's not the most stylish option, but this camera messenger bag shows that you mean business. And it's excellent value too.
5. Tenba Messenger Shoulder Bag
Key Features
Waterproof exterior and base
Best For
Photographers looking for a great all-around bag
The Tenba DNA 16 Pro Messenger is another camera bag designed for a lifetime of work. The Tenba DNA range has a good reputation in the photography community. And the DNA 16 Messenger is another great installment in that line.
The camera bag is entirely weather-proof, so you don't need to worry about difficult working conditions. And the TPU-coated base is completely waterproof. You can place the bag on any surface, and your camera gear will be perfectly safe.
The main compartment has plenty of room for your DSLR or mirrorless camera. And there's a separate protected laptop sleeve. The central area has a removable compartment to transform the DNA 16 into a travel bag.
The front and side pockets give extra storage space. And the front two are well protected. The side pockets are mainly for water bottles, but photographers must also stay hydrated.
The Tenba DNA 16 camera messenger bag was designed with photojournalists and sports photographers in mind. It's durable and offers excellent protection. It's a reliable camera bag for working photographers.
This weather-proof bag is perfect for landscape photography as well. And it's an ideal bag to weather the elements while taking outdoor, street, or wildlife photography.
6. Vanguard VEO GO24M Shoulder Bag
Dimensions
24 x 12 x 18 cm
Key Features
Small and comfortable
Best For
Photographers with compact gear
Vanguard has an excellent range of messenger and shoulder bags. And their Veo GO24M is among the best of their messenger bags.
The Vanguard VEO GO24M Messenger has a double-decker design. The upper deck is used to carry your camera bodies and lenses. And the lower deck can store a small tripod and other photography equipment.
The padding throughout the bag is excellent. And the padded dividers can be moved or removed, depending on your needs. The top and front pocket is a bonus. It's perfect for keeping your wallet and personal belongings safe.
The polyester body doesn't make for the most stylish design. But it's good if you want to maintain a low profile. It functions well and is affordable. It's a perfectly reliable messenger bag for photographers.
7. Think Tank Retrospective 20 V2.0 Shoulder Bag
Dimensions
17.8 x 33 x 31.7 cm
Key Features
Subtle, everyday design
Best For
Photographers who don't want to draw attention to themselves
The Photo Retrospective 20 V2.0 from Think Tank is a messenger bag for photographers who don't want too much attention. It's inconspicuous and doesn't look like a camera bag.
The earthy design is simple and subtle. It's not flashy, but it goes with everything. There's a basic hood that protects your gear and allows for quick-and-easy access.
The adjustable canvas strap is comfortable even after carrying the bag all day. But I feel there could be a bit more padding in the dividers.
The main compartment does get a bit cramped once your camera and lens are in there. But there is an array of small pockets for your accessories. And the padded laptop pocket is a definite plus.
It's a minimalist camera messenger bag for photographers that want to fly under the radar. It does the job, but it may lack space if your photo gear is on the larger side. It's a reasonable price for a no-thrills messenger bag.
8. Manfrotto Active Shoulder Bag
Dimensions
17 x 12 x 13 cm
Key Features
Affordable, minimalist design
Best For
Beginner photographers or those who have compact camera gear
The Manfrotto Active Shoulder bag has made it onto this list thanks to its compact design and great value. This makes it a bag perfect for beginners who don't have a lot of gear to carry around.
Manfrotto is known for making some of the best tripods on the market today. They are well known for their reliability and durability, which is no different from their camera bags.
It can only carry a single camera with a small lens. This makes it ideal for photographers working in street photography.
Or it's even for those who go out on hikes with minimal gear. This is emphasized by the great waterproof cover that covers the whole bag. Features like this can save your camera from unpleasant environments.
You still get extra space to store memory cards and other smaller accessories. And you might even be able to fit in a small chocolate bar to get you through a day of shooting!
9. CADeN Shoulder Bag
Dimensions
30 x 22 x 16.5 cm
Key Features
Extra, quick-access pockets
Best For
Entusiast photographers
The CADeN shoulder bag is for you if you want a sleek, low-key messenger bag. CADeN has done a great job creating a bag that utilizes all the space available for extra storage. This extra space comes at a small price, as there tends to be less protection in these spaces.
The camera bag is made of 900D waterproof polyester fabric. The design also helps with the waterproof nature. The front flap covers all the zippers and other points where water could get in. But the extra pockets are still slightly exposed. So you may not want to keep any important electronics there.
You will find extra pockets on the bag's front and side. They are extremely useful for quick access to your phone or photographic accessories. I am also a big fan of the padded handle on top of this bag. Comfort is always an important issue when looking at camera bags.
The CADeN bag is an excellent option if you're looking for a sleek-looking, low-key, cheap bag. It has a different build quality and protection than others on this list. But it will keep your gear relatively safe.
10. Peacechaos Messenger Bag
Dimensions
39.6 x 33.5 x 6.9 cm
Key Features
Stylish canvas design
Best For
Photographers in casual settings
The Peacechaos Messenger Bag offers excellent usability at a very good price. It looks good, and it's perfectly functional for an enthusiast photographer.
Made of cotton canvas and leather straps, it has a cool, classic messenger bag look. It's casual yet stylish. It's not appropriate for business meetings, but great for photography trips.
The interior pouch offers good protection. A DSLR or mirrorless camera fits without issue. You can pop an extra lens in there too.
Once your camera body is in, there isn't enough room to add a laptop. But you can remove the padded pouch, transforming it into a standard shoulder bag. In this configuration, there's ample room for a laptop. But you can't carry your laptop and camera at the same time.
It may not match the build quality of some of the other bags on this list. But it's a camera bag for casual shoots rather than rough-and-tumble pro photography. And the price is more than reasonable.
Conclusion: The Best Camera Messenger Bag
When it comes to photography bags, messenger bags are your best option. They're easy to carry and give easy access to all your gear. And they look good too.
There are many camera messenger bags to choose from. And I hope our list of the top 10 camera messenger bags has helped you find what you need. Whether you're a beginner or a professional, there's a perfect messenger camera bag for you.
The Peak Design Everyday Messenger V2 is our best camera messenger bag of 2023. It offers a great combination of style and practicality. It has a spacious, well-designed interior and a rugged exterior that can withstand the elements.
Peak Design Everyday Messenger V2
This stylish, durable messenger bag is perfect for carrying your camera gear in comfort and style.
Shop 2 Offers