The Peak Design Everyday Backpack V2 is a clamshell backpack with simple design features rarely found in other camera bags. This keeps it condensed and secure and provides a convenient user experience.
Peak Design says they built this bag "around access, organization, expansion, and protection." And they aimed to give the user the essentials for a daily companion.
All these factors point toward the Everyday Backpack V2 as an excellent backpack. And it may be perfect for some photographers who enjoy Peak Design's extra features.
Peak Design is a relatively new brand in the camera bag scene. But they have made a splash!
Their industry-leading stance on using sustainable materials boosted their reputation. And the Everyday Backpack is made from 100% recycled post-consumer materials.
This camera backpack is very popular among the online photography community. It has placed at the top of numerous camera bag reviews and has won awards. But it came up short when we compared it to the leading camera bags we reviewed. Read on to find out why.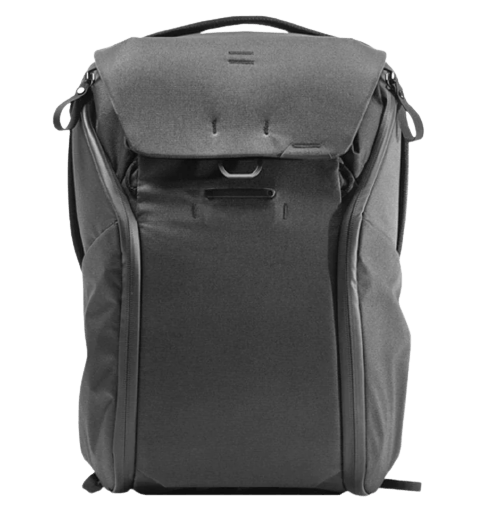 Peak Design Everyday Backpack V2
This camera backpack combines a unique minimalist clamshell design with a rugged, durable, and waterproof cover for ultimate protection. It's made from 100% recycled materials, supporting a sustainable, fair-trade, and climate-neutral approach. With smart clips, straps, and magnetic closures, it offers secure yet easy access. Its customizable interior, FlexFold dividers, and side-access pockets offer convenient organization. However, it falls short in terms of divider arrangement. It's ideal for environmentally conscious photographers seeking a stylish, functional daily companion.
For full transparency about our review process, you can read about how we scored and ranked the bags here.
Strengths and Weaknesses of the Peak Design Everyday Backpack V2
Peak Design Everyday Backpack V2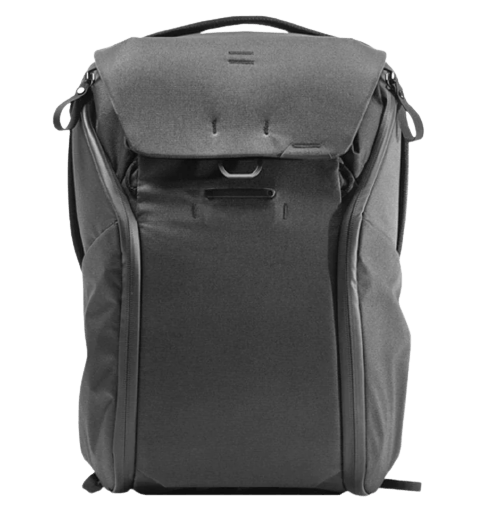 Weight

Weight

2010 g

Capacity

Capacity

20 L

Access Points

Access Points

Top, side

Airflow Back Support

Airflow Back Support

Yes, with mesh

Laptop Sleeve Capacity

Laptop Sleeve Capacity

15-inch

Tripod Holder

Tripod Holder

Warranty

Warranty

Lifetime

Waterproof Rating

Waterproof Rating

Weatherproof
The most prominent strength of the Peak Design Everyday Backpack V2 is its build quality. Upon the first touch, you can tell the material is high quality.
Peak Design uses a rugged, durable material with great waterproof qualities. This eases your mind when it comes to everyday use and when you spot those darker clouds gathering overhead.
Its additional features are also a highlight. The Everyday V2 employs magnets to keep pockets shut. But smart clips and straps are hidden around the bag for added versatility and security.
Its main weakness is the side camera access it provides. The pockets are ideally nice and wide. But the side camera access makes sorting out the dividers and accessing your gear hard.
You must fully unzip the side access flaps to access your equipment. So any loose or hanging items in the top compartment will become unorganized and may slip out if not secured correctly.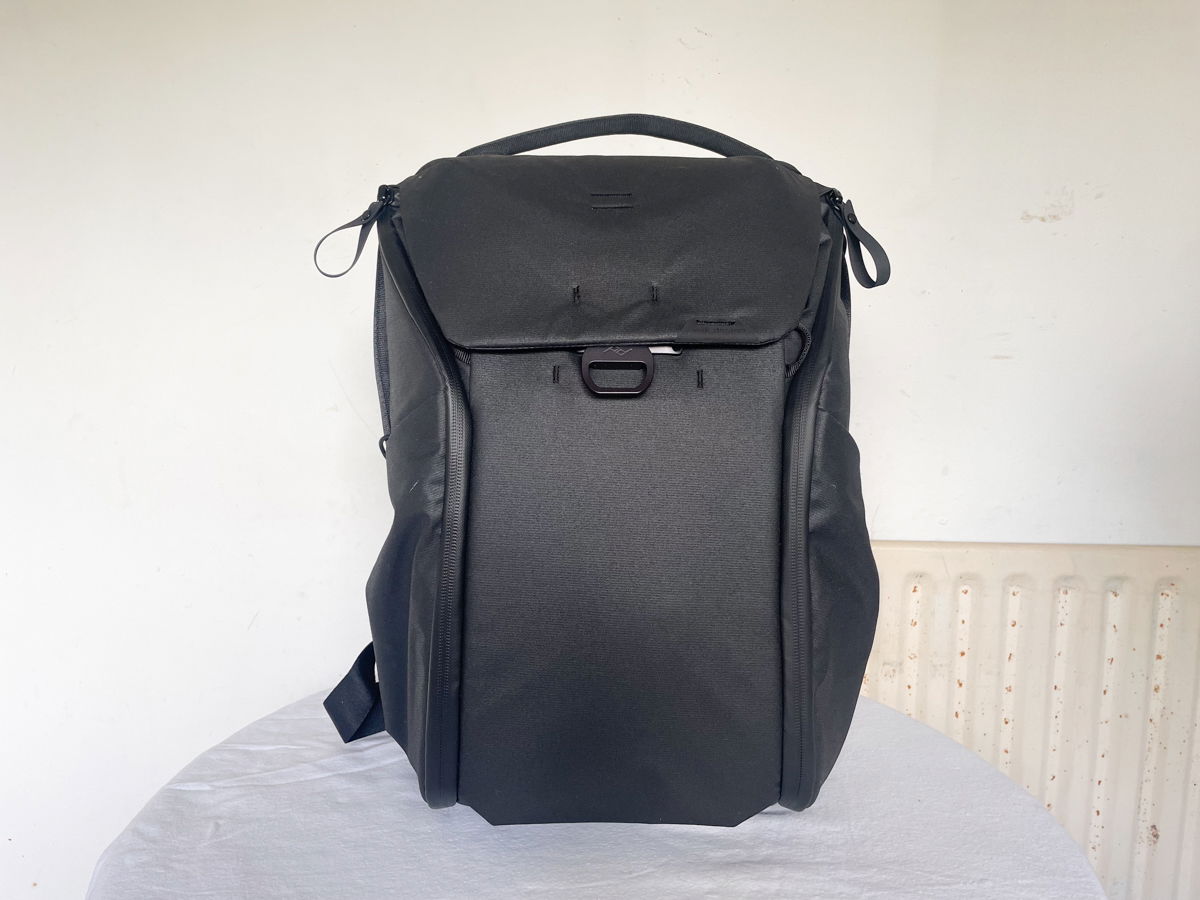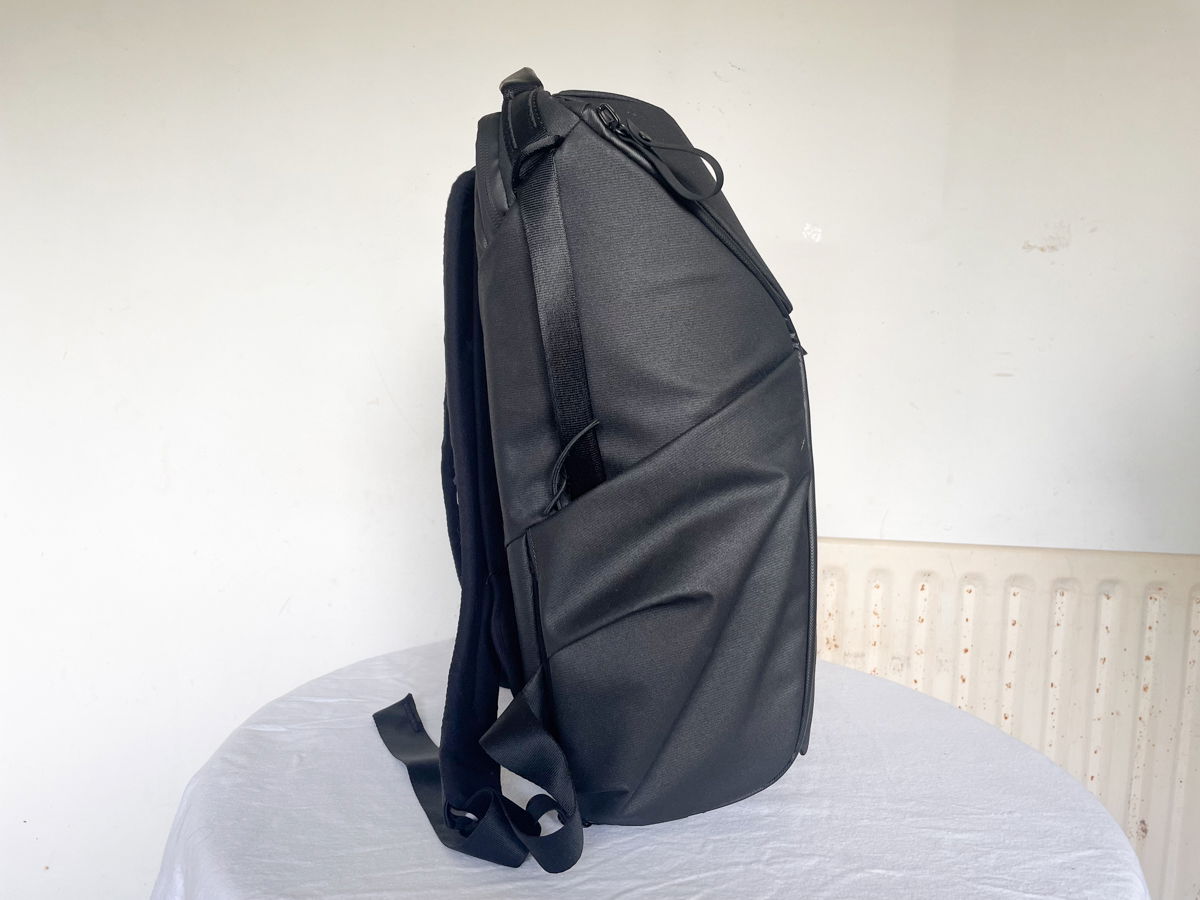 Design and Color Options
The Peak Design Everyday Backpack V2 looks futuristic thanks to its sleek, minimalist clamshell design. And this isn't just for aesthetics. It also helps with theft protection and waterproofing.
This design is perfect for photographers who like to add a touch of elegance to their gear. The bag comes across as professional. And it is ideal for meetings or jobs where appearance matters.
The backpack comes in a choice of four neutral colors. They don't scream for attention and look nice and casual. You can get the bag in Black, Midnight (navy blue), Charcoal, and Ash.
Related to its modest color options, it is also worth noting this backpack doesn't look like a typical camera bag. So it is less likely to be targeted by thieves.
Build Quality and Durability
Build quality and durability are a highlight of the Everyday Backpack V2. Peak Design has considered multiple factors that make camera bags reliable for daily use.
This makes it ideal for people photographing in rugged environments. It could be used anywhere from a bustling commute in the city to a rocky trek in the mountains.
Seeing multiple issues addressed in such a simple and minimalistic design is surprising. So let's now take a look at each different section in detail.
Exterior Material
The Peak Design Everyday Backpack V2 is covered in 100% recycled fabric. It is a 400D double poly-coated DWR-impregnated nylon canvas. Let's break that down.
The 400D nylon canvas features a lightweight nylon that doesn't sacrifice durability. The double poly-coat is a simple wrapping application that gives materials a moisture barrier.
The DWR impregnation is a Durable Water Repellent finish. This adds to its weatherproofing.
So the bag is more than suitable for the odd showers you may photograph in. Plus, the mix of nylon and canvas adds greater durability with their tear-stop qualities.
The bag also features a 900D waterproof bottom liner. This extra touch of waterproofing is extremely useful. It lets you put your bag down on a wet floor without worrying about it soaking up the moisture.
The handles and straps are made of a seatbelt-like material that is very durable. And the clips are all metal.
You will also notice the shell-like exterior. It encompasses your gear in a thin but seemingly strong foam. It isn't the most protective material, but it will protect your gear from slight bumps.
Weather Protection
As pointed out, the Peak Design Everyday Backpack V2 has brilliant weatherproof abilities. This is thanks to the multiple coatings and materials Peak Design has used.
Thanks to these materials, you can trust the safety of your equipment in a rainstorm. And you can do this without applying a weatherproof cover like most other camera bags!
The bag's top access has a sloped design to help water fall off the bag easier. You will also find two points that hang above the waterproof bottom that act as good water run-off.
You will also notice that even the zippers have waterproof covers! This tells us that Peak Design has thought of everything about weatherproofing.
But one point to consider is ensuring the top zipper is tucked away under the provided zipper cover.
Interior Material
The Everyday Backpack's internal material mainly consists of soft-touch nylon. (In certain places, you can see the outer shells' construction. This is the ripstop nylon that protects the exterior materials.)
Roughly three-quarters of the interior is covered in a padded Velcro material. This allows you to adjust your dividers.
The materials in this section are again of high quality. So Peak Design has not compromised after producing a well-built exterior.
The laptop compartment features a mix of these same materials. And it gives an extra layer of thin foam around the camera bag.
The interior also features a high-visibility grey. This makes it easy to spot even the smallest camera gear inside the bag.
Straps and Back Support
The first notable feature when you reach for the back straps is that they are magnetic! This is something I haven't come across in a bag before.
I can see the magnet's appeal. It makes the bag easier to store and not get caught on other objects. But it is not a feature I would need.
There may be photographers who hate back straps that hang. If so, this is a brilliant option.
The next prominent feature is how the shoulder straps sit on axial points. This is also the first instance I have seen this on and bag.
Unlike its magnetic straps, this feature makes a dramatic difference. The rotating straps let the bag naturally find the most comfortable position on your shoulders!
The straps are padded with a stiff foam similar o what's found elsewhere in the bag. It may be good for absorbing shock, but more comfortable materials exist.
The straps are also quite thin. So this will be noticeable if you have a heavy bag.
There is also a chest strap that comes with the bag. It is slightly inconvenient, but it still functions well. Plus, It is made of good materials.
But instead of a clip, the chest strap features a hooking system. And you can choose between three different spaces to insert your metal hook.
I am not a fan of this system, as it takes longer than a few seconds to fasten. The anchor hook is also adjustable but even more difficult than the other one.
Peak Design also offers a waist strap, but you must buy this separately. It looks comfortable. But it's a shame it isn't included, as the bag's price is already quite high.
The back support is minimal but well-designed. Instead of padding the entire back, the Everyday Backpack V2 provides two raised strips that line your spine.
This padding is a ridged foam behind a mesh. It is comfortable and breathable, but I prefer more comprehensive padding on my camera bags.
Peak Design has purposely left a space under the back padding in the middle. And you can use this as a luggage strap.
You can place your bag sideways over your suitcase handle. And this still allows you to access your camera while attached.
The Everyday Backpack has a spacious top handle wide enough to fit two hands underneath. You will also find handles on both sides of the bag. This adds to the bag's quick access and maneuverability.
Seams and Stitching
You can really see the build quality when examining the seams and stitching on the Peak Design Everyday Backpack V2.
There are hardly any stitches showing, which is the first positive sign. And the ones that are showing are tight, close together, and durable.
Tucked-away seams make the bag look much more elegant and greatly contribute to its sleek look. This also helps with weatherproofing, making any water pass over the seams and not seep in.
You can see the bag's heavy stitching at the top and side handles. The handles aren't coming off, even if you took a knife to them! This stitching is also in the back support and shoulder straps.
I inspected for any weak points in the bag. And I can confidently say this bag should last a while without the stitching being compromised.
Peak Design has ensured that every stitch and seam is well protected. Even the strap ends are folded over and stitched up firmly.
Internal Padding
The Peak Design Everyday Backpack V2 features very firm padded dividers to separate the bag's interior empty shell. And these dividers separate the camera equipment from your personal items.
This can be seen as both a negative and a positive. It is a positive because it means you can customize the space exactly as you want.
But it is a negative because you can't use the top divider for its intended purpose. Any lens kept here would slip into the extra space designed for personal equipment.
Peak Design uses versatile FlexFold dividers. At first, I was weary about the firm dividers because no soft material surrounded them. But the shock absorbent foam is capable of securing your camera gear.
The FlexFold dividers have two layers installed on each divider. You can flip up each end of the divider to create a new division within the bag.
This creative approach to camera bag storage saves materials. And it makes customization quick and easy.
Positioning the FlexFold dividers in the bag is challenging because of the bag's side access. But you won't be moving these about often, thanks to the FlexFold foldable parts.
The padding around the bag feels like it could be more secure, especially on the sides. It can withstand slight bumps.
But I wouldn't trust it climbing around tight rocky environments. If you're protective of your expensive camera equipment, there may be a better bag for you.
Zippers and Fastenings
The most notable feature of the Everyday Backpack V2's zippers is that they are waterproof. Peak Design also claims they are "ultra-durable." I assume this refers to the stitching and waterproofing.
The zippers glide along smoothly and uninterrupted. This is a good trait in waterproof zippers.
I also appreciate the zipper covers on the top of the side access zips. This ensures the waterproof zippers are truly waterproof. But you have to put extra effort into tucking these away.
My favorite features are the zipper pulls. The side access zippers feature detachable zipper pulls. This allows you to securely hook the zipper to a tag that is close by.
It is a simple safety addition that goes a long way. It provides less safety than a lock, but it does stop anyone from quickly opening your bag. And if someone tried, you would notice right away.
The bag has a quick-access MagLatch that secures the top-access flap. Peak Design claims this makes for fast, one-handed access.
But I don't like the MagLatch system because I didn't find it to be quick. It may be more useful if you have a lot of equipment in the top compartment.
Peak design also provides you with some extra fastening clips that hide in a magnetic pouch. You can find this pouch at the front of your bag where the waterproof material meets the bottom half.
I love this feature because there are multiple tags around the bag that you can fasten them to. They allow you to carry oversized objects such as sleeping bags or jackets.
Functionality and Ease of Use
Peak Design has employed all these wonderful, smart features. Unfortunately, the general functionality of the camera bag needs to be better.
Side access bags are made to give a photographer easy access to their gear. And the Everyday Backpack V2 does this well. But that's about it.
Size and Weight
The Peak Design Everyday Backpack V2 is available in two sizes, 20-liter and 30-liter versions. For this review, we have been looking at the 20L backpack.
With the inserts, the 20L weighs around 4.43 lb (2.01 kg.) And it is on the heavier end of the camera bags we've reviewed.
This is surprising as it is a shell inside. But this must be due to the high-quality materials used to make the bag.
It also comes across as big and boxy for a bag in the medium-to-large category. This is partly due to its protruding section in the top middle. The side-access stitching and zippers also emphasize this.
The size and shape work for the 20L version. But I imagine it could come across as looking like an astronaut's backpack in the 30L version.
Capacity
Due to the Peak Design Everyday Backpack V2's shell-like nature, you can fit a bunch of camera equipment inside. However, there are some limitations.
It features enough width to store a standard 70-200mm lens. But there isn't a way to store a DSLR with a lens on. You can do this with a compact or mirrorless camera, but it will be challenging with a DSLR.
I also noticed their promotional video didn't feature a model taking out a camera with a lens attached from the bag, which may be a sign.
If you have a bigger camera, you must get creative with the storage or attach a lens every time. Both of these options are huge negatives that photographers will find annoying on a daily basis.
As mentioned, the top divider has no separator between the camera compartment and your personal equipment.
This may be a positive for some. But it means you only get two rows to pack camera gear you don't want to be shaking about.
The Everyday Backpack V2 also features zip and magnetic pockets on both side-access flaps. And the bag can also hold a MacBook Pro up to a 16-inches and has a separate tablet section.
You will also find a small pouch in the laptop compartment for smaller valuables. This is helpful as you can't put them in the main open compartment.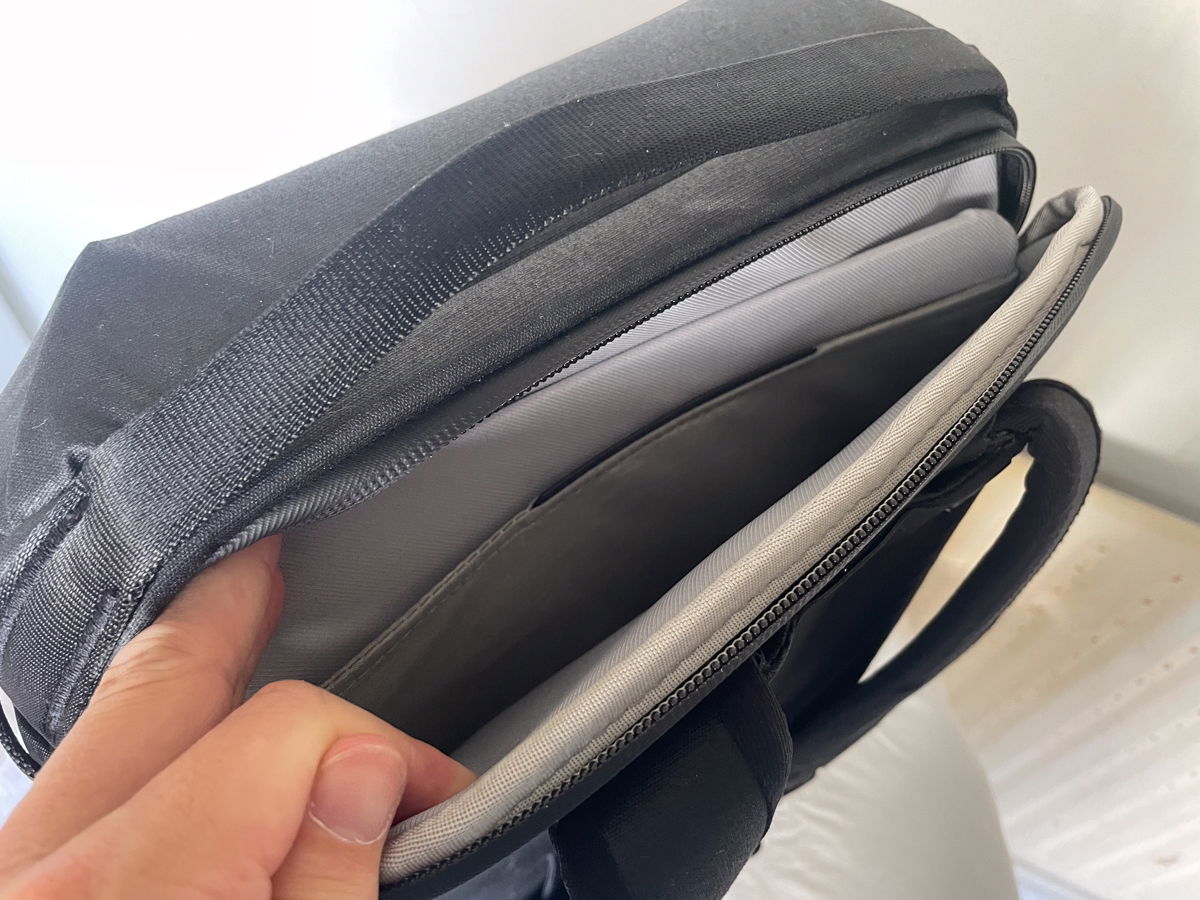 Organization and Customization
As the inside of the bag is completely open, you can customize it to your heart's content.
As I have pointed out, this is more a negative than a positive. This is because it leaves a lot of open space up top where your personal items should go.
The biggest strength in the organization and customization comes from the FlexFold dividers. One of the biggest issues in side access bags is setting up the dividers.
This is still relevant in the Peak Design Everyday Backpack V2. But at least the FlexFold dividers eliminate having to do this for the smaller partitions.
The best part about the FlexFold dividers is that you can adjust them on the go. If you need to add a certain item to your bag, you can always fold down a divider and make extra space for it.
This saves time and hassle. And it is also helpful because you don't have to carry around all the excess dividers that normally come with camera bags.
Both sides of the bag come with a tripod or water bottle holder. These are made of the same rugged material as the rest of the exterior.
You will find each pocket has a strap inside. You can use these to fasten down your tripod. But be aware that the tripod holder can only fit small-to-medium-size tripods.
The bag also comes with external straps that you can position in different places around the bag. This brilliant feature allows you to store oversized items around your bag, including a larger-sized tripod.
Access Points
The Peak Design Everyday Backpack V2 consists of side access on either side of the bag. The side access flaps span the bag's entire length. They let you access every part of your bag.
This side access is useful for those who operate in a city and never want to place their bag down to change their equipment.
But I'm not too fond of side access bags. And this is a prime example of why. Not separating the camera and the personal compartment at the top makes it feel like you get less of each.
You also get another access point at the top with the MagLatch. This does technically let you access the top row of the camera compartment. But it only works if you have no personal equipment stored.
And if you have no personal equipment, the camera gear will be knocking around. The top access is expandable, though, and the MagLatch does conform to these extension abilities.
Security
The Everyday Backpack V2 doesn't employ standout features making it an extra secure bag. But they do have some smaller elements that contribute toward securing your gear.
One element we mentioned earlier is how it looks. It looks different from a conventional camera bag.
Of course, this will change if you have a tripod attached. But it makes you less likely to be targeted by thieves in unfamiliar situations.
The other security features are the zipper pulls. They can be detached and wrapped around different tags around the bag. These are simple, effective, and take little time to fasten.
These fasteners keep people from opening your bag when it's on your back. It can be undone, but you will notice someone trying to get in before it's too late.
This feature is also helpful for travel. You can fasten the zips to prevent your bag from accidentally opening.
And you can still use the MagLatch to access the contents at the top of your bag without undoing the secure areas.
Additional Features
The Peak Design Everyday Backpack V2 has more features, making it more attractive to the casual photographer. These may be more appealing for some than others.
One feature employed across the bag is the use of magnets. They hold down the back straps and are in the MagLatch lock. These add to the bag's sleekness by keeping features close to the main bag.
Elsewhere on the bag, you will find magnets keeping pockets closed. They ensure nothing falls out. This is particularly useful in a side access bag where you will often tip and tilt the bag.
One of these pockets is labeled as a secret pocket. You can find this behind the MagLatch lock on the inside. It is the perfect place for keeping valuables, as it is discreet and unnoticeable.
Another smart addition is that you can adjust the depth of the laptop compartment. This space allows you to store both 14-inch and 16-inch laptops.
Changing this compartment's depth means you don't have to reach so deep into your bag for the smaller devices. This also makes your laptop less likely to be damaged.
I also enjoy the different handles situated around the bag. This makes time-conscious situations much easier to deal with.
But my favorite additional feature is the straps Peak Design provides. You can hook these straps to multiple places around the bag. This lets you secure your tripod or carry other oversized equipment.
The fact that you have to buy the waist strap separately is annoying. This camera backpack is already expensive. And this addition would take it to over a $300 bag.
Compatibility and Versatility
The Everyday Backpack V2 bag provides a large open space inside. But it could have better compatibility for multiple types of camera gear.
The bag's strength comes from its versatility, letting you edit your setup easily or attach equipment externally. There is flexibility. But it does feel limited when looking at camera gear.
Compatibility With Cameras and Lenses
Although the Peak Design Everyday Backpack V2 provides a large space to store your equipment, the camera section is very limiting.
You can find a way to configure the bag to house your camera with a lens attached. But you will have to sacrifice a lot of internal space for larger DSLRs.
You can fit one DSLR and two lenses inside. And you could store up to three lenses. But as I said, the top divider doesn't contain itself. So this could allow the lens or camera to shake about in the bag.
If you use smaller cameras, like any from the Fujifilm range, you may find the bag has too much depth. Your camera and lenses may knock around the bag, too, and the dividers are quite hard.
The dividers do provide an easy and quick way to edit your setup. But they restrict you to the divisions they set. So you can't edit the bag exactly how you would like for smaller equipment.
The Everyday Backpack V2 still lets you store long lenses and easily fits a 70-200mm lens. It can even store flashguns and wider equipment. But again, you will have to dig heavily into your camera space.
This makes the Peak Design Everyday Backpack V2 ideal for its name. It's better as an everyday camera bag where you know what select equipment you will take.
Carrying Versatility
The Everyday Backpack V2 has no alternate way to carry the bag that differs from a regular backpack. But the multiple handles around the bag are a nice addition.
These handles only allow you to carry the bag short distances. Yet they are helpful in several environments, from quick bag movements to getting it out of an overhead compartment.
As mentioned, the external straps are a simple, versatile addition. You could fashion your own shoulder strap if needed, although it would be uncomfortable.
Price and Value
The Peak Design Backpack V2 is an expensive bag for an everyday backpack. This likely comes from its durable materials because it doesn't offer much else in terms of camera storage.
The materials that Peak Design use make the bag weatherproof and durable. These are two sought-after factors for any photographer looking for a camera bag.
The main knock to its value for money comes from the camera storage. When considering the price you pay, the inefficiency of camera storage heavily damages this ratio.
The internal design of this camera backpack is a waste of valuable space. The prime example is the connective space (no divider) between the top access and the camera compartment.
It is a bag worth considering if you want a high-quality exterior. Still, the internal design makes it a bag only useful for smaller or reduced camera gear.
Warranty
A big positive is that Peak Design has a great product warranty. This lifetime warranty covers a whole range of defects for your bag.
Unsurprisingly, they offer this, as so much importance is put into the bag's design and durability. But it does show they stand by their work and want to offer customers the best experience possible.
They will replace your bag for any manufacturing defects. But they will not cover cosmetic stains or damages you have caused to the bag. This is what you would expect from any brand's warranty.
Sustainability
Peak Design is one of the more sustainable-driven brands we've reviewed for our list of top camera bags. And the Peak Design Everyday Backpack V2 is a great example of this.
The camera bag is made out of 100% recycled materials. This is an aspect that some bigger and more popular companies need help to strive for.
On top of this, the bag is climate-neutral and fair-trade certified. These accolades highlight Peak Design's extra effort to consider sustainability.
Their lifetime warranty also adds to their sustainability. Not just because they trust you'll have the bag for a long time but because they will probably recycle those broken bags too!
Alternatives to the Peak Design Everyday Backpack V2
We list three alternative bags here if the Everyday Backpack V2 isn't for you. Quickly compare them or read the full camera bag reviews.
The Lowepro Freeline 350 AW can be seen as a more refined Peak Design Everyday Backpack. It has better organization and high-quality materials.
It may lack the modern features that Peak Design employs. But they aren't missed much.
The Lowepro Freeline 350 AW is ideal if you want to stick to a side access bag. Lowepro has approached this design in a smarter way that keeps your items as safe as possible.
One of the main issues with the Everyday Backpack is it feels as if items could be misplaced inside easily. The removable insert in the Freeline 350 AW combats this by giving clearly defined sections.
We also really like the separate GearBox that Lowepro provides. This allows you to store items like filters, batteries, and memory cards in the camera section without putting them in a side pocket.
The Wandrd Duo Daypack takes the Everyday Backpack's open shell design and pushes it one step further. This is done by allowing side access, and you can fully open the bag's contents.
Simple actions like this make a huge difference to me. Not only does it make for quicker and easier customization, but it also allows for simpler access to key pieces of equipment.
The Duo Daypack could be more convenient for storing personal items. But this is like the Peak Design Everyday Backpack.
It functions great as a bag for well-organized camera equipment and is perfect for day jobs. The Duo Daypack's versatility and high-quality materials make it one of our top-reviewed bags.
Use our discount code EXPERTPHOTOGRAPHY at checkout for 15% off your first order!
The Fastpack Pro BP 250 AW III is for photographers who want a side access bag while also being able to look at the entirety of their kit.
It has a simple QuickDoor opening. This allows you to access your camera while still wearing the bag.
The BP 250 AW III also has a convenient split between your personal items and camera equipment. This is helpful if you need to access equipment quickly. Speed is what the Fastpack is all about.
I am a huge fan of the big zipper tags on the bag. This could be helpful for press or street photographers who need to grab their cameras quickly to take advantage of a certain situation.
Final Verdict of the Peak Design Everyday Backpack V2
Measurement

Measurement

Score

Design and Aesthetics

Design and Aesthetics

Build Quality and Durability

Build Quality and Durability

Functionality and Ease of Use

Functionality and Ease of Use

Weather Resistance

Weather Resistance

Compatibility and Versatility

Compatibility and Versatility

Value for Money

Value for Money

Total Score

Total Score
The Peak Design Everyday Backpack V2 scored a total of 72.3 out of 100, placing it 15th out of a possible 18. And the Everyday Backpack V2 places highly among other review websites.
After looking at this bag in detail, it seems this bag scores highly due to Peak Designs' high commission they offer review websites. This does not influence our scoring like other review websites.
The Peak Design Everyday Backpack V2 is a great example of a camera bag that puts outer material at the forefront of its design.
Peak Design has been ahead of other brands for sustainability, durability, and even a bag's look! But when you consider the functionality of a camera bag, this backpack needs improvement.
You can use the bag to quickly access your gear without removing it. But apart from this, all other common experiences with it are more taxing.
My experience with the Everyday Backpack V2 is that it comes close to being a fantastic camera bag. But it never quite makes the mark.
Comfort is a good example. The bag has many smart design features, like rotating shoulder straps. It makes a huge difference in comfort. Yet they need more extra padding in important places.
This is also evident with internal padding, where a top, softer layer of shock-absorbent foam would go a long way. Plus, a simple way to split the two internal sections would make gear feel more secure.
The Peak Design Everyday Backpack V2 could be the ideal bag for some photographers. But when you factor in price, its durability can't quite hold it up enough to put it among the top camera bags.