The Lowepro FreeLine BP 350 AW is for photographers looking for a premium yet lowkey camera bag. It best suits city explorers or casual photographers as it doesn't scream, "I'm a camera bag."
Lowepro is a tried and trusted camera bag brand that has been in the game for over 50 years. Many photographers will likely have owned at least one Lowpro bag in their lifetime.
This is due to their wide range of casual and specialist options. It is also due to their popularity and availability. Most camera shops will stock a few Lowepro bags.
Lowepro's roots started in providing adventure bags that withstand strenuous trips. Thanks to their successful innovations, they have played a role in defining the industry standard of camera bags.
So whether in the mountains or the streets, you can find a photographer trusting their gear in a Lowepro bag.
The BP 350 AW ranks high on our list of top camera bags! We love its build quality, and the materials Lowepro has selected to construct this bag.
The result is a convenient and rugged bag that can suit a range of shooting environments. This is thanks to its versatility in its appearance and its internal design.
Its pricing may be high. But its longevity and durability compensate for the extra cost. It takes knocks and bumps while keeping your gear secure.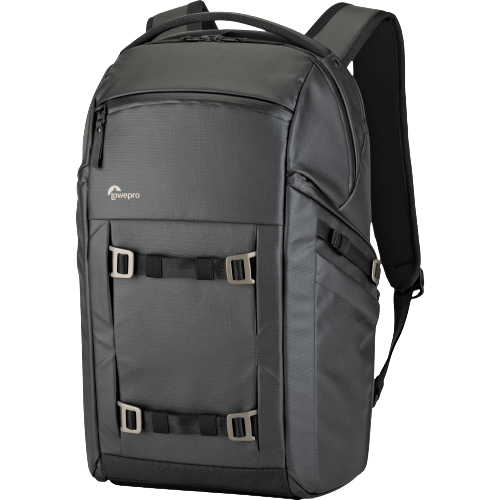 Discover the perfect mix of style, convenience, and durability with this premium camera backpack. Ideal for city explorers and casual photographers, it subtly blends in without compromising on protection for your gear. With a high-grade, water-resistant exterior, an innovative divider system for easy organization, and the trusted quality of a renowned brand, this camera bag offers great value for its price.
For full transparency about our review process, you can read about how we scored and ranked the bags.
Strengths and Weaknesses of the Lowepro FreeLine BP 350 AW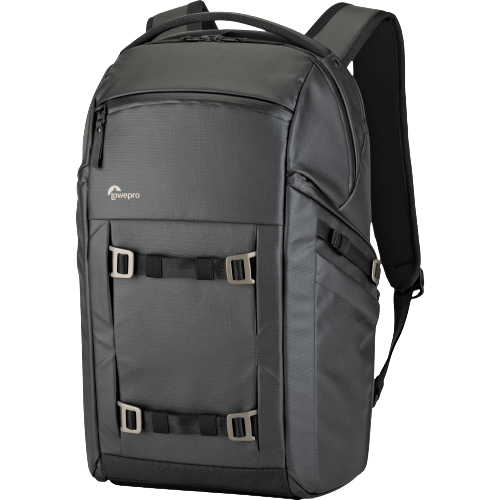 Weight

Weight

1874 g

Capacity

Capacity

25 L

Access Points

Access Points

Top, side

Airflow Back Support

Airflow Back Support

Yes, with mesh

Laptop Sleeve Capacity

Laptop Sleeve Capacity

16-inch

Tripod Holder

Tripod Holder

Warranty

Warranty

Lifetime

Waterproof Rating

Waterproof Rating

Weather-resistant
The Lowepro FreeLine BP 350 AW uses a super high-grade nylon 66 exterior material. This is the first aspect you will notice and is one of the main strengths.
The material also features a carbonate coating which is water and abrasion resistant. It also looks smart and sleek, so this bag ticks the boxes of both function and fashion.
Lowepro's QuickShelf divider system is another strength as a side access camera bag. Its strength lies in the ease of operation.
Side access camera bags can often be frustrating to set your dividers in. The QuickShelf system combats this. You can now pull out the whole insert to place dividers before sliding it back in.
But a noticeable weakness lies in its side access. The flaps don't stay open. So you need to use one hand to keep it open while grabbing your equipment.
The hook for the chest strap is also slightly inconvenient. It can take longer than a few seconds to fasten or unfasten.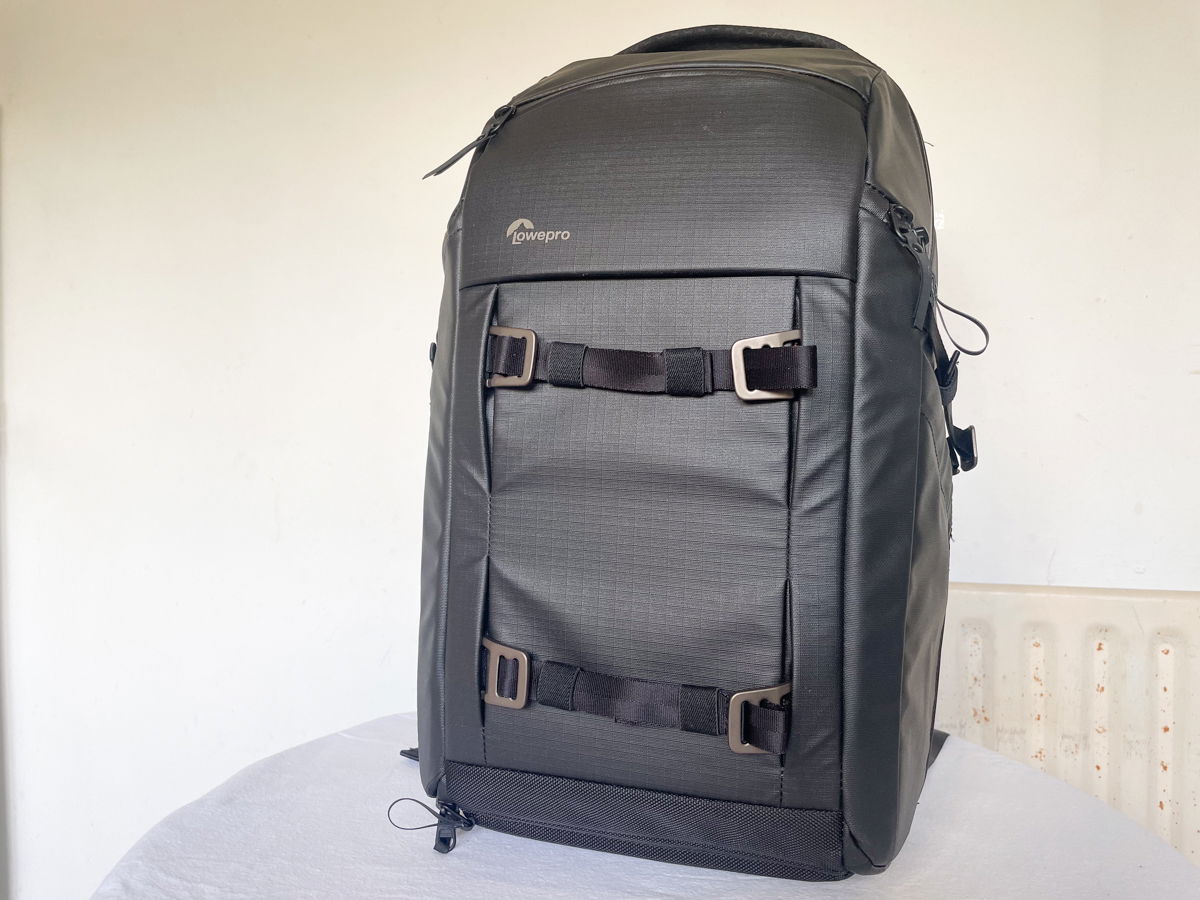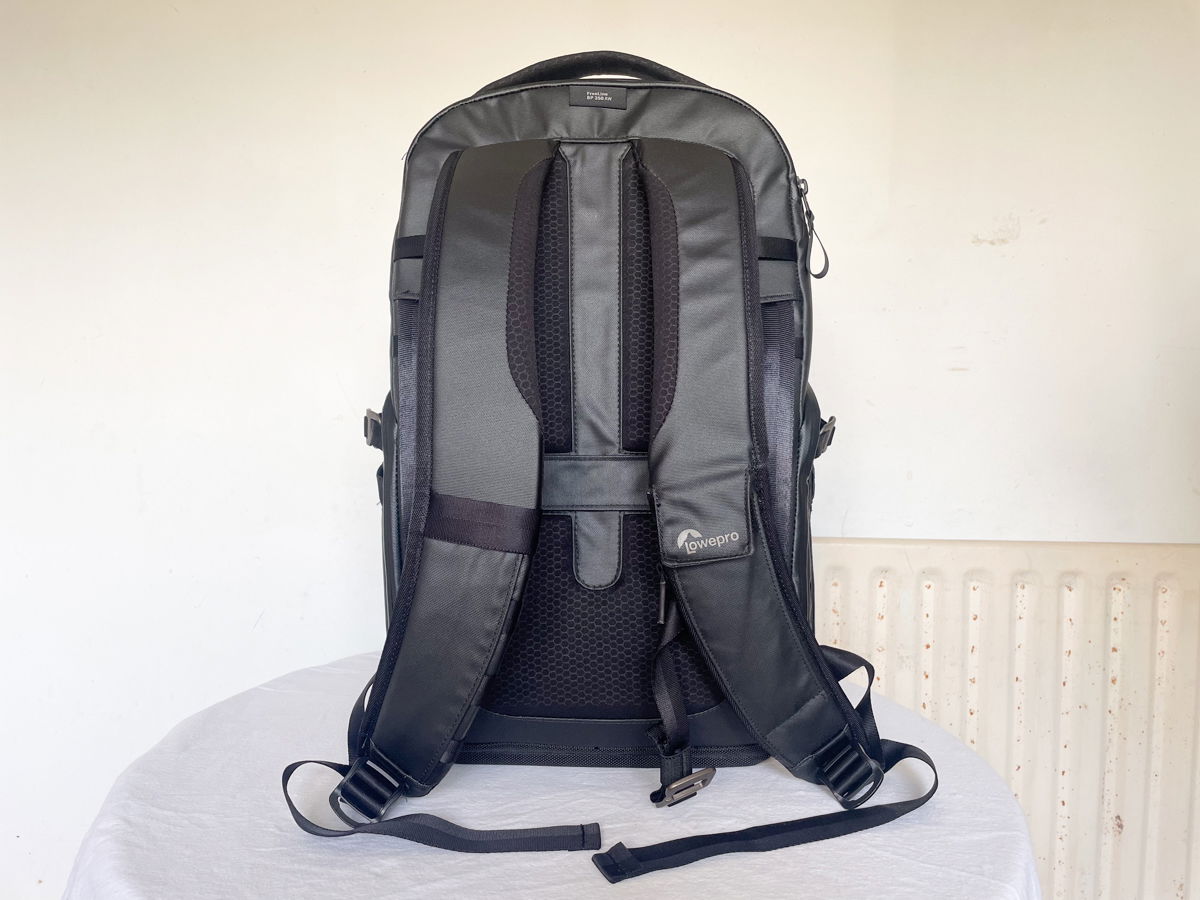 Design and Color Options
The Lowepro FreeLine BP 350 AW is a great-looking bag. It's like a chameleon that doesn't look out of place in any environment. It is suited for high-end corporate shoots or a day out by the lakes.
Its smart, sleek, and subtle design makes it ideal for photographers who like a minimalist approach to camera bags. It suits both those who wander the streets or attend business meetings.
The Lowepro FreeLine BP 350 AW comes in Grey. This color isn't as versatile as black and isn't very exciting. But Lowepro isn't trying to make any big statements with this bag.
So if you like to grab people's attention while photographing, there may be better options. But this could be your bag if you like to blend in like a fly on the wall.
Build Quality and Durability
As mentioned, the Lowepro FreeLine BP 350 AW's build quality is superb. Lowepro has examined every crease and stitching of this bag to make it robust while keeping the sleek aesthetic.
This makes the FreeLine BP 350 AW perfect as an everyday bag. You can trust that it will survive general wear and tear for a prolonged time… Let's now look at each quality in depth.
Exterior Material
The outer material consists of high-grade nylon 66 with a carbonate coating. I love this material. Not only because it's water and abrasion resistant but also because it comes across as faux leather.
This material contributes to its sleek and smart persona. And it perfectly blends the lines between function and fashion.
The material is tear-resistant if you expect to brush past objects that might catch on your bag. This is thanks to its slick surface and its build design.
The bag doesn't have too many elements to catch on. And you can tightly fasten all available ones.
The bottom of the bag is a thicker material. It has two extra pads stitched into the bottom for extra protection. When you place your bag down, these two pads will have the most contact with the floor.
This helps extend the bag's durability and means there is less chance of water getting in when placing your bag on a wet surface.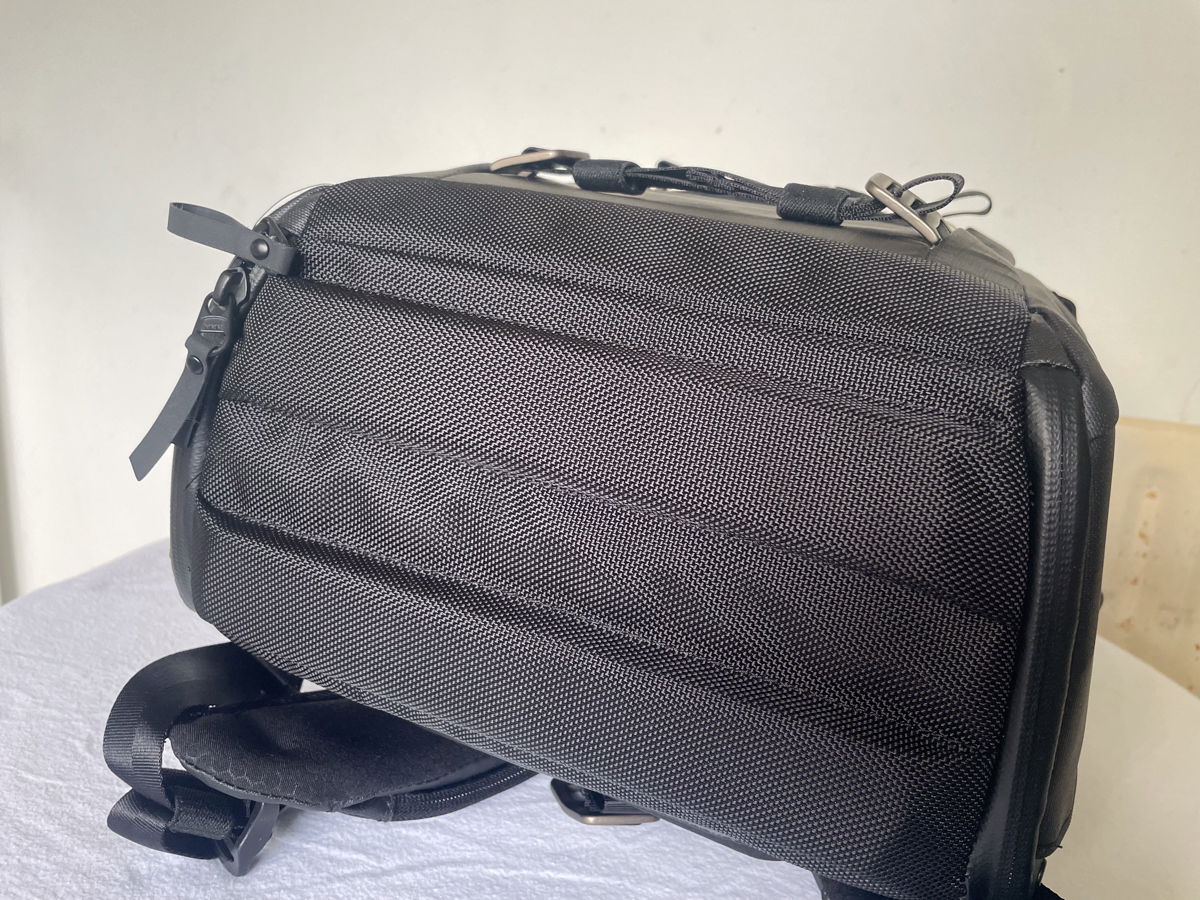 Interior Material
There are few compartments in the FreeLine BP 350 AW due to the QuickShelf divider system. So the bag acts as a shell, which you can slide the divider system in and out of.
The internal material of the bag is just as high-quality as the exterior. The nylon found in the bag is even silkier than the outside, making this sliding easy and efficient.
For the most part, the interior consists of this high-quality nylon material throughout. There are also two fleece-lined pockets on the side access flaps.
The interior material is among the best in the bags we've reviewed. I would be okay keeping a filter loose in this bag. And it wouldn't be an issue if I lost a lens cap and had to keep a lens unprotected!
Straps and Back Support
As most photographers know, a camera bag is only good if it's comfortable. And most comfort comes from the shoulder straps. The Lowepro FreeLine BP 350 AW does a good job of tackling this issue.
The shoulder straps may seem too rigid at first. But they are more comfortable than they seem.
I like the extra padding they've put on the inside of the shoulder straps. This eliminates the annoying chaffing you can get from inside a strap. Small details like this add to the bag's everyday qualities.
The back support features ribbed padding that is akin to a massage roller. I was unsure how it would feel, but I was pleasantly surprised.
You can barely feel the ridges when there isn't much weight in the bag. When you put your gear in, the gap hugs your spine, and the ridges provide relief.
The ridges are also instrumental in the airflow channel Lowepro has designed. They provide easy access for air to get to your back. This means more comfort and less sweat on those long walks!
Elsewhere around the bag, you can find luggage straps. And there is a place to attach a large tripod on the back and a small tripod on the side.
The tripod straps use a hooking system rather than clips. This system can take slightly longer to fasten your standard clips. But it is more durable, especially with the great stitching and materials used here.
The shoulder strap also comes with a hooked chest strap. This is less convenient than a clip, but it fits the other features of the bag.
You will also find a phone pocket on the should strap. This is handy for quick access. And the camera will peek out if you have a smartphone. So this may be a way to film from a POV perspective!
A feature you may easily miss is its great hip strap storage. They slip in behind the padded back, where the reinforced materials are for the lower shoulder straps.
This extremely creative way to hide these straps adds to the bag's sleek persona. Dangling hip straps can get annoying, especially as they're only meant for prolonged bag use.
The bag has a great handle on the top for quick pick-up. Often camera bag brands overlook a simple feature like this, but not in the Lowepro FreeLine BP 350 AW.
This is a pinned-down padded strap that spans the whole width of the bag. This makes a quick carry as easy and comfortable as possible. You can even put two hands under there!
There are also side handles positioned on the back of the bag on either side. These aren't as noticeable or comfortable as the top handle.
But they are smart as they are discrete. So they shouldn't catch on doorways or other hooks as you walk past.
Seams and Stitching
The seams and stitching in the Lowepro FreeLine BP 350 AW are among the best you will find in camera bags. They are tight, well-positioned, and reinforced in the most crucial places.
You will notice that all the handles on the bag have reinforced stitching. So you can confidently use these handles even with a bag loaded with different gear.
I have inspected all the weakest points of the bag, and I am extremely surprised by the quality of the seams and stitches. Even applying substantial stress to these points doesn't reveal weak points.
Internal Padding
The Lowepro FreeLine BP 350 AW uses the QuickShelf divider system. It doesn't provide the softest padding in the dividers. But you can tell they're made of a material that has good shock absorbance.
The padding is more refined on the front and back of this divider system. This provides added support as the removable QuickShelf system is quite thin.
The bag has good padding even without the extra padding provided by the QuickShelf system. The front of the bag is thin, though. So extra padding is needed here if you don't use the internal dividers.
But the back is reinforced enough to house a camera even without this system! The sides are equally well padded, which is good as these are your access points.
Zippers and Fastenings
All zippers on the bag are coated YKK zippers for that extra bit of waterproofing. This goes a long way because the weakest point of a bag is the zippers when considering waterproofing.
The coating means zipping up requires more force. You won't get the smooth, quick glide found on other Lowepro bags with larger zipper pulls. But it is a small price to pay for great functionality.
All zipper pulls are black to match the all-black aesthetic. One of the two zippers on the side access points has a zip pull that makes a full loop. You will also find this in the laptop compartment.
This isn't due to unfinished production and bad quality control. It is actually for security. You can use the side fastenings for tripods to reach through the loops and onto a point at the back of the bag.
All fastenings use a hooking system apart from the hip straps. This hooking system is much more durable than clips but compromises in customizability.
For instance, the chest strap can move freely up and down. But it only attaches to three different points.
This is fine as one will work for you. But a clip system may be more convenient when considering the speed it takes to hook and unhook.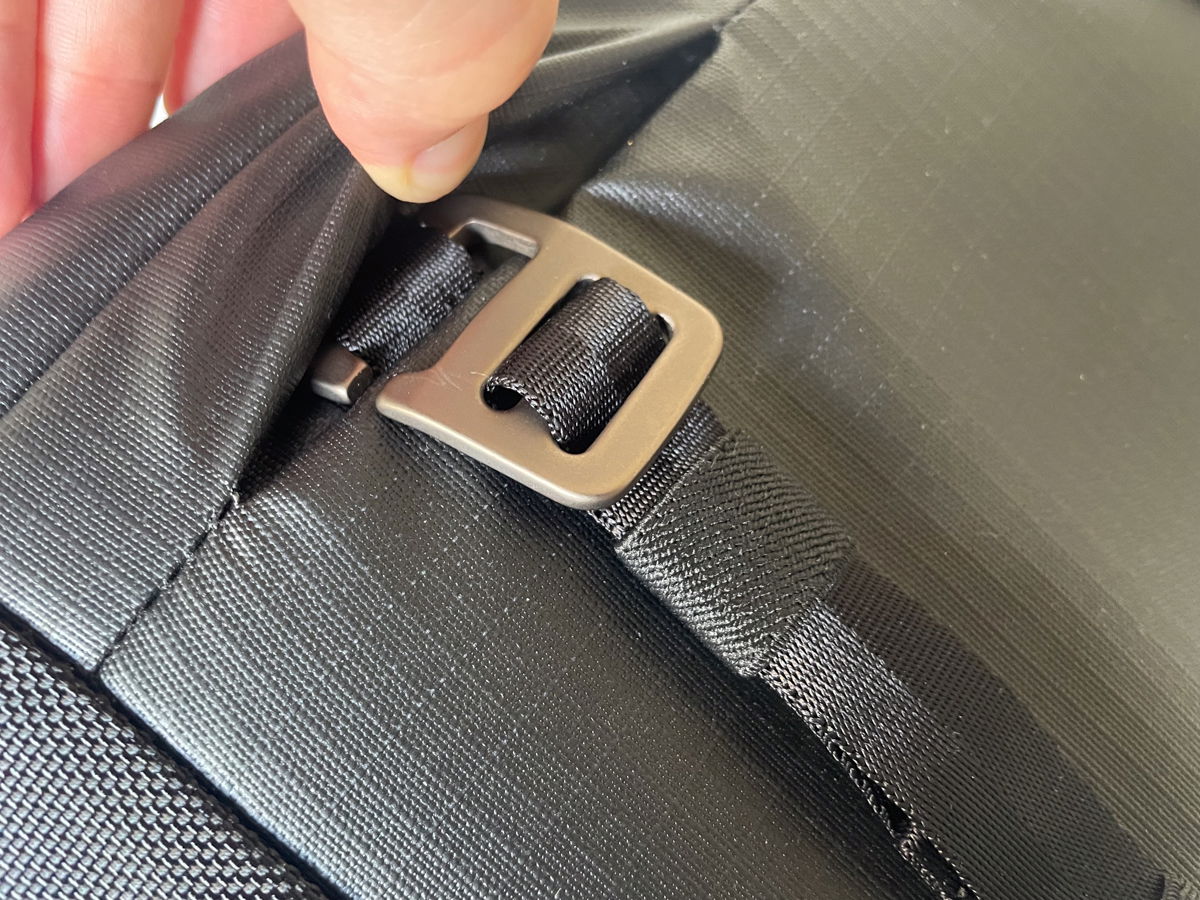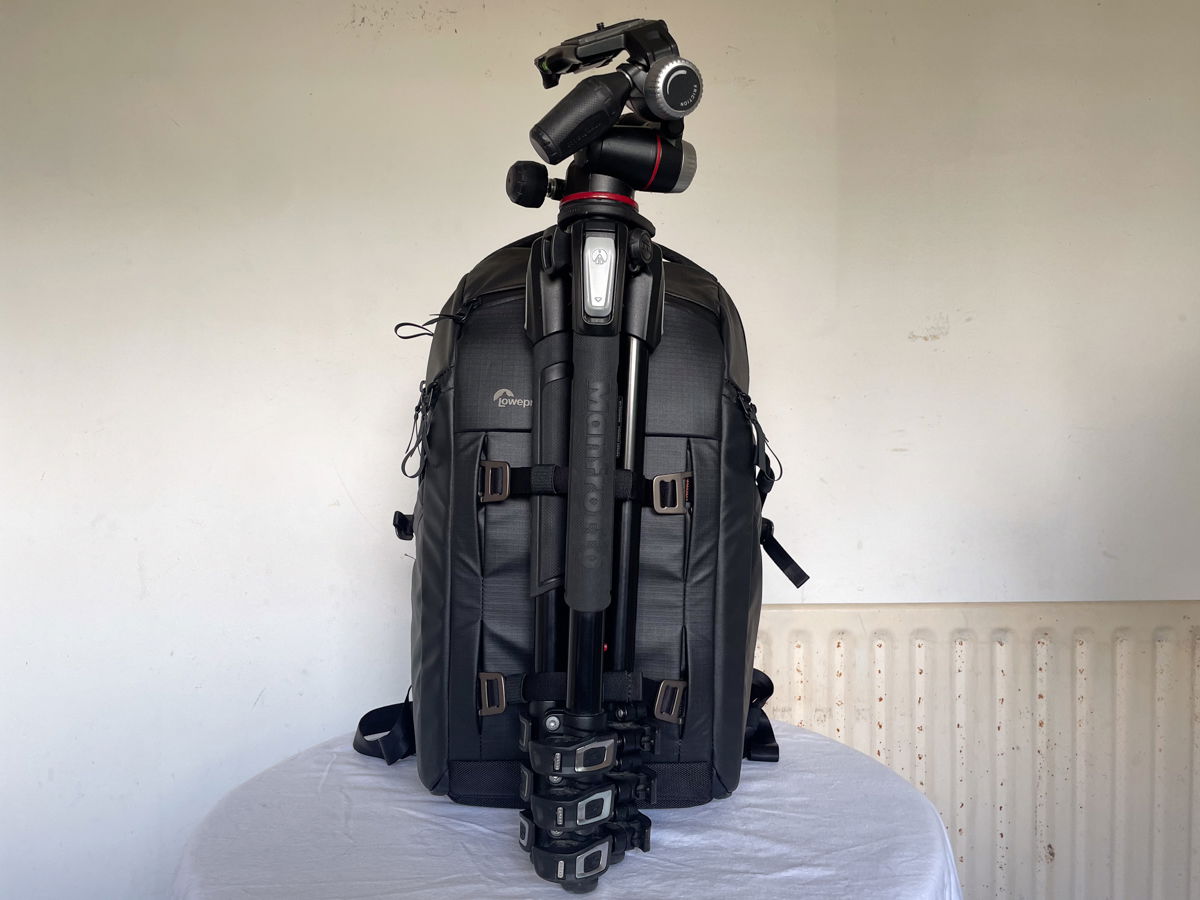 Weather Protection
The Lowepro FreeLine BP 350 AW is a great bag to consider if weather protection is at the top of your priority list.
The carbonate coating on the nylon gives it great water-resistant qualities. This makes it 50% more effective than nylon products without it. Plus, you will find coated zippers on every external zipper.
You can also consider the QuickShelf divider system as a form of weather protection. Even if water gets in, your kit is separate from the bag's outer shell.
If this protection isn't enough for you, a waterproof cover is included that can fully encapsulate your bag.
All these waterproof elements together will do a great job of keeping your kit as dry as possible. These also make the FreeLine BP 350 AW one of the best bags we've reviewed for weather protection.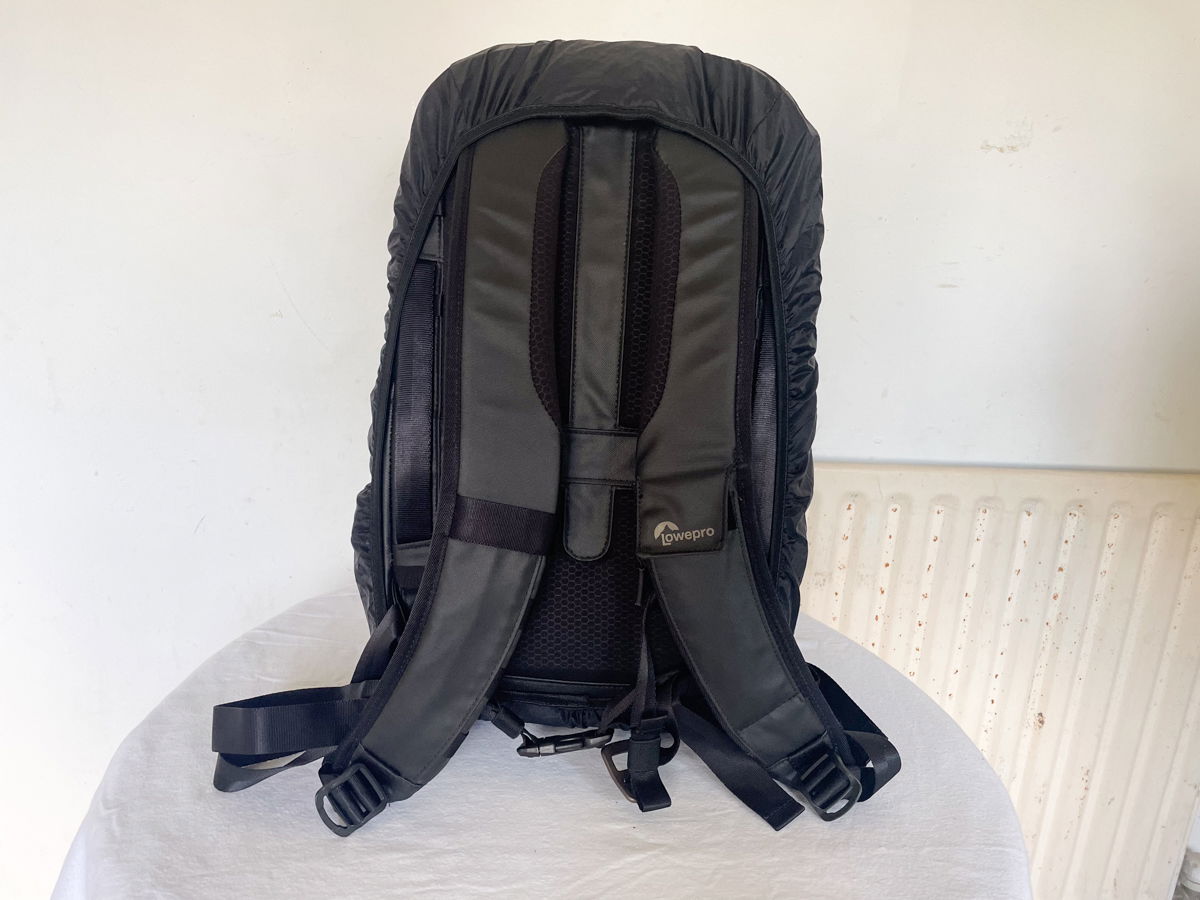 Functionality and Ease of Use
The Lowepro FreeLine BP 350 AW isn't the most convenient bag, but its practicality balances this out. I will now break down each factor when considering the BP 350 AW's functionality.
Size and Weight
Lowepro has found a great balance between bulky and sleek with the FreeLine backpack.
Its size verges on the edge of a large bag, but it feels like a medium size bag. The build quality and its sleek nature make it feel more compact than it is.
Due to the high-quality materials, the bag only weighs 2.2 lb (1.87 kg). This makes it a lightweight bag, especially for its capacity (about 20 to 25L).
This weight isn't surprising when you consider the inside of the bag. Again, it is pretty much a shell for the divider system to fit into.
Capacity
Lowepro doesn't provide information on how many liters their bags take. But based on its listed internal dimensions, this bag takes between 20 to 25 liters of volume. This is plenty to fit various kits.
You can fit enough camera gear to cover a varied shoot. This can take the form of one camera with a selection of lenses or two cameras with one attached to each. (More on compatibility below.)
The side access on either side of the bag can be handy for those who like to shoot with two cameras.
The main issue with side-access camera bags is that you cannot use the smaller partitions to make small spaces between the shelves. This is because you will need to access the space on either side.
Lowepro has combatted this by providing their removable GearBox. This rectangular bottom insert can house many camera accessories in one space (more later).
As the bag is a shell, there are no big pockets to store your personal items separately. You get one small, thin pocket in a convenient spot at the top and front of the bag.
This is ideal for keeping important items to grab quickly, like your passport. But this pocket is very thin and won't be able to store much.
It is easy to miss the laptop compartment at the back of the bag. The zip access is found at the top behind the top strap. And it can fit a 15-inch laptop (40 x 25 x 1.5 cm space).
It even has a split section to put your laptop in one sleeve and important documents in the other. And thanks to the great back padding, you can trust your laptop is well protected.
Organization and Customization
One of my favorite features of the FreeLine BP 350 AW is its removable GearBox within the padded inserts. This is a small, padded box with handles on either side to slide it out of each access point.
The GearBox even comes with removable pads inside! It is perfect for filters, or light-meters, and other camera accessories.
I love removable inserts, as accessing certain gear sections in other camera bags is often hard. Being able to take this insert out means less chance of damaging or dropping your equipment.
Top access is straight into the whole bag rather than a separate pocket. This is helpful when deciding between photo equipment and personal items. You can take the top shelf off or position it lower.
You can fully remove the QuickShelf divider system from the bag. If you do this, you can use the bag for anything you want. But you might not want to use the side access points as everything may fall out.
The QuickShelf system is easy and simple to adjust and customize. Lowepro provides three shelves and two dividers in this system.
This may not seem like much. But a side access bag doesn't need many dividers and partitions.
Access Points
The Lowepro FreeLine BP 350 AW is a side-access bag. It provides you with access points on both sides of the bag. You can also access the main compartment through the top access point.
The side access points span two-thirds of the bag. So it is easy to access all your equipment when fully opened.
The sides do need to be fully unzipped before you can easily take out your gear. You will also need to hold open the flaps to get your gear.
I am not a huge fan of side-access camera bags. But I see how they provide extra security.
The biggest strength of these bags is convenience. You can access your camera without taking off your bag. And this bag does this action well and with comfort.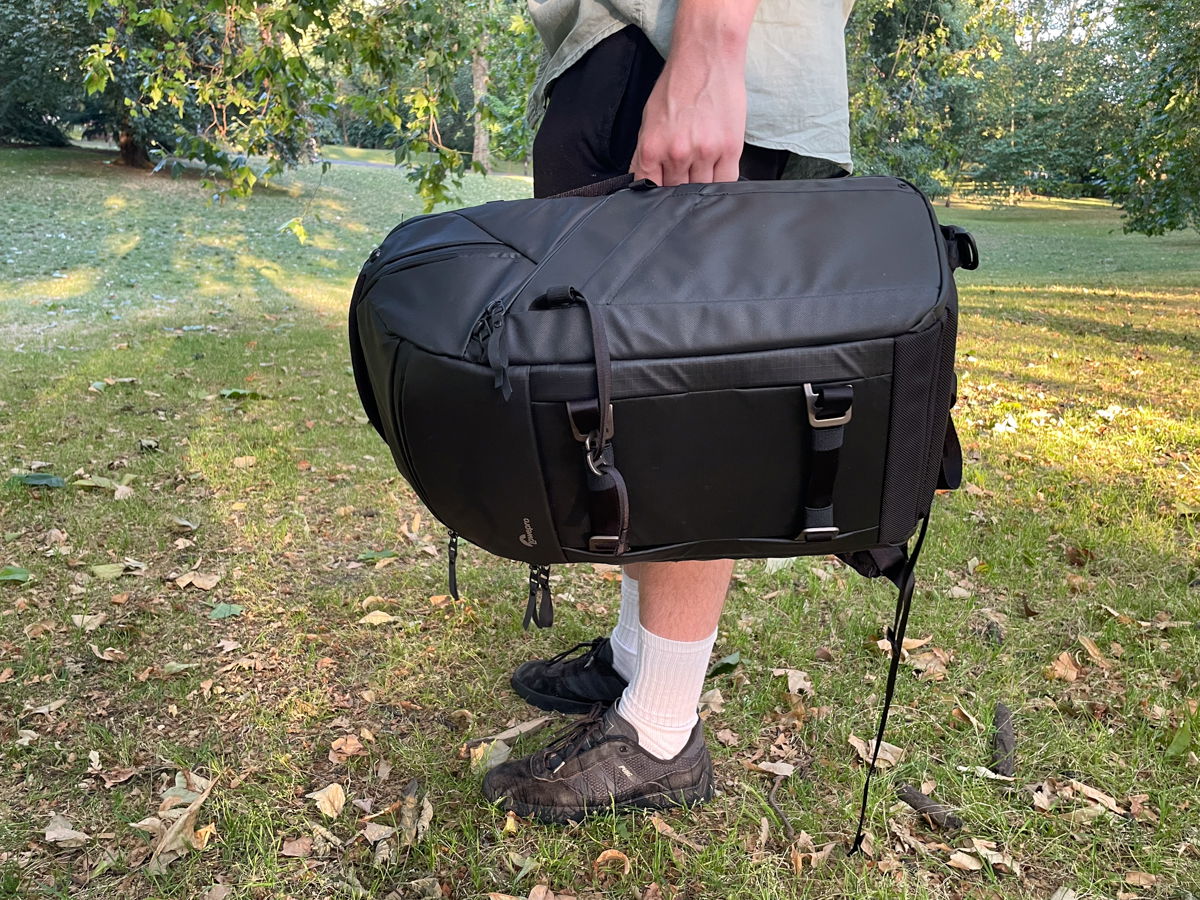 Security
As I mentioned, the side access is more secure than your standard-access camera bags.
It is also tough to zip open the bag, which I mentioned as a weakness. But this comes in handy when considering the bag's security!
I also mentioned some zippers having a zipper pull. This is one of the best examples of smart, simple security features that more camera bags employ.
You can put the tripod fastenings through the side-access zippers and the laptop zip to hook it onto the back. I love this, and Lowepro has designed this system to work well while not looking noticeable.
The YKK zippers have a hole just big enough to fit a small padlock in if you want that extra security for storage or flights.
Additional Features
The duel tripod mounts on either side of the bag are a great addition. This could be helpful for photographers who want to use flashguns or other external lights on location.
If you had two compact light stands, they could go on either side. And you could place your tripod right on the back. It would make for a heavy bag, but as we know, the stitches can take it!
I am also a big fan of the disguised hip straps at the back of your bag. They aren't the most comfortable straps, as they feature no padding. But they provide a welcome relief for long walks.
I like this feature because I normally use my hip straps about 10% of the time with my other bag. The rest of the time, they're just dangling. It looks pretty ugly and is likely to get caught on random objects.
The aforementioned removable GearBox is also a great feature you don't find in many camera bags. This helps keep all your smaller camera equipment together in an easy-to-access spot.
Compatibility and Versatility
The Lowepro FreeLine BP 350 AW isn't the most versatile camera bag. Side access does limit your creativity. This is the same when looking at the bag's compatibility.
Let's look at this in more detail and see how the bag responds to these issues.
Compatibility With Cameras and Lenses
Lowepro's QuickShelf divider system makes setting up a speed-conscious design with the camera bag easy. It may not be able to fit the most amount of kit, but it's an efficient use of space.
You can store a DSLR and maybe up to three lenses, including a 70-200mm lens. Or there is enough space for two DSLRs, an extra lens, and the removable GearBox!
If you want even more space, you could even put an extra lens in the top compartment. This is possible if you aren't carrying anything in there that could damage your lens.
So at its max, your DSLR should be able to fit in with a 70-200mm attached. And with three extra lenses placed around the Lowepro FreeLine BP 350 AW.
If you wanted to store a larger DSLR or one with an added battery grip, you would have to take the lens off. My Canon 5D III fits in comfortably with a lens on.
The spaces you get are big enough to house most standard pieces of kit. It can fit telephoto lenses, but you must look elsewhere if you want to carry around super-telephoto lenses.
Carrying Versatility
You carry this camera bag conventionally, with two straps over the shoulder. It has excellent top and side handles for short distances. But I don't expect you'll use these most of your time.
The added luggage straps are super convenient for travel photographers. And you could also use the side straps as luggage straps (if your luggage handle is thin enough.)
This means you can access your camera gear while your bag is attached to your luggage. This may not be the most helpful feature, but it may suit some photographers.
Price and Value
The Lowepro FreeLine BP 350 AW is designed for serious photographers, and its price reflects this.
It is on the mid-to-higher end of camera bag prices. You are paying for high-quality material and a good-looking bag for this price.
You will have to decide if the price point is worth it. Some people will be extremely happy with this bag due to its sleek nature and its subtlety as a camera bag. And if you want a bag that uses its space efficiently, this could be the bag for you.
Its materials and stitching are the deciding factors that make this camera bag good value for your money. Looking at the stitching, you can see that it will likely last you for close to 10 years.
If you're spending good money on a camera bag, it might as well be as reliable as possible. The BP 350 AW is a great investment. You won't have to look for another camera bag for a while!
Another point that adds to this bag's reliability and longevity is that Lowepro provides a lifetime warranty! This confirms how confident they are in the construction and durability of their products.
The warranty is simple enough. You register the warranty, and then after ten years, you have to confirm you still want a warranty over your camera bag.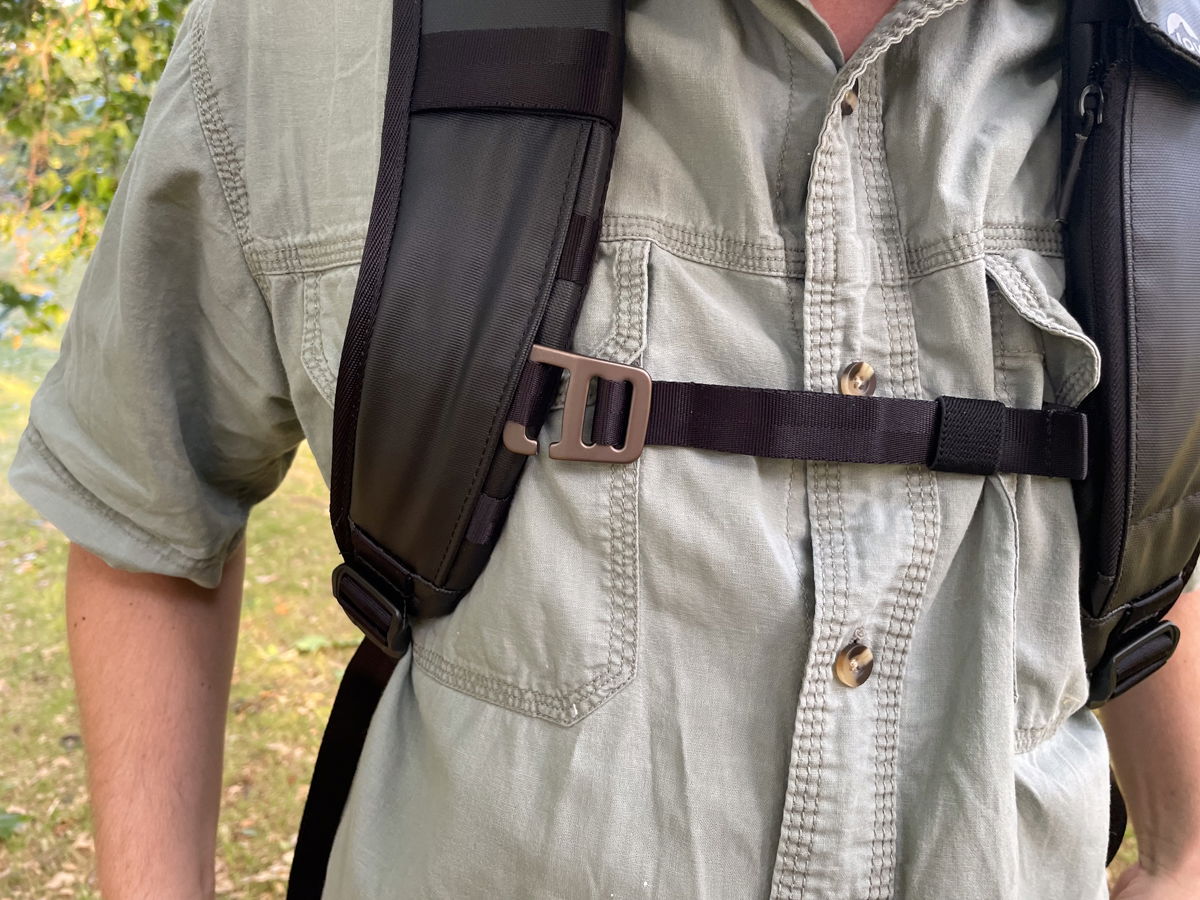 Sustainability
There isn't any available information about the BP 350 AW's sustainability. And the fabrics they use aren't the most sustainable.
But Lowepro is slowly moving toward using recycled fabrics and reducing their use of nylon. New bags that consider this are part of the Green Line. And they aim to have all products aligned by 2024.
Alternatives to the Lowepro FreeLine BP 350 AW
The Freeline BP 350 AW may not be what you're looking for. So we recap some alternatives we did full reviews on that may suit you better.
The Manfrotto Light Multiloader is another bag that offers side access. And it also offers full access from the front. This alone combats my issues with the Lowepro FreeLine.
I prefer a more detailed look at my gear. And the Light Multiloader aims to be an all-in-one camera bag that can carry ample equipment on the inside and the outside.
The main disadvantage of the Light Multiloader is that it doesn't have the sleek and slick persona of the Lowepro FreeLine. You will also notice that the materials aren't as durable as on the FreeLine.
The Lowepro FreeLine is cheaper and more secure than the Manfrotto Multiloader. But the Manfrotto can hold more equipment. You also get more versatility with the Multiloader.
Consider the Fastpack Pro BP 250 AW III if you like side access bags and want to see all of your equipment at once. The QuickDoor access flap lets you get your gear without removing your bag.
The main disadvantage of the BP 250 AW III is that it doesn't have the same high-quality materials and build quality as the FreeLine. This goes a long way when considering durability.
The Lowepro Fastpack is cheaper and allows for better access to your equipment. But it lacks the sleek and smart persona of the Lowepro FreeLine.
The Wandrd Duo Daypack is another bag that provides side access, like the Lowepro FreeLine.
But it also allows you to open up the whole bag! This is useful for photographers who like a clear and convenient look at their equipment.
The Wandrd Duo is ideal for a daypack, just as the name suggests. It allows you quick and easy access while providing a high level of security for your items through its high-quality materials.
The main disadvantage of the Duo Daypack? It doesn't provide the same padded support as the Lowepro FreeLine.
But the Wandrd Daypack is still a great alternative with its quick-access zipper and sleek, smart design. Both bags look great and find themselves at home in multiple situations.
Final Verdict of the Lowepro FreeLine BP 350 AW
Measurement

Measurement

Score

Design and Aesthetics

Design and Aesthetics

Build Quality and Durability

Build Quality and Durability

Functionality and Ease of Use

Functionality and Ease of Use

Weather Resistance

Weather Resistance

Compatibility and Versatility

Compatibility and Versatility

Value for Money

Value for Money

Total Score

Total Score
The Lowepro FreeLine BP 350 AW scored a total of 81 points out of a possible 100. So it places 5th out of 18 on our list of the best camera backpacks.
This tells us that Lowepro has produced a bag that stands among the best. In fact, it is only 4.3 points off the top spot.
After inspecting every seam of the Lowepro FreeLine BP 350 AW, I can confidently say that it is a very well-constructed bag.
And don't be deceived by its seemingly simple exterior. It cleverly approaches crucial features in an everyday camera bag.
You can tell that the main goal of Lowepro was to produce a premium camera bag. One that could fit many photographic genres, from street photography to wedding photography.
It is particularly aimed at those who want to project themselves as a "premium photographer." It looks neat and slick. And it's for those who want to show up at photography jobs with a professional look.
Overall this camera bag is for those who value style and simplicity. It is also for those who want a well-constructed bag with high-quality materials.
Considering all these elements, the Lowepro FreeLine is close to the top of all the camera bags we reviewed. If the Lowepro FreeLine matches your shooting style, you should feel confident buying it!