Take a well-respected camera backpack manufacturer and a famous photographer. Have them design and produce a top-class camera backpack, and what do you get? It's the Nomatic McKinnon (or the Gomatic McKinnon if you're in Europe).
But the pressing question is whether this combination produces a fine piece of equipment or something underwhelming. And the answer is that the Nomatic McKinnon 25L camera backpack is an impressive place to keep your gear. It's stylish and lightweight yet keeps your expensive kit safe and secure.
The McKinnon gives you versatility with their "ladder" insert and removable cubes. And it works very well, which shouldn't be a surprise.
Nomatic has a reputation for quality and innovation. And they back that up with a lifetime warranty on the bag.
The Nomatic McKinnon 25L is one of the best camera backpacks we reviewed. And it should definitely be on your shortlist if you want style and flexibility without sacrificing protection.
If that's you, read on to see what we love about the Nomatic McKinnon. And see where we think it could be improved.
If you do like this bag, use EXPERT15 at checkout to get an extra 15% off!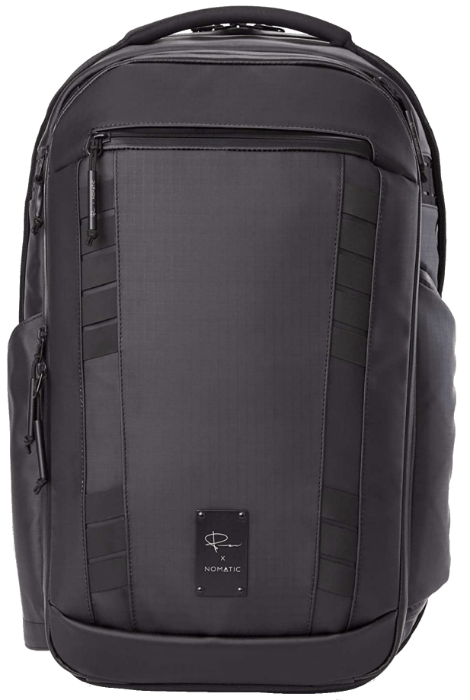 Experience the perfect blend of style, flexibility, and protection with this top-class camera backpack! Designed by a renowned manufacturer and a famous photographer, it offers versatile storage with its "ladder" insert and removable cubes. Lightweight yet durable, it ensures your gear stays safe with its superior quality and lifetime warranty. Plus, its sleek design exudes class, making it more than just a camera bag. Use EXPERT15 to get an extra 15% percent off!
For full transparency about our review process, you can read about how we scored and ranked the bags here.
Strengths and Weaknesses of the Nomatic McKinnon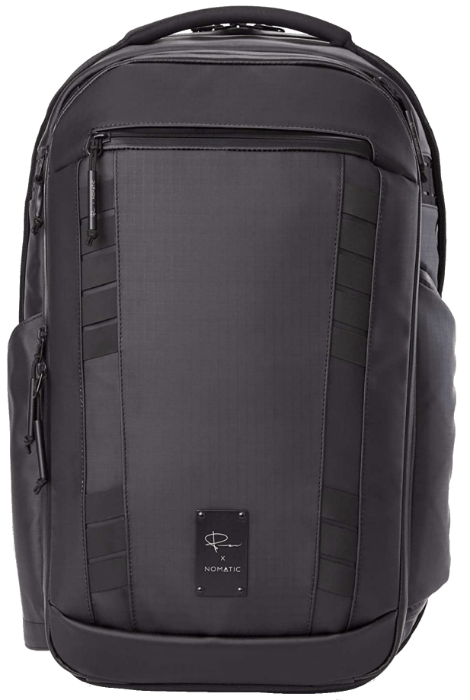 Weight

Weight

1400 g

Capacity

Capacity

25 L

Access Points

Access Points

Top, back

Airflow Back Support

Airflow Back Support

Yes, without mesh

Laptop Sleeve Capacity

Laptop Sleeve Capacity

16-inch

Tripod Holder

Tripod Holder

Warranty

Warranty

Lifetime

Waterproof Rating

Waterproof Rating

Weather-resistant
First of all, I love the look of the Nomatic McKinnon bag. It has the same unfussy class as the Lowepro FreeLine BP 350 AW. It looks like a carry-on rather than a hiking backpack.
The ripstop 80/20 nylon and polyethylene fabric almost looks like leather from a distance. And the interior is a really rather nice camel color plush fabric.
We will look in detail at the full flexibility of the bag's internal organization later. Suffice it to say it is a real strength.
A general backpack to a full camera backpack and several stages in between are all possible. So It's really well thought out.
There is an overall impression of quality about the McKinnon, from the components to the manufacturing standards. It's reassuring when you are trusting it with your valuables.
As for shortcomings, there are few. Perhaps the most obvious is that there is no quick-access side opening. This is made up for slightly by the top access arrangements, but some may find it lacking.
Design and Color Options
The design of the Nomatic McKinnon is a sleek rectangular cuboid with a sloping top. It comes in only one color option—Black. And there are no color highlights or details. I think "smart" sums up the look quite well.
Build Quality and Durability
Nomatic guarantees the McKinnon for life against faults in the zippers, seams, and seals. This shows some faith in their product's quality. And it's easy to see why. This bag looks very well made.
Exterior Material
As I said, the outer material looks like leather at a distance. Up close, you can see a pattern of small squares, typical of ripstop fabric. It feels a little leather-like to the touch, and it has a satin sheen.
Weather Protection
Nomatic demonstrates the protection offered by the McKinnon backpack on its web page. They throw wet mud at it and show how it simply wipes off.
It isn't claimed that the bag is waterproof, but the fabric repels water consistently. And you can buy an elasticized rain cover for it.
The zippers are shielded by a rubbery covering that prevents easy water ingress through the teeth.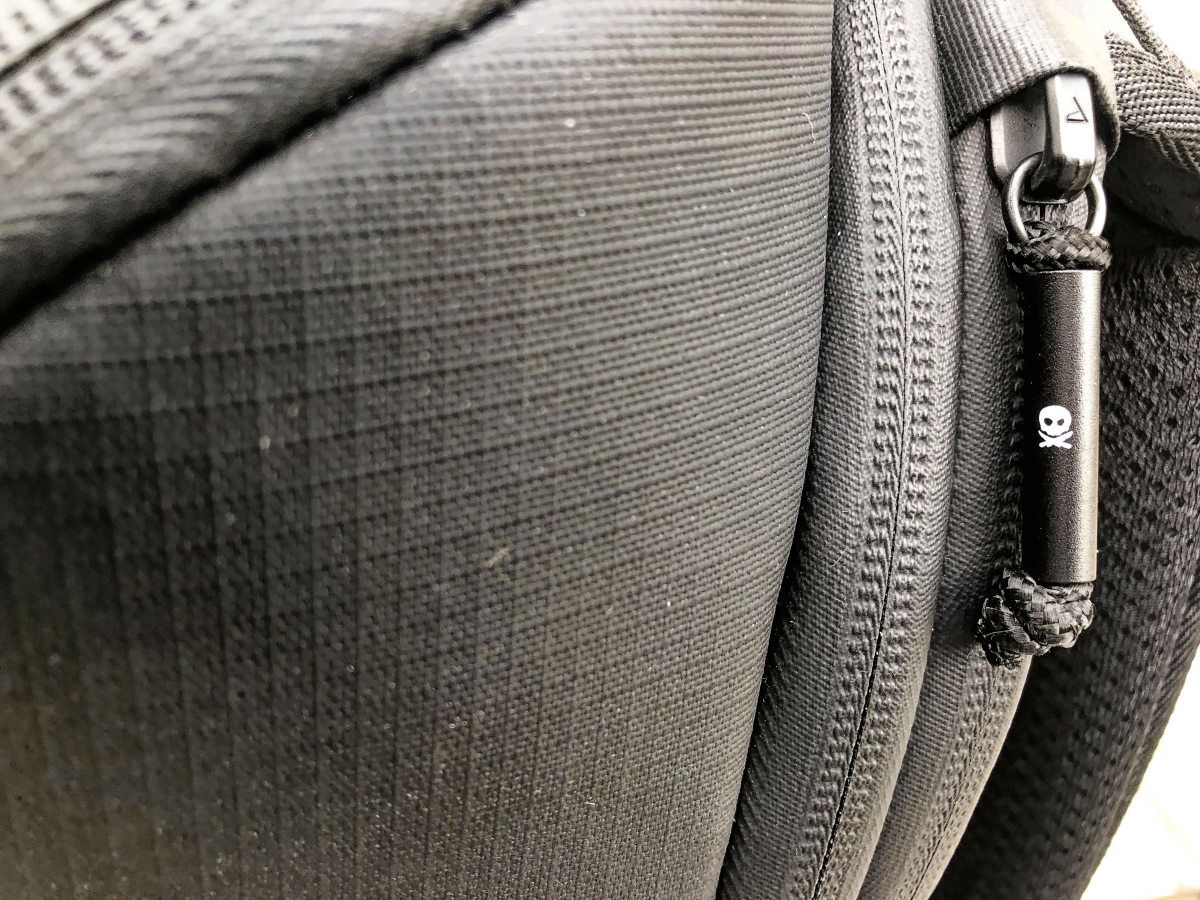 Interior Material
The internal material is a rather pleasant deep gold color. The main body is in Veltex, a sort of brushed corduroy. This provides the attachment points for the Velcro fastening on the dividers.
There are some black mesh and gold nylon pockets. And the zippers and trim are black.
Straps and Back Support
The shoulder straps are nicely padded. The body-facing part is covered in a different fabric, as is the back padding. This is to make it less sweaty for the wearer.
There is a chest strap with a five-stop adjustable height setting. It is elasticized for comfort.
Plus, an optional waist strap attaches to the webbed loops on the backpack. And each strap has a small zippered pocket for convenience.
Seams and Stitching
The stitching and seams on the Nomatic McKinnon seem to be of high quality. After all, Nomatic guarantees them for life.
The carry handle is firmly stitched to the top of the shoulder straps. So it's relying on the same secure stitching of the shoulder straps, which is no bad thing.
The camera cubes are also nicely done. The top edges are protected by fabric binding tape, and the corners are sewn internally with fabric bias tape.
None of it looks like it will wear out or come apart. There is a similar use of bias tape and internal stitching on the main seams of the bag.
Internal Padding
The internal padding is compression-molded EVA foam. This produces thin, lightweight padding, which effectively protects against shocks. It also retains its properties over long periods.
The bag itself has padding on each side. The removable "ladder" is also padded. And the camera cubes add another layer of padding when used (without adding too much loss of space).
The various dividers are also made of the same material. And finally, the laptop compartment has layers of padding against the outside and the main compartment.
Zippers and Fastenings
Zippers and fasteners are from a variety of sources. There are YKK and Duraflex buckles, and the zippers are branded with Nomatic's own logo.
The zippers on the top flap and laptop compartment have zipper pulls that pass through Nomatic-branded ABS (plastic) tubes. This helps distinguish them from the main compartment pulls.
These have hoops with the knotted end sealed with a bulb of heat-shrink tubing.
All zipper pulls are black, which doesn't help locate them. People of a certain age (okay, me) find that bright colors help to locate a black zipper against a black bag.
Internal zippers have a fabric pull that looks and feels like Hypalon (a synthetic rubber). But it might be a different brand.
The final fixings are the binding tape with snap fast for securing the removable ladder. And magnets hold the bag's top flap and the two expandable, multi-use side pockets closed.
Functionality and Ease of Use
The Nomatic McKinnon 25L is a very versatile camera backpack. This versatility will be mostly addressed under Organization and Customization.
But you can use this as a simple backpack, a backpack with some protective space, or a full-on camera backpack.
Size and Weight
As a 25-liter bag weighing 3 lbs 2 oz (1400 g), the McKinnon hits the sweet spot between size and weight. It is nice and light, but it hasn't sacrificed protection.
With all the camera backpacks I review, I assess three areas. How safe is my gear? How much can I fit in? And how easy is it to access?
On the first two points, this camera bag is excellent. I would happily trust my gear to it. And it is big enough for my camera gear.
Capacity
It's unusual for a bag under 20 liters to cope with a pro DSLR. With a 25-liter bag, it's a bit more varied.
The McKinnon 25L is impressive because it swallows my full frame DSLR. And it can also handle it with the battery grip attached.
So I can easily fit two full frame DSLR bodies, two medium zooms, a Speedlite, and a battery grip. This leaves the top section for my cable pouch, a snack, and a lightweight coat.
Zippered mesh pouches take my memory card case and cleaning kit. And there are attachment points on the front and sides for strapping other gear.
This includes two pouches on each side to carry water bottles or tripods. Each has an attachment point above it for a tripod strap. And the pockets are held flat when empty by magnets.
Organization and Customization
This is, without a doubt, a strength of the Nomatic McKinnon. And it will take some explaining. Its basic form is a backpack with padded sides and a laptop compartment. (It fits a 16-inch Macbook Pro.)
The first transformation stage is what is known as the "ladder." It has the same profile as the front of the main compartment.
You can leave the ladder at home. Or you can place it at the bag's front (the base when the back is open). In this case, it is merely an extra layer of EVA foam.
In its next-simplest arrangement, the ladder folds in three. The top third becomes an access point from the main compartment to the top compartment.
The base of the top third is made from the middle third of the ladder. And the final third sits flat on the base of the main section.
Thin webbed straps and snap fasteners secure the flap. So you have a pretty rigid top compartment taking up about a third of the main compartment.
That in itself is a pretty neat bit of versatility. It gets better, though. If you need more space in the top compartment, simply pull on the tab on the ladder.
This pulls what was the base of the top compartment up and out. And it produces a top section which is two-thirds of the bag interior, with the lower third ready for your equipment.
And this leads us nicely to the subject of cubes. With the arrangement just described, you can insert one of Nomatic's "Small Cubes." This fills the bottom third of the compartment.
It's a snug, neat fit. Of course, the "cube" isn't a cube at all. It's 11 x 6 x 6 inches (28 x 14 x 14 cm). But let's not quibble.
There are small cubes and large cubes. The latter is 11 x 11 x 6 inches (28 x 28 x 14 cm). The most common set-up will probably have one large or two small cubes.
Two small ones mean you can extend or condense the top section. If you have a selection of cubes, then you can simply swap out different sets of kits.
My daughter wants this bag because she swaps a lot between digital shoots and film photography. So she can set up digital and analog cubes and quickly load up the one she wants. It really is a smart system.
Access Points
This is perhaps the Nomatic McKinnon's Achilles' Heel. At its worst, you can't access the main compartment from anywhere other than the main access point.
If you don't use the ladder or cubes, you can access the main section from the top access point. If you extend the top section to its largest, you can use a small cube in there.
This gives you top access to a padded, partitioned section. And the flap on the ladder allows access to the same cube from the main opening.
Security
There are no specific security features with the Nomatic McKinnon camera backpack. But the laptop compartment is discreet.
And the rear opening makes it more difficult to steal things while the bag is worn. The outer fabric and integral padding also mean it would be difficult to slash through.
Additional Features
Dividers and cubes can be bought in various combinations. As can gear straps, waist straps, and a waterproof cover.
The small dividers are black, compression-molded EVA foam with folds for easy customization. One side is a black, smooth fabric. The other is Veltex for attaching Velcro.
Then there are six Velcro tabs, two on each long side and one on each short side. Rather neatly, they fold back on the Veltex. So if they're not needed, they don't constantly attach themselves to your general annoyance.
Compatibility and Versatility
Nomatic does not stipulate the type of kit you can carry in the McKinnon. So it is fair to assess it against a broad range of equipment.
Compatibility With Cameras and Lenses
I can carry my Canon EOS 5D Mark III and two L Series zooms (a 16-35mm f/4 and a 24-105mm f/4). Add to this a Speedlite and battery grip, as well as the usual accessory bags, memory card holders, etc.
If you have a mirrorless system or Micro Four Thirds camera, you can have several lenses. Or you can take advantage of the McKinnon bag's versatility as a camera backpack or a normal backpack.
Carrying Versatility
This is a simple backpack with a chest strap and waist strap. It also has a good-size, EVA-padded top handle and a luggage trolley loop for easy pick-up and travel.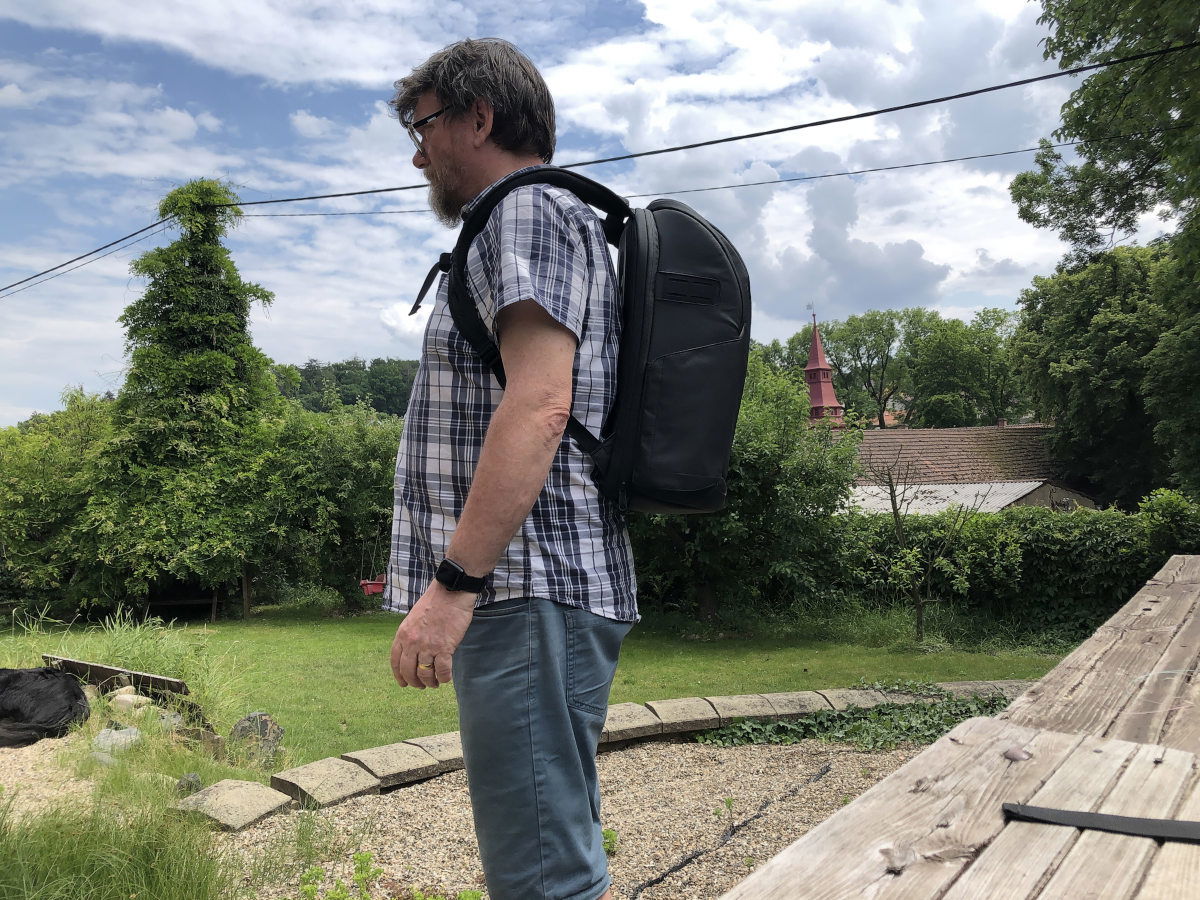 Price and Value
This is one of the more expensive bags we have tested as part of our deep dive into the world of camera backpacks. And it offers some of the best value.
It looks great, by dint of being well-made and exuding class. And it is very versatile in its organizational possibilities.
Take all your gear on you with this as a carry-on bag. Then, on a day out, just take one camera, your drone, your lunch, and some spare clothes. The choice is yours.
Spend a little more to have a cube for every occasion, and you'll appreciate the time it saves you.
Best of all, Nomatic gives a lifetime warranty against manufacturing and material faults. This includes zippers and seams. So they are pretty confident about the quality of the product.
Sustainability
Nomatic makes no mention of sustainability with its products. But they make the point in their warranty section that repairing bag faults under warranty is better than throwing them away in the landfill.
Alternatives to the Nomatic McKinnon
For some people, the lack of side access to the main compartment might be a deal-breaker. In that case, do not despair! We have some top-quality alternatives for you.
The Freeline BP 350 AW is a great choice if you're looking for something slightly bigger. The extra size and space allow you to use it for longer trips
But it's also a great day bag, thanks to its functionality and protection. It's sleek and stylish, too.
One of Lowepro Freeline's biggest selling points is its side-access points. They are some of the best we've experienced. It's easy to get your camera in and out because they are wide and spacious.
There's a small padded pouch at the bottom of the bag. This is a handy place to store a camera and other small accessories. You can even remove it and wear it as a sling bag for impressive versatility.
Excellent external materials are complemented by plenty of padding on the inside to keep your gear safe. It's even big enough to take full frame cameras with battery packs attached, so size is no issue.
These are some of the many reasons we highly recommend the Freeline. It's beautifully made and sure to last well.
If you're looking for a roll-top camera backpack, then we love the Wandrd Prvke. It has excellent weatherproofing. And it is one of the best bags in terms of versatility, access, and capacity.
It's also simple to turn it into a non-camera day bag. And it has the flexibility of different sizes of camera cubes. They feature excellent-quality padding and a good range of dividers.
The camera cube can be used as a standalone bag. But the bag also features easy side access. Impressive. In fact, I've just taken it on a two-week holiday with me. And I like it even more now.
The Manfrotto PRO Light Multiloader is one of our top-rated camera backpacks. It's a great general-purpose backpack.
It will meet the needs of photographers in a number of situations. Without a doubt, it's one of the best camera backpack options for air travel.
You'll find excellent build quality throughout. The weather-repellent exterior protects an ample interior with high-tech padding. You can rest assured your expensive camera gear is safe.
It's comfortable too. Excellent padding on the shoulder straps is combined with two height-adjustable chest straps. And the hip belt stows away easily when not needed.
The Mulitloader really should come with instructions because it has so many features. You can wear it as a backpack, a duffel, or a sling. There is access through the front and both sides.
You can stow and unstow it, even when wearing the backpack. And there are even high-density foam feet to keep the base of the bag clean and dry… We think you should add it to your shortlist!
Final Verdict of the Nomatic McKinnon
Measurement

Measurement

Score

Design and Aesthetics

Design and Aesthetics

Build Quality and Durability

Build Quality and Durability

Functionality and Ease of Use

Functionality and Ease of Use

Weather Resistance

Weather Resistance

Compatibility and Versatility

Compatibility and Versatility

Value for Money

Value for Money

Total Score

Total Score
I really like the Nomatic McKinnon camera backpack. That might sound a bit trite and subjective. But I am won over by its immense practicality, quality build, and looks.
And it passes my three acid tests. So I trust my expensive gear to it without hesitation. I can fit all my essential gear and some knick-knacks in it. And it is comfortable and practical to use.
It's not as versatile as the Manfrotto PRO Light Multiloader M. But perhaps simpler is better.
Certainly, if you want your camera backpack to look more like a smart carry-on than a hiking rucksack, this might be the one for you.
You can be confident of a lifetime of use and wear with it. And everything feels right about it. It's not very often you get to say that about a photography accessory.
Use our discount code EXPERT15 at checkout for an extra 15% off!