The Tenba Fulton V2 is for photographers that take a casual approach to their camera bag. It functions best as an everyday bag due to its lightweight and simple build. We are looking at the 16L version of the Fulton V2, which is the largest volume in the range.
The Tenba Fulton V2 we are looking at today is the all-weather version of this camera bag. This version is only available in black camo and boasts superior weather resistance over the regular Fulton V2. You would think you would have to pay a lot more for this option, but luckily it is an affordable upgrade at an already affordable price.
Tenba isn't the most established camera bag company on this list. The company was started by a New York City photographer who was looking for a camera bag to withstand the harsh elements the city throws at photographers.
As an everyday city backpack, the Tenba Fulton V2 seems to check off the features needed while also sticking with the brand's goals. The mix of simplicity and durability is crucial for any street photographer. And when you consider the Fulton's lightweight nature, it quickly becomes a camera bag worth considering.
The Tenba Fulton V2 places in the middle of our rankings for the best camera bag. This isn't a reflection on its performance but due to the bag's limited features. But the Fulton V2 is still a bag that offers good value for the right photographer.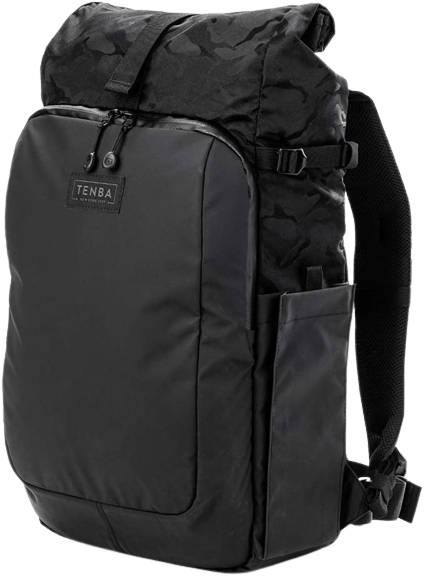 This camera backpack is perfect for photographers seeking a minimalist yet robust bag. It's ideal for daily use due to its lightness and simplicity. The largest model in the series, it boasts superior all-weather resistance and a stylish black camo design. With impressive durability and lightweight materials that offer water-repellency and tear-resistance, this backpack is affordable, reliable, and perfect for urban photographers.
The Tenba Fulton V2 is amongst the top 18 camera backpacks we selected for review in 2023. We also considered bags from Manfrotto, Wandrd, and Lowepro. If you want to see the other bags we have considered, take a look at our top camera backpack article here.
For full transparency about our review process, you can read about how we scored and ranked the bags here.
Strengths and Weaknesses of the Tenba Fulton V2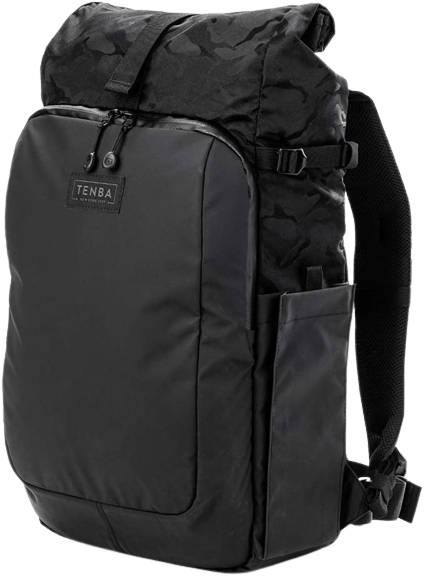 Weight

Weight

1270 g

Capacity

Capacity

16 L

Access Points

Access Points

Back

Airflow Back Support

Airflow Back Support

No

Laptop Sleeve Capacity

Laptop Sleeve Capacity

13-inch

Tripod Holder

Tripod Holder

Warranty

Warranty

5 years

Waterproof Rating

Waterproof Rating

Water-repellent
The main strength of the Tenba Fulton V2 is its lightweight nature. It might be the lightest bag on our list if you consider the size-to-capacity ratio. Thanks to the selection of high-quality materials, the bag won't have your shoulder slumped after a long day of shooting.
Another strength comes from the materials they have selected. Not only are they lightweight, but they also possess water-repellant features. Its 600-D nylon and super-hydrophobic 420D Helix-coated fabric highlights this.
And it doesn't stop there. These materials are also very secure, providing extra durability and a tear-proof body. The back access placement also highlights its security.
These top points are crucial factors for some photographers. And they align with Tenba's goal of producing a solid camera bag ready to tackle any city.
The main weakness is that the Tenba Fulton V2 doesn't feature much storage space for your personal items. This isn't too much of an issue as the Fulton is an everyday backpack. That means you probably won't need to carry many personal items anyway.
This point may be crucial for those who intend to take the Tenba Fulton V2 on holiday. But don't let this turn you off this camera bag for just this reason. Its lightweight nature counteracts this. Overall, it may not be the bag to pack everything into, but it is a great option to have packed into your suitcase.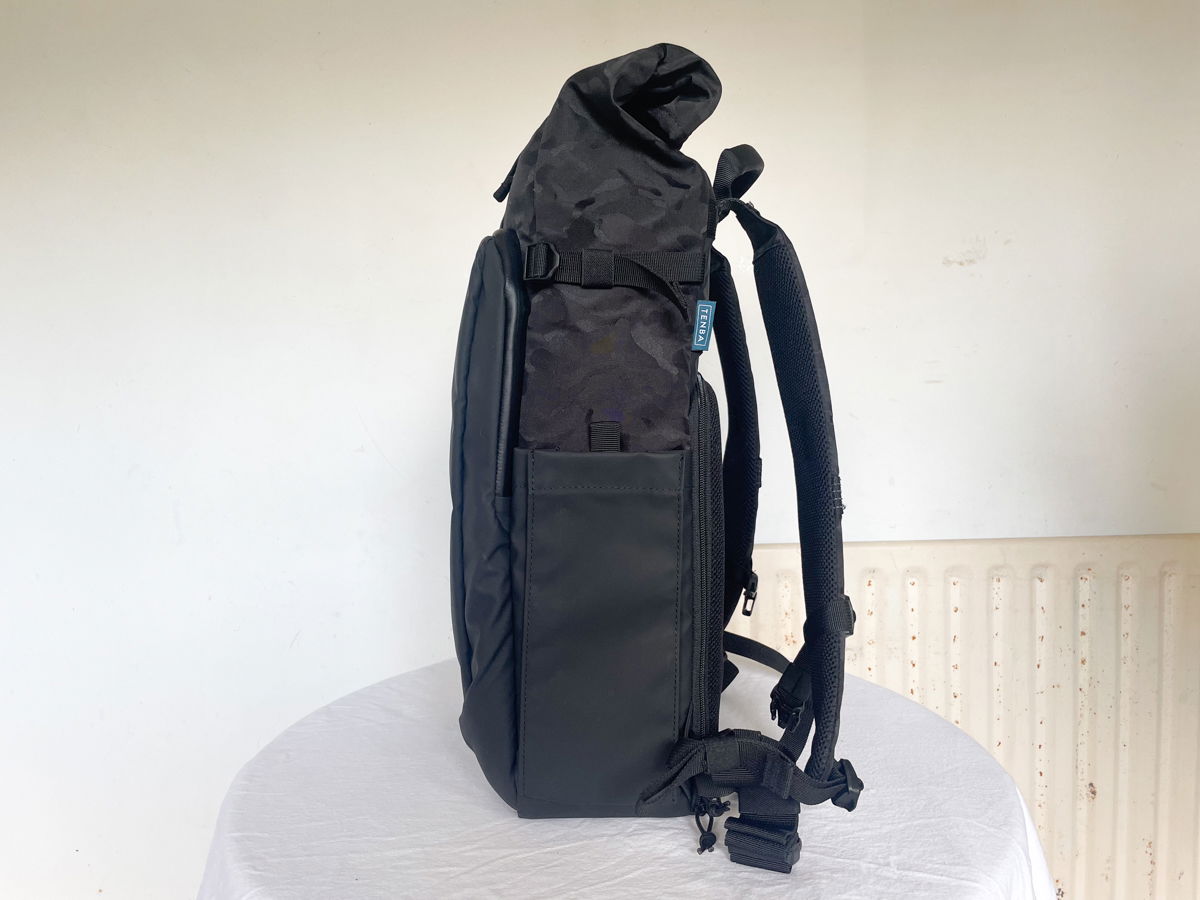 Design and Color Options
The Tenba Fulton V2 comes in three different colors, but the all-weather version only comes in Black Camo. And this Black Camo looks brilliant. It is subtle and smooth with a slightly stylish touch. I am a sucker for colorways that feature an all-black version. This is mainly due to its inconspicuous demeanor and the fact that it works with almost any outfit or aesthetic.
You can find the original Tenba Fulton V2 in Black or Tan Olive (these come out at the end of June 2023). This version features a very effective water-repellant 600D canvas. Again, these colors are cool and casual, allowing you to move through the city without drawing too much attention.
The Fulton's simple design finds itself at home in the trendy part of town. It is a roll-top bag with a sleek look and minimal pockets and zips. You can see that safety was a big part of its design brief, as the camera is accessible only from the back.
The bag looks more like a conventional roll-top than a camera bag. This also adds to its safety as most people probably won't identify you as a photographer carrying expensive photography equipment.
The Tenba Fulton V2 is a great bag to blend into the urban environment. Its sleek and subtle nature is also a great way to avoid bashing into people on the subway. And if you're traveling, it is much more likely to fit in those small spaces.
Build Quality and Durability
The build quality and durability of the Tenba Fulton V2 are a highlight of this camera bag. It could be the most weatherproof bag on this list.
This makes the Tenba Fulton V2 ideal for situations where you need an all-terrain bag. You can use the Fulton in the city and out on hikes.
Now let's look into each of the bag's specific features in more depth.
Exterior Material
The all-weather Tenba Fulton V2 features a shell of 420D Helix nylon that covers almost 90% of the front of the bag. This water-repellent fabric feels like it can stand much more than a light drizzle.
This material is also extremely well suited to resisting tears. This is especially important for photographers who like to go urban exploring. It's a bag I would trust climbing through windows and over fences or doing my local commute in a busy subway car.
The bottom of this bag is made from the same material. This is helpful if you want to put your bag down on a wet surface. Tenba has also placed some of this material on the back at the bottom for this exact reason. This is a small but smart feature that goes a long way.
The roll-top portion of the bag is made of 600D nylon. This is a smooth yet strong material. It would make a useless roll-top material if it were too stiff. But this handles the roll-top nature perfectly while not coming across as a dry bag.
Weather Protection
As mentioned, the Tenba Fulton V2 has incredible weather protection. This is thanks to all the materials it is constructed of. On its own, it can stand more than a light shower, giving you the peace of mind that your camera will stay dry.
You can normally find a roll-top on fully waterproof bags. This is because it can seal the top firmly. Even though this material doesn't have the same levels of protection as the front of the bag, it still has a water-repellant exterior.
On top of all this, you will also find a "weatherwrap" that you can place over the entire bag. With this cover on top, your Tenba bag should stay dry until you find safety even in a heavy downpour.
The one instance I am weary of is that the laptop compartment is situated at the front of the bag. This is protected by the 420D Helix nylon as well as waterproof zips. Although I know this protection is enough to last a light drizzle, I may get worried if the rain does pick up and I have my laptop with me.
Interior Material
The Tenba also boasts an internal material that's as high quality as its exterior. Inside, you find a 300g brushed tricot interior. This material is smooth to the touch and will not bother your camera gear.
More importantly, this material will stay this quality for a long time. It can take a good amount of wear without losing its soft texture.
You also find this material in the roll-top compartment. It doesn't climb the whole way up the roll-top sleeve, but there's a small section that's great for placing your electronics on.
The only downside is that they could have used this same material in the laptop compartment. Instead, they use standard nylon. This compartment is slightly padded from both the front and the back.
Straps and Back Support
At first, I wasn't too keen on the straps as a loose, seatbelt-like material holds them up. But then I put the bag on and it made complete sense. The loose fastenings are like that so they can conform to your shoulder shape much easier than the full rigid material most bags use.
This attachment is also good for another reason. Camera bags with back access can often be annoying when thick straps are in the way. With this thin seatbelt material at the top, you can easily place the straps to the side. This makes life ten times easier when sorting out your gear and shows great foresight from Tenba.
The shoulder straps themselves are padded, but only with a thin layer. They also feature a mesh which is great for breathability. This thin layer of padding isn't too much of an issue. That's because the lightweight nature of the bag means you don't need much padding in the first place.
You will find that there is thicker padding on your back. This is beneficial for both you and your camera equipment, as this is where your main access is. It is a comfortable setup, but it is missing gaps for added airflow. The padding is encased in a mesh, giving it a decent amount of breathability, but less than other options on this list.
The Tenba Fulton V2 also comes with an essential chest strap. This strap is as simple as it gets for a chest strap. But one bonus is that it offers a wide range to move the chest strap position. This is perfect for people of all sizes.
The bag also comes with a basic waist strap. Photographers who carry equipment a long way know how much of a relief these are, even if they are basic.
I usually suggest a bag with padded edges on the waist strap. But, thanks to the bag's sleek nature, you can't fit enough gear to really need padded waist straps. In short, the waist straps are perfectly suitable for the bag's intended purpose.
Toward the top of the back, you will find a luggage strap. This is a great feature if you want to bring your Tenba Fulton V2 on your travels. The one comment I must make is that the strap isn't very tight. This can be an issue when walking as you may have to constantly adjust your bag.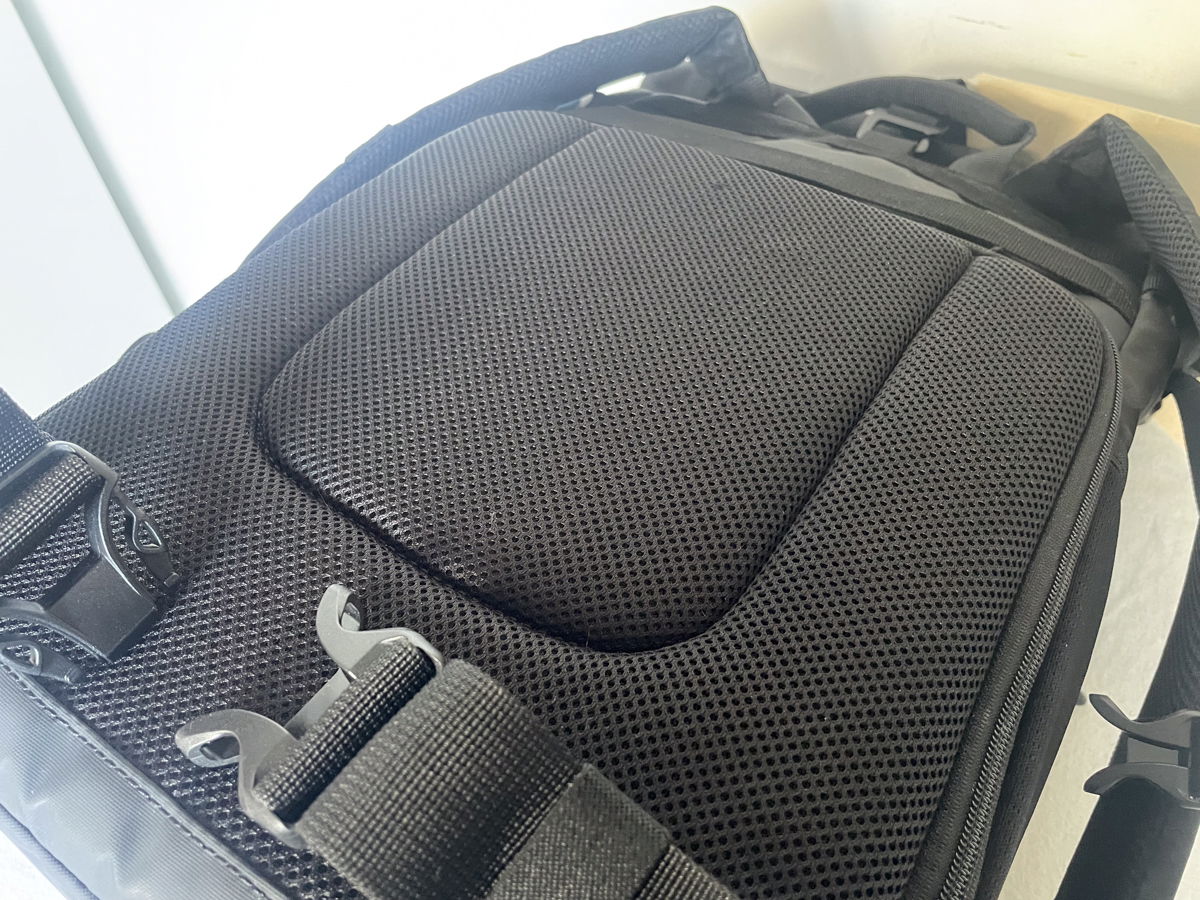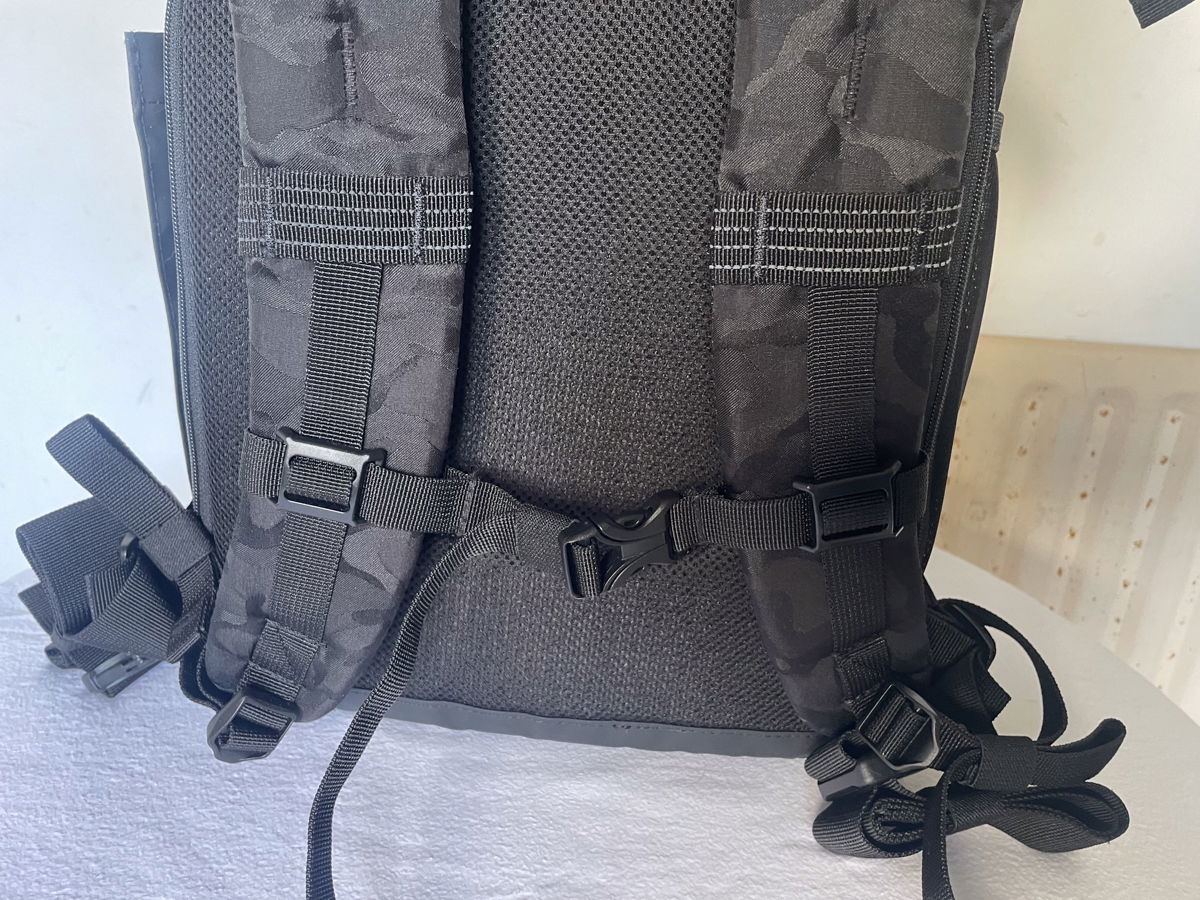 Seams and Stitching
At a glance, it is hard to identify where the main stitching of the bag is. All the seams are hidden away, adding to its waterproof capabilities. Even when you locate the seams, you have to actively pull them apart to have a look at the stitching.
Tenba has done a great job keeping the stitches tight where it counts. They also keep the stitching tight where it doesn't count, making for a well-constructed camera bag.
Looking at the shoulder straps and top handle, we can see Tenba has avoided letting these elements loose. The top and bottom of these straps are reinforced with different layers of stitching to keep them securely attached.
The interior stitching doesn't have the same level of detail, but it doesn't need it. It is still of good quality. One point that isn't up to par is the stitching on the internal padding. The Velcro can be tough and I don't think the stitching here can take many alterations.
Internal Padding
As mentioned previously, the internal material consists of a 300g brushed tricot. This surrounds the whole camera compartment and the two main dividers. The smaller dividers are made of nylon, and Tenba provides plenty of them.
The main skeleton of the dividers feels hard and firm. They are soft enough to cushion your camera gear, and hopefully, the firmness means they are better for absorbing shock. The smaller dividers are quite thin with a minimal amount of padding.
These thin pads are a subtle shade of blue. They will do the job, but I probably wouldn't trust putting two lenses directly next to each other. Tenba provides plenty of these dividers, so it may be worth doubling up on this padding if you have spares.
The back padding that acts as the access point is quite thick. This is not only for your comfort but the protection of your equipment. Although there is a harder piece of material in this section, you should be sure you pack your kit well. Any parts that spill over the bag's depth could bulge out and make for an uncomfortable experience.
Zippers and Fastenings
The Tenba Fulton V2 is another bag that puts its trust in YKK zippers. The main compartment on the front has a YKK Splashguard zipper which conforms to the all-weather persona of the bag. As this compartment holds your laptop and other values, these zippers are a welcome addition.
The only other zipper is found on the rear access to your camera gear. This doesn't have a splashguard on it, but it doesn't really need it. Even if you were in a strong downpour and water came through this zipper, it would take a lot of water to reach your gear.
This is due to how you wear the bag and the design. If the bag is lying face down in the rain, then it won't protect at all. But the extra padding on this section will also absorb a lot of water before it goes inside.
The zippers are quite small and have small zipper tags. The waterproof zipper at the front includes a plastic tag that is easier to grip. This zip can be tough to operate, but this is a small price to pay for its waterproof qualities.
The fastenings around the bag are simple, but they do the job. You will find the clips for the chest and waist straps are made of plastic. Unfortunately, this plastic isn't durable. It comes across as flimsy and could be easily broken if misused.
One more fastening at the top of the bag holds the roll-top. This metallic hook fastens to a loop at the back of the camera bag. This is a secure fastening that works well. It may take a few seconds to unhook, but this is better than it coming undone by itself.
Functionality and Ease of Use
The functionality of the Tenba Fulton V2 is geared toward a bag that's protected from the elements and theft. Considering these two points, the Tenba Fulton V2 is a success that achieves both these goals. Accessing and using this bag takes some extra effort, but this is the price of protection from rain and robbery.
Size and Weight
The Tenba Fulton V2 we are looking at is the 16L version. You can also find this bag in 10L and 14L models. This tells us that Tenba has positioned the Fulton V2s as their compact option.
The first aspect you notice about the bag is its subtle slickness. And the roll-top design gives it the illusion of being even thinner. This size is ideal for photographers who want to keep the size of their camera bags to a minimum. It's a great bag for street photographers, for example.
The weight is the next standout point. The Tenba Fulton V2 16L weighs only 1.25kg! From the moment you pick up the bag, you can tell this is a feature worth talking about. I don't need to explain to photographers why having the lightest equipment is beneficial.
Both these elements together make it an ideal bag for many photographers. And if you pair these with its waterproof qualities, you'll find this bag is great in many environments.
Capacity
The 16L version of the Tenba Fulton V2 provides enough space to carry a full kit. This can easily fit a DSLR or mirrorless camera while standing up. But if you shoot with a battery grip, you will have to configure the bag so it is lying down.
When the roll-top is empty, the camera section almost takes up about three-quarters of the bag. You can even move the separation between these two sections, allowing for even more space in the camera compartment. The good thing about the roll-top is that it is expandable according to how much you put in there.
If you wanted to, you could use the roll-top section to house almost a 50/50 split of camera equipment and personal equipment. This is not recommended and will be more uncomfortable, but it is possible. And this access point should be secure thanks to the expandable hook fastening on the top.
There is little space elsewhere, but that's because Tenba designed a minimalist bag.
Organization and Customization
The organization is as simple as you get from modern-day camera bags. Being able to lie the bag down and sort through all your kit is handy, and I always prefer this to side access bags.
There are a few options for customization. As I mentioned, you can extend the camera section to take up more of the roll-top compartment. But this doesn't work the other way around. And the divider cannot attach to an anchor point.
The roll-top also provides a level of customization as you can reduce the size of the bag depending on how much space you need.
You will find a pocket on the front that can house a 16″ laptop, cables, and other small accessories. The stitching of this pocket means it is quite flat when empty, but does have some depth if you want to hold wider objects there.
Tenba provides plenty of dividers to separate your kit. All dividers in the camera compartment are removable. This is helpful if you want to store larger items like specific analog equipment or even drones.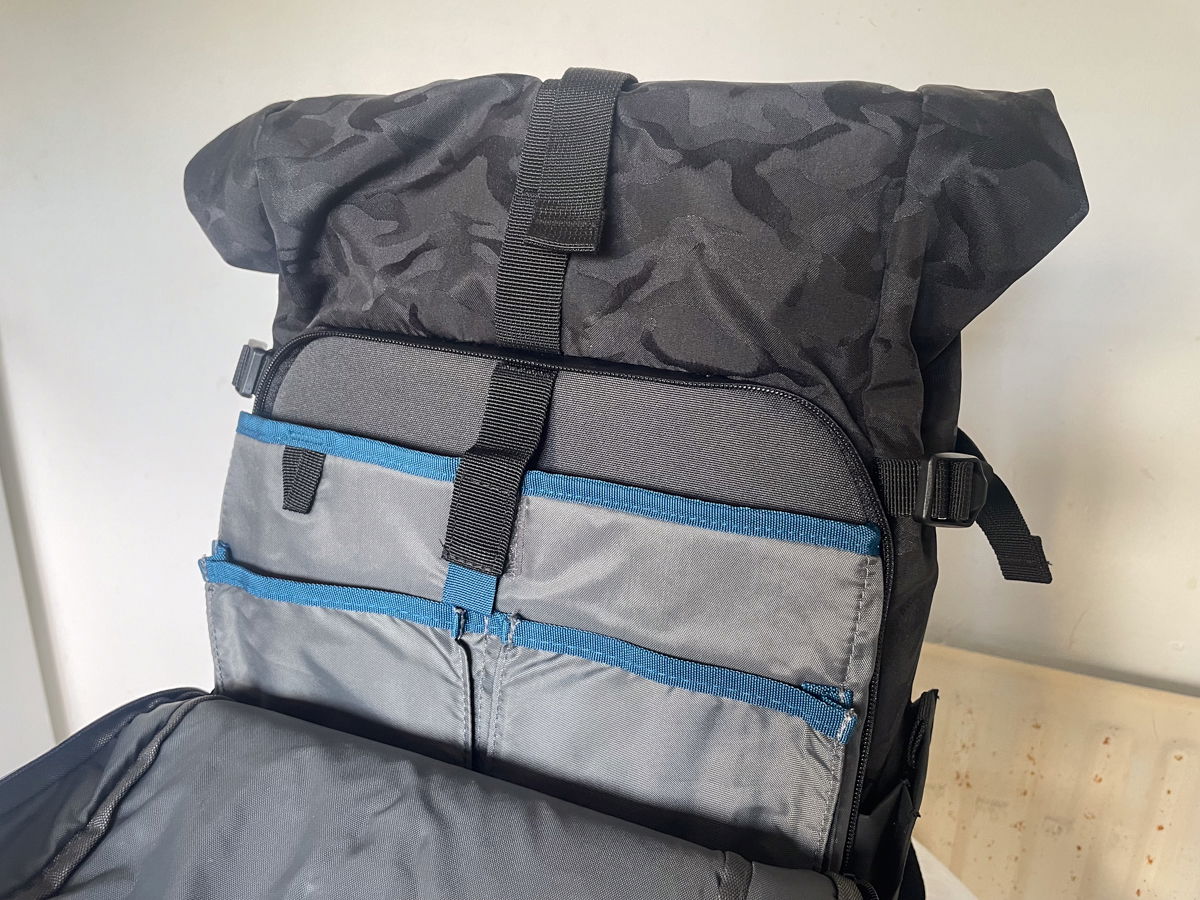 Access Points
The Tenba Fulton V2 is a rear-access bag. This is useful for several reasons but is favored primarily for its safety. With a rear-access bag, there is no way someone can access your camera gear while you are wearing it.
Rear access is favored by photographers who want maximum waterproofing from their bags. The top and front of a bag take most of the water during the rain. You don't even need waterproof zippers for this access point.
The downside of rear access bags is that you have to place your bag down to remove your equipment. This may not be the fastest process, but it lets you see and access all your gear at once.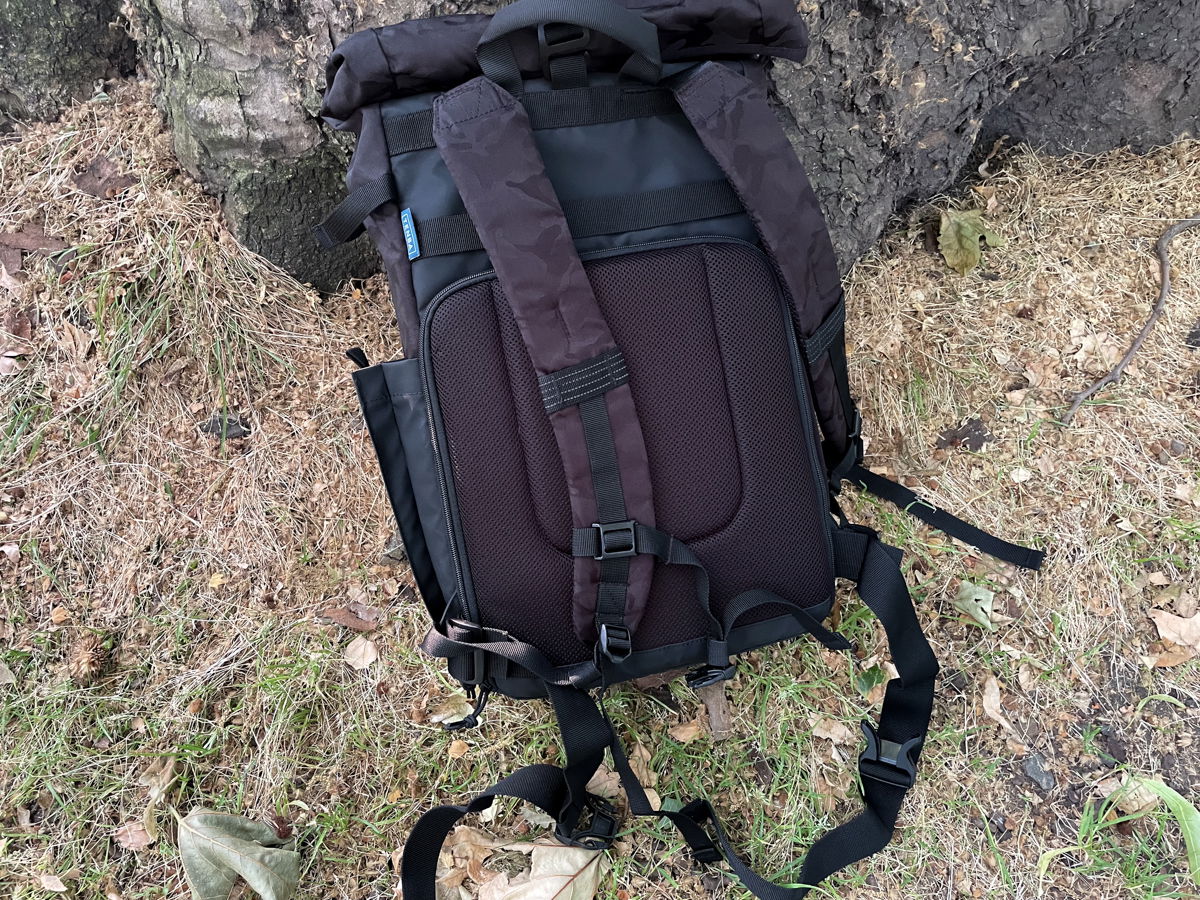 Security
The Tenba Fulton V2 is a very secure bag. I feel that my camera equipment is secure even in uncomfortable or hectic environments.
Like we said, the rear access of this bag does a lot for its security. There is a guarantee that no one could sneak your camera out of your bag while you are wearing it.
The 420D Helix nylon on the front also adds to its secure nature. This is a tear-proof material that can withstand a good amount of force. Even the 600D nylon found elsewhere on the body is tear-proof.
The subtly of the Tenba Fulton V2 also adds to its security. I wouldn't identify it as a camera bag if I saw someone wearing it on the street. This means you can travel without being an obvious target for thieves.
One weakness is that the zippers for the rear access aren't compatible with padlocks. The zipper tags they use are made of fabric, so any thief could untie or cut it and grab your gear.
Additional Features
There are few bells and whistles when it comes to the Tenba Fulton V2. But remember, the Fulton is built to be minimalist. So for the sleek and subtle design, you sacrifice extra features you may find in other camera bags.
The bag does feature a tripod holder, albeit quite a small one. It will only fit small-to-medium-sized tripods. And on the more medium-sized tripods, it will throw your bag off balance.
One aspect I both like and dislike about the tripod holder is its fastening strap. Instead of a clip you find on most tripod holders, it has an adjustable strap. This means you can't undo the strap and must adjust it each time you grab your tripod.
I like this feature because it means your tripod is secure. But it will take you a bit longer to take your tripod out each time you want to use it.
When you aren't carrying around the tripod with you, you can use this strap to tighten your roll-top pocket.
The Tenba Fulton V2 also includes a bottle holder on the opposite side of the bag. This is a deep pocket that can hold up to a 1.5L bottle of water.
Compatibility and Versatility
The 16L Tenba Fulton V2 provides plenty of space to take a range of photography gear around with you. And thanks to the dividers, you can configure this space in plenty of ways. The downside is that the bag could be more versatile.
Compatibility for Cameras and Lenses
The 16L Tenba Fulton V2 is an incredible option if you want to carry a bunch of gear but keep it as condensed as possible. Even though it is designed for street photography, the Tenba Fulton V2 can carry enough equipment for multiple photography genres.
The main compartment is fully customizable and has many dividers to keep your equipment organized.
You can fit a DSLR with a 70-200mm lens attached, as well as 2-4 other lenses. Tenba claims that the bag is able to fit a mirrorless or DSLR with 5-7 lenses. So there is plenty of space for a selection of equipment.
You could even fit two DSLRs with two lenses. This is thanks to its larger dividers that split up the camera compartment.
As I have mentioned, this bag could benefit from being deeper. I can store my Canon 5D Mk III comfortably, but I would have to lay the camera flat if I add the battery grip.
Carrying Versatility
There isn't any versatility regarding different ways to carry the Tenba Fulton V2. The shoulder straps have a chest and waist strap, but that's as "versatile" as it gets.
Again, the straps are basic and don't offer much in terms of comfort. The straps aren't heavily padded, but they provide enough for basic comfort.
The most versatility comes from the roll-top feature of the bag. This allows you to adjust the size of your bag according to how much space you use in the top compartment. This is great because you can expand or reduce the bag size by up to 30%. For an already compact bag, this is a considerable amount.
Sustainability
Tenba hasn't released any statement on creating a sustainable brand. And if we look at the Tenba Fulton V2, it's unsurprising as these are not the most sustainable materials.
Inside the bag itself, you will find a tag stating it was handcrafted in China. This shows that Tenba favors cheap manufacturing over a more sustainable option.
These points make the Tenba Fulton V2 a tough choice for people who care about sustainability. But bear in mind that many products on this list also don't have a sustainable background.
Price and Value
You can pick up the Tenba Fulton V2 for a great price, especially when compared to other camera bags. The all-weather version comes at a slightly higher price than the other Fulton V2 options, but it is well worth it.
At first glance, I wasn't won over by the Tenba Fulton V2. But when considering its price and attention to detail, it is a bag I would choose for myself.
The weatherproofing alone makes it a camera bag for any outdoor photographer. On top of that, its security will give you peace of mind when in unfamiliar territory. Also, its simple and cool design gives a stylish twist to the modern camera bag.
One point to consider is that there aren't many extra features. This means that if you are looking for a high-tech bag with multiple answers to your photography needs, there may be a better bag for you.
Warranty
Tenba offers a five-year warranty on their bags. This isn't the longest warranty of all the bags we tested. But for the price, you can get plenty of use out of it in that time.
Tenba boasts great products and customer service. So, I would have thought they would provide a longer warranty.
You will have to keep your receipt if you do want to return/replace your product in the future. And make sure to register your equipment on their website.
They will also allow you to send your product to the US if you live abroad. You will have to cover the shipping both ways, but this is a good option if you brought your equipment abroad and can't go back to the US.
Alternatives to the Tenba Fulton V2
The Wandrd Prvke is the most similar bag to the Tenba Fulton V2. The Prvke is another roll top with rear access to the camera compartment. It comes across as its more refined older brother, who features many more options for customization and versatility.
The Wandrd Prvke is also an extremely weatherproof bag. This is thanks to its great build quality and durable materials. It also features waterproof zippers, and its roll-top design adds to its weatherproofing qualities.
The main disadvantage of the Wandrd Prvke is the price. It is almost $100 more expensive, which doesn't include the added insert you will have to buy separately. And if you want the hip belt, you'll have to buy that separately as well.
The Tenba Fulton V2 is a cheaper, simpler version of the Wandrd Prvke. As the cheaper and simpler version, it still holds up strong. But the Wandrd Prvke is a more comprehensive camera bag.
Use our discount code EXPERTPHOTOGRAPHY at checkout for 15% off your first order!
The Lowepro Fastpack Pro BP 250 AW III is another great camera bag that you can pick up for a good price. Like the Tenba Fulton V2, it's a simple camera bag that prioritizes user experience.
The Lowepro Fastpack Pro BP 250 AW III aims to provide the photographer with their gear as quickly as possible. Thanks to its smart quick access flap, you can use the side access and open the whole compartment.
The main disadvantage of the Lowepro Fastpack Pro BP 250 AW III is that it doesn't have the same waterproof capabilities as the Tenba Fulton V2. Lowepro combats this by providing an All Weather Cover, but this isn't as handy as having a solid waterproof bag.
The Tenba Fulton V2 is still slightly cheaper, making it the better option for those looking for a bargain. But the Lowepro Fastpack Pro BP 250 AW III does provide easier access to photographers who need to get to their gear quickly.
The Manfrotto Light Multiloader is a camera bag to consider if you want a more comprehensive camera compartment. It is a camera bag built to provide photographers with all the equipment storage they need.
The Manfrotto Light Multiloader aims at photographers who want an all-in-one camera bag. It allows you to store camera equipment on both the inside and the outside of the bag.
The main disadvantage to the Manfrotto Light Multiloader is that it is not an everyday backpack like the Tenba Fulton V2. You can reduce your contents to reduce weight, but the bag is not as sleek and discrete as the Tenba Fulton V2.
The Tenba Fulton is slightly cheaper and provides less space but more portability. The Manfrotto Light Multiloader is for photographers who want the option to carry all their gear.
Final Verdict of the Tenba Fulton V2
Measurement

Measurement

Score

Design and Aesthetics

Design and Aesthetics

Build Quality and Durability

Build Quality and Durability

Functionality and Ease of Use

Functionality and Ease of Use

Weather Resistance

Weather Resistance

Compatibility and Versatility

Compatibility and Versatility

Value for Money

Value for Money

Total Score

Total Score
The Tenba Fulton V2 scored a total of 76 points out of a possible 100, placing it 8th out of a possible 18. This may seem low for a bag we love, but its build quality didn't stand up to many other bags we looked at. Tenba's approach to sustainability also let it down regarding its score. The Tenba Fulton V2 is still an amazing camera bag and is perfect for photographers on a budget.
The Tenba Fulton V2 is a slick camera bag that is equally at home in the city's backstreets as it is on a mountaintop. This is all thanks to its great size-to-weight ratio and its waterproof capabilities.
Its simple exterior and compact build may not look like the most efficient of camera bags. But thanks to Tenba's attention to detail when selecting the materials, everything has a purpose and every last inch is utilized.
The only noticeable downside is that you will have to compromise on comfort regarding the chest and waist straps. Photographers who use a tripod a lot should consider another bag unless they have a compact tripod.
Photographers looking for a sleek and subtle camera bag will love the Tenba Fulton V2. And if you want a bag that's secure, waterproof, and small, then you shouldn't look much further than the Tenba Fulton V2.