The camera bags in the Tenba DNA series are designed to be chameleons. So whether the event is social or professional, the Tenba DNA 16 DSLR blends in and works well.
Tenba started in the late '70s but isn't the most established camera bag brand. Originating on New York streets, it aims to create bags to withstand all environments "from Central Park to Antarctica."
The DNA 16 DSLR is a mid-range bag that claims to be the ultimate everyday bag. Tenba even describes it as the "one bag to rule them all."
The bag's unique feature is its front camera insert. It opens like a mailbox on a bottom hinge. And for the most part, it's great! But there are issues with the camera compartment, which I will touch on later.
They also split the compartments to allow for easy access to your camera. And they make it easy to customize your bag without camera gear.
After our time with the Tenba DNA 16 DSLR, we understand their goal of creating a versatile camera bag. And there are plenty of photographers who will love this camera backpack.
I suggest it for photographers who want a simple, casual camera bag. It's specially made for street or travel photographers who may want something to carry minimal camera gear.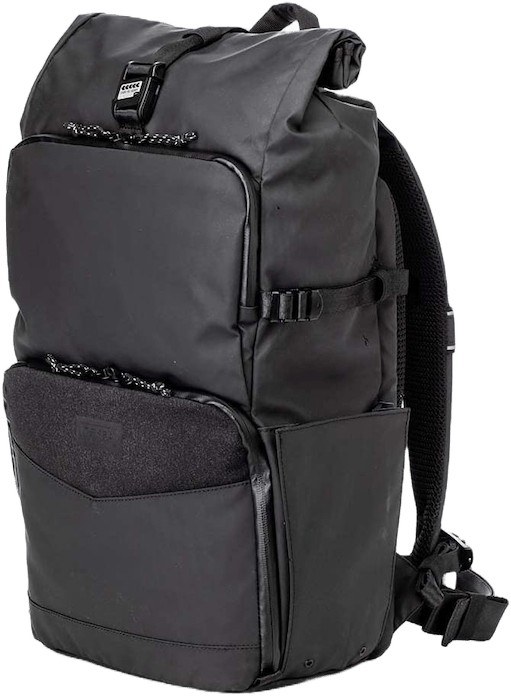 This camera backpack is perfect for the photographer on the go. Its unique front camera insert opens like a mailbox, providing discrete and easy access to your gear. Designed to withstand all environments, it effortlessly transitions between any scenario. With a sleek, chameleon-like design, it blends seamlessly into any setting, making it the ideal choice for street and travel photographers.
For full transparency about our review process, you can read about how we scored and ranked the bags.
Strengths and Weaknesses of the Tenba DNA 16 DSLR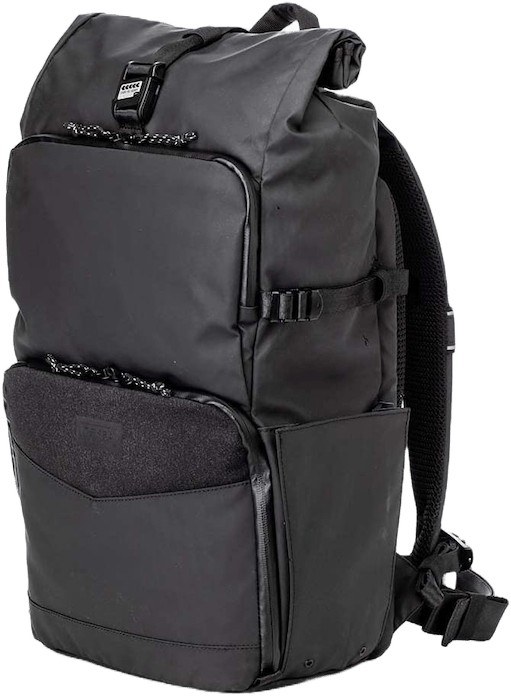 Weight

Weight

1400 g

Capacity

Capacity

16 L

Access Points

Access Points

Front

Airflow Back Support

Airflow Back Support

Yes, with mesh

Laptop Sleeve Capacity

Laptop Sleeve Capacity

16-inch

Tripod Holder

Tripod Holder

Warranty

Warranty

5 years

Waterproof Rating

Waterproof Rating

Water-repellent
The most prominent strength of the Tenba DNA 16 DSLR is that the bag deals with its space well.
The top compartment has an expandable space thanks to the roll top. A space like this lets you pack your bag to the brim. On the other hand, you can condense the bag if there is nothing inside.
You can easily remove the camera insert from the bag to turn this area into a normal storage space. Features like this are ideal for people who want a bag to use as more than just a camera bag.
Another strength of the DNA 16's camera insert is its unique opening method. The compartment folds down toward you, displaying your camera gear in a semi-concealed way.
The weakness of this removable system is the small camera section that comes with the bag. Tenba claims it can fit four to six lenses. But even the lower number depends on if you have compact lenses.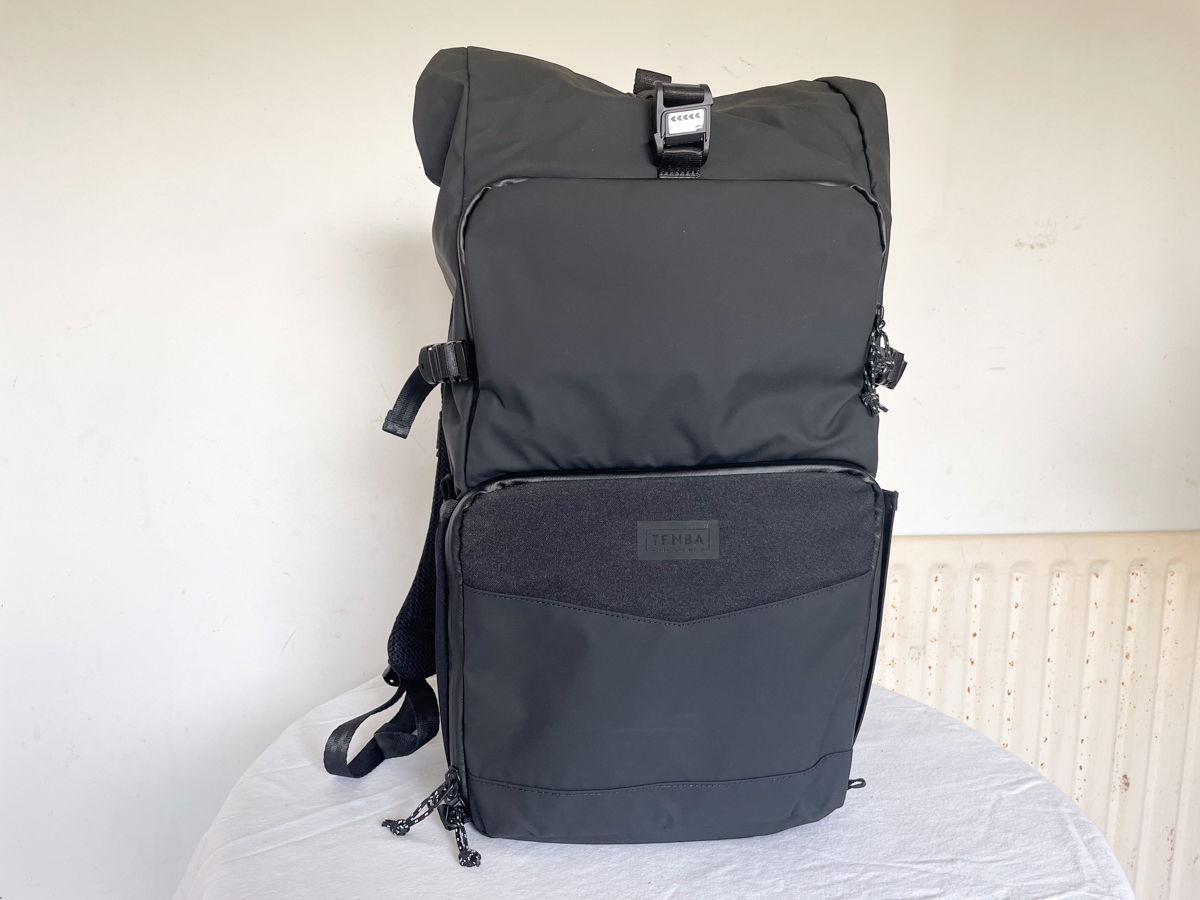 Design and Color Options
The Tenba DNA 16 DSLR design may be the sole reason you go with this camera bag. It blends a cool and casual backpack design while giving you plenty of space for all your needs.
It does all this while keeping an unassuming and sleek exterior. This allows it to blend into multiple environments without seeming out of place or calling too much attention.
It also doesn't look like a camera bag. So it is ideal for city environments.
You can buy the bag in Black or Navy Blue. Both colors keep with the bag's simple chameleon ethos. These colors won't clash with your outfits or make you wonder if they draw too much attention.
The overall design of the Tenba DNA 16 DSLR matches a range of photographic genres. But it leans toward the more casual side of photography.
Therefore, it is ideal for street photographers or even photography jobs where a casual persona is needed to ease the models.
Build Quality and Durability
The build quality and durability of the Tenba DNA 16 DSLR seem solid. Tenba has selected great materials and has constructed the bag in a considered manner.
It features weatherproof materials. Combined with a roll-top design, it makes for a bag you can trust to keep your contents dry. It's ideal if you don't want to change bags according to the weather.
Exterior Material
As mentioned, the Tenba DNA 16 DSLR features weatherproof materials. The whole bag features their special Tenba all-weather Helix TPU-coated nylon fabric. (TPU stands for thermoplastic polyurethane.)
This is a tough, weatherproof material that is ideal for water-resistant bags. It is abrasion-resistant and tear-resistant. And it is more resistant to low temperatures and aging than other materials.
Pairing this material with a roll-top design makes for a great weather-resistant bag.
The front of the bag also features a reflective patch that is weatherproof. This is handy if you intend to walk along dark roads or cycle home through the city during photo adventures.
Weather Protection
You may notice by now that the DNA 16 DSLR has great weather protection. All its elements, materials, and designs accumulate in a bag with great weather-resistant abilities.
If you still need more confidence in the bag's abilities, Tenba provides you with a Weatherwrap. This waterproof cover will keep your bag sheltered from rain or extreme heat.
Another important factor for weatherproof bags is the zippers. All zippers facing the front of the bag have a waterproof cover.
Zippers are often the first places to compromise a bag's integrity regarding protection from the rain. And waterproof covers protect this vulnerable area.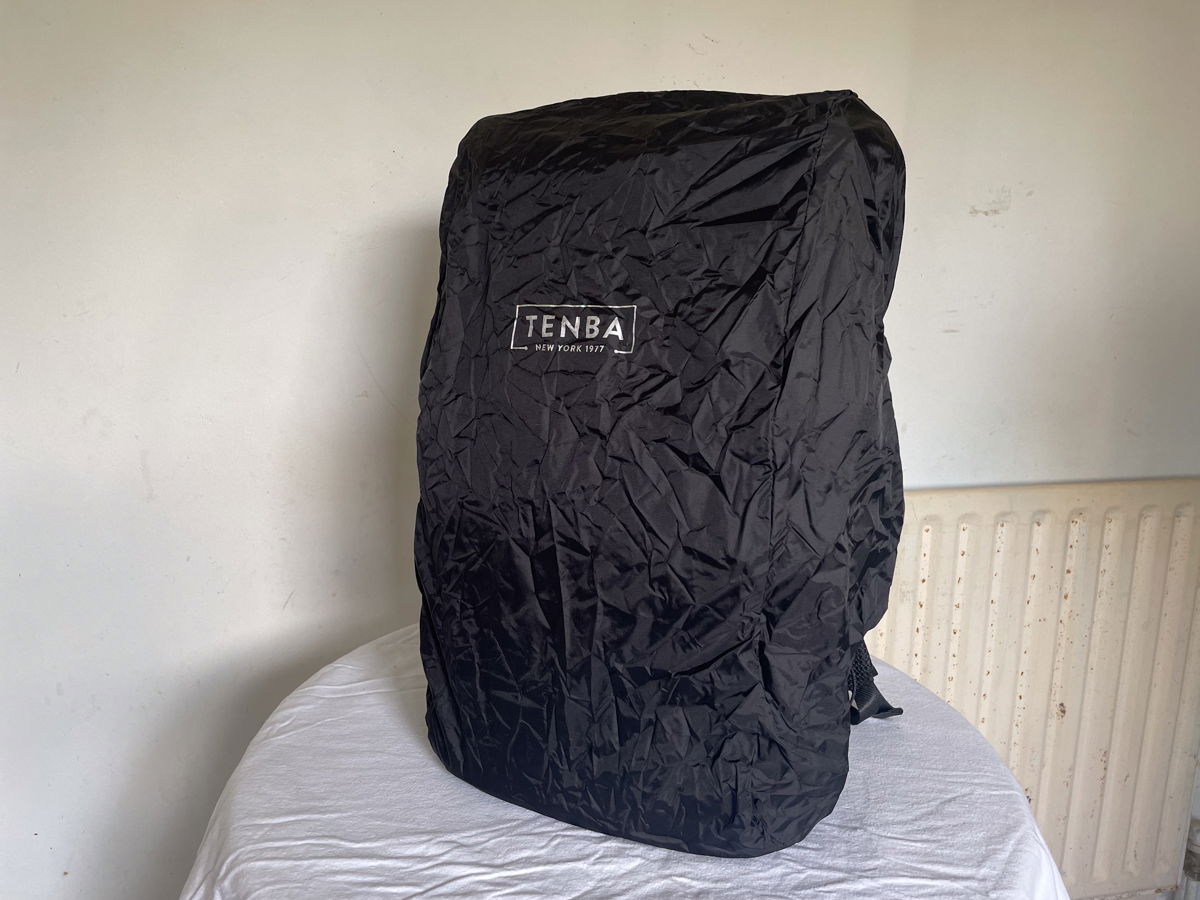 Interior Material
The Tenba DNA 16 DSLR features a polyester lining inside the entire interior of the bag. This is a soft and tear-proof material.
It is a dark grey, which makes it a bit hard to see your equipment. This isn't a huge issue and should not be a deciding factor in choosing this camera bag.
The bag's front pocket is also lined with this polyester. But you will notice that the back panel is the same as the exterior material. This is great because it means extra water protection in this section.
Straps and Back Support
The first detail about the DNA 16's back straps is that they provide little padding. This mesh-covered padding is roughly one centimeter thick and doesn't seem very supportive after giving them a pinch.
On a positive note, these straps are nice and thick. So they spread the weight over a large portion of your shoulder.
The biggest positive of these shoulder straps is their attachment to the bag. The straps get thinner toward the top of the bag. And they are attached to a seatbelt-like material before reaching the bag.
A flexible material toward the top makes an incredible difference to the strap's overall comfort. It is Tenba's Pivot-Fit technology and allows the shoulder straps to conform to your shoulders' shape.
That spreads the weight as evenly as possible. So this bag will be comfortable for any body size or shape.
You will find that the shoulder straps feature adjustable chest straps. These are adjusted through plastic clips that huge a fabric-covered pipe.
It is quite stiff to adjust them. But this is good because constantly adjusting them would be annoying.
Another key element in the shoulder straps is the reflective materials situated halfway down the straps. This is another small element that goes a long way for nighttime activities.
The chest straps themselves are simple. They feature an elasticated section that helps keep the strap taut to take as much weight off your shoulders as possible. And the clips are plastic and durable.
You will also notice the bag features a simple waist strap. This also mimics a seatbelt and doesn't feature any extra padding.
One feature I like about the waist strap is that it is removable! It passes around the back of the lower padding. This is ideal for reducing the number of parts hanging off your bag.
The padding for your back is nice and thick. It is well-positioned to hug your spine while allowing airflow. The breathable mesh emphasizes this. It covers the padding of the bag.
I particularly like the lower padding, which is more prominent and defined. Most photographers will understand the importance of good lower-back support.
The bag also features an adjustable suitcase handle sleeve. This is rare, as these often come in one size. This is great as it can fit over any luggage handle. And you don't have to worry if it is too loose!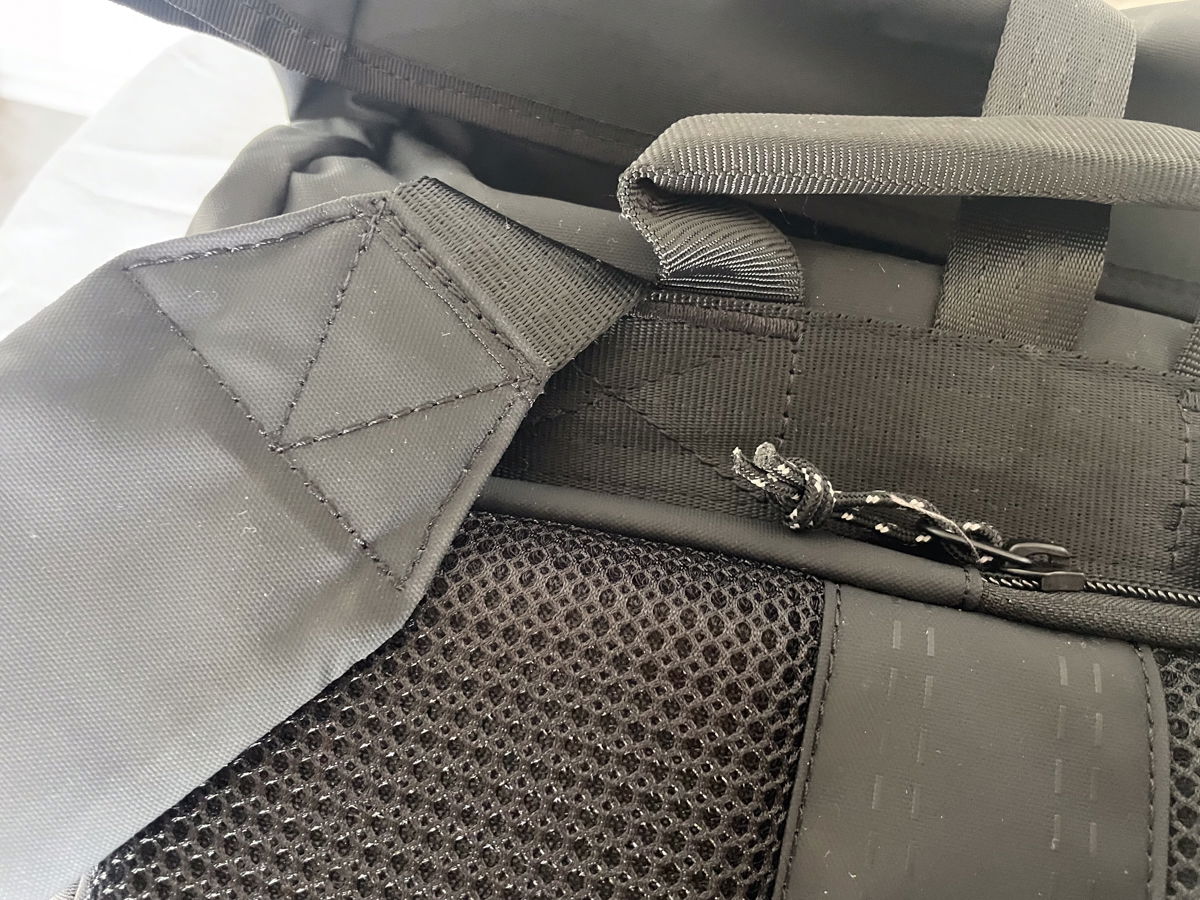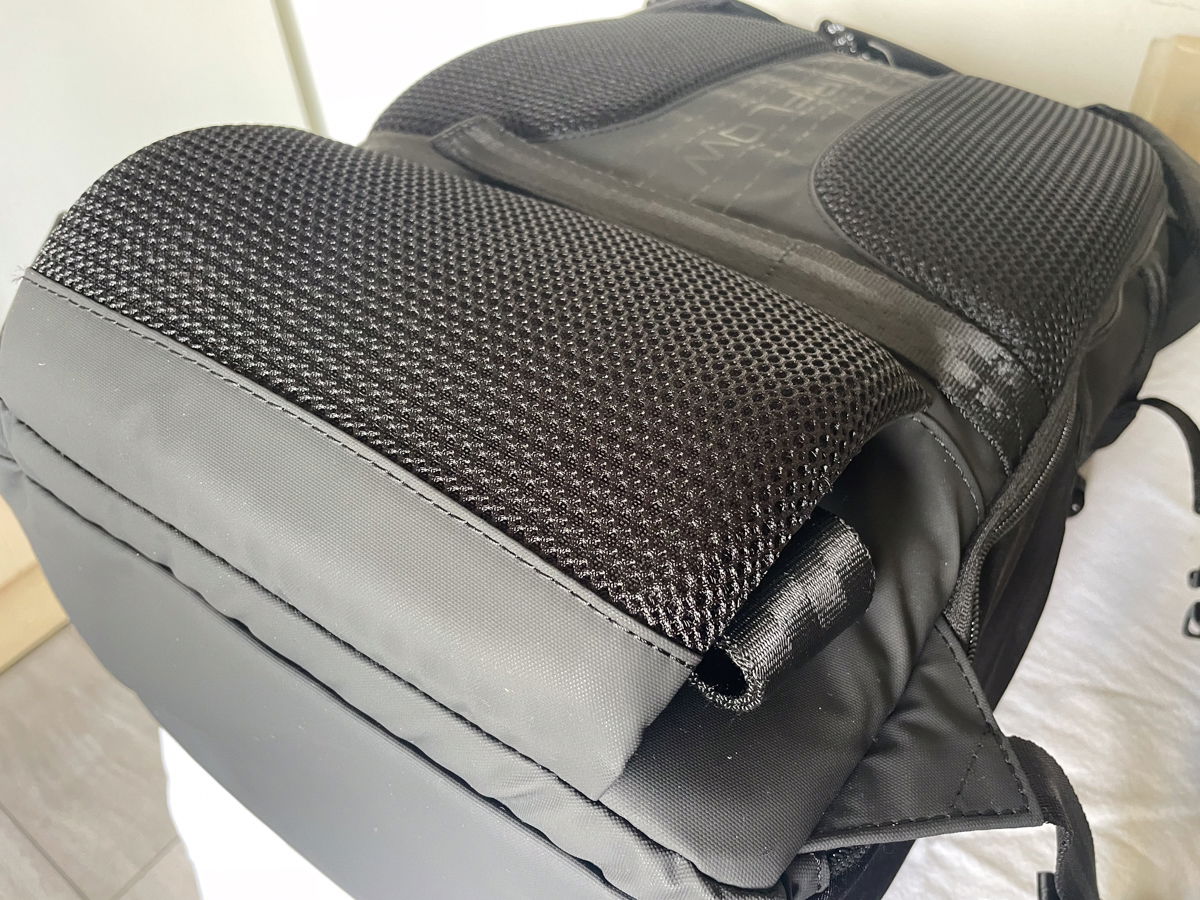 Seams and Stitching
A great test to examine a camera bag's build quality is to look at the finer details. So we looked closer at the Tenba DNA 16's seams and stitching.
When looking at this camera backpack, we can see minimal stitching on its exterior. Tenba has tucked most of its stitching away, emphasizing its weatherproofing goals.
The only stitching you can see is on the exterior elements. Behind these areas, you will find the same outer material. So these seams don't compromise the bag in any way.
We can see that Tenba has opted for short, tight seams when looking at the stitching. These ensure that the bag's durability is as extensive as possible.
If you look closer at how the exterior straps and handles are attached, you get an idea of the bag's quality. These elements are reinforced very well.
It would be hard to remove the stitching of the top shoulder straps and handle. Even with a knife!
The interior stitching matches the quality of the outside. You can see that the tucked seams from the exterior are covered internally to give that much more protection.
The Tenba DNA 16 DSLR checks out through our quality control process. It leaves us satisfied and confident that it will last through prolonged use.
Interior Padding
One criterion that the Tenba DNA 16 DSLR isn't up to par with is its interior padding for the camera compartment. Tenba has put particular effort into making a camera insert you can easily remove.
I like this feature. And I think it could be useful to some photographers. But it does come at a price. The camera inserts' padding is quite thin.
Thin interior padding isn't an issue for the back, as the back support helps double up. But the front and the sides, the three most vulnerable sides of your bag, are left with minimal protection.
The padding itself is rigid, telling me that it at least has some good shock-absorbent properties. I would put my camera gear in this bag.
But if I were to climb a mountain or go urban exploring, I would second guess whether the bag can take a few hard knocks.
Plus, the internal dividers are soft and flimsy. So they add even less protection for your gear.
Overall, the camera compartment offers more protection than putting your camera in a hat, hoodie, or regular backpack. But not by much!
Zippers and Fastenings
The zippers on the front of the Tenba DNA 16 DSLR don't give you the smoothest pull. But we photographers are happy to pay this price for the splashguard zippers.
They are YKK zippers. So you know they are high quality. Normal zippers have small holes everywhere. These waterproof covers ensure gaps are filled so water has difficulty finding its way in.
Another good addition to the camera compartment access is that these zippers feature lockable loops. This is helpful when traveling or when you want to ensure the security of these contents.
The zipper pulls also have a reflective material patterned throughout.
The clip that fastens the roll top is unique. This magnetic system easily slots together when closing but requires you to slide it when opening. This is a quick system that is secure and simple.
It is so simple that you can slide it open with one hand. Tenba has provided grooves in the fastening to make this an easy and comfortable motion.
Elsewhere on the bag, you will find metallic fastenings to adjust the shoulder straps and the tripod or water bottle holders. These fasteners are durable, as well as the straps that pass through.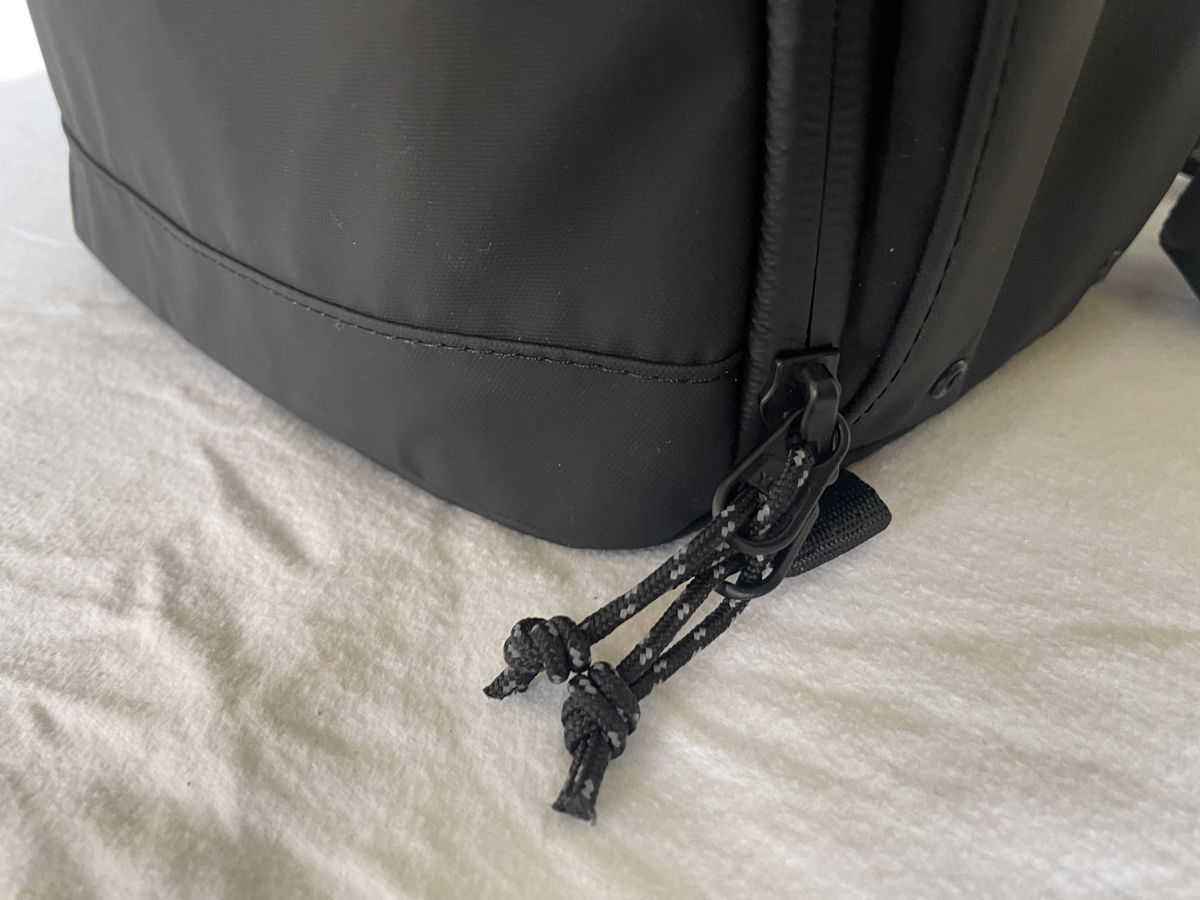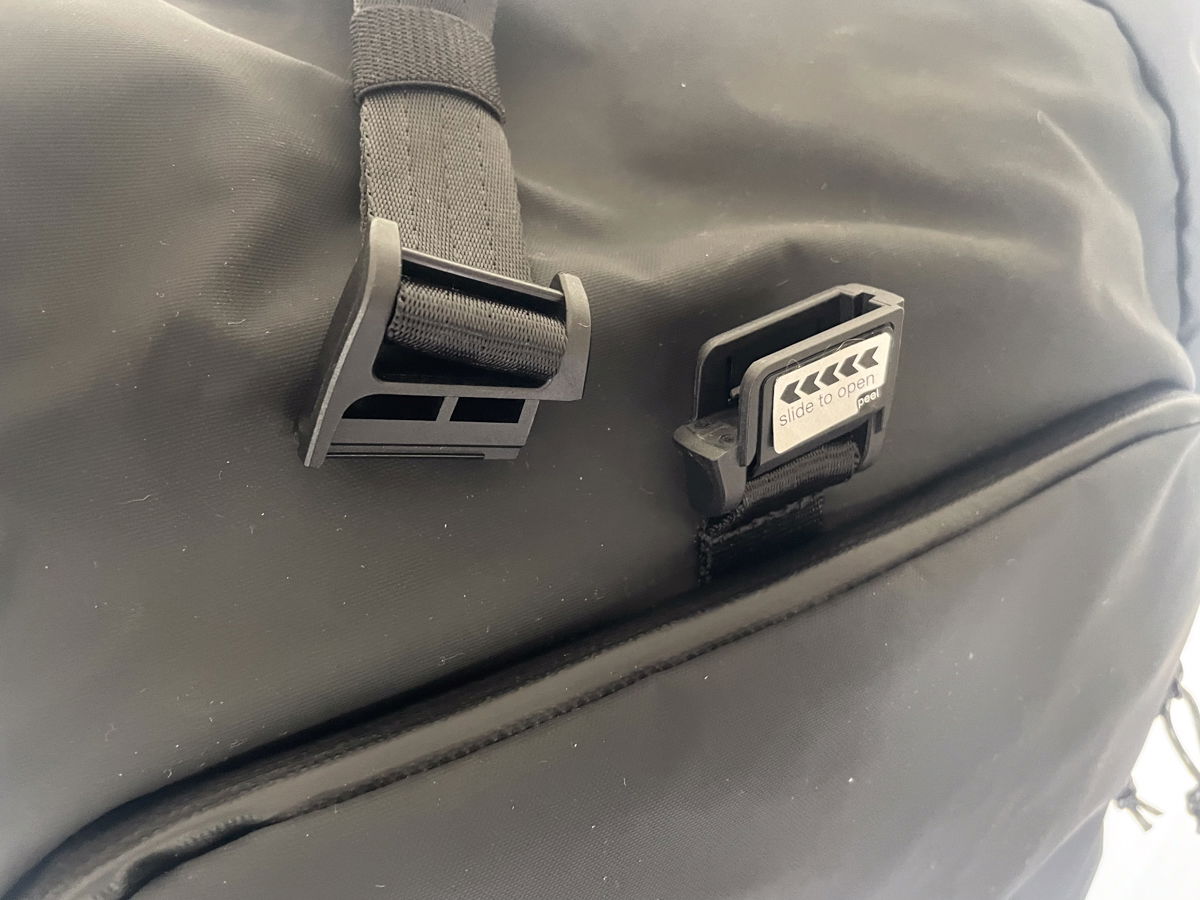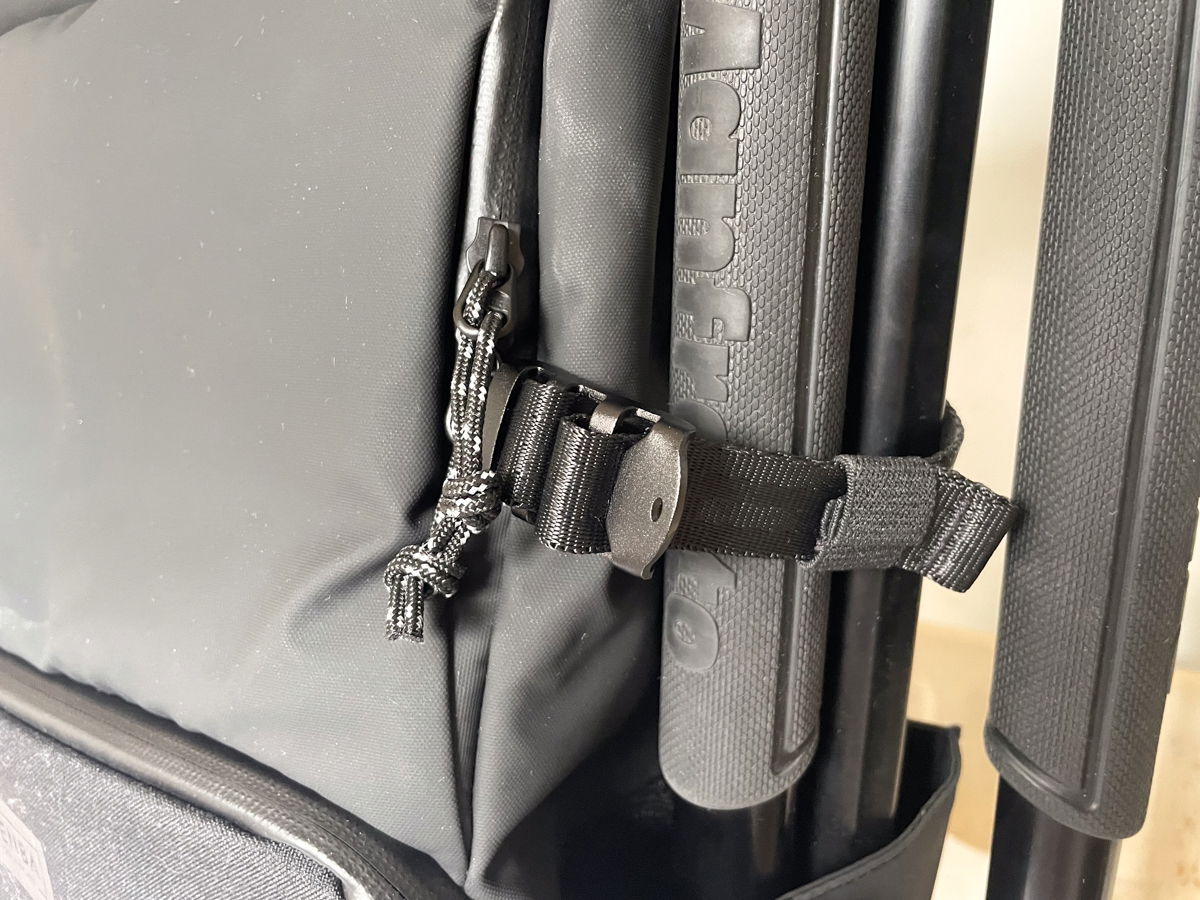 Functionality and Ease of Use
The Tenba DNA 16 DSLR shines brightest when considering its ease of use and functionality. It uses a unique system to give users quick access to their camera gear.
I find this works extremely well. But it does sacrifice space for function.
Tenba has thought about the user when designing this bag, and it shows! Its features are simple to operate, clear, and easy to access.
Size and Weight
The Tenba DNA 16 DSLR is a 16-liter capacity bag. It is a medium to large-sized backpack that weighs 3 lb (1.36 kg). But it is an average-sized backpack when the roll top is closed all the way.
Tenba has used high-quality materials in its camera backpack. So you would imagine the bag to be slightly heavier. Instead, weight reduction comes from the minimal padding they provide.
Capacity
The DNA 16 DSLR has brilliant space for personal items but compromises its camera compartment space for its access method. The biggest highlight when considering capacity is in its roll top.
The big advantage of a roll top is that it lets you extend the top space. This could be useful for trips where you only want to bring one bag. You can even transport a couple of A4 picture frames in here.
Due to the removable camera insert in the bottom half of the bag, Tenba hasn't utilized this space efficiently.
But this isn't an issue if you're not planning on taking out a whole range of gear. So casual photographers won't have a problem with this.
The front pocket lets you quickly store valuable items. There's a see-through pocket, other small pockets, and even a place to store ID. In the main compartment are two other small pockets.
Tenba provides just enough of these alternate areas to satisfy an organized photographer. But if you like a range of different pockets for different items, there are better bags out there.
You can also find a side access laptop compartment at the back of the bag. This area can fit up to a 16-inch laptop.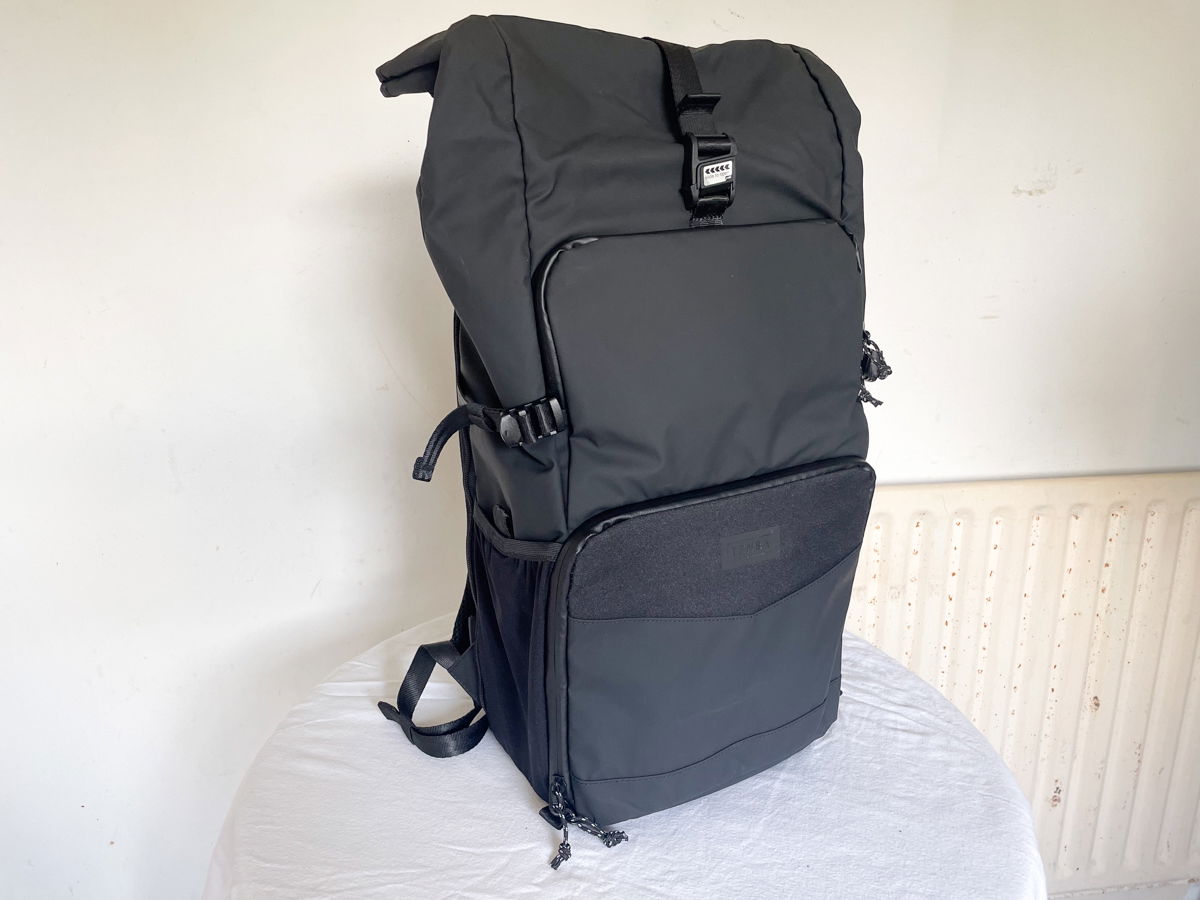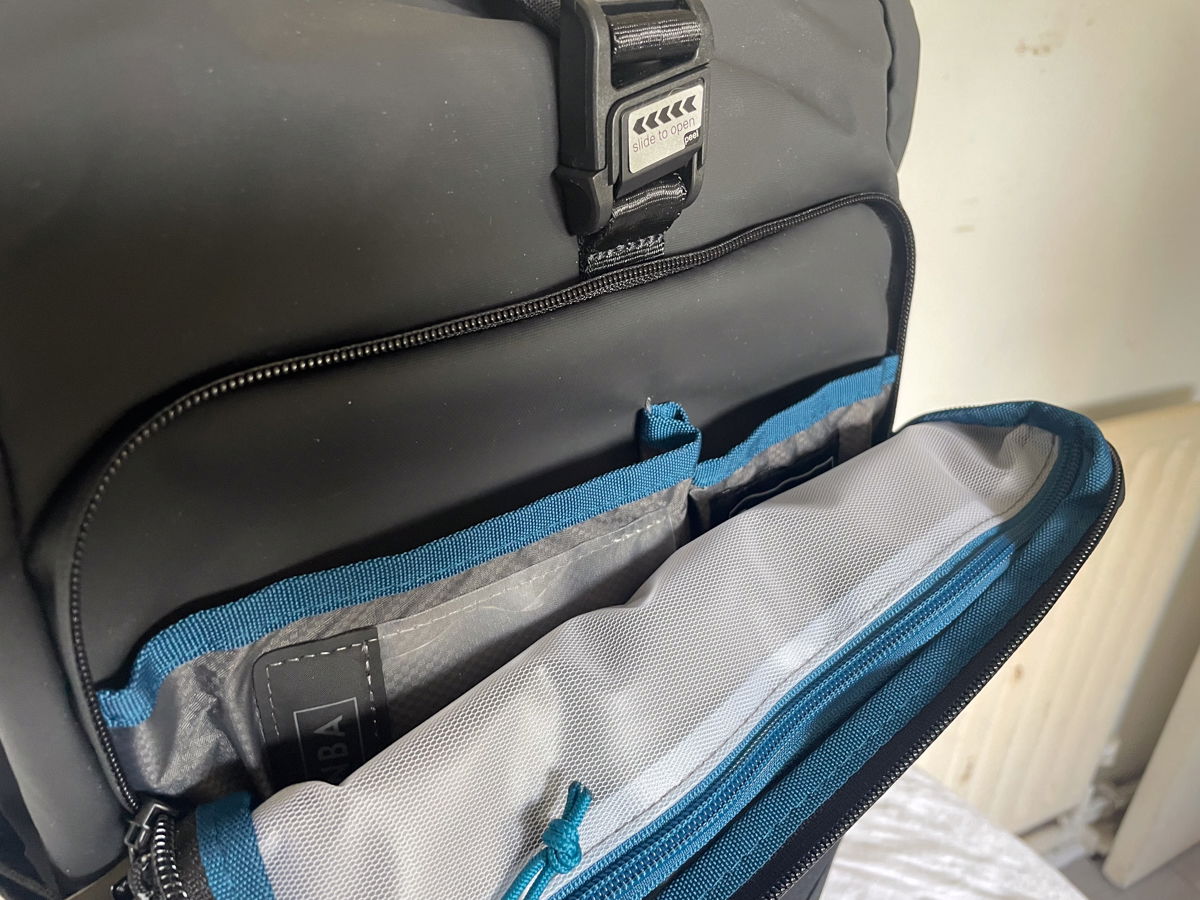 Organization and Customization
Although there are few options to play around with your organization, the Tenba DNA 16 DSLR is a customizable bag.
You may not find enough pockets to store your memory cards, filters, or other photo accessories. But Tenba allows you to gut out the bag's main compartment if needed.
Not only can you take out the camera insert. But you can also take out the division between the two separate compartments.
This is not handy for photographers. But it may be handy to alter your bag to carry larger items. This space could allow you to use the bag for a backpacking holiday!
The roll top emphasizes the full utilization of the inside space. Using this to its fullest gives you a considerable amount of space.
Inside the camera insert, you get minimal but useful dividers. These include flaps that let you access parts lower down, as the access is top-down.
This means you only get a little chance to customize the camera compartment. But again, this bag suits more casual photographers.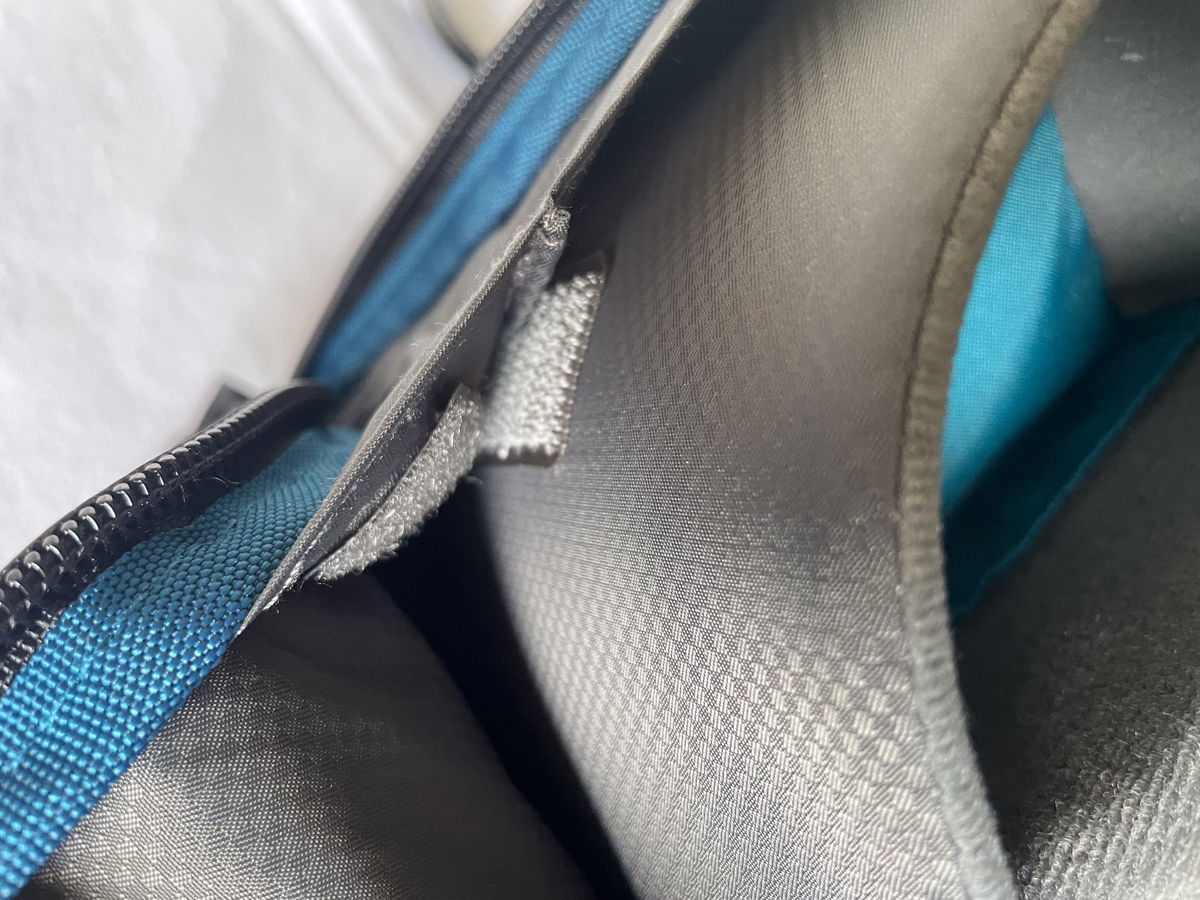 Access Points
The two access points in the Tenba DNA 16 DSLR are unique and add functionality compared to regular camera backpacks.
As we have pointed out, the roll top can be expanded and contracted depending on how full it's packed. The roll top is also a great way to ensure water doesn't get into the bag through the top.
This top access has a Velcro seal to keep the edges together. You then have a special magnetic lock to seal your rolled top. The bag functions best when you roll the top towards the back of the bag.
The camera access point is a bottom-hinged compartment directing your equipment toward you. This is unique and functions well.
It let me sort through my camera gear discretely without exposing all its contents. But as mentioned, this type of access sacrifices space for function.
Although it's a new and easy way to access your gear, the same space could house more equipment conveniently. This access point will work for some photographers and be a hassle for others.
The laptop access point is at the back of the DNA 16 DSLR. And it requires you to unzip the side of the bag. This is nice, easy laptop access. But it could be a disaster if you forget to zip up this pocket.
Security
Let's start by talking about the laptop compartment we just mentioned. Having this on your back means your laptop will be much harder for thieves to locate and access, especially if you wear it.
The roll-top access provides extra security. Even if someone discretely gets through the magnetic fastening, the top is covered by Velcro. There is no way to lock this access completely, though.
The Tenba DNA 16 DSLR does provide lockable zippers for the camera compartment. Apart from this, your kit is quite vulnerable as it does face outward.
But potential thieves wouldn't be looking to enter this compartment because the DNA 16 DSLR doesn't look like a camera bag.
Tenba's material is strong and durable. You don't have to worry about anyone trying to rip their way into your equipment because it's tear-proof.
Security-wise, it's a discrete and tough bag, ideal for travel or street photography.
Additional Features
The Tenba DNA 16 DSLR does have a few additional features. The main aspects we have already covered. This is the roll-top access point and the bottom-hinged compartment.
The bag's front pocket offers another space to keep items you may need quick access to. This is handy as it can take too long to constantly open and close the roll top for a single item.
Tenba has also included a tripod or water bottle holder. My only complaint is that the tripod holder is small. I have a medium-to-small-sized tripod. And it just about fits comfortably in this pocket.
The fastening strap is also annoying as it doesn't have a clip. So you must fasten or loosen this strap each time you access the tripod.
I am a big fan of the reflective materials positioned around the bag. Cyclists will rejoice at this feature, especially as both color options are dark.
This ensures your safety at night. And it may help you find the DNA 16 DSLR if you place it down while shooting astrophotography.
The removable waist strap is also a great additional feature. The strap itself is very simple. But most photographers will know how useful these can be.
Most also know you will only use this strap on long walks or hikes. So the removable option gives you a sleeker bag. And the bag will be less likely to get caught on random objects.
Compatibility and Versatility
When looking specifically at camera gear, the Tenba DNA 16 DSLR isn't the most compatible camera bag we've reviewed. There is little space in the compartment due to its design.
If we look at the bag's versatility, we can see that you can use it in different ways. The only shame is that the different options only let you carry camera gear in one way.
Compatibility With Cameras and Lenses
The DNA 16 DSLR is a camera bag built for casual, social photography. This means it performs best when you have minimal gear and photograph subjects that don't require many variations of lenses.
The way the hinged access works is great for accessing your lenses, especially if you can put your bag on a table. But it will only carry two lenses with one attached to your DSLR.
Tenba says four to six lenses. But that must be for small and condensed kits.
The folding dividers allow you to fit your DSLR with a lens. Although they have Velcro, you can fold the Velcro and attach it to the back of the divider.
But the camera compartment will not allow you to easily store a DSLR with a battery grip.
This compartment can hold a standard 70-200mm camera lens. You can then put in a camera with a lens attached. It will be a tight fit, but it is doable.
Considering these points, I wouldn't say that the Tenba DNA 16 DSLR is for photographers with a small amount of gear. Or it's for those who don't like to bring all their gear with them.
It is still worth purchasing for its other qualities. But camera storage is not one of them.
Carrying Versatility
The Tenba DNA 16 DSLR only provides one way to carry the bag. And that is as a regular backpack. A padded handle is at the top of the bag but is only intended for short distances.
Its versatility comes from the extended roll top and removable camera compartment. These features allow you to store more personal equipment inside your bag.
The removable waist strap is another way to change the appearance of your backpack. When removed, you can roll the strap up and store it in one of the internal pockets inside the bag.
Price and Value
The Tenba DNA 16 DSLR is placed in the lower-middle price range compared to other camera bags we've reviewed.
The lower price does make it attractive. But remember that the camera compartment is smaller and less padded than others on our best camera bags list.
Its functionality makes up for the lack of camera space. So it is ideal for those who use it for more than photography. But if this is your main reason to buy it, you may want to look at other bags.
Another main feature you are paying for is the high-quality weatherproof materials. These alone make the DNA 16 DSLR worth considering.
Features like this make it particularly attractive for photographers who go hiking. Or it's great for those out on location for prolonged periods.
It is a stylish camera bag with well-executed basic features. Considering all these points, it is worth the money Tenba is asking for. But again, look at other bags if you plan to carry a range of gear.
Warranty
Tenba boasts great customer service. This would cause you to assume their warranty would be longer than five years— but that's not the case.
Tenba only offers a five-year warranty on its products. They have clearly spent a long time refining their build quality. So you would expect a longer warranty period. But no.
Using the Tenba DNA 16 DSLR as an everyday bag, you will probably see signs of faulty manufacturing in the first five years. So this may be the reason.
You must keep your receipt and register your product online to claim the warranty. And this must be done when you first purchase your bag.
Sustainability
Tenba has no statement to describe its attitudes toward sustainability. This isn't surprising when we look at the Tenba DNA 16 DSLR. It doesn't utilize any sustainable materials.
Brands nowadays love to flaunt their approaches to sustainability. So a lack of this signifies it is not a concern for Tenba.
If you are a photographer who wants to consciously decide to buy considerate products, this may not be for you. But do remember that many bags we've reviewed are not made of sustainable materials.
Alternatives to the Tenba DNA 16 DSLR
The Tenba DNA 16 DSLR may not fit your needs perfectly. So we list some alternative camera bags for you to consider. You can read their full reviews or our roundup of all the best camera backpacks.
The Thule Covert is the most comparable bag to the Tenba DNA. This is due to the bag's looks and their division internally.
The main difference is that the Tenba has front access, whereas the Thule uses the rear. And speaking of access points, although the Thule has rear access, it also provides a quick access pocket.
The Thule Covert also has a roll top access for your personal equipment. This is great but less expandable than the one you find on the Tenba DNA.
The one big advantage is that the removable insert of the Thule Covert doubles as a more compact camera bag. You can remove the Tenba's camera, but there's no way to carry it separately.
If price is a concern when looking for your next camera bag, the Thule Covert may not be for you. The Tenba DNA comes out quite a bit cheaper than the Thule Covert.
The Wandrd Prvke is another bag that rivals the roll-top abilities of the Tenba DNA. As the highest-rated camera bag on our list, consider it if you're looking for an all-in-one everyday camera bag.
The Tenba DNA does provide you with an easier access point. But the camera compartment is very limiting. The Wandrd Prvke is a rear access bag, but it does come with an advantage.
In the Wandrd Prvke, you can customize your camera insert! This means you can still find one the same size as the Tenba DNA and just get added storage space.
The Prvke also provides a side access flap if the rear access takes too long. This is ideal because it offers quick access. But it still allows a more comprehensive look at your gear.
The Wandrd's high-quality materials also provide weatherproof qualities like the Tenba DNA. So in either bag, you can ensure your contents will be kept as safe as possible.
Use our discount code EXPERTPHOTOGRAPHY at checkout for 15% off your first order!
The Tenba Fulton V2 is worth considering if you like the look of the Tenba DNA but want more space in your camera compartment.
A big positive of the Tenba Fulton V2 is that it has better weatherproofing qualities and is a cheaper camera bag option!
The two bags' main differences are the size and access points. To access the camera compartment in the Tenba Fulton V2, you must take off your bag as it is a rear access bag.
The roll top access functions similarly to the Tenba DNA, but you won't find the magnetic fastening. Instead, you get a simple metal hook.
Rear access camera bags are less convenient than other access methods. But they have some positives.
The main positive is that it gives you added security. There is no way someone could unzip your bag while it is on your back in a rear access bag.
If you are looking for a smaller bag with more space for your camera equipment, the Tenba Fulton V2 may be worth exploring. And it's one of the cheapest on our list.
Final Verdict of the Tenba DNA 16
Measurement

Measurement

Score

Design and Aesthetics

Design and Aesthetics

Build Quality and Durability

Build Quality and Durability

Functionality and Ease of Use

Functionality and Ease of Use

Weather Resistance

Weather Resistance

Compatibility and Versatility

Compatibility and Versatility

Value for Money

Value for Money

Total Score

Total Score
The Tenba DNA 16 DSLR scored a total of 72.5 out of a possible 100 points. So it places 13th out of 18 on our list of the best camera backpacks.
This may seem low, considering everything we like about the backpack and its availability for a good price. But the small camera compartment lets it down.
This backpack is still ideal for those with a small amount of camera gear. It is a cool and covert camera bag. And it brings photographers a new way to access their camera gear.
Its properties make it ideal for those looking for a bag that can house a camera rather than a dedicated camera bag. I say this because the camera padding isn't amazingly secure.
And the bag lets you easily remove the camera compartment. Therefore, it exists as a bag that can do both. This could be ideal for some photographers but not for larger photoshoots.
Its high-quality materials alone make it a bag worth considering. Finding a weatherproof camera bag can be a struggle, especially if you don't want to use a waterproof cover.
It doesn't quite fit Tenba's claim of "one bag to rule them all" due to its camera compartment. But the DNA 16 DSLR can be helpful in many environments.