The best camera bags for women deliver style and function. And many of them do it without looking like a camera bag or a normal backpack. We've tracked down some amazing bag options for women that combine fashion with camera gear capability.
Take our top pick, the Meliaebag Mirrorless Camera Purse. It combines beautiful leather, exquisite styling, and a proper padded insert for your gear. Even knowing it's a camera bag, it's hard to believe when you look at it.
What Are the Best Camera Bags for Women?
When ExpertPhotography carried out our mammoth camera backpack test, we soon realized that every bag has a compromise. There was a choice between protection and weight or the ease of access and internal organization.
With camera bags for women, perhaps the biggest challenge is the compromise between function and style. While many men might be happy to tote around something that looks like it belongs on a Boy Scout jamboree, many women might think differently.
We think that some of these bags for women do a remarkable job of putting on the style. Before we look at them in more detail, here is a roundup of our top picks.
8 Best Camera Bags for Women
Another thing we found when comparing notes on camera backpacks was how different details appeal to different folks. We could all recognize quality when we saw it. But we didn't always see eye-to-eye on questions of style. And that's fine.
As we look at the bags in our review in more detail, we can only tell you how they function and what we think of the style. But ultimately, the choice is yours!
Note: There's room for confusion in the English-speaking world about what to call a bag a woman carries. In the US, it tends to be "purse," and in the UK, it's "handbag." We'll use them interchangeably here.
The Meliaebag Mirrorless Camera Purse looks like a regular purse—until you open it. Of course, this doesn't make it immune from theft because it's a purse. But it doesn't shout "camera bag!" It's stylish and available in Brown (a nice light tan), Black, and Pink.
It's a handbag-style purse with a detachable strap or a shoulder bag with a detachable handle. It's your choice. It's made from genuine leather, real cowhide, with all the weather-resistant qualities that come with it. Plus, the metal fixings are solid and stylish-looking.
For camera gear, the Meliaebag is well provided for, too. There's a central pouch for your camera, with removable dividers, as with a conventional camera bag.
And despite its small size, you can actually fit a full-frame DSLR with medium zoom attached and an additional lens. It's pretty impressive. You might say it's pretty and impressive.
There are three zippered pockets in this bag. One in the main compartment, one at the rear, and one at the side. It means you can keep camera stuff separate from purse stuff without too much confusion.
We think the Meliaebag Camera Purse deserves to top this review. It hits the sweet spot between style and function.
The Peak Design Everyday 20L Backpack leans far more to the functional end of the equation but remains stylish. It's not, nor does it pretend to be a handbag. But it's not a big, bulky, let's-go-hiking-in-the-boonies kind of backpack either.
The backpack looks especially stylish in cream (or "bone," as Peak Design calls it). The tan faux leather handles make an attractive contrast. But it is also available in Black, although I think this does look more like a run-of-the-mill backpack.
Whatever the color, you'll find an impregnated synthetic canvas and waterproof zippers to protect your gear. The top is a modish roll-top design, and there are handles as well as shoulder straps.
The shoulder straps are a plus. They have more padding than a more handbag-inspired camera bag would have, so all-day comfort is improved.
Your camera gear is well protected by EVA foam padding with moveable dividers. You'll even find dedicated laptop and tablet sleeves to keep your mobile tech safe.
Peak Design has a well-deserved reputation for quality camera accessories. The Peak Design Everyday 20L Backpack fits in with this trend. It's a neat, attractive solution. And it will protect your camera kit with style.
For more information, you can read our full review of the Peak Design Everyday 20L Backpack.
If you're in a hurry, don't order the Epiphanie Dakota Camera Bag. That's because these stylish camera bags for women are made to order… but they are worth the wait.
For one thing, they come in a range of delicious colorways. From Black to Chocolate to a sublime Vintage Brown. But if all that is too dull for you, there's even an embroidered version. Unlock your inner hippy!
There's way more than just style to the Dakota, though. It's big. It's big enough to absorb your 70-200mm lens and laptop with room to spare. A zippered top opening gives access to the generous storage space, and there are side slip-in pockets for your more usual items.
If, as might be the case, you prefer the Dakota as a normal handbag, then fear not. The camera padding is removable. Of course, filling the bag with all your gear makes it heavy. Thus, it's a neat feature that you can quickly and easily convert the bag to a backpack to help spread the load.
We like the Epiphanie Dakota Camera Bag. It's a breath of fresh air in the camera bag world. We think you'll like it too!
If a tote bag is more your style, then the Peak Design Everyday Tote could be the perfect solution. You certainly wouldn't think this is a camera bag if you saw it out in the world.
Like the Peak Design Everyday bag, this comes in Bone or Black, although the former is more expensive. In both cases, you get double PU-coated, impregnated nylon canvas, which is 100% waterproof.
Twin tote-style handles mean you can carry it in your hand or over your shoulder. For all-day carrying, there's a more padded, detachable shoulder strap for comfort. And there's a magnetic closure on the full-width top entry point. But this is backed up by a waterproof zip for wet weather.
Inside, you find Peak Design's usual gear protection. And you'll find room for a good amount of camera gear. A pretty decent mirrorless camera set-up, or even a full-frame DSLR with a big zoom lens like 70-200mm, plus another lens. As a bonus, you'll find a safe place for your laptop and tablet.
A lifetime warranty and 100% recycled post-consumer materials add to the tote's appeal. We think the Peak Design Everyday Tote is one of the more attractive camera bags for women available.
There is nothing about the look of the Gatta Christie Noir Camera Bag that makes you think there might be a camera inside it. It is a neat, sleek leather bag. I venture to suggest that the word "cute" would not be misplaced here.
An elegant, tapering body on a rectangular base is closed by a flap. The base has metal feet to keep it out of the dirt. And the flap conceals a top-zippered opening. The metal fittings add to the stylish feel of this camera bag, as does the nappa suede lining.
Inside, you can fit most mirrorless cameras with a lens attached, as well as an additional lens. It's not the bag for a major photo shoot. But maybe you just need somewhere safe and discreet for your camera on a day out. There aren't many camera bags for women that will do it with more panache.
Carry it over the shoulder, or use the two straps to put it on your back. The choice is yours, and we think the Gatta Christie Noir Camera Bag would be a good buy.
It's impossible to tell that the Gatta Jacki Noir Camera Bag is anything other than a chic, oversized handbag. You see this style of purse everywhere. No one will suspect your camera gear is nestled inside, ready for action.
As camera bags for women go, this one is a winner. It is beautifully finished in a range of colors. The interior is in a plush microfiber suede, completely in keeping with the exterior. And it comes with one padded divider, but additional ones are very cheap.
Because it is in the style of an oversized handbag, there's plenty of room inside. This purse will swallow your full-frame DSLR and a couple of lenses easily. It's pretty remarkable that a bag can be this stylish and practical at the same time.
As far as we can see, the Gatta Jacki Noir Camera Bag is an absolute winner in the world of camera bags for women.
The Epiphanie Catania is another camera bag for women you might want to also use without its insert. It's a fairly unstructured, large, purse-style bag. The exterior is beautiful full-grain Italian leather. And it comes in four equally alluring colors. My favorite is the Tan, but the Red is a bold choice, too.
When you open the generous top flap, you'll find contrasting paisley print lining and a padded camera basket with adjustable dividers. This isn't the only adaptable feature of the Catania, either.
There is a removable shoulder strap as well as the top handle. But the large pocket at the back conceals a padded, adjustable belt. You won't need it when lunching with your chums. But on a shoot, it can be invaluable.
This isn't a bag that restricts what you can carry too much. True, you might not fit all you need for a wedding shoot. But if you're heading out with a street photography camera and lens, this could be perfect.
It will take a full-frame camera. And you can fit a hefty 70-200mm lens without trouble. The rear pocket also takes a large tablet. It's all very versatile.
We think the Epiphanie Catania Camera Bag is an excellent choice for a softer, unstructured camera bag. Take a look, because we think you'll be impressed.
The Lo & Sons Claremont is another example of excellence in camera bags for women. From its sharp, sleek styling to its elegant quilted interior, it oozes quality. Outside, it's soft, full-grain leather, and the quilted interior is padded to protect anything up to a full-frame DSLR.
There are some thoughtful design touches, too. Undo the turn-lock clasp, and the (quilted) flap opens to reveal two stitched leather pockets just above the clasp. These are designed to take your memory cards. On the reverse side, safely against your body, is a zippered pocket for valuables.
The padded divider can be removed if you're not taking your camera with you. This leaves you with a stylish handbag for normal use. Perhaps the only thing lacking in this bag is much in the way of adaptability. It is a cross-body purse and nothing else.
However, when a bag looks as good as the Lo & Sons Claremont Camera Bag, that extra practicality is perhaps something you can forgo. It's classy, chic, and stylish.
Best Camera Bags for Women FAQs
Here are answers to two frequently asked questions about buying the best camera bag for a woman.
What Do I Look for in the Best Camera Bags for Women?
The best camera bags for women need to be something other than an everyday purse or handbag. They need to perform the vital function of keeping your photography gear safe. And they need to make it easy to access your camera when needed.
Of course, women need the same from their camera bags as men if they work in photography and need to protect their gear and transport it easily. But sometimes, you want more than a utilitarian camera bag or backpack. These bags all meet those needs, and they do it with style.
Only you know what you need. But it's safe to say that all of these camera bags for women meet the criterion of not looking especially like a camera bag. And some of them are just downright stylish as purses. So you're spoiled for choice.
What Size Camera Bag Will I Need?
Our selection shows that sizes vary from quite compact bags to much bigger ones. And it's a question only you can answer with the gear you have.
My mum believes it is impossible to have too many handbags. If she were a photographer, she would want to cover all the size possibilities… and probably some of the color ranges!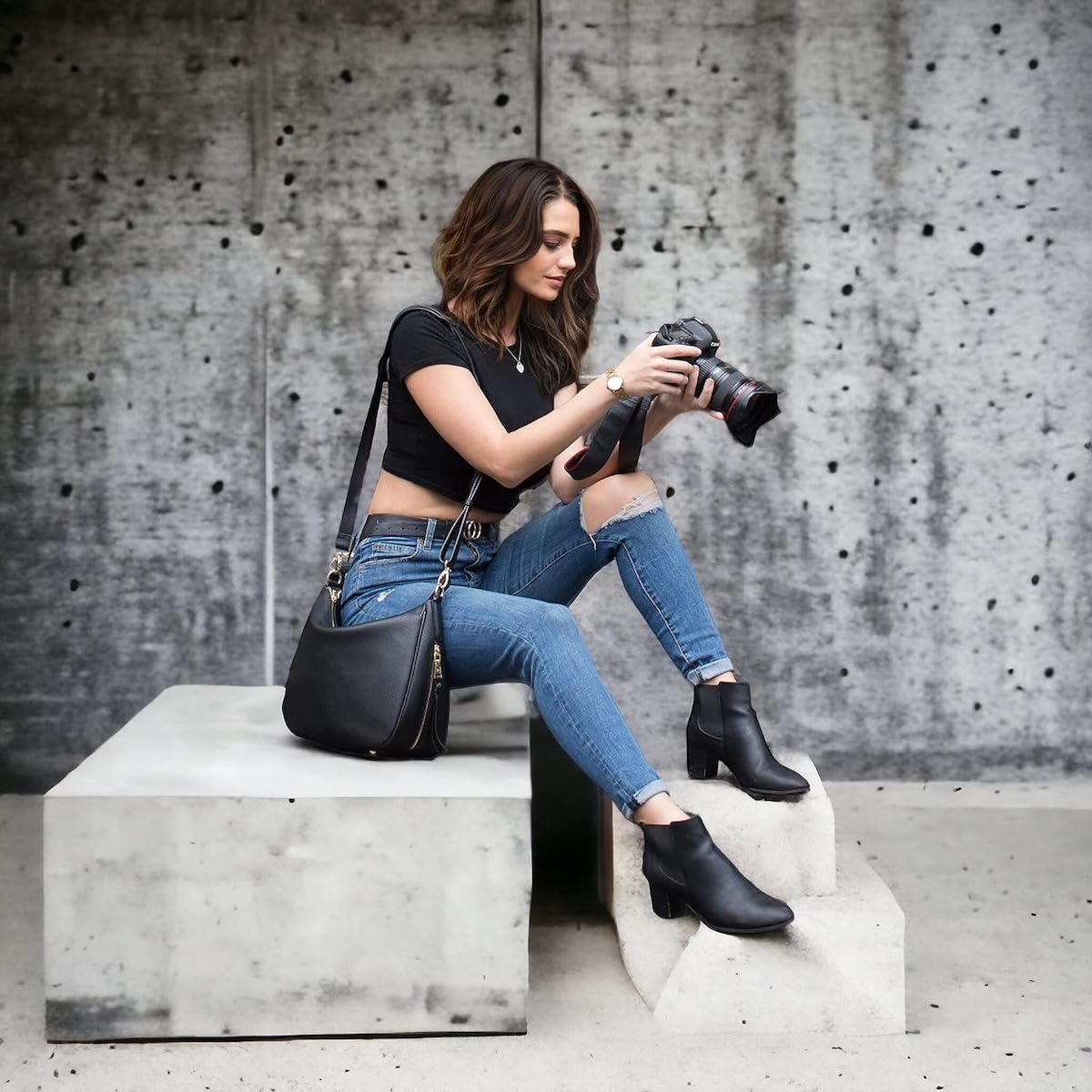 Conclusion: The Best Camera Bags for Women
At the outset, let's admit that all these bags are fine offerings. If you want a fairly big bag, the Epiphanie Catania Camera Bag would be a great choice. Or, perhaps with a slight style penalty, the Peak Design Everyday 20L Backpack would suit you.
Our top pick, though, is elegant and practical. It was a tough choice because all of these camera bags for women are strong contenders. We think the Meliaebag Mirrorless Camera Purse ticks all the boxes. But we don't envy you the choice, even if we envy the bags!