Like many successful camera backpack manufacturers, Think Tank was born from a collaboration between two photography enthusiasts. The Think Tank MindShift BackLight 18L reflects the mountain climbing heritage of one of those two early collaborators.
But the brand is much more than adventure-oriented camera gear. In fact, they built their reputation on professional gear designed for sports photographers. And they have dozens of patents that show the innovations they bring to the market.
The MindShift BackLight 18L is one of the top-performing bags we tested in our camera backpack reviews. It's fascinating to see the massive variety of backpack designs available. And this Think Tank bag clearly shows the climbing pedigree of founder Doug Murdoch. It looks like a small rucksack, but that doesn't mean it lacks camera bag credentials.
Its impressive carrying capacity, light weight, and reassuring protection should put this on your shortlist for a camera backpack. Read on to find out what we like about the MindShift BackLight 18L and what we think could be improved.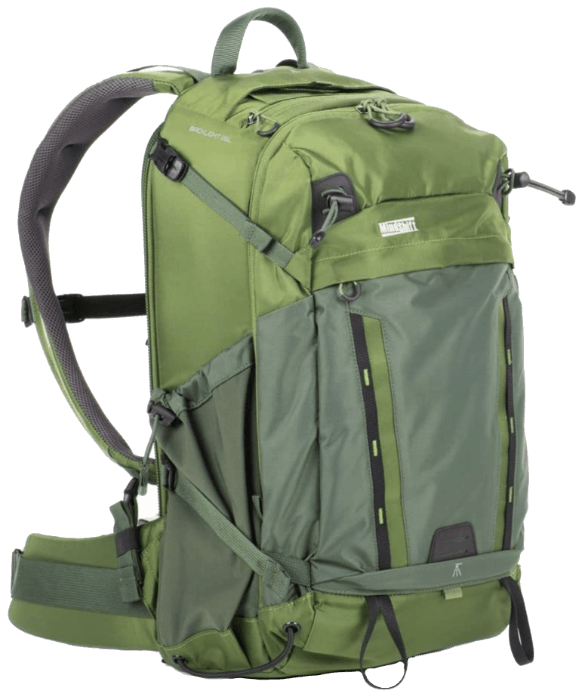 Think Tank MindShift BackLight
For adventure and sports photographers, this camera backpack boasts an impressive carrying capacity and lightweight design. It offers professional-level gear storage and showcases innovative design elements from a brand built by photography enthusiasts. The backpack's climbing pedigree ensures durability and practicality, making it a top contender in camera backpack reviews. And the lifetime warranty reassures us that it's a high-quality bag.
For full transparency about our review process, you can read about how we scored and ranked the bags here.
Strengths and Weaknesses of the Think Tank MindShift BackLight 18L
Think Tank MindShift BackLight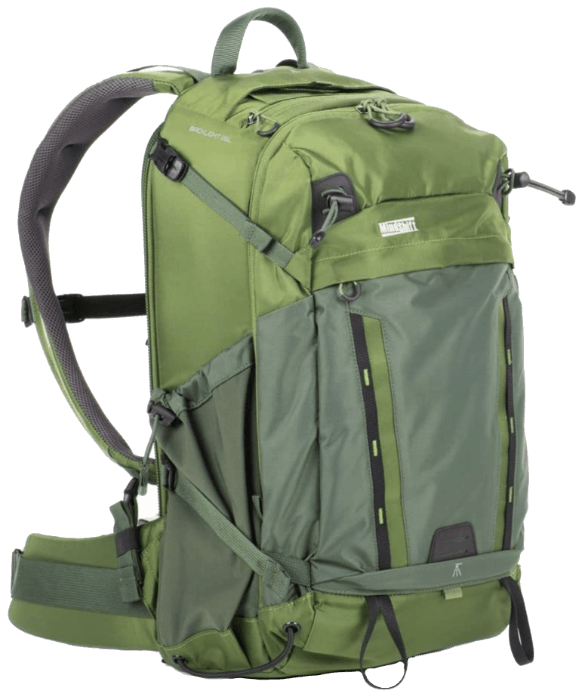 Weight

Weight

1600 g

Capacity

Capacity

18 L

Access Points

Access Points

Back

Airflow Back Support

Airflow Back Support

Yes, with mesh

Laptop Sleeve Capacity

Laptop Sleeve Capacity

13-inch

Tripod Holder

Tripod Holder

Warranty

Warranty

Lifetime

Waterproof Rating

Waterproof Rating

Water-repellent
It's easy to love the Think Tank MindShift BackLight 18L. It's slim and compact but can house a sizable camera setup. It has many options for attaching extra items to it. It even has a place for an ice axe! And there are compression straps and a hidden tripod-carrying system.
The padded straps make it extremely comfortable to wear. And the mesh padding and airflow channels on the back add breathability. And anyone coming from the hiking or climbing community will like the many fixing points for extra gear. There are plenty of bungee cords, webbing straps, and attachment points.
There is a good blend of small storage pockets for accessories, a laptop, and a tablet. But this is not at the expense of the main equipment compartment, which is basically the full size of the bag. It comes with a good selection of padded inserts with the usual Velcro attachments.
There are some weaknesses. The rucksack vibe won't suit everyone. And there is only one access point to the main compartment. The waist strap isn't detachable or stowable, so it tends to flap around when not in use.
Finally, I'm not convinced the padding between the sides and the interior is entirely sufficient. Likewise, the laptop and tablet compartments aren't padded. But we'll look at the specific strengths and weaknesses in more detail as we explore this camera backpack.
Design and Color Options
Very much a hiking-style rucksack, the Think Tank MindShift BackLight is available in Charcoal and Olive Green. And neither is a single, plain color. There is a different color panel on the front of both versions.
Dark gray elements provide contrast with the Olive Green colorway. And both have some bright green stitching and zipper pulls. It's an outdoorsy look, but that might not appeal to everyone.
Build Quality and Durability
The BackLight certainly feels well put together. The choice of material helps make the backpack resistant to scuffs and scratches. And all of the components are high quality. The lifetime warranty speaks volumes about Think Tank's confidence in its build quality.
Exterior Material
The main materials are 420D velocity nylon and 420D high-density nylon. These are treated with a water-repellent coating. And the underside of the fabric has a polyurethane coating as well.
Although the bag isn't rated as waterproof, it will go a long way in keeping your gear dry. And the external seams don't give direct access to the main compartment, which adds an extra layer of protection.
Weather Protection
In addition to the water-repellent coating, the BackLight comes with a fully waterproof elasticated cover. As you'd expect, this has taped seams to keep everything dry. So if you do get caught in a monsoon, you can quickly put this on to ensure your gear is protected!
Interior Material
The main interior fabrics are smooth nylon for linings and soft corduroy-type fabric for attaching the camera dividers. I'm always a little anxious when fabric like this isn't cross-stitched. It means there is a large degree of pull when you detach a divider, and this makes me slightly nervous.
Straps and Back Support
The Think Tank back straps are super soft and comfortable. They are nicely padded and covered in high-tech 320G UltraStretch mesh for comfort. There is strain relief webbing on the shoulder straps. And the waist strap has a webbing belt that you can attach accessories to.
The Back straps are comfortably padded and the lumbar pad is extra-deep. And they're all covered in 350G airmesh for comfort. The oversize lumbar pad helps the grooved padding to increase airflow. All this helps reduce sweatiness.
Seams and Stitching
The Think Tank BackLight is well put together. Think Tank uses 3-ply bonded nylon thread in this bag. The seams are reinforced with bias tape and all the anchor points are securely stitched. There's no give in the seams at all—no loose threads and no sign of potential weak points.
Internal Padding
Compared with other similar bags (like the Nomatic McKinnon), the Think Tank's padding is a little underwhelming. This is partly a downside of the compression straps. They would be pointless if the bag's sides were more rigid or better padded. The side padding is reinforced with polyethylene board, which accounts for the thinness. But I would use a divider as extra padding if I had a lens sitting there.
I'm surprised there's no padding between the front of the bag and the tablet section. And there's very thin padding between that and the laptop sleeve. And it's the same thin padding between the laptop sleeve and the main compartment. The tablet sleeve also lacks any fleece lining.
The internal dividers are decently padded. They are made of high-density closed-cell foam with PE board reinforcement foam. The combination is fairly thin, but it offers reasonable protection. All the seams are stitched with 3-ply bonded nylon thread.
Zippers and Fastenings
Think Tank uses high-quality components throughout the bag. The zippers are all-metal YKK brand. The external ones are abrasion-resistant YKK RC-Fuse zippers. Plastic fastenings are either Duraflex or Woojin Plastics. And all of these companies have excellent reputations.
The main external zippers have paracord pulls with rigid ABS finger holds. They are a contrasting green color, so it's easy to find them against the bag's black fabric. This aging photographer appreciates that.
Internal zippers on the mesh pockets have small webbing "garages" to park them when closed. This prevents any damage to your gear in the main compartment. They have small webbing pulls on them.
Functionality and Ease of Use
There's not a lot to dislike about the day-to-day use of the BackLight. It's easy to carry and access what you need. I'm not a huge fan of back-access bags for ease of use. Especially with bags like this, where you have to put the straps over the front of the bag. The Wandrd Prvke has a better solution—the straps are attached to the flap itself.
Think Tank has tried to overcome some of the access issues. If you're wearing the waist strap, you can slip the shoulder straps off. Then you can bring the bag around to the front of your body to open it. And there is a bungee cord to slip around the back of your neck. This keeps the flap out of the way while you access your gear.
In practice, it really only works if you loosen the waist strap. And in my experience, it's not as convenient as a side-access point. But it does have the advantage of allowing access to all of your gear in the main compartment. So for a bag without a side access point, this is a definite bonus.
Size and Weight
The Think Tank BackLight is an impressive blend of size and weight. It's nice and light, but still big enough to carry a decent amount of gear. In fact, its capacity is one of the best features of this camera backpack.
Capacity
I can easily fit two full frame DSLRs, two zoom lenses, and a Speedlite in the main compartment. And there's still room for other accessories like my card case and accessory pouch. I can even fit a 70-200mm Canon EF L-series lens.
That's pretty impressive for a bag this size.
Organization and Customization
The entirety of the main compartment is accessible via the main zipper. This is one advantage of not having side-access points or top compartments. The bag comes with a full-length divider that stretches from top to bottom. And it has articulations one-quarter of the length from each end.
The base of the compartment and its sides are all brushed material for attaching dividers. The full-length divider is also the same fabric. Like many bags, there is no additional stitching on this fabric. This means it pulls away from the padding whenever you remove a divider. I'm not sure what long-term impact this might have, but it makes me wince every time.
Access Points
There's just one access point to the main compartment. At the front is a gusseted pocket with access to the laptop and tablet sleeves and other pockets for accessories.
Security
The rear-access main compartment is the one way of securing your gear while wearing the backpack. There are no other security-minded features.
This may seem like an oversight. But this isn't a bag that's designed to be left in your hotel room while you're out and about. It will be out and about with you whether that's up a mountain or out on the trail. And while it's on your back, the most precious contents are going to be safe from the vast majority of theft risks.
Additional Features
There are two pockets on either side that are meant for a tripod or water bottle. In some backpacks this size, you would have to choose either a tripod or a bottle. But the MindShift BackLight allows you to have both. The tops are adjustable by way of bungee cords and cord locks.
This might not look as neat as a fancy magnetic catch. But it is really secure. Using the Wandrd Prvke, which is one of my favorite bags, I was worried my water bottle would come leaping out. But I don't worry about that with the Think Tank.
As well as being able to lash a tripod in the side pockets, there is an alternative. Tucked away in a pocket at the top is a lashing strap to attach a tripod to the center of the backpack's front face. A fold-out nylon pocket and another lashing strap are tucked away at the bottom. So the tripod's legs sit in this pocket and you secure the top and bottom of the tripod with the two straps.
This is also the best place to keep the elasticated rain cover. Especially if the main compartment is full. Unlike bags like the Manfrotto Pro Light Multiloader, there's no carabiner to attach the cover to the outside of the bag if you're using all of the interior space.
There's a bungee cord loop on one side for the optional tripod suspension accessory. This allows you to deploy your tripod without removing it from the backpack. And then there are the ice-axe loops for lashing anything else you need.
Daisy-chain attachment points run down the front of the bag. And there is a lash tab at the bottom of the front face. This would be handy for fixing a rear-facing light if you're on a poorly lit road. Or on the trail in fog.
Compatibility and Versatility
There's nothing hugely versatile about the BackLight. It will take your gear, your laptop, and your tablet. But that's really all you can ask for. And to its credit, that's exactly what it's designed for.
Compatibility for Cameras and Lenses
For a bag this size, the carrying capacity is great. It will hold a pretty comprehensive full frame DSLR setup. And the dividers are versatile enough to make it work for whatever you're carrying.
You can't fit a full frame DSLR with both a battery grip and lens attached. But that's not the target market for this camera backpack. Otherwise, most setups and configurations will fit.
And that's pretty impressive in a backpack that looks pretty small. It's not a behemoth of a bag, but it's a very capable workhorse.
Carrying Versatility
The only variability of how you carry it comes from wearing it with or without the hip belt and chest straps. And they are not detachable. And the hip belt in particular tends to flap around while not in use.
With that said, I would rather have a hip belt than not. A well-adjusted hip belt transfers most of the weight onto your hips. And this means less pain in the back, neck, and shoulders.
There's a carrying handle on top, but no sleeve to thread a luggage handle through. But the bag is quite tall, so there are plenty of suitcases where the handle wouldn't be long enough anyway.
Sustainability
There's no readily available information about the BackLight's sustainability credentials. But the company's commitment to repair and warranty suggests a desire to keep products out of the landfill.
Price and Value
The Think Tank BackLight 18L might give the most carrying capacity per dollar of all the camera backpacks we've tested. That's partly because of its load capacity and partly because it is one of the cheapest bags we tested.
Whether it gives good value for money depends on how robust you need your bag to be. The materials are good quality, but the relatively thin padding might leave you nervous.
There's always a compromise between weight and protection. If you're taking your camera gear on long hikes, this is probably a good balance. It's going to keep your gear safe and the bag won't weigh you down.
Warranty
The lifetime warranty is pretty comprehensive for a backpack like this. Most material failure is covered. The only exception is for normal wear and tear.
Alternatives to the Think Tank MindShift BackLight 18L
The Think Tank MindShift BackLight is a fine camera backpack. And we like it a lot. But if you're not totally convinced, here are some alternatives that we also really like.
A backpack with a similar outdoorsy pedigree is the Thule Covert. It's well-made from top-quality materials. It has impressive storage capacity and versatile configuration options. The Covert is a good-looking camera backpack, and it offers plenty of protection for your gear. It's one of the best roll-top bags we have put to the test.
What you get is an impressive blend of durability and versatility. Thule is well-known for quality and dependability. And the Covert continues this tradition. It has strong, waterproof nylon outer fabric and top-quality components.
One handy feature of the Covert is its camera pouch. This gives you access from both the top and the sides. If you just want a day bag, then you can remove the pouch. There might be occasions when this is a real bonus.
We're disappointed that Thule only offers a two-year warranty. We think a bag this good deserves more. We still think you should take a look, though.
Wandrd (as the name suggests) makes bags for the restless photographer. The Wandrd Prvke is a stylish roll-top backpack. It's made for adventure and keeps your gear safe while you, ahem, wandr. We like it a lot. It is an excellent bag with a well-deserved reputation and a lot of fans.
In a close race, it came out first in our comprehensive test of camera backpacks. It manages to be versatile, stylish, and practical. It's a good-looking roll-top bag with excellent adaptability.
Use it as a simple backpack or put a large camera cube inside when you need to carry more gear. There's even a smaller cube for when you need to carry more non-camera items.
The Prvke is top quality throughout. There are shielded zippers to keep the water out. These are matched by the waterproof tarpaulin and Cordura outer fabric. And you won't be disappointed by the way it's put together, either.
Having a removable camera cube normally produces a problem. It means you have no side access to your gear. But Wandrd's ingenuity has a solution. The removable cube has a side door of its own. It's a solution that is as brilliant as it is effective. As a bonus, the cube has its own built-in handle and fixings for attaching a strap.
It's easy to see why the Prvke came out on top in our extensive review of camera backpacks.
Use our discount code EXPERTPHOTOGRAPHY at checkout for 15% off your first order!
Another choice would be the Nomatic McKinnon. This is much more a sleek and stylish bag rather than a hiking go-to. But it's beautifully made and very versatile. And it also scores highly for its practicality and the way it safely secures your gear.
The McKinnon is named after a famous photographer who collaborated with the well-respected gear manufacturer. The resulting bag does not disappoint.
It's a clean, good-looking design. The exterior is attractive, waterproof, and durable. And you'll appreciate the quality of all the components used as well.
The interior looks luxurious. It is lined in a gold Veltex fabric. The black insert dividers and black bias tape finish provide a stylish contrast. It all works together to produce a quality look and feel.
It doesn't just look good, either. The quality of the padding means that your equipment will be safe. But the storage is also very flexible. You can choose to use the main compartment as a backpack. You even get to choose between the top opening or the main access point.
However, the real genius is in mixing their "ladder" and camera cubes. There are small and large cubes that can be swiftly swapped in and out. The ladder can be folded out in a moment to make the main compartment smaller or bigger. The only downside is the lack of side access.
But it's a beautiful bag that should definitely be on your shortlist.
Final Verdict of the Think Tank MindShift BackLight
Measurement

Measurement

Score

Design and Aesthetics

Design and Aesthetics

Build Quality and Durability

Build Quality and Durability

Functionality and Ease of Use

Functionality and Ease of Use

Weather Resistance

Weather Resistance

Compatibility and Versatility

Compatibility and Versatility

Value for Money

Value for Money

Total Score

Total Score
With so many camera backpacks out there, it can be difficult to decide on the value of any particular one. The BackLight is a good choice if you are looking for a hiking-inspired backpack.
It has an impressive carrying capacity. This isn't so much about volume in liters but rather what it can actually fit. That impressive capacity is also perhaps at the cost of its greatest weakness. That's to say that other camera backpacks offer much more protection. But with those bags, you get less capacity.
Your choice becomes how much protection you're willing to sacrifice for extra capacity. That capacity is also increased because the main compartment accounts for almost all the storage. By adding many ways of lashing extra gear to the bag, you can go well-equipped for a day out taking photos.
There are many thoughtful touches and design features to the BackLight. It wouldn't be my top choice. But I certainly wouldn't steer you away from it either. I think it sits firmly in the "very capable" camp.