Music festivals are a lot of fun. And an excellent opportunity for photographers to get some great shots!
Not sure where to start? Here is a beginner's guide to music festival photography.
Festival Photography: The Media Pass
What Is a Media Pass?
This is the first step to photographing a music festival. Will you need a media pass?
Some festivals welcome photographers with professional gear. Other festivals will turn you away at the door.
A media pass is also known as a photo pass, press pass or a press credential. It's what allows you to bring your professional photography equipment into a music festival that otherwise bans their use.
Download Festival in the UK permits a camera with a lens that is "less than 6 inches in size". Anything larger than that and you will need a media pass.
Some festivals also don't allow any DSLRs, tripods and monopods.
Media passes also allow you to photograph within areas like the press pit. This is the fenced off space at the front of larger stages.
The press pit allows you to get close to the action without getting yourself (or your equipment) squished in the crowd.
Always check out the music festival's website for information on what photography equipment you can bring into the festival space.
If you aren't sure, get in contact with festival staff via email. Some festival websites even host an internal forum. This is where you can ask questions and look for photography tips.
If you are free to bring your professional gear with you to the festival, go for it! If not, you'll need to get yourself a media pass.
Finding a Photo Assignment
As a beginner in the music festival photography industry, obtaining a media pass can be tricky. Media passes are available to members of the media or the official event photography staff.
If you are looking for a media pass, you need to be on assignment for a publication.
Thanks to the prevalence of magazines and other music-related media, there are opportunities for photo-assignments.
To pitch to a media organization, first make sure you have a solid online portfolio. This should include your best and most relevant work.
Next, shoot the editors of your researched media outlets an email. Include your name, a brief summary of your experience, a link to your portfolio and your angle for a story.
You can also include examples of previous writing experience. And you can offer to do a write-up of the event to complement your photos.
Make sure to send your pitches out at least a few months before the music festival date. It can take a while for an editor to get back to you.
Applying for a Media Pass
If you gain permission to represent a media organization at the festival, your editor will either apply for a media pass on your behalf, or ask you to apply for the media pass yourself.
Sometimes applying for a media pass yourself is as simple as clicking a tab on the festival's website.
Other times you will have to contact a festival media representative. They'll tell you the best way to obtain a pass. You can usually find out who to contact via the festival website.
The rep will respond with an application form to fill out and send back. Then they may or may not get back to you. If you don't hear anything for a week or two, send a follow-up email.
Some festivals will accept your application. Others won't. If you are successful, it's time to prep. If not, don't be discouraged.
Continue shooting smaller gigs to build up your portfolio and maintain contact with your editor. Offering to cover smaller gigs for them is a good idea.
Keep applying for upcoming festivals and don't give up! Once your foot is in the door, it gets a lot easier.
Get With the Music
Whether you need a media pass or not, a great way to get in the headspace of a music festival is a little musical research.
You may be a huge fan of a festival line-up, or you may hate the genre altogether. Either way, familiarise yourself with the performers you'll be photographing.
Have a look at the festival roll-call and make yourself a listening and viewing list.
Doing some audio/visual research will help you gauge crowd participation (see mosh pits, circle pits, walls of death etc), visual effects (lights, pyrotechnics, confetti) and band-member behaviour (crowd surfing, costumes, banter, energy and stage presence).
Getting to know a bit about a band's history won't hurt either. Especially if you do get the opportunity to photograph the performers backstage.
And it will be a good basis for writing an article later (if that is part of your assignment).
What Photography Gear to Bring
Camera body
There are no hard and fast rules about which camera body you should bring to a festival.
Good low-light ISO and AF performance, good battery life, and weather sealing are things to look for. These make DSLR models like the Canon 5D Mark III or Nikon D800 and up popular choices for professional festival photographers.
For smaller gigs, you can get away with one camera body. At a music festival, a second body can be of great benefit.
If your primary body carks it, a second will prove vital. A second body with a different lens will also make switching gear a lot faster and easier.
Lens
There are a number of lens choices for music festival photography. A telephoto lens, a mid-range zoom lens, and a wide angle lens will cover all bases.
Lenses with a wide maximum aperture will be useful in low-light conditions. Use these as the festival wears on into the night.
An additional option is a prime lens with a wide aperture. This will also be beneficial in low-light conditions.
Have a look at this guide to see what kind of lenses will suit your needs.
Other Photography Gear
Don't forget your spare batteries. Charging facilities at music festivals may not always be available, or you might not have time to wait around to charge up.
You may even need several battery packs a day. This depends on your shooting intensity.
Image storage is another key component of music festival photography. Having a number of large capacity memory cards is a must.
Going through your card and deleting images in-camera is time-consuming and can be risky. It increases your chances of ending up with corrupted images.
Extra memory cards are also important for redundancy. If a card starts to glitch out, you'll need another ready to take its place.
Downloading your images on-site to a laptop is a good way to make sure your images are doubly backed-up. You'll need to keep your laptop in a secure location while you're off shooting.
Often festival organizers provide a space for media-pass holding photographers. But with so many people coming and going, it can be a security risk.
Buy a sturdy photography case for your gear. Have a lock or two to keep it shut and use a bike lock to secure the case to something sturdy in the shared space.
A tripod can come in handy for long-exposure or low-light shoots outside the press-pit. The downside is you'll need to lug it around with you while you're using it.
Festivals are also overrun by wandering feet. The chance that a festival-goer trips on your tripod leg and tips your gear is a likely risk.
A monopod can be a great support for heavier lenses. Again, keep them outside the press-pit. You'll need to keep it with you or find a secure space to stow it when you don't need it.
Blasting performers with flash isn't allowed. Use flash to illuminate festival-goers in low-light conditions. Or to take portraits of band members off-stage (if the chance arises).
Making Music (Festival Photography)
So you've got your gear and you've made your way inside the festival, ready to shoot. First things first, make sure you get a hold of a festival schedule. That way can line-up which bands are performing where at a given time.
There are several stages hosting performances at any one time. It's important to know what's going on.
Festivals can host a combination of indoor and outdoor stages. Outdoor stages mean you will be able to take advantage of natural lighting conditions during the day.
Indoors, you'll be relying on lighting effects and exposing for low-light conditions. Headline acts usually perform at night, with spectacularly lit stages both indoors and outdoors.
Medium and large stages are usually raised. If you're in the press pit you'll need to stand back to get a flattering angle of the performers.
Move around. Try different exposure combinations for different artistic effects and don't forget to photograph the crowd. They're part of the experience too.
As a rule, it's better to have a slightly noisy picture than none at all. If you are shooting in low light conditions, turn up your ISO. You'll maintain a faster shutter speed to capture action shots.
That being said, slower shutter speeds and different compositions can create interesting effects. Don't be afraid to move around and experiment a little.
Depending on the festival, you may be allowed to shoot from the wings of larger stages. Some events even allow photographers to shoot on-stage.
Once, I saw a lead singer borrow a camera from an on-stage photographer.
The well-known performer took numerous selfies, photos of the band and panoramic views of the festival before handing the camera back. Expect the unexpected!
Another thing to be aware of is the 'first three songs' rule. Usually, photographers are only allowed in the press pit for the first three songs.
This is to minimize distraction and to allow a better view for festival-goers.
When your time is up, head to the stage wings. Get in position for the next performance or join the crowd for some shots in the thick of it.
Along with medium and main stages, festivals will usually host smaller shows.
Depending on the festival set-up, these shows often see artists perform on intimate, low stages with little to no gap between the audience and the stage perimeter.
However, these alternative set-ups are sometimes quite dark, with some-to-little stage lighting.
Flash photography is a no-go. Using a lens with a wide aperture, boosting your ISO and getting as close as you can to the stage is the best approach.
People Power
With all the organized chaos of a music festival to navigate, it's easy to forget to shoot festival goers themselves!
The driving force behind any music event, festival attendees add narrative and context to a body of festival photography.
You'll encounter fascinating people, amazing fashion, interesting workshops, and roaming performers.
Don't be afraid to have a wander around the festival site. Document and connect with the extraordinary culture that music festivals cultivate.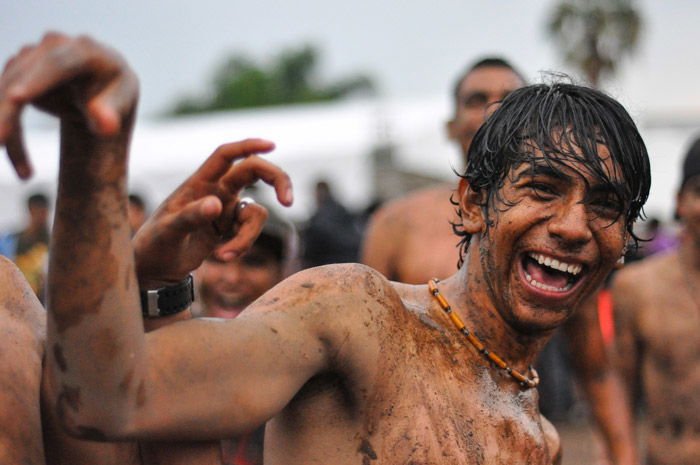 Focus on the Small Stuff
Musical tools (amplifiers, leads, instruments, etc), crowd reactions, tasty food, elaborate camping set-ups, weather events, art installations, and exhibits and sideshows. These all contribute to the overall experience your photos convey.
Incorporating detail into your festival photo series gives a viewer an intimate look at the inner workings of music festivals. Take the time to train your camera on details.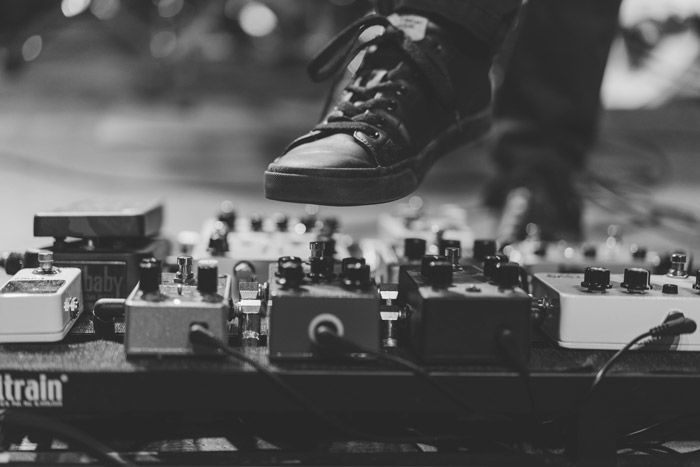 Smoke and dramatic lighting, confetti, fireworks, and pyrotechnics are all part of music festival performances. Especially as you draw closer to the end of the day.
To freeze confetti or pyrotechnics in action during the evening, use a wide aperture with a generous ISO and a shutter speed of at least 1/200s.
Look After Yourself
It's hard not to get carried away in the momentum of shooting a music festival. But taking care of yourself is important.
Wear earplugs. Pack a poncho in case of rain. Drink plenty of water. Wear a hat and sunscreen over the day and have a jumper ready for nighttime.
Make sure you wear comfortable shoes. Have some snacks with you in case you get peckish or need a sugar hit.
If you are staying at the festival for more than a day a good festival tip is to take some wet wipes, they are like a shower in a packet!
And have an external charging pod or several for your phone. Charging stations aren't always available, if at all.
Conclusion
Music festival photography is a fascinating and broad field of photography.
As a beginner, music festival photography can seem a bit daunting.
But through planning, preparation, and a little on-the-job experience, you'll find music festival photography to be both a challenging and rewarding experience.
Looking for more great beginner tips? Why not check out our post on photography terms you need to know next!