If you're into travel photography, then you know that having the right gear is essential for capturing great photos while on the go. The good news is that there are plenty of camera options and accessories available today, so you can tailor your kit to suit your specific needs.
But with so many choices, it can be tough to know what to bring with you on your next trip. That's why we've put together this handy travel photography gear checklist to help make things a little easier. Check it out below!
Compact, Lightweight, Portable
Rollei Compact Traveler No.1 Travel Tripod
"Maximize your preparation for travel photography gear with a lightweight and compact tripod that offers optimum stability and versatility for any surface."
Travel Photography Gear: Camera Equipment for a Travel Photographer
Let's start with the most important item on the list! Just as you'll prioritise getting the photo over your meal time, so too you'll want to prioritize camera equipment over everything else! Right?
So what must be in your bag, and are there extras that would be great to have?
Essential Photography Equipment
Camera Body
Whichever camera body you have, you'll want to bring this with you! What brand of camera is not something this article looks to delve into, they all have their merits.
There is an increasing move towards mirrorless cameras though, and their lighter weight is certainly appealing for a travel photographer.
ExpertPhotography recommends: Sony a5100
Camera Lens
In the interest of keeping weight down, stick with one or two lenses at most. A good setup here will be a good quality wide angle lens, and then a super zoom to cover your focal lengths such as an 18-300mm lens.
A lot of photographers will bring one more lens. This will add weight though, so we'll discuss that in additional equipment.
ExpertPhotography recommends: Nikon AF-S DX NIKKOR 18-300mm
Tripod
Is the tripod an essential piece of photography equipment for travel photography? It is if you want to get good quality photos that compare well with your peers. The ability to make long exposures, and to potentially bracket your images, is also vital.
Those wishing to use post processing techniques such as digital blending really need bracketed images taken from a stable tripod. Choose a tripod that is sturdy, yet small enough to travel with and can fit into your checked luggage.
Filters
These take up next to no room, aren't heavy, and give you lots of artistic options for your photography. You'll want to bring a circular polarising filter, and a strong neutral density filter as a minimum.
My camera bag always contains a 10-stop neutral density filter, and I often pack an infra-red filter as well.
Camera Cleaning
Dust, sand and detritus are an everyday concern for travel photographers. The best locations to photograph often lead to getting your equipment dirty. So bring a microfiber lens cleaner, and a blower.
ExpertPhotography recommends: Movo Deluxe Essentials DSLR Camera Cleaning Kit PRO
Cable Release
The same logic to size and weight for filters can be applied to a cable release. You'll need it for your long exposure photography, and those photographers wishing to expose for longer than 30 seconds using the bulb function can't do this without a cable release.
Memory Cards and Card Readers
Take enough memory cards with you for your entire trip. Should you have an external hard drive and computer you may be able to upload photos on a daily basis, and back them up.
Otherwise you will need enough storage space from your memory cards to cover your entire trip, however long that maybe. At the very least you need to ensure you have enough space on your memory card so you're not running out of space by the end of the day.
Batteries and Battery Charger
Enough battery power for your trip is important. And if you're going somewhere remote you might not be able to recharge easily. Trips into the wilderness mean managing your power.
A trip to Mongolia several years ago taught me this as there are many places with no power. For the majority of trips, however, taking two batteries is sufficient, and charging them both each night is important.
Rain Protection
It's not a good idea to get your camera wet, even when it's weather sealed. Taking protection for your camera, and for your camera bag is a good idea. Most camera bags will come with some form of wet weather protection.
You will need to buy protection for your camera, or you could try using a plastic bag wrapped around it, with a rubber band holding it in place over the camera lens.
Camera Bag
Lastly where to put all of this camera gear? Why a good backpack of course! This should be of a decent size, and have the ability to attach a tripod to the back so you can carry this item with you on your bag.
The current bag I use is a Kata 3N1-35PL, a great bag with nice compartmentalisation, and a tripod holder on the back.
Optional Photography Equipment
Additional Camera Body
This isn't optional if you're on a paid assignment. Having a second body is essential then. And having a backup body is never a bad idea.
ExpertPhotography recommends: Sony Alpha a6300
Additional Lenses
Additional lenses will give you more flexibility. A 50mm prime lens with a large aperture is great for street, portrait and low light photography. A fisheye lens can be fun to use as well.
ExpertPhotography recommends: Canon EF 8-15mm f/4L Fisheye USM
Lighting Equipment
Adding light to a scene through a strobe really gives you maximum control over the photo. This can be great for fill-in light.
However, bringing a radio trigger, receiver and some form of light modifier like the rogue flash-bender gives you the chance to experiment. Getting the flash off the camera allows you to create side or even rim light, great for your portrait work.
Drone
There could well come a time when this becomes an essential piece of equipment. Those creating footage as opposed to still photos will probably say it already is. The ability to take photos from any angle, and get overhead photos will really boost your portfolio.
The one drawback right now is the quality of images these produce, with many magazines unwilling to publish photos from drones. You will also need to be aware of the legal side of flying a drone, with some countries really clamping down on this practice.
Those looking to bring a drone at the time of writing should look no further than the DJI Mavic Pro.
Reflector Disc
A folding reflector disc is a nice alternative or supplement to any lighting gear you choose to bring with you. They're not heavy or big, and will allow you to use natural light more effectively in your portrait photos.
ExpertPhotography recommends: LimoStudio 5-in-1 Reflectors
Additional Items to Bring With You
There are a plethora of other items and photography accessories you can take on a trip. Here you'll see some additional items that, while not camera equipment, are certainly related to your photography.
Essential
Smart phone/Tablet device
This is such a versatile item that it really has to make the bag. The functionality really comes from the apps you can download.
Weather app – There are numerous weather apps out there, so this often comes down to personal preference. The best app for me has been Weather Underground.
Stars and sun – There are numerous apps for this but apps such as Suncalc, Photo Pills, and Photographer's Ephemeris will allow you to track the position of the sun, moon and Milky Way. Photo pills has some other useful tables and charts for photographers that give you information on hyper focal distances, and depth of field.
Maps – Once again planning your travel photography needs a good map. Maps.me is a great alternative to Google Maps, and allows you to download maps by country, meaning you'll never lose your way!
Portfolio – Always great to have a portfolio with you to impress any potential new clients. You can either make folders on the phone, or display your photos on an app such as Instagram or 500px.
Phone – Obvious, but your smart phone is first and foremost a phone. Should you get into trouble while out photographing this is your lifeline.
External Hard Drive
A backup copy of all your photographs is vital. If you only have one copy you are vulnerable to a host of events that could lose you that copy such as theft or memory card failure. Always bring an external hard drive with you.
ExpertPhotography recommends: LaCie 2TB Rugged Portable Hard Drive 4T
Universal Adapter Plug
Having a plug you can use anywhere in the world is a great thing to have, especially if your trip takes you to multiple countries. These days getting a plug that allows you to charge through USB sockets as well as the main plug is a great idea.
A great travel tip is bringing one adapter plug, and a multi plug strip to go with that.
ExpertPhotography recommends: VCOO Worldwide Travel Adapter
Optional Equipment
Laptop Computer
The longer your trip is, the more important this item becomes. Is your trip over 1 month? If so I'd make this an essential item.
This is your connection to the outside world, how you book everything you'll need for your trip, and where your post processing will happen.
Personal Items
Now let's look at the personal items you'll need to bring with you on your trip. You'll need to make space for these, so bringing one less camera lens might be something you'll have to do.
Essential Items
Passport
Certainly for any international travel, and usually for any domestic travel you will need your passport. A good travel tip is to scan your personal information page of your passport, so you have a copy of this just in case it's lost or stolen.
If you're traveling internationally make sure the passport has enough months validity, and check the visa requirements for the places you wish to visit. Ensure you have all relevant documents ahead of time.
Insurance
A good travel insurance package that covers you in the event of injury is mandatory for any trip, whether it's photography related or not.
Also, make sure to ask if it covers your camera gear if the worst happens, and it's lost or stole. Most travel insurance will cover for basic loss, but may well not cover more expensive gear items.
Medication and Toiletries
Make sure you buy the smaller travel size varieties of things like toothpaste and shaving cream. When it comes to medication make sure you have the basics covered, and never forget something for any potential stomach issues.
Money
You won't be going far without this. Make sure you have enough for your day to day use. It's a good idea to separate your money in your accommodation, and keep it in your baggage in a hidden location.
Using a money belt when you travel is also an option. This keeps those important items like cash and cards in a place that's difficult to access by a thief.
Clothing
A good rule of thumb is to bring enough clothing for one week, before you need to clean things. Obviously if the trip is just for a weekend, pack accordingly.
Is it possible to pack less? Yes, but you'll need to wash your clothes more often. Taking some washing powder so you can wash your clothes in the evening is a great idea, especially in a hot country. The clothes can be dry the next day, ready to wear again!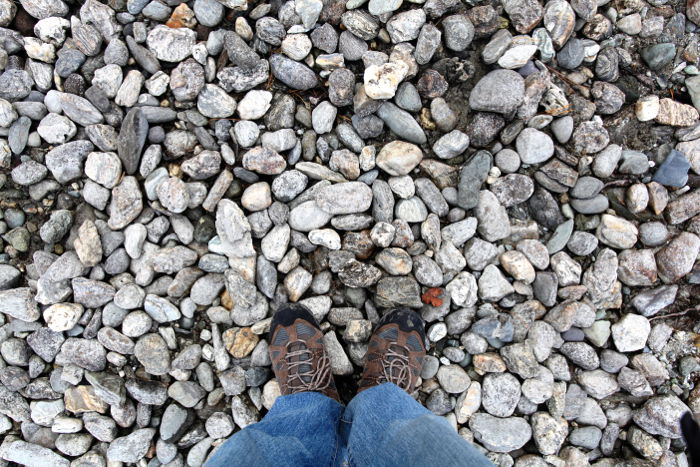 Hiking Boots
You're a travel photographer, and that means a lot of walking. A good solid pair of hiking shoes is a must.
Something in case you need a second set of footwear? A pair of flip flops are light, take up no space, and could be handy if something happens to your main pair of shoes.
Seasonal items
What you pack will depend on where you're going, and at what time of year. You'll not need to bring hot packs to the tropics, but you may well want some bug spray! Each of the listed items are essential, but depend on where you're visiting.
Sun protection – Take a good sun screen with you, sunglasses, and a hat to protect your head.
Bug spray – Anywhere you might be affected by mosquitoes or sand flies, it's a good idea to have bug spray.
Rain protection – This is always worth having. An umbrella, raincoat or a poncho are all good options.
Hot pack – These are great not just for keeping your hands warm. Put them in your backpack where you store your batteries, and the batteries will last longer in the cold.
E-tip gloves – These are designed to be used with a smart phone, ideal for when it's so cold you need to wear your gloves.
Water bottle
Wherever you go, you'll need to keep hydrated. This is especially important when it's hot and humid, so carry a good quality water bottle with you.
Optional items
Torch or Headlamp
Your smart phone will have a basic light on it, so this may be enough for your needs. Having a torch or headlamp is nice though, especially if you're a regular night photographer.
Snacks
In photography you don't always have time to sit down for lunch at a restaurant. Eating on the go becomes necessary. If your style of travel photography takes you on long hikes into the wilderness bring enough food supplies becomes essential.
Extra Travel Photography Checklist Tip for Flyers
Camera equipment is heavy, and it's hard to compromise on the gear you take, especially if you have a paid assignment and need two camera bodies. The problem? The weight restriction that airlines impose on hand luggage you can take onto a plane.
While you can take sports equipment with you, and a special category to pay extra for this weight is provided, camera equipment is not currently covered. Every travel photographer will tell you that you should never ever store your camera gear in the checked luggage.
So what can you do when your hand luggage is almost certainly going to be overweight? It would be nice if airlines offered you the chance to pay for extra weight, when the equipment is fragile.
In the meantime using a photography vest provides a solution. Take out heavy items like a lens or a laptop and store them in your vest. Anything you're wearing won't be weighed.
Once you are through check-in, you can put the lens, laptop and any other item back into your camera bag.
Bags Packed, You're Ready to Go!
The life of a travel photographer involves a lot of packing. Now you have the complete list of items for your travel photography checklist, so what are you waiting for? It's time to book that trip, and make some amazing photos out on location!
Compact, Lightweight, Portable
Rollei Compact Traveler No.1 Travel Tripod
"Maximize your preparation for travel photography gear with a lightweight and compact tripod that offers optimum stability and versatility for any surface."