Portrait photography is probably the only photography niche where you can use basically any lens and still have great results. But the lens you choose affects the mood and message of your image. That is why it is essential that you know which is the best lens for portraits.
This article will give you a list of the best lenses for taking portraits to help you decide which is ideal for your style.
[ExpertPhotography is supported by readers. Product links on ExpertPhotography are referral links. If you use one of these and buy something, we make a little bit of money. Need more info? See how it all works here.]
How to Choose the Best Lens for Portraits?
A portrait lens is not a term that defines one exact focal length, as it depends on the nature of portraiture. There is no rule that you should always use certain focal lengths and aperture values. Choose one that fits your style.
The closest focal length to the perspective of our eyes is the 50mm lens. However, photographers, in general, consider a portrait lens from 85mm up to 110mm. These lenses give you significant background blur and a shallow depth of field. They also allow you to position your subject far away comfortably. They also have a perspective that is ideal for showing human faces and bodies.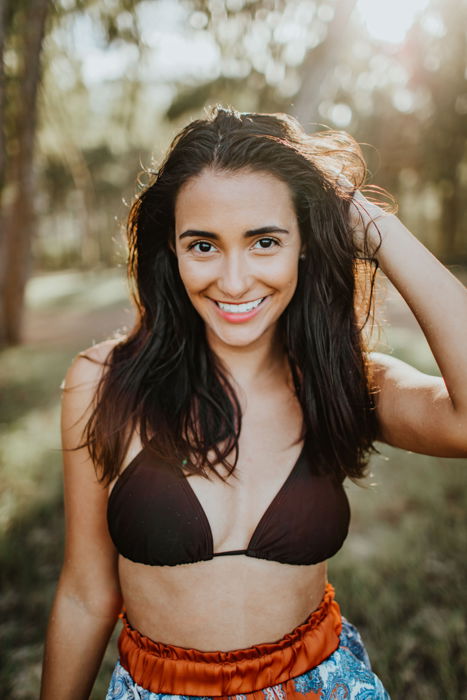 The Best Portrait Lenses
We have collected the best DSLR and mirrorless lenses you can get for portrait photography in this list.
The Best Prime Lenses for DSLRs
The Sigma Art line does not disappoint, providing exceptional speed and sharpness. Its relatively low price and outstanding quality raise it above its direct competition. You can buy versions compatible with Nikon, Canon, and Sony camera bodies.
Standard lenses are traditionally thought of as 'nothing special'. However, this is not true for this Zeiss lens. When it comes to optical quality, the standard focal length ensures that you can use this lens for various purposes. The 55mm also means that there is no distortion appearing on your pictures.

85mm lenses are one of the most popular focal lengths for taking portraits. Speed, sturdy build, and accurate focusing are trademark features of this lens. It also has a weather-proof sealing that ensures smooth photoshoots, even in unfortunate circumstances.
This is another masterpiece Sigma Art lens. The 1.4 aperture ensures that you get as much light into your camera as possible, even in low-light situations. The ultrasonic focus motor is another feature that helps you focus smoothly, quietly, and accurately.
Even though it is a cheap lens, the Nikon 85mm 1.8 does not disappoint. It is a reliable and predictable piece of glass, with a silent focus motor and fast focusing. If you are looking for a portrait lens that will create a decent background blur but does not break the bank, opt for this one.
Many consider the 135mm f/2 to be a favourite among portrait shooters. The 135mm give you a decent telephoto feature, which you can utilise in portrait or sports photography. The f/2.0 aperture creates an excellent bokeh and is comfortable to use due to its fast and silent autofocus.

35mm is a popular focal length for portrait photography. This Canon lens is an excellent addition to your gear if you are shooting environmental portraits, weddings, or other events. It gives you a wide field of view with a fast aperture and a silent autofocus motor. It is also part of Canon's L series, which ensures that it is of high quality.

This 50mm lens with a fast aperture allows you to capture stunning portraits with a great background blur. The 50mm focal length gives you the comfort of a standard lens, suitable for a range of purposes, from street photos to studio portraits.
Canon is a great competition to the other 50mm lenses out there, as none of them features an f/1.2 aperture. This makes the Canon EF 50mm f/1.2L suitable for any light situation. The weather-resistant sealing and the high-quality glass contribute to the standard that one would expect from a higher-end prime lens.

Another lens from the Sigma Art series, conquering many other 35mm lenses out there. The extra glass elements and the hypersonic focus motor make sure you bring your photography to the next level. If you aim to get into environmental or street portraits, definitely check this lens out.
The Best Zoom Lenses for DSLRs
If there was ever a staple to the portrait photographers kit, this is it. Tamron's version is much less expensive but a very comparable alternative to the original Nikon and Canon 70-200. The wide aperture combined with the long focal length gives you an exceptionally smooth background.

This lens's focal length starts at wide-angle and works its way up to short telephoto. The wide aperture allows you to utilise it in any lighting condition. It is handy for event and wedding photography, as it covers the whole scene and can be zoomed into a tighter frame.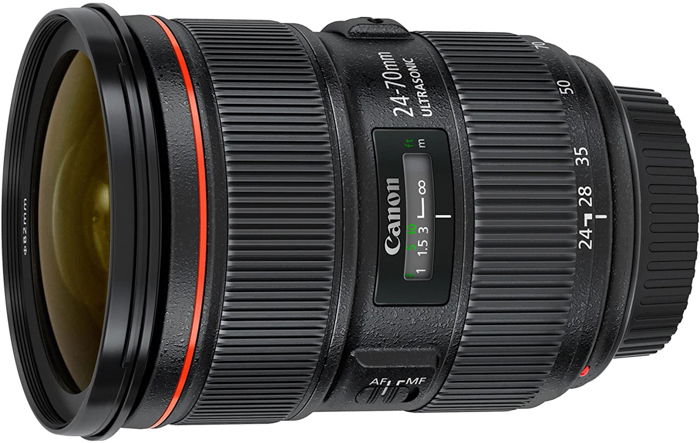 This lens allows you to get further away from your subjects so that you can capture a candid and personal shot. A very useful feature is image stabilisation, which helps you reduce camera shake even at the longest focal length. The lens is also weather-sealed, allowing you to take portraits in any condition.

If you want to keep the 35mm around included in a telephoto lens, we recommend this Sigma 24-35mm. This lens has one of the shortest zoom ranges we have ever seen, making it the middle ground between primes and zooms. We recommend it for its image quality and fast aperture.

This reliable lens is an all-time favourite of many professional photographers. The autofocus is fast, quiet, and accurate, giving you the chance to bring the most out of your portrait photography. The enhanced optical performance ensures exceptional sharpness and contrast.
The Best Prime Lenses for Mirrorless Cameras
This Sony lens provides a wider aperture than most of its 85mm competitors. The f/1.4 will ensure that you can take stunning photos in any low-light condition. The Super Sonic Wave Motor allows you to focus fast and accurately. The Extra-low Dispersion glass reduces flare and chromatic aberration.

Due to the standard focal length of this lens, it has zero distortion, which makes it highly suitable for portraits. It is compact, lightweight, and provides gorgeous bokeh alongside the superior low-light performance.

The unique feature of this lens is a built-in low-dispersion element that minimises chromatic aberration and colour fringing. This results in vibrant colours with great contrast. The double linear focus motor provides fast, smooth, and quiet autofocus.

As this is a mirrorless macro lens, it allows you to focus close (35cm), taking close-up portraits. This can come in handy for child photography. It includes optical image stabilisation with up to 5 stops of shake correction. The f/2 aperture allows you to make the most out of low-light situations.

This ultra-wide aperture lens is perfect for taking portraiture. Due to its small size, it is portable. The ultrasonic motor makes the autofocus fast and silent, while the weather-resistant sealing ensures that you will not be bothered by any external conditions on your photoshoot.

This Panasonic lens is made for Micro-Four-Thirds mounts, resulting in a higher crop factor than any of the lenses' on this list so far. The built-in optical stabilisation significantly reduces camera shake. This, combined with the wide aperture, makes the lens perfect for indoor and low-light portrait sessions.
If you are looking for a wider angle lens with a fast aperture, look no further. This Fujifilm lens delivers excellent optical quality and clarity even at the widest aperture value. The aspherical lens element minimises aberration, resulting in outstanding image quality and colour accuracy.
This is another lens for Micro-Four-Thirds camera mounts, providing an equivalent of 150mm field of view. This length is already usable for sports photography but can also be useful for portraitures. The extra-low reflection lens coating minimises flares in your pictures.
A little longer than the standard 50mm, this lens helps you bring out the most of the Sony Alpha mirrorless camera series. The wide aperture results in beautiful background bokeh, while the aspherical lens elements ensure minimal spherical aberration in your photos.

This cheap lens offers a lot more than its price would make you think. By incorporating a stepping motor, the lens has a fast and smooth autofocus performance. The f/1.4 aperture results in great background blur, in spite of the short focal length. The wide-angle makes this lens perfect for events and indoor photoshoots.
The Best Zoom Lenses for Mirrorless Cameras
While in the DSLR category, Canon and Nikon take the lead for the 70-200 lenses. When it comes to mirrorless, Sony is the best option. The lens combines extraordinary sharpness and smooth bokeh, making it suitable for any kind of portraiture or event photography.

The lens incorporates a new multi-focusing system combined with the stepping motor. This gives you fast, quiet, and accurate autofocus. The image quality at either end of the zoom range is extraordinary. You can use the 24mm end for wide-angle portraits and event photos while using the 70mm for standard portraiture.

This Canon lens gives you a wider aperture than any of the other telephoto lenses out there. The f/2 value gives you bright images, even in low-light sessions. The lens has weather and dust-resistant coating and a built-in vibration reduction. The results are images that are sharp, clear, and full of contrast.
50-140mm is an unusual focal range for a telephoto lens. However, when you consider the 1.5X crop factor, you get a focal length equivalent of 76mm to 214mm. If you compare this lens to its 70-200 competitors, you will see that this Fujifilm lens is good value.

While giving us the usual 2.8 aperture, this lens also offers a focal length transition from wide-angle to telephoto. This makes the product extremely versatile, being suitable for basically any situation. Whether it is events or close-up portraits, this Panasonic lens can become your go-to lens when packing for photoshoots.

Conclusion
Portrait photography is a niche that allows you to use any lens available to you. So the best portrait lens all comes down to your needs and preferences.
Do your research and familiarise yourself with all your options. Before buying a lens, make sure you are choosing the one that suits your photography the best.
To up your portrait photography business, read out our Profit from Portraits eBook!