Aspiring portrait photographers can find inspiration in famous photographers' work. You can learn a lot about the basics. Look at composition, lighting, poses, and styling in different images. Slowly, you'll train your vision, and it'll be easier to determine your own style.
Even for professional portrait photographers, it helps to know the work of your "colleagues." It's important to look for ways to learn and grow as an artist.
For those who love portraits, here's a list of famous portrait photographers. Below, you'll find one of their photos and a short description of their work. Some of them are still working, and some left us many years ago. Together, their work is timeless.
So, take a look, and get inspired!
Annie Leibovitz is one of the most famous American portrait photographers. She's best known for her portraits of celebrities.
Annie Leibovitz was a photographer for Rolling Stone and Vanity Fair magazines. She's the first woman to show her work at Washington's National Portrait Gallery.
She has a unique style and a great sense for making her portraits dramatic and intimate.
Lisa Kristine is an American humanitarian photographer. She takes stunning portraits of people around the world. She tells stories with her images as an activist and speaker. Lisa's goal is to raise awareness of the social issues happening everywhere in the world.
Robert Mapplethorpe was an American photographer who enjoyed shooting controversial topics. In particular, he's known for nude portraits of gay people. He always artistically showed sexuality, which made him world-famous.
His black and white images are iconic. He had a great impact on the future's portraiture photographers. He specialised in portraits of celebrities, nudes, self-portraits, and still-life images.
The Robert Mapplethorpe Foundation supports museums. It also promotes photography and research in the fight against AIDS.
Helmut Newton was an Australian-German photographer. His signature style creates edgy, radical, and provocative fashion portraits. His images were mostly taken outside or in different kinds of buildings. He preferred this over studios.
His work is controversial and often criticised. This is what made him iconic and one of the most famous portrait photographers.
Eric Lafforgue is a French photographer. He works with National Geographic and others. Le Monde, Der Spiegel, Lonely Planet, and Grands Reportages all published his work.
He travels to distant places to take portraits of people living there. His humanist approach exposes the diversity of cultures around the world. Eric also uses environmental components to show how people truly live.
Yousuf Karsh was an Armenian-Canadian portrait photographer. His work features portraits of famous people. He took portraits of Albert Einstein, the Kennedys, the British Royal Family, and more.
Irving Penn was an American fashion, portrait, and still-life photographer. He has commercial and fine art experience as well. He worked for Harper's Bazaar and as one of Vogue's top photographers for more than 60 years. His varied portrait photography captures people's natural essence.
Richard Avedon was an American fashion photographer who worked for Vogue and Harper's Bazaar. His claim to fame revolves around his portraits of celebrities. He photographed The Beatles, Audrey Hepburn, Marilyn Monroe, and more.
Arnold Newman had a gift for creating interesting portraits of politicians and artists. He worked for Look and Harper's Bazaar.
His images are unique because he photographed his subjects while at work or in their homes.
Christina Mittermeier is a Mexican marine biologist. She works as a photographer, writer, and conservationist. She's published her work in National Geographic, McLean's, and TIME, amongst others.
Cristina is the founder of the International League of Conservation Photographers (ILCP). ILCP's aims to provide a platform for photographers working on environmental issues. She isn't solely a portrait photographer, but her work deserves mention here.
Cristina takes majestic environmental portraits of people living in distant tribes. She often shows the connection between people and nature. She gives voice to those who can't speak about their lives and environmental issues.
Mark Mann is a celebrity and advertising photographer from Scotland. He started his career in New York working for several famous magazines. He's photographed musicians, actresses, actors, former presidents of the USA, and so on.
Brandon Stanton is the photographer behind the world-famous project, Humans of New York. It started as a project to take the portraits of 10 thousand New Yorkers on the street. He wanted to create a catalogue of the city's inhabitants. Brandon started to interview his subjects, asking them simple questions.
His blog featured the stories and quotes of people along with their portraits. He rose to fame and now has more than 18 million followers on Facebook and 11 million on Instagram.
Brandon is the perfect example of how powerful portraits can be. His touching images and stories open our minds to human differences.
Herb Ritts was an American fashion photographer and director. He took several portraits of famous people. Vogue, Vanity Fair, Interview, and Rolling Stone all published his work. He also produced advertising campaigns for world-famous fashion brands.
Diane Arbus was an American portrait photographer. She photographed people, who many considered marginalized and 'social deviates.' Some found her work disturbing, but this is what made her unique. Her images tell stories of different personalities and their fates.
Philippe Halsman was a portrait photographer born in Latvia. You may know his name as he collaborated with Salvador Dalí. Philippe took creative and surrealist images. He had a great sense of humour and could spot bizarre and unique aspects of the world around him. This is what made his work special, and he's one of the best-known portrait photographers in the world.
Vivian Maier is a street photographer. She took pictures for five decades without showing them to anyone. She became world-famous after her death when John Maloof accidentally discovered her work.
Vivian had an amazing sense of spotting unusual moments. She captured endless photos of the people and the world around her. While shooting, she took unique self-portraits, too.
Phil Borges is an American social documentary photographer and filmmaker. He shows indigenous and tribal cultures through his portrait photography. He aims to expose the challenges people face around the world. He also lectures and creates documentaries to raise awareness about different social issues. He focuses on mental health and gender barriers.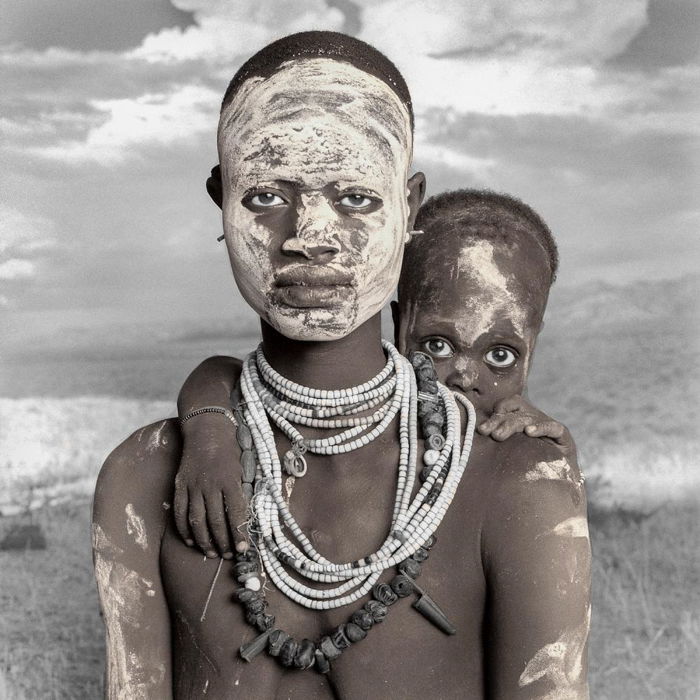 David Lazar is a travel photographer from Australia. He takes environmental portraits of the residents where he visits. His photographs show us culture, traditions, and people living across the world.
Steve McCurry is an American photographer who works as a freelancer and photojournalist. He shoots for National Geographic and is a member of Magnum Photos.
His most famous image is the Afghan Girl, which appeared on the cover of National Geographic. Although the circumstances of the shooting are questionable, this is a widely-known image.
Joel Santos is a Portuguese travel photographer, documentary filmmaker, speaker, and writer. His portrait photography consists of mostly environmental portraits. He likes to present traditions and the relationship between people and their habitats.
Martin Schoeller is a German portrait photographer. He's the most famous for his extreme close-up portraits of famous and non-famous faces. He removes anything that could affect the viewers' interpretation of the subjects. We see only the faces, and nothing else.
These images give us goosebumps. It's almost as if the subjects are looking into our souls. We don't only see the faces, but we also concentrate on ourselves when watching them.
Peter Lindbergh was a German fashion and portrait photographer who included a narrative in his images. This awakened a new aspect of fashion photography. His minimalism is what makes his black and white images ageless. He didn't want anything too extreme, yet still created an elegant, unique, and eternal style.
Conclusion
These 22 portrait photographers are some of the world's best. They all have their own inimitable style. As you can see, portrait photography isn't always point-and-shoot in a studio. It has layers of creativity and can draw attention to different kinds of issues in the world.
These famous portrait photographers all use their voice through their photography. They all say something about our world, and they all show different sides of it.
Sometimes a picture worth a thousand words. These famous portrait photographers know it.