Editorial photography is a style of photography that is used to tell a story or capture news. It is often used by magazines and newspapers to illustrate their stories. Unlike commercial photography, which is typically used to sell products or services, editorial photography has a more serious tone and is meant to inform or educate the viewer.
eBooks and Courses for Everyone
What is Editorial Photography?
Editorial photography is the art of creating images for publications. Newspapers, magazines, and periodicals all need photographs to go with their stories. The editorial photography and imagery are often as important as the written words.
The role of the editorial photographer is to create images that express the purpose of the article. This could be a work of journalism that requires real-life imagery. Or the subject may be something more conceptual, like depression or the passing of time.
Editorial photography and commercial photography should not be confused. Editorial photography is not about selling a product. It is about selling a story. Editorial photos need to be clear and concise. And editorial photographs not only need to match the story, but they also need to elevate it.
The editor will provide a brief to work with. It's then up to the editorial photographer to create the images that suit the writer's words. Editors might know what they want, but the photographer is given the freedom to express their ideas.
There is no one style for editorial photography. The photographer needs to interpret the story and express it in their own way. It could be through documentary photography or by creating a scene in a studio. The creative possibilities are endless.
Styles of Editorial Photography
No one style of photography suits all editorials. Pick up a copy of Vogue or Vanity Fair, and you'll see a variety of different photography genres on their pages.
The brief will influence the style of the final editorial images. An article about a recent political event will call for more of a realistic style. An interview or biography segment might require something closer to portrait photography.
Some editorial sessions are shot on intricately dressed studio sets. Other editorial photographers use real locations for more candid editorial images.
Models also play a big role in editorial photo shoots. The imagery is stylized, and the models have to match the style of the shoot and story.
The publication they work for is another thing to consider. An editorial for Vice will differ in style from the one photographers do for Gardeners' World Magazine.
Every publication wants their editorials to stand out and be unique. Editorial photos catch the eye first, so they need to set the tone. The imagery needs to be a doorway into the article. The style of editorial photography needs to connect with the content.
Working with a Brief in Editorial Photography
The editor will dictate the brief of the editorial photographer. The photographer won't always get to chose the theme or subject. The editor will assign the story. And the photographer needs to create the editorial images.
But it's not the case 100% of the time. Sometimes a photographer will create a story with both words and images. And these complete articles are sold to publications and printed in full. But this is more common with photojournalism and travel photography.
But whether the theme is assigned or their own, the purpose remains the same. Stick to the brief. Even if this is the photographer's own story, their intention needs to be clear. Their editorial images need to portray the concepts within the story.
Editorial photographers have to be open-minded and professional. A photographer may have no interest in skateboarding. But if a publication needs a two-page spread, then they'll need to dust off their camera and get shooting.
It may sound restrictive. But editorial photographers are often given a lot of creative control. They're given a target to hit. But they decide how they hit that target.
Navigating a Brief in Editorial Photography
Editorial briefs are often not as simple as they may seem. If the main topic is tomatoes, your first solution could be to snap some lovely, ripe tomatoes in a market. But editorial photographers need to think critically.
What is the article saying about tomatoes? And how can they express those ideas in their editorial photography? Is the tomato the hero or villain of the piece? The tomato may be a symbol of healthy living. Or maybe it's a pawn in the battle between store-bought and homegrown.
Food editorials aren't just about the items people have in their fridge. They're about lifestyle and culture. Cuisine can tell a personal story or a national history. It's one thread in the fabric of human culture and an integral part of life.
Forget about commercial photography. This isn't an advert for tomatoes. The editorial photographer needs to dig deep and unearth the true meaning of the subject. It's not about selling products—it's about telling a story and portraying a concept.
Concepts in Editorial Photography
Editorial fashion photography is the best place to start exploring conceptual thinking.
We're all familiar with images of models strutting down catwalks at fashion shows. The clothes they wear often look extreme or funny to people outside the fashion industry. They're not the clothes you'd throw on to go to the shop.
But the designers aren't selling particular items of clothing—they're presenting concepts. Catwalk clothes aren't for sale. But the ideas they express are filtered down into high-street fashion.
Since the 1990s, the fashion industry has moved away from traditional advertising. Brands now have a no-logo approach to editorial fashion photography. It's no longer about clothes—it's about lifestyle.
If you leaf through a copy of Vogue, it's not just a load of ads. You won't see a price tag on an editorial image. And you might struggle to see which brand the editorial belongs to. But the imagery is powerful and striking. And, in editorial photography, they may include many brands in one photo.
But it's not only fashion and food. The editorial photographer needs to think conceptually no matter what the brief.
Imagery in Editorial Photography
A picture paints a thousand words. It's a cliche, but with editorial photography, it couldn't be more accurate.
Editorial photographers use visual language to tell a compelling story. Their editorial photos are rich with imagery. Every little detail is deliberate and considered. An editorial may only need one image, so that picture needs to say it all.
Photographers exploit images and symbols associated with their subjects. It's important to avoid cliches and stereotypes. If the topic is Paris, using an image of the Eiffel Tower might be a little on-the-nose. Instead, a set could be decorated in the style of a French brasserie.
These word associations weave themselves through our cultural history. A single object can remind us of a scene in a film or a book we've read. The way a room is lit can transport us to another time of year.
Locations also have this effect. Certain scenes can evoke memories or have associations with lifestyles or cultures.
Budgeting in Editorial Photography
Editorial commissions are great for a photographer's portfolio. But they aren't great money-spinners. Editorial photography budgets and commercial photography budgets are quite different.
The budgets for editorials are often small, especially in comparison with advertising campaigns. Publications commission editorials and they don't have much money to play with.
The tight budget will push the photographer's creativity. They have less studio time and fewer accessories. Editorial photography skills and techniques have to compensate for the lack of finances.
The smaller budgets also mean smaller fees for the photographer. But it's not all about the money. Published editorials are excellent exposure and can lead to higher-paying gigs.
Equipment Needed for Editorial Photography
Editorial photographers need to have the right equipment. Again, this is part of their preparation. They need to know what gear to take to the studio or the location.
The main piece of equipment is the camera. Many photographers prefer a full frame DSLR for this kind of work. They are excellent cameras for editorial jobs. They are reliable, robust, and the image quality is superb. Nikon and Canon DSLRs also have a great selection of lenses.
With an editorial studio shoot, there will be lighting and props. The editorial photographer needs a clear image of the set in their head before they arrive. That means they need all the props prepared.
For a lot of editorial shoots, a tripod is necessary. It gives the photographer more freedom to get the editorial images they need. They will have more exposure flexibility if the lighting is a problem.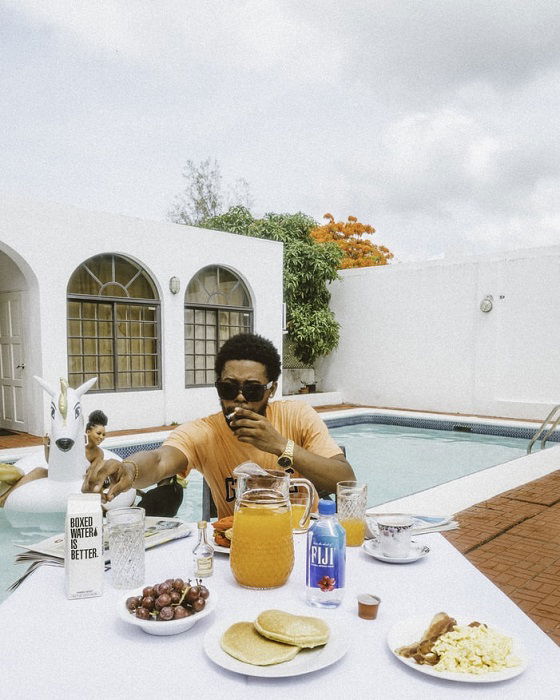 Preparing for a Shoot in Editorial Photography
Editorial photographers need to be prepared when it comes to photography editorials. The planning needs to be done, and they have to know what they need on shoot day. Time in the studio will be limited, so they have to be ready to get the shots they need.
Preparation is key. The concept has to be clearly defined, and everyone has to know their role. The editorial photographer won't be the only one on the set. Their could be a whole team of people. And they all take direction from the photographer.
There could be set dressers, models, and makeup artists. With a lot of people on set, it could turn to chaos. As the creative director, the photographer needs to be in control. That doesn't mean shouting and ordering people about. They need to make sure everyone knows what they need to do.
If the editorial photo shoot is on location, there will be logistical issues to consider. The staff will need transportation, and you can't guarantee the weather won't change.
If the editorial images are more documentary or candid, there won't be as many support staff. But preparation is still super important. The photographer needs to know their story and have a firm idea of what they want to capture.
Licensing in Editorial Photography
Editorial and commercial photography licensing are different. If an editorial photographer licenses photos for an editorial, they can't use them for commercial use. They can't recycle photos from a published editorial for advertising photography. It's true even if it's for the same publication.
As editorials tend to be more candid and often involve members of the public, model release forms are not required. Model release forms are only needed if a photo is used for commercial photography.
Photos with an editorial license can be later used as stock photos. And publications can use editorial-style photos from stock image websites for editorial purposes. But they cannot use commercial images in this way.
Conclusion
I hope this article has shed some light on the world of editorial photography. It's not commercial photography, and it's not photojournalism. Editorial photography is a discipline all its own.
To shoot editorial photography, publishers don't have big budgets. But they give the photographer a large amount of creative freedom. Editorial photographers use their visual language to enhance the articles they work with.
There's an editorial brief to be met, but the rules are loose. A photography editorial can be highly conceptual or candid. The details are in the control of the photographer.
Are you just starting out and looking for a fun and easy way to master photography? Try our Photography for Beginner's Course to capture perfect photos with the camera you already own.


eBooks and Courses for Everyone